Mountain biking is a dangerous yet exciting sport that comes with a lot of risks. The pinnacle of these risks is brain injury. This is the major reason why riders – both novice and experts – should invest in a high-quality mountain bike helmet. Regular bike helmets are not ideal as they cannot provide the necessary protection in case of a gnarly fall.
There is a wide range of trail helmet models that come with lots of safety features and the latest advancements in design. Mountain bike helmets also vary in weight, coverage, ventilation, and comfort. They are designed with the mountain bike rider in mind.
The price tags of these mountain bike helmets may be intimidating, but then the damage to your brain and head – in case you are in a gnarly crash – far outweighs the financial costs. Personal safety is worth any investment, so you shouldn't be too frugal.
Mountain Bike Helmet Features
Not all mountain bicycle helmets are the same. They come with the following specific features:
Detachable Visor
What differentiates mountain bike helmets from other road-biking models is the addition of visors and their greater head protection or coverage. Visors help to keep the sun out of your eyes and also provide additional protection from low-hanging branches and rain.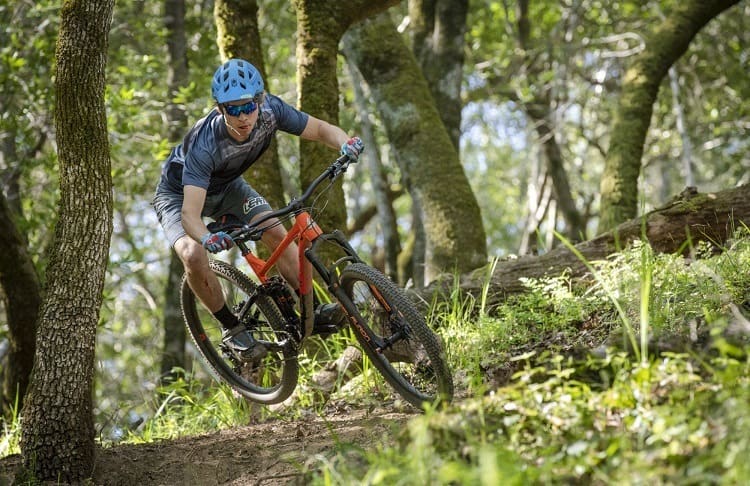 Visors are also shaped differently; some visors are long and narrow while others could be short and wide. However, moto-inspired bills that are nearly as long as baseball cap visors are becoming the standard these days.
Adjustability is another feature of a visor that must be considered as well. Adjustable visors make it easy for you to push them out of the way if you want a good view of the terrain while you are trail riding.
It also makes it easier for you to store up your goggles on your mountain road bike helmet when not in use. Although this feature is more common on most mountain bike helmets, it is less common on Cross Country-focused designs.
You should also bear in mind that mountain bike helmets with adjustable visors do not provide equal amounts of adjustability. Some visors may slide up and down, but do not leave sufficient space for your eyewear protection. However, this may or may not be relevant to you, but it is worth considering when shopping for your next mountain bike helmet.
Camera Mounts
The rise of the action camera market these days has led to the development of mountain bike helmets with camera mounts that offer exciting, first-person perspective. Some mountain bike helmets come with sticky mounts that can be attached to their smooth surface or space at the front.
Some ventilated helmets may not be so easy to mount with cameras; however, with a little tweak here and there, it can be done. Other brands that make heavily ventilated mountain bike helmets also offer strap systems which you can insert in the vent openings or slots to hold everything in place.
Moreover, some sophisticated mountain bike helmets are equipped with built-in action camera mounts. This means you don't have to worry about guessing the right angle and will also save you a lot of time, especially when it comes to fixing adhesive mounts.
However, you can also use a chest mount or attach an action camera to the handlebars of your mountain bike. But helmets with action camera mounts offer smart solutions and are mostly unobtrusive if you are willing to spend more money.
Compatibility with Eyewear
Standard safety glasses are commonly used by mountain bikers; however, downhill and enduro racers use goggles for increased protection and coverage. Riding with goggles doesn't require a lot of features. As long as they fit snugly under the bill of your headgear and the shell does an excellent job of keeping the flexible straps in place, you can wear them easily and efficiently.
But then, some features are essential for a mountain bike to have. Accommodating goggles will be easier with these features. For starters, a good mountain bike helmet should come with an adjustable visor. This will make it easier for you to position your goggles at forehead height, especially when not in use.
In addition to this, some downhill and enduro helmets come with retainer systems or straps at the rear of the helmet to secure the eyewear. Take note that not all mountain bike helmets come with these features.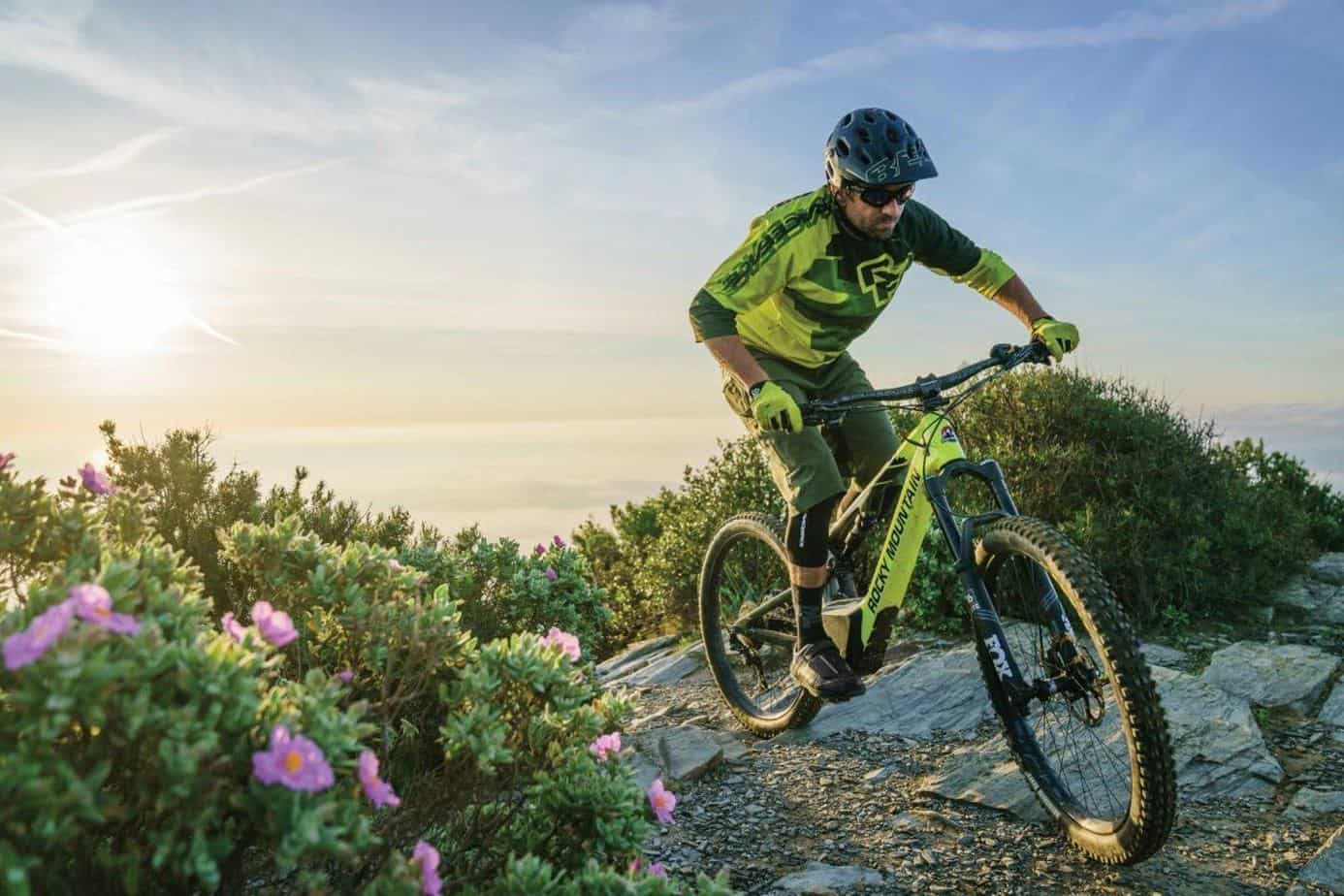 When Should You Replace Your Mountain Bike Helmet?
Replacing your MTB road helmet is your personal decision since there are no clear-cut rules out there. Helmets have a shelf life, so if you have been using a mountain bike helmet for more than three to four years, you should start to consider getting a new one. It all depends on how often you use your helmet while riding your mountain bike.
But then, this is not a hard rule. Before you discard the old helmet, take a good look at it. Do you notice any cracks in the foam? Is the inner lining or outer shell of the helmet deteriorating? If you begin to see these signs of degradation on your old mountain bike helmet, it is best to steer on the side of caution and replace it with a new one.
In addition to this, you need to know that as technology advances every day, helmets that were once the rave have gone out of style and have been replaced with newer and more sophisticated models. These changes – especially in safety, technology and fit – could be significant. So, upgrading to a new mountain helmet could be the answer for you if your old helmet is deficient.
You can replace your mountain bike helmet if you get into a crash that compromises the foam inside. This could have a considerable impact on its performance in case you crash again in the future. So, if your helmet has taken a lot of knocking around in the past or is old, you should buy a new one as soon as possible.
It doesn't matter whether you are an amateur or a pro mountain biker; the helmets highlighted in this style guide will meet your needs.
Here they are in no particular order:
Bell Super 3R Mountain Bike Helmet
If you are looking for a mountain bike helmet that strikes a perfect balance between comfort and protection, the Bell Super 3R MTB Helmet fits the bill. This full face helmet comes with a detachable chin strap and gives riders the opportunity to use the full-face coverage option without the bulk and weight that is common with downhill helmets.
For riders who need more room to breathe while riding up the mountainside and extra protection on the way down, the Bell Super 3R helmet is the perfect option for them. According to users who have been involved in violent mountain bike crashes, the Bell Super 3R offered great face protection and reduced the impact of falls significantly.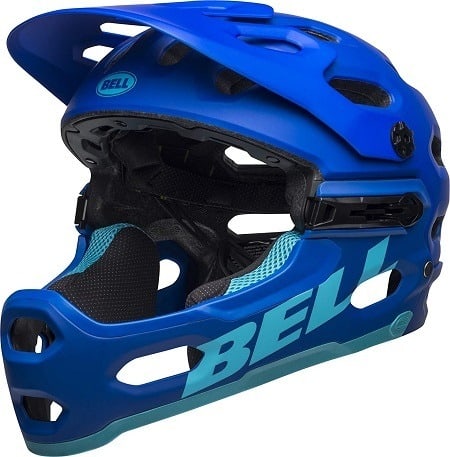 The Bell Super 3R mountain bike helmet comes equipped with the unique MIPS technology and a removable chin bar for full-face protection when riding downhill. The detachable chin bar is optional and is not as sturdy as helmets specifically designed for downhill riding. However, users have noted that this optional chin bar protects the face amazingly well during an accident.
The removable visor is also adjustable and allows you to use your goggles for extra protection.
Adjusting the float fit system of the Bell Super 3R is a piece of cake; you can customize it to fit your head without any fear of pain or discomfort. If you wear the helmet without using the chin bar, the helmet may move about uncomfortably.
This breathable and lightweight helmet is comfortable and is not as conspicuous as its downhill counterparts. The exterior straps, according to some users, may offer some discomfort. But all in all, the Bell Super 3R is a great, multipurpose mountain bike helmet designed to make you as comfortable as you can on as you ride along the trails.
The Bell Super 3R showcases about 23 vents. Six new vents at the brow increase breathability. It also weighs much less – up to 10 grams – than its predecessor. It is also available in a variety of multi- and single-color designs, despite the full coverage. Some are designed for female mountain bikers.
Even though the Bell Super 3R is not downhill rated, it comes at a hefty price tag. But it is worth the price if all you are looking for in a mountain bike helmet is comprehensive coverage and versatility.
Pros
Comes with MIS
Comes with a detachable chin bar
It is breathable, lightweight, and enhanced fit
It provides full-face protection
Cons
It is expensive
When worn without the chin bar, the helmet is less secure
We earn a commission if you click this link and make a purchase at no additional cost to you.
POC Tectal Mountain Bike Helmet
The POC Tectal is a state-of-the-art mountain bike helmet that is equipped with special features for durability and comfort. The POC Tectal Mountain Bike Helmet is the first mountain bike helmet that is stocked with Recco reflectors that make it easy for search and rescue teams to locate you if you get lost in the woods, fall off your mountain bike or get caught unexpectedly in an avalanche.
The POC Tectal is available in different sizes, and its adjustable capabilities make it fit better than other mountain bike helmets. It also comes with an anti-odor material – made from polygene – that is positioned carefully inside the helmet. The purpose of the material is to help in preventing the helmet from smelling bad after a long and eventful ride in the woods.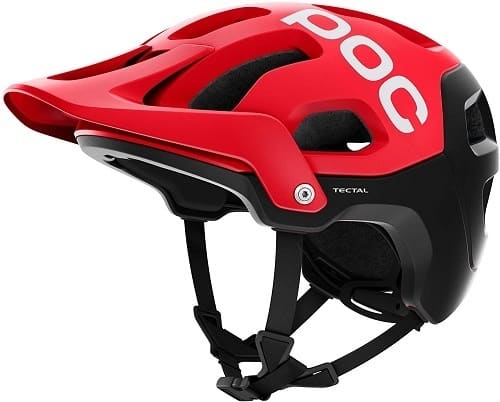 The POC Tectal is not a MIPS helmet, however, this doesn't imply that the protection that this mountain biking helmet offers is not topnotch. Instead of MIPS, the POC Tectal uses an Aramid fiber grid which is often used in the military and aerospace industries for carrying out ballistic tests and for building body armor.
These materials enhance the strengths of the mountain bike helmet, both inside and outside the mountain bike helmet. It also absorbs significant impact during crashes.
The POC Tectal has a full coverage design that helps to protect both temples and the back of your head. It is available in six different sizes, and each one has an adjustable visor that you can lift out of your line of sight at any time.
You can wear the POC Tectal for an extended period and still feel as comfortable as ever. A medium/large POC Tectal helmet weighs about 345 grams and comes with more than enough ventilation – up to 17 holes or ports. Overheating will not be an issue to worry about with this innovative mountain bike helmet.
The POC Tectal has a high price tag, but then no amount of money should be too much to spend for your safety. If you want to feel secure no matter where you are on the trail, or woods, the POC Tectal with its inventive Recco reflectors is a great bet.
Pros
It is available in multiple colors – up to 10 different options
It is the first mountain bike helmet to be equipped with the innovative Recco reflectors
It has excellent ventilation
It is fitted with Aramid fiber grid for enhanced protection
It comes with polygene material that prevents it from smelling badly
Overall coverage is topnotch
It is adjustable so that it can fit the head of any mountain biker
Cons
It doesn't come with a spot for a headlamp or mounted camera
It is not equipped with MIPS
We earn a commission if you click this link and make a purchase at no additional cost to you.
Giro Chronicle Mountain Bike Helmet
The Giro Chronicle is a compact mountain bike helmet with broad coverage and equipped with MIPS technology that protects your skull from every angle. The Giro Chronicle Mountain Bike Helmet is the best option for riders that ride in different terrains. It provides an ideal balance between breathable design and sufficient protection.
The Giro Chronicle MIPS helmet has great coverage which protects the sides as well as the back of your head. The MIPS technology helps to minimize rotational force during a fall and also absorbs energy sufficiently. This mountain bike helmet comes with an adjustable visor that you can lift out of the way to give room for your eyewear or goggles.
Some users have stated that the visor of the Giro Chronicle is a bit too high and does not block out sun rays during early morning or evening rides.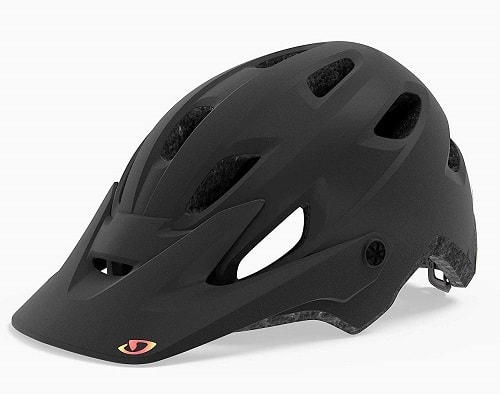 The Giro Chronicle also comes in four different sizes, each one furnished with the adjustable Roc Loc fit system so that it suits you comfortably. Most of these models are somewhat large, so if you are between sizes, it would be wise if you ordered a size down.
The Giro Chronicle is furnished with CoolMax, moisture-wicking padding that keeps your head dry throughout your ride. In addition to this, the mountain bike helmet has up to 14 vents that promote airflow, thus keeping your head cool as well.
The Giro Chronicle is relatively affordable, and at that price, it offers a lot of value. Thanks to the excellent MIPS technology and extensive coverage, the Giro Chronicle is a must-have for anyone who wants to take mountain biking seriously.
Pros
It comes with the innovative MIPS technology
It is furnished with moisture-wicking padding
It is relatively affordable
It is adjustable and fits snugly
It is compatible with goggles
It covers all areas of the skull – including the
Cons
The visor is not too useful when it comes to blocking out the rays of the sun
We earn a commission if you click this link and make a purchase at no additional cost to you.
Smith Optics Forefront Mountain Bike Helmet
Riders that desire an excellent full-coverage from a mountain bike helmet have applauded the ingenuity that was brought into play when creating the Smith Optics Forefront Mountain Bike Helmet. This helmet is durable, comfortable, and integrates excellently with other tools or gadgets you may use or need on your rides.
The Smith Optics Forefront mountain bike helmet can be used with goggles or sunglasses along with any action-mounted camera that you want to use as you ride along the trails. The helmet is also ventilated, though not as much as expected.
The Smith Optics Forefront mountain bike helmet is furnished with Aerocore, an innovative foam technology that incorporates the EPS foam with Koroyd. This new patented material is built to absorb low-speed collision or impact, up to 30% more than regular EPS liners.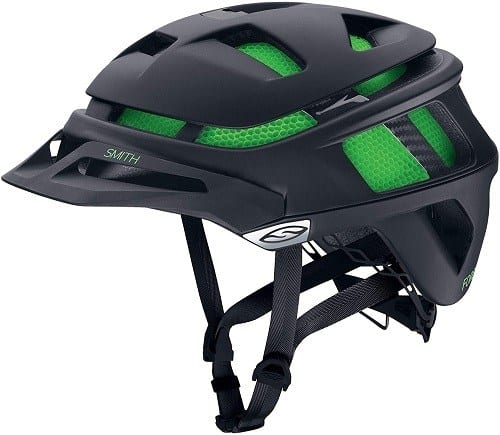 The foam design inside the mountain bike helmet helps to decrease the weight of the product, making the Smith Optics Forefront mountain bike helmet one of the lightest helmets on the market today.
The Smith Optics Forefront mountain bike helmet is fitted with MIPS technology to minimize rotational force during a crash or fall, and the VaporFit retention system is user-friendly.
The major downfall of this otherwise great mountain bike helmet is the ventilation system. Although the Smith Optics Forefront helmet has an open design, the Aerocore lining leaves little room for airflow, and the vents are not much better, especially when the user is in motion.
However, it is easy to wear the Smith Optics Forefront helmet on long rides, thanks to its lightness. It also has a removable – and adjustable – visor and comes with a Goggle Retention Strap that helps to keep your eyewear in place on your helmet anytime you wear them.
The Smith Optics Forefront is expensive, no two ways about it. Perhaps, this could be attributed to the state-of-the-art Koroyd construction, high-quality build, and MIPS technology. But if you live in a hot region and love taking cross-country rides on your mountain bike, this helmet may not be the best option for you, thanks to its inferior ventilation system.
Pros
It is very durable and lightweight
It is furnished with a state-of-the-art Koroyd construction system
It is designed to support a camera mount
The visor is removable and adjustable
It is equipped with MIPS technology
Cons
It is not very breathable, i.e. ventilation could be better
It could be cheaper
We earn a commission if you click this link and make a purchase at no additional cost to you.
Giro Hex Mountain Bike Helmet
This is a worthwhile option for mountain bikers who are looking for a comfortable and light mountain bike helmet. The Giro Hex Bike Helmet is constructed with durable materials that enhance comfort as you take long mountain bike rides.
The Giro Hex mountain bike helmet has excellent ventilation: you will find up to seventeen wind vents and airflow channels that promote airflow and cool your head as you ride along the trail. It is an adjustable helmet, and this means that you can always modify it to fit your head comfortably.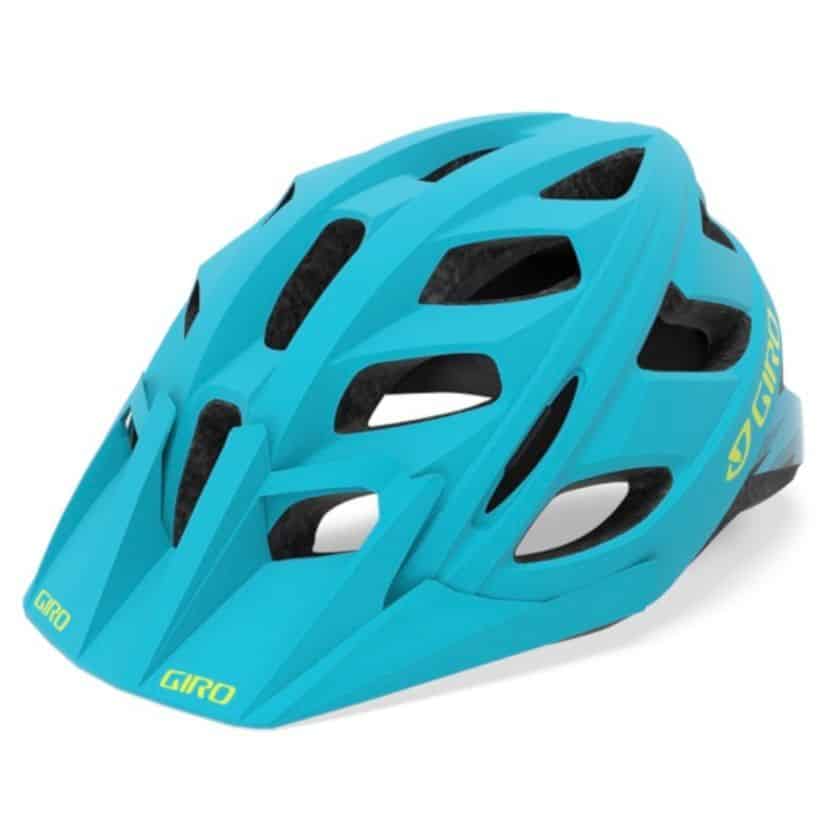 A P.O.V. visor – which comes along with the Giro Hex mountain bike helmet – helps to protect your eyes from the rays of the sun. They are also ideal for keeping branches or brushes away from your head as you ride along the trail. Another benefit you will enjoy from this mountain bike helmet is the excellent protection it offers from impacts and crashes.
The Giro Hex mountain bike helmet is an affordable choice for mountain bikers who are not too financially buoyant but need a good mountain bike helmet that can compete with their more sophisticated or higher-end counterparts.
Pros
It is affordable
It promotes good airflow
It comes with a protective visor
It is comfortable
Cons
The design is somewhat out of date
If updated, it could provide improved coverage
We earn a commission if you click this link and make a purchase at no additional cost to you.
What are the Criteria You Should Use to Choose Mountain Bike Helmets?
Before you purchase a mountain bike helmet, there are factors you must consider. Disregarding these factors could have undesirable consequences on your personal safety and riding experience.
#1: Protection
It should not come as a surprise that this is the number one factor that you should consider when it comes to choosing the best mountain bike helmet for you. You should make the best of any situation, but be prepared for the worst. The best mountain bike helmets out there come with advanced safety features and comfort.
Regular mountain bike helmets come with an in-mold structure comprising a durable outer shell to protect your head as well as a thick layer of EPS foam. The latter absorbs impact which in turn reduces any force on your brain when you get it a wreck.
Technological advancements have improved a lot, and these days, lots of mountain bike helmets come with enhanced protection features such as Multi-directional Impact Protection Systems (MIPS). This additional low-friction layer of protection is included between the hard outer shell and the liner and helps to minimize rotational force.
Mountain bike riders seldom fall on their heads when involved in an accident. In most cases, when they fall off their bikes, the head crashes into the ground at a particular angle which creates an extra rotational force. Rotational forces were not accounted for in most mountain bike helmets until the Multi-directional Impact Protection Systems were developed.
As a result of this, when the rider's head hits the ground, the MIPS feature makes the helmet to slide in relation to the head. Mountain bike helmets with the MIPS feature cost a bit more, but this is justified if you value the additional protection of your head.
Besides varying technology, mountain bike helmets differ from one model to another. From compact half shell helmet models to full-face styles of physical coverage, there is a broad range of protection a helmet can provide. So, you should consider your riding style and whether or not you need extra face protection. If you do, you may need to choose a mountain bike helmet that comes with a chin guard.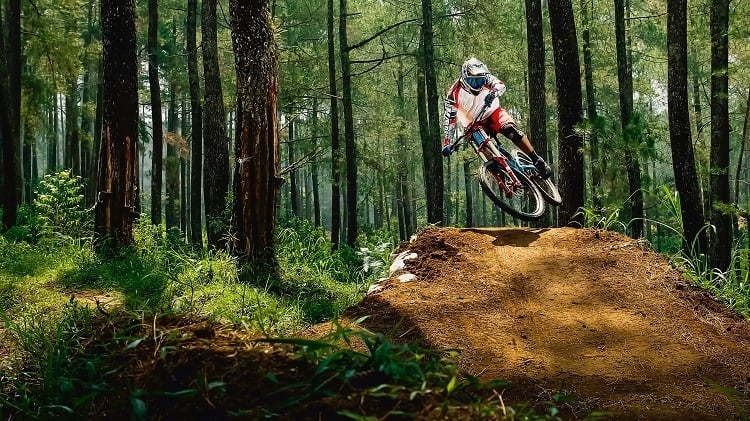 #2: Fit
Your mountain bike helmet must fit your head snugly while providing sufficient protection for your safety. If you choose an ill-fitting helmet, it may not provide the protection that you need when you have a fall. Your mountain bike helmet must not be too tight as this can give you unnecessary headaches. It must also be adjustable to accommodate different head shapes and sizes.
#3: Compatibility
Some mountain bike helmets are designed to be used with cameras or goggles. So, if you love filming while you ride, you need to double-check the helmet you want to buy. If the helmet has no features that support headlamps or cameras, then you may have to go for another option.
#4: Helmet Weight
It's all about safety, so weight is not all that important. However, your helmet will sit on your head most of the time as you ride along on the trail. So, you need to ensure that the helmet you choose is lightweight.
Thanks to the continuous development of materials and design, mountain bike helmets are lighter, yet offer ample and adequate protection. For long rides, therefore, weight is also a factor that you should consider when choosing any of the best mountain bike helmets out there.
#5: Breathability
You need a breathable helmet with proper ventilation or air flow. You will not only enjoy your ride but also stay safe. Breathable helmets keep you cool while enhancing your focus on the mountain trails as you ride. Moreover, using a helmet that does not offer much air flow will make you have a sweaty head. The helmet may slip around as you ride and may not protect you adequately if you are involved in an accident.
If you frequently ride during in summer or live in a hot area, ventilation and breathability are key factors you should consider when choosing a mountain helmet.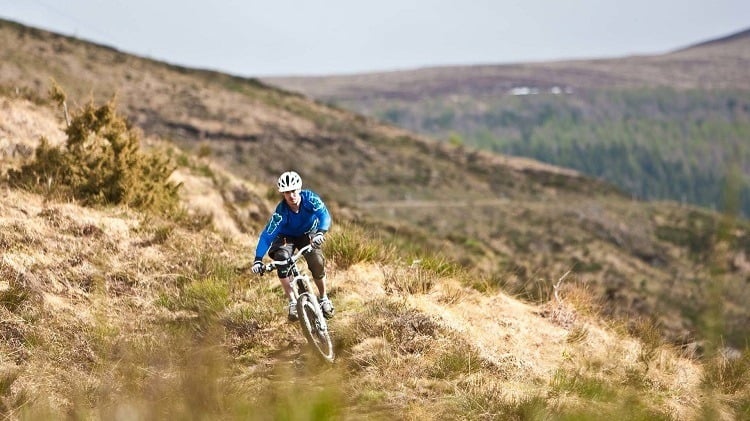 #6: Comfort and Padding
You don't play with comfort when it comes to selecting the best mountain bike helmet. When a helmet has excellent weight distribution, it enhances comfort. Some helmets come with additional pads to make users feel more comfortable when they wear them. You don't want to get distracted when riding as a result of wearing an ill-fitting helmet. This could also impair the enjoyment of your ride.
#7: Use
Before you shell out your hard-earned money to buy a helmet, you should consider how you are going to use it. Helmets are available in three categories, and your riding style will depend on the type of headgear you should invest in.
Here are the categories of helmets that are available in the market today:
All-mountain riding or Enduro – This type of bike riding is rife with big drops and steep inclines. If you are an All-mountain rider, you need a helmet that covers more of your head with full-face coverage options.
Downhill riding (DH) – This is the most technical style of bike riding, with bigger drops and long descents. The chances for big falls are high, and this is why you need a full-coverage helmet that has a downhill rating. It must be part of your gear, and you must never leave home on your bike without it.
Cross Country (XC) – Cross Country style of riding is not as intensive as the other two. If this is your style, then you should know that the risk for a high-speed crash is low along with less technical descent. XC helmets have better ventilation features and are lightweight and also provide enough protection for users.
#8: Style
Although it does not contribute significantly to your safety, investing in an attractive mountain bike helmet is vital. If you want to personalize your look, go for a good-looking mountain bike helmet that shows you off as a professional rider.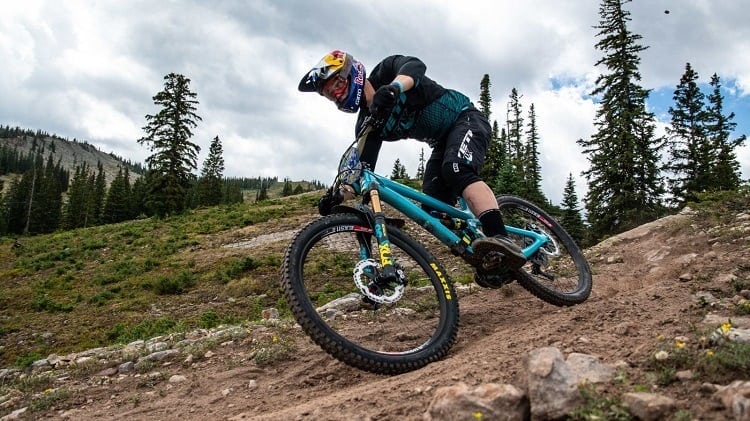 #9: Value
Mountain bike helmets can cost a lot of money, but then, it is not as expensive as getting a new brain. Okay, that may not be medically possible, but you get the drift. Your head is invaluable and worth every investment you can make to protect it.
If you consider the convenience, safety, and comfort that these mountain bike helmets provide for you, you will appreciate these features and worry less about how much they cost.
#10: In-Mold Construction
Nearly all mountain biking helmets come with in-mold technology. This technology combines a polycarbonate shell with an EPS liner which is then molded together.
The result is a cohesive piece that gives room for cutouts – for ventilation purposes – and reduced weight. Some helmet manufacturers may reinforce the in-mold mountain bike helmet by introducing a framework of Aramid fibers into the central part of the helmet.
The inclusion of this synthetic material enhances protection and durability in an accident. Although other types of construction techniques exist – such as the honeycomb-like Koroyd layer, etc. – none of these other construction systems can beat the in-mold construction technique, both in ventilation and absorption capabilities.
FAQs About Bike Helmets
Should I wear a full face helmet for mountain biking?
Full face helmets are intended for bike riders who are riding difficult terrains and for extra protection when going downhill.
Can you use a road helmet for mountain biking?
Yes, you can use a road helmet for mountain biking, however, since these do not come with visors, it's best to invest in one that comes with it, so you can be protected against dirt and flies while riding on the mountain.
Why are MTB helmets different?
MTB helmets are created with memory foam, visors, and durable materials that can withstand heavy crashes, which can happen on terrains with roots and pointy rocks. They are different than regular bike helmets as they offer protection to the skull ad neck area.
Conclusion
There are many different types of mountain bike helmets out there. There are plenty of models and styles to choose from that meet the needs of every rider.
The mountain bike helmets discussed in this guide are – in our opinion – the best out there today. It is our hope that the information provided in this review will be more than enough to help you select the best mountain bike helmet for you!