One of the coolest styles of mountain bikes that you can purchase is the cross country mountain bike or XC mountain bike. These are having their time in the spotlight and they are one of the best choices for the adventurous mountain biker today. There are many reasons that XC is a great choice.
They have gotten better each year with additional features that make are making them more and more popular. Today's cross country bikes have everything that you need to feel confident when you are hitting the trails and putting in serious miles!
There are many things that you should considere if you are purchasing your first cross country mountain bike. These are things that you will want to look for in a bike.
Check Out the Seatpost
The seat post on a cross-country mountain bike is going to help ensure that you will have a nice ride. Many recent changes have been made with modern seat posts. There are several different materials that the seat post can be made from.
Two of these are titanium or carbon. Both of these materials are light in weight, yet sturdy and strong. This is very important to note, it allows you to ensure that you can save weight and maintain strength. This means that you are not going to have a hard time as you fly downhill.
Another popular choice today is dropper posts. These posts are typically heavier. However, that can be an advantage if you are going to be riding in the mountains. This is because the heavier weight allows you to drop their seats down so that they can descend downhills easier.
How you are able to ride the bike is obviously important. Being able to ride in the conditions that you are faced with, whether on paved or flat surfaces or over rocks and mountains, is very important.
Just make sure that you ask yourself some questions before leaping and making a purchase. Is the added weight going to be something that you can afford to lose in order to have one of the newer, or more rigid, Seatpost designs?
Look at the Suspension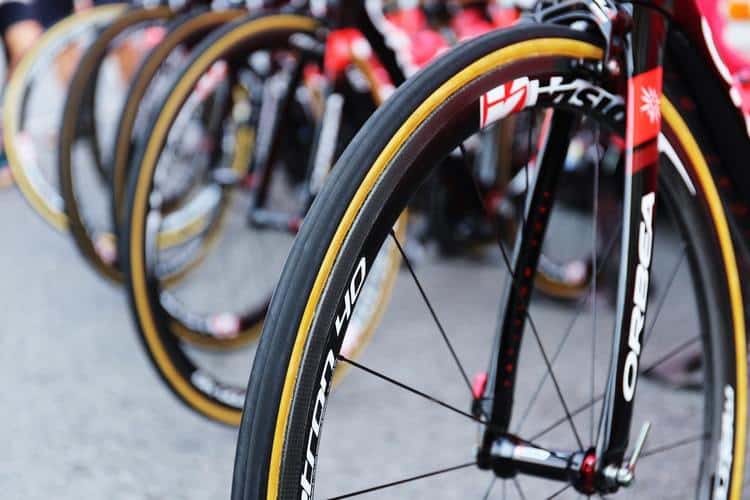 The biggest consideration that you should have with a cross-country bike is the suspension. Today there are regular full suspensions and hardtails. The hardtails traditionally have been lighter than the full suspensions, but today there is not a lot of difference in the weight. They are getting closer in weight as hardtails are becoming heavier and full suspensions are becoming lighter.
The next thing that you should consider is the type of ride that you will be using the bike for. This is so that you can determine what type of suspension is going to be best for your needs. A hardtail is going to be a good choice if you are going to be riding on fire roads, smooth single tracks, or dirt roads.
However, a full suspension is needed if you are going to be riding on natural tracks, over rocks and roots, or if you are going to be on technical tracks. This is going to be best for learning to ride. If you have the right suspension for the cross country mountain bike, then you will find that you are able to ride easier.
Now to explain the differences.
Hardtail Suspensions
One of the things that hardtail suspension features are a travel suspension fork that is 100 to 120 mm. This is going to make riders happy because it allows them to have a comfortable ride. Their wrists and hands are not going to be sore after a gnarly adventure.
Full Suspensions
The full suspension will have the same amount of time that a real travel suspension with 100 to 120 mm for a rear fork has. This means that you basically get a double suspension which makes it a great choice.
The technology that is featured with the suspension on cross-country bikes is something that has continued to change and will keep being a great choice in the future. The hardtails are a great option for someone looking for high power, but the full suspension does offer more. You are not going to exert much more energy on the full suspension when riding uphill than on the hardtail.
Check the XC Mountain Bike Cockpit
The cockpits on cross-country bikes have changed greatly over the years. The handlebars used to be narrow, but now they are wide. The stems are longer though. The result of the handlebars being narrower is that they are more stable and responsive.
In addition, the shorter stems are also there to make sure that you have a very stable ride. The reason that it is more stable is that it has more weight in the front of the bike than the back. This helps to improve overall performance as well.
XC Mountain Bike Handlebars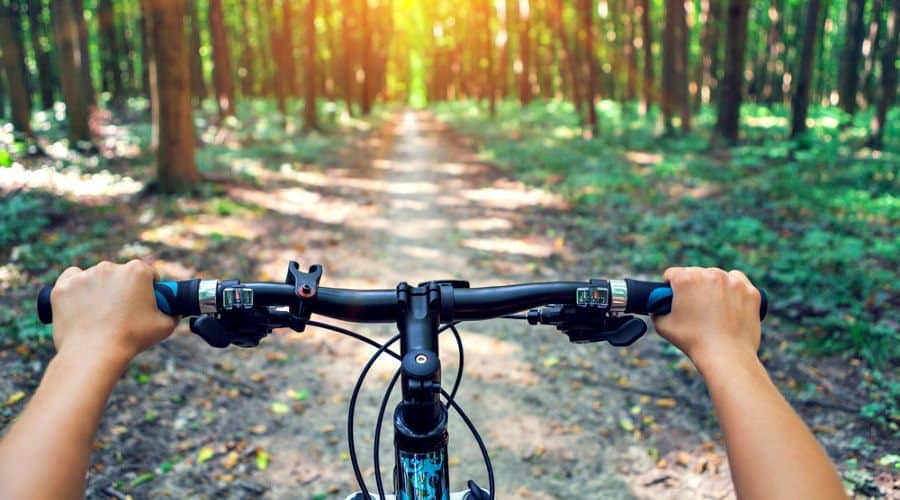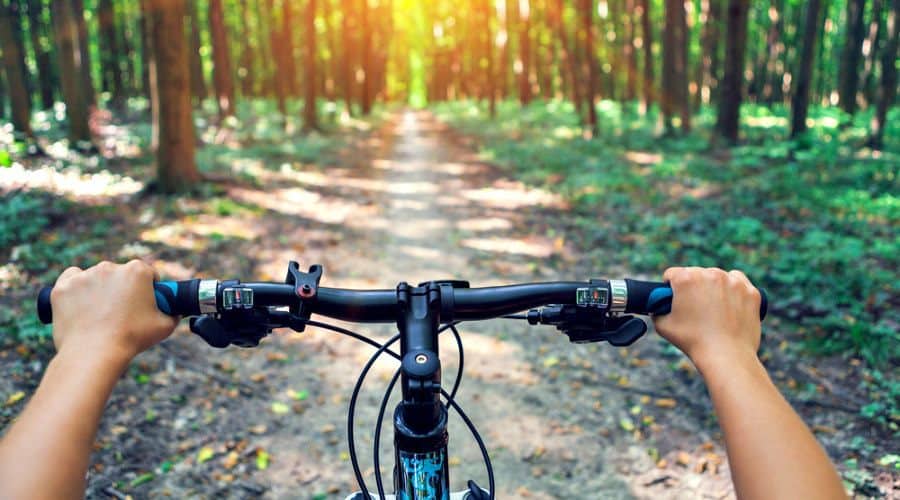 The XC mountain bike handlebars are probably going to be between 720 mm and 760 mm wide. This is a great size to look for.
XC Mountain Bike Stems
The stems that are seen on the XC mountain bike handlebars are short as well. These should be around 60 mm or less in length. This is the length you will want to be able to safely say yes to the mountains and trails that you want to ride. The size of the bike could vary greatly with different stem lengths. The lengths could be up to 90 mm.
Know the Basics About the Brakes and Drivetrain
The most common form of brakes on xc mountain bikes are hydraulic brakes. These are made for speed and are a feature that comes standard on many xc mountain bikes today. If a bike does not have these, you can easily purchase hydraulic brakes for your bike and have them installed.
There are a few different types of hydraulic brakes that you can pick and unless you are going to be going very fast, the ones that are made for cross-country biking might not be necessary. These are typically a lot more expensive than hydraulic brakes that are made with other riders in mind.
In addition to understanding the basics of the brakes, you should also understand the drivetrain. Today's mountain bike industry is at a good point for drivetrains. Most mountain bikes today feature a 1 x 12-speed drivetrain. These are features that you can often see on bikes that are affordable and inexpensive.
Of course, you might not know which drivetrain you want, but most likely a 1 x 12 drivetrain will meet all of your needs. It is important to note that the drivetrain with a front derailleur. With this range of gears, you will be able to climb a mountain and descend with ease, because there are enough gears to use to help increase and reduce speed.
A 2X drivetrain would be a great choice for xc mountain bikes as well. This is especially important if you like to ride at higher speeds or if you are interested in racing. The 2X drivetrain features an added top end. This allows for a more stable ride and one that can allow you to increase your speed in all conditions.
Understand Cross Country Bike Geometry
The geometry of cross country bikes has changed as well. They are becoming more aggressive. This means that they are making riders more confident as well. Right now the angles that are seen in trail bikes are not as common as they used to be. They actually changed a couple of degrees on average.
With cross country bikes you should look for head angles that are between 68 and 70 degrees. This is so that you make sure that the bike is going to work as you go up steeper inclines on more technical rides.
The reason that these angles are so important is that they help to keep the rider's weight on the front wheel even when on the inclines which allow riders to have additional traction. Plus the bike is more responsive.
The next thing that you should look at is the angle of the seat. You want the seat to have an angle that is around 74 or 75 degrees. This is the most common seat angle so finding this should not be too difficult.
The reason that you should look for this angle is that it should keep the rider's weight centered over the bottom bracket. This allows for the rear wheels to maintain traction no matter what the incline or slope that the rider is on.
You should keep in mind that chainstay lengths are that they are shorter on XC bikes. This helps for there to be more energy transfer and more traction. This serves two purposes.
One of these is that the shorter chainstay allows for you to not have to work as hard because they do not have to exert as much energy when pedaling. In addition, the cross-country bikes have an extended wheelbase that allows for better stability.
Know What You Want From Bike Pedals
Pedals are something that you must consider when you are purchasing a new bike. Most people like the clipless pedals but some feel more comfortable on a bike that features clip pedals. You will not have to pedal as hard with clipped paddles as they will with clipless paddles, but they will also be clipped in which could cause more injuries if they were to fall. The pedals that are clipped are also lighter.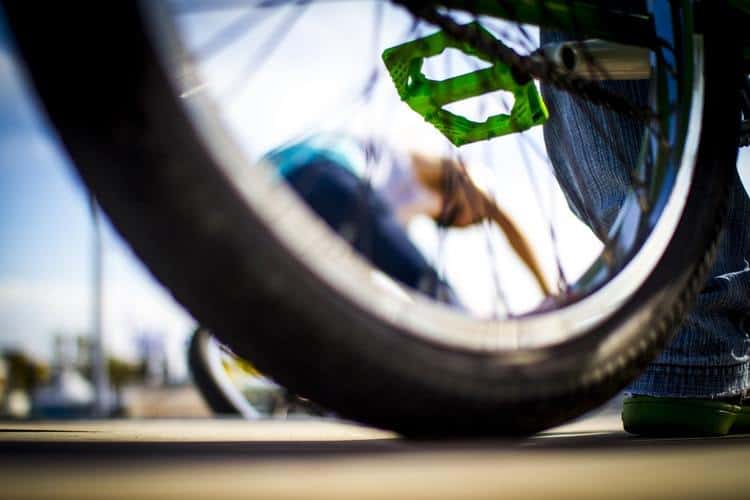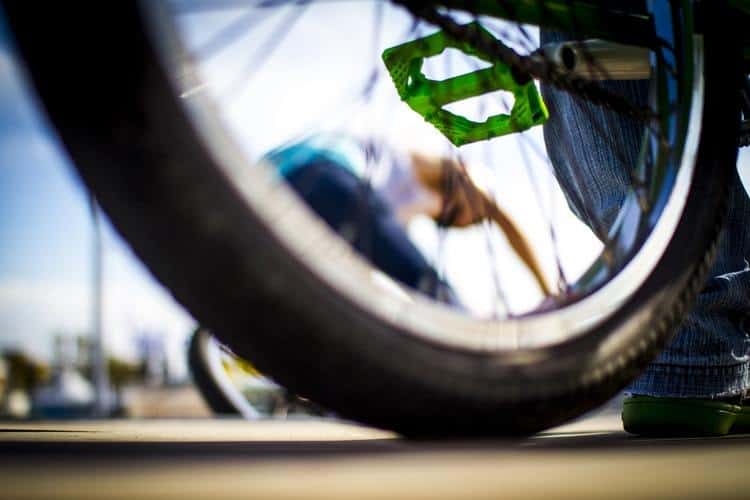 Understanding Wheels and Tires
Wheel size is important to know when riding a bike. However, the wheel size is not typically scrutinized as much on xc mountain bikes as it is with traditional bikes. Most of the time, you want to look for a taller wheel when you are going to be xc mountain biking.
However, you have to be cautious to look for a wheel size that fits and is comfortable, but is also one that is not too short if you still are growing (e.g. young adult). The reason that bigger wheels work better is that they help you to roll over larger rocks and roots and they allow for you to gain more speed for a longer period of time. They also sustain that speed well.
There is a wider range of choices that you can have with wheels. Two of the types of wheels that you will want to consider are alloy or aluminum wheels and carbon wheels.
Alloy or Aluminum Wheels
Alloy wheels are also known as aluminum wheels. These wheels are light in weight. They are often featured on xc mountain bikes. They have a bit of flex and give whereas the carbon wheels do not. This helps your body to not get as beat up on rough or long rides.
Carbon Wheels
Carbon wheels are a great choice for those who want a bike that is going to be tougher. When wheels are made from carbon, they are lighter and stiffer. This means that the wheels are going to be more responsive. You will save energy with carbon wheels.
This is because you will be able to transfer power more easily through the carbon wheels. They also allow for you to steer more quickly. They ARE one of the more expensive wheel options.
Final Points
When you are going to be shopping for an xc mountain bike, you have to consider many factors. You want a bike that is going to be in your budget. That does not mean that you can not find something that is going to work for you. You can find xc bikes in every budget, which we will show you below.
You can consider easy ways to lower the price of the bike without sacrificing the quality of the ride. The hard tail is going to make the biker lighter. It will also save money. The progression of your abilities will be apparent with these decisions.
Best Cross Country Mountain Bikes for Adults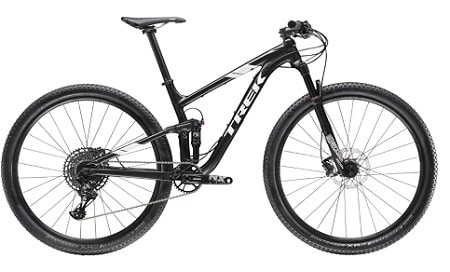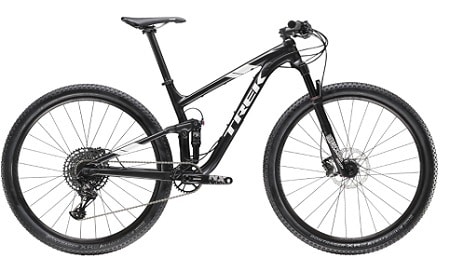 Summary: An excellent "budget" aluminum frame XC bike that hits above its price point, with TwistLoc remote suspension (unlocks/ locks front or rear suspension with the twist of your wrist). Note: Als features a smaller 27.5″ wheelset for smaller (or younger) riders. 
Where to Buy the Trek Top Fuel 8: Listed for retail at around $3,149.99, you can find it for significantly less directly here via Trekbikes.com.
Top Fuel 8 | Trek Bikes
A lightweight Alpha Aluminum frame, a 1x12 drivetrain, and Tubeless Ready wheels make it a great choice for new racers, fast singletrack riders, and anyone who wants to ride fast on trails without breaking the bank.
Check Price
We earn a commission if you click this link and make a purchase at no additional cost to you.
Summary: Built for trail riding, but functions well as a cross over for cross-country biking with a durable and lightweight aluminum frame and a 29 inch wheelset.
Where to Buy the Santa Cruz Tallboy R: Pick the Tallboy R up for around$4,199 via Competive Cyclist online here.
Santa Cruz Tallboy R| Competitive Cyclist
We're relentlessly focused on being the best place for you to buy your next bike. Whether you buy directly through the site or customize your build by working with a Gearhead, we strive to make the process as easy and enjoyable as humanly possible.
Check Price
We earn a commission if you click this link and make a purchase at no additional cost to you.
Summary: One of the highest-rated 2019 releases, the SB100 features a lightweight build, infinity suspension, and an excellent value (for a Yeti model).
Where to Buy: Retails around $4500, head on over to Competitive Cyclist to pick it up here.
Is the Yeti SB100 Worth it? | Competitive Cyclist
The SB100 is a perfect pick for intermediate to advanced mountain bikers, focusing on XC and crossover mountain biking. This won't be your first bike, but it's probably the LAST bike you need to buy.
Check Price
We earn a commission if you click this link and make a purchase at no additional cost to you.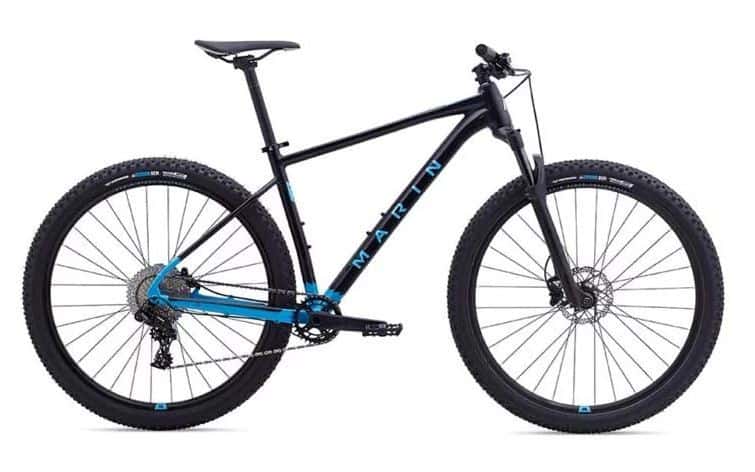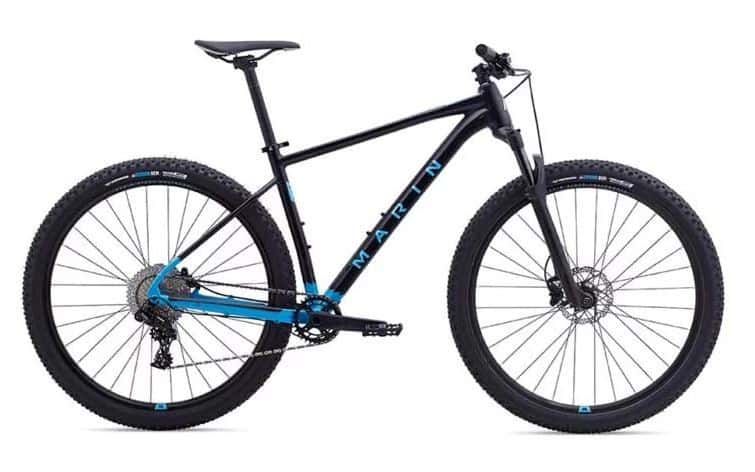 Summary: Very affordable (under $1,300), the Team Marin was brought back to support High School XC racing, offering the best performance for value that we tested here at MTBInsider.
Where to Buy the Marin Team Marin: You can pick this one up for around $1,299 directly via Jenson USA right here (Jenson is one of the BEST online MTB sellers).
Marin Team Marin Bike 2019 | Jenson USA
Marin feels that the drive to win comes from within. The Team Marin has been brought back to the racing scene to support high school XC racing.
Check Price
We earn a commission if you click this link and make a purchase at no additional cost to you.
Summary: An aggressive trail riding machine, the carbon fiber Oiz features a wide cassette ideal for transitioning between climbs to rapid descends. Definitely a XC, but flexible enough for hilly, variable terrain.
Where to Buy the Orbea Oiz: The best place to pick up the around $4,999 Oiz is directly via Jenson USA at this listing (15% off at the time of this writing).
Read our full guide on how to find the best Orbea mountain bikes.
Orbea Oiz M10 29" Bike 2019 | Jenson USA
The 2019 Orbea Oiz M10 29" is a XC bike that has 100mm of travel and a carbon fiber frame. It features a Fox 32 Float SC Factory FIT4 fork with a Fox i-Line DPS Factory rear shock.
Check Price
We earn a commission if you click this link and make a purchase at no additional cost to you.
See more XC Mountain Bike reviews and comparisons here:
Best XC Mountain Bikes for Kids
When your child is between the ages of 8 and 10, they are the perfect age to get started with a great xc mountain bike. They can easily keep up with mom and dad and ride miles each week. Mountain biking can be tough and can be hard on the body. If you get your child a good xc mountain bike, they are not going to have as many negative effects on their body.
The Woom 5 is a bicycle that is not made with XC mountain biking in mind. In fact, most salespeople would likely tell you that this would not work for xc mountain biking, but that is not the case. This mountain bike is a great choice for cross country biking even if it was not explicitly made with that in mind.
The Woom 5 is very lightweight and only weighs 18.8 lbs. This can be a great thing for most purposes but when descending this can be a little light. This bicycle does not have a front suspension which is the reason that it is so lightweight.
This bicycle offers you a smooth ride on smooth conditions. It is a choice for a bicycle that can be used on smooth off-road trails and rides with some modifications but it really needs tires that are fatter before making those rides.
Pros
A decent bike for a lower price tag.
18.8 lbs which are very lightweight.
Perfect for smooth easy rides.
Can be modified for rougher terrains by adding bigger tires.
 Cons
Requires modification for rough terrain.
Too light for easy descents.
Not intentionally made for xc mountain biking.
Cost
Woom 5 Pedal Bike | Woom
The 24" Woom 5 takes bike riding to the next level. Bike Weight: 18.8 lb; Designed for ages 7 to11 years or overall height 49"-57".
Check Price
We earn a commission if you click this link and make a purchase at no additional cost to you.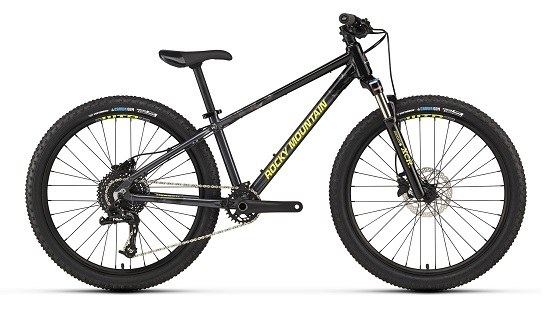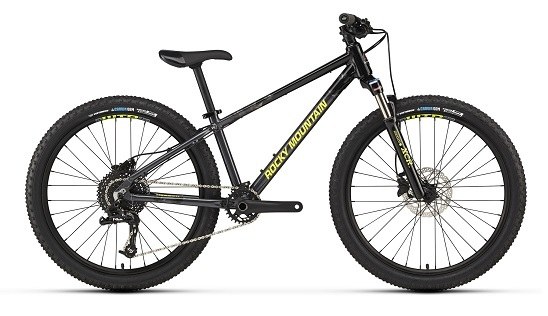 The Rocky Mountain Vertex 24 is a great choice for a bicycle that is built to withstand the conditions and last for a considerable amount of time. This is one bicycle that your child is sure to love if they want to hit the cross country trails with you.
The Rocky Mountain Vertex is a bicycle that has been made from durable materials and is also high quality. The bike features a superior drivetrain. It also has a higher weight, which means that while it is great for descents that it is also not suitable for tricks or other activities that require a lighter weight.
This bicycle also features a superior quality rim set and a great set of wheels that help it to be a bicycle that is easy to ride. This bicycle comes to you ready to ride.
Pros
Ready to ride right out of the box.
Durable and built to last.
Very high-quality materials.
Superior drivetrain.
High-quality breaks.
Nice tires.
Comparable to other superior brands, from a brand you can trust.
Cons
Higher weight (but this is a pro for descent).
Not a good choice for someone who wants to do tricks.
Cost
Retail price around $769.
The Transition Ripcord is a great bike that offers a number of features that you would not typically see in a kids bike. This bike has a full 100 mm suspension. It is a very attractive bike and one that your child is sure to love.
This is one of the best bikes for children who are hoping to ride a bike just like mom and dad. It features all of the same things that children are looking for while pleasing mom and dad at the same time.
As a bike that is superior in quality, this bike has everything that you are looking for in an XC bike. This bike has a full suspension. It is a great choice for someone who is going to shred in different terrains. In addition, it is a little heavier than some bikes, but that makes it perfect for descending, so it prepares your little one for terrain that is rough.
Pros
Full suspension available.
Perfect weight for descents.
Pleasing design.
Many high-quality features.
Full suspension.
Great for xc racing.
Cons
Heavier bike.
Not for children who want to perform stunts.
Cost
Transition Ripcord Complete Mountain Bike - Kids' 2020 | evo
Pull the ripcord and jump! The Transition Ripcord Complete Mountain Bike, when viewed from across the street, looks just like a ripping adult bike, with beefy tires, a 1x drivetrain, and modern geo. It's not until you get closer and gain some sense of scale that you realize this is a kids' bike. Built for everything from school commuting to lift-served runs, this is one sweet bike. Start them off right and they might wait around for you when they're faster than you in a few years.
Check Price
We earn a commission if you click this link and make a purchase at no additional cost to you.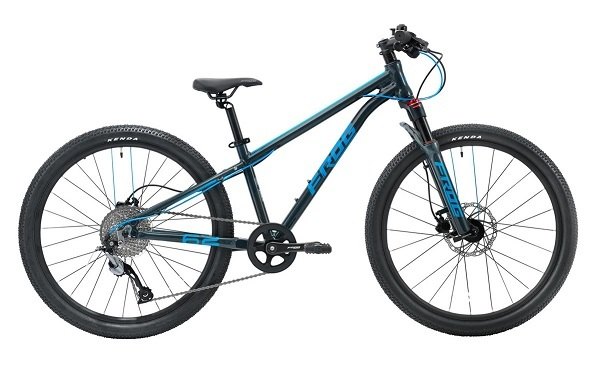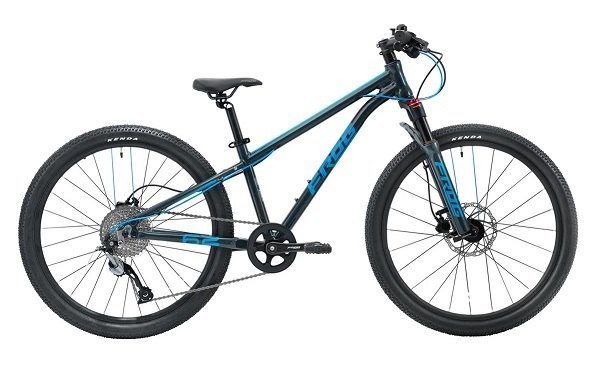 The Frog MTB 62 is one of the newest and most innovative bicycles from the Frog Bikes brand. This bike is a great choice for anyone who is interested in mountain biking. This bike features 65 mm to travel.
Another feature is the hydraulic disc brakes. Plus, the bike features a high-quality drivetrain and specialty tires. It is 24.9 lbs so it is a light mountain bike but not the lightest on our list. This bike is more affordable than other high-quality mountain bikes.
Pros
Innovative and high-quality design.
65 mm of travel.
Hydraulic disc brake system.
High-quality drivetrain.
Innovative high-quality tires.
24.9 lbs…very lightweight.
Cons
A light mountain bike that can be too light for some conditions.
Cost
Retail Price around $880.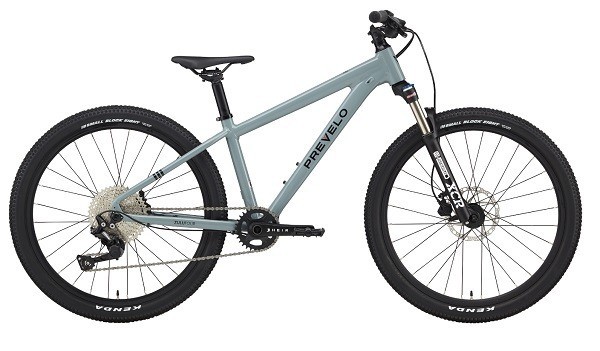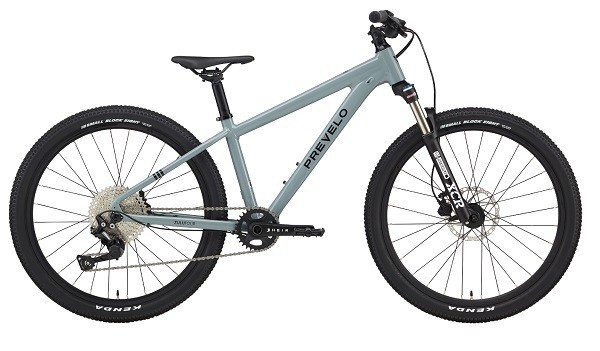 The Prevelo Zulu 4 is a hardtail designed xc mountain bikes that have been made in a 24" size that is perfect for kids. This bike is very comfortable for young riders which can help them to gain confidence and enjoy their ride.
Your child will be able to keep up while they are riding as well. They are going to really be able to open up and ride on the trails. In addition, this bike features a seriously high-quality build and is a great option for your child.
Pros
Mid-level price.
Hardtail design.
Plush ride for extra comfort.
Will help your child to have a comfortable ride the entire time.
Promax hydraulic disc brakes.
High quality build.
Cons
Not the perfect geometry.
Cost
#5 Cleary Scout 24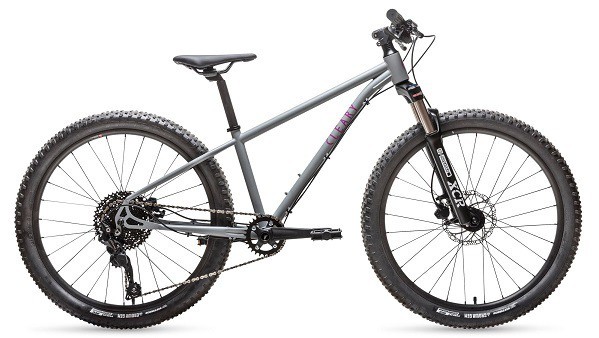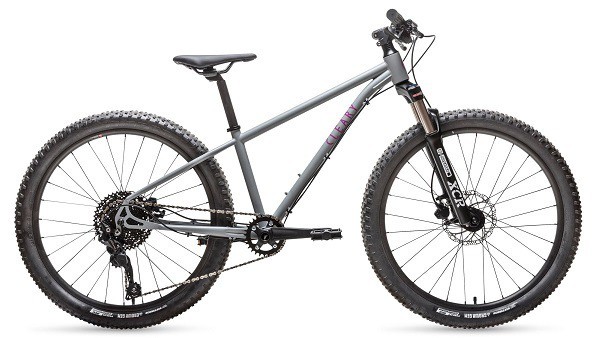 The Cleary Scout is a nice high-quality bicycle. It is a perfect bike for your child to jump on and hit the trails with. It has many great features. One of these is an 80mm air fork. In addition, it was a tubeless ready tire.
Plus the frame was made from durable steel. This bike is not even $1000 but offers many of the features that have previously only been seen on bikes that cost over $1000. The bike has a beautiful and attractive design. It also has nice large thick wheels that are going to be great for riding through multiple conditions.
Pros
A bicycle that comes ready the trails.
80mm air fork.
Tires are tubeless ready tires.
Very durable steel frame.
Many features for a

price tag that is under $1000

.
Very nice looking bicycle.
Easily moves through different types of terrain.
Cons
Not as good at descents as some of the other bikes on this list.
Cost
Retail Price around $840.
The Easy Rider Trail 24 is a high-quality bike that is made in the U.K. This bike is a nice solid choice and one that features several of the qualities that you are probably looking for. One of these is hydraulic brakes.
The bike is high in quality, with special tires and even a spinner air fork. This helps you to have a high-quality package in a bicycle. This bicycle is very light and it actually weighs in at less than 20 lbs which means that your child can maneuver the bike in conditions where you might have to lift, carry, or push the bike. This is a great bike to get your child interested in xc mountain biking.
Pros
Solid component build.
High-quality hydraulic disc brakes.
Top quality tires.
Spinner air fork.
Very light design under 20 lbs, makes for easy maneuvering.
Perfect for teenagers and pre-teens.
Cons
Lightweight is not great for going through certain riding conditions.
Made in the U.K. so it is expensive to get in the U.S.
Cost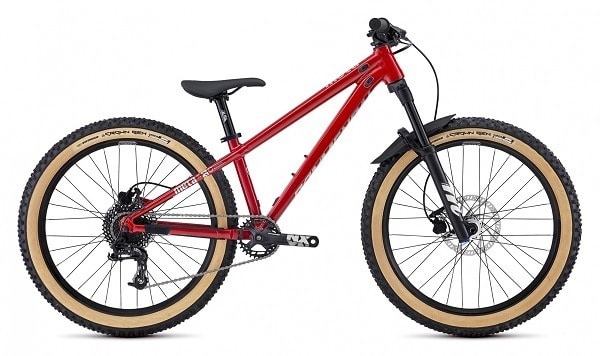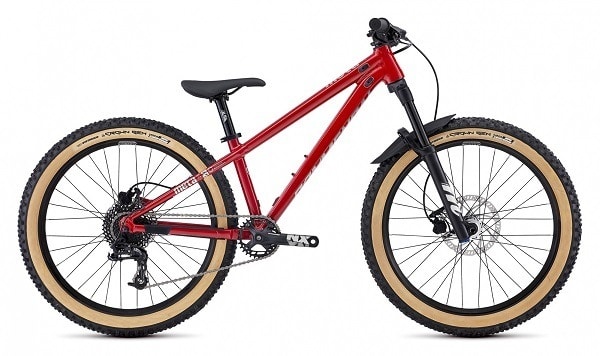 The Commencal Meta HT is a nice high-quality bicycle for children. The adult's version of this bicycle is a great mountain bike, and the kid's version does not disappoint. Parents and children, alike, love this bike for the long cross-country trail rides and the climb and descent on mountains.
This bicycle features a hardtail design. It is a great choice for anyone who wants to really be engaged in a mountain ride. This bicycle features a 100 mm fork, high-quality drivetrain, superior rims, plus-sized tires, and hydraulic brakes.
It has a nice build for a bicycle that is lightweight. It has a progressive design and features the top quality geometry. This bicycle is perfect for the child who wants to enjoy some fun and some additional tricks and special riding features.
Pros
Just like the adult version, only smaller for a child.
Top quality performance for comfortable cross-country rides.
Also great for mountain rides.
100 mm fork.
High-quality drivetrain.
Superior quality rims.
Amazing drivetrain.
Hydraulic disc brakes.
Plus-sized tires.
Lightweight build.
Progressive geometry.
A great choice for children who want to do tricks and are more adventurous.
Cons
Cost
Retail price around $999.
See some other models and comparisons here
Safety Tips for XC Mountain Biking with Kids
When you decide that it is time to start riding with your child, one of the first things that you should consider is how to ensure that your child remains safe while you are on your ride. Today with all of the video games and tablets, it is harder than ever to engage your children outside.
This means that your child is not likely to be in the natural world on a regular basis. One of the best ways to combat excessive screen time and medical conditions, like childhood obesity, is to ensure that your child is able to enjoy an active outdoor activity with you.
One great option for families to enjoy together is cross country mountain biking. There are some tips that you will need to ensure that your child is safe while they are riding with you.
Make Sure Your Child Has the Right Bike
Finding a great xc mountain bike for your child might actually feel impossible. The choices listed above are great places to start if you would like to go mountain biking with your child. By being able to find a great choice for your child, you will be able to enjoy all of the wonders of mountain biking with them.
The main thing that you will need to do is to make sure that your child is able to control their bike. This means that you do not want a bike that is too heavy for them.
However, you want a bike that is heavy enough to handle the ride that you are interested in. So, talk to the people who are selling a bike or read reviews to ensure that you have the right choice. The best way to determine if a bicycle is right for your child is for them to go on a test ride. Another thing to remember is that the frame of the bike is not as important as finding the right sized wheels.
Understand the Risks Involved
When you are riding with your child, you have to assume and understand the risks that are involved in doing so. One of the things that you will have to do is make sure that your child knows where the limits are when it comes to safety.
Some children are naturally more of a daredevil or are more adventurous. Those children will have different needs for mountain biking. The thing that you have to do to keep your child safe is to encourage your child to ride with all of the proper safety gear.
Make Sure Your Child is Ready for a Bike
Another consideration that you have to make is to ensure that your child is ready to go mountain biking with you. This does not mean that you cannot bike with them in other terrains, but mountain biking requires your child to be an adequate rider who is able to easily speed up and slow down as well as being able to maneuver up steep inclines. Even cross-country mountain biking requires some level of skill.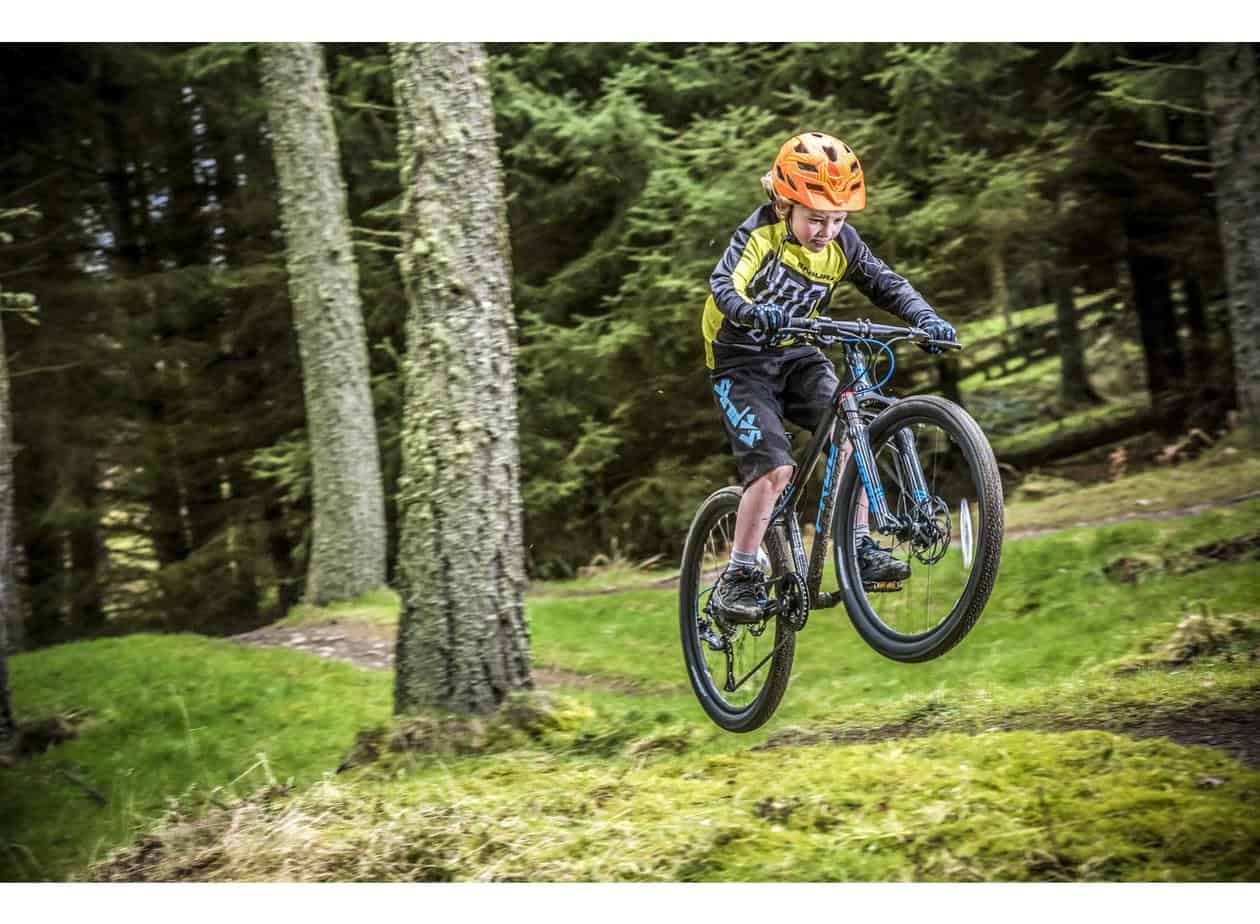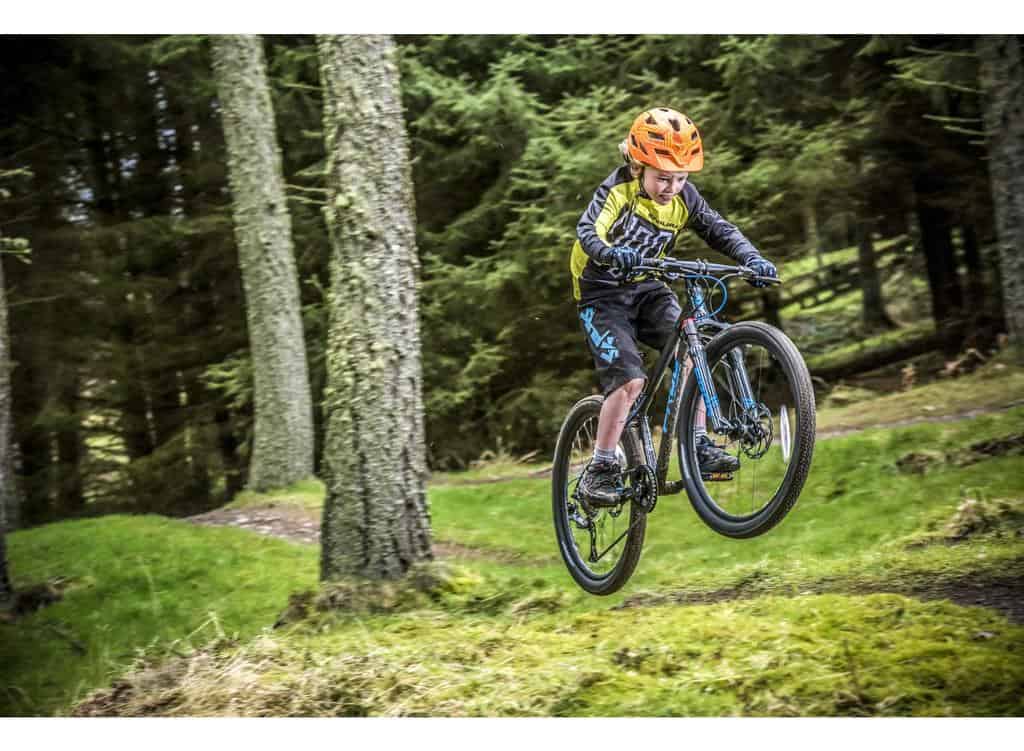 Before you can hit the mountains with your child, you should be sure that they can handle the conditions where you are going to ride.
Get Your Child the Right Safety Gear
The next thing that you should do is ensure that your child has the right safety gear. There are many pieces of equipment that your child needs. The first of these is a helmet. The child is going to ensure that they are going to have a chance at not injuring their head.
The next piece of equipment that you are going to need is a good pair of knee pads. Children should also never ride in open-toed shoes, so if your child wants sandals, make sure that they are closed toed. Additionally, elbow pads can also help keep your child better protected.
Make Your Child's Bike Looks Good
All serious mountain bikers should know about the things that keep your bike properly working and safe. You want to make sure that you understand the performance and function of your child's bike. You also need to be assured that your child knows these and is able to keep safe while riding. To be able to be safe, your child should have a dropper seat post, special drivetrain components, and better grips on the handlebars.
Biking with the Whole Family
One of the greatest adventures that you can take with your family is mountain biking. You can equip adult bicycles to be appropriate for toddlers who are aged one and older. You can put them in a seat carrier or a special trailer. This means that you can actually get the whole family involved. With your older children, you will want to ensure that they each have a bike that is suitable for them.
Final Thoughts on the Top Cross Country MTBs
There are many things that you should consider if you are looking for the right xc mountain bike. This means that you will want to think about each of these considerations to ensure that you are going to be successful in buying them the perfect bike.
The first thing that you have to do is to do to find the right XC mountain bike is to understand the different parts of your mountain bike. This is so you can understand what the mountain bike offers and what you can do with it.
Next, you have to be able to look at your options and determine which is better for them.
Finally, you simply need to be able to make sure that you are safe while you are riding as a family. We hope you enjoyed reading this article and got plenty of value from it. Happy riding!