There is a wide range of choices when you are looking for the best dirt jump bikes for your child. Kids are the future generation of riders, and having a great bike will help your child to have the best experience and most potential.
You want your kiddo to have a bike that is well made and has all of the same features that you would look for in an adult dirt jump bike. Luckily, there are some industry leaders that are going to be able to offer you a number of great choices.
Far too often companies that make children's bikes sacrifice quality to be able to ensure that they are cheap. They are made with materials that are far too heavy for dirt jumping or tricks. The majority of kids bikes have poor quality components.

A Look at Top Dirt Jump Bike Brands and Their Best Bikes
Mongoose Bikes
Mongoose has been around for nearly 40 years and is a company that has been known to make bikes that are perfect for rough terrains and beginner riders. These bikes are a great choice from a company that was founded in a Southern California garage in 1974.
The brand has always been known for its aggressive features with their models and for pushing the limits of what you can do as a rider. This means that Mongoose can handle some of the biggest bombs on the mountain, through cross country terrain, or on the dirt jumps.
The Mongoose Fireball is a very popular choice and one of the world's most diverse bikes. It features a number of features and specs that make it perfect for handling the dirt jumps that you want from your bike. It is a great choice for your kiddo when they are hitting intense slopes.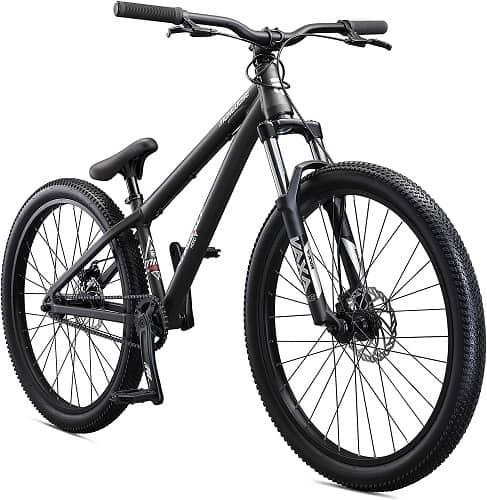 The bike is made from a very durable Tectonic T1 aluminum. This is a special aluminum that has been manufactured to be lightweight and tough. It is perfect for any ride out there.  This bike is only available in one size that is suitable for riders who are 5' tall or taller, so it is not suitable for young kids but jr high students and some late grade school students will find this to be a great bike.
Features of the Fireball
One size Frame
Aluminum Frame.
Special DRT Jump Geometry 26" Frame.
9 mm x 135 mm Dropout.
Replaceable Hanger.
9 mm x 100 mm Steerer
100 mm Travel Axle
Crank — Samox 36T
3 Piece Samox Cartridge
68 mm Threaded Shell
9 Shifters
Sunrace 9 Speed, 11 to 36 T
Special KMC Z99 Chain
26" Wheel Size
26 mm ID Xposure Aluminum Double Wall
Xposure Ball Bearing
Mongoose Nylon Double Butted Pedals
2 Color Choices — Black or Purple
 Geometry
Head Tube Angle — 69 Degrees
Seat Tube Angle — 70 Degrees
Horizontal Top Tube Length — 585 mm
Seat Tube Length — 292 mm
Standover Height — 680 mm
Head Tube Length — 115 mm
Chainstay Length — 415 mm
Fork Offset — 35 mm
Bottom Bracket Drop/Rise – 20 mm
Wheelbase — 1055 mm
Stem Length — 40 mm
Bar Width — 680 mm
Crank Length — 175 mm
Seat Post Size — 27.2 mm
 Cost
Lil' Shredder Bikes
Lil' Shredder Bikes is a small bike company that builds special bikes for kids. These bikes are both hardtail and full suspension. The frames are built to be strong to withstand the abuse that they are put through. They are truly built to last.
These bikes start at a 16" size. Be sure to keep them around when your child outgrows them because they can simply be converted to 20" wheels and some of the bikes can grow to even 24" wheels. These bikes are a great choice to help meet your child's riding needs with all of the customization options available.
The makers of Lil' Shredder Bikes decided to start the company after they were able to see the result of their son's love for riding the bike. Like most kids, their son started with a balance bike and moved on to a bike with pedals.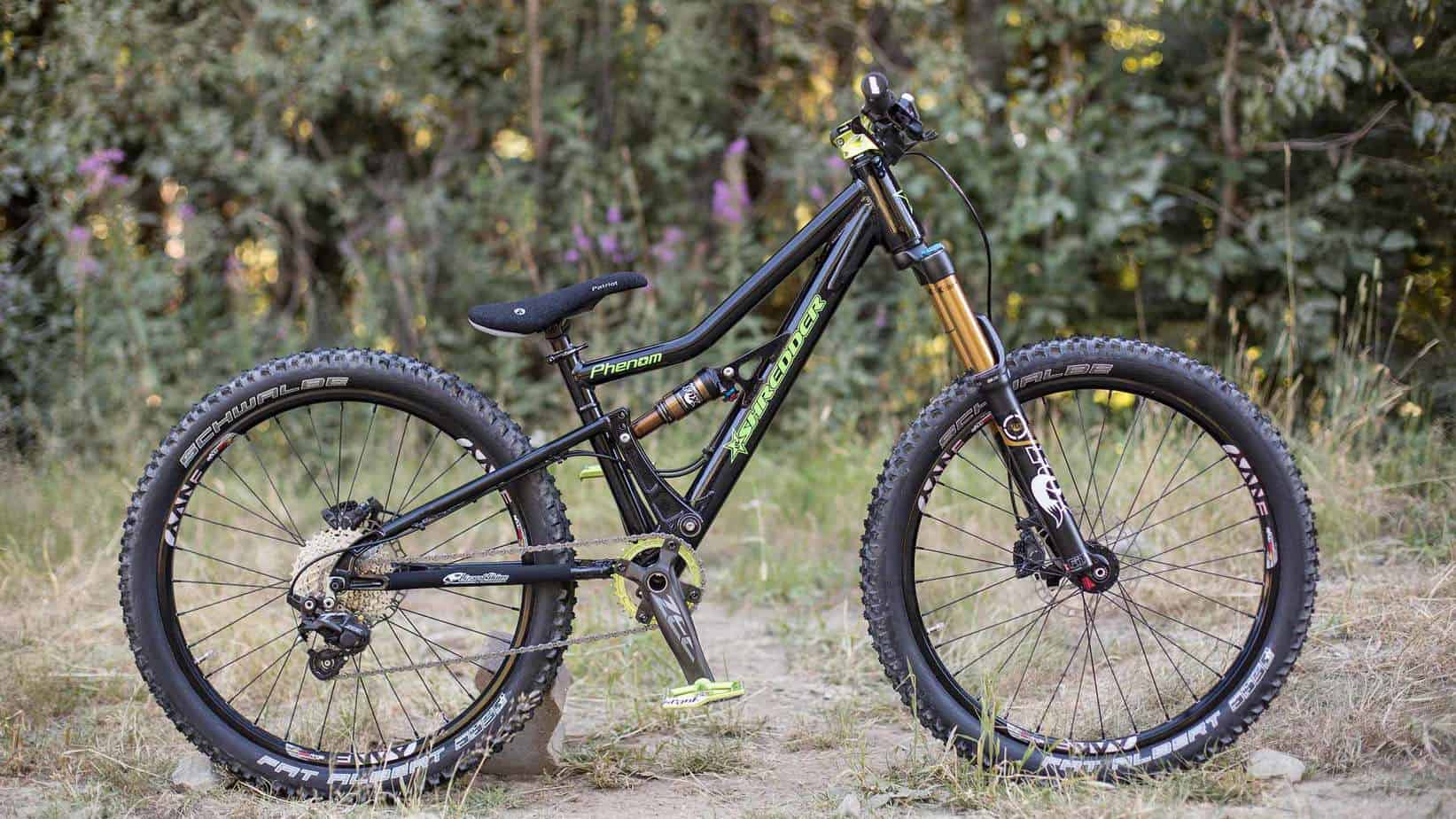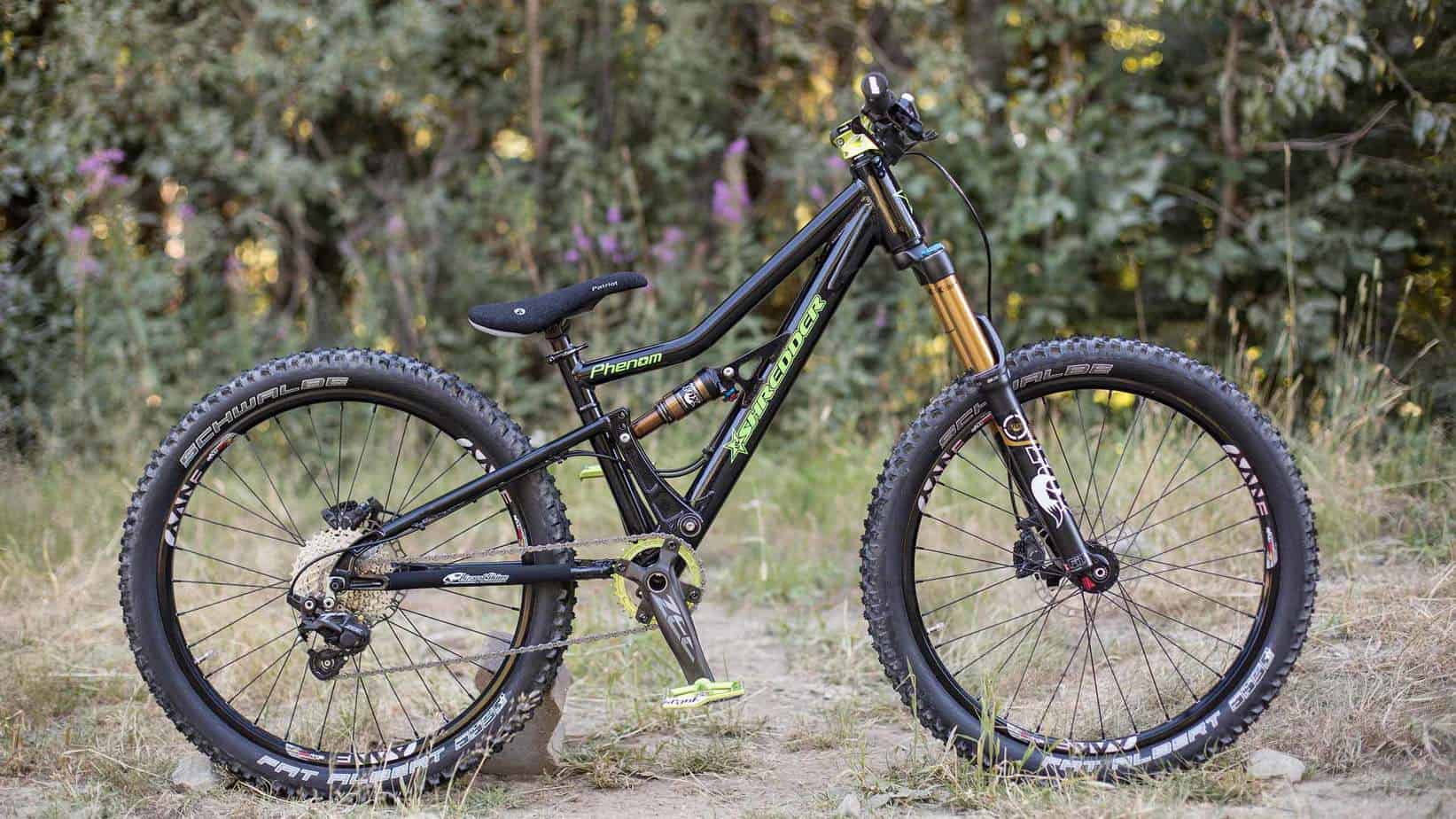 Then their son started to learn how to use the hand brakes and from there Lil' Shredder was born so that their son could keep up with their them while riding. They were really frustrated with the way that riding wasn't very accessible for kids and with the bike choices that were out there.
The company says that their goal is "to keep making a worthy product for the next generation of up and coming riders so they can begin their journey earlier than ever." They promise to be a company that is going to offer a number of choices for your child.
Here are a few dirt jumping bikes that are perfect for your child from the Lil' Shredder Bike brands.
Lil' Shredder Icon Bikes
The Icon is a bike that is high in quality and is a great choice for all dirt jumping riding styles. While most kids are riding bikes that are very heavy, this is one that is comfortable and not too heavy at all. It is a bike that will move effortlessly with your child and will help your child to have a ton of fun while they are jumping.
Features of The Icon
Available in Two Frame Sizes, both 16" and 18".
Can fit 16" and 20" wheels.
Build of the 16" Wheel — 142 x 12 Rear Axle and 15 mm Front Axle.
Build of the 20" Wheel — 142 x 12 Rear Axle and 15 mm Front Axle.
Interchangeable Single Speed Setups and Sliding Dropouts for Geared Included.
Comes in Two Standard Colors: Sky White and Carbon Black.
Also Available in Custom Colors for a $100 Fee.
This Bike is Handcrafted in the U.S.A.
Frames made from 6061 Heat Treated Aluminum.
 Simple Size Chart
Child's Height — 3' to 3'6", 16" Wheel Size, 16" Frame Size
Child's Height — 3'7" to 4'3", 20" Wheel Size, 16" Frame Size
Child's Height — 3'10" to 4'6", 20" Wheel Size, 18" Frame SIze
 Available Builds & Costs
Frame Only — $750
Custom Colors — Additional $100
Dirt Jumper Build, 16" Wheels — $1950
Dirt Jumper Build, 20" Wheels — $1950
Trail Build, 16" Wheels — $2200
Trail Build, 20" Wheels — $2250
Lil' shredder Icon 24
The Icon 24 is a great choice for your child who likes to ride rough and go big. This bike is designed with the right geometry needed for dirt jumps of all sizes. This allows you to do all of the jumps and riding that you want!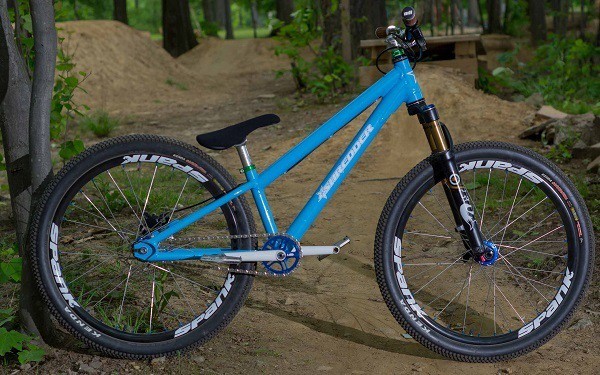 Features of the Icon 24
20" Top Tube Length.
Headtube That is Tapered.
Only Accepts 24" Wheels.
135 x 10 Rear Axle, 15 mm Front Axle.
Single Speed Setups Have Sliding Dropouts.
Chainstays are 14".
Stand Over Height 23".
Fox 80 mm Fork and 11.5" Bottom Bracket Height.
Bikes Fit Kids Who Are 4'5" Tall to 5' Tall.
2 Original Colors Available — Carbon Black and Sky White.
Custom Colors Available for Additional $100 Fee.
Made in the USA by Hand.
Frames Made from 6061 Aluminum That Has Been Heat Treated.
Simple Size Chart
Child's Height — 4'5" to 5', 24" Wheel Size, 20" Frame Size.
Available Builds and Costs
Frame Only — $850
Custom Colors — Additional $100
Dirt Jumper Build, 24" Wheels — $2350
Spawn Cycles
Spawn Cycles is a family owned business that is based in Canada in Squamish, B.C. They are located in between 2 biking meccas which is why they are at an advantage to create an epic bike.
The company started looking into kid's bikes in 2011 when they were aspiring to have a high-quality bike that was lightweight and would work for their son when he was ready for his first pedal bike. They were disappointed with the options that were out there. These bikes were made with poor quality materials and were very heavy for their frame size.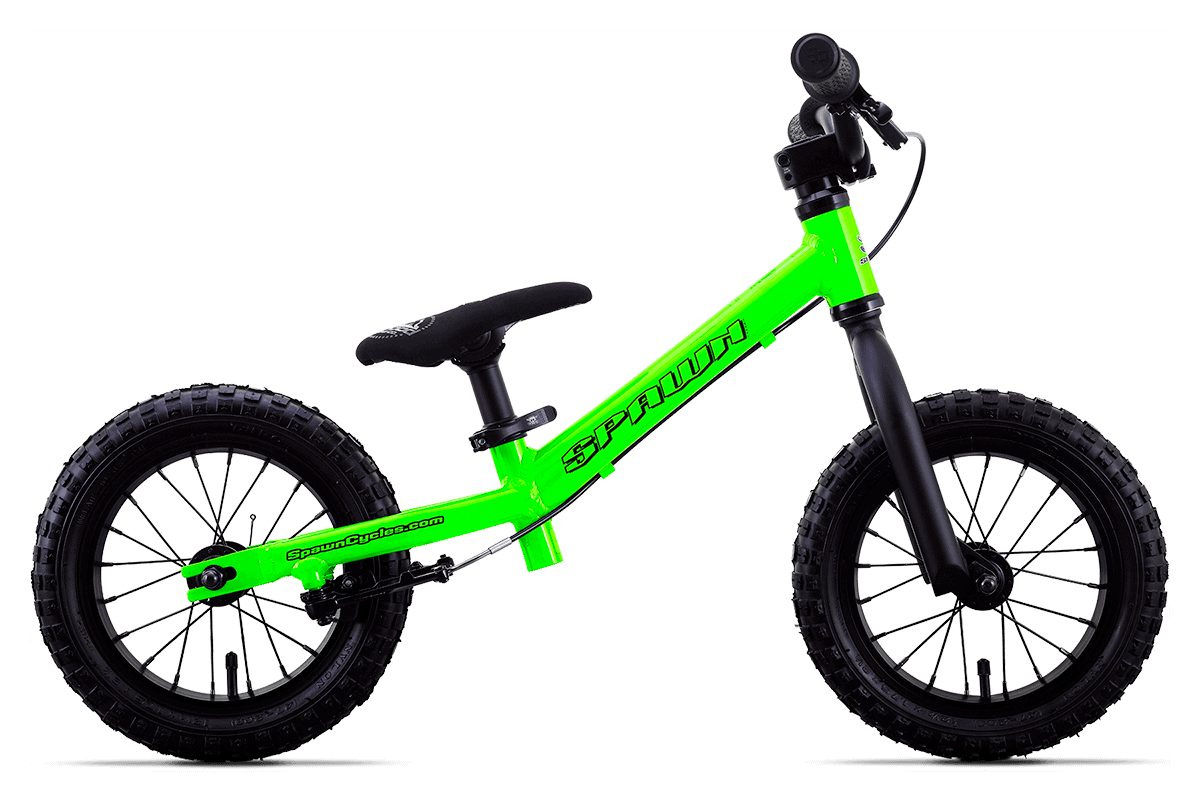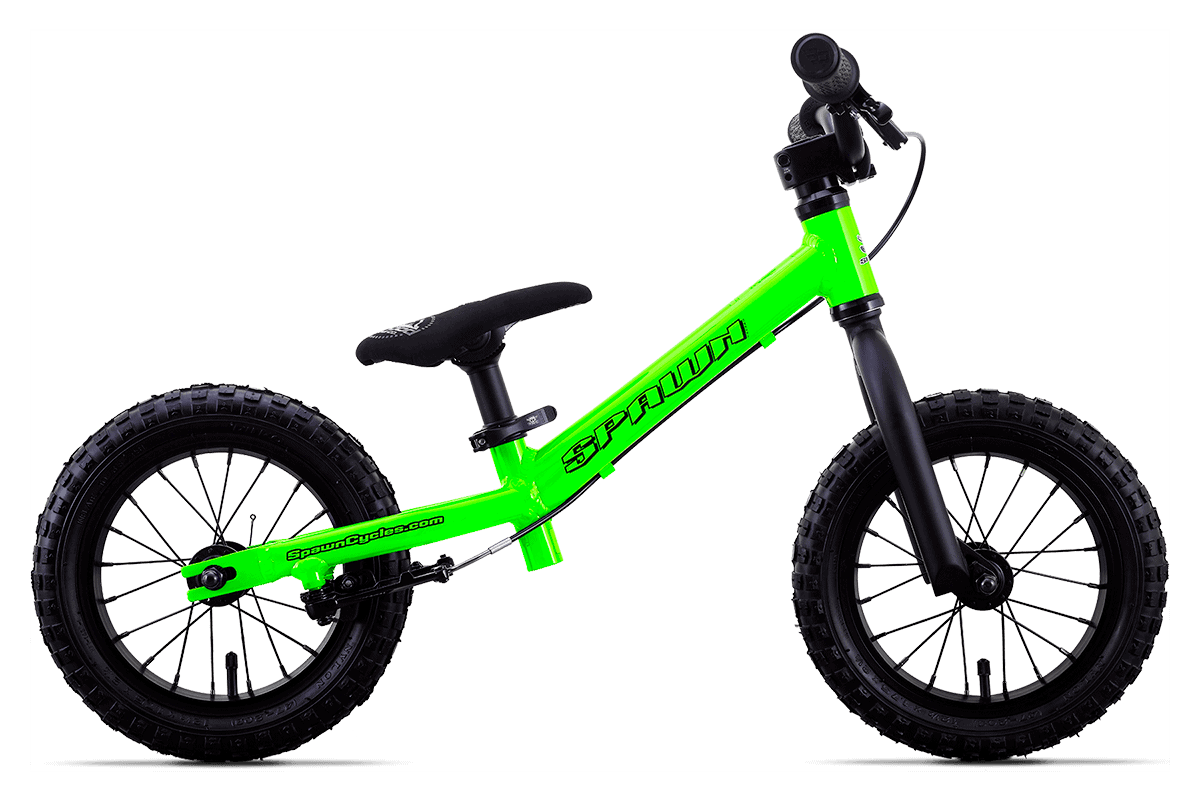 The company was started in the family garage. They worked on designs and prototypes there and started manufacturing bicycles in 2012. They were available through an e-commerce website in Canada at this time.
Spawn was initially creating bikes that were needed by the son and daughter of the owners, so the attention to detail was impeccable. They were looking for bikes that would work for children and offer high-quality details that other kids' bikes did not have. As their children grew in their abilities, so did their expansive line of products. Today, there are bicycles for each activity that your child could ever want.
The Kotori 20" is a great bike that is perfect for when kids want to do some dirt jumping. This is a great little bike that will allow your child to be able to easily jump when they are riding and allows them to have a sturdy, heavy bike.
The bike features an alloy frame that is very sturdy and that is going to last a long time. It is a great bicycle that is going to offer you a number of features that you are not going to find with many other brands.  This bike has some of the best quality components that you can find and it features everything that you are looking for when your child wants to do dirt jumping. It weighs 22 lbs and requires minimal assembly.
Features of the Kotori 20"
Frame — Spawn Cycles 6061 T6 Alloy
Fork — Brood Bike Co. Eldorado 20" 80 mm travel, lockout
Cranks — Brood Bike Co. Styx 2 Piece Thru-Axle, 140 mm
Chainwheel — Brook Bike Co. Direct Mount, 32T
Bottom Bracket — External, Sealed Cartridge Bearing
Freewheel — 14T Cog and Spacers
Chain — KMC K810 Silver
Rear Brake — Tektro Auriga Hydraulic Disc
Brake Levers — Tektro Auriga WS
Handlebars — Brood Bike Co. A Mar Named Sue, 560 mm Wide, 25 mm Rise
Grips — Brood Bike Co. Tenderriderz
Stem — Spawn Cycles Alloy, 40 mm
Front Hub — 100 mm Alloy, Sealed, 15 mm Through Axle, Quick Release
Rear Hub — 135 mm Alloy, Sealed, Bolt On
Rims — Alloy, 32 H
Tires — Kenda Small Block Eight 20" x 2.10"
Headset — Semi-Integrated, Sealed
Seat — Brood Bike Co. Throne Pivotal
Seatpost — Spawn Clamps
Pedals — Wellgo Alloy
Geometry
ST Seat Tube Length — 240 mm
HA Head Tube Angle — 68.5 Degrees
SA Effective Seat Tube Angle — 70 Degrees
TT Theoretical Top Tube Lenght — 465 mm
HT Head Tube Length — 120 mm
FL Fork Length — 385 mm
WB Wheel Base — 855 mm
FC Front Centre — 527 mm
RC Rear Centre — 335 mm
Price
How to Teach Your Child to Dirt Jump Like a Pro
There are so many off ramp sculpted landing ramps and dirt jumps that are amazing fun and quality today. If your child has seen them, chances are that he/shes mouth is watering to jump them. The biggest thing to remember is that your child has to start with the basics and take things slow.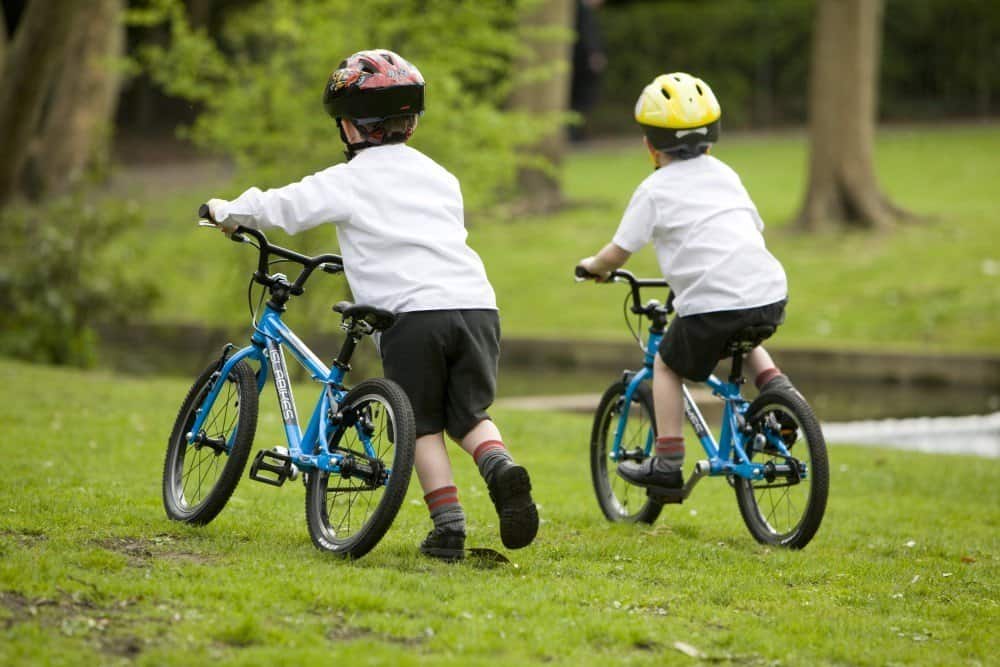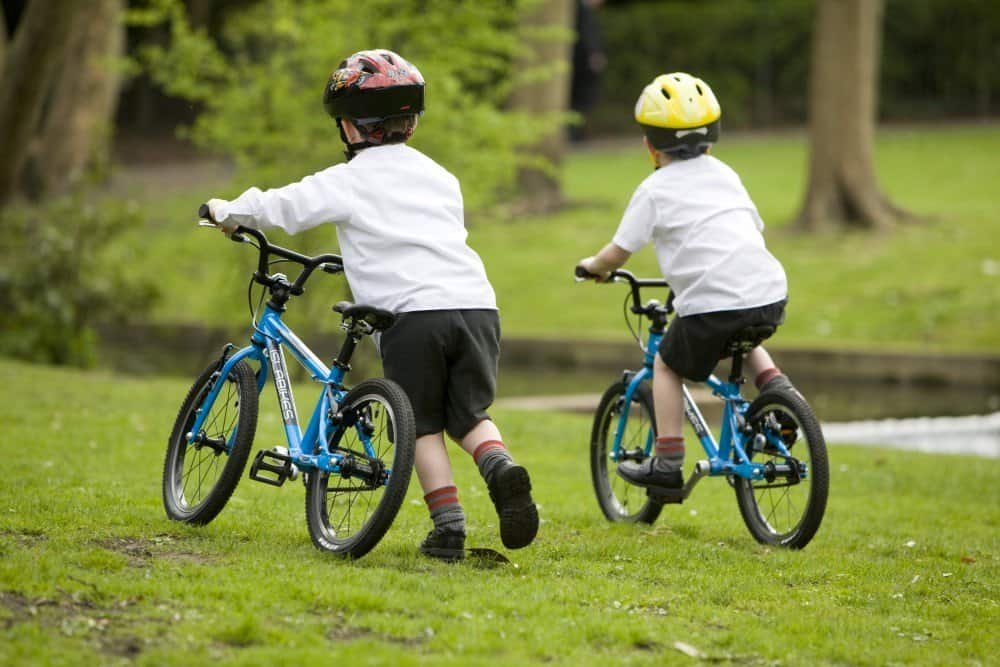 Different Types of Dirt Jumps
The firsts thing that you need to know is all of the different skills that your child should know before attempting dirt jumps. Here is a shortlist of them.
The Manual
The Manual is sometimes confused with other tricks like the coaster wheelie or the wheelie. These are a great first trick to learn as it is simple. To perform this trick you simply need to combine a few different elements. The first of these is heavy pedaling. Then there is the rear brake feathering and weight shifting
. By learning how to do the Manual, your child will soon be ready to move on to bigger and better tricks. The coaster wheelie is very similar, but that requires you to stop pedaling and balance. However, with the Manual, your child will learn to shift their weight back and forth effortlessly.
Most of the time the Manual is a stunt that is used in street riding and is something where riders can perform tricks on rails and ledges. The Manual teaches a technique that is crucial for being able to double jump. The manual forces a dip in between jumps and uses additional pumping to increase the speed. The best thing about the Manual is that it teaches riders how to increase control and speed at the same time making it crucial for those who are wanting to start dirt jumping.
When approaching the first mount, your child will want to have their preferred foot in the forward position. They will need to keep their elbows and knees in a bent position while staying relaxed. Staying relaxed is key because if you stiffen, you are not going to be able to move the bike underneath you.
By staying loose, your child is going to be able to relax through the takeoff which will, in turn, help them to learn how to nail jumps later on. This is a trick that will help you to be able to keep moving forward when you are focusing on the jump. Additionally, by keeping your weight towards the back, you will be able to lift that front wheel up and perform tricks.
If your child wants more of a challenge, they can actually straighten their legs to extend their feet out in front of themselves. When they do this, they can even stand upright to show off some skill. Another thing that they should be doing to master skills is to extend their arms. Then they just need to pump the backside.
Boosting a Jump
The next skill that your child should learn is how to boost a jump. Boosting a jump is one of the most essential skills to learn before setting off on trails that feature jumps. The best rides will happen when they flow effortlessly with the jump and the moves that are required to land the jump. Your child will learn about depth and speed and how to combine depth and speed for success. They will also learn how much they have to pull up to be able to effectively make the jump. 
Being able to boost a jump is a skill that is great for learning how to make a secure landing and for trail riding hazards to be avoided.  To boost a jump, first, your child will need to learn to stand tall. They need to work with being able to throw their body weight in a forward motion as quickly as possible. They will want to extend their arms and legs to be able to take off successfully.
Next, they need to be able to push the transition, into using their arms and legs into the ground. Then your child can learn to explode off of the lip of the jump fully compressed. Then tuck the bike up and you will be able to ensure that the bike moves forward and makes a huge bunny jump.
The Squash
For times that you are moving and going to be gaining extra height to help you move into a bigger jump, you will find that you want to avoid jumping and landing in the transition. Then you will want to be able to move into different size of jumps. By mastering the squash, your child will be able to enjoy jumps at greater speeds and through different types of terrain. This type of jump is one of the most common types of jumps in racing.
The first thing that your child will do is learn to relax their limbs. This is a skill that is a bit more difficult because when your child is learning jumps they are often nervous and that makes it harder for them to attempt a jump. In addition, you will find that this skill of learning to relax when nervous will carry your child through a lot of sketchy situations, not just in riding.
When they have relaxed completely, they will be ready to absorb the lip. As the front wheel is lifted into the air, the bike will be moving up and away from the jump. Your child will need to keep the knees flexible so that they can raise their position in the air. Extend the arms and the bike will naturally arc through the air and stick the landing. This allows for your child to be able to gain height and even do their first trick.
Each of these skills is the basics that need to be practiced before you attempt any dirt jumping.
Buyer's Guide for Dirt Jump Bikes
Purchasing a dirt jump bike for your child is a big decision and is something that you will hopefully find to be an enjoyable and healthy experience. You want to ensure that your child is going to be able to enjoy their time on the trails.
Of course, it will be important for your child to learn how to be a safe rider to avoid any injury on these rides. You might not be sure about what type of bike you should be looking for, but you simply will want to take some time to consider what will best suit your child's riding needs when purchasing them a dirt jump bike. 
Tips for What You Should Look For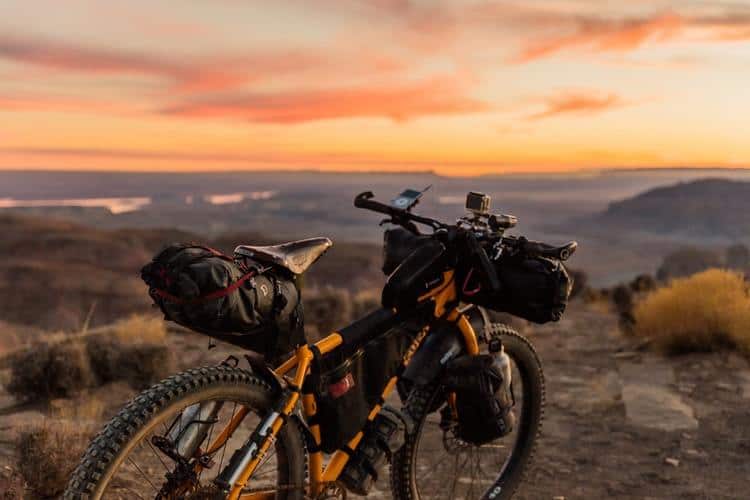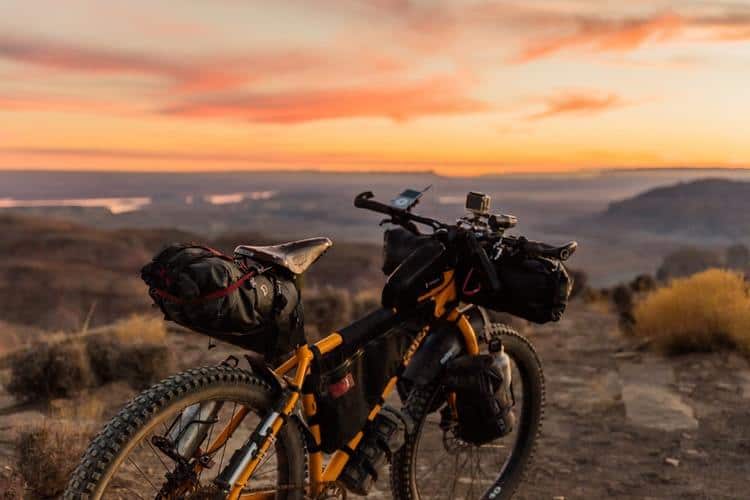 A Good Frame
The bike frame is measured from the center of the head tube to the center of the seat tube. This measurement is known as the horizontal top tube length. It is an important measurement for anyone who is looking to buy a dirt jump bike. The tube length should coincide with height. If your child is tall, you will want a longer tube length and a shorter tube length if your child is short.
This is how you can be assured that you are finding the right size bike frame. There are typically sizing charts that manufacturers produce. They are typically fine for helping you to ensure that you are purchasing a bike that is the right size.
A Strong Fork
Another part of the dirt jump bike that is very important is the fork. You need a strong fork to be able to ensure that the bike is going to be able to withstand the abuse that it will take from the jumps. Most of the bikes that have a strong fork will be able to fully withstand any abuse that you can throw their way.
The best way that you can test this is to approach the bike from the front and you can put the wheel between your legs. You then turn the handles from side to side and if you can see the fork twisting, it is not a strong enough fork. If you cannot be rough with a bike, you are not going to be able to ride it to withstand the abuse that it will take from dirt jumps.
What You Should Know About the Wheels
The wheels are another important part of the bike that you have to consider if you want the bike to be able to handle the jumps that it will endure when your child is riding and doing tricks. The wheels need to be sturdy. This is so that you can still allow your child to train on the bike.
Bikes that are used for training on dirt jumps are often exposed to far more pressure and abuse than the wheels that are used otherwise. Bikes are put through additional strain when they are used for learning to dirt jump. This means that it is extra important when shopping for a kid that you choose a bike with sturdy wheels to withstand all of the pressure.
In addition to this, you will want to make sure that you look at how many spokes are on the wheels. You want enough spokes for the wheels to be extra sturdy. A good number to aim for is 36. With 36 spokes the wheels are going to be far more sturdy than you will ever need. Plus, you should make sure that the tires are filled to 45 psi.
What to Look for with Chain Retention
Another thing that you should consider is the chain retention. This is more important with the single speed bikes because you want to ensure that the chains are tense enough to function properly during drop-offs and hard landings.
Make sure that you know some information about the frame and the material that it is manufactured from. Frames can be made from aluminum (also known as alloy), carbon fiber, or steel. A bike that has an aluminum or alloy frame is one that is going to be the most affordable option.
If you have to stick to a budget this is a good choice. Additionally, the steel frame is a more solid choice and is much stiffer than the alternative. There is also a new mixture of aluminum and steel that is called Chromoly steel. This is a great choice as well as it is material that is going to be stronger than traditional alloy and lighter than traditional steel.
It is never going to be an easy task choosing a dirt jump bike for your child, but you will be able to tackle this with the right information. By having the right information, you will be able to easily skim through all of the options as well as how each of the safety features works. Additionally, by watching them on the track, you can watch how your child rides and figure out the best choices for a bike that is going to work with them and their skill level.
Safety Tips for Dirt Jumps
When your child is learning to ride a mountain bike and is going to be doing jumps. It is important for them to be able to learn how to do so safely. This can all be done with ease and the following tips are going to help you to have the highest safety standards.
Wear a Helmet
The first safety tip is one that should really be a given, but we are going to state it anyway. You want to make sure that your child is wearing a helmet that is in compliance with DOT standards.
Wear Protective Clothing and Gear
However, you are going to need more than a helmet to keep your child's body protected. Some of this additional equipment includes safety goggles that are in DOT compliance standards. Having long sleeves, long pants, gloves and over the ankle boots are also important. These are available with DOT compliance standards as well.
Riding on Pavement
Most mountain bikes are not made for pavement. If you are learning to dirt jump, do not jump on the pavement. You always need to make sure that you are jumping safely and that you are permitted by law to do so. Another vehicle could hit your child if they are riding in areas where they are not supposed to be. This is why you should stay off of the highway and busy streets.
Supervision is Important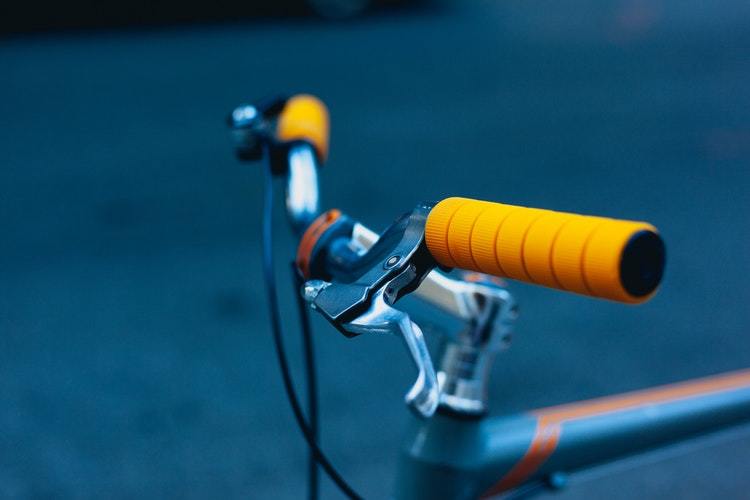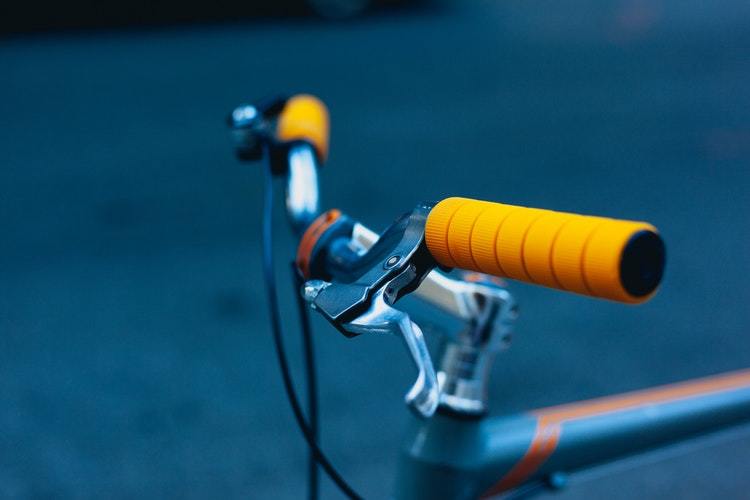 It is important to make sure that your child is going to be supervised if they are under the age of 16. This is because you do not want your child to be injured and not have someone there to help them. Dirt jump bikes are a nice piece of equipment and although they can be a lot of fun, they are not a toy. This is very important to note as so many parents do not feel the need to supervise their children.
Make Sure The Bike Fits Your Child's Height
You want to make sure that your child has a bike that is the right height for them. If your child is trying to ride a dirt jump bike that is too tall, they are likely to have an injury or have problems. So, you will want to follow size guidelines when you are purchasing a bike for your child. This is one of the most important factors and something that will certainly assure that your child is able to ride safely.
Know the Power Your Child Can Handle
You need to assess your child and know the amount of power that they can handle. By doing this you will rest assured that your child is able to ride well without problems. They are going to be less likely to be injured or have problems. It is important to know and understand how much power a bike has and to make sure that your child is riding a bike that they can control completely.
Don't Allow Your Child to Ride Alone
The most dangerous thing that your child can do when they are riding is on the trails alone. Being alone on the trails is not safe for a number of reasons. If your child is injured, you might not be able to find them.
Stay on a Safe Trail
Make sure that you are teaching your child to stay on safe trails. You want to ensure that your child is not used to riding in crazy places and that you are teaching him to ride in a way that is safe and going to be safe when he or she is an adult and venturing out on their own.
Ride at a Safe Speed
Trying to go through trails too fast is the number one reason that people end up with injuries. Make sure that your child is traveling at speeds that they can handle. If they ride too fast, they are more likely to end up with a serious injury.
We hope that this article helps you purchase the perfect dirt jump bike for your adventurous child! Feel free to use this as a guide and please share your purchasing experience with us! We would love to hear from you.