The biggest hurdle that most people who love bombing trails face is acquiring the perfect mountain bike. However, that is just the first step. You don't only need to get the right mountain bike, but you also need to pick up the right accessories and clothing for your next ride. These accessories and clothing make a huge difference in your riding as they can determine whether or not your first ride – and others after it – will be awesome or end in a ride to the hospital.
The primary goal behind having these accessories and clothing is to increase the fun you can have on a mountain bike ride as well as to ensure that you are nice and comfortable. This is why dressing correctly for mountain biking should be one of the first things you have in mind, even before you start shopping for your mountain bike.
Mellow trail riders can get away with wearing lightweight clothing that offers less protection compared to downhill biking gear. For downhill biking, you need something more technical, and your level of protection must be up to par. With high-quality pads, shoes, and a good helmet, you will be able to tackle any mountain trail with confidence. The more you ride, the more you will be able to modify or adjust your apparel as needed.
If this is your first time thinking about the best mountain biking gear you need to buy for your next ride, you are in luck, because this guide will reveal the details you need to know about the accessories and clothing you need to acquire in order to make your mountain biking experience a smooth and enjoyable one.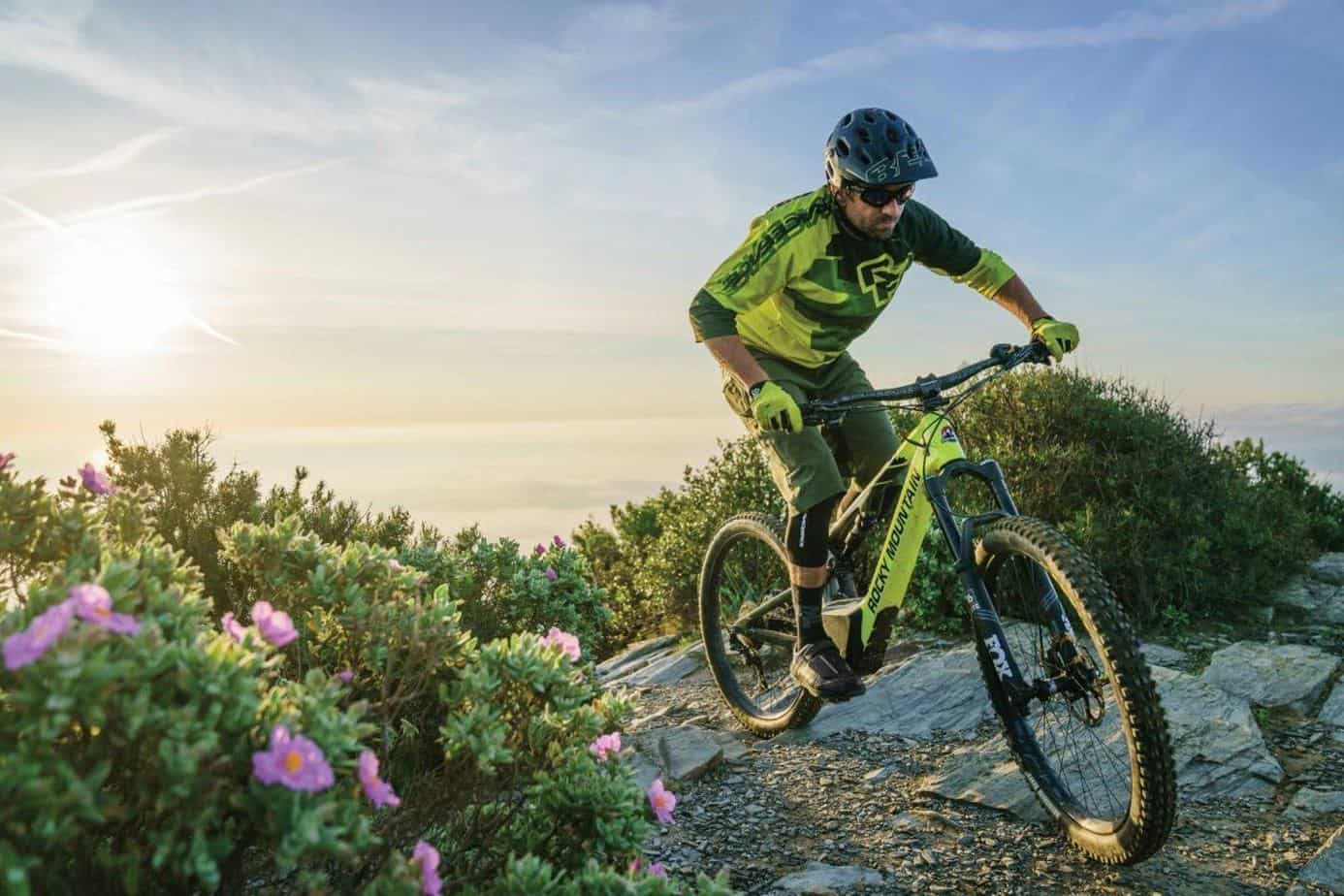 Now you should bear this in mind; you will spend some money on your gear. But you can always find good deals if you look hard enough. Let's take a look at some of the accessories you will need:
The first – and most important – safety accessory that a mountain biker should pick up before hitting the trail is the mountain bike helmet.
Helmets come in different styles, and the type of helmet you choose will depend on the type of riding you'll be doing. You can get a full-faced helmet or a regular trail helmet. Regardless of the type of biking, you will be doing, it is important to remember to never leave your house to ride with your mountain bike without bringing your helmet.
A regular mountain bike helmet is slightly different from the traditional road biking or recreational helmet. The best mountain bike helmets out there provide excellent coverage over the temporal as well as the occipital regions of your head.
This is why the standard mountain bike extends somewhat lower on the sides as well as the back of your head. These protrusions are designed to protect your head from trees and rocks in case you take a tumble while riding. You can even get your hands-on full-face helmets – which provide additional protection for your face, chin, and mouth – if downhill mountain biking is your jam.
These mountain bike helmets offer greater protection than the traditional road bike helmet. These helmets, in most cases, often have visors that you can raise or lower depending on the intensity of the sunshine.
The visor can also serve as a shade from the sun without impairing your visibility as you ride in and out of woody and rocky sections of the trail. This is why a majority of the mountain bikers nowadays go for helmets that come with peaks – or visors – in the front. The visors can also help in deflecting foliage as you ride in the woods.
A helmet that fits your head is essential for safety; however, it is up to you to determine the helmet that will be suitable for you. Full-face helmets have been trending for a while now with enduro and trail rider which allows users of these "convertible" helmets to remove the chin guard, especially when climbing trails that are less challenging.
If you have some money to blow, you can also consider getting a mountain bike helmet that is equipped with MIPS (Multi-directional Impact Protection System) technology to enhance safety measures.
Such helmets usually come with an area where users can mount action cameras along with excellent coverage around the sides as well as the back of the helmet. Most mountain bike helmets are designed with vents that allow for better ventilation at average speeds. Most of these vents are large.
Biking Helmet Specifications
Individual helmet manufacturers create a variety of molds with different shapes. Here are some tips to keep in mind when it comes to choosing the best mountain bike helmet that fits you:
You need to make sure that the inside of the mountain bike helmet you choose sits level and is in full contact with every part of your head. It must be set above your eyebrow, without interfering with your vision
Some helmets – especially the more expensive ones – come with two or three height alterations or adjustments for the rear stabilizer. this means that you can still fine-tune the fit
You should increase the tension of the ring system so that it is tight around your scalp
You should check the buckle's strength by fastening it and tugging at it
The straps of your chosen mountain bike helmet should be tight enough so that the helmet moves an inch from level.
The key, therefore, is to get a helmet that won't wobble around while riding your mountain bike but fits snugly. You may need to keep searching for a better helmet if you've chosen a helmet that doesn't meet these criteria. In addition to this, make sure you get a helmet with proper ventilation or else, you're eyes will be bathed with sweat.
The Best MTB Helmets on the Market Today
Now that you know a little about mountain bike helmets, here are the top products making waves online:
Troy Lee Designs A-1 Helmet      

Smith Optics Forefront Mountain Bike Helmet       

Smith Optics MTB Helmet | Amazon

The team at Smith, having spent decades reducing lens fogging, knows quite a bit about ventilation. One look at the Forefront Helmet, with its breathable Koroyd tube structure, shows how willing they are to depart from convention to create a product that's truly great.

Buy at Amazon.com

We earn a commission if you click this link and make a purchase at no additional cost to you.

06/01/2023 12:04 am GMT

POC Tectal MTB      

POC, Tectal, Helmet for Mountain Biking | Amazon

Specialized MTB helmet designed for everything from trail riding to enduro. The helmet features an adjustable visor, goggle clip, and more coverage at the temples and back of the head.

Buy at Amazon.com

We earn a commission if you click this link and make a purchase at no additional cost to you.

06/01/2023 12:04 am GMT
There is no doubt that riding a bike is great for your overall health. But mountain biking is an endeavor that is much more demanding than simply riding a bike through town. That is why you need to be adequately geared up with the necessary accessories that will enhance your experience.
The second most important part of your riding kit that you should consider when it comes to mountain biking is your footwear. Since your feet do a lot of the hard work, you need them to grip the pedals firmly.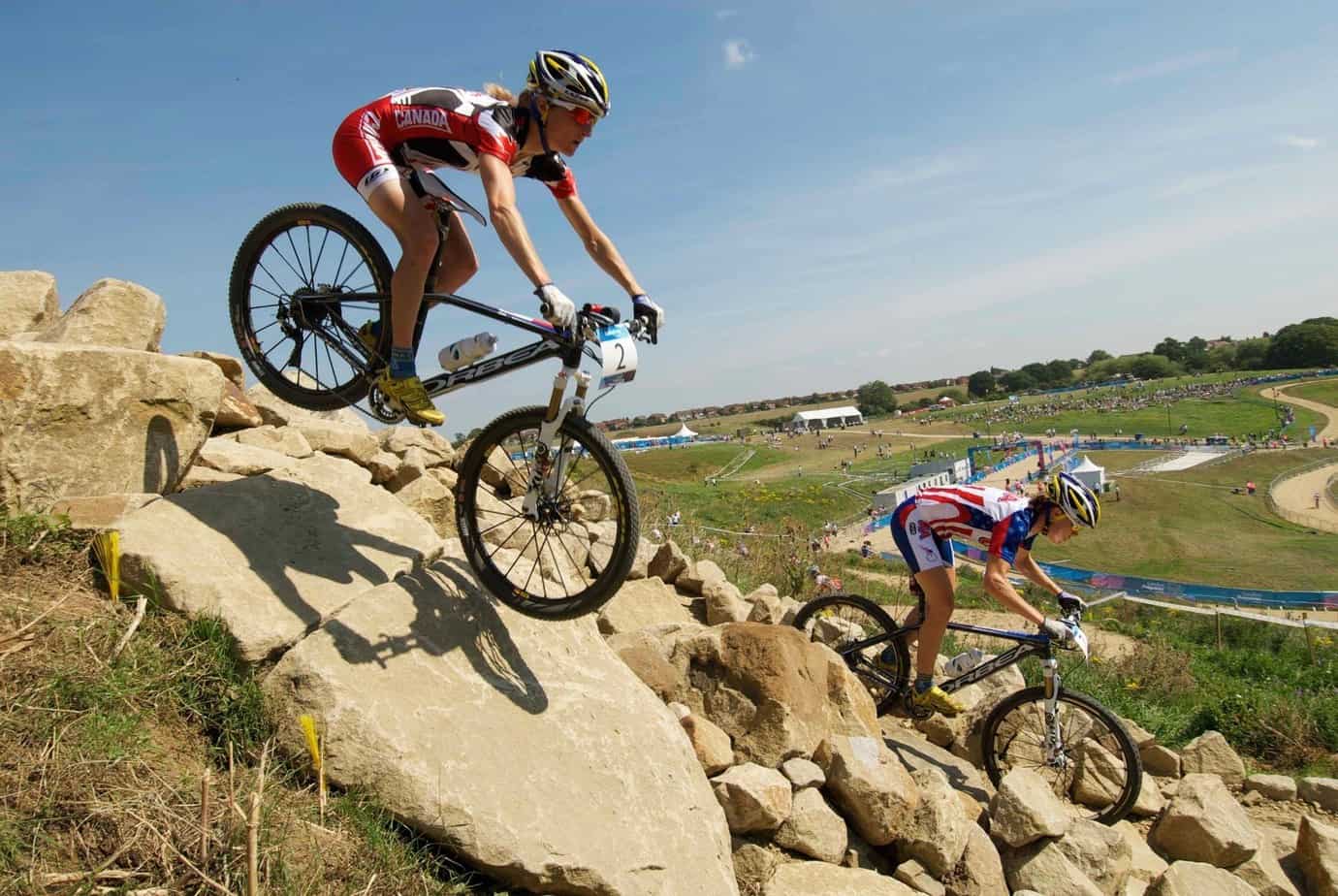 This is why you need to wear shoes that will not only do the job well but can also cope with rough trails, in case you need to get off your mountain bike and carry it. Shoes for mountain biking are durable, rugged, and stiff enough to enhance power transfer. They also play a significant role when it comes to performance and control.
If you wear shoes that are not tough enough to cope with the terrain or not supportive enough, your mountain biking experience may be very uncomfortable. The extensive and supportive features of your mountain bike are designed to drastically ease your riding experience. But if you are not geared up properly and wearing the proper shoes for mountain biking, you may not be happy with the outcome.
For instance, the pedals of mountain bikes – as well as other types of bikes, of course – are exclusively designed to provide solid grip and support for a rider's foot placement. Therefore, for maximum efficiency, wearing shoes that have adequate traction and grip is paramount. The biking shoes must also be designed to provide sufficient ankle support along with excellent cushioning that will help in easing the constant pressure on your feet.
Finding great mountain bike shoes can be difficult and may consume a lot of your precious time. But there are excellent biking shoe options out there that you can count on, any time, any day.
However, before getting to the list of high-quality, hand-picked mountain bike shoes, it is important for you to know that there are generally two types of mountain cycling shoes: flat pedal and clipless shoes.
Flat pedal shoes come with flat outsoles and can grip the pedals firmly while clipless shoes are attached to the pedals using a ratchet and cleat.
MTB Shoe Specifications
There are some other factors you need to consider as well when choosing the right mountain biking shoes. Here they are in no particular order:
Walkability – How much walking do you anticipate? As a new rider, there may be instances where you have to get off your mountain bike – if it becomes unrideable for whatever reason – carry it, and walk for an unknown distance. When you wear shoes with grippy rubber outsoles with knobs or lugs, you will find it easier to walk on trails and to clamber over obstacles on the way. That means you should always be prepared for a hike and this will be easier if your footwear is topnotch.
Pedal Compatibility – Compatibility is highly crucial when looking for a good pair of mountain bike shoes. This is because it will have an impact on the type of pedal system you go for. Some shoes work exceedingly well with platform pedals as well as a clipless pedal system after accepting a cleat.
Waterproof Protection – If you have to go mountain biking on a wet day, you need shoes with waterproof liners that can withstand the cold and wet conditions. You can also go for shoes that come with shoe covers.
Pedaling Efficiency – Some trail shoes are stiff and were designed only for efficient pedaling. However, these shoes could be difficult to walk in. Look for shoes that provide excellent pedaling efficiency that also hold up as a solid pair of trail shoes. These types of shoes have good vents and kind of look like street shoes.
The Best MTB Shoes on the Market Today
After in-depth research on the best mountain bike shoes out there, here is a list of the best shoes at affordable prices:
How to Find the Right MTB Elbow Pads
Have you ever hit your elbow against a wall or table accidentally? If you have, then you know how excruciating it can be. A simple, stationary fall on your mountain bike can leave you with a gnarly elbow injury. Not to mention a crash when you are flying down the mountain.
That could result in multiple elbow fractures that could put you away for a while. You don't want this to happen, trust me…
This is why you need to invest in a pair of high-quality elbow pads. You may be extra sweaty as a result of using a pair of elbow pads – especially when it is hot outside – but it is still essential for you to wear them.
The high-quality elbow pads listed below allow you to enjoy an excellent range of motion naturally, and you will not feel uncomfortable as a result of sweating.
The Best MTB Elbow Pad Models
Here are a few of the best elbow pads you can get your hands on at an affordable price:
Mountain bikes are becoming more powerful and faster than ever before. This means that beginners – and even experts alike – may end up in an accident as a result of the enhanced performance of mountain bikes. That is where a good pair of knee pads come in real handy.
Knee pads come in several varieties: soft and hard or wrap-on or pull-on. They are made by some of the best brands in the world, but you may be asking yourself, "Why should I wear knee pads at all?"
Knee pads are essential components of any mountain bike gear kit. Protecting your knee is crucial as it is usually the first area that hits hard every time you fall off your mountain bike.
However, striking the perfect balance between protecting your knee and being comfortable may take some testing out different pads.  This is why this list of the best knee pads have been carefully handpicked for comfortability and efficiency.
Each of these topnotch knee pads offers excellent ventilation, great protection, and comfort. They are also made with viscoelastic foam protectors since they are more comfortable and lighter than the traditional hard-shell versions. Viscoelastic foam knee pads can also absorb any impact force.
The Best MTB Knee Pads on the Market Today
Here are a few of the best knee pads out there:
Next Up: Find the Right MTB Backpacks
Mountain biking is all about enjoying the outdoors. It allows you to have fun while engaging almost every part of your body in an intense workout. Rides on your mountain bike can be several hours long. Therefore, you need to be adequately prepared when embarking on a trip on your mountain bike, especially if it is going to be multiple hours long.
MTB Backpack Specifications to Consider
A high-quality backpack is what you need to bring all the essential tools along with you. Essential items that a backpack can carry include:
Food
Water
Bicycle tubes
Extra change of clothes
Rain gear, etc.
Some backpacks also allow you to enhance your comfort on the trails. Some backpacks are made with materials or fabric that can absorb up to 95% of shock. Others are made of breathable and soft fabrics that ensure comfort as you ride along the mountain trails.
The Best MTB Backpacks on the Market
Here are some of the best backpacks you can purchase:
Finding the Best MTB Hydration Accessories
As a mountain biker, you need a hydration pack that will help you stay hydrated as you hit the trails. Beginners at mountain biking usually take this for granted, but you should know that keeping your body hydrated helps you to function at your peak. You will also have more fun without the annoying distraction of having to search for water – or any refreshing drink – as you ride along on beautiful trails.
A hydration pack is perhaps the best solution for any mountain biker and should be used for carrying water or other essential items. If you plan to spend a few extremely long epic days on your mountain bike, you will do well to take a high-quality hydration pack with you.
A good hydration pack should be light and durable, but roomy enough for you to carry lots of water as well as other essential items like your wallet or keys. They come in various sizes, shapes, and features.
The Top Hydration Packs Worth Considering
Here a few suggestions of the best hydration pack in the market today:
Don't Forget the Rack! Finding the Right Bike Racks
The ideal way to transport your mountain bike without facing the stress or hassle of dismantling your bicycle or folding your car seats is a good bike rack. Whether you are going for a family holiday, getting in shape for the next long ride, commuting to work, or moving, you will need a high-quality bike rack to get your mountain bike and other bikes around.
Bike racks also eliminate the hassle of losing passenger space as well as valuable luggage since they are secured on the back or roof of your vehicle. There is a bike rack that suits your automobile, whether it's a jeep or a sedan.
The prices of bike racks vary for a variety of reasons; for instance, there are bike racks that can be mounted on your trunk, on a tow bar, or on the roof bar. You can even get your hands on a spare wheel bike rack as well.
However, the primary reason why prices of bike racks are different has to do with the brands that manufacture them as well as the raw materials they are made from. Most bike racks are made from either steel or aluminum.
Not all bike racks will fit your vehicle. For instance, roof-mounted bike racks are usually attached to roof bars. So, you must have a roof bar in position on top of your car before mounting the bike rack.  If you want to buy a tow bar mounted bike rack, you need a tow bar mounted at the appropriate place on the rear of your automobile. Spare wheel bike racks can only be attached to vehicles that come with a mounted spare wheel on the rear door.
The Different Types of Bike Racks
So, the bike rack you purchase depends on your personal preference as well as the existing apparatus that is already mounted on your vehicle. Here are, therefore, the four major types of bike racks in existence today:
Roof Mounted Bike Racks – This type of bike rack is installed on the roof of a vehicle, and if you have one, then your car has to be fitted with durable roof bars. Yes, this is a valuable investment you will be proud of. But you should know that a single bike roof mounted bike rack cannot hold more than one mountain bike. That shouldn't discourage you as people have been known to fit up to four bikes on the roof of their vehicles. Bike racks come in a variety of specs, so your choice will depend on what you need. Some high-quality bike racks are fitted with additional support mounts and security locks.
Spare Wheel Mounted Bike Racks – Spare wheel mounted bike racks are designed for 4x4s and Sport-Utility Vehicles (SUVs) with spare wheels fitted on the boot or back door of the vehicle. It is one of the easiest bike racks to set up as all you will need to do is strap the bicycle-carrier around the wheel. Spare wheel mounted bike racks are designed so that the wheel bears the brunt of the weight of your mountain bike. They cannot carry more than two mountain bikes at a time.
Rear Door Mounted Bike Racks – This is perhaps the most versatile bike racks today. One bike rack model can be fitted to many vehicles. This is possible since most rear mounted bike racks come with adjustable arms and straps that match the shape or contours of any vehicle.As a rule, most rear door mounted bike racks are sturdy enough to carry up to three mountain bikes. However, if your vehicle has a fitted spoiler, it could affect the load capacity or alter it considerably.
Tow bar Mounted Bike Racks – These types of bike racks are installed on vehicles that come with tow bars. Tow bars have ball sockets that you can use to connect and lock in the carrier. Some tow bar mounted bike racks are sturdy enough to hold up to six mountain bikes, so it's your choice that will determine whether or not this is possible.
You will have no problem using Tow bar mounted bike racks as you will still be able to gain access to the boot. This is because the racks can be tilted – fully loaded – so that you can gain access to your boot.
The Best Bike Racks to Check Out
Here are examples of the top-selling bike racks in the market today:
Shorts are one of the crucial items you should keep in mind as you search for your mountain bike accessories. The style of biking you will be doing also plays a significant role when it comes to buying a pair of high-quality shorts for riding.
Types of Mountain Bike Shorts
Shorts come in various types;
Baggy-styled biking shorts which are less restrictive and hard-wearing
Shorts that come with inner liners made of breathable mesh material or fabric
There are shorts for summer and the winter season. A majority of the best shorts for mountain biking are manufactured using highly sophisticated materials along with enhanced inner shorts.
MTB Shorts Design Considerations
The first thing you should look for when searching for a good pair of shorts for mountain biking is whether it has the following:
Hip pockets
Adjustable Elastic  Waistband
Liner
Cargo pockets
The Best MTB Shorts Worth Trying
Here are some of the best shorts for mountain biking:
ZOIC Men's Ether Cycling Short + Essential Liner     

Zoic MTB Cycle Short | Amazon

Superior quality and designed for performance, our best-selling shorts with a detachable liner are for all types of riders in any trail conditions.

Buy at Amazon.com

We earn a commission if you click this link and make a purchase at no additional cost to you.

06/01/2023 12:05 am GMT

Przewalski Men's MTB Mountain Bike Cycling Shorts w/Padded Underwear     

Przewalski 3D Padded MTB Shorts | Amazon

The chamois of the liner shorts feature water diffusion and wicking properties. Made with breathable fabric and arranged with air vents for the outer layer, you can always feel the dry touch. Filled with a 1.5-cm-thick high-density sponge, the liner offers the most comfortable ride you've ever had.

Buy at Amazon.com

We earn a commission if you click this link and make a purchase at no additional cost to you.

Beroy Womens Bike Shorts with 3D Gel Padded, Cycling Women's Shorts     

Beroy Womens Bike Shorts | Amazon

*220g/m2 80% polyester20% spandex,fabric has good elasticity, more close to the skin ,quickdry,Fabrics have the function of the moisture absorption perspiration, let movement can more lasting, reduce lactic acid.

Buy at Amazon.com

We earn a commission if you click this link and make a purchase at no additional cost to you.

06/01/2023 12:04 am GMT
Gloves are designed to not only protect your hands but to help in keeping you in control of your mountain bike. If you ride your mountain bike without using a pair of gloves, rain or sweat from your palms can make your grip on the handlebars less firm or slippery. But with a good pair of gloves, you will have a firm grip and solid support.
A pair of gloves can also protect your hands as you ride in the woods since the chances of brushing past thorny trees or bushes are pretty high. If you have an accident, a good pair of gloves will also protect your palms from grazing. This means that you can get back on your mountain bike and keep riding without any form of discomfort whatsoever.
The Top MTB Gloves on the Market
There are different types of gloves out there, each one providing different levels of protection from harm. Here are some of the best mountain bike gloves you can get your hands on:
FAQs About Mountain Bike Gear
Why do mountain bikers wear long socks?
Mountain bikers wear long socks because oftentimes they ride through narrow roads filled with bushes, poison ivy, ticks, and because they also offer protection from insects that cause irritation and bumps.
Why do mountain bikers wear baggy shorts?
In comparisson to shorts that are skin tight, many mountain bikers wear baggy shorts which provide more comfort, offer better range of motion, are warmer and also look much better on men.
Why are mountain bike shorts so expensive?
MTB shorts are a bit expensive due to the 4 stretch material they are made of, which is waterproof, and they also have large pockets for storing items.
Finding the Right MTB Tools
As a mountain bike rider, you need tools that will help in enhancing your rides. These essential tools are important and will not put too much of a dent in your wallet. With these tools, you won't always have to run to the nearest bike shop any time there is a needed repair. In addition to this, you don't want to get stuck in the woods as a result of a small mishap and have to haul your mountain bike all the way home. That could be a very annoying experience no one needs to go through.
Types of MTB Tools
Therefore, here are the tools you should always carry along with you any time you hit the trails:
Floor Pump
A tire lever
A wrench set
A set of hex keys
A chain breaker
Cable cutters
Allen wrench
This is not an exclusive list of tools for mountain bikers. You should do your due diligence to find out which tools you may need in order to be completely self-sustained on your next ride. Every ride is different, as is every mountain bike.
The Best Mountain Bike Tool Kits
You can also go for a complete repair kit for mountain bikes such as the Pro Bike Bike Multitool 8 in 1- Reliable, Compact and Lightweight Repair Kit, and the Pro Bike Tool Mini Ratchet Tool Set.
Bike Multitool 8 in 1 by Pro Bike Tool | Amazon
Reliable & Built to Last multi tool - Cold forged SUS420 stainless steel for high strength and durability. Slim, Compact and Lightweight bicycle tool kit. Only 0.3 inches thick, 3.7 inches long & lightweight at 3.6oz.
Buy at Amazon.com
We earn a commission if you click this link and make a purchase at no additional cost to you.
06/01/2023 12:06 am GMT
Pro Bike Tool Mini Ratchet Tool Set | Amazon
High quality stainless steel handle with reversible drive. Easily & Safely Tighten Bolts - Magnetic tool bit extender and 10 tool bits.
Buy at Amazon.com
We earn a commission if you click this link and make a purchase at no additional cost to you.
06/01/2023 12:05 am GMT