Of late, mountain biking is fast catching up as a hobby amongst all sorts of folks. The sport has become extremely popular not only in North America but also across Europe and many parts of Asia.
When you think mountain biking, most of us picture riders who are performing some gravity-defying stunts on their bikes, mid-air acrobatics, jumping around and above obstacles, and racing downhill at break-neck speeds. Mountain biking is all this, and much more.
Mountain biking holds the same attraction for someone who is over 30, as it holds for a teenager or a person who is in their 20's. A great deal of this attraction can be attributed to the fact that mountain biking not only gives the excitement of being outdoors, it also serves as a huge stress-reliever and can deliver a great adrenaline rush, especially if you are into downhill biking or some other form of racing.
Mountain biking gives you the versatility of doing different things. Test your endurance and stamina with cross-country biking, where you ride around on long, winding and snaking trails, exploring the countryside, or you can get down, dirty and adventurous with dirt jump.
If you need a bit of thrill in your life, try downhill biking and feel the wind whip around you while you battle gravity and use every ounce of energy you possess to stay on the saddle and in control. Want to combine all of these? Freeriding is the way to go.
How to start mountain biking?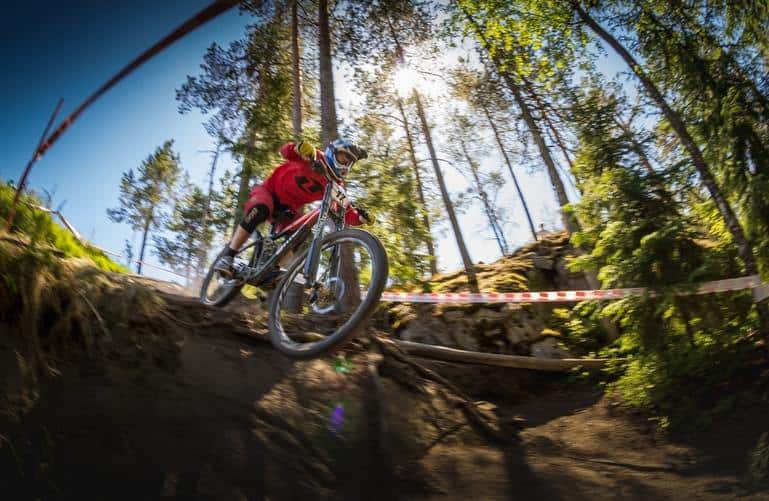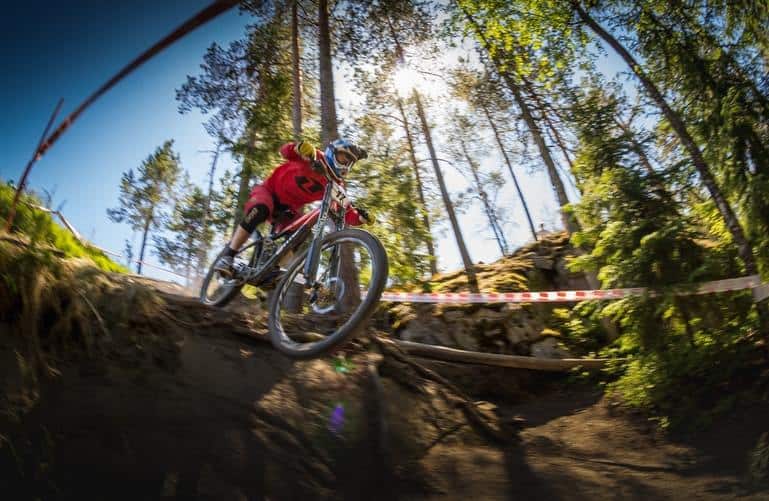 The most basic skill before you start mountain biking is to learn to ride a bike. Balance is the key here. Without this, you will not get anywhere.
To start with, a mountain bike is what you need to buy. Before you take the plunge with a mountain bike, think what you would like to do. With so many disciplines in mountain biking, see if you can try all the forms and choose what you would like to do.
The easiest way to see if mountain biking is for you is to probably first try out a simple cross-riding track. Choose something that is small and not too challenging. As a beginner, see if you can join a mountain biking training group, or find yourself a mentor who can help you learn the ropes.
As you begin to get comfortable, explore other forms of mountain biking, it is highly recommended that you do it under guidance, either with a person who has enough experience and knows better or with a training group.
Mountain biking can involve a lot of safety risk, so it is good to be prepared, both with knowledge and techniques. While mountain biking, most of your attention should be focused on how not to take a tumble. Always make sure that you are wearing your safety gear.
SHIMANO ME7 | REI Co-op
Built for tough terrain and extreme trail riding, the men's Shimano ME7 mountain bike shoes are armored and durable while delivering a high level of pedaling efficiency.
Check Price
Buy at Amazon.com
We earn a commission if you click this link and make a purchase at no additional cost to you.
What do you need to start mountain biking?
To start mountain biking, you need very few things, one being your mountain bike, a good pair of shoes, appropriate clothing, a water bottle (or many), some navigation tools (if you are not riding a set trail or with someone who knows the road around). Most importantly, you need yourself, and your full attention.
Mountain biking cannot be done if you are thinking about your work or planning your dinner for the night or if your focus is anywhere else. The loss in concentration is a sure-shot way to end up in the ER when you are riding.
While a lot is said about the bikes, one of the most important tools you'll need in your arsenal to make your next ride amazing will be biking shoes. Wearing the right kind of shoe can help you keep balance, gain control, reduce fatigue on foot and knees and deliver solid power to up your racing game.
Before we dive into what are the best shoes for mountain biking, and how to buy the best mountain shoes, it is important to know some technical details that influence your choice of shoes.
Keeping your balance and control while mountain biking
The key things while riding on any bike, whether in the city or long roads or on mountains and off-road biking is to maintain balance and control.
Learn the right way to pedal. This skill is important, no matter where or how you ride. Here is a brief rundown on the correct form of pedaling –
Don't pull up the pedal, the momentum will do this for you. If you start pulling up the pedal on your own, you lose out on precious power, and you end up putting in unnecessary effort.
Maximize power when you push from the 10'0 clock to the 1'o clock position.
Keep a slight bend in the knee to harness the power of your calves and glutes to move the pedal arms.
Exercise your lower body, especially your quads, with some strengthening moves, like weighted lunges. Strong quads reduce the strain on knees while riding and add more power to your ride.
Keep contact with the pedal. This will help you gain better balance and control. The best way to do this is to use the correct shoes, based on the kind of pedals that your bike has. Both flat and clipless pedals paired with the appropriate shoes can give you control and balance by ensuring that your foot is always in contact with the pedal.
See below to see a video on proper mountain biking pedaling technique.
Types of Pedals in Mountain Bikes
You and the pedals are what keeps the mountain bike moving. While some degree of control is required while riding on smooth roads and in the city, it is even more important to have a greater degree of control while mountain biking.
Pedals can help you keep up balance, control and deliver the right amount of power to your ride. There are quite a few pedaling systems that you can have on your mountain bike. You can buy bikes that already come equipped with the kind of system you want, or you can change them out on your own.
Here are a few popular kinds of pedals –
Platform Pedals/ Flatbed Pedals
Platform pedals, also called as flatbed pedals are the most common kind of pedals. Most beginner bikes come equipped with these kind of pedals. Platform pedals have wide, flat surface, made of materials like rubber or plastic. They allow users to rest their foot on them easily.
The biggest advantage of platform pedals is that they are cheap, and you don't need any special footwear to use them. You can use them wearing just about anything.
On the downside, it does not offer any support to the foot, and it is very easy to lose grip on these pedals. Losing grip can result in a smack on the shin, or worse, a gnarly fall. It also reduces the amount of power delivered, slowing you down.
Platform pedals are great if you are just starting out. A lot of manufacturers are coming up with better designs, mostly incorporating ridges and grooves to improve the grip on platform pedals.
Flatbed pedals with grooves are gaining a lot of popularity now. Though you need special shoes to use these pedals, they offer a greater degree of control and grip when compared to a normal platform pedal. Flatbed shoes that are used in conjunction with flatbed pedals have spikes in them, which fit neatly into the grooves in the pedal, keeping the foot in close contact with the pedal and offering a solid grip.
Toe Clips/Cage Pedals
These pedals come with a cage-like structure where you can fit in the front portion of your foot to get more support. The structure does not allow your foot to slip, offering a good amount of grip.
These kind of pedals does not require any special kind of footwear. The structure is usually adjustable with a strap, that you can tighten or loosen, depending on the size of the shoe you wear.
On the upside, it is easy to use this kind of pedals because they are cost-effective, allow you to slip out your foot immediately when you need to place your foot on the road and don't need special footwear.
On the flipside, the amount of power that can be delivered through this kind of pedal is low.
Toe Clips or cage pedals are used in beginner mountain bikes to help riders get accustomed to the grip while learning to gain control and deliver power.
Clipless Pedals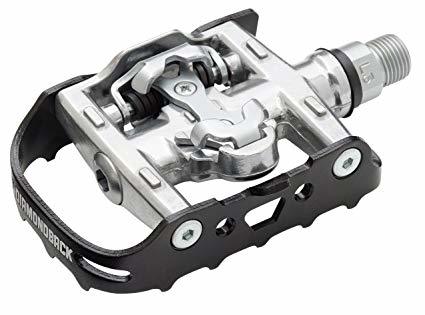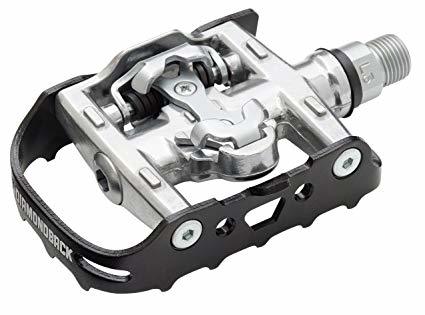 This kind of pedals is the most expensive of the lot. However, they give an unbeatable grip and the ability to deliver power while pedaling.
Clipless pedals, contrary to the name, actually clip the foot into place, through the use of spikes that fit correctly into the grooves of a clipless mountain biking shoe. The configuration of the clips and the grooves (called cleats) on the shoes are always standard across brands, so it is usually possible to pair any mountain biking clipless pedal with any kind of mountain biking clipless shoes.
There are two kinds of clipless pedals that are available, one for road cycling, the other one for off-roading and mountain biking. The major difference between both of these types lies in the shoe style and their configuration.
Clipless pedals offer the most grip, control, and the ability to deliver power since the foot is attached to the pedal completely.
Although clipless pedals offer the most grip, control, and the ability to deliver power since the foot is attached to the pedal completely, they can get expensive, because of the need to purchase clipless shoes to use them, as well as the cost of replacing the cleats on the shoes when they wear out.
There is also a learning curve associated with using clipless pedals since not everyone is comfortable with being stuck to the pedals at such close quarters. It takes some practice to learn how to dislodge the foot from the pedals and place it on the ground in an emergency. It is recommended that you always practice in a safe environment before attempting to use clipless shoes while mountain biking.
Types of Mountain Biking Shoes
Using specialized mountain biking shoes can add another dimension to your mountain biking experience. Mountain Biking Shoes are designed to absorb shocks and impacts to protect the foot and joints, are built sturdily to withstand wear and tear and offer grip and control. While hiking or running shoes can work well, a mountain bike shoe lets you improve your mountain biking experience.
Corresponding to the type of pedals, there are two kinds of mountain biking shoes –
Flatbed Shoes
These are designed to be used with flatbed/platform pedals. They do not have cleats, but they can have some grooves to give some degree of grip and control.
Clipless Shoes
Clipless Shoes are designed to work with clipless pedals. They have cleats that hook into the clipless pedals. There are a variety of clipless shoes that you can choose, depending on the style of mountain biking you do.
Race Cleat: These shoes are the most expensive of the lot and are very specifically used for mountain bike racing. Because of the material used and the design, race cleats cannot be used for hiking or walking a ways, as it can lead to a painful experience.
However, using these shoes for racing can amp up your racing performance by allowing you to deliver a lot of power while delivering a great degree of control and grip.
Downhill/Freeride Shoes: These shoes are extremely sturdy, just like mountain bikes that are built for downhill and freeride. They are designed to absorb a lot of impacts, withstand damage and provide comfort.
What to look for while buying Mountain Biking Shoes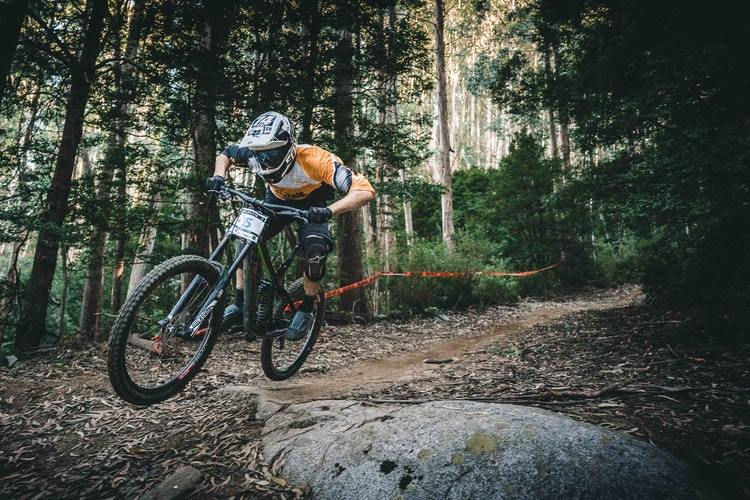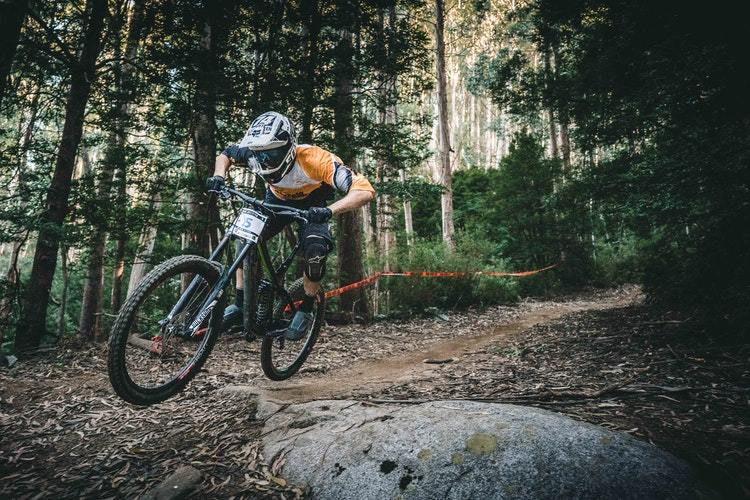 While buying mountain biking shoes, it is important to keep a few factors in mind, that will help you decide the best shoes to buy –
Purpose: Always buy shoes that fit your purpose. Buying a race cleat while you are more into cross-country biking may be overkill, considering the cost. Also, you may need to hike a little with the bike while on a cross-country trip, that can make racing cleats extremely uncomfortable.
On the other hand, buying a flatbed shoe for the downhill ride can result in loss of control and a nasty fall. Always keep in mind what you are planning to do and base your decision on this factor.
Competency Level: As a beginner, it is always tempting to go in for a higher end and more premium equipment. However, most people forget that it is important to master the techniques with beginner-level appropriate gear before you go in for advanced gear. This strategy can help you improve your game, and also save you a lot of money.
For example, as a beginner, it can get overwhelming if you use an advanced level clipless shoes for a short outing. Instead, start with a beginner level shoe, that will give you good exposure to the technology and the correct use, and then move on to more advanced ones.
While these are factors related to your own mountain biking experience, here is a list of things that you should be looking for in the shoe itself before buying them.
MTB Soles
A general rule of thumb is, harder the sole, better the power transfer from your legs to the pedal. Therefore, when you need more power, look for soles that are hard. Hard soles are generally made of carbon fiber, which is more expensive, as compared to the softer soles, that are made of rubber or with nylon blended with carbon fiber.
Soles made of nylon blended with carbon fiber are more cost-effective and provide better comfort, however, they tend to be bulky and allow for lesser power transfer as compared to carbon-fiber soles.
Here is a comparison table to show you the differences between a carbon-fiber sole and nylon blend.
| | | |
| --- | --- | --- |
| Parameter | Carbon Fiber Soles | Nylon + Carbon Fiber Soles |
| Cost | High | Medium |
| Fit and Comfort | Low | High |
| Power Transfer Capability | High | Medium |
| Durability | High | Medium |
| Weight | Low | High |
Upper Covering
The upper covering is the part that covers your toes. It is important this part is comfortable while riding.
Upper parts can be made of natural materials like leather, or with synthetic materials. The advantage with natural materials is that it offers a greater level of comfort by molding naturally to the shape of the foot and allowing for free movement. Natural materials also tend to be lighter in weight.
However, these materials are not very durable and can get damaged easily, especially if you ride under hard conditions. Natural materials can get more expensive as well.
Synthetic materials, on the other hand, are cheaper alternatives. However, comfort levels are not on par with the natural materials. Synthetic materials score very well on the durability. However, they are bulky to use.
Here is a comparison table between the two materials –
| | | |
| --- | --- | --- |
| Parameter | Natural Leather | Synthetic |
| Cost | High | Low |
| Fit and Comfort | High | Medium |
| Durability | High | High |
| Weight | Low | Low |
Footbed and Heel Cups
This is the rear portion of the shoes that cover your Achilles Tendon. It is very important that the heel cups fit your foot properly. If the heel cups don't fit well and move with your foot when you pedal, then it can affect the power that you transfer. If it is too tight, then it can cause a severe pain in the heels.
The footbed is the inner portion of the shoes. It is a cushioning layer that protects the foot. The fit of the arch and width of the footbed play a crucial role in determining the comfort of the shoe.
Size
The size and fit are very important while choosing mountain biking shoes. The shoes should fit just right, with a little bit of space in the front to allow for expansion when you are biking. However, this space should just be optimum. Too big, and it can cause your foot to slide forward, making you lose control and grip. If the shoes are too tight, it can cause pinching, overheating and extreme discomfort, sometimes resulting in blisters as well.
The best way to make sure that the biking shoes fit you well is to try them on, and mimic the pedaling motion, to make sure that the fit is good.
Closures/Retention systems
Closures or retention systems are trimmings like a shoelace, Velcro, zippers etc. that help to keep the shoes in place. Boa Dials are the latest trending closure systems, as they are very easy to use and adjust, without getting off the bike. Make sure that you try on the closures properly when you try the shoes.
Ventilation
While buying a pair of mountain biking shoes, pay attention to ventilation. Mountain biking is an intensive activity, and it can cause a lot of sweating and heating of the foot. Proper ventilation ensures that the sweat is wicked away from the feet and allows for evaporation and cooling of the feet.
Buying shoes with poor ventilation can cause the sweat to remain in the shoes and on the foot, causing you to lose grip.
Weight Consideration
As a general rule, heavier shoes are more durable than lighter ones. Having said that, a few extra grams could matter when you are racing or doing downhill mountain biking. Consider these factors while choosing the right pair of shoes for you.
Mountain biking shoes having soles made of nylon and carbon-fiber blends are heavier than just carbon fiber ones.
How to buy the best Mountain Biking Shoes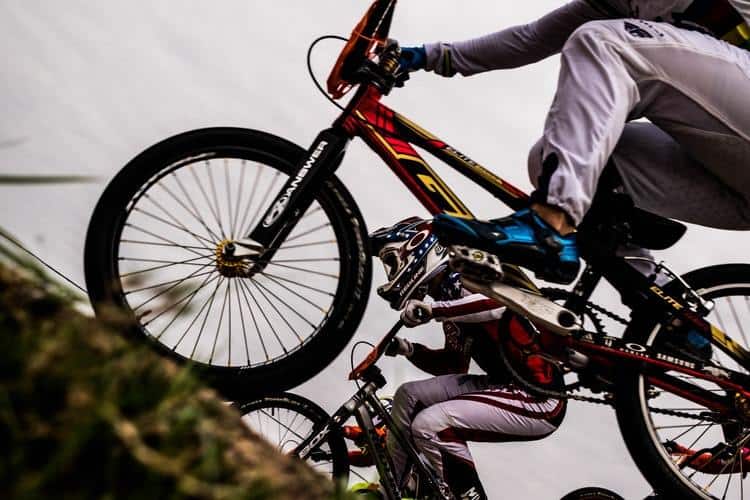 Considering all the factors listed above, here is a list of guidelines that you should follow while buying mountain biking shoes –
Remember the purpose for which you are buying the shoes and buy shoes that have the perfect specs for that particular activity.
Try on the shoes before you buy them. Make sure they fit you perfectly, with a little space in the front, no play in the heel cups and a comfortable footbed.
If you are buying mountain biking shoes online, make sure you check the sizing guide. Most often than not, mountain biking shoe manufacturers make the shoes slightly smaller than regular sizes. Therefore, it is usually a good idea to buy one size bigger than your regular shoe size. It is best to make sure that the online store has a good return and exchange policy before you make the purchase.
Find the perfect soles for you. If you are into racing, harder soles are better as they allow you to pedal with more power. For more casual cross-country biking, softer soles can make more sense, as they are comfortable for a bit of hiking, as well as long duration wear.
Make sure that the shoes you are buying are appropriate for the pedal that you have. Buying a flatbed shoe when you have a clipless pedal will not work.
Make sure that you understand the configuration of the spikes in clipless pedals. Buy shoes that correspond correctly to the cleats in the shoe. Nothing can be more disappointing than buying an expensive pair of clipless mountain biking shoes and then finding out that it doesn't fit the pedals.
Cost can be an important factor while deciding to buy mountain biking shoes. Cost can depend on the type of soles, the material of the upper layer of the shoes and the type of shoes. Make sure that you understand all the factors and decide what is important to you before you set out to buy a pair of mountain biking shoes.
Research well. There are a number of brands out there, offering a ton of different things. List out what features are a must, what is nice to have and what features don't matter to you. Having a shortlist can make the task of buying mountain biking shoes easy.
Caring for your Mountain Biking Shoes
Mountain Biking Shoes can get expensive, and it is important to take care of them properly to make them last longer.
The most important thing to do is to keep your shoes clean. Once you are back from your ride, the easiest thing to do would be to take one baby wipe per shoe and go over it thoroughly and methodically to remove all traces of dust and dirt.
You could event start off by removing all the dirt with a dry cloth or a soft brush before wiping it clean with the baby wipe.
The inner parts of your shoes can be damp and if you store them like that, they can start smelling really bad. Air the shoes properly and let them dry thoroughly before you store them.
An additional tip, there is plenty of foot deodorizing sprays available in the market. You could also make your own, you can find a lot of recipes on the internet to do so. Use these sprays to keep your shoes smelling fresh. The best way to do this is to spray them before and after use.
Check the instructions provided by the manufacturer to see if you can wash the shoes in a washing machine. You may need to take extra care with clipless shoes, given that there are cleats in them that can damage the shoe and the washing machine. Take precaution and follow instructions carefully before putting them into the washer.
Putting shoes in a dryer is always a no-no. The heat and the spinning can damage the shoes badly. It is always best to let the shoes air-dry.
Lastly, make sure you check the cleats on your clipless shoes regularly to make sure that there is no damage or wear and tear. Periodic replacement of cleats is necessary to maintain the good performance of the shoes.
Best Mountain Biking Shoes
Shimano is a leading brand when it comes to bikes and biking accessories. It is no surprise that some of the best mountain biking shoes also comes from this manufacturer.
See the best Mountain Biking shoes reviews and comparisons here:
Shimano ME7 scores a high rating as one of the best clipless mountain biking shoes. Other great brands for mountain biking shoes include Five Ten, Scott, Northwave, Giro and BT'Win. There are also many other players who are slowly emerging.
SHIMANO ME7 | REI Co-op
Built for tough terrain and extreme trail riding, the men's Shimano ME7 mountain bike shoes are armored and durable while delivering a high level of pedaling efficiency.
Check Price
Buy at Amazon.com
We earn a commission if you click this link and make a purchase at no additional cost to you.