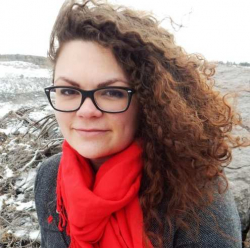 Latest posts by Candace Osmond
(see all)
Are you ready to take on rugged gravel roads like a pro? Maybe your cyclist dreams feature a calm gravel road in the countryside, instead? Whatever your reasons for picking up gravel bike riding, it's come to my attention that cyclists, from beginners to experienced riders, need a guide for the best Trek gravel bikes.
Today, I'll explain why Trek makes the best gravel bikes and show you some of their best models based on their performance, design, and price!
The Best Trek Gravel Bikes at a Glance
These are my favorite Trek gravel bikes to recommend to people. If you're a beginner or if you've been riding over gravel roads for years, Trek has never failed to provide premium bikes. I'm a fan of how these models utilize features specific to gravel bikes and their designs.
About the Trek Brand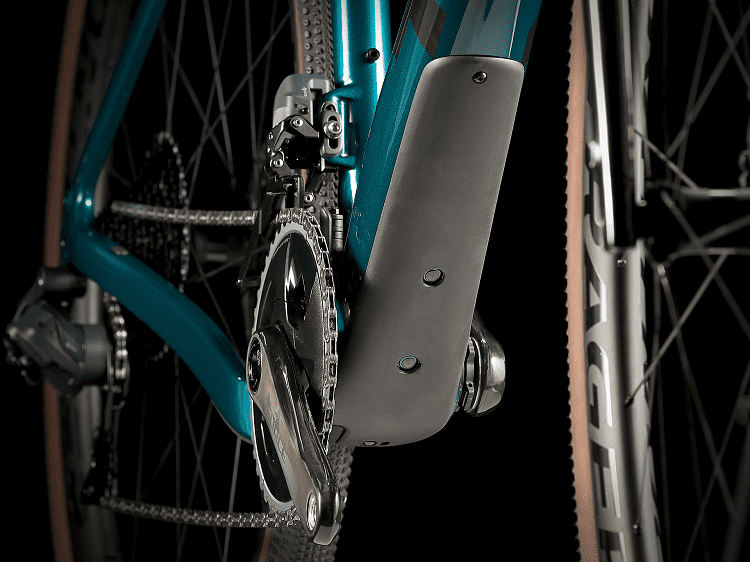 Hesitant to put the money in the pocket of a company you know nothing about? I definitely am, which is why I'm going to give you some background information about this brand. Trek has a rich history with a line of products to be proud of, so we'll dive into what makes them so unique.
What Makes Trek Stand Out
The original founders of Trek decided to make the first high-quality bikes available from mid to high price points in the United States. I love that this brand was founded on the principle of making a unique, well-built product that was the first of its kind in the states. Trek took bike production to the next level.
Trek's Sustainability Plan
One reason why I recommend Trek so strongly is their sustainability. Trek has seriously reduced its overall carbon footprint by using renewable energy sources at its facilities, cutting down on plastic packaging, and reducing air freight milage.
Trek has also managed to create 15 products that are made entirely out of reclaimed materials. By using materials that would have polluted the ocean or ended up in a landfill, Trek is doing much more to cut down on global pollution than most other bicycle companies.
Trek is a Company of Racers for Racers
Trek is run and operated by a team that is deeply passionate about cycling. Trek's team has created some of the best bikes used by famous racers because the team knows what features help competitors take the gold.
What Does Trek Offer?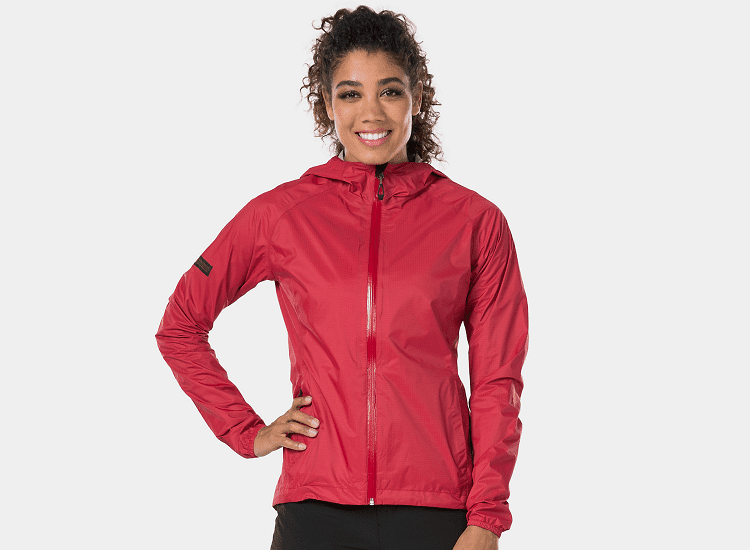 Now I'm going to show you what products Trek can offer for gravel bike riding. This brand offers you everything you'll need to hit the road and start pedaling. From well-constructed bikes to equipment that makes cycling easier to stylish gear, Trek's got the whole package deal.
Bikes
Trek's signature products are bikes. Trek offers a lot of different bike varieties, including:
I'm a huge fan of the Checkpoint SLR 7. This gravel bike is worth the steep price if you're serious about the sport. Its sleek design and effortless functionality make it a summer afternoon favorite for me and tons of other riders.
Electric Bikes
Electric bikes aren't quite what you're thinking: you still have to pedal. Electric bikes do have a motor that makes it easier to pedal for longer periods of time. If you're traversing long distances with your gravel bike, an electric bike makes the journey a breeze.
This electric gravel bike, the Domane SLR 6 eTap is a gorgeous, easy-to-peddle bike from Trek. I love that this bike is customizable with different color options, too. The overall construction, including the motor, makes this bike speedy, lightweight, and sturdy.
Equipment
Trek offers equipment that makes your life as a cyclist easier. Trek sells all manner of bike parts, but they also provide classic riding gear every cyclist needs. My favorites are items out of collections of equipment, like the handy commuter set and winter cycling gear.
If you search Trek's collection of gravel bike gear, you'll find a ton of options for your country road adventures. They've got sturdy helmets, shoes that grip the pedals securely, front bike lights, bike racks, and much more.
Clothing
Every cyclist has got to ride in style, right? Trek can help with that. Trek has everything from lightweight summer gear to warm and protective winter riding clothes. You can buy team wear, a ton of different helmets, and jackets.
My favorite section to look through is the jackets and vest section. Trek offers a lot of solid bright and neutral colors for both their men's and women's apparel.
What to Look for in a Gravel Bike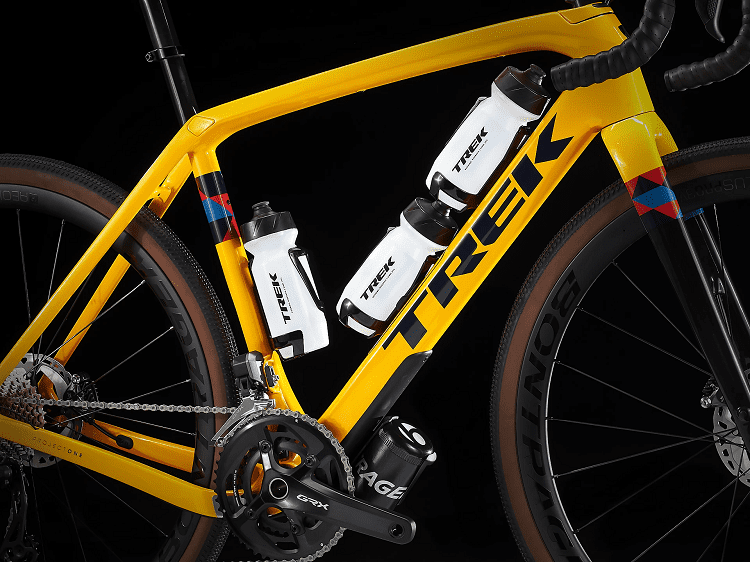 It's important to know what to look for in a gravel bike that's going to fit your individual needs. That's why I'm going to walk you through the best gravel bike features to look for that will match your style of riding. Like gentle country roads? Going up and down steep hills? Just like how there's an app for everything, there's a bike for everything, too.
Tires
When you ride over gravel roads, thin tires can wobble around when they hit a sharp rock. That's why gravel bikes are equipped with wide tires. Wider tires give you better traction, which is why I recommend checking the width of a bike's tires before you buy it.
This next part is more your doing, but your gravel bike's tires should be at a lower pressure than usual. Surprised? Lower air pressure in your tires is another great way to give your bike better traction. Better traction means a more comfortable ride over rough terrain.
Handles
Flared drop bars are the preferred handlebars for gravel bikes. Why? These handlebars give you better control (which you'll need for gravel roads) than other handlebars. If you're climbing uphill on your bike, these handles give you better stability by letting your body relax in a natural position.
Seat
Having a comfortable seat is paramount if you like bike riding for long periods of time. To avoid a stiff tailbone, choose a bike with a seat that offers cushy but firm and supportive material.
Be sure also to choose a gravel bike with an easily adjustable seat. Trek's bikes are equipped with a micro-adjust seat master that makes it easy to change the height.
Suspension
Unlike mountain bikes, gravel bikes don't have much suspension. While suspension absorbs shock from the friction of the road, it also slows you down. When riding on a flat surface like a gravel road, this is something most cyclists don't want.
Instead, brands like Trek use features like an ISO decoupler to absorb shocks so that you won't be slowed down. Gravel bikes are built to be lightweight, too, which is another reason they aren't built with the suspension capabilities of heavier bikes like mountain bikes.
Grips
Even though most serious cyclists have gloves to help them grip the handlebars, buying a bike with grips gives you even more stability. Extra stability is super important when you're riding over bumpy, unforgiving roads where one slip-up could mean a crash.
Make sure you buy a bike with grips that feel comfortable to your hands. The last thing you want to deal with on a relaxing morning ride is blisters. Most grips for bikes are traditional grips, which are shaped cylindrically.
Other types of grips are winged ergonomic grips, dual compound grips made from 2 different materials, and lock-on grips that won't slide across the handlebars.
Tips for Cleaning and Storing Your Trek Gravel Bike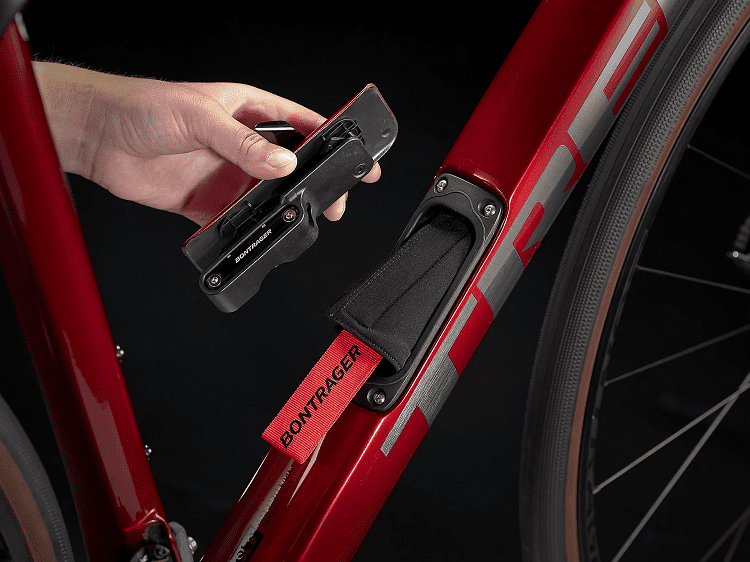 Let's face it-Trek gravel bikes are expensive. Since Trek's bikes are a high-quality investment, it pays to take care of them. That's why I'm going to offer you tried and true tips for making sure your gravel bike stays in peak condition for years after you buy it.
Trek bikes are meant to hold up for a long time. With a few simple steps, you'll be riding your Trek bike decades from now.
Cleaning Your Trek Bike
When it's time to clean your bike after taking on a muddy course or dust has taken away the frame's shine, here's what you do:
First, rinse your bike outside with the hose on a low-pressure setting. Stand a few feet away from the bike as you rinse it.
Fill a bucket with warm water and soap specifically formulated for bikes.
Grab a sponge, dunk it in the soapy water, and use the sponge to clean the surfaces of your bike.
Use a degreaser for bikes on the chain to make sure it will continue to run seamlessly.
Put the hose back to a low setting and rinse your bike again.
Dry every part of your bike with a microfiber cloth. Drying your bike is vital in making sure none of the parts rust.
Afterwards, use a bike lubricant on the gear mechanisms and derailer.
Press the pedals to move the chain so that the chain is in continuous motion as you use the degreaser on this part, too.
Storing Your Trek Bike
Firstly, be very careful about storing your bike outside. While Trek bikes are constructed to last, they are made of materials that will wear down if exposed to the elements for long periods of time. If it's raining or snowing, storing your bike outside is an especially big no-no.
It's best to store your gravel bike inside, but what do you do if you're short on space? Storing your bike in the garage might not be an option if you live in an apartment complex. If you want to save space and store your Trek bike indoors, we recommend:
Buying a freestanding bike rack to be placed indoors
Buying a poll rack that doesn't require drilling
Buying a wall-mounted vertical bike rack if you own your home
The Best Trek Gravel Bikes
In my opinion, these 7 are the best gravel bikes from Trek. All of Trek's gravel bikes are well-constructed from high-quality materials. Every bike has something about it that makes it unique and well fitted for a specific rider; however, these 7 gravel bikes take the cake for the best overall features.
Checkpoint SL 5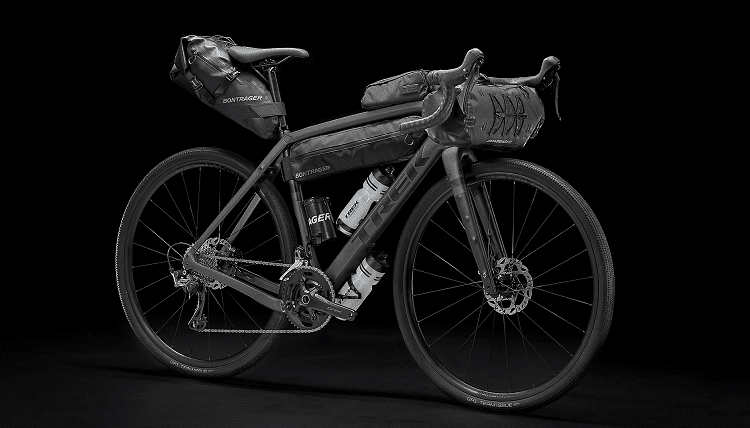 Best For: Best Bargain
About
The Checkpoint SL 5 is the least expensive gravel bike on our list. Though this is the most cost-efficient option, I wasn't disappointed by its lightweight build and smooth-riding capabilities. This model comes in 2 color varieties: black and gray or red and dark blue.
This bike is perfect if you like to ride smoothly, comfortably, and fast. The IsoSpeed decoupler absorbs shocks in the road and the innovative geometry makes for a nimble design. You'll be impressed by the sleek internal storage and various mounts throughout the bike.
Material-OCLV carbon
Price Range- $4,000-$4,100
Warranty- Lifetime warranty
Best Feature- Price point
Care
Make sure to keep this Trek gravel bike indoors when you aren't using it. Even during hot, sunny weather, it's better for your bike to be kept indoors on a bike rack. Nowadays, there are many freestanding bike racks that don't need to be mounted on a wall.
Pros
Least expensive
Comfortable and smooth riding
Lightweight carbon makes it fast
Cons
Doesn't include all the features of the other bikes
Domane+ LT 9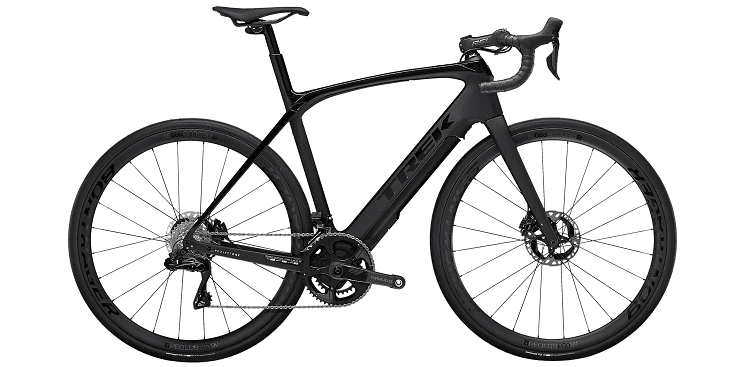 Best For: Overall
About
This may be the most expensive gravel bike on the list, but it's priced high for good reason. Like the previous bike, this model can be purchased in black and gray or red and dark blue. Being an e-bike, it's easier to ride for longer periods of time thanks to the fast and efficient motor.
You can always remove the motor and battery with a storage cover for a traditional ride. I enjoy that the front and rear IsoSpeed soaks up bumps and dips in the road. The endurance-centered geometry is made for perfect handling, speed, control, and responsiveness.
Material- High-quality carbon
Price Range- $17,000-$18,000
Warranty- Lifetime warranty
Best Feature- High-quality materials and construction
Is it Worth it for You?
If you are a gravel bike racer or would rank gravel bike riding in your top 3 hobbies, this top-of-the-line bike is worth the price. I understand not everyone wants to invest over $15K on a bike they only ride a few times a season, which is why I'd only recommend this to very passionate cyclists who want the best.
Pros
Made to feel like traditional bike riding
Can connect to your smartphone
Compatible with fenders
High-performance geometry
Cons
Checkpoint SLR 7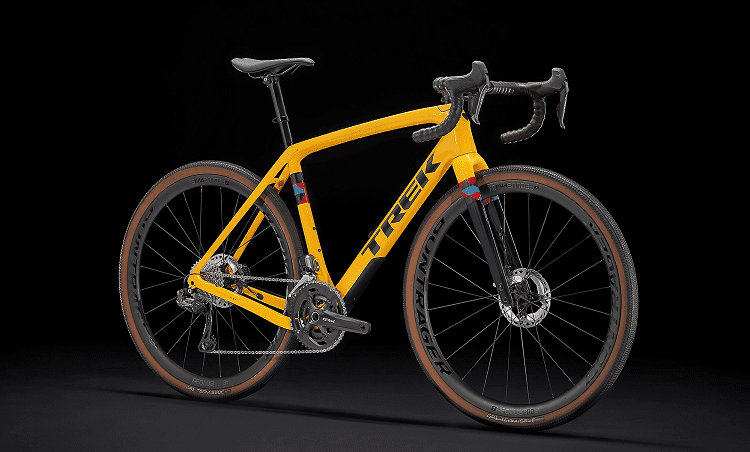 Best For: Design
About
This gorgeous Trek gravel bike comes in 4 different color choices. Meant for the bumpiest gravel roads, you'll like this bike if the terrain you tackle is rough. This bike also uses IsoSpeed suspension to absorb shocks.
The rear derailer makes the chain retention smooth, which allows for a more comfortable ride. I'm a huge fan of the mounts all over the bike, too, which make it easy to store water bottles, bags, and more.
Material- OCLV carbon
Price Range- $10,500-$11,500
Warranty- Lifetime warranty
Best Feature- Gorgeous colors on frame and wheels
Care
When you're ready to wash this gravel bike, make sure to pick up soap, degreaser, and lubricant that is specifically made for bikes. Also, but sure to use a low water pressure setting as you clean your bike with a hose.
Pros
Beautiful design with many colors
Lightweight, fast, and durable
Comfortable seat and handlebars
Cons
Domane SLR 7 eTap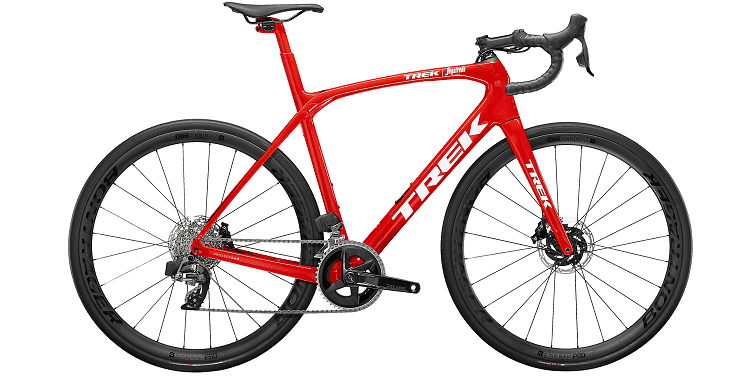 Best For: Women
About
You'll have an easy time flying through the course with this ultralight gravel bike. Its OCLV carbon composition makes it easy to carry around, even if you travel with your bike. This e-bike is almost half the price of the one above, so this is a great choice if you're a casual cyclist.
This bike features an SRAM Rival AXS power meter that lets you keep track of your training. Through Project One, you can fully customize this model.
Material- OCLV carbon
Price Range- $9,100-$9,300
Warranty- Lifetime warranty
Best Feature- Ultralight
What's the Difference Between an E-Bike and a Traditional Bike?
The motor makes all the difference. While e-bikes are partially powered by a motor, you still have to pedal to make the bike go forward. The motor simply makes it easier to take on longer distances by giving your peddling extra power.
Pros
Incredibly lightweight
Powered by a motor
5 color options
Cons
Not as many features as the e-bike listed above
Checkpoint SL 7 eTap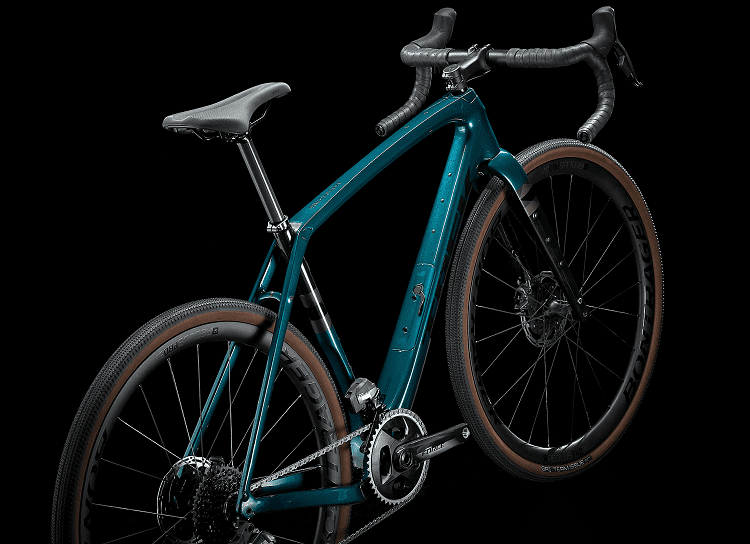 Best For: Bargain E-Bike
About
This is the least expensive e-bike out of all the Trek gravel bikes on our list. This bike is under $10,000. Though you'll only have one color option, blue and gray, you'll have the option to ride with or without the motor.
The comfortable seat and handlebars make this bike ideal for endurance riding. Whether you like calm roads or bumpy trails, this gravel bike can handle it all with ISO speed suspension.
Material- OCLV carbon
Price Range- $7,500-$8,500
Warranty- Lifetime warranty
Best Feature- Price point for an e-bike
Gifting Ideas
You can pair this e-bike with other accessories in the Trek store if you are buying this bike as a gift. We recommend you pair this bike with:
Helmet
Water bottle
Cycling jacket
Cycling shoes
Tools
Pros
Inexpensive
Amazing endurance with motor and materials
Carbon wheels easily traverse rough terrain
Cons
Domane SL 6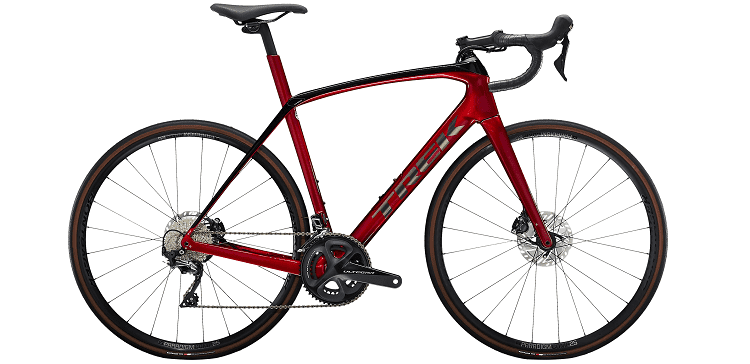 Best For: Calm Rides
About
If you include relaxing rides down rural roads in your free time, this is the gravel bike for you. The tubeless wheels are very hard to puncture, so you won't have to worry as much about maintenance.
The geometry of this bike was designed with comfort in mind. Though built to sustain your comfort for long periods of time, this bike was also built for racing. You can enjoy a fast-paced ride with front and rear IsoSpeed.
Material- OCLV carbon
Price Range- $5,000-$6,000
Warranty- Lifetime warranty
Best Feature- High-quality wheels
Ideas for Riding this Bike
Where are some perfect places to take this gravel bike? I'd like to ride this bike on:
Flat nature trails
Winding gravel roads
Countryside
Bike trails
Pros
High-quality tubeless wheels
Inexpensive compared to other bikes
Offers a smooth and comfortable ride
Cons
Boone 6 Disc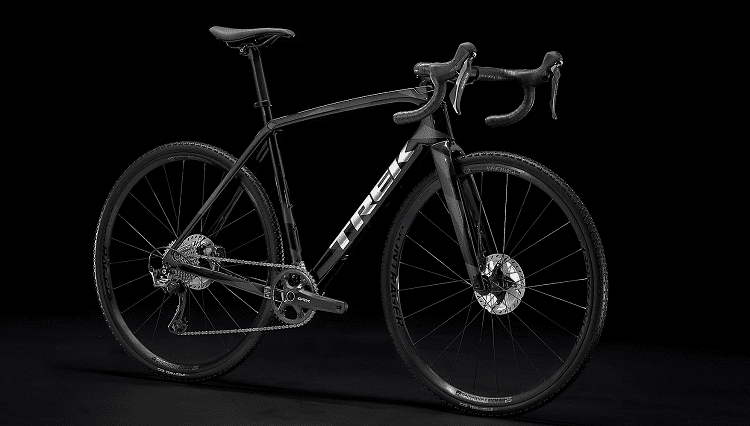 Best For: Men
About
I love that this gravel bike was created to handle rough roads. Muddy gravel, dips, and turns won't be able to stand in your way with this bike. The chain retention and easy-to-grip handlebars give you optimal control.
Going uphill is made easy with the tube shapes and cross-specific geometry. You can buy this bike in black and gray or red and dark blue.
Material- Carbon
Price Range- $5,000-$6,000
Warranty- Lifetime warranty
Best Feature- Durability
Why It's Great for Rough Riding
This Trek gravel bike is ideal for tackling rough roads. This bike was designed with specific attention to chain retention, which gives you excellent control over the bike. The hoods and levers were also designed to give you a better grip.
Pros
Inexpensive compared to other bikes
Amazing control and durability
Lightweight and strong carbon build
Cons
FAQ
Are you ready to have your most frequently asked questions about Trek gravel bikes answered? While these are 3 of the most frequently asked questions I've received about gravel bikes, I'd like to answer any more you might have. Leave a comment below if you don't see your question answered in this next section!
Question: Are Trek Gravel Bikes Good?
Answer: Trek gravel bikes are incredibly good bikes to buy! Trek is a high-quality gravel bike brand that has made gravel bikes specifically for uneven terrain. Trek's gravel bikes grip the ground like a mountain bike while giving riders agility like a road bike.
Question: Can You Use a Gravel Bike as a Mountain Bike?
Answer: Depending on the kind of mountain biking you're planning on doing, yes. Keep in mind that like a mountain bike, gravel bikes are made for uneven terrain. Unlike mountain bikes, gravel bikes aren't as good as handling steep, muddy hills. If the mountain biking you're doing isn't extreme, a gravel bike should be just fine.
Question: Why are Gravel Bikes so Expensive?
Answer: Some gravel bikes are more expensive than others. A high-quality gravel bike like a Trek bike is going to be more expensive than a low-quality model. That's because gravel bikes require specialized gear that makes them good for riding over uneven roads, bumps, and dips.
The Last Lap
You've completed the last leg of the race! We went over what makes Trek gravel bikes an awesome choice for conquering gravel roads and what to look for in a quality gravel bike. We got to look over individual Trek gravel bikes so you can determine which is the best fit for you.
In my opinion, the Domane+ LT 9 is one of the best choices for its overall great features.
Do you have any questions or stories to tell about cycling on gravel roads? Let us know in the comments below! For more helpful bike guides, check out our picks for best mountain bikes!