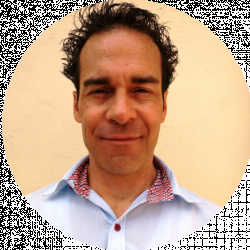 Latest posts by Douglas Bloom
(see all)
Are you tired of the many popular MTB trails in the world? If that is the case, we have come up with 10 of the best-underrated trails all over the world. Read to find out where you can tackle your next underrated MTB trail. We have also included a section on ways you can improve your MTB trail riding experience. 
Country – North America
Trail – Great Divide Mountain Bike Route
If you're looking for a big mountain bike trail, then this one is for you. It is an off-road touring route to New Mexico from Canada's Alberta. If the 2,734 miles (4,400 kilometers) length doesn't give you palpitations, how about a total climbing distance of 61,000 meters? That is like climbing Mount Everest almost seven times from sea level.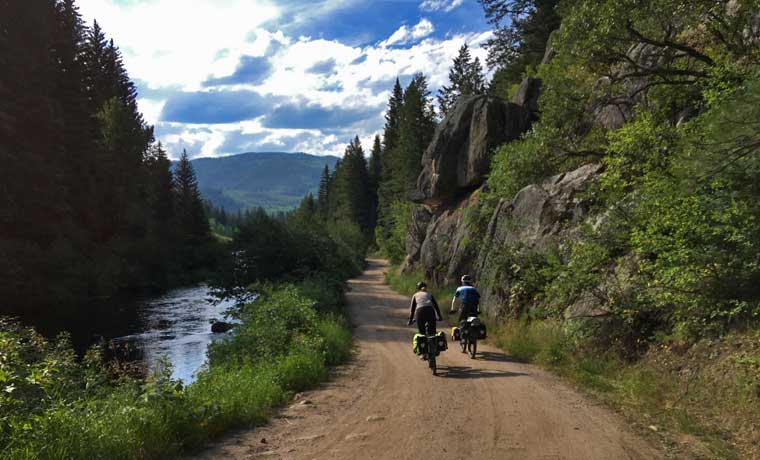 It's often remote meaning it's largely the preserve of the wind-burnished and wiry men and women on the much-traveled mountain bike trail. The bikers usually tow trailers filled with nuclear fusion nano-stoves, titanium camping spoons, and anti-bear spray.
Undeniably it is spectacular, taking in everything from mountains to woodlands. Don't forget the wastelands of the Great Basin and the Colorado Rockies. Potential companions include eagles, mountain lions, moose, and grizzlies. 
When you think about weather conditions, it means the trip is only feasible from June to September. During this time, the possibility of flash rains means some sections get impassably muddy for weeks at a time.  
Country – Australia
Trail – Munda Biddi Trail
Another epic trail in the more cutoff places in the world is Munda Biddi Trail in Western Australia. The good news is the route organizers are on your side. For starters, there was an ambitious 596 mile (more than 960 kilometers) off-road competition route through the forested wilderness that was completed.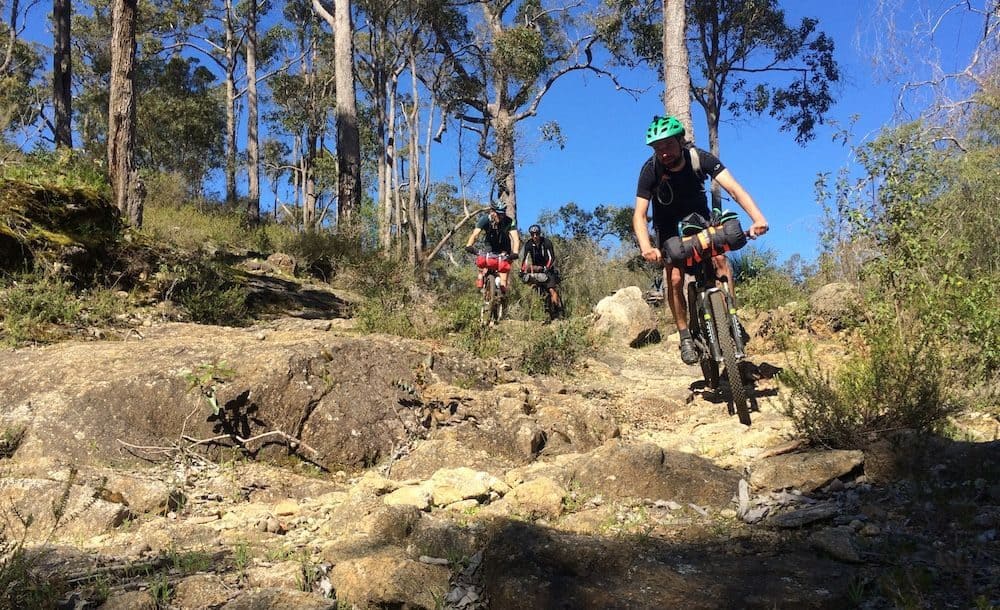 In the indigenous local language, Munda Biddi means the "path through the forest". It runs to Albany from Perth in the far southwest. If you are a beginner or less ambitious you can tackle the smaller and less strenuous sections. One of the benefits is their official website provides updates on some of the muddy trail conditions. 
If you are planning to go for the full slog it would be wise to avoid the full heat of summer. Come dressed for hot weather conditions. The good news is you have designated campsites approximately every 30 miles. They include water supplies and sleeping huts. 
Country – England 
Trail – The South Downs Way
This 99-mile (160-kilometer route) is hardly alpine in outlook. It crosses some of the most stereotypically rolling and lush English countrysides you can imagine. Fortunately, all these small ups and downs hold up. If you plan on tackling the entire route, be ready to commit 14,107 feet (4,300 meters) of uphill pedaling.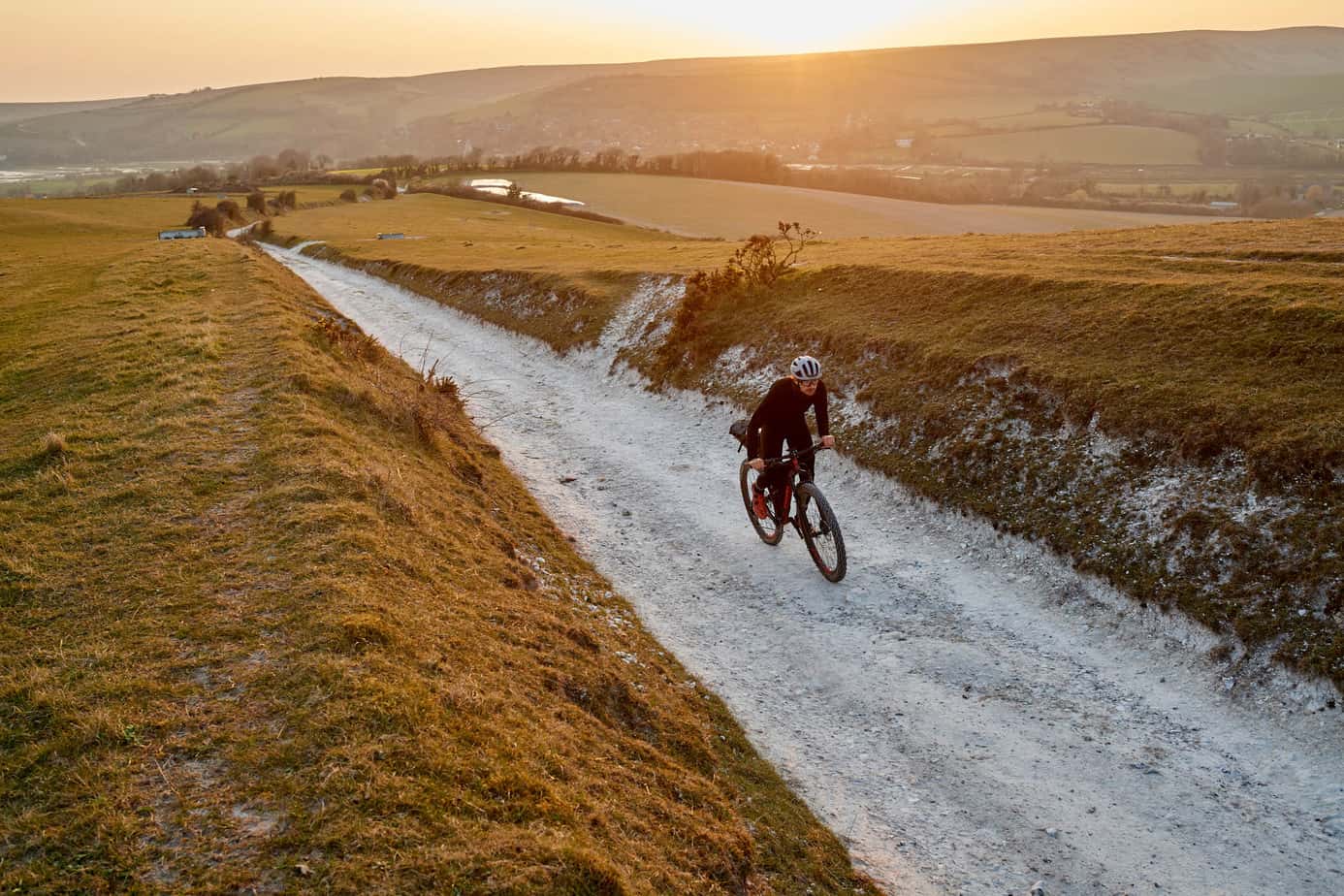 In the past, it was a walking route that was tramped a lot. It is now a fully signposted hiking trail, it meanders from the precipitous cliffs of Beachy Head to historic Winchester. All these are virtually off-road and most of it on ancient chalky bridleways. 
Open to horse riders, walkers, and cyclists, riders are usually allowed two to three days for the trip. There are enough absurdly picturesque villages en route with guesthouses and pubs. If you are tough and ambitious, you can tackle the entire trip in a day. This is not recommended as you will miss some of England's most glorious sites and other breathtaking scenery. 
Country – Chile 
Trail – Torres Del Paine
Travelers who are looking for a go-to-park in Chile to test the waterproofing qualities of their new gadgets go to Torres del Paine National Park. What most people don't know is the 450,000-acre park is home to one of the most underrated MTB trails.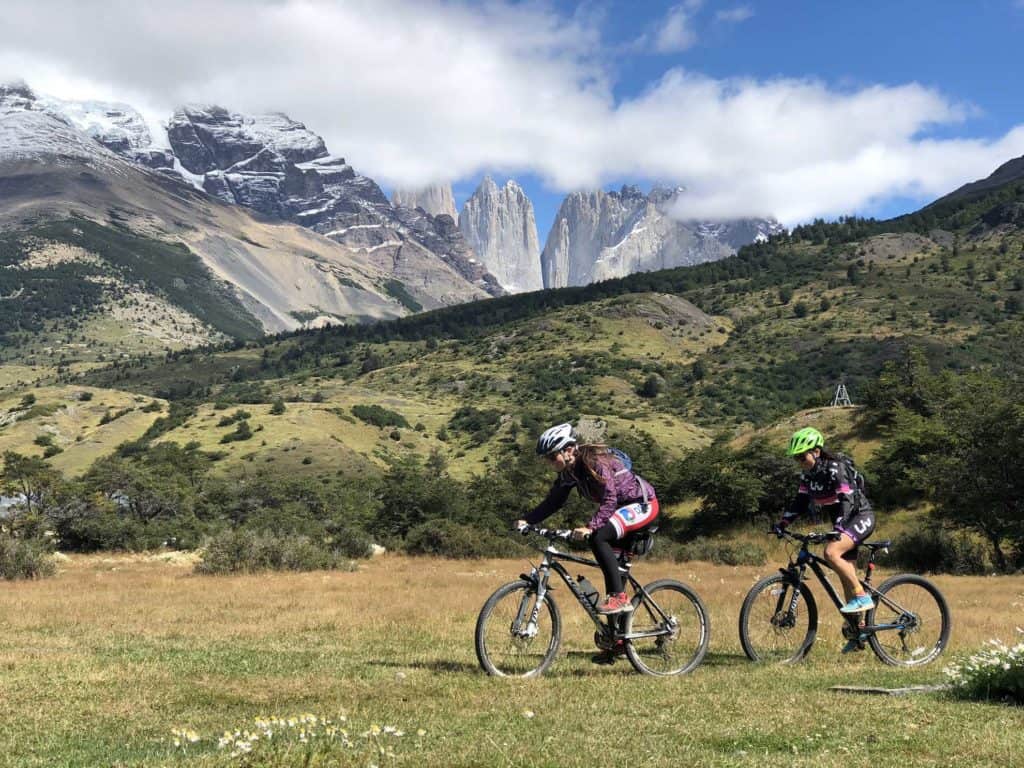 The location of the park is on the Chilean side of Patagonia. This means it is home to the most character-building weather blowing from the Pacific. This kind of weather tests your resolve, tent's sturdiness, and mountain biking skills. 
Despite the weather and some seeming moments of madness, you get threads of single-track trails good for mountain bikers. The threads of singletrack weave alongside tumbling glaciers that are known for calving icebergs into lakes, glacial blue rivers, and towering peaks. This is all part of the landscape on this underrated MTB trail.  
There are herds of Guanaco (llama look-alike animals), soaring eagles, and occasional cougars. When you combine the landscape and wildlife you get a recipe for a rewarding ride. It gives you the wholesome feeling of being somewhere remote. 
Why most riders don't know about Torres del Paine is the weather. Temperatures barely climb above 15 degrees Celsius, there is gusting unrelenting wind in summer, and snow in winter. Additionally, MTB riding in the park is limited to a handful of trails. However, they are sufficient to offer you different mountain biking experiences. 
The locals prefer riding horses due to the fast-flowing and deep cold river crossings. The good news is the location makes up with seclusion what it lacks in variety. When you want to break off from riding, there are some activities you can indulge. Options include hiking, climbing, wildlife watching, kayaking, and rafting.  
For accommodation, you can choose from hostels and refuges to posh four-star hotels. They are campgrounds for the extroverts and psychologically sturdy. Chile's capital, Santiago, is 3,100 km away from Torres del Paine. The closest town is Puerto. It is a 2-hour bus ride away, a distance of about 60km away. Consider these accommodation options as you plan your mountain biking trip to Chile. 
Country – Ethiopia
Trail – Simien Mountain
Ethiopia is a country that has had a troubled past. This is why very few bikers know about its MTB trails. It is a country in East Africa with one of the continent's best-underrated MTB trails. The Simien Mountains National Park is one of the locations few bikers know about.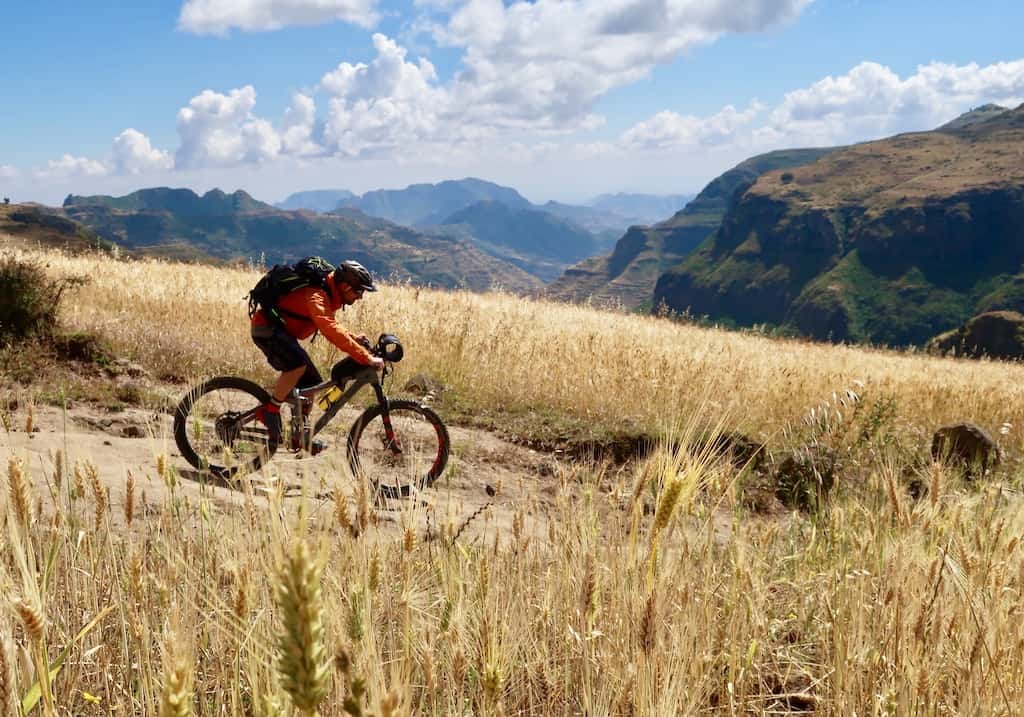 To get to Simien Mountains National Park, you take a one-hour flight from Addis Ababa, the country's capital. From the capital, you go to Gondar. The flight is short, but unfortunately, there is a bumpy bus ride north to the park's HQ. However, if you can afford it, there are many off-road car rental options. 
The 200km Simien Mountains are still under the tourists' radar. If you didn't know the mountain is home to some of the rarest species in the world. They include wolves, ibex, leopards, and Gelada baboons. It is a canyon-strewn landscape crisscrossed with remote hillside villages and footpaths. They offer a great opportunity for adventurous biking.  
The routes are largely road and vehicle-free single-tracks. Bike trails are mainly a result of centuries of pack animal and human traffic. You only have to choose the villages you want to see and the challenge is on.  
Take note the trails are fast and thick. Most of the park is 3,000 meters above sea level. It also top's out the highest peak of 4,550 meters. Climbs are not for the faint-hearted considering they are masochistically lung-busting. However, the views and descents are worth nausea experienced. Trekking has not yet developed, and biking is still at its baby steps. If you don't mind physically tiring and mentally exhausting trails, this is the place to be.
Country – Nepal 
Trail – Upper Mustang
If you have ever watched Red Bull's groundbreaking film, Where The Trail Ends, then you have caught a glimpse of Upper Mustang. It is one of the few underrated mountain biking trails in the world you can enjoy steering your tires.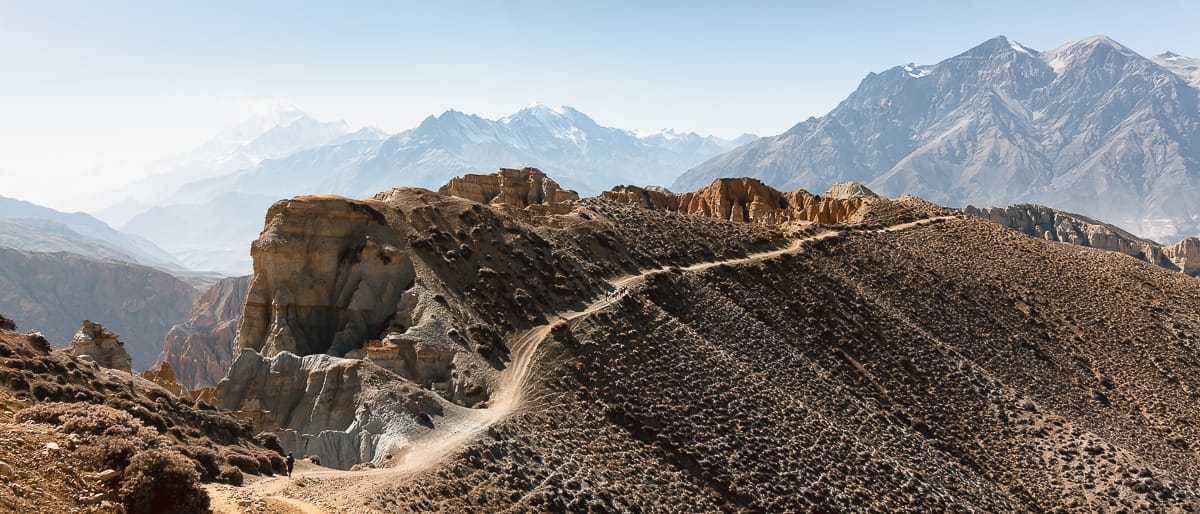 The trail starts in Kagbeni treading its way north to the Tibetan border. It takes about five days to ride through some of the unique landscapes in the world. Think 4,000 meter high hike-a-bike passes, plunging canyons, and towering 7,000-meter peaks. 
In between the trail are miles of amazing flow trail with goodies to satisfy your need for refreshment. There are tea houses placed strategically where you can get yak wool blanket accommodation and curries. When you clear the 100-mile mark, you arrive at Lo Manthang, the regional capital. It is a 14th-century Buddhist walled town unaffected for more than a century with the changes in the world. 
This area does not have an airport thanks to dust storms and raging winds. The only way out is retracing your tracks. You follow a trail packed with fun when ridden in reverse. Additionally, you notice a new set of views including the 8,000 meter Annapurna range.  
A recent "road-building" project promises to make Upper Mustang easier to access. However, the pavement is completely separated from the trail for the majority of its route. Tourists were able to access Upper Mustang in the early 1990s. As such, you need a $500 10-day permit. Just like a guide, it can be arranged by travel agencies in Pokhara or Kathmandu. 
Country – Argentina
Trail – Tilcara Trail 
It is a 92-kilometer thread of singletrack paced with a lot of variety. Tilcara Trail is located in Argentina's desert north. Unambiguously named, the trail straddles mountains separating the Calilegua National Park to the east and the high desert around Tilcara.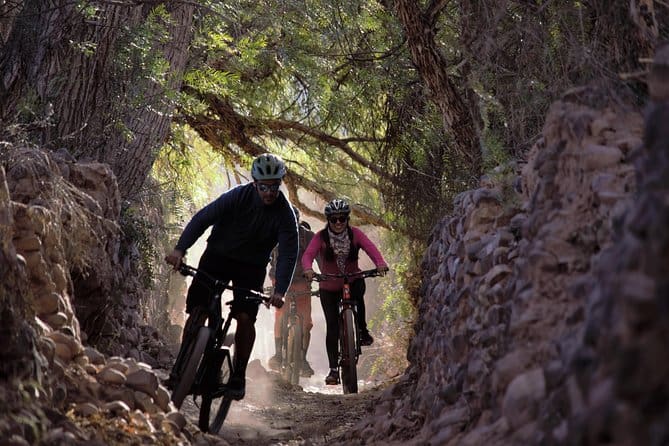 In the past, Incas used the trail to transport forest wood and fruit up from the jungle in the east. It was also used to transport Ilama meat and salt in the opposite direction. Currently, it is still the only and shortest option for accessing some of the tiny villages hidden among these formidable mountains. 
You can complete the trail in four days or less. It is not the longest trail you will come across in the world. However, it compensates length with a sense of remoteness. For starters, you can start on a long 1 kilometer climb out of the Tilcara valley. It usually starts at Devil's Throat Gorge (Garganta del Diablo). The same route claws its way to the highest point of the trail (4,200 meters high) and sits nestled between 5,000 meter high peaks.  
In the following two days, the rocky trail will lead you across wild mountains. You get to experience tough climbs combined with fast and furious descents. This continues until you drop down to a single track that is a ribbon of red clay. The finish is through a thick jungle. 
Here the river gorges are deep and hills are vast. It is wise to use an experienced biker guide in this part of the trail. There are a few trail junctions that you can miss. Missing one may lead you deep into the jungle. The jungle is home to a dozen of stinging, killing, and biting animals including jaguars. According to local reports, a UFO was reported missing in the same jungle. 
The trail is used by groups of Argentinian hikers and a handful of horse-riding villagers. This is why it is unknown to the majority of bikers all over the world. Accommodation is available albeit something that can only be described as a basic homestay. If you feel up to it, plan on riding from May to September to avoid the rainy season. Don't forget to pack warmer clothing considering the altitude. 
Country – India
Trail – Pindari Glacier Trail
The best description of the Pindari Glacier is it is a chaotic, tumbling, and steep mass of ice. The trail is set in the Himalayas of India. The glacier offers an unarguable endpoint of the remote trail.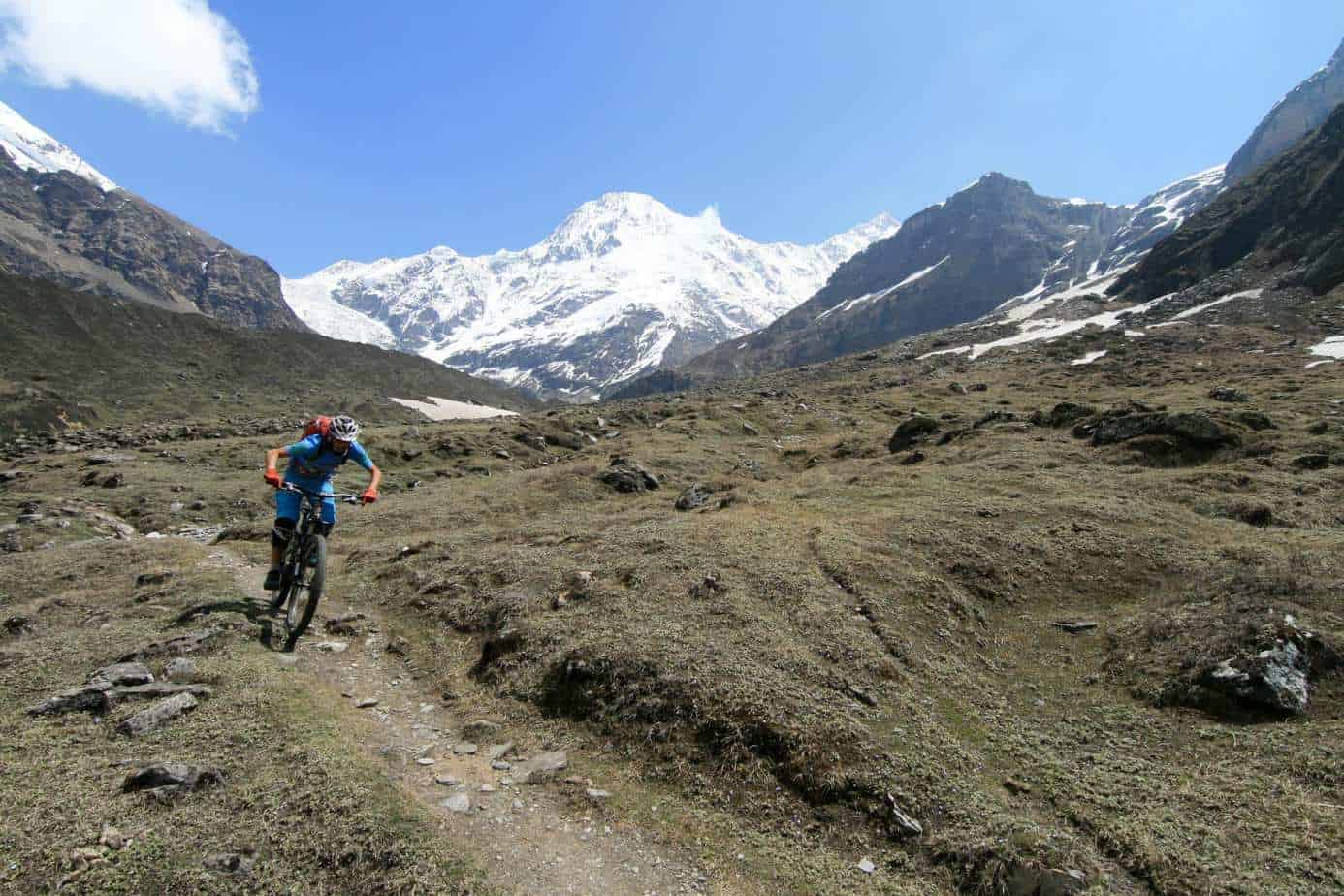 At Zero Point, the path disappears onto a mass of crevasses and seracs. By the time you arrive at this point, a narrow ridge of moraine at 4,300 meters, you will be anxiously waiting for the three-hour descent. 
Riders who look for different trails around the world agree that Himalayan riding is mainly focused on Nepal. That is why Pindari Glacier Trail is an underrated biking trail. However, Pindari boasts a wealth of great trails. From the remote valley tucked under Nanda Devi at 7,800 meters high, to the steep forested foothills, it is clear there is something for every MTB rider.  
Getting to this location takes some effort. You start with a seven-hour train ride from Delhi. This is followed by approximately four hours on an off-terrain vehicle, with Jeeps being the most popular. Travel in this trail is not for the faint-hearted. Additionally, make sure you avoid July – August as this is the monsoon season.
Take note the moment you arrive you start with a steep climb of more than 3,000 meters known as the Dhakuri Pass. For about another day, the trail is unique. This is because of G.W. Traill who was the 1830s British Colonial Commissioner. He decided to have it paved during his tenure. Currently, the original pavement is in different states of repair. This makes the trail a mix of nadge-tech rock gardens and buttery smooth riding.  
The trail continues by winding itself alongside the Pindari River after going through the Khati Village. You continue by climbing through a series of small villages. They are more like several tea-stalls and buildings. The final grind to Zero Point comes after emerging above the treeline of these villages.  
There is a solitary religious pilgrim who lives and operates a tea-stand 30 minutes before you finish the trail. This doesn't affect your smug sense of accomplishment. Instead, it adds to the feeling of remoteness you experience when you arrive at Pindari Glacier. The vast wild landscape and huge descents are only for those willing to make the effort. 
Country – Afghanistan
Trail – Wakhan Corridor 
Considering the war in Afghanistan, very few riders would dare go to the country to ride trails. What you don't know is there are plenty of biking trails. One of them is the Wakhan Corridor. One of the reasons you can go there is it is sparsely populated. This means it is of little or no interest to allied forces and the Taliban. The corridor is the true final frontier for mountain biking. You take about four hours of land travel from Dushanbe, Tajikistan's capital.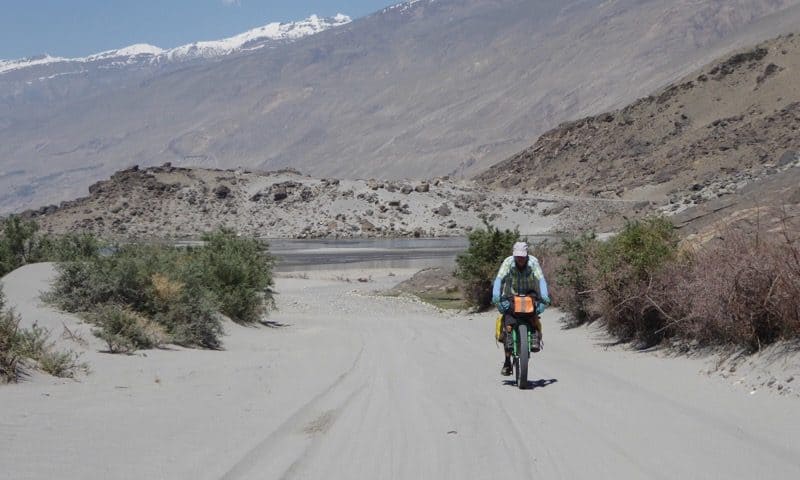 Once you have settled down, you can start your biking challenge by riding through the wild landscape. It is strewn with horse trails some of which were historically used as the Silk Route for silk trade to and from China.
This is yak and horse country. It is also a land of semi-nomadic sheep-herders. Therefore, you can rest assured you will not see another wheel, leave alone a fellow biker. There are winds across vast plateaus with no specific route per se. These "trails" are shadowed by towering peaks of Hindu Kush (in Pakistan). They direct you towards snow-covered passes, some higher than Mont Blanc.
Keep in mind mountain biking here is for professionals or amateurs with a lot of stamina and determination. The trails vary with some containing tire-swallowing sand and dirt. Weather changes anytime and affects the conditions of trails especially in the height of summer. During this time, snow melts and swells rivers making crossing a challenge.  
However, there are few places on this planet with such a landscape. Despite the harsh living conditions, locals are some of the friendliest people you will ever come across. It is normal to get invited into a yurt for a variety of snacks or dishes like rancid yogurt or tea.
You can also share a laugh as they try to ride your MTB. The Wakhan Corridor is a challenge to reach, a challenge to ride, and a challenge to live. Make the necessary consultations, conform to the recommendations, and brace yourself for a lifetime experience.
Country – China
Trail – The Friendship Highway
This specific trail runs for 500 miles (800 kilometers) between the Nepalese border and the Tibetan city of Lhasa. It is the world's most beautiful ride depending on your idea of enjoyment or concerning bleak high-altitude vistas.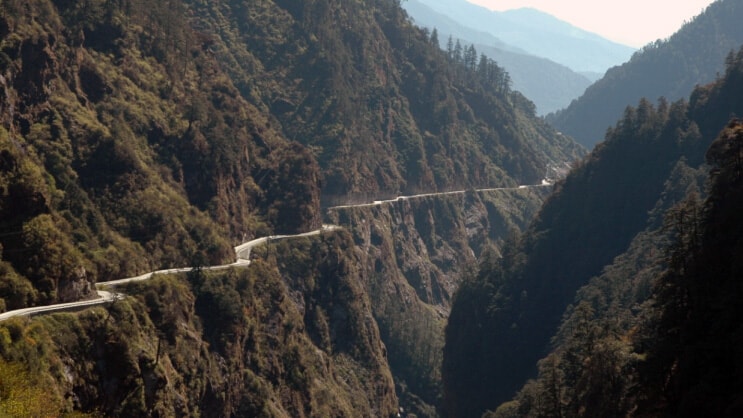 The route includes three road passes consisting of 16,400 feet (5 kilometers plus). This is inclusive of a lung-bursting total of 5,220 feet over the Gyatso La mountain pass. The reward at this point is a distant view of Mount Everest as long as it is a clear day. As you can see, this MTB trail is not for everyone.
Conditions are not always kind and the distance between towns requires careful planning. Add this to the sensitive political situation in Tibet and you understand why individual travel can be a challenge at times. 
For those who are committed to MTB trail riding, this is one of the world's true adventures. 
Sites include the cultural and religious wonders of Gyantse and Lhasa, the Gampa La mountain pass flag-draped peak, and the turquoise and vast lake Yamdrok Yumtso shining in the valley below. If this is not sufficient, the route ends with one of the world's longest descent. It is a precipitous 3,500-meter drop, along with muddy hairpins, off the edge of the Tibetan plateau. 
How to Improve Your Mountain Biking Skills 
Having a list of some of the most popular and unknown MTB trails can set you up for many adventures in the future. If you want to enjoy mountain bike trail riding, you need some tips on how to improve your riding skills. Below is a list of seven tips to ensure you get the best out of any one of the above trails. 
Maintain Your Bike
Basic bike maintenance only takes a few minutes. It is the difference between riding your bike on a trail for 10s of miles or walking with your bike over the same distance. Make sure you maintain your MTB before you start with a trail on arrival. At the same time, a simple maintenance check is recommended before you resume the trial after a break.  
Try Riding with Better Riders
The first benefit is you get a better experience in that you can push yourself better. A major benefit you get is that you get to learn better riding habits from people who are experienced. For instance, you get insight into how professional, expert, or better riders handle rough and rocky sections of any trail.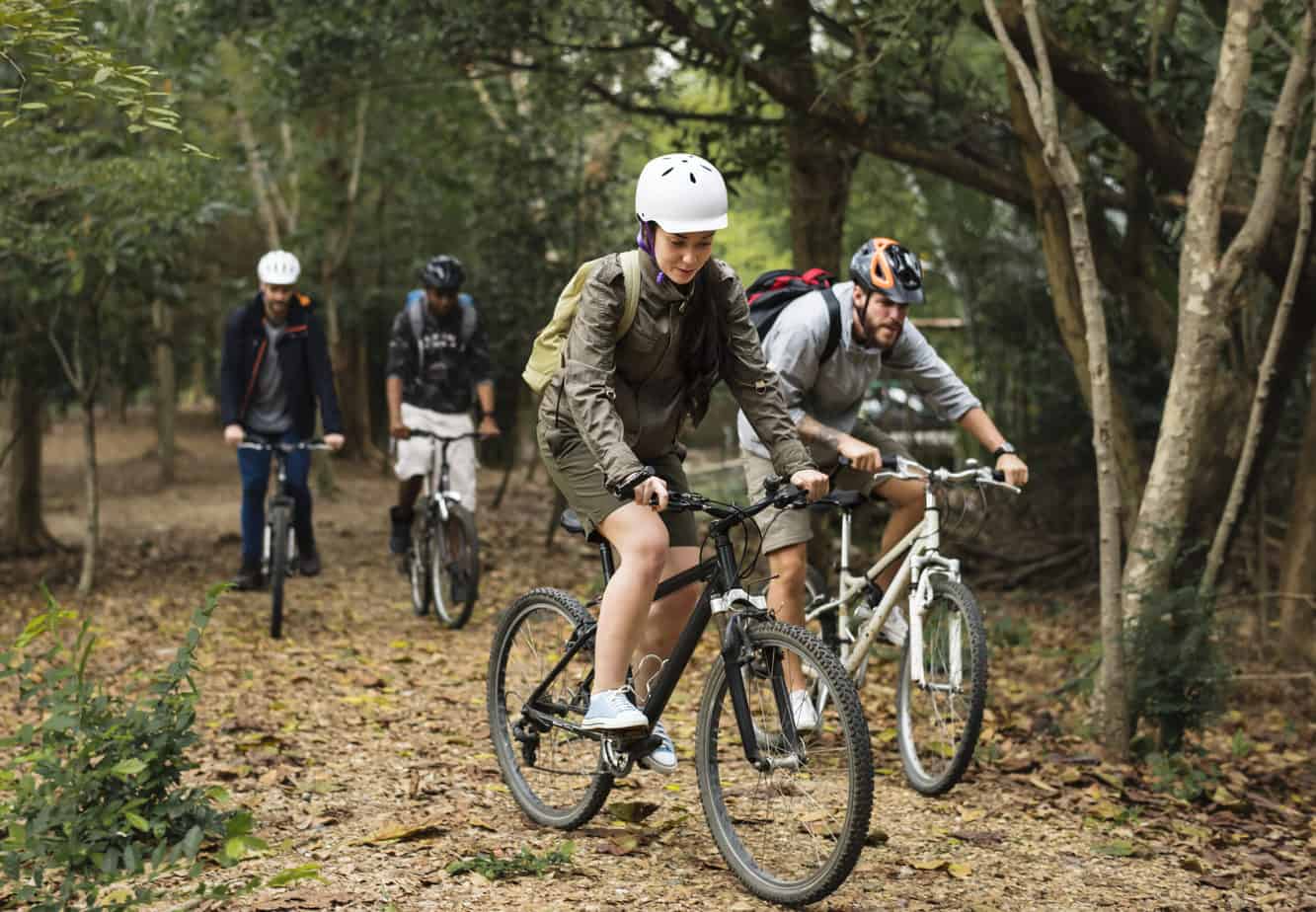 You can also watch how they fix tires when they are miles away from any viable assistance. Such valuable skills are only available when you ride with other riders. Check with your local bike communities, bike shops, and bike forums to help you find fellow riders in your area.  
Focus on Your Location
Concentrate on where you want to go when you are on a trail. If your trail has plenty of rocks and roots, your concentration is paramount. For example, avoid focusing on the rock or tree you are trying to avoid. Instead, focus on the line you want to take. This way, you can easily avoid hitting the tree or rock especially when you climb or descent. 
Breathe and Relax
The bike you are riding will not matter if it has the best suspension or it is rigid. The best suspension is your legs and arms. Allow them to absorb the ruts and bumps on the trail by standing up and relaxing. You can easily float or avoid most obstacles when you understand your MTB.
It also helps if you can relax your grip on the handlebars. Hang on firmly, but avoid holding them too tightly. Too tight a grip causes your hands and forearms to fatigue sooner. This makes it a challenge to be in control. 
Spin 
Rotation or the cadence of your cranks is a crucial aspect of cycling. Professional cyclists use plenty of time developing a good spin. You throw yourself out of balance when you pedal with jerky downward strokes or you pedal in squares. Spinning helps keep traction on a loose trail, as well as making cycling more efficient.  
Good cadence incorporates being in the right gear and pedaling in circles. Using high gears may result in a challenge when you want to overcome obstacles. Low gears may cause you to jerk the bike or spin out. Pedaling while maintaining the same RPMs, about 70 – 100, makes it easier to pedal through rough sections and climb. 
Stop
Balancing and hopping skills provide you with skills when you are doing technical trials. The ability to come to a stop and start again without balancing the MTB with your foot makes it easier to keep momentum. It also makes it easier to maintain balance on tougher trails.
You can do these while standing still, although lunging with the bike while you hop over stuff like rock and stairs seems easier. Try pure stationary balancing or a track stand. This is achieved by balancing pedaling without using the brakes.
It is wise to take two brakes instead of one. Better braking ensures you control the bike better. The majority of beginner bike riders assume the brake settings are either locked or not in use. Just like the anti-locking braking system in a car, you need to control the bike the same way.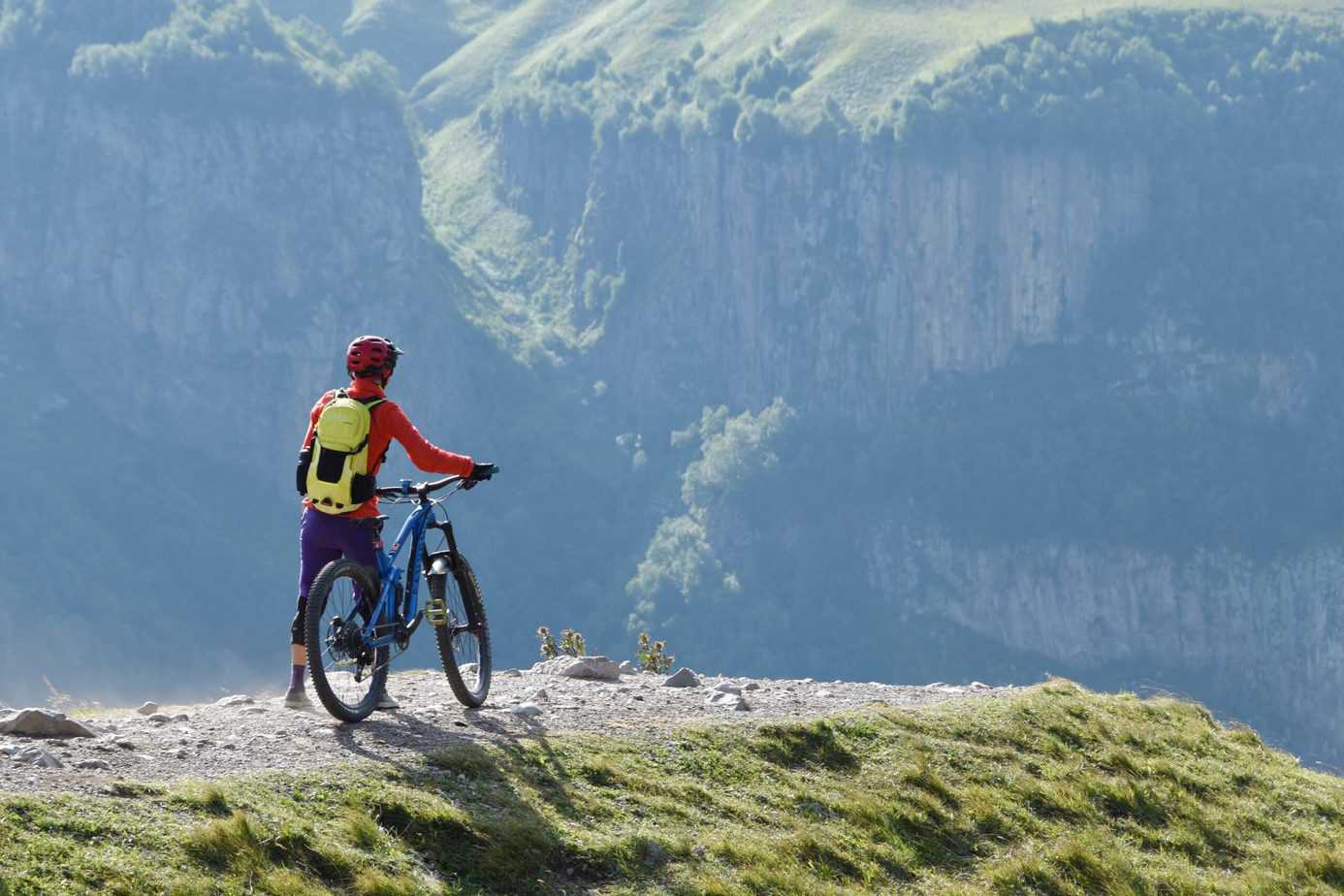 Teach yourself how to use both brakes efficiently. Contrary to popular belief, the majority of your braking power comes from your front brake. The reason why people prefer the back brakes is they don't have the risk of flipping the rider over. Use front brakes carefully when you are cornering or going downhill. The front wheel will slide out or you may get tossed over the handlebars. It's all about modulation and moderation. 
Bottom Line
With the above information, you can easily choose a trail that will best suit your needs. Combine the list of trails with ways to improve your riding experience and you are good to go.
Keep in mind trails like The Friendship Highway in China and the Wakhan Corridor in Afghanistan may require up-to-date information on the country before you plan a trip. Due diligence is always advised as each country's political climate is different and may change at any time. 
Continue reading related MTB trail guides if you are traveling to: