All-mountain bikes – also referred to as 'Trail bikes' – trump every other mountain bike category. All-mountain bikes are designed to take on whatever terrain a mountain biker may encounter on a full day of riding. These mountain bikes can take on rough descents steep ascents as well as other unexpected terrains that make mountain biking such an exciting sport.
What are All-Mountain Bikes? A Cross between XC and Downhill Mountain Bike
All-mountain bikes fall between the downhill bike category and Cross-country mountain bikes. The latter is the stiffest and lightest of all the types of mountain bikes in around today. Cross Country bikes come with only front suspensions and are enhanced for long, cross-country rides.
Downhill bikes, on the other hand, are fitted with full suspensions – with 180m (7 inches) of travel. Mountain bikes in this category are beefy, heavy, and designed for descents. Downhill mountain bikes are not too good at climbing due to its extensive features. This is why most downhill bike riders usually get a ride to the top of the hill, via lifts.
All-mountain bikes fit in the middle of these two categories. Typically, all-mountain bikes are furnished with full suspension – about 100 to 160mm (4 to 6 inches) – of travel. The most popular gearing system for mountain bikes in this category is:
1 x 11 (1 chainring in front, 11 gears at the back)
2 x 22 (2 chainrings in front, 12 gears at the back)
The wheel size of All-mountain bikes can be 26-inch, 27.5-inch or 29-inch. All-mountain bikes are sturdy and quite heavy – much more than typical cross-country mountain bikes – though they are designed in such a way that they can ascend hills efficiently. They can also cope excellently in terrains much rougher than what XC mountain bikes can handle.
Can All-Mountain Bikes Be Used As An "All-Purpose" Mountain Bike?
The best mountain bike that any serious rider should own is an all-purpose mountain bike. All-mountain bikes fall into this category as they provide an impressive balance between comfort, efficiency, and control.
They are also light enough for steep ascents, tough enough to handle rough terrain and with more than enough 'travel' grit to score big hits. Cross country mountain bikes cannot take up that much force or endurance.
The tires of All-mountain bikes favor aggressive knobs for traction and cornering since the most crucial part of the ride is assisted by gravity.
The Five Types of Mountain Bikes
There are up to five different categories of mountain bikes that are out there. The mountain bikes in each category are designed for specific styles of riding. Take note that there is a lot of overlap, so be careful when shopping for a mountain bike that fits your riding style.
Let's take a more in-depth look at the different categories these mountain bikes belong to:
All-Mountain or Trail Bikes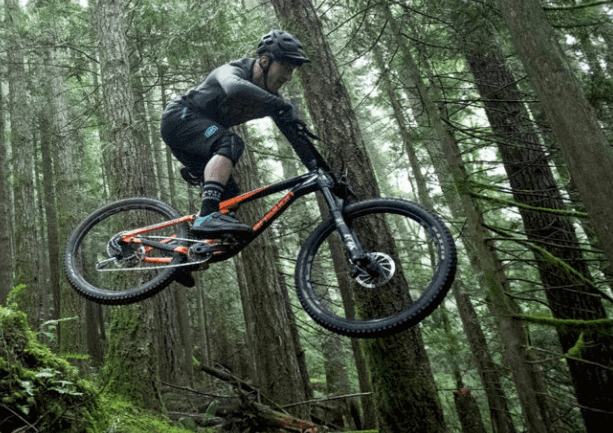 This is perhaps the best and most versatile mountain bike for most riders. It is designed for both downhill rides and light enough for climbs as well. Two factors differentiate the all-mountain bike from its Cross-Country counterpart: the wheelbase of the all-mountain bike is much longer than its counterpart, and its machine is heavier, thanks to its more extended shock travel.
Going with a trail bike will make you lose a few things. Firstly, since the all-mountain bike is little heavier than a cross-country bike, climbing becomes more challenging. You will also not enjoy the snappy handling that is common with short wheelbases. But this is not a problem if you are not racing.
However, you will gain a lot; for instance, the longer wheelbase and shock travel provides a more stable and comfortable ride. This allows you to navigate through any terrain without any problem. More confidence equals more speed on all-mountain trail bikes.
Moreover, you will experience a lot of jarring whenever you take on off-road riding. The more extended shock travel makes it easy on your body as it absorbs a tremendous amount of shock as your ride. The travel – i.e., 120-140mm front shocks – may call for more power to pedal the bike, and this could wear you out quickly and slow you down considerably.
So, if you love cushioning, the all-mountain bike offers a lot of it, especially if you enjoy taking long rides in rough terrains.
Find here the best All-Mountain or Trail Bikes options on the market here:
Downhill Mountain Bikes are designed for one specific purpose: going downhill as quickly and as possible. Both the front and rear shocks are shored up with huge suspensions. The wheelbase is long and specifically designed to boost stability during high-speed drops.
Every aspect of the downhill mountain bike is designed for strength or intensity. They are generally lower to the ground with head angles positioned at 65o to add more stability and control.
Downhill bikes are also extremely sturdy since they are subjected to a lot of wear and tear. Riding this bike uphill, however, is difficult. The bike also comes with few gears which give you enough space to clear hurdles with less effort.
Speed is everything when it comes to cross country bikes. Most riders go for bikes that will allow them to have more speed and are ready to sacrifice weight to achieve this goal. For instance, the front shocks of cross-country bikes come with approximately 100-120mm of travel, much shorter than that of other types of mountain bikes.
Cross-country bikes with full suspension are common these days, but others are designed with smaller rear shocks that make them 'bounce' less when on the move.
A lot of cross-country mountain bikes are crafted from carbon fiber and come with 29-inch wheels. The tires are usually light, and frame geometry comes with a steep head tube angle. This angle makes snappy handling more manageable for the rider.
Cross-country bikes are set up such that it simulates an aggressive stance or position. This position tends to put the handlebars of this machine lower than the seat, thus making you, the rider, to lean forward.
In one sentence, cross country bikes are made for speed.
Enduro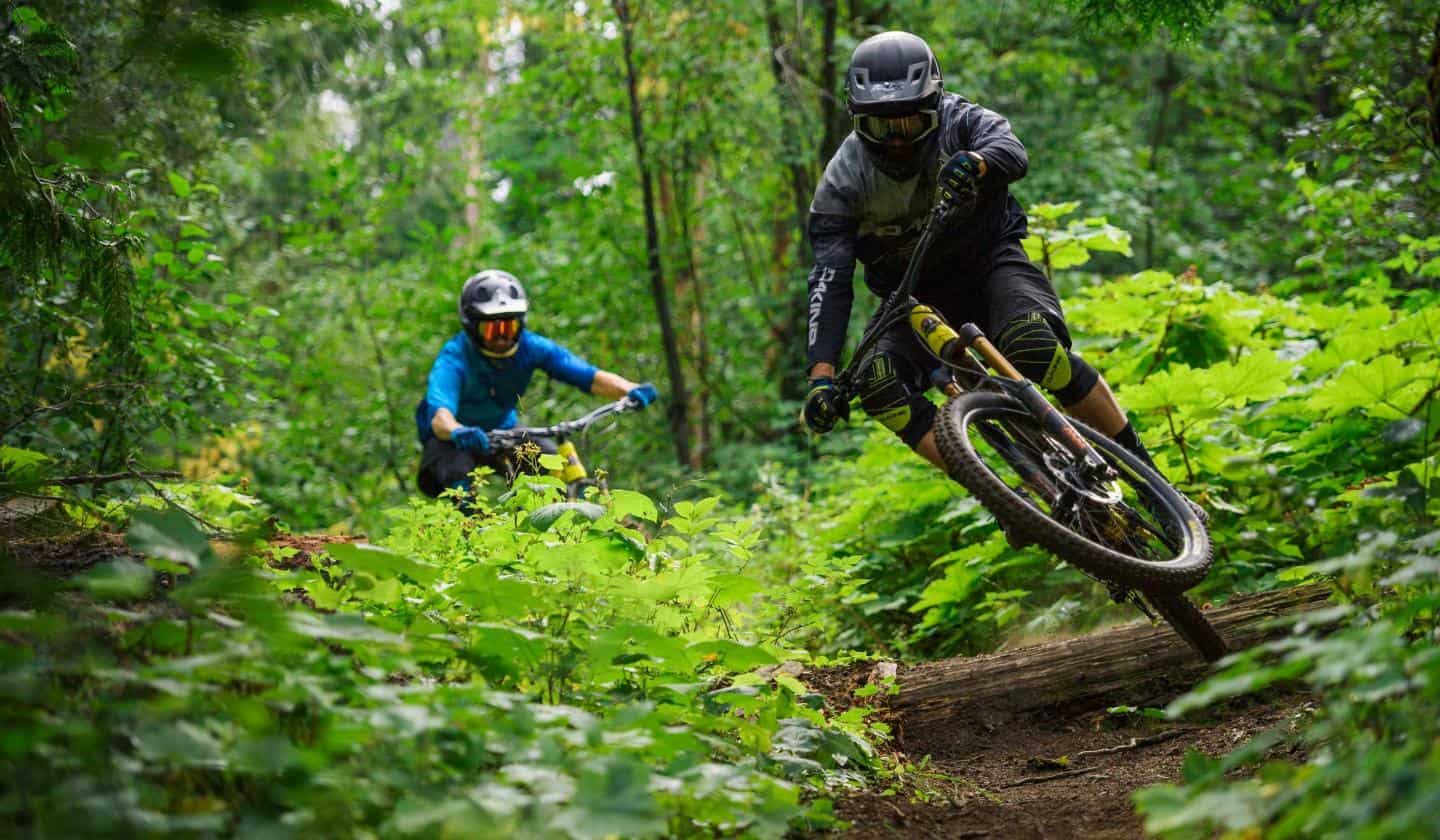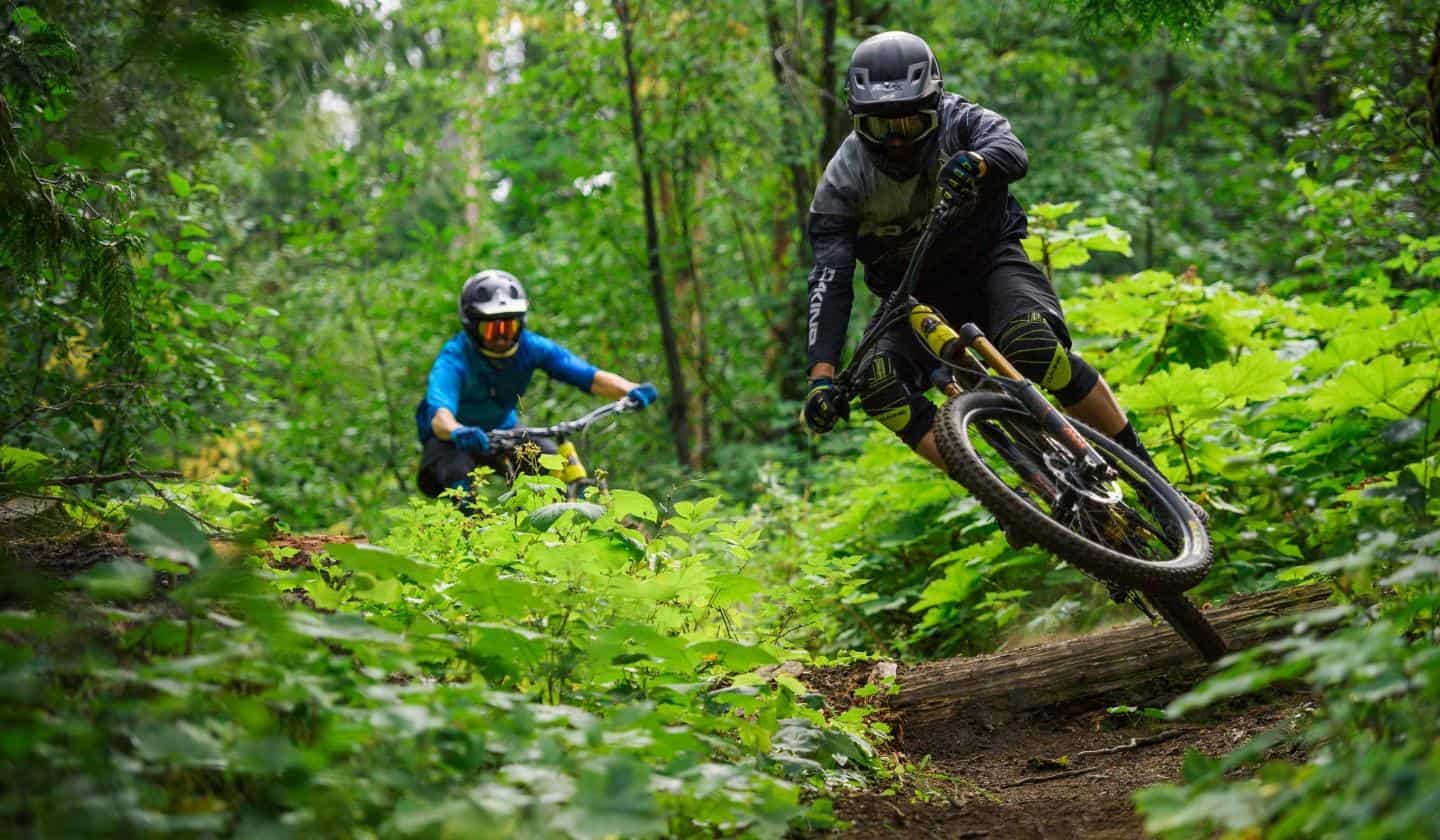 Enduro bikes can be said to be derivatives of the All-mountain bike. They are sturdier, have more suspension, and the frame geometry is less aggressive. The Enduro bike gives a cycler more advantage when riding downhill.
It is an all-around ride for rough terrains, especially those that involve a lot of downhill. Nevertheless, the fat bike's additional weight makes itself apparent when you start the climbs.
Freeride Bikes
Freeride bikes are simple but are used for different applications. The bike is mostly designed for tricks and style, though it bears a striking resemblance with dirt jumping bikes. Freeride bikes have full-suspension systems – with up to 170mm of suspension travel – which helps in absorbing the shock of a drop.
This agile type of mountain bike can also be used to ride downhill, though they perform better at ascending trails than downhill bikes. Freeride bikes are very light and are intentionally designed that way for easy maneuverability. Riders can maneuver through complex features of the riding area without sweat and gives you more stability and control, thanks to the light frame of the freeride bike.
Dirt jumping bikes come with simple designs, though some are equipped with more features than usual, depending on your skill level.
Veteran dirt jumping riders mostly use simple bikes to perform stunts without the hindrance of various features or added weight. Air and speed is the primary goal here, and that is why dirt jumping bikes are lightweight. The sloping design of bikes in this category helps to build up momentum or speed.
Dirt jumping bikes are also equipped with high front suspensions that are designed to absorb the shock of landing after taking an impressive jump. The rear suspension is not all that pronounced, though a majority of these bikes come with small suspension travel. Most dirt jumping bikes also come with single gears and disk brake systems for additional simplicity.
What You Should Look Out For When Shopping For Your All-Mountain Trail Bikes
If you take a look at the varied options of All-mountain trail bikes out there, you will feel intimidated. The field of options are too numerous and can be confusing, especially if you are just starting out in the world of off-road riding.
If you find yourself in such a dilemma, you are on the right page. This section will guide you through the parameters or factors you will need to narrow down your options optimally.
Mountain Bike Frames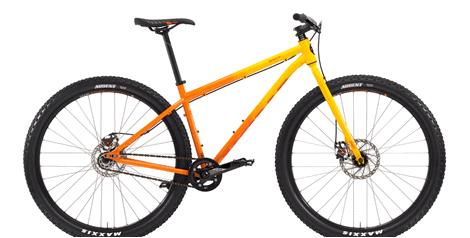 The frame a mountain bike is made of influences its strength, weight, ride quality, price, and longevity. In most cases, aluminum alloy is employed in the construction of mountain bike frames
Some mountain bike models come at a steep price due to the use of lighter aluminum frames and the amount of time or money spent on selecting the tubing design, materials as well as the manufacturing process.
Other materials – such as titanium, steel, and carbon fiber – are also used for constructing bike frames. However, some of these materials – such as steel – are too heavy to be used as mountain bike frames. Titanium is durable and light enough to fit the criteria for mountain bike frames, but it is too expensive. It is mostly used for high-end mountain bikes.
Carbon fiber is the material used on most Cross-Country mountain bikes and All-mountain bikes because of its low weight and durability. But it is somewhat expensive as a result of labor-intensive manufacturing.
Front Suspension
Bikes with no suspension are inexpensive, but virtually useless if subjected to off-road biking. This is because off-road biking calls for a lot of shakings and bumps. All-mountain bikes are fitted out with front suspension which accommodates the bumps and shakings that come with off-road biking.
The Durability of the Parts
All-mountain bikes come with more than a few sophisticated components such as shock absorbers, disc brake, suspension forks, etc. For maximum performance, the quality of these parts must be ensured at all times.
In addition to this, most of these components are exposed to elements such as water, snow, and dirt. Therefore, you should consider these parts greatly as well as their durability and performance when making your buying decision for the best All-mountain bike on the market today.
You should also consider the availability of the spare parts in your local bike shops as this would make it easy for you to replace the components that are wearing out or no longer functional.
Maintenance
Maintenance is a huge concern when it comes to All-mountain bikes. You should go for a mountain bike that requires minimal maintenance without compromising its performance.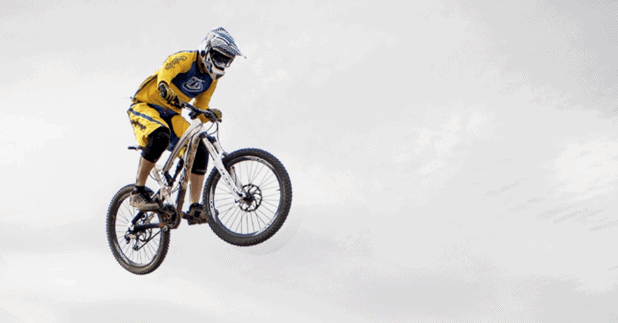 Best All Mountain Bikes under 400
The mountain bikes that will be discussed below cost under $400. So, if you have a tight budget, this section is for you.
But before heading out to the nearest bike shop or shopping online for a reliable all-mountain bike, you need to keep the following things in mind.
Whichever mountain bike you choose to purchase – irrespective of its price tag – you should ensure that the mountain bike suits you well. An All-mountain bike that fits you is going to be a lot more fun to ride on those rugged trails than a bike that does not fit you.
An All-mountain bike that fits a rider is much less likely to end up in the back of your garage, gathering dust as a result of desertion. If you want to purchase your All-mountain bike at a local bike shop, then the attendant should be more than willing to help you adjust the height of the saddle and swap on the best length stem.
So, here are the top 3 All-mountain bikes below $400:
This fat bike can boost your confidence in any terrain. So, if you are looking for one of the best All-mountain bikes under $400, the GMC Yukon mountain bike is your best bet. Its 18-inch aluminum frame is carefully handcrafted and lightweight.
The mountain bike features fat 26-inch x 4-inch wide tires on aluminum rims that are 4inches wide. This enables you to have maximum stability and balance while riding on mud, snow, rocks, and even sand.
The GMC Yukon Fat mountain bike also showcases 7-speed along with Shimano Rear Derailleur and Shifter. The many gear options that come with this cool little mountain bike enable you to ride on steep trails without any fear of a mishap. The disc brakes are strong enough to stop those fat wheels in an instant.
Pros
It is one of the best All-mountain bikes that can take on any terrain
Assembling and disassembling the parts is extremely easy. It is 90% pre-assembled out of the box
Its aluminum frame is high-quality and quite surprising for a bike within this price range
It is lighter than other fat mountain bikes
Cons
Users may need to adjust the brakes from time to time
GMC Yukon Fat Bike | Amazon
The GMC Yukon Fat Bike is designed around a lightweight, handcrafted aluminum frame. With 26 x 4-inch wide tires on 4-inch wide aluminum wheels, the Yukon feels right at home on snow or dirt.
Buy at Amazon.com
We earn a commission if you click this link and make a purchase at no additional cost to you.
#2 Vilano Ridge Mountain Bike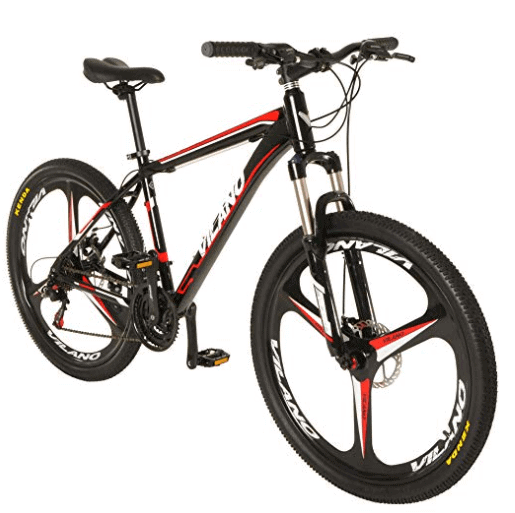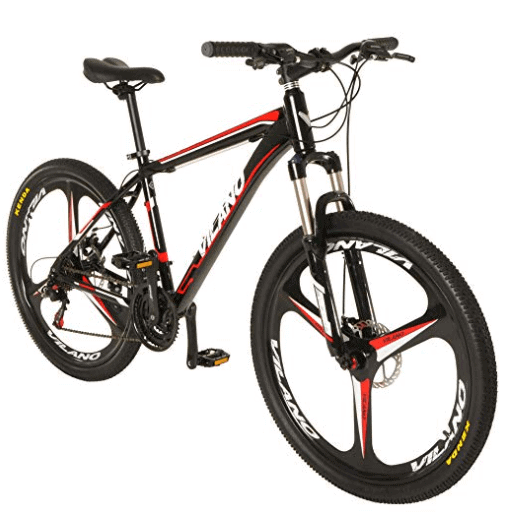 There is always a huge demand for this great All-mountain bike. This makes it somewhat scarce in the market today. The Vilano Ridge mountain bike comes with 6061 (double butted) aluminum frame and features magnesium alloy wheels, mechanical disc brakes, and a suspension fork (with a lockout).
This All-mountain bike is the best option for riders who love both on- and off-road biking adventures. It is also equipped with the Shimano 21 speed drivetrain that allows users to change gears effortlessly and comfortably.
The Vilano Ridge mountain bike is available in two distinct frames: 17inches and 20 inches. In reality, the bike goes at a great price, considering the components and materials it is made of.
Pros
It comes in two sizes
Disassembling and assembling the product is very straightforward
It comes with an impressive set of magnesium alloy wheels that don't need truing
It is fitted with a Shimano-integrated brake lever for greater reliability and friction
Its suspension fork together with lockout enhances flexibility
Cons
This is one of the most stylish All-mountain bikes in the mountain biking universe. The Merax mountain bike comes with a unique design and high-quality construction that is unmatched with other mountain bikes in this category.
The frame of the Merax mountain bike is solid 6061 aluminum alloy and features a 26-inch lightweight and impressive magnesium alloy wheels. It is also fitted with Shimano 24-speed derailleur and shifters which provide reliable shifting.
The mechanical disc brakes of the Merax Mountain bike works perfectly, any time, any day. This all-mountain bike also features a sophisticated aluminum mechanical lockout suspension fork which enables it to withstand the bumps that are common with off-road biking.
Pros
Its magnesium wheels don't need truing
It has a stylish and eye-catching design
The majority of its components and features are constructed with aluminum alloy
Its suspension is adequately sealed along with a preload and lockout adjustment
Cons
Disc brakes and gears require minor adjustments
Merax 26" Mountain Bicycle | Amazon
This Merax Finiss Aluminum 21-Speed Mountain Bike Racing Bicycle features a lightweight heat-treated aluminum mountain frame. The 26-inch double-wall aluminum rim wheels make for easier rolling.
Buy at Amazon
We earn a commission if you click this link and make a purchase at no additional cost to you.
Best All Mountain Bikes Under 1,000
This All-mountain bike comes with a double brake as well as one of the best rear suspension designs in the mountain bike universe today. It also comes with good tires and shifters. Although the Atroz Comp all-mountain bike is heavy, it can compete favorably with other high-end mountain bikes.
It comes with both front and rear hydraulic brakes which have incredible stopping power and gives you excellent control over the wheels. The Atroz Comp is equipped with 9-speed gear shifters which give you any speed you demand from the machine on bumpy, concrete, or rocky terrains. You will not feel any bump or strain while riding this powerful all-mountain bike.
Pros
It comes with good tires
The shifting is smooth and highly remarkable
Its construction is cleverly engineered to enhance its performance
It arrives pre-assembled – up to 85% – so users don't have to worry about installing everything from scratch
The 9-speed drivetrain enhances its speed range
It is available in different sizes to match every body type
It is furnished with hydraulic disk brakes for enhanced stopping power in all conditions
Cons
The seat is not too comfortable
The assembly instruction is not too detailed
Where to Buy the Diamondback Atroz: The best option is to go to this listing.
Further Reading: Full Diamondback Atroz Review.
Diamondback Bicycles Atroz | Amazon
This Bike is a good introduction to mountain bikes, plus, great value for money especially for beginners or if you just ride occasionally and don't want to spend thousands.
Buy at Amazon
We earn a commission if you click this link and make a purchase at no additional cost to you.
This is one of the most affordable all-mountain bikes that are on the market at entry-level prices. The mountain bike is suitable for a wide range of riders, thanks to its 27.5-inch wheels that are sturdy enough to handle any trail. So, if you are 5' 3'' inches tall or 6' 4'' tall, the Diamondback Overdrive is the perfect choice for you as it comes with corresponding frame sizes.
The hydroformed aluminum frameset is carefully handcrafted, and this enhances the sense of security, thereby keeping you in full control on any terrain. If you are heading for the hills, then this remarkable all-mountain bike is the best choice for you as you can make use of its 24 gears to conquer any terrain.
Pros
It comes in different sizes to suit different individuals
It is equipped with durable Shimano components that enhance its performance
It is an entry-level mountain bike that is suitable for every serious mountain biker.
Cons
The seat could be better
It is available in one color only
Where to Buy the Diamondback Overdrive: The best option is to go to this listing.
Diamondback Bicycles Overdrive Hardtail Mountain Bike | REI
The classic returns this year with 27.5" wheels, 24 speeds, a plush four-inch Suntour suspension fork, and powerful disc brakes. Big knobby tires grip every root and rock, keeping you confident and in control as you explore the trail. Whether you're a diehard hardtail aficionado or looking for a solid starter mountain bike, the Overdrive doesn't disappoint.
Check Price
Buy at Amazon
We earn a commission if you click this link and make a purchase at no additional cost to you.
Best All-Mountain Bikes under 1,500
The All-mountain bikes in this price range come with powerful tires and wheels that are perfect for climbing steep hills and sharp descents. Mountain bikes in this category are mostly constructed with high-quality alloys and come with durable suspension forks for better performance and stability.
#1
BEIOU Carbon Fiber 650B Mountain Bike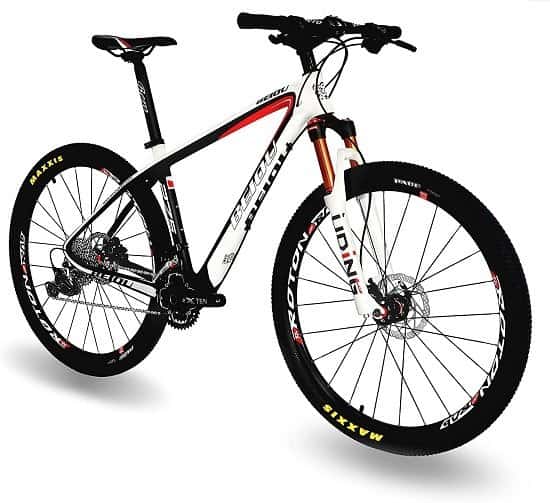 This is one of the best All-mountain bikes out there and is constructed with T800 carbon fibre which is tough enough to withstand whatever harshness any trail can throw at it. This makes it pricier than its steel- and aluminum-framed counterparts. The carbon fibre frame also compensates for the cost with superior durability and lightweight construction.
The BEIOU Carbon Fiber 650B is also equipped with Shimano components such as a speed controlling system as well as highly responsive hydraulic disc brakes. The low-riding posture of this all-mountain bike allows for higher speeds on the trails.
Pros
It is lightweight
It is constructed with durable carbon fibre
It is the perfect choice for high-octane mountain biking
Cons
Its smallest size may not be suitable for riders who are not tall
It comes with a hard seat which may be uncomfortable for a long ride
#2
BEIOU Toray T700 Mountain Bike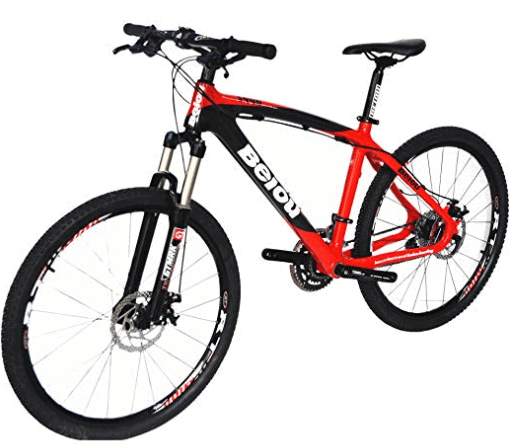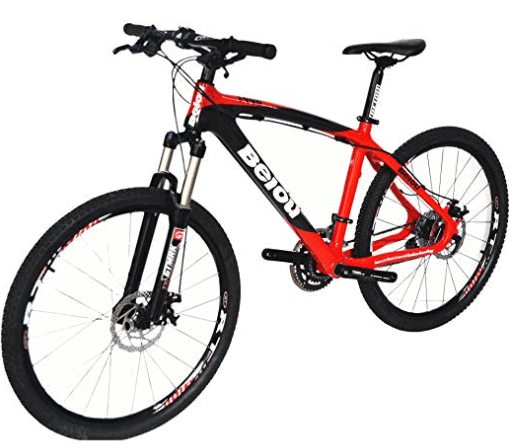 The Toray T700 Mountain Bike is considered one of the best all-mountain bikes out there. Its exceptional performance is legendary, and its features and specs are topnotch.
It is designed uniquely with matching stickers that enhance its beauty. This all-mountain biker will boost your confidence and make you look stylish amidst other mountain bikers. The frame of the Toray T700 Mountain Bike is made of carbon fibre, and that means the all-mountain bike is not only durable but lightweight as well.
The Toray T700 Mountain Bike is furnished with a 27-Speed drivetrain, making it possible for you to control and adjust the bike speed smoothly and more efficiently on different terrains. The all-mountain bike also comes with a remarkable hydraulic suspension fork which is sturdy enough to soak up all kinds of shocks to ensure enjoyable rides on any trail.
The Toray T700 Mountain Bike also has a disk brake for maximum stopping power and is extraordinarily efficient in any weather, no matter how severe.
Pros
It is equipped with great suspension, hydraulic disk brake, and aggressive wheels
It features an impressive Smooth shifter
It is constructed using durable carbon fibre
It is also equipped with a 27-speed drivetrain that enhances its performances on rough terrains
Cons
It is not assembled out of the box
It has no water bottle cage
This is another fat mountain bike that is shaking the mountain bike universe. The El Oso mountain bike comes with 4- or 5-inch wide tires that take you over obstacles on the trail such as rocks, snow, and even sand.
It is equipped with a frame that is stiffened enough to be exploited on any terrain. The mountain bike also comes with Shimano 180mm disk brakes front and rear as well as a 100mm front fork that boosts your confidence.
Although fat mountain bikes may not be for everyone – and its tires cannot replace completely take the place of full suspensions that absorb shocks on trails – they have a personality of their own.
So, if you are looking for the best all-mountain bike that can take on a lot of sand, mud, and snow the El Oso is the clear champion.
Pros
It comes with front suspension
It is sturdy enough to go over trail obstacles
It is robust enough to withstand the weather
Cons
It is heavy and cumbersome
Where to Buy the El Oso: The best option is to go to this listing.
Diamondback Bicycles El OSO Complete Fat Bike | Amazon
Our El oso fat bike really is as much fun to ride as it looks. Throw your leg over it and you may notice most of the bike is pretty standard stuff, at least for diamondback: a strong and lightweight aluminum frame made with hydroformed tubing, a 120mm travel RockShox fork, a smooth-shifting Shimano 2x10 drivetrain.
Buy at Amazon.com
We earn a commission if you click this link and make a purchase at no additional cost to you.
Best All-Mountain Bike under 2,000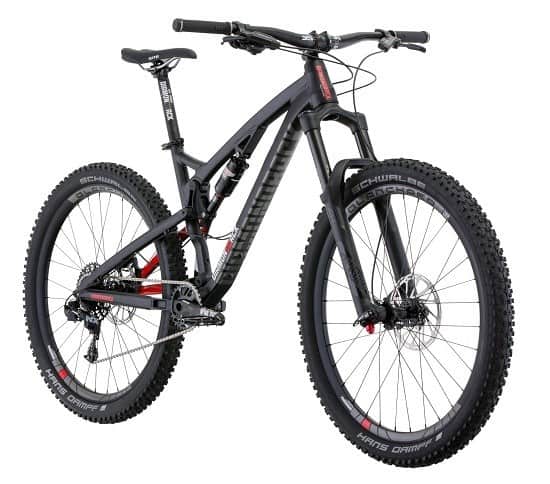 This is another capable and impressive all-mountain bike from Diamondback. The Release all-mountain bike is furnished with a full-suspension design and a perfect geometry that makes it easy for users to climb on and off the machine. The perfect combination of the 150mm front fork and 130mm rear shock absorber boosts up your confidence when riding on tough trails.
The Release all-mountain bike is also equipped with excellent Shimano hydraulic brakes that ensure you can stop the mountain bike in a heartbeat. This is highly crucial, especially if you are riding on trough terrains with lots of descents and bumps.
The sophisticated frame of this mountain bike can be upgraded when the time comes. The Shimano drivetrain, with 11 gears, gets you up any incline easily without expending too much effort.
The only downside to Release 1 is the weight which is up to 32 pounds.
Pros
It comes with a highly capable full-suspension design that ensures riders have smooth rides all the time
It is sturdy enough to withstand the roughness of any terrain
It features Shimano drivetrain with 11 gears that make it easier for riders to climb steep inclines
Durable and lightweight aluminium frame lasts for years
It comes with great tire protectors
It comes out of the box – up to 95% – mostly assembled, thus making it easier for users to assemble
Cons
Some of the components may eventually need to be upgraded
Where to Buy the Diamondback Release 1: The best option is to go to this listing.
Diamondback Bicycles Release 1 | Amazon
Built around our Level Link suspension system, every part of the Release 1 works to improve your performance. The patent-pending short-link four bar system isolates chain forces from trail inputs, resulting in our best-pedaling mountain bike ever
Buy at Amazon.com
We earn a commission if you click this link and make a purchase at no additional cost to you.
Best High End All Mountain MTBs
Over $2,000 and you leave the budget and low to mid-range, BUT you can find some epic rides. The following are some of our top all-mountain bike recommendations at the higher end of the price scale.
Summary: Coming in over $7,000, the SB130 TURQ is worth every penny, if you can afford it. Equally comfortable on fast rolling terrain or aggressive mountain cuts and switchbacks, the SB130 offer 130mm suspension.
The beauty of the TURQ is that the frame sets you up well for a climbing position without compromising downhill handling. This might be the ONLY MTB you ever need.
Where to Buy: Head on over to CompetitiveCyclist to pick the TURQ up here.
Yeti Cycles SB130 | Competitive Cyclist
The Yeti SB130 Turq T1 XT Mountain Bike sits right at the front of the pack when it comes to trail machines, with 130mm of rear travel for eating up chatter, and 29-inch wheels that make quick work of technical climbs.
Check Price
We earn a commission if you click this link and make a purchase at no additional cost to you.
Summary: Higher-end, but not still relatively affordable at $4,399, the Santa Cruz Bronson is the quintessential all-mountain bike. Features 150mm full suspension and the Santa Cruz VPP (virtual pivot point) design, the Bronson can handle a rough descent or climb with equal skill.
Where to Buy: Pick the Bronson C up via JensonUSA online here.
Santa Cruz Bronson C | Jenson USA
The Santa Cruz Bronson C is ready for action no matter what role it's cast into. It is perfect for flat-out trail rides and all-mountain style riding.
Check Price
We earn a commission if you click this link and make a purchase at no additional cost to you.
See the full review here 
Summary: The Remedy 8 clocks in at under $4,000, but features a lightweight alloy with a true flexible all-mountain appeal. A 160mm fork and 150mm rear shock mean that it can handle some rough shredding.
Where to Buy: Pick up the Remedy 8 directly via Trek bikes online here.
Remedy 8 | Trek Bikes
Remedy 8 hits the sweet spot in performance and value in the all-mountain category. A lightweight alloy frame, SRAM GX Eagle component spec, a premium RockShox Lyrik 160mm fork, and 150mm rear shock make it the ideal ride for shredders who want ridiculously capable mountain bike for ridiculously fun trails.
Check Price
We earn a commission if you click this link and make a purchase at no additional cost to you.
See some All Mountain Trail Bikes Brand Comparisons and Reviews:
FAQs About Mountain Bikes
What is the difference between a mountain bike and a trail bike?
One of the main differences between a mountain bike and trail bike is the level of suspension they have. Since mountain trails are harder to climb, mountain bikes have more suspension than trail bikes which ranges from 140mm to 180mm.
What is a trail bike for?
Trail bikes are intented to chew up rocky terrains at high speed. They can often be faced with obstacles directly which is why they have super wide tyres.
Should I buy an enduro or trail bike?
I would suggest going with Enduro bike as they have more suspension than trail bikes and because these bikes have more rear shock travel and fork travel than trail bikes.
Final Note on All-Mountain Bikes
We hope that this review has provided enough information for you to know which all-mountain trail bike you should go for. The best ones out there have been categorized appropriately above.
This should allow you to pick up the best all-mountain trail bike that also fits your budget. Remember that the best bike for you should be uniquely fitting to your needs and ambitions!