Mountain biking has several health benefits. In addition to boosting your endurance and confidence, you are sure to have a fun time while getting great exercise.
What can be a low impact sport, mountain biking is a great way to increase your fitness without putting too much pressure on your joints. However, this sport requires some attention to detail to ensure you avoid any injuries and enjoy your next adventure to the fullest.
You'll need a helmet for protection – and a quality bike. Once those are taken care of, it is ideal that you ensure all contact points are well taken care of. These points are where the body and bike meet, such as your handlebars, saddle, and especially the pedals. Your mountain bike pedals are one of the most critical parts of your bike and a key component on the bike.
Mountain bike pedals come in a wide range of styles, shapes, and sizes. This makes choosing a pedal for your next adventure an important, but a difficult prospect. Whether you are embarking on a casual trail ride or a death-defying mountain run, the most basic MTB pedal decision you'll have to make is whether to go for mountain bike flat pedals or clipless MTB pedals.
Flat bike pedals are typically designed to provide a platform for the placement of each foot. Their designs are double-sided, so the pedal can be up or down, with the presence of dotted pins around both sides to dig into the shoe and provide extra grip.
The bigger the face of the bike pedal, the larger the area a rider can plant a foot, and the greater the contact between you and the bike.
On the other hand, clipless pedals are pedals with a two-part system that clips the shoe into the pedal for ultimate grip and stability. There are two parts to a clipless setup. The first part is the pedal itself with a lock mechanism while the second is a cleat attached to the soles of your biking shoes.
The attachment of your shoes to the pedals gives you a unique and reliable connection to your bike. This eliminates the need for straps and toe clips that often cause discomfort on the top of the foot and create scuff marks on shoe tops.
Flat vs Clipless Pedals: Which One is Better?
Which pedals are better for the mountain?
Flat pedals are common among freestyle riders as it makes doing tricks a lot easier. Some of its advantages include:
Affordability
Eliminates the need for special shoes like any flat bottom shoe will be just ideal.
Relatively easier to bail off your bike if the need arises.
Clipless pedals make the feet feel more secure, reducing the risks of shin-bang and foot slippage. They also boost trail riding efficiency, making them the pedal of choice among pro racers across all disciplines.
Advantages
Highly efficient as energy is transferred to the pedal stroke.
Ideal for bumpy descents as it always keeps the feet attached to the bike.
Combo Pedals
The pedal technology has continued to experience tremendous advancements in recent years. Combo pedals are designed with great features. Every combo pedal features a blend of both the clipless and flat pedals. This makes this pedal type an excellent option for individuals who intend to use their mountain bikes for a wide range of applications.
Still unsure about the right pedal for you? The comprehensive list below is made up of top pedals that offer a great value – both for money spent and your time on the mountain.
Best MTB Pedals Money Can Buy
At times, all you need is a perfect blend of the best features of a clipless pedal and a flat pedal to get your adventure rolling. The XT 8020 pedal offers a balance between its unrivaled performance and ease of use.
The Shimano Deore XT 8020 Pedal has a grip-like feature that allows a rider to anchor in from either side of the pedal and ensures that your shoe can quickly stabilize after a release. It also has a superior float integration and features two-bolt Shimano SPD cleats for control.
Also, the pedal features a slightly wider platform that makes it easier for you to set your foot on without looking. This promotes concentration on the trail rather than being distracted with pedaling.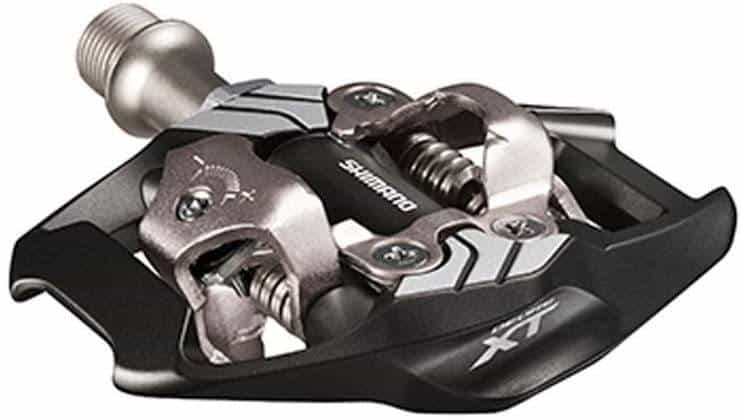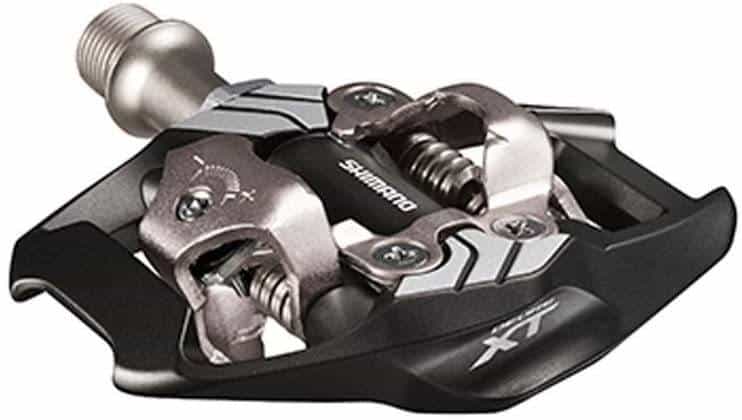 With a slightly wider base, the pedal offers better protection against impact than the regular clipless pedals, although this can be a downside when riding through tight spaces.
Durability was also prioritized with the XT 8020 pedal as it was built using sealed cartridge bearings and Cromoly construction. The pedal interface and cleat were also constructed to minimize the risks of having mud, dirt, or debris clogged up in the pedal gearing, boosting the lifespan of the bicycle pedal.
The XT 8020 pedal blends more than one style and works perfectly. It is a great option that provides overall balance, durability, and ease of use. While it is a bit heavier than other pedals, it is an excellent choice for both beginners and experienced cyclists.
Pros
Durable construction
Wider platform
Cons
Heavier than the traditional clipless mountain bike pedal
SHIMANO PD-M8020 Pedals | Amazon
Lightweight and high performance using a forged alloy body, chrome-moly axle and a revised cleat interface for increased stability.
Buy at Amazon.com
We earn a commission if you click this link and make a purchase at no additional cost to you.
11/28/2023 12:46 pm GMT
The Race Face Chester is a seamless blend between the first-rate grip and performance of a clipless pedal and the stability of a flat pedal. It is the ideal pedal for both the seasoned veteran and a beginner. The pedal features eight removable steel pins that dig into any mountain bike shoe easily while allowing for easy release at any time.
Whether you need to regain your balance, step off the pedals for a rest, or need to navigate through tight spaces and sharp rocks, these pedals offer you enough freedom and security for your feet.
The Race Face Chester pedal falls in the flat category, making it a suitable choice for a beginner, or one navigating through a technical track, where quick movement is crucial.
With the presence of a chrome-steel axis, nylon body, and removable steel pins, the Chester Pedal from Race Face is not only lightweight but durable. Its brushing and bearing systems are fully serviceable. This is an advantage as a biking specialist can quickly perform maintenance services on the pedals.
However, users have also complained about the pins and screws being prone to damage especially in rough terrain.
Pros
Lightweight and easy to use
Large surface area for added protection
Removable steel pins
Cons
Prone to wear and tear when used in rocky terrain.
RaceFace Chester Pedal Black | Amazon
Embracing the same large platform and 8 hex pin system for stellar grip and traction, the new Chester pedal from RaceFace is every bit as tough as their alloy cousin - only this time, constructed with a nylon composite body to shave off the grams.
Buy at Amazon.com
We earn a commission if you click this link and make a purchase at no additional cost to you.
11/28/2023 12:11 am GMT
The Shimano PD M520 is one of the most popular bike pedals in the market due to its reliability and simplicity. The double-sided entry feature on the pedal makes it especially popular among mountain bikers as well as cyclists.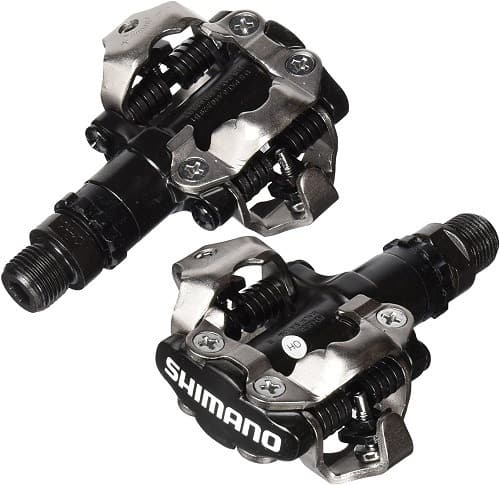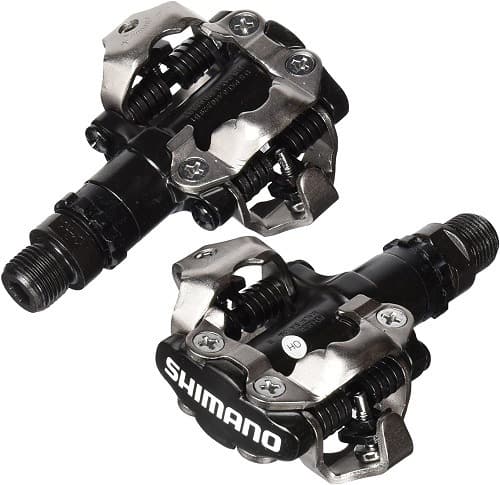 Like the Shimano XT and XTR variants, the PD M520 pedal makes use of the same mechanism for the control of entry and release. Made with cheaper, yet durable materials, this pedal can go for as little as $20 – a huge bargain considering the consistency over sustained periods on or off-road with this road pedal.
On the mountain trail, it is tough to tell the differences between the M520 and Shimano's other expensive options. It has the same tunable release tension.
Although the tension may feel stickier when new, it hardly hampers a rider's performance over time. However, as expected, regular servicing – on an annual basis – is required to ensure your pedal is always well maintained for the next adventure.
Pros
Extremely affordable
Consistent over extended periods
Straightforward adjustment options
Simple and reliable
Cons
Not particularly attractive
SHIMANO PDM520 Pedals | Amazon
The open binding system is designed to better shed mud. Low maintenance sealed bearing cartridge axle.
Buy at Amazon
We earn a commission if you click this link and make a purchase at no additional cost to you.
11/28/2023 12:13 am GMT
The Crank Brother brand is an unrivaled leader and innovation these days. Over time, they have successfully released new, appealing ideas that every mountain biker easily falls in love with. The Egg Beater 3 is a favorite for its ability to eliminate any mud that might land on the pedal on a trail. It features a simple design and wide spaces between the rails and spindle that provides a small surface area for mud to cake.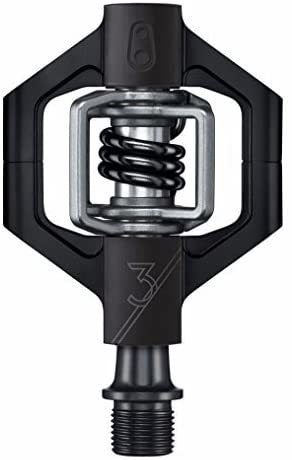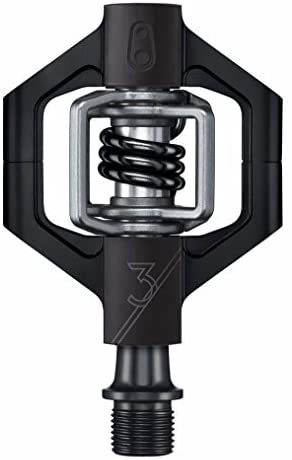 Although you could clip your boots into any of the four sides of the Egg Beater 3pedal, this process is a tad confusing. Getting your foot into the proper position can be especially tricky as the area is small, and without an orientation platform.
Without this platform, however, clipping out of the pedal is pretty easy. While this is great especially in the event of a crash, the Egg Beaters pedal is not an ideal option for first time clipless pedal users, as its adjustment options are minimal.
The Egg Beater 3 pedal is lightweight and features a low profile design – an excellent biking option for weight-conscious cross-country bikers with experience in using clipless pedals.
Pros
Small and lightweight
Durable construction
Relatively easy grip and release system
Cons
Not ideal for newbie mountain cyclists
The Time ATAC XC 8 Pedal is super lightweight with an exceptional ability to shed mud. The pedals have been engineered to allow the cycling shoe to slide from side to side on the pedal (lateral float), providing a cushion for the knee joints. However, this may require some getting used to as it initially feels as though the foot is not properly connected with the pedals.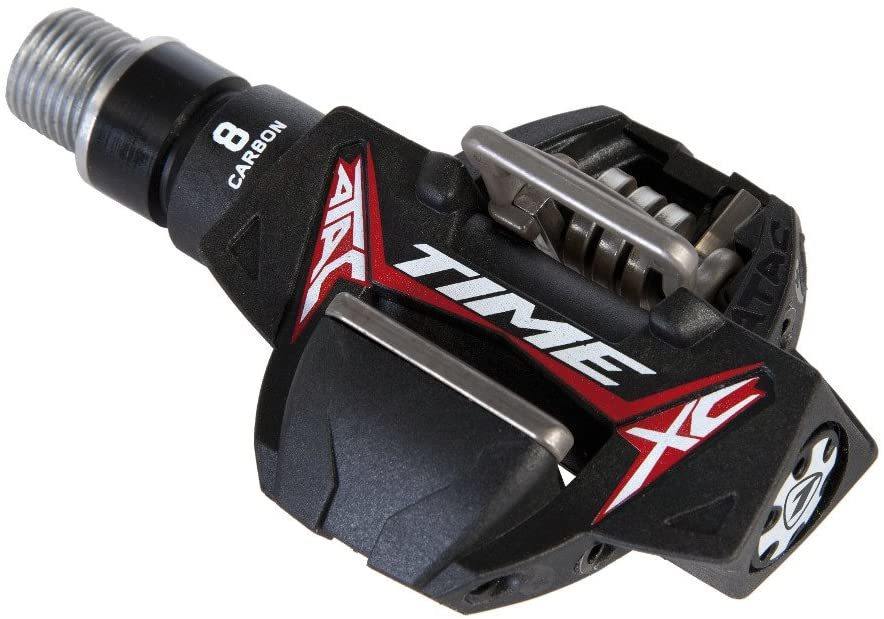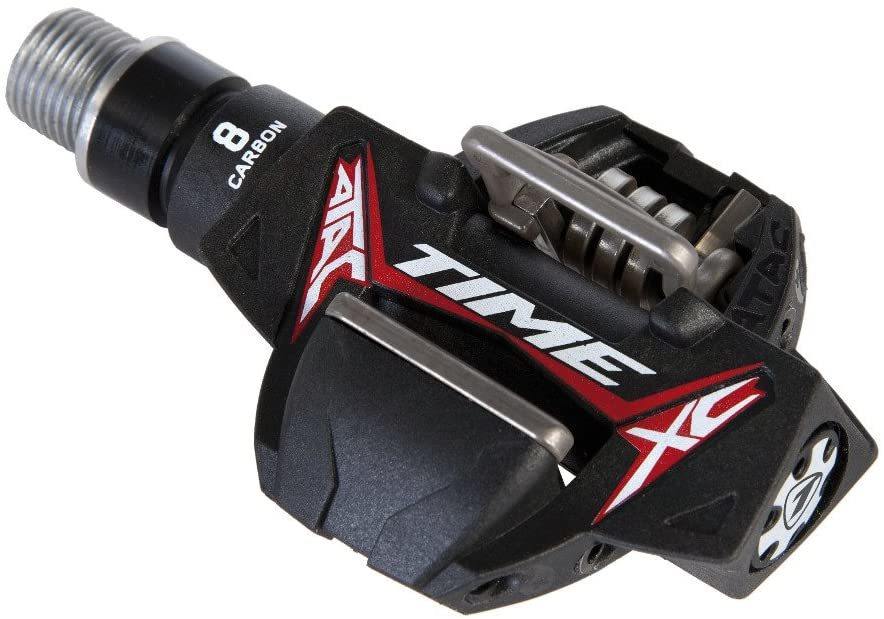 While the lateral float mechanism is beneficial in reducing knee strain, it also has a downside. There may be inconsistency in the release depending on where the cleat is engaged. However, you can adjust the tension of the release by turning the screw on the side of the pedal and cleats to a 13 or 17-degree release.
The pedal's main body is made of carbon – and the presence of a small platform makes it easier to clip into the pedal – even better than the Egg Beater 3 model. However, the small size of the pedal body means precision is required for good biking experience. The pedal has also been designed to expel mud off the front as you clip in, so you do not have to worry about the mechanism getting clogged up with mud.
The small profile design and lightweight nature of the Time ATAC XC 8 pedals make it ideal for cross-country biking.
Pros
Lightweight
Small and responsive design.
Cons
Concerns over its durability
Time XC 8 MTB Pedals | Amazon
With their proven dual-arch retention system, the ATAC XC pedals provide easy engagement and dependable release no matter what terrain you encounter.
Buy at Amazon.com
We earn a commission if you click this link and make a purchase at no additional cost to you.
Does speeding down hills sound like fun? Then you need a pedal that does not only keep up with your biking but provides the required responsiveness and support as you fly down the mountain. The XTR PD-M9000 from Shimano may be ideal for you.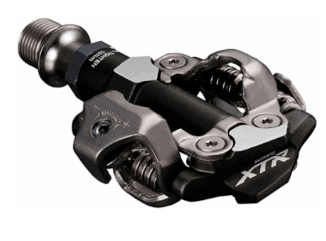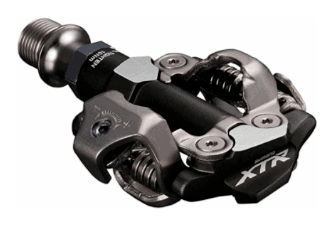 The pedal is designed with an easily adjustable grip release mechanism. This mechanism is optimized to secure your foot with its firm grip when you engage the cleats, you can easily disengage the cleats when necessary as you speed down the trail.
Although the small size of the pedal does not provide as much protection from the potential impact on your feet, it lets you easily navigate through tight spaces and steer clear of sharp rocks during your bike ride.
The ergonomic design of the XTR PD-9000 is top-notch, as Shimano prioritizes durability. However, some users have raised concerns regarding the bolt. Customer complaints reveal that it is easily prone to damage and wear. But overall, the XTR PD-M9000 is your ideal mountain speed bike.
Pros
Relatively easy to handle
Easily fits into tight spaces
Cons
Bolts wear out quicker than most
Shimano XTR PD-M9000 Pedal | Amazon
Table pedaling platform - a large pedal-to-shoe contact area delivers the ultimate in control and efficient power transfer.
Buy at Amazon.com
We earn a commission if you click this link and make a purchase at no additional cost to you.
The Large Stamp pedal from Crank Brothers provides a foot platform and security level that easily rivals the best clipless pedals available today.
There are ten fully adjustable pins on each side of the pedal, allowing for easy control of the grip level you experience. Its flat platform also has a concave shape, ensuring added security for your foot regardless of the terrain.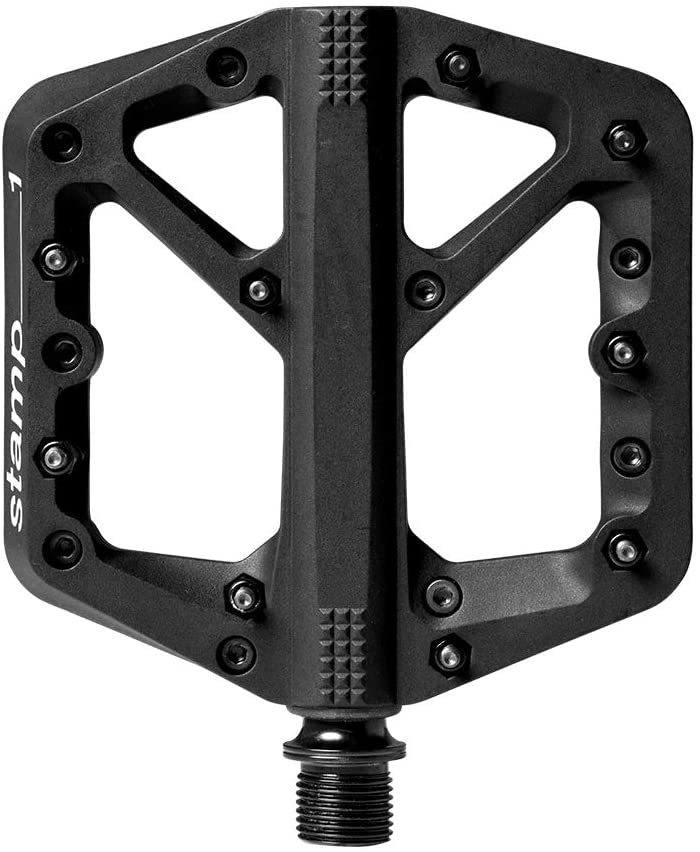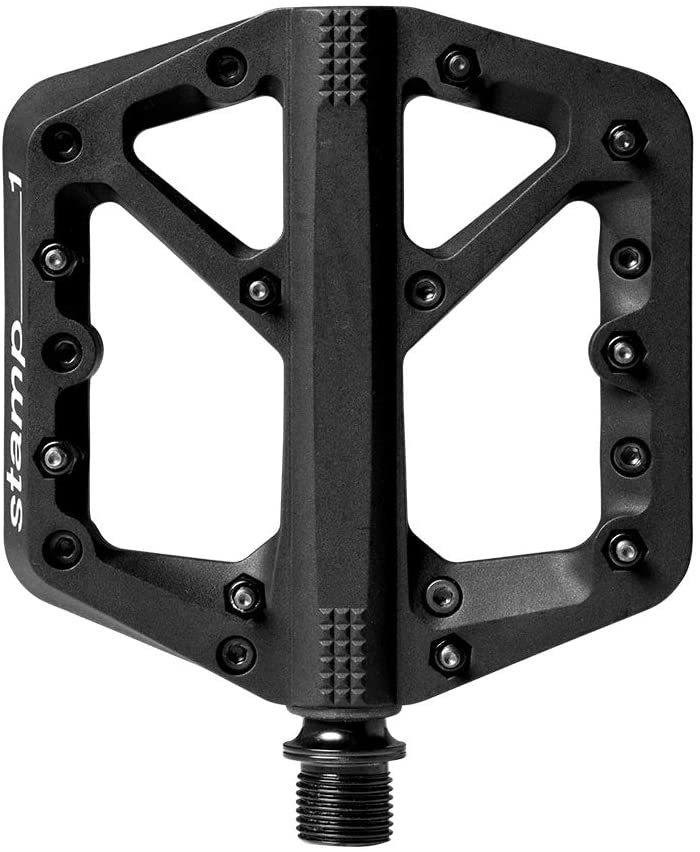 As a flat pedal, the Crank Brothers Large Stamp is an excellent choice for beginners and those who prefer the support of a flat pedal over other options.
It is also a reasonably durable pedal, with the primary concern being its bearings. Some customers report that the pedal and bearings are not as responsive to movement after a few rides. Ultimately, you can't go wrong with this pedal especially if you require a flat mountain bike pedal that can really go the distance.
Pros
Easy to use
Excellent grip mechanism for a flat pedal
Large size effective for larger feet
Cons
Bearings are easily prone to wear and tear.
Crankbrothers Stamp MTB Bike Pedal | Amazon
Optimal surface area with a minimal profile that is 13mm thin. 9 hex pattern traction pins per side. Premium Igus and Enduro bearings & seal system.
Buy at Amazon.com
We earn a commission if you click this link and make a purchase at no additional cost to you.
11/28/2023 12:12 am GMT
Race Face Aeffect offers an effortless combination pedal of durability and stunning ergonomics. With hex pins at the bottom, curved platform design, and Chromoly steel axle, these pedals provide top-notch support regardless of the terrain you ride on.
The pedal makes use of ten bottom loading hex pins on either side to ensure a secure and stable grip in any environment. Some users report that the pins are sharp, so it is essential that you take caution while mounting and dismounting your bike.
At a little under four inches in width, the pedal provides decent level protection from mud and debris. However, the presence of sharp traction pins means that the Race Face Aeffect does not offer the best protection against impact.
The pedal also has an excellent durable construction. Even after extended use, the Chromoly steel axle spin freely, with little to no dirt or debris being able to penetrate them due to its strong build. The pedal itself is optimized to withstand a variety of environmental conditions – from slushy snow to thick mud on the trails.
The Aeffect pedals from Race Face are adorned with a visually appealing style, top-notch security, and traction. Its waterproof aluminum design ensures it is resilient regardless of the conditions you are riding.
Pros
Superior grip
Threaded hex for security
Cons
Race Face Aeffect Bike Pedal | Amazon
Thin platform, concave aluminum body with bottom-loading pins. Shorter spindle design shaves weight making it perfect for trail bikes.
Buy at Amazon.com
We earn a commission if you click this link and make a purchase at no additional cost to you.
Deity Components TMAC
The Deity Components TMAC pedal is a durable, yet lightweight product that offers more foothold gripping and security than even some clipless pedals available.
It features replaceable grip studs and a concave shape that allows for superior gripping capabilities, even under less favorable biking conditions. Overall, it offers an average level of protection from impact and has slightly thicker areas at each end of the pedal, designed to withstand extra pressure.
Although the pedal is designed with relatively lightweight aluminum material, it is not as durable as some of the best pedals on the list. While the bearings do not pose any significant problems, the grip points are known to wear through quickly with frequent use. Overall, the pedal is an excellent value for its choice.
Pros
Moderate level of protection from impact
Great gripping action and foot security
Cons
Grip pins wear down quickly.
The tenth pedal on the list is the combo mountain bike pedal from Xpedo. This pedal offers a combination of the sturdiness of a flat or platform pedal and the support and responsiveness of a clipless pedal.
Over time, user reports have revealed that the pedal is easy to release or grip when necessary and the engagement points can be floated as a rider desires, so re-entry on the pedal during your riding timeout is a reasonably straightforward process.
However, even with the presence of a platform component, the GFX DH pedal from Xpedo offers little regarding impact protection compared to other top brands. Ultimately though, the blend of clipless and flat pedal systems offers some exciting benefits. The combination of Chromoly steel spindles with the aluminum body of the pedal ensures durability over time with proper care.
Although these pedals are not the first choice on the list, it still offers a reasonably decent combination that features interesting characteristics from both the clipless and flat pedal varieties.
Pros
Easy engagement
Sturdy construction
Cons
Relatively poor impact protection.
Xpedo Unisex - GFX Pedals | Amazon
Xpedo Gfx Neo is made of nylon and has the following features: size 9/16 inch, CroMo axle.
Buy at Amazon.com
We earn a commission if you click this link and make a purchase at no additional cost to you.
11/28/2023 12:13 am GMT
Criteria used for the Evaluation of the Best Mountain Bike Pedals
Durability
Every pedal will eventually give way – it's the nature of the beast. However, the strength of a mountain bike pedal determines how often a replacement or repair is needed. Generally, the pedals on the list above have been designed to stand the test of time through many seasons depending on the frequency and severity of use.
Grip
The gripping capabilities of a mountain bike pedal are relative to its stability to the foot while pedaling. Without enough grip, a biker may experience difficulties controlling the pedal and navigating through tricky terrains with the bike overall. On the other hand, if the grip of the pedal is too tight, releasing the pedal when there is an emergency may become difficult.
The mountain bike pedals on the list above have been built to offer a great balance between a firm grip and easy tension release depending on the situation a biker experiences. Flat pedals provide better tension release since you can easily take off your foot.
However, they are also less responsive than clipless variety. The clipless pedals, on the other hand, offer superior gripping action and control, but require that a biker takes off their foot at a specific angle to release the grip. While this is a pretty straightforward process for advanced bikers, first-time clipless pedal bikers may experience a bit of trouble initially.
Protection against Impact
A mountain bike pedal can act as a line of defense against injury from nasty crashes on your trail. Mud, rocks, and dirt can easily cause scratches as they can get stuck around your feet and ankles when thrown up in the air.
In addition to ensuring you have a smooth ride going forward, a great mountain bike pedal offers security for your feet while pedaling. Hence, the best mountain bike pedals for foot security are the smaller ones that help you deflect dangerous dirt and debris as you ride.
Terrain
While you can hardly predict the condition of every terrain you'll ride through, having a general idea will make it a bit easier to choose a mountain bike pedal. If you would be traveling through rocky terrains where you'll find things like sharp bumps and major changes in grade, installing a clipless bike pedal may prove savvy.
Since clipless pedals have a smaller footprint and offer better control, you can navigate your way through rough trails without having to concentrate on keeping your feet on the pedals.
Skill Level
Your overall experience is vital when it comes to mountain biking. While riding with a flat pedal may feel good enough, clipless and combo mountain bike pedals are a tad more complicated to operate, yet may offer a better riding experience, especially on rough trails.
Since clipless and combo pedals are best for mountain biking, a bit of practice and experience may be required so you can make an educated decision on which pedal is best for your next adventure.
FAQs About Mountain Bike Pedals
Do mountain bike pedals make a difference?
Yes, they do. Mountain bike pedals are specially designed to be able to smooth the ride on rough terrains, as they have better handling and are easy to be used on steep terrains too.
Are mountain bike pedals universal?
Yes, mountain bike pedals are universal, however, take into consideration that the crankset might not be the perfect fit for the pedals, as they usually come in two sizes.
Are clipless pedals more dangerous than flats?
Clipless pedals are indeed more dangerous than flat pedals, so you should always make sure you have the right riding experience if you are planning to replace the flats for clipless pedals.
Conclusion: Best MTB Pedals
For its superior control, precise design, gripping power, and durability, the Crank Brothers Eggbeater 3 stands out as the winner of the lot!
While it requires the rider to take their foot off at a particular angle for grip release, this process becomes easier quickly even for a first-time clipless pedal biker over time.
And there you have it! Whether you are looking to go for the best clipless pedals, platform/flat pedals or even a combo, rest assured you will find one suitable for your wants and needs so long as you apply the tips above before buying.
Without a doubt, pedals are a part of the bike where the magic indeed takes place. They help you respond to situations quickly – no matter how difficult they may be. It ideal that you get the best mountain bike pedal as it is key to a healthy and fun ride.