If you plan on mountain biking with your kids, one of the things that you are going to have to consider is the type of gloves that you are going to put on their hands. Finding the best mtb gloves for kids is something that is going to be a bit harder than you would imagine.
There is a wide range of cycling glove choices out there to consider, but only a few options really get the job done. You want gloves to protect your hands from the cold, blisters, vibrations, and abrasions (if they happen to have a fall). By knowing how to find mountain biking gloves for your kids, you can ensure that they will be well protected and comfortable while riding.
Why Your Child Need a Mountain Bike Glove Pair?
The biggest benefit for your child to wear biking gloves is to ensure that they have a good grip on the bike handles. This is going to help with control. It will not matter if they are biking in rainy weather or if they are sweating, you also do not have to worry about them getting an injury from the handlebars being slippery. Without gloves, your child has a higher likelihood of getting injured and suffering an uncomfortable ride.
MTB Gloves also help to keep your child from getting blisters or chafing on their hands from the friction of riding. The rubbing could cause chafing and blisters making the ride a miserable one.
This can all be avoided with a good pair of gloves. The gel padding that is in the gloves helps to keep the hands from suffering impact injuries as well. It will also help to protect your child to ward off the possibility of long term issues associated with biking, things like carpal tunnel syndrome and long term hand numbness are an actual concern in the world of mountain biking.
So, you need to know the types of gloves that are out there and how they can aid your child. There are both mountain bike gloves (our focus) and road bike gloves (while not our focus, you should familiarize yourself with both).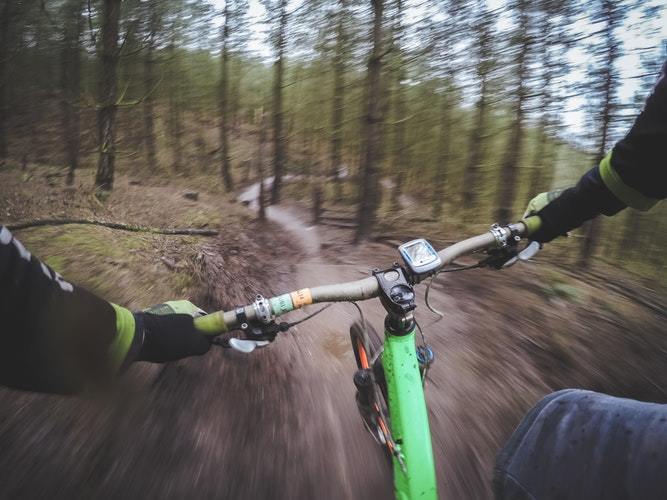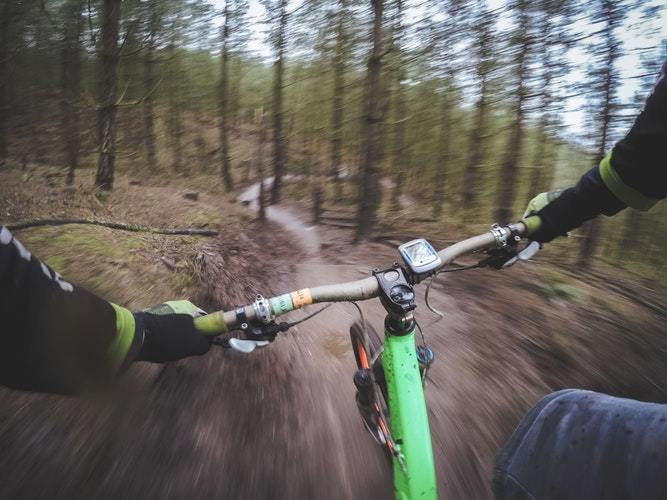 Gloves for Mountain Biking
If you are interested in mountain biking with your child, you will want to make sure that you have the right pair of mountain biking gloves.
This is going to help your child immensely with their grip and protection. Your child could have a hard time making sure that they maintain control of the handlebars without the gloves. The gloves offer the chance for your child to keep a hold of the handlebars in order to help them maintain the integrity and comfort of their ride.
You always want durable gloves that are going to help withstand some impact while you are riding. Just make sure that your child has a pair of gloves that are the right size and are very comfortable. This will help to make sure that your child does not have any problems while riding.
Gloves for Road Biking
When riding on the road, you want bike gloves that are a little different than what you would look for when mountain biking. Road bike gloves should include additional padding for the lack of suspension. In addition to extra padding, they feature a special fleece or cotton patch on the thumb that you can use to wipe the sweat or even a running nose. They also have the ends of the fingers cut off for better mobility when shifting gears.
Glove Styles and Materials
There are two basic styles of gloves for biking. These include those that are fingerless gloves and a full finger glove model as well. Fingerless gloves are perfect for being able to feel the brakes and shifters.
They allow for your hands to be breathable as you bike in hot temperatures. These are a popular choice for a cyclist that is riding on the road. Fingerless gloves can also be a great choice for those who are riding mountain bikes, especially in the scorching summer heat.
The typical mountain biking glove features a grip that is great when hitting the trails. They usually feature full-fingers providing extra coverage and helping to keep your hands warm and protected. full-finger gloves are great for cold weather biking. You never have to worry about your child having numb fingers with a solid pair of full-finger gloves.
There are two dominant materials used with biking gloves. These materials are spandex and polyester. These are the best materials for mobility and comfort. They are also warm and cool when they need to be and allow you to have more freedom of movement. These gloves feature breathable technology which helps to minimize sweating and blistering.
What You Need to Know About Winter Riding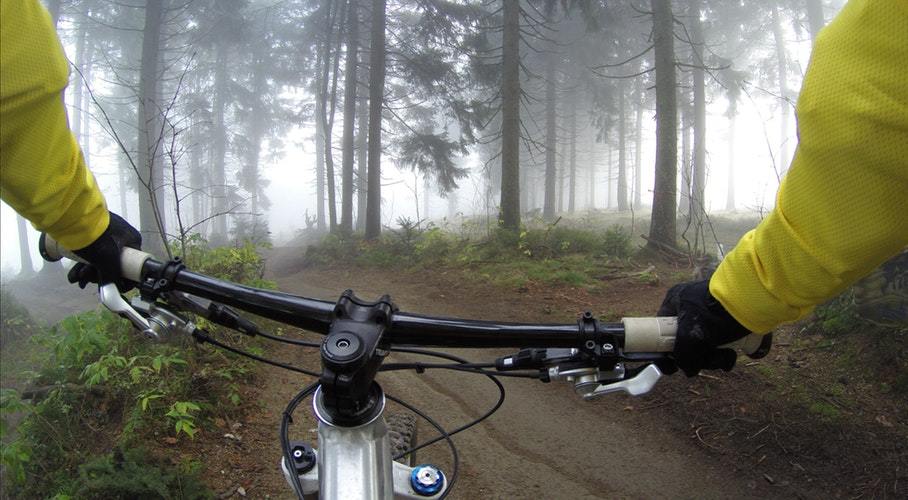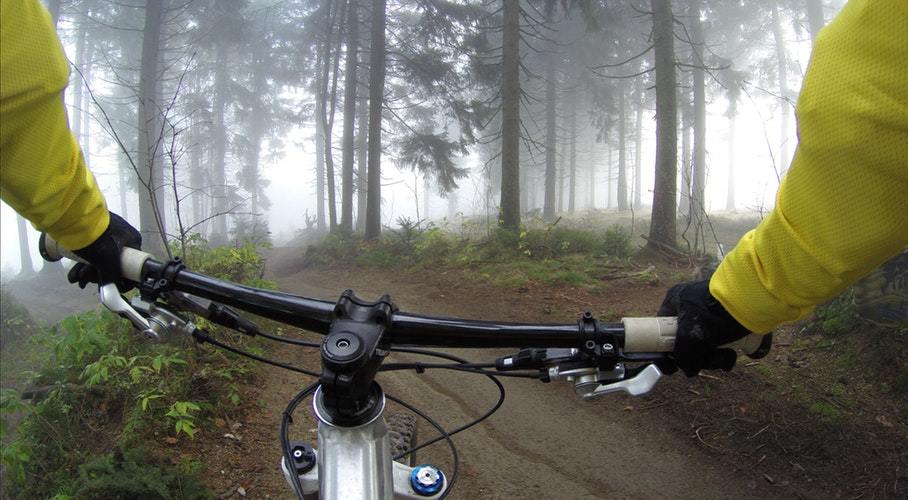 Winter riding is a great way to get out and moving in the cold weather. There are a lot of different winter glove models that you can use when riding during the winter. Most would suggest keeping the full-finger winter cycling gloves as they make sure that the rider's hands stay pretty warm.
Some riding gloves offer additional insulation, like fleece lining and additional insulating material. These are a great choice for those trying to keep the hands warm during very cold rides.
There are a few things that you have to know to ensure you buy the perfect pair of biking gloves. You basically just need to make sure that you know exactly what you will be using the gloves for and in what conditions.
What to Consider when Choosing the Perfect Mountain Biking Gloves
Safety
Every single professional rider wears gloves and it's easy to see why. The biggest reason is safety. The number one thing you should consider when buying your child a pair of gloves is the glove's ability to protect their hands.
Comfort
Your child is also going to be more comfortable when riding his or her bike with a proper pair of gloves. Biking brands have studied the points of impact on the hands and have added additional padding in the areas to ensure the most comfortable ride possible. There are foam padding materials and other materials that are used in these areas. They help to make sure that your child is not going to be in pain when riding.
Grip
The grip of the gloves is essential to helping you handle the bike efficiently. They help you to firmly grasp the handlebars of the bike, allowing you to manipulate the bike more. Gloves are designed to ensure that you have a nice solid grip. The right set of gloves feature the optimal shape and is a snug fit for every style of handle.
Keeping Hands Warm or Cool
Bike gloves are often insulated and they can feature full-finger design or they can be fingerless. Gloves with full-fingers and insulation are a great choice for your kids to keep their hands nice and warm when riding in cold weather. While fingerless gloves are a great choice to help your kids keep their hands cool when riding in hot weather.
Fingerless Summer Gloves
There are a lot of fingerless summer gloves as they are perfect for riding during the summer months. These gloves allow for you to feel the cool breeze between your fingers as you ride. There is typically little insulation in these gloves so they will not work to keep your child's hands warm, but they are perfect for helping to keep them cool. In addition, there is not as much protection with fingerless gloves.
Light full-finger Gloves
The light full-finger gloves are perfect for the spring and summer months. These are made out of the best breathable fabric, which ensures that hands stay cool and don't get too sweaty. They typically feature a moisture-wicking material which helps to wick away access sweat. These gloves offer your child more protection in the summer if they are to get into an accident.
Extra Protection Gloves
These gloves are going to last longer and offer your child more protection. These gloves are made from a wide range of durable fabrics that prevent them from tearing and ripping if your child has a spill. They are cushioned and offer a lot of great protection upon impact. Plus they are helpful for your child in all situations while biking.
Winter Gloves
The winter gloves are perfect for riding in cold weather. There is a wide range of different choices when buying winter biking gloves. This guide was designed to help you find the perfect biking gloves for your child at a very reasonable price.
A Quick Look at 7 of the Best Mountain Bike Gloves for Kids
Overall Best Choice
Zippyrooz Bike Gloves for Balance
Zippy Rooz offers kids biking gloves and start at toddler sizes that are designed to be used with balance bikes. This means that regardless of your child's age or the type of bike that he or she is riding, these gloves can be found in their size and in a style that will work for them.
One of the things that parents like is that these ZippyRooz gloves actually mimic their own cycling gloves, but they have added padding for children who are just learning to bike. This can help to prevent many different types of hand injuries.
Pros
Fingerless design.
Available in sizes that fit children ages 1-8.
Both boys and girls colors available.
Comfortable and a great fit with the gloves.
Very well padded gloves
The material on the thumb is softer than others.
Loops on the fingers to help with quick and easy removal of gloves.
Thicker padding on the palms.
Knuckles are well covered for protection.
Designed to be easy to put on.
Size is true to size.
Cons
Gloves are slick so not good for playing on playground equipment.
Best full-finger Gloves
Zippyrooz Long Finger Bike Gloves
For those who are looking for full-finger bike gloves for their kids, Zippyrooz is a great choice. They are unlike most other bike gloves with their full-finger design. Their feature a full-finger design ensures your child's hands will be safe and warm.
Pros
Fingers are fully covered with these gloves.
These gloves have been designed to fit children who are between the ages of 1 and 8.
Gloves offer a unique fit and comfort that mimics the same shape as adult cycling gloves.
These offer a light amount of padding that will help to protect your hands without making it hard to grip the handlebars.
Perfect for cooler temperatures, these gloves help to keep your child's fingers warm.
The thumb material is extra soft.
These gloves feature the ability to allow your child to have more dexterity in their fingers than mittens or traditional gloves.
Cons
There is not as much padding as the fingerless gloves.
The full-finger design can be warm in hot weather and can cause the hands to sweat worse than if there was ventilation from the open finger design.
Best Summer Gloves
Giro Jr Youth Road Cycling Gloves
If you are looking for a great pair of mountain biking gloves for the summer, then Giro is a great bet. These gloves are perfect for helping to keep hands cool. They feature a nice, fingerless design that will allow for your child's hands to breathe. They also feature high-quality moisture-wicking fabric.
Pros
Fingerless design that allows for hands to breathe.
Sizes that are designed for children aged 4 to 12.
Nylon fabric that is moisture wicking.
A breathable mesh that features a four-way stretch.
The comfort of adult gloves has been mimicked for children.
Microfiber material that features the ability to wipe surfaces while also being highly absorbent.
Wide opening allows for gloves to be easily put on and features hook and loop closures that make it easy for children to secure.
Constructed from a high-quality AX suede synthetic leather.
Padding that has been optimized.
Comfortable fit so that everyone likes these gloves.
There are a wide range of sizes and a wide variety of colors.
Cons
These seem to run small so many suggest sizing up to ensure a nice and comfortable fit.
Best for a Low Budget
Freehawk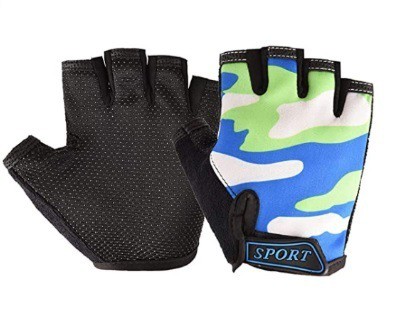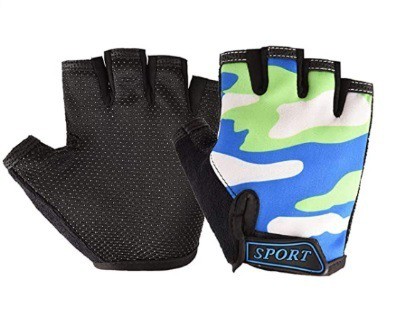 These gloves are very stylish and kids love the look. They are nice tough quality and a great pair of gloves and one that your kiddo is sure to enjoy. It is an impressive pair and there are cool designs and styles.
Pros
These gloves are fingerless.
They feature a non-slip spandex and microfiber combination on the palms.
Hook and loop closure that will ensure that you have a nice fit and that your gloves are going to be comfortable.
Palm design that is ergonomic.
Enhanced abrasive resistance so that your child has a better grip.
Palm is protected.
Multiple colors to choose from.
Nice for warm weather use.
Helps to keep the hands from getting scraped.
Cons
Not good for children over the age of 8.
Most Comfortable Gloves
Anser
These gloves are the most comfortable choice on our list. They feature a nice shock absorbing padding that makes these super comfortable for long rides over rough terrain. The padding is perfect for those who want to make sure that they are able to absorb the shock of rough terrain.
The padding is made from a thick foam. However, this foam is not the best choice for children who are likely to fall as it does not help to protect from cuts and scrapes as well as some of the other choices on this list.
Pros
These gloves are a solid fingerless style.
The gloves feature a neoprene upper that has lycra fabric as well.
They are both stretchable and breathable.
They actually mold themselves and conform to hand shape.
Your child is able to keep their hands cool with these gloves.
The foam that is featured in this pair of gloves is 8 mm thick and is featured on the palms of the gloves.
The foam helps to keeps the hands from experiencing hand fatigue as it helps to cut down on the road vibration.
The straps are easy for removal and helping your child to get the gloves on.
These gloves have been rated by testers as being the most comfortable pair on our list.
The look is very high in quality.
Gloves come in multiple sizes and colors, so you can find one that your child is going to love wearing.
Cons
The gloves are very slippery.
These will not double up to be used with wheelchairs like other gloves on this list, your child's hands will slip and they will find these frustrating to use.
Best Basic Gloves
Aero Tech Designs
The Aero Tech Designs gloves are a solid, affordable choice. These are one of the favorite companies among bikers as they offer good quality and affordable gear. The gloves are a great product and you can be sure that your children will not be disappointed with these.
These half-finger gloves come in multiple sizes and offer you a variety of choices with different colors as well. They even feature a great high-quality safety strip.
Pros
There are four different sizes of gloves to try out.
The sizes are perfect for those who are between 1 and 10.
They feature a high-quality safety strip.
They are fingerless so your child's hands are never too hot.
These are gloves that will not disappoint.
They are affordable and top quality which makes them perfect for most children.
They are long-lasting.
Cons
While still affordable, they are one of the higher-priced pair of gloves.
A glove that Offers the Basics
Louis Garneau Jr. Ride Glove
These gloves are a simple choice and will allow your child to have the protection that they need. You will love that these gloves have a well-padded hand so your child's hands are better protected. Plus, kids between the ages of 6 and 13 can wear these.
Pros
Fingerless design keeps hands cool.
High-quality materials so that these gloves are built to last.
Four different sizes to choose from.
Fits children between the ages of 6 and 13.
Features multiple colors so your children will be happy.
Cons
Very basic design without a lot of features.
Hard to get on and off.
Tips for Raising a Mountain Biker
Most kids who are mountain bikers have parents who are also interested in the sport. Families often enjoy mountain biking together. When most people start mountain biking, they are not yet parents. Many things can get in the way from mountain biking.
Some of these include school, work, and finances. That being said, after mountain bikers become parents, they are probably looking at when they are able to get back out there and ride and when they can bring their child along too!
Riding as a Family
Keep in mind that you can not start mountain biking as a family until your child is between the ages of 6 months and 1 year old. This is because they have to be able to sit up well before you can put them in a bike seat or a bike trailer. Some of these products are geared towards younger children, but others are not made for children under the age of 12 months.
In addition, your child needs to wear a helmet and you have to make sure that the helmet is not too big for them.
Always Be a Role Model
If you want your children to love mountain biking, they need to see you loving mountain biking. This means that they should see you modeling all of the same behaviors that you expect from them.
You will want to be seen wearing a helmet and practicing the correct riding behaviors like hand symbols, obeying laws, and more. By doing this, you are teaching your child from an early age what is expected of them when they are riding.
Knowing the Bike
Next, you have to make sure that you are choosing the right bike. This does not only apply to the child's bike but also to your bike. You have to have a bike that is going to pull a trailer if you want to pull a trailer. Not all bikes are made to do this. Plus, make sure that you know the bike well enough to be relaxed when riding so that you can have fun.
Now, when it comes to choosing your child's bike, there are many things that you should consider. One of these is that even a toddler can start riding. One of the things that they have to be able to do is put their feet on the ground from the seat of the bike.
Don't worry, they make very small bikes that even the smallest rider can ride on. When your child is first learning, it is best to stay on smooth surfaces like sidewalks or paved trails. If you like a more active ride, then a tandem bike might be a better choice for you.
There are parent tandem bikes that feature a smaller sized second seat with a smaller sized third wheel making them perfect for a parent and child.
As your child gains experience, they will be ready to check out children's versions of mountain bikes. There are many choices that are more affordable so you do not have to spend a lot on something that your child will quickly outgrow.
Have Fun!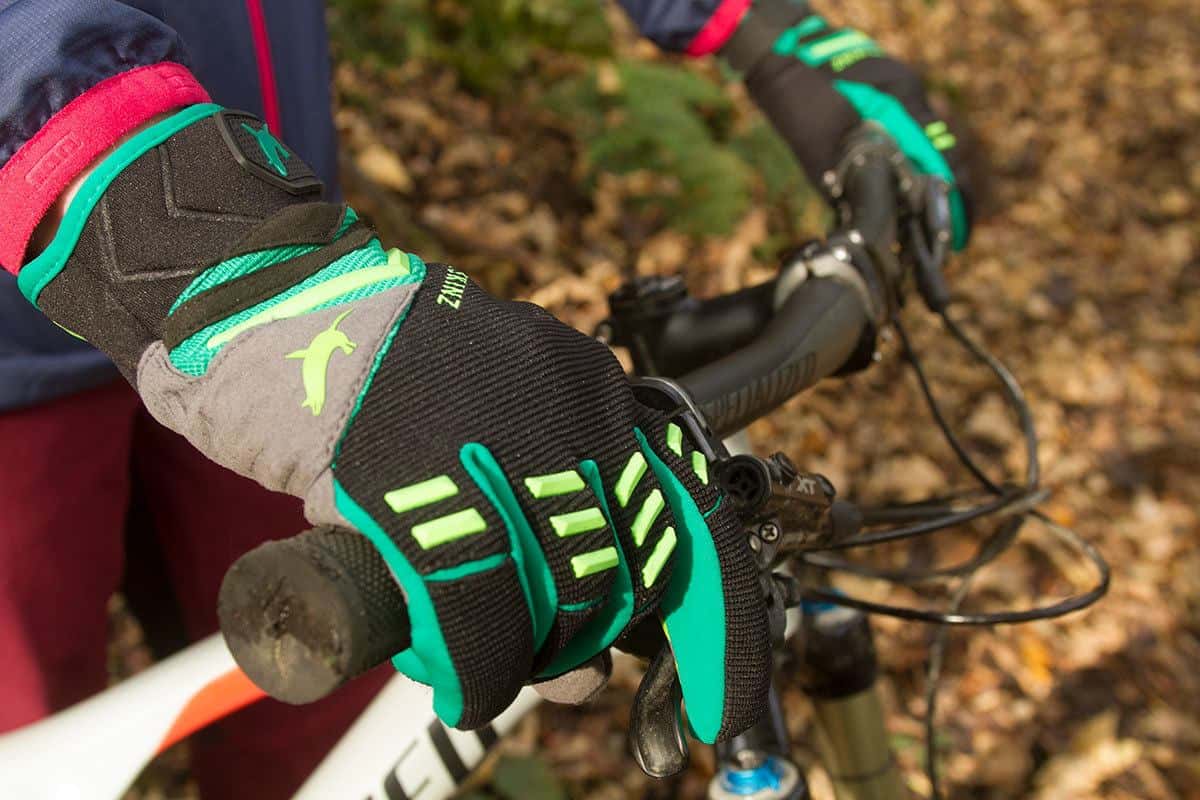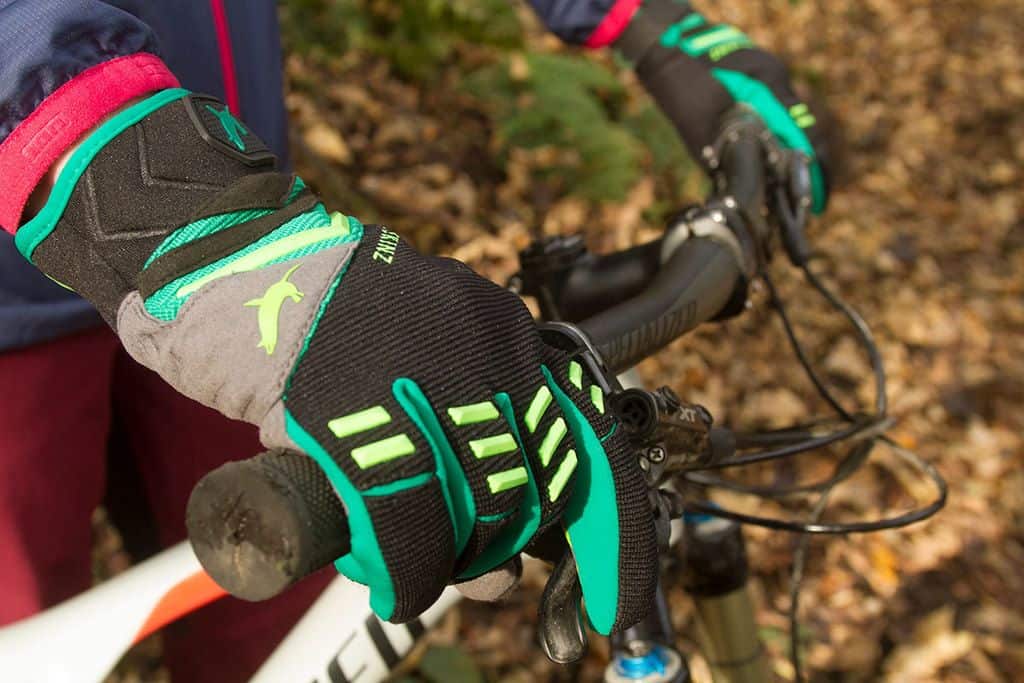 Children are not going to like riding unless they are having fun. So, make sure that you plan rides that are going to be age-appropriate. You have to choose rides that your child has the skill level to ride as well as rides that your child can easily enjoy.
Choose fun games to play while riding too, every once in a while you can "race" your child (when you are at a safe place to race) so that your child might even be able to win the race. The more fun you have, the more your child will love mountain biking and the more that you will be able to enjoy mountain biking with your child.
Consider Your Child's Skill Level and Know the Risks Before Riding
The more that your child rides, the more that they are going to gain skills. Be realistic with the skills that you expect from your child, and make sure that they have the basic skills down before you set out riding with them. You want to make sure to encourage your child as they gain skills. This is going to help you to ensure that you are safe on all of your rides with your child.
Do Not Forget to Let Your Child Explore
You will want to allow your child to experiment in safe environments. This means that you allow your child to try new things where they are in a safe space. Going to places that are out of the box, so your child can explore is crucial.
You will find that your child has more fun when they are free to enjoy their ride through exploration.
Keep in mind that you have to listen to your child and adapt to their comfort level. Never push your child to do something that they are not comfortable with.
This is not going to end well and could end with your child hating mountain biking or being afraid to accompany you on your journey. If your child is afraid, you might have to stop and rethink your plan or even walk your bikes for a short distance until they are comfortable.
Finding the perfect pair of mountain bike gloves for your child is not too difficult, and we hope that this guide has helped you! Of course, you need to look for gloves that fit the activity and the skill level of your child. In addition, you might find that you need to slow down from time to time to keep your child happy.
Mountain biking as a family is a great way to be active together and one that is going to offer you a great way to have a good time. You will find that being able to enjoy mountain biking as a family is very rewarding and something that offers you all a chance to have a great time together.
FAQs About Mountain Bike Gloves
Do I need gloves for mountain biking?
Yes. Mountain biking always goes with gloves as squeezing the handlebar might result into hand numbness, blisters etc. and also they keep your hands warm during very cold periods when you plan to ride.
How should MTB gloves fit?
Your gloves should be a snug fit to your hand, however, make sure they are not too tight otherwise you will have issues while riding and you might need to get them out at some point due to the discomfort.
How do I know what size my hand is?
In order to fing the right MTB gloves you need to know what size your hand is. The easiest way to measure the size is by starting from the fold in your wrist to the tip of the middle finger.