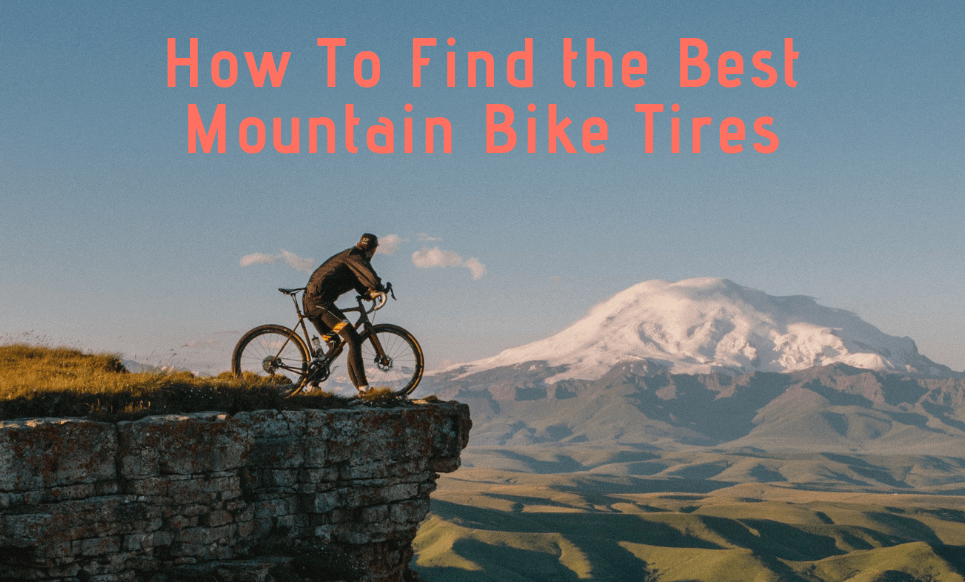 How To Find the Best Mountain Bike Tires [MTB TIRES GUIDE]
Mountain biking is one of the most challenging and exhilarating outdoor sports out there. However, there is more to it than just grabbing a mountain bike, hopping on, and heading down the mountain. If you want to enjoy the thrill of the ride through beautiful terrains, you will need a great bike, a decent amount of riding experience, and a love for adrenaline.
In order to have a great bike, you will need great tires on that bike. Tires not only provide you with the ability to ride your bike, but they can provide you with a very unique riding experience depending on which tire you choose for your bike.
Mountain bike tires are designed for use on rough terrain. They typically come with raised knobs that provide a firm grip on loose dirt and mud so that you can keep traction and enjoy your ride. The best mountain bike tyre must have low rolling resistance, sufficient grip, and a sufficient degree of support that will enhance the quality of your ride.
But how do you find the best mountain bike tires for your beloved bike? This is what this guide is all about, so sit tight and make sure you read carefully!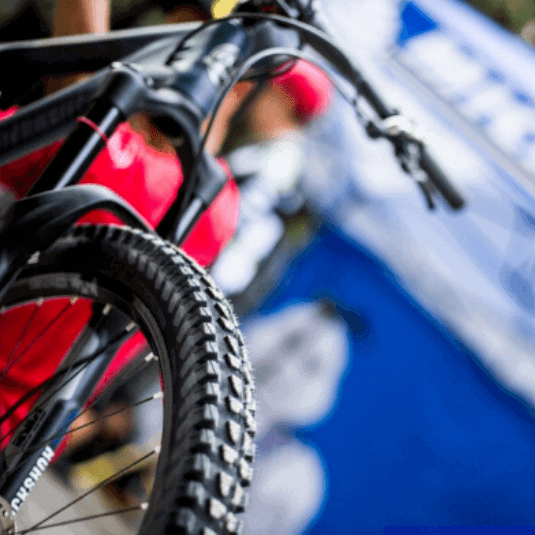 What are the Fundamental Features of the best mountain bike tires in the market today?
Finding the right bike for your ride is one thing, but getting a hold of the best mountain bike tire set is for you another ball game entirely.
If you have been mountain biking for a while, you have probably noticed the huge beatings your tires take as they roll through rough terrains. This is why choosing the wrong set of tires for your mountain bike could get you into a lot of trouble or even harm.
You can avoid such errors by biting the bullet and purchasing the best mountain bike tires out there. High-quality mountain bike tires come with specific features that are hard to miss. Such key features are:
Durability
How responsive they are when you apply the brakes
Easy to install
Pedal traction
TPI (threads per inch)
Wheel size
Resistance to rolling, etc.
Factors to Consider When Choosing the Best Mountain Bikes Tires
There are a lot of factors you must take into consideration when you go shopping for a fresh set of mountain bike tires. Here they are in no particular order:
Tire Size
This is perhaps a no-brainer, but it bears mentioning that any mountain bike tire you purchase must fit your wheel snugly. Take note that the numerous and reputable tire companies out there produce the same model tires but in different sizes. Therefore, do not just take the word of a friend or the recommendation of a non-expert about the type of mountain bike tires they think you should buy. Get more information about the right mountain bike tires that are the most appropriate fit for your bicycle.
The Size of the Wheel
Tires are mounted on wheels, and these wheels come in a variety of sizes as well. For instance, mountain bike tires generally come in three distinct dimensions: 29-inch, 27.5-inch, and 26-inch tires. If you are not sure of the wheel size of your mountain bike, there is no need to panic. Just take a look at any number or set of numbers that look like this: 27.5 X 2.3. The "27.5" is the size of your wheel.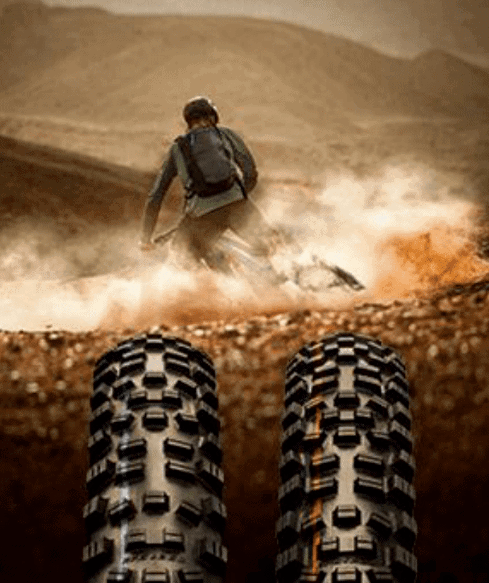 See some tire sizes comparisons here:
Tire Tread Patterns
The tread of a tire usually gives a hint about how it will perform when mounted on a wheel. Do not confuse a "wheel" with a "tire." The former is usually made of aluminum – or at times, carbon – while tires are made of rubber.
Here are some tread patterns to look at:
Big, widely-spaced knobs – Tires with this tread pattern are excellent at shedding mud and will also bite well into wet soil.
Small, tightly-spaced nubs – Tires with tightly-spaced nubs provide adequate contact on rock slabs as well as on hard-packed soil.
Tires with nubs that run down their centers provide lots of traction during braking or pedaling. Lugs on tires are not just for design, but play a significant role as they engage readily during turns. They help in providing stability and grip at such times as well.
The leading edge of several knobs is usually ramped to minimize rolling resistance. The direction of rotation of the tires is generally marked on its sidewall.
Front and Rear Tires
Most mountain bike riders love using a well-matched set of tires for both the front and the rear wheels. However, there is a lot of debate going on about the efficacy of using matched tires for mountain bikes. Many of the mountain bike tires in the market today have been optimized to work and fit on either the back or front wheel.
Let's take a close look at each of them:
Front Tires – The front tire of a mountain bike is vital since it is primarily responsible for cornering. It must respond appropriately to the applied forces that are translated to keep you on your planned line.
There are typically two types of front tires: wide and narrow tires. Wide tires help you to remain on course after taking a turn since more of the surface area of the tire is in direct contact with obstructions or impediments.
They provide excellent stability, especially when you are moving fast and cornering. Tires with broad surface areas also improve traction and grip.
But the downside of using wide tires is that they reduce mud clearance between the frame of the bike and the tire itself. Since friction will be considerably higher, it may affect the speed of the bike.
Most good front tires come with directional knobs that enhance rolling resistance. Since front tires rarely undergo a lot of drag, the use of big, knobby front tires is becoming a norm in the mountain bike universe. In most cases, riders use worn-out front tires on their rear wheels, thereby saving the money they would have used in buying a new rear tire.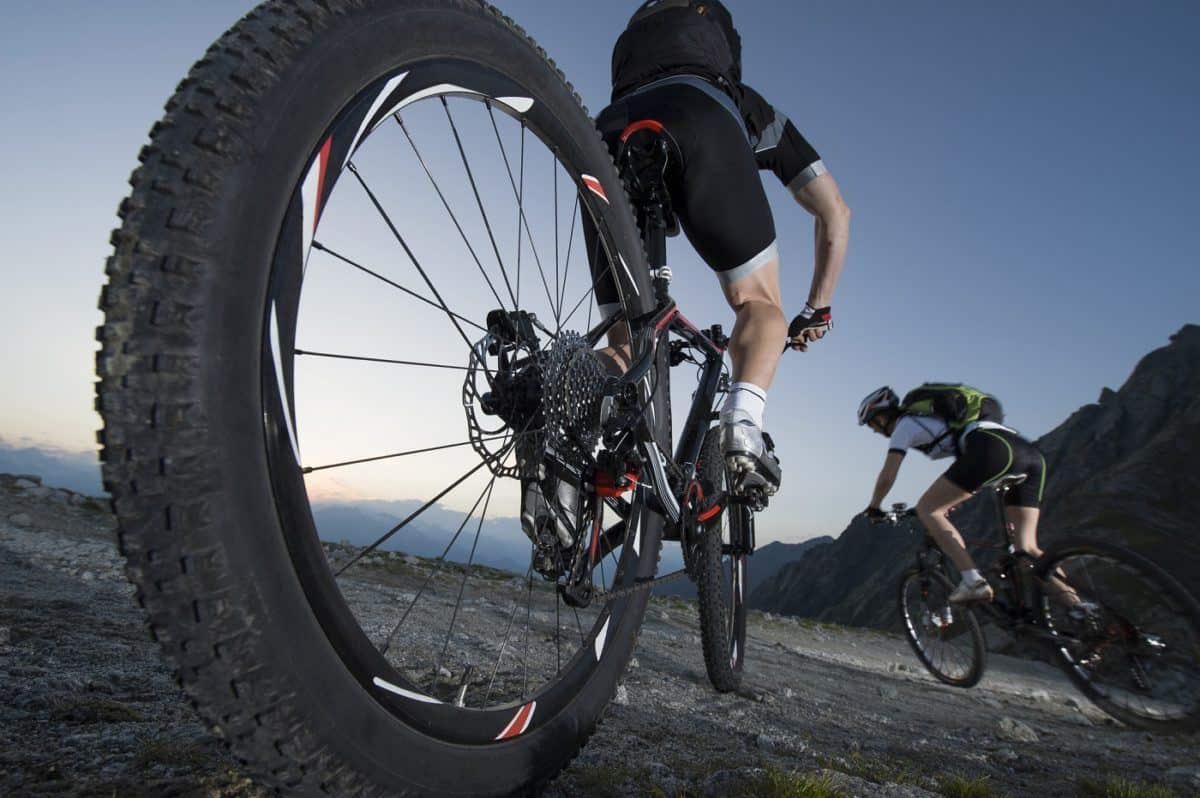 Rear Tires – The majority of rear tires feature horizontal knobs which run across the tire. These knobs provide the necessary traction that is needed to stop or prevent the rear wheel from spinning in muddy or wet conditions and under great pedaling force.
Rear tires can have narrow surface areas which improve mud clearance, especially when the tire begins to pick up a lot of debris.
Threads per Inch (TPI)
Tires come with a thread count which is measured in threads per inch (TPI). As a rule, the higher the thread count, the lighter the tire. This is because a low amount of rubber is needed to fill up the matrix that is created by the casing.
You may argue that adding more rubber makes a lot of sense, but the truth is a tire with a high TPI may give rise to a weak sidewall. You may also not be aware of this, but a variety of reinforcements or fortifications are employed to enhance the tread puncture resistance and sidewall.
Rubber Compound
Rubber hardness is usually measured in "Durometer." Higher numbers imply firmer rubber compounds. For instance, 60a is more durable and harder than 50a rubber.
The density of the rubber formula, as well as other constituents used by tire brands during the manufacturing of the tires, are clouded in mystery. Nevertheless, these components can make a significant difference to rebound damping, grip, and rolling speed.
Mountain Bike Tire Air Pressure
Tires do not come with the same air pressure requirements. This is why it is a common practice among riders to know that the thicker the casing (more on this later), the lower the air pressure.
But for maximum grip and comfort, ensure that your mountain bike tires have just enough pressure to prevent the casing from twisting too much while keeping away from rim strikes under impacts. You are at liberty to test lower pressures, especially if you run over 30psi repeatedly.
Tire Casing
The thickness of the casing also has significant impacts on the quality of your ride. This is because it controls durability, conformity, and rolling speed. If you love to ride hard, you may have to bear the weight of heavier casings to prevent sidewalls from folding under high cornering forces and punctures.
Heavy tires may cause you to accelerate slowly, but they are more stable and balanced as soon as momentum takes hold. This is why it is advisable that you go for tubeless tires as inner tubes can cause problems.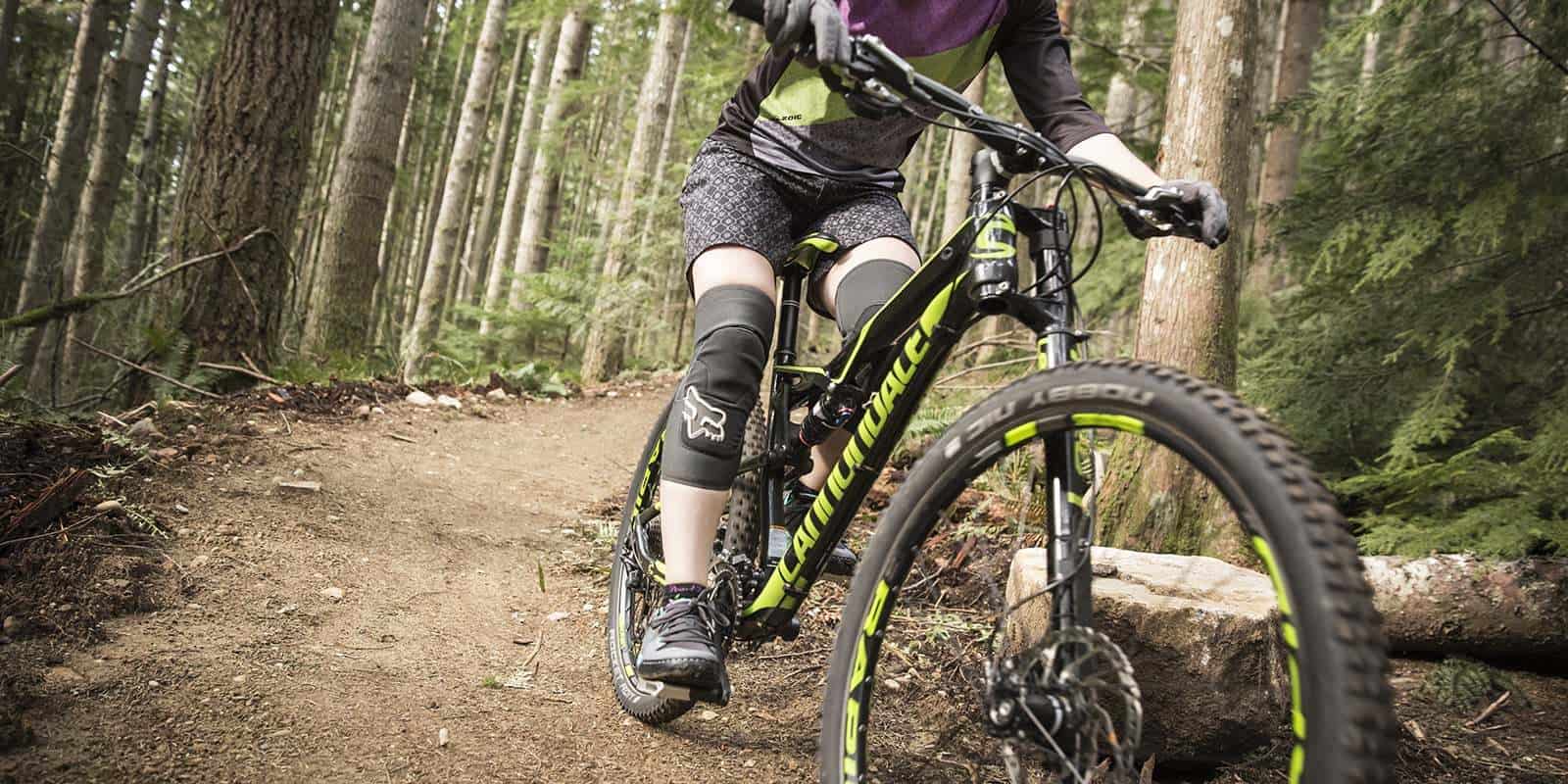 Durability and Protection
Durability is essential in almost every aspect of life; when it comes to tires, it takes priority. If you can pinpoint or determine the nature of the design of a mountain bike tire, you will have enough information about its quality. Since tires undergo a lot of abuse, it is necessary for you to ascertain the overall durability of the tire and the protection that is provided by the sidewall.
Bike trails are usually strewn with small pebbles, jagged rocks, glass, loose soil, etc. The best mountain bike tires are made of high-quality materials with proper casing protection for the sidewall and the carcass of the tire. This means that you will not be subjected to the tiring and infuriating effort of fixing punctured tires over and over again. Wouldn't you love to avoid such a hassle?
Sidewall Layers
The structure of the sidewall layer has significant impacts on a tire's weight, resistance, and ride quality. The thickness of the sidewall has to do with the number of plies that are wrapped around the bead of the tire. It also has to do with the number of inserts between the plies.
The inserts play an important role: they help in boosting up puncture protection as well as structural integrity. Dense strips of Kevlar, Aramid, or nylon are lightweight and are therefore used as breaker layers extensively.
Bead
The inner edge of a tire is referred to as the "bead." For the tire to sit as it should in the rim and for proper alignment on the wheel, there must be adequate air pressure from within. It is important to note that beads do not stretch visibly.
Beads come in two types: folding and non-folding. The former is made of flexible materials like Aramid, nylon or Kevlar while the non-folding variety is made of steel. They do not bend. Folding beads are undeniably lighter than steel beads.
Best Mountain Bike Tires – A Closer Look
Now, this is where it gets interesting – next we will take a close look at the best mountain bike tires in the market today. Each of these tires come with pros and cons, yet they are very popular among riders and outdoor sports enthusiasts.
Without wasting too much of your precious time, here are the best mountain bike tires arranged in no particular order:
Continental Trail King Fold ProTection Bike Tire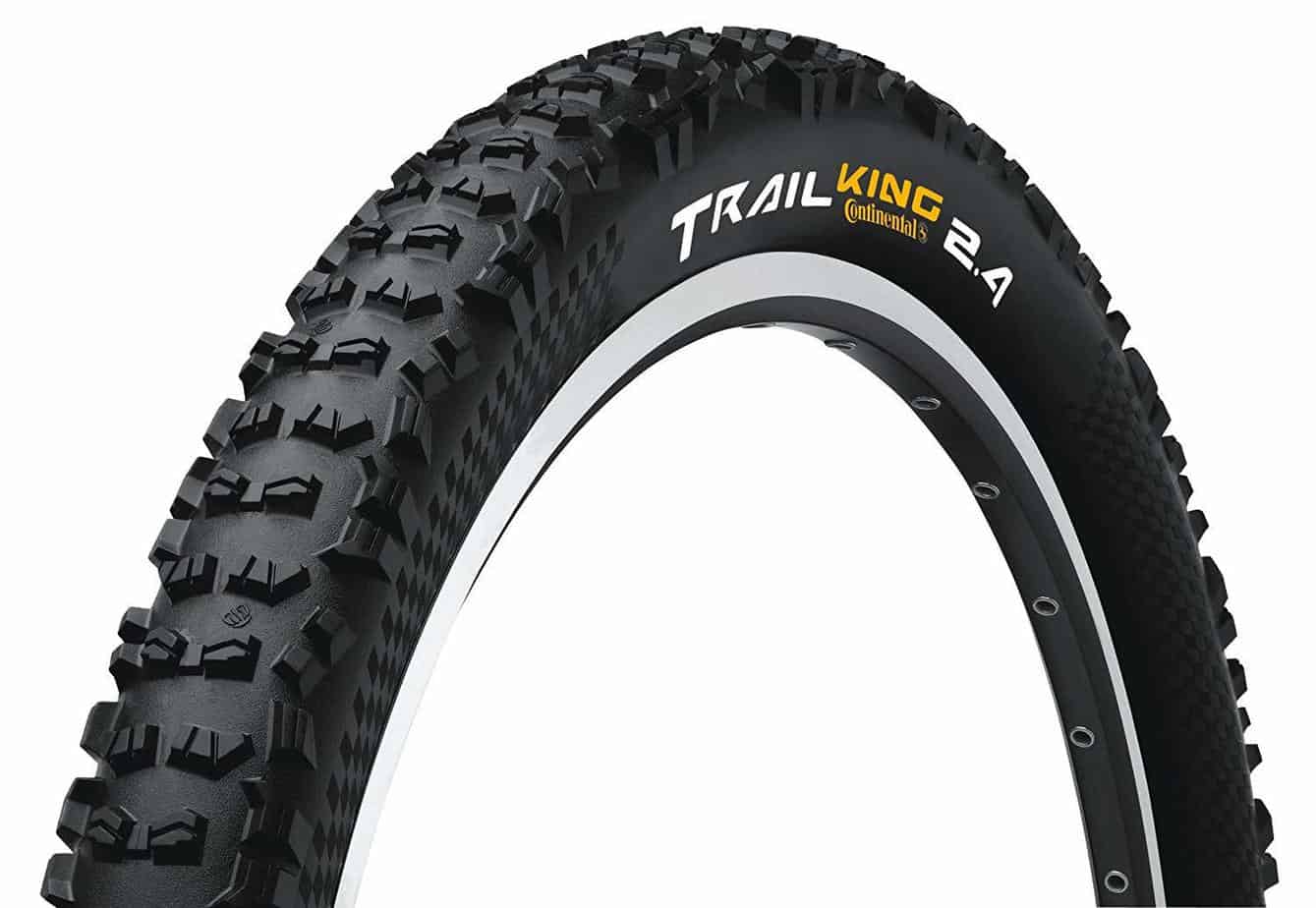 The Continental brand incorporates its ground-breaking Black Chili Compound into this high-quality mountain bike tire. The result? An improved and durable mountain bike tire with enhanced grip along with a significant reduction in the rolling resistance. This is why the Continental Trail King mountain bike tire is on this list:
Tread Pattern – This mountain bike tire from Continental is equipped with a distinct rubber tread mixture developed in Germany. It also comes with a variety of small knobs which further enhances the guarantee of sufficient traction on numerous bike trails.
Protection and Durability – The Continental Trail King mountain bike tire utilizes an upgraded compound which means that the casing can take more than enough abuse from rough bike trails. The mountain bike tire is also topped off with extra rubber at the bead. However, users have noticed that the sidewall is not as robust as it ought to be as it tends to wear out faster than other tires in its class.
Size and Width – You can select tire sizes from 26-inches, 27.5-inches to 29-inches. You can also choose tires that measure between 2.2-inches and 2.4-inches in width.
Best Riding Conditions – The Continental Trail King holds up to almost any type of terrain. It can achieve this feat, thanks to its light and nimble footprint along with minimal weight.
Tubed or Tubeless? – The Continental Trail King comes in a tubeless-ready design and can be installed easily by anyone.
If you love to ride, the Continental Trail King mountain bike tire is one of the best options for you right now.
Pros
It comes with a tubeless-ready design
It is the best option for almost every terrain that comes to mind
It features and implements the Continental brand's innovative Black Chili Compound
Cons
When compared to other mountain bike tires, it was observed that the sidewall of this product tends to wear out quickly
Schwalbe Hans Dampf Snake Skin TL-Ready Mountain Bike Tire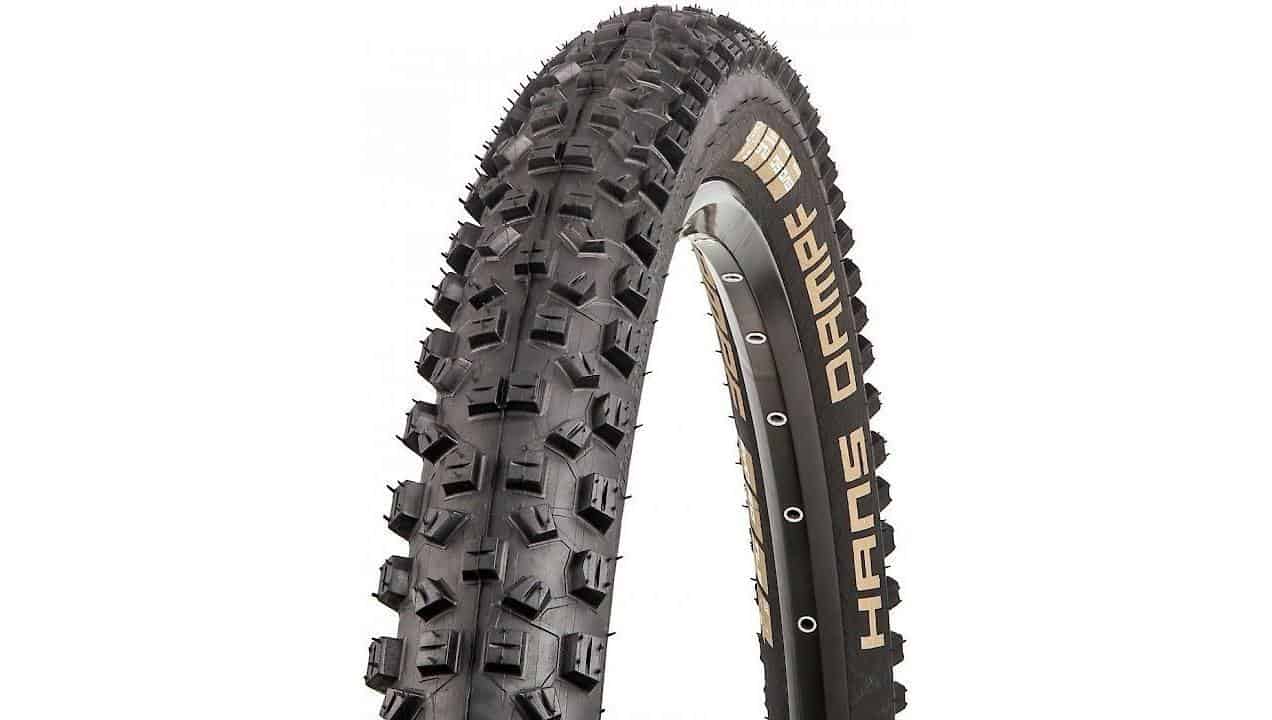 This mountain bike tire from Schwalbe is not among their topnotch choices; however, many skilled riders give a double thumbs up for the Hans Dampf tire. This impressive creation comes designed with the maximum grip around corners, unique tubeless design, and is available in several sizes. It was added to this list as a result of the following:
Tread Pattern – The Hans Dampf tire has a well-adjusted tread pattern that provides users with full control over a jagged or rough terrain. It also has a strong flow on single tracks.
Protection and Durability – The Hans Dampf tire is integrated with Apex protection which enhances its stability as well as puncture resistance over a lengthy period. However, the durability of this mountain bike tire is a subject of debate as some reviewers claim that the Hans Dampf tire wears out faster than other mountain bike tires in the same category.
Size and Width – Several sizes of the Hans Dampf tire exist, and you can choose from various selections that range from 26-inches, 27.5-inches, and 29-inches. The standard default width for this mountain bike is 2.35-inches.
The Best Riding Conditions – The Hans Dampf holds up impressively well over a variety of terrain or topography. Riding on soft surfaces, however, can make this mountain bike tire to dig somewhat quickly.
Tubed or Tubeless? – The tubeless variety is the best.
Despite a few limitations that will be outlined below, the Hans Dampf remains one of the best mountain bike tires with its unusual tread pattern and tubeless structure.
Pros
It comes in three significant sizes
It offers zero dead zones during corners along with impressive grip, thanks to the tread patterns
When positioned at the rear wheel, it provides solid traction
It is relatively affordable
Cons
A few users have stated that it wears faster than other mountain bike tires
It tends to dig into loose terrain or sand
Roll speed
Maxxis Ardent TR EXO Tire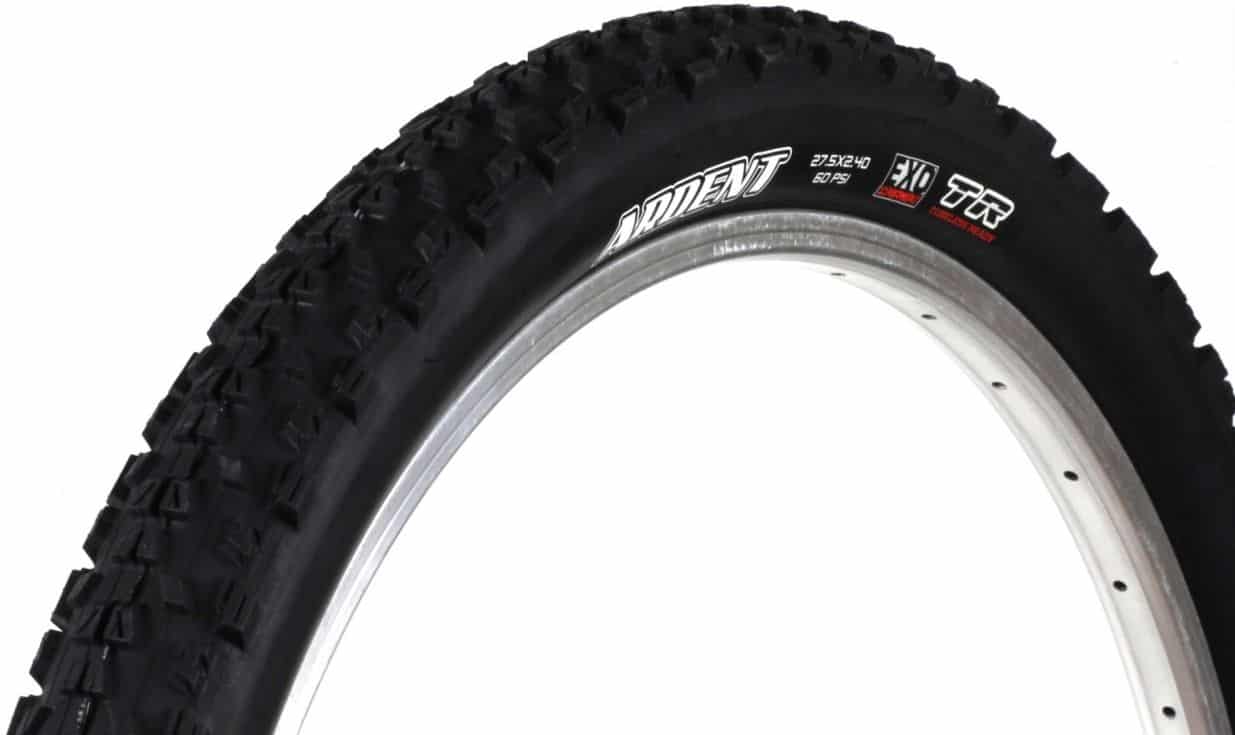 For people who love high-speed trail riding, the Maxxis Ardent TR EXO tire is one of the best options for you. The Maxxis tire is a high-quality mountain bike tire and feels aggressive. It comes with 60 TPI, giving riders a lot of traction without having to sacrifice speed.
The Maxxis Ardent tire weighs about 760 grams and can be adjusted according to your preference. It can be used as a tubed or tubeless tire.
Tread Pattern – The Maxxis Ardent has tread designs with three distinct layers. The most important tread, i.e. the center tread is designed for acceleration traction and responsive braking. The ramped knobs are built to reduce rolling resistance.
The outer treads facilitate fast cornering at all times and can be used on any terrain.
Protection and Durability – This mountain bike tire has a folding bead that dims its durability somewhat. But it comes at a great price, so that shouldn't be a problem in any way.
Size and Width – The Maxxis Ardent comes in a wide variety of size offerings, and this makes it ideal for the needs of every mountain rider out there.
Best Riding Conditions – The Maxxis Ardent mountain bike tire can be used under a myriad of conditions and will bear up exceedingly well. It can go several miles in rough and rocky terrain without ripping its sidewalls apart.
Tubed or Tubeless? – It is tubeless-ready, though you may need to purchase a sealant to enhance its efficacy.
Pros
It bears up excellently in all weather conditions and any terrain
The grip capability is superb
It has a great combination of traction, volume, and weight
Users can set up for tubeless easily
It features ramped knobs that reduce rolling resistance
It is highly durable
It is relatively affordable
Cons
A sealant is required for setting it up as a tubeless tire
It has a folding bead which could affect its durability
The Maxxis Ardent is the perfect tire for cross-country riders as well as lovers of extreme sports. It can be used as a front tire when the weather is dry but is ideal as a perennial back tire.
Maxxis Minion DHRII 3C Exo Tubeless Ready Folding Tire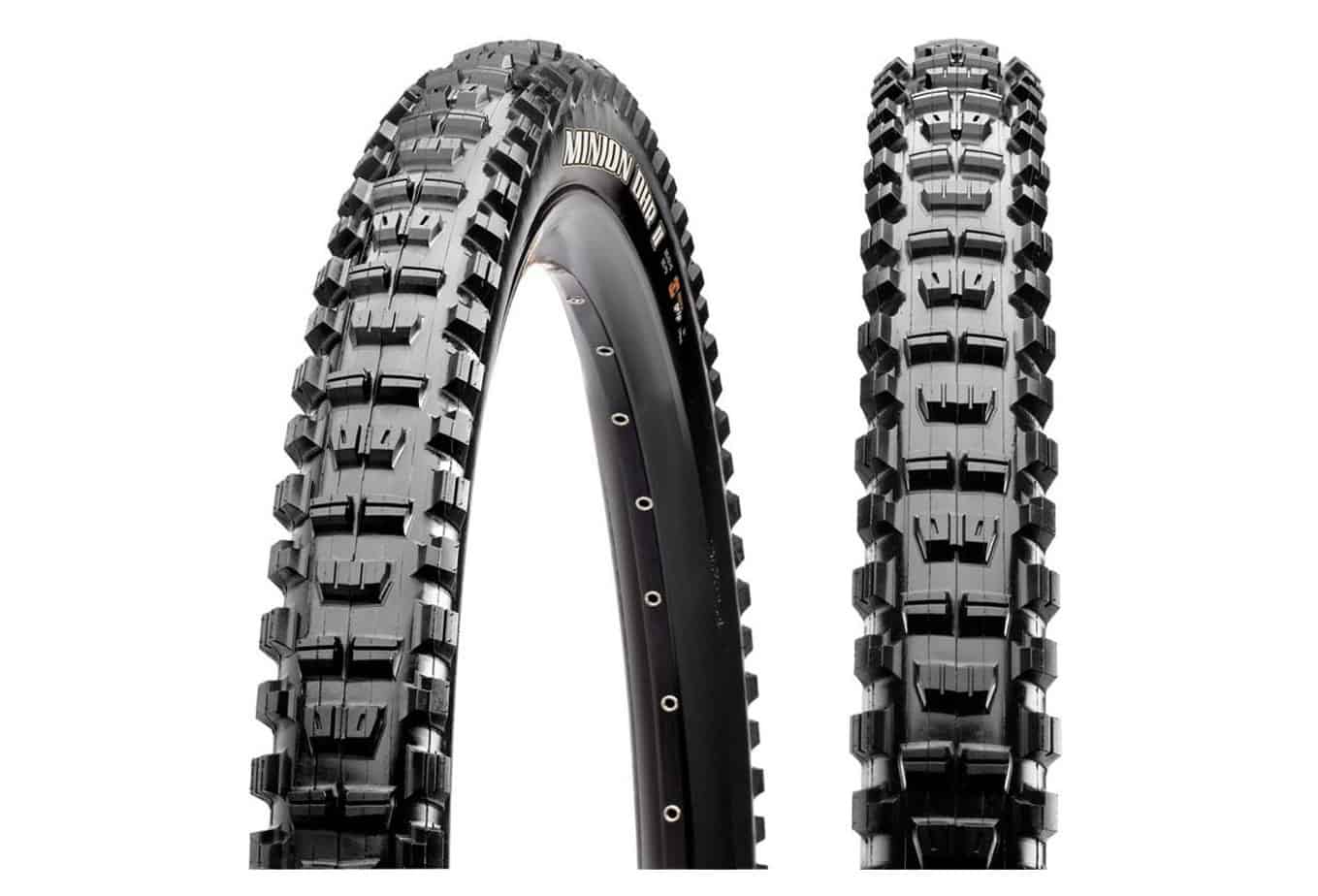 If you are a rider that loves trails that are tricky so that you can challenge your riding skills, you will do well to pick up the Maxxis Minion DHRII 3C tire. It features the same pattern that is found on its downhill equivalent or counterpart. However, the Maxxis Minion employs a single-ply casing to minimize weight.
The Maxxis Minion DHRII also borrows the side knob design from the renowned Minion DHF, though it comes with more extensive features to provide additional support. It can persevere in snowy or muddy conditions. It also does excellently well on hard, dry trails.
The Maxxis Minion DHRII is an excellent choice as a back tire, thanks to its impressive rolling resistance. But if you need to plow through shallow mud or light snow, using the Maxxis Minion DHRI as a front tire will be superb as well.
Tread Pattern – The tread pattern of the Maxxis Minion DHRII makes it slip-resistant and speedy.
Protection and Durability – The Maxxis Minion DHRII comes designed with Exo protective sidewall technology. The increased abrasion, as well as cut resistance, enhances its durability in no small measure.
Size and Width – This is a 26-inch tire and comes as a widened version of the well-known Minion DHF.
Best Riding Conditions – It is an all-weather mountain bike tire that can withstand dry trails and sticky mud.
Tubed or Tubeless? – It is tubeless-ready, though you can also get your hands on the tube variety if that is your preference.
Pros
It features Exo protective sidewall technology that boosts up its durability
It comes with directional, ramped knobs
It has excellent rolling resistance
It is a broader version of its legendary counterpart, thereby scoring high when it comes to safety
Cons
Its ramped knob may affect braking in the long run
Kenda K850 Aggressive MTB Wire Bead Bicycle Tire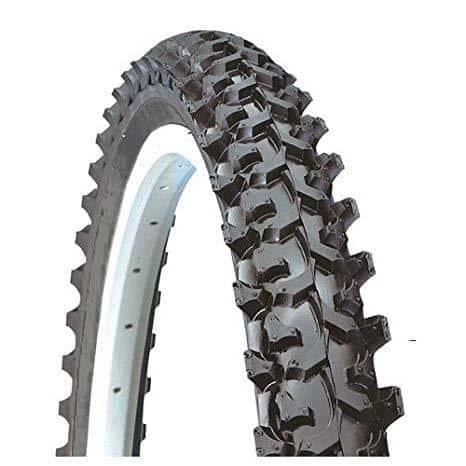 The Kenda K850 is the best mountain bike tire for beginners who are also not to financially buoyant. Although skilled riders may not opt for this mountain bike tire – as a result of its lack of minute performance and durability – it is the perfect choice for beginners. If you are also on a tight budget, the Kenda K850 is for you.
It comes with treads that are highly aggressive thereby making it suitable for any trail types.
Tread Pattern – The aggressive tread design is what makes this mountain bike tire outstanding among its counterparts. This makes the mountain bike tire suitable for different trail types. The Kenda K850 may be an excellent tire for dirt, mud, and granite; it is not designed for rocky mountain trails.
Protection and Durability – The Kenda K850 is more appropriate for use as a back tire. For best performance, fill this mountain bike tire with about 45-65lbs of tire pressure.
Size and Width – It comes in 26 X 1.95-inch sizes which makes it an appropriate replacement tire.
Best Riding Conditions – It performs exceptionally well in muddy terrain as well as hard-but-smooth trails.
Tubed or Tubeless? – It comes tubeless-ready
Pros
Treads are aggressively designed for trail riding
It has a low rolling resistance on pavement
Grip is excellent
It is inexpensive
Suitable for rugged terrain
Great tire for dirt, granite, and mud
Cons
It does not appear to perform well on wet surfaces
It lacks minute performance and durability as stated by veteran riders
Maxxis Ignitor Mountain Bike Tire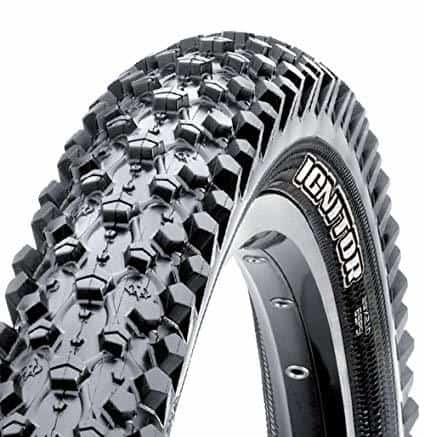 This is one of the best and most versatile mountain bike tires any beginner or skilled rider would love to own. The Ignitor is at its best in dry conditions and can hold its own in snow and mud. Every time you ride, this impressive – and severely underrated – mountain bike tire performs as expected.
Tread Pattern – The treads are spaced out widely, thus allowing it to fill in effectively and to provide low rolling resistance, especially in the straights. The ramped knobs – shaped like pentagons – provide great traction both in medium soil as well as in the corners.
Protection and Durability – The Ignitor is a durable mountain bike tire and is created using race-proven or 70a exCeption Series 62a compounds. Except you are a professional, these mountain bike tires will do well for trail/mountain biking.
Size and Width – The Ignitor comes in 29 X 2.1-inch size, though it is not wide enough to provide ample support for riders.
Best Riding Conditions – It performs remarkably well in medium to lose conditions.
Tubed or Tubeless? – It is tubeless-ready
Pros
It is designed for roll fast and hooking up in medium to lose terrains or conditions
It is highly durable
It has an impressive grip
It has great multi-condition performance
Its tread pattern are well-spaced for excellent filling in to provide low rolling resistance
The ramped knobs offer great traction in medium soil and the corners
It works well for skilled riders that want speed
Cons
It does not perform well in terrains with thick clay since it is not that wide
It can be put to good use only on the front wheel as it performs poorly as a rear wheel
Some users have complained that it is too soft for pavement
Kenda John Tomac Signature Series Nevegal Mountain Bike Tire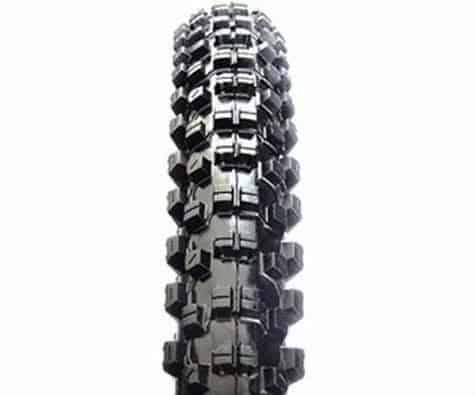 The Kenda John Tomac mountain bike tires are built to last. They are rugged enough to defy rocky trails. It is relatively affordable; therefore, you don't have to break the bank to purchase it. The tires are durable and perform well on loose, hard, and any other type of terrain.
For safer turns, this mountain bike tire comes with shoulder knobs. The sidewalls are made of a sturdy and durable material that allows you to use it with low air pressure, especially on rocky terrains and without worrying about the health of your tires.
This mountain bike tire is not as aggressive as other tires, but it holds its own on wet, rocky, and rooted ground at all times.
Tread Pattern – This mountain bike tire has big knobs for deep traction. This can come in handy when you ride on loose terrain. The knobs between the center and the shoulder of the mountain bike tire enhance its grip at all angles.
Protection and Durability – The sidewalls are made of a resilient material which protects it from rough or rocky terrains.
Size and Width – They are made in a variety of sizes. The 2.53-inches version makes use of the Dual Tread Compound (DTC) from Kenda. It also comes in 2.1-inches and 2.35-inches widths. Both sizes make use of a Kevlar bead for weight savings.
Best Riding Conditions – The Kenda Nevegal mountain bike tire performs well in rooted, wet, and rocky conditions.
Tubed or Tubeless? – Using the tubed version yields the best results, according to experts who have used this remarkable mountain bike tire in the past.
Pros
It is designed with a revolutionary compound that enhances its grip
It is durable and very affordable
It can be used with low air pressure for rocky terrain
It works well over big/small/sharp rocks, wet roots, light mud, pine cones, compact soil, etc.
Cons
It is not aggressive enough for deep snow or mud
One is at risk of receiving defective tires
It has some road noise along with rolling resistance
Continental Vertical 26×2.30 Black Tire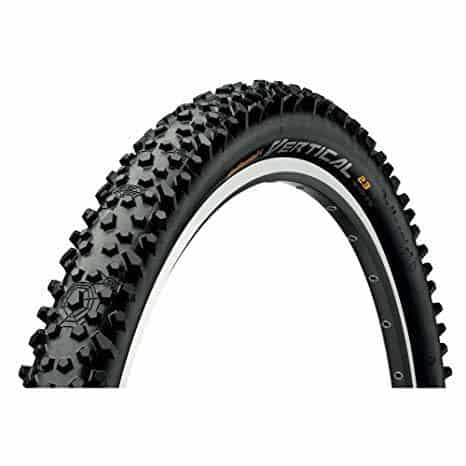 The Continental Vertical is one of the few mountain bike tires that is suitable both as a front and rear tire throughout the year. This low-weight tire has great traction around corners and handles exceptionally well on both loose and hard surfaces.
The unique knob set up on this mountain bike tire is the feature that qualifies it for use as a front and rear tire. The Continental Vertical comes with polygon-shaped knobs arranged randomly all over the tire, including the sides as well. These knobs stick out at various angles thereby giving you that excellent grip as you corner.
The Continental Vertical no doubt handles well on loose dirt, wet conditions, rocky terrains, hard or compact soil, etc. They are impressive during summer, even though it is not the fastest mountain bike tire in the market today.
Tread Pattern – The tread pattern of the Continental Vertical is unique as it comes with a myriad of knobs shaped like polygons. The knobs are arranged randomly all over the tire, ensuring maximum grip when you corner.
Protection and Durability – The Continental Vertical is exceptionally durable, and its high puncture protection feature makes it one of the best mountain bike tires out there today.
Size and Width – The Continental Vertical is available in size 26×2.3-inches
Best Riding Conditions – The Continental Vertical performs well in compact soil, wet terrain, snowy conditions, rocky territory, loose dirt, etc.
Tubed or Tubeless? – Experts recommend the tubed version
Pros
It comes with high puncture protection technology
It performs well on loose surfaces
It is suitable for use as a front and rear tire, thanks to its unique arrangement of knobs
It rolls smoothly on hard surfaces
It is versatile
It performs remarkably well on climbs
It comes with Endless Edge design for excellent cornering traction
Cons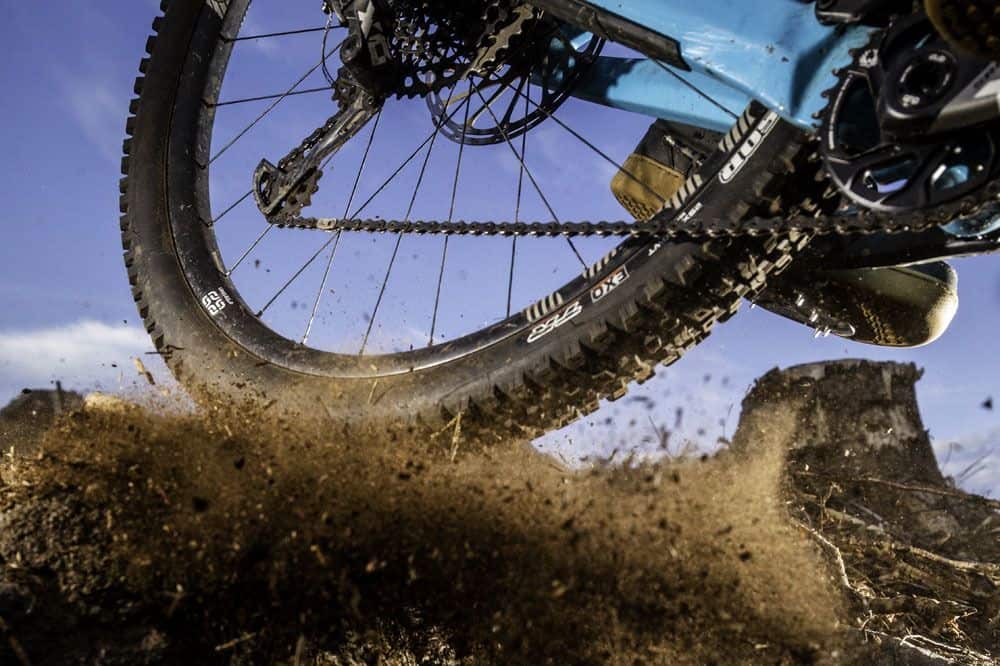 FAQs About Mountain Bike Tires
How many miles can you get on mountain bike tires?
Usually mountain bike tires can last up to 8,000 miles, but if you are frequently riding on rocky terrain that has lots of pointy rocks, expect the life expectancy to drop around 1,000.
Can I put street tires on a mountain bike?
You can definitely put steet tires on a mountain bike, however, they can easily puncture and you might get in trouble if you are riding on a rougher terrain.
When should I replace my bike's tires?
There are many signs that point out when it's time to change the tires on your bike, so if you notice cracked rubber, worn out tread, lumpy bumps on the sides, cuts or holes it means it's time to invest in a new set.