Mountain biking used to be more of a niche sport, but more and more competitive athletes and even just adventurous souls are lining up to try the challenging sport of themselves: in 2015, the mountain bike industry was worth over twenty million dollars.
But mountain biking is about more than an activity or thriving industry–it's about an entire culture and how it shapes lives. And having the right equipment–including the best pair of mountain bike shorts–may play a key role not only joining, but keeping engaged and getting the very best experience out of the sport.
But just how important is an MTB short, and how do you find the best ones for you? Whether you're a novice or even a professional looking to update their wardrobe and improve performance, this article is for you. You may just find having the right clothing and riding shorts for your needs may make all of the difference.
What do you mean by mountain bike culture?
While it can be said for many sports, mountain biking is not merely an activity, but a community of people pushing their physical and psychological boundaries and sharing their enthusiasm for challenging themselves and experiencing the outdoors in ways few others ever do.
Mountain bikers have their own lexicon, using terms like wile e coyote (going over a steep elevation); getting sawdust (running into a tree) and playing possum (a series of unfortunate occurrences, including going down a steep slope and getting run into from a bike from behind).
And now the sport is having an even larger impact.
Towns that once used to be prominent for mining have become depleted after more and more mines have been shut down, leading to residents moving away and a downturn in local economies, from a swath of states as far as Minnesota to Nevada.
Leftover lands devoted to mining now are being transformed more and more into riding trails and even parks. The International Mountain Bicycling Association has been leading the charge, and slowly, revitalizing some of the small towns that once depended mostly on mining.
Not only mountain bikers, but now also tourists are flocking to the new courses, bringing in revenue significant enough to wake up sleeping economies. And mountain biking is even hitting larger cities too: Chicago's South Side now includes Big Marsh Park, a three hundred acre area of trails.
What's the difference between a mountain and competitive biking?
While both are certainly competitive in nature, regular biking typically takes place on more paved routes, while mountain bikers face the challenges of high elevations and rugged terrain. Technically, though mountain biking doesn't have to literally occur on a mountain. Mountain biking simply occurs on off-road, unpaved terrain. Trail riding locations include:
Mountain Trails
National Parks
Desert Trails
Mountain biking is a bit more dangerous and strenuous than on-road biking normally, but that doesn't mean it's limited to only expert riders. At its best, mountain biking can prove immersive, engaging, and exciting.
One reason mountain biking is popular is that it allows you to discover new places and is arguably more engaging on a visual level than training on a bike trail.
What are some common myths about mountain biking?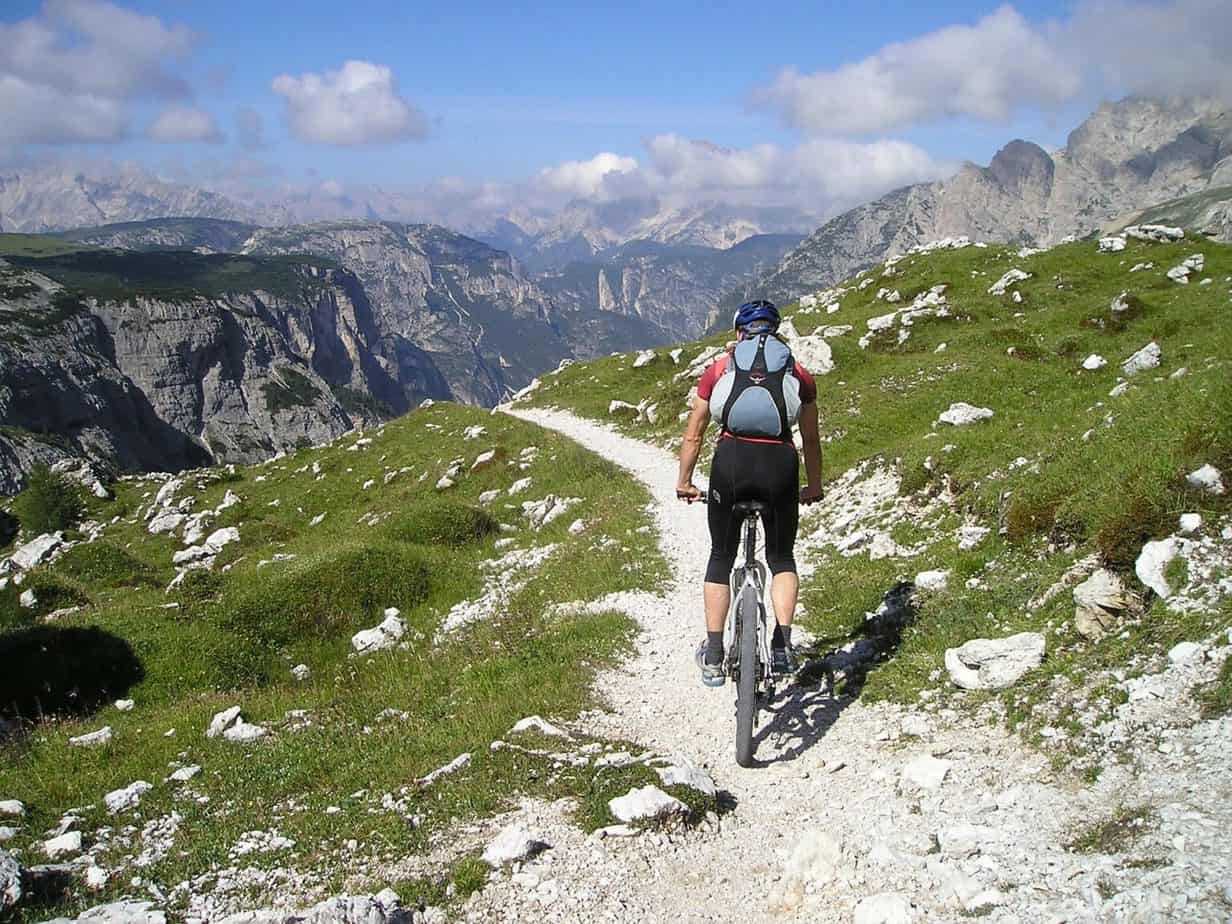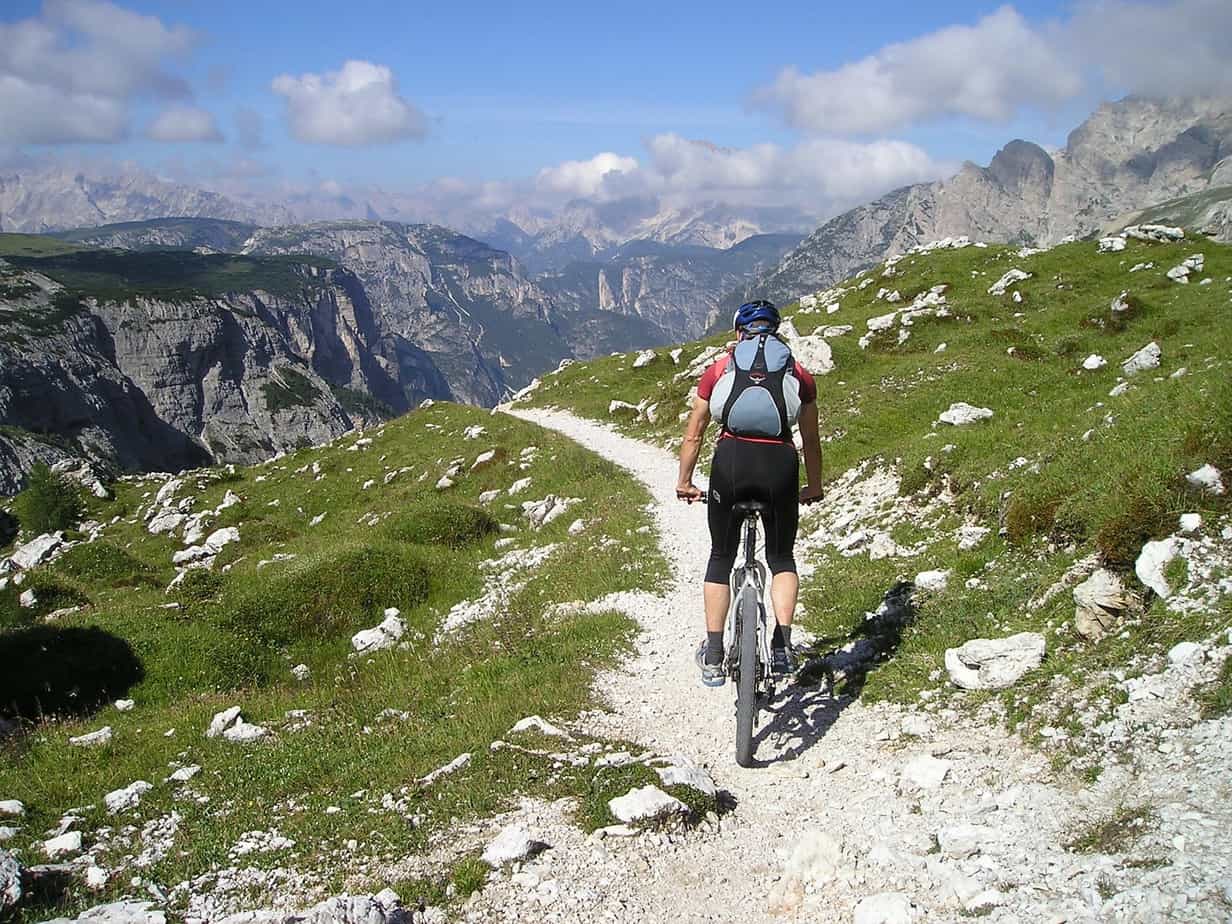 One reason some are hesitant to start mountain biking or feel overwhelmed is that they don't know where to start. Even if you have been mountain biking for years, you may have fallen for these myths at one point, which can cause anxiety or financial hardship that simply isn't needed.
According to Ted King, a cycler who has been riding professionally since 2006, there are four main myths even regular mountain bikers may fall for:
It's Dangerous
While it's true there are some risks to mountain biking when done properly, mountain biking doesn't need to be prohibitive based upon possible danger. Many mountain bikers do not bike for speed, but bike more carefully.
And downhill biking can be more dangerous, but with proper precautions, it doesn't need to be. In other words: there's an idea that all mountain bikers take great risks and bike on extreme terrain, but that simply isn't exclusively true.
It's Very Difficult to Learn
Like every specialized sport, mountain biking takes some finesse, but that doesn't mean it takes a long time; consistency is the key.
It's Very Expensive
While there are initial costs, you don't need the fanciest bike or shorts to bike well. Shop smart, knowing what features you want, and don't necessarily go for the most expensive items.
Requires a lot of Equipment
In fact, all you really need is a proper mountain bike, a helmet, specialized shoes, and a pair of shorts designed for your best ride.
Are shorts really that important for mountain biking?
You might be skeptical that finding the best mountain bike shorts should be top of your priority list–but you may just find that they're a great investment. Material that is not suited for mountain biking can tear, rip, scrape, or irritate your skin, making for a very uncomfortable ride.
Road bike Shorts made from nonstretchy fabric can also cause issues, as can material that does not properly wick away sweat, or is able to weather the elements. Because mountain biking can take place in especially harsh conditions, it's important you're dressed properly in riding shorts made from stretch fabric, that will allow easy movement and comfort to the rider.
Shorts that are not specific to mountain biking or ar cycling apparel may not properly protect against sunlight, terrain, or other conditions you might encounter. They also will do little to address other issues mountain bikers may encounter, such as mild swelling.
In other words, finding the best MTB short isn't just about looking the part, nor is it a must only for racers. The best mountain bike shorts will help ensure the mountain biker stay both safe and comfortable no matter where your trail takes them.
What are some issues that occur when you don't have proper cycling short pants for mountain biking?
Improper mountain biker shorts, as we've suggested, can cause some problems that can lead to a shorter, and arguably not enjoyable, ride. Chafing is perhaps the most common complaint when looking for the right cycling apparel.
While generally not serious, chafing can cause enough discomfort to dissuade many riders from embarking down a trail. Chafing and rashes, if left, can lead to enough pain that you may be sidelined for days.
In addition to changing your shorts frequently and making sure your seat is properly adjusted, the type of shorts themselves is also critical to avoiding this common discomfort. Bike shorts should reduce the friction you encounter between your skin and the seat.
Is there anything else I need to know about bike shorts in general?
Before we get into the specifics of how to find the best mountain bike shorts, you should know that, with all biking shorts, you should not wear regular undergarments, as that will increase the level of friction you'll experience. You should also go for a snug fit: loose material means more moisture and more room for excess friction to occur.
What features should I look for when I'm trying to find the best mountain bike shorts?
Finding the best mountain bike shorts is actually trickier than you might think. Just because something is labeled as a biking short doesn't mean it's meant to hold up the rigorous off-road path.
While some of these features will overlap with what you want to look for in regular biking shorts, it's especially important to look for all of the following to make sure your shorts stand up to the demands of an off-road biking experience:
Padded Crotch Liner
A padded crotch liner shorts is the first thing you want to look for. This is important to prevent rubbing and discomfort, both for men and women. Especially if you plan on going lengthy rides or especially uneven terrain, you're going to want to make sure the lining is also well constructed, and sturdy.
Thicker though is not necessarily better: too thick padded mountain bike shorts could cause additional discomfort. Not only will it reduce friction, but can also wick away moisture and prevent any potential problems.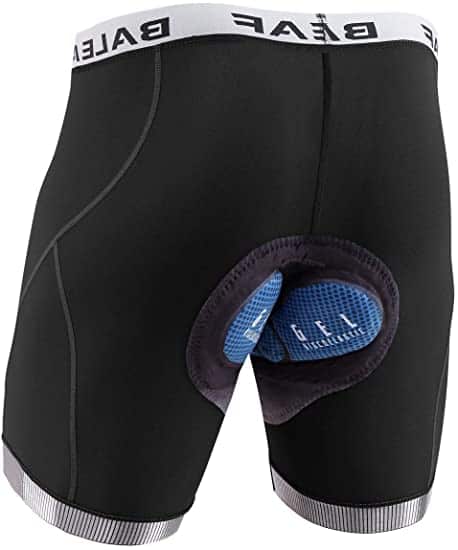 Snug Fit (but not too snug)
Shorts should conform to the body to prevent excess moisture or friction. Loose fabric, as we've mentioned, can cause actually more discomfort the longer you ride.
Of course, you should find a comfortable fit, so you can ride without feeling saddle sore, but the fit should be tighter than what you'd normally wear in your free time.
However, mountain bike shorts, in general, will not fit as snuggly as regular biking shorts. They can be loose around the legs but mostly fitted around the waist and thighs. The snug but slightly looser fit works well with the demands and different terrain you'll encounter.
All Over Padding
All over padding should not only be included but specifically designed for mountain biking.
All over padding needs to include integrated padding that allows you to move freely but also protects you from friction. It also should be thinner than typical biking short because mountain biking requires more alternating between seated and standing positions.
Optional Removable Chamois Liner
While this is, as we mentioned, optional, a removable lining system can allow you the flexibility to switch out and adjust depending on ride duration and terrain type.
Paneling
Paneling is an important thing to consider as well because it gives you an idea of how well the shorts are constructed for mountain biking. Panels can have an impact on overall comfort and how easily you are able to move. Shoot for over three panels; some shorts have as many as eight.
Length
The length of mountain bike shorts also referred to as the inseam, is also a factor to consider. If you are new to biking, chances are you think of shorts as typically very short, but this isn't the case for the best mountain bike shorts.
Mountain bike shorts should be longer with a knee pad, an inch or a few inches above the knee, for the best protection possible, and they also need to have a chamois pad.
Waist Band Type
You'll get two options for the waistband type on mountain bike shorts. You'll either get a traditional elastic waistband or a bib. Bibs are simply shorts constructed with a suspender.
Made of either mesh or lycra, bib short pants act as a suspended waistband and offer a bit more in terms of flexibility in terms of overall fit. However, what you like a matter of preference.
Regular shorts may be easier to deal with for mountain biking demands because bibs add extra material to your sides, leading to possibly more friction and moisture.
Material
Nylon, spandex, and lycra shorts are both considered durable and flexible for the best ride. They are also best equipped to wicking away moisture and reducing friction.
Steer away from cotton shorts–that's about the worst choice you can make when it comes to the best material for mountain biking shorts. Polyester is sometimes included in terms of a combination short, with polyester fibers.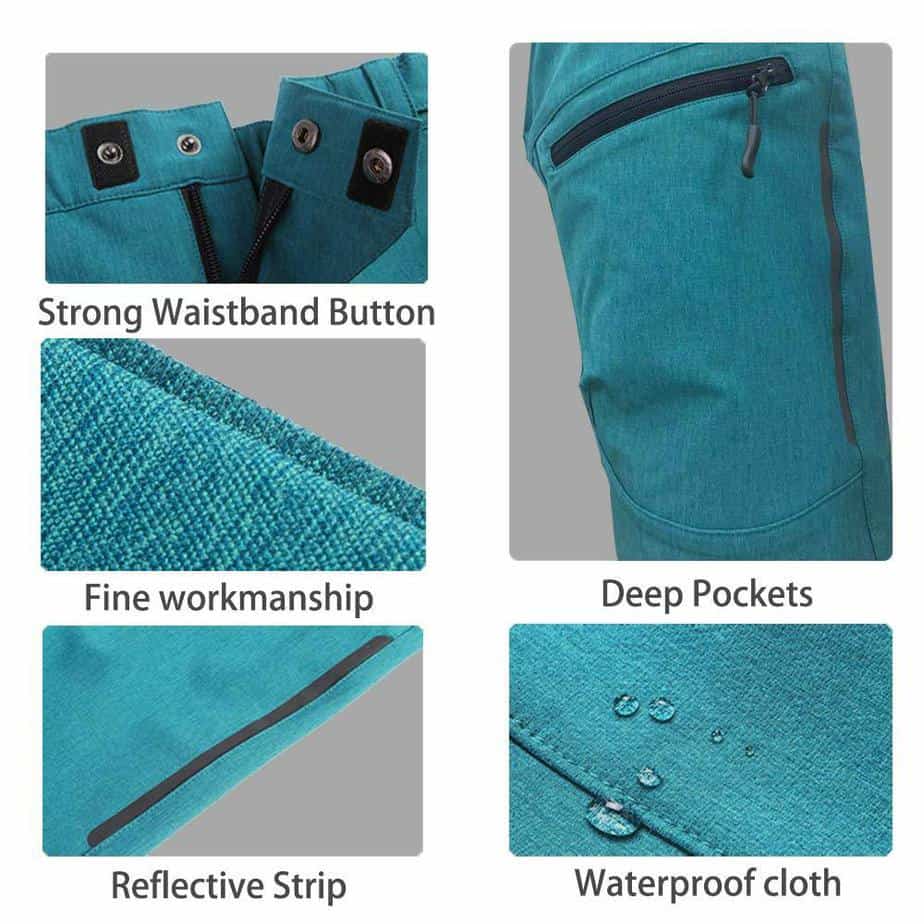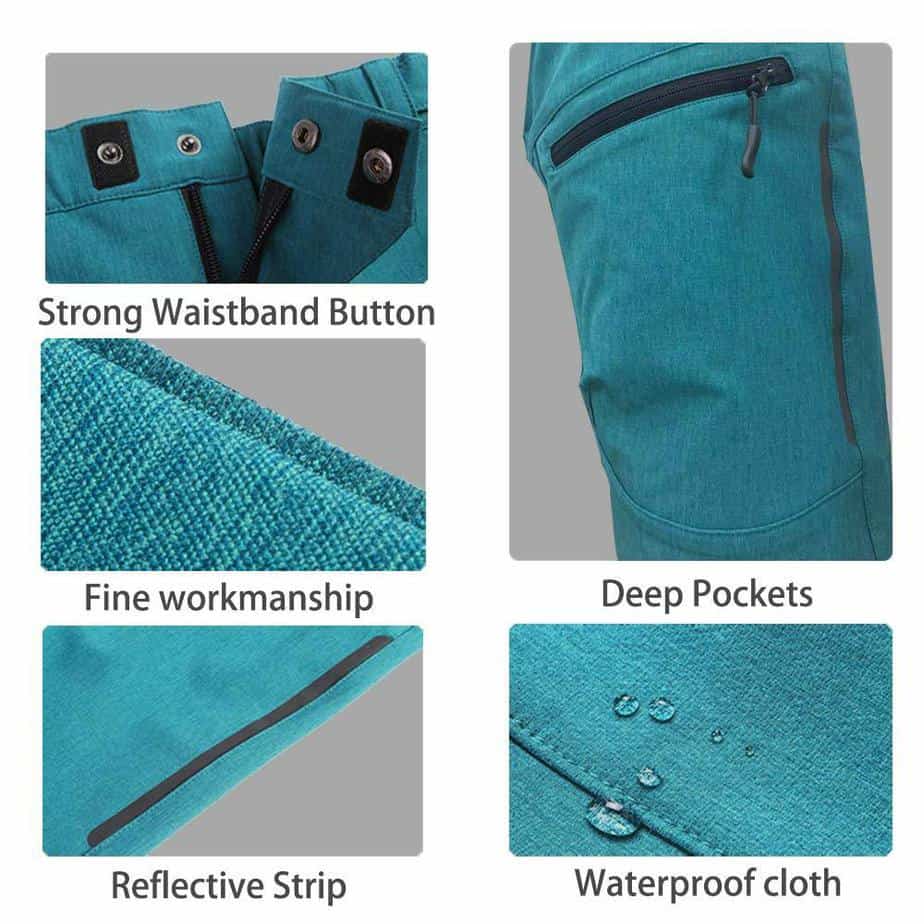 UV Protection
While this is desirable in shorts for any kind of biking, mountain bike shorts especially should include some degree of UV protection. While you still need to use sunscreen and you won't be one hundred percent protected by the sun, shorts with UV protection are a top feature you'll want to look for.
Optional Pockets
For regular biking, we might say don't worry about it, but having a cargo pocket really is a great feature especially if there aren't pockets included in your shirt and you don't want to lug around a pack. You can slip in an energy bar alongside your keys for a longer ride.
Compression or Not
There is some confusion as to what compression vs biking shorts are. Compression shorts are typically used more for other activities, such as triathlons, and do not include the padding you need for a great mountain bike short. However, some mountain bike shorts do incorporate some compression in them to reduce swelling.
Visibility
Finally, you may want to consider what color of shorts to buy, and it's not just a superficial consideration. Bright or neon colors can help you stay visible in darker or inclement weather.
What are some of the best mountain bike shorts available?
The good news is that there are countless shorts ready for you to purchase, even with most or close to all of the features we've mentioned. But also important is customer reviews: you want to make sure that the shorts are not merely good on paper, but pass a road test too.
While this is just a running list of shorts you might consider, all offer great features and also benefit from great customer reviews too.
These highly rated baggy mountain bike shorts are just shy of thirty-five dollars and are breathable, water repellents, and come with deep pockets. It is a bit of a more baggy short design, but an adjustable waist ensures a great fit for the rider and comes in turquoise.
These padded bike shorts by Beroy feature 4D padding and even reflective stripes to make sure you stay visible during difficult weather. The padded shorts are made with breathable mesh material on the sides wicks away moisture and there's even the addition of a silicone leg gripper to prevent slipping.
Beroy Mens 4D Padded Cycling Shorts | Amazon
Tired of pain and irritation from the bicycle seat? No problem, we have the solution here in front of your eyes. Place your order and let this cycling shorts take care of the rest.
Buy at Amazon.com
We earn a commission if you click this link and make a purchase at no additional cost to you.
09/30/2023 12:05 am GMT
These women's bike shorts are both breathable and water repellent, plus they come with an adjustable waistband and side zippers. Suited for all types of terrain, the shorts are constructed to provide easy movement and the protection you need, with the addition of reflective strips to keep you visible.
Louis Garneau – Women's Latitude MTB Shorts
These women's shorts by Louis Garneau may be a bit more expensive, but they have a lot to offer when it comes to mountain biking. The shorts are optimized with the most flexibility and movement possible with a seamless inner leg to cut back on bunching.
FAQs About Biking Shorts
Do cycling shorts make a difference?
Yes. Besides having a more comfortable ride than being dressed up in casual shorts, these can make also difference in dispersing road vibration, and avoiding your sensitive parts getting irritated on long rides or riding on difficult trails.
Can I wear shorts over cycling shorts?
Yes, you can wear shorts over your cycling shorts, although it is not necessary, as these are already made for providing comfort and snug fit while riding.
Should I wear underwear underneath the cycling shorts?
No, never! Men's underwear is mostly made of cotton, which soaks the moisture and provided discomfort while riding. You should always wear just cycling shorts which are made for protection and comfort.
Final Thoughts
Detachable inner shorts with compression cuffs are wonderful additions as well and provide some of the best flexibility in mountain bike shorts available.
If we had to pick just one for men and women…..It's a hard pick, but we do have two winners when it comes to the best mountain bike shorts for men and women.
For men, we'd go for Beroy's shorts, with the addition of 4D padding and material to prevent leg slipping. However, if you do like a looser fit, Cycloid's is a great alternative.   

Beroy Mens 4D Padded Cycling Shorts | Amazon

Tired of pain and irritation from the bicycle seat? No problem, we have the solution here in front of your eyes. Place your order and let this cycling shorts take care of the rest.

Buy at Amazon.com

We earn a commission if you click this link and make a purchase at no additional cost to you.

09/30/2023 12:05 am GMT

For women, we'd go for Louis Garneau. Though it definitely is more expensive, if you do want other features such as a compression short, you may end up saving money. We also love the attention paid to reducing bunching.