Searching for a bike is one thing–finding the best downhill bikes is a whole other. But searching with knowledge and patience is the key not only to finding a good bike, but having the best experience possible. But if you're new to mountain biking, or even just downhill mountain biking, you may not even be aware of just how important it is to find a specialty bike from the best bike manufacturers ever!
But if you're even a little bit interested in mountain biking in general, read on to find out what downhill mountain biking entails, and how to find the best downhill mountain bike possible.
While the process can be complicated, by focusing on individual features, you'll be on your way to finding the best downhill mountain bike for you.
What is downhill mountain biking?
Downhill mountain biking, as the name implies, takes mountain biking a step further in that downhill riders engage in challenging downhill, and at times, steep declines. Mountain biking itself does not need to take place on an actual mountain. In general, the term refers to any biking that is done off road and can take in a variety of terrains as diverse as trails and even dessert.
Mountain biking maybe for the more adventurous–and carries some risks compared with on-road biking–but it can also be highly rewarding and exhilarating. In all forms, mountain biking allows you to explore areas you might have never before seen and challenge yourself in new ways.
And unlike popular depictions, mountain biking does not always involve great speed. In fact, many mountain bikers take instead long treks of endurance. As more and more myths of danger, financial hardships, or other related fearful exceptions are dispelled, the sport itself continues to gain in popularity.
But downhill mountain biking takes challenges to new levels, mostly taking place steep and uneven terrain with multiple obstacles, such as:
Jumps
Rock Gardens
Rocky Terrain
Steep Declines
Downhill mountain biking, compared to regular mountain biking, takes more coordination, command, and occurs generally at faster speeds. And like all mountain biking, of course, it takes place off-road.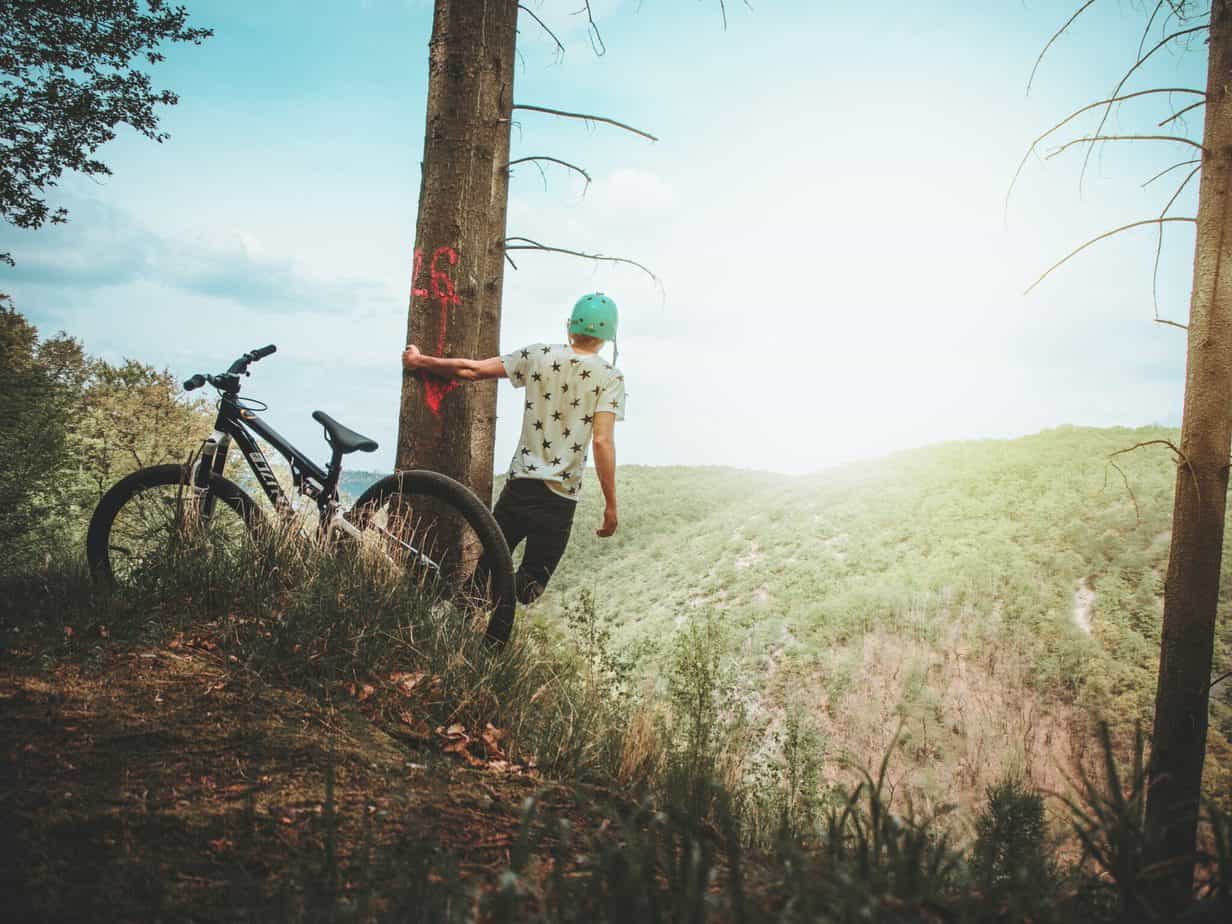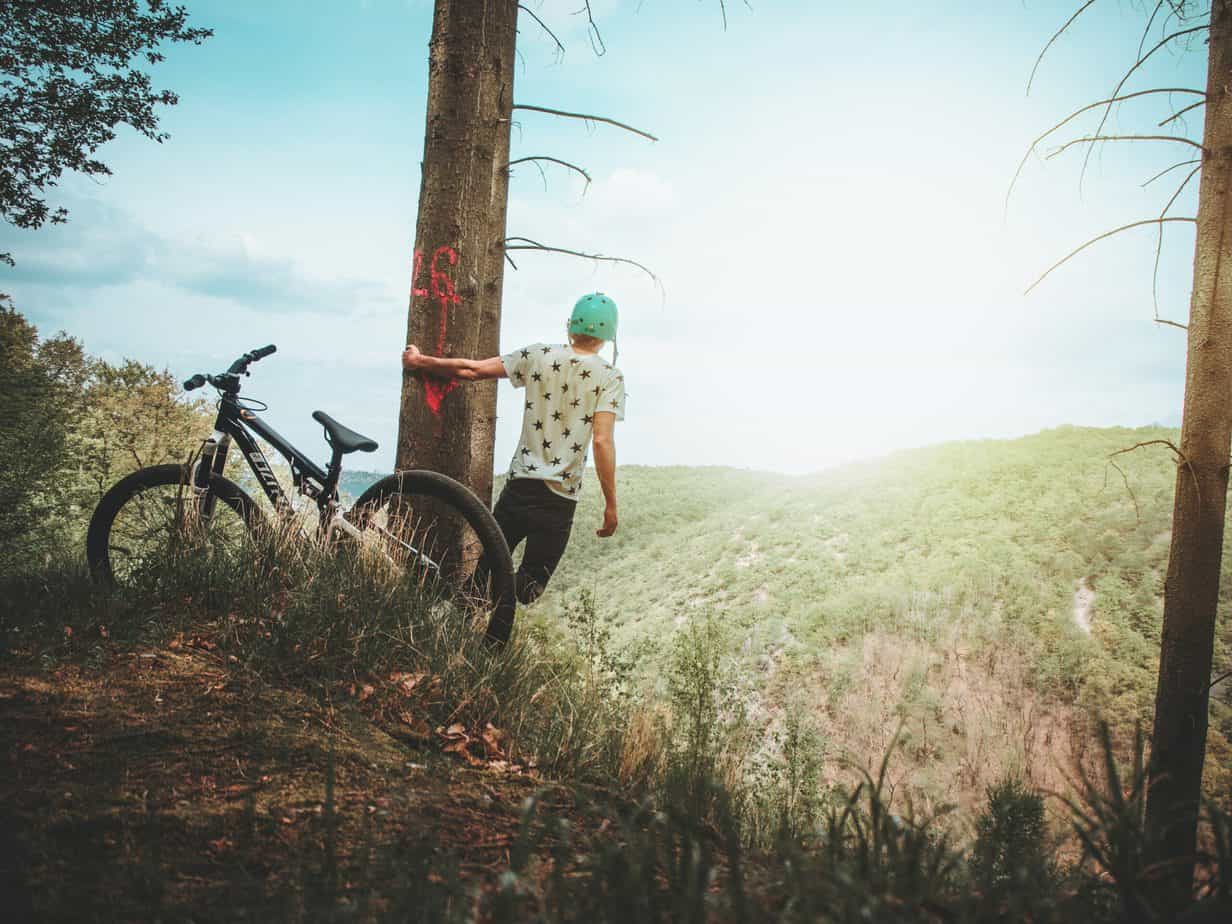 Is downhill mountain biking right for me?
If you've made it this far, chances are you're seriously considering at least trying downhill mountain biking. Maybe you want to get invested in a sport in a way you never had before, or maybe you're already an avid mountain biker who's looking for a new challenge.
But is downhill mountain biking right for you?
Downhill mountain biking is best for anyone who has already tried mountain biking–that's because, while it has a lot in common with mountain biking, it is more challenging. We recommend you start with easier trails with mountain biking first and incrementally work to a place you're comfortable with.
Downhill mountain biking is best for the adventurous, those in good physical condition, and those who aren't afraid of heights. While you do not need to be perfectly conditioned, to begin with, it is advisable to take it slow.
Going too rough too quickly can lead to more injuries, and when in doubt, sign up for a beginner's club to make sure you are as comfortable as possible. Also, make sure that you're in great physical condition before hitting the trails because downhill biking can be a demanding sport.
What are some ways to make sure I stay safe when I mountain bike?
If safety is the number one reason you haven't started downhill mountain biking yet, there are a number of precautions you can take. In addition to taking it slow and preparing you should:
Make sure your gear is snug and properly fitted.
Perform regular safety checks and maintenance on your bike
Come prepared with the proper gear
Let someone know where you'll be, or better yet, go with someone
Always maintain a firm grip on your bike
Survey before beginning a trail
Check ahead for potential inclement weather
Start of moderate or easy difficulty trails for the first few months or until you feel comfortable
Make sure that the area is suitable for biking, and that there are no restrictions
What gear do you need for downhill mountain biking?
Before you even consider shopping for the best DH bike, you also need to make sure you have the proper gear to get you started. Having the proper equipment is essential for both comfort and safety and will help you make the most out of your new downhill mountain bike and your mountain biking experience in general.
Plus, it's all that much more important to be properly equipped for an activity as challenging as downhill mountain biking. Even before your shop for your new bike, make sure you have the following:
Mountain biking shorts, which should be suitable for the various elements, snug but looser than typically biking shorts
Flat soled mountain biking shoes with a strong tread and grip feature to keep you from sliding
Knee pads and elbow pads to protect you should you crash or run up against something
A full face helmet. Unlike typical bike helmets, a full face helmet is needed to protect you as you ride. The fit should be snug but not too tight.
Goggles for eye protection: mountain biking, especially downhill mountain biking, requires protection against debris or dust
A pack, for longer treks. Worn often on the back, this can carry essentials like water, snacks, bike supplies, and first aid.
An ID with an emergency contact
And of course, you'll need to find the best downhill mountain bike possible.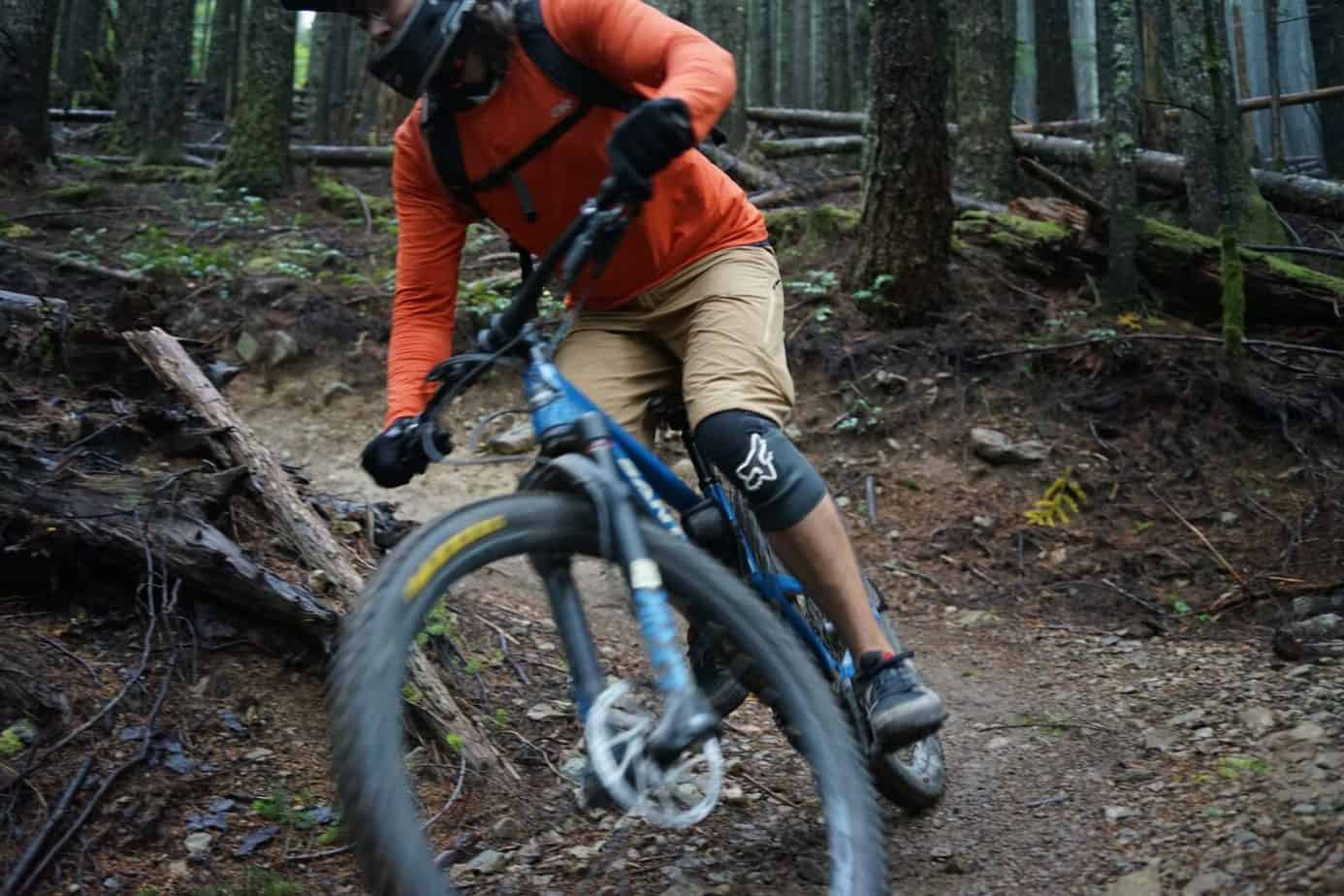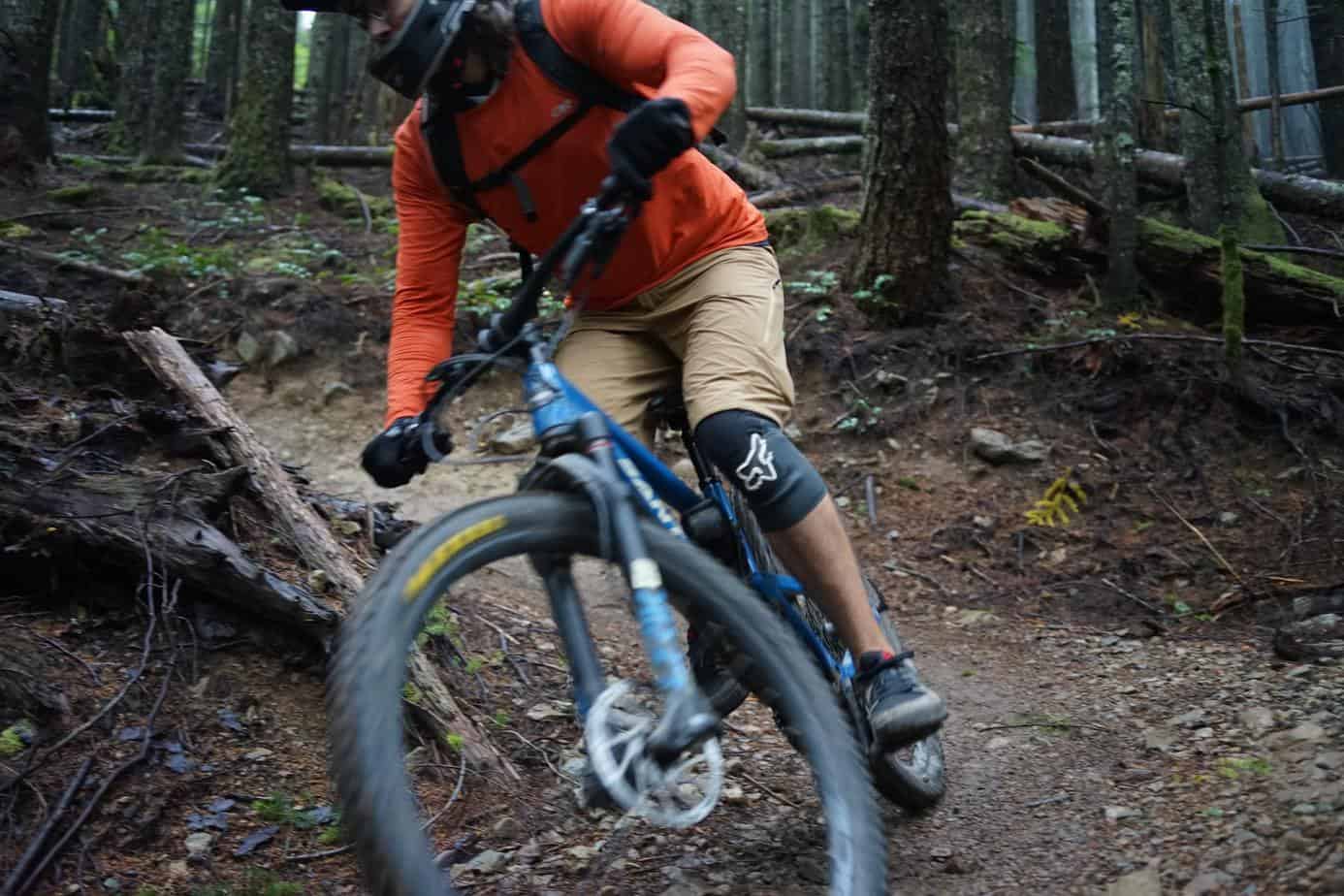 What's the difference between a regular mountain bike and a downhill mountain bike?
You might wonder what all the fuss is about in terms of finding a downhill mountain bike as opposed to a regular mountain bike. In general, downhill bikes have:
Sturdier frames meant to withstand tough terrains and obstacles
Made of more durable materials
Full rear suspension frames, which help with shock absorption
Double crown for increased strength and durability
Alignment so rider is further on the back wheel
In general, downhill riding mountain bikes are made of sturdier materials with a greater focus on shock absorption and meant to withstand difficult terrains and conditions.
How do downhill mountain bikes compare in price with other bikes?
As you can imagine, downhill mountain bikes cost you more than the average bike. While mid-range bikes usually range from a few hundred to a thousand dollars, start a bit higher, and can go into the thousands. That said, you can still find a decent downhill mountain bike for less than you might think.
How do I find the best mountain bike?
Durable Material
Even more so than with a regular mountain bike, a downhill mountain bike must be constructed from materials that are meant to withstand difficult conditions. Look for steel, titanium, and carbon fiber. Carbon is useful also for shock absorption, while steel and titanium are both considered heavy duty and can also be aerodynamic.
Wheel Diameter
A sign of a good downhill mountain bike are wheels that are around twenty-seven inches to twenty-nine inches as opposed to larger diameters common in other modern downhill bikes. Spokes should be thirty-two inches or higher. A smaller wheel size works better for maneuvering around obstacles and also works better on jumps and for performing stunts.
Suspension Frame
A suspension frame should be typically made out of carbon and allows for both shock absorption and the best maneuverability, as well as overall control for your ride. It should also mention a geometric set up that allows you to ride back on your seat.
Adjustable Fork
Making sure your bike can fit your properly and your riding preferences is also a key thing to look for. And adjustable fork allows you to cater more to your body type, adjust how you ride, and bolster the best in shock absorption, all the while giving you more control.
Frame Protection
Though not with all models, frame protection, usually in the form of removable guards is also a plus and can help increase the longevity of your downhill mountain bike.
Medium Reach
There are some trends right now to make the reach between you and the bar handles of the bike longer. The longer the reach, the more centered the wheels tend to feel and it can also make for a smoother ride. But too long can result in more difficulty maneuvering. Go for medium long to get the best features.
Mid Width Wheels
We've already discussed overall wheel diameter, but wheel thickness is important to consider, too. Look for a wheel that is just a bit over two and a half inches in width.
The Right Weight
While you want downhill mountain bikes to feel lightweight in theory, you also want to make sure they are sturdy enough to endure difficult terrain. In general, aim for a downhill MTB that weighs anywhere from twenty-seven to thirty-one or so pounds.
Brakes
Brakes, of course, are essential to any bike, but for downhill mountain bikes, making sure you have the best breaks possible is all that much more important.
But brakes shouldn't merely be able to stop your motion; they also should ideally provide an added layer of stability and control. Look for hydraulic disc brakes. This type of disc brake tends to be lower cost and is more common, should do the trick. Also make sure that, no matter what brake you go with, you maintain it with proper brake fluid.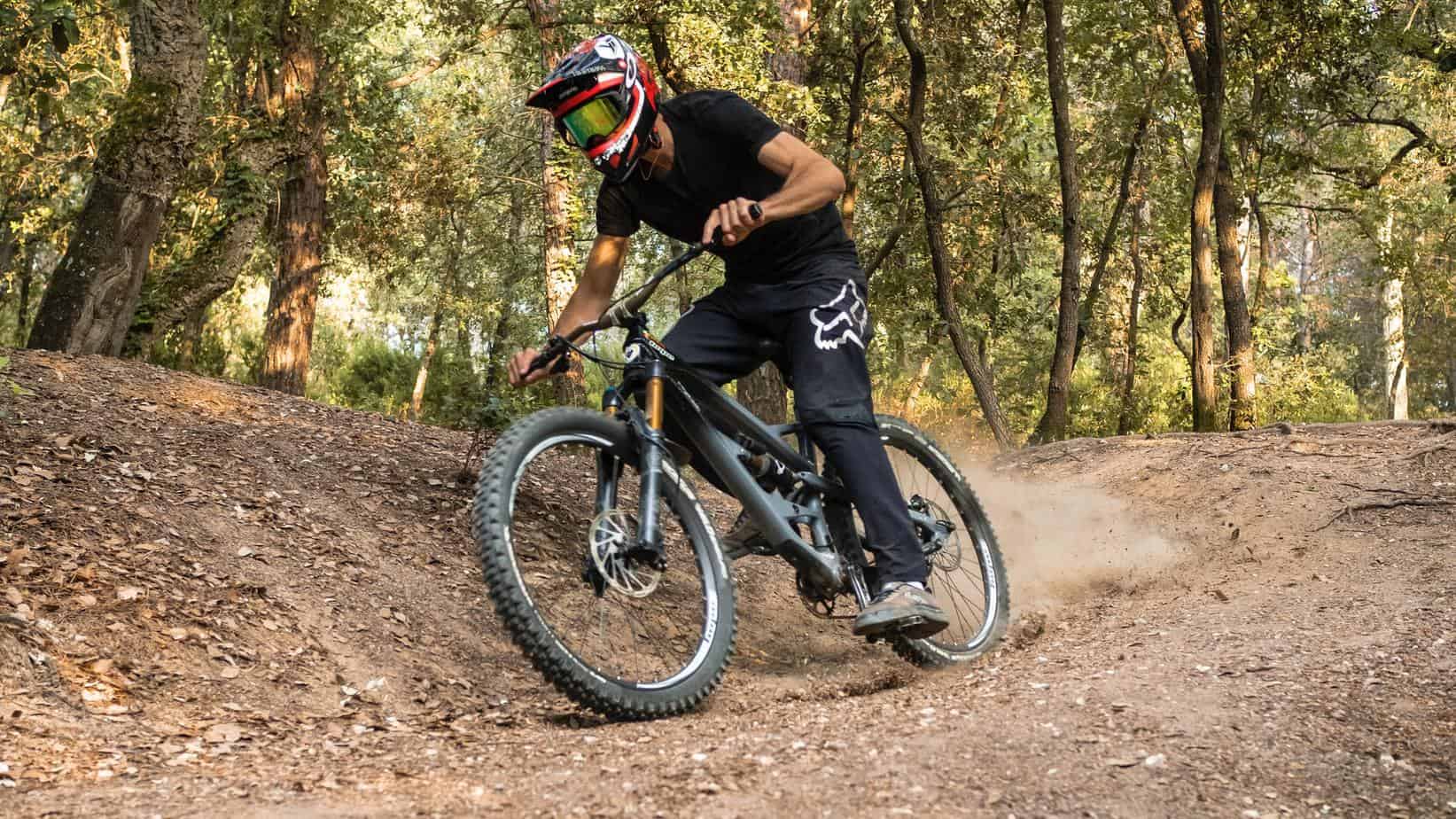 Price Point
Just how much should you spend on decent downhill mountain bikes? As you can imagine, that depends on what you're looking for, as well as your overall budget. Because a downhill mountain bike can cost as little as a few hundred and go as high as ten thousand or even more, it's important to have an idea of what's reasonable.
A mid-price range for a downhill MTB falls around one thousand to fifteen hundred dollars, will and the upper mid-range goes up to around thirty-five hundred dollars. If you can, try to save up and don't dip down way past that mid-range, because you may be sacrificing quality.
Beyond the upper mid-range, though, it's more or less about extra features. So be realistic about what you can spend (no need to deplete your savings) but also keep in mind that you should be spending more on a downhill mountain bike than you would for a regular on-road bike.
Considering a used bike?
Maybe you want a mountain bike but are worried about how much it will cost you. While in the long run, a new downhill mountain bike may prove a better investment, if you do opt for a used mountain bike, make sure you have the chance to inspect it carefully.
In addition to getting information about how it has been used (as you would with a car), you should also make sure that the cables are in good working condition, and there are no obvious cracks. Even better, have an expert take a look at it. Beyond trying to make a wise purchase, it's important your bike is in great working condition to ensure your safety.
Saddle/ Seat
With any bike, of course, you want to make sure that the seat is comfortable for you–everyone has different preferences, and of course, you want to go with a seat that is easy to adjust.
Look for saddles made from breathable, microfiber materials with rails made from durable materials, such as titanium or aluminum alloys. You'll have to decide based on personal preference whether you prefer a more firm or flexible seat, but a medium-firm is a nice way to go because it provides support and also flexibility.
Rear Shock
In a downhill mountain bike, look for a rear shock that is specifically designed to support full front suspension. If you can afford it, air-sprung shocks are considered more durable than coil sprung shocks, as they are less vulnerable to wear and tear and generally require less maintenance.
However, an especially heavy mountain bike may be more suited to the traditional coil shock. Rear shocks will also ensure a firmer grip.
Marketed as a downhill bike
By no means should you rely on marketing alone, but you should purchase a bike that is specifically labeled as a downhill mountain bike. That's because the overall geometry, suspension, and weight will more likely be optimized for downhill ventures. If the bike is not labeled as a downhill bike, look for something else, because it may not have the features you need.
Angles and Dimensions
The overall structure of a downhill bike is especially important, because you need to be able to exert control, maneuver, and still have your bike absorb shock as you naivete steep declines and jumps. A good head angle should be around sixty-five to sixty-seven degrees. Here are some other dimensions to keep in mind :
Seat Angle: low to mid-seventies
Wheel Base: Around forty-five to fifty inches is a good start
Chain Length: Shoot for a chain longer than sixteen inches; sixteen inches is normal for a regular mountain bike, but longer chain lengths can provide greater stability for downhill ventures.
Chains
Downhill mountain bike chains absorb a great deal of pressure for the rugged terrain and sometimes high speeds. Chains should make for a smooth ride, have little noise, and are constructed from strong durable material. Stretch proof, alloy materials, double chains, and mushroomed pins are all pluses. And of course, you'll want to ask what speeds the chains are compatible with.
Tire Treads
Tire treads can be fairly overwhelming, so it's important not to get too caught up in different tread types, especially if this is your first time trying out mountain biking. In general, however, the tread can make a difference in your overall riding experience.
Downhill tire treads should be a bit heavier and textured than other tire trends, able to deal with both muddy terrain and also maneuver through difficult spaces. Some features to look for include. For more speed, look for smaller and less spaced tread, but if you want more control handling much, larger tread with more spacing is the better bet. Ramped treads help lower resistance while side tread will provide extra grip.
Depending on what you want in terms of speed and grip, you may look for a combination. Finally, also look for puncture resistance. Puncture resistant tires tend to be a bit heavier and include additional casing around the rubber wheels.
Our Recommendations for the Best Downhill Mountain Bikes
Still not sure which downhill mountain bike would be good for you? Here are some options we recommend considering:
GT Fury Pro Bike is designed and constructed especially for the bikers who prefer rough and adrenaline-boosting downhill rides. Its body is made of a combination of carbon fiber (front) and aluminum (back triangle) with Boost 12×148 Thru Axle, 225x75mm Trunnion Shock Mount, molded downtube protection, and integrated fork bumpers. 
This bike is fully customizable, so it is an ideal choice for those who know exactly what they want. You can choose between 27.5" and 29" wheel sizes, and there are also various headset cups and swap kits for further adjustment of the bike's size and proportions. Moreover, there is a flip-chip technology that allows you to change the basic geometry too. 
Additionally, GT Fury comes with a widely acclaimed Linkage Tuned Suspension (LTS), SRAM Code R hydro disc brakes, and many other great features. For more details and the current price of this downhill mountain bike click here. 
GT Fury Pro | Jenson USA
The GT Fury is a downhill slayer, packing 200mm of travel in the front and rear. From the frame geometry to the components, the GT Fury was built for gnarly trails that point downwards.
Check Price
We earn a commission if you click this link and make a purchase at no additional cost to you.
Rocky Mountain Slayer Carbon Bike is a special bike for special cyclists – according to the manufacturer, it is made particularly for those who want to ride fast, deep, and always stay in control. Slayer has been an inherent part of the Rocky Mountain bikes portfolio since 2001. Its newest version (2020) is reportedly even more aggressive and versatile than all of its predecessors.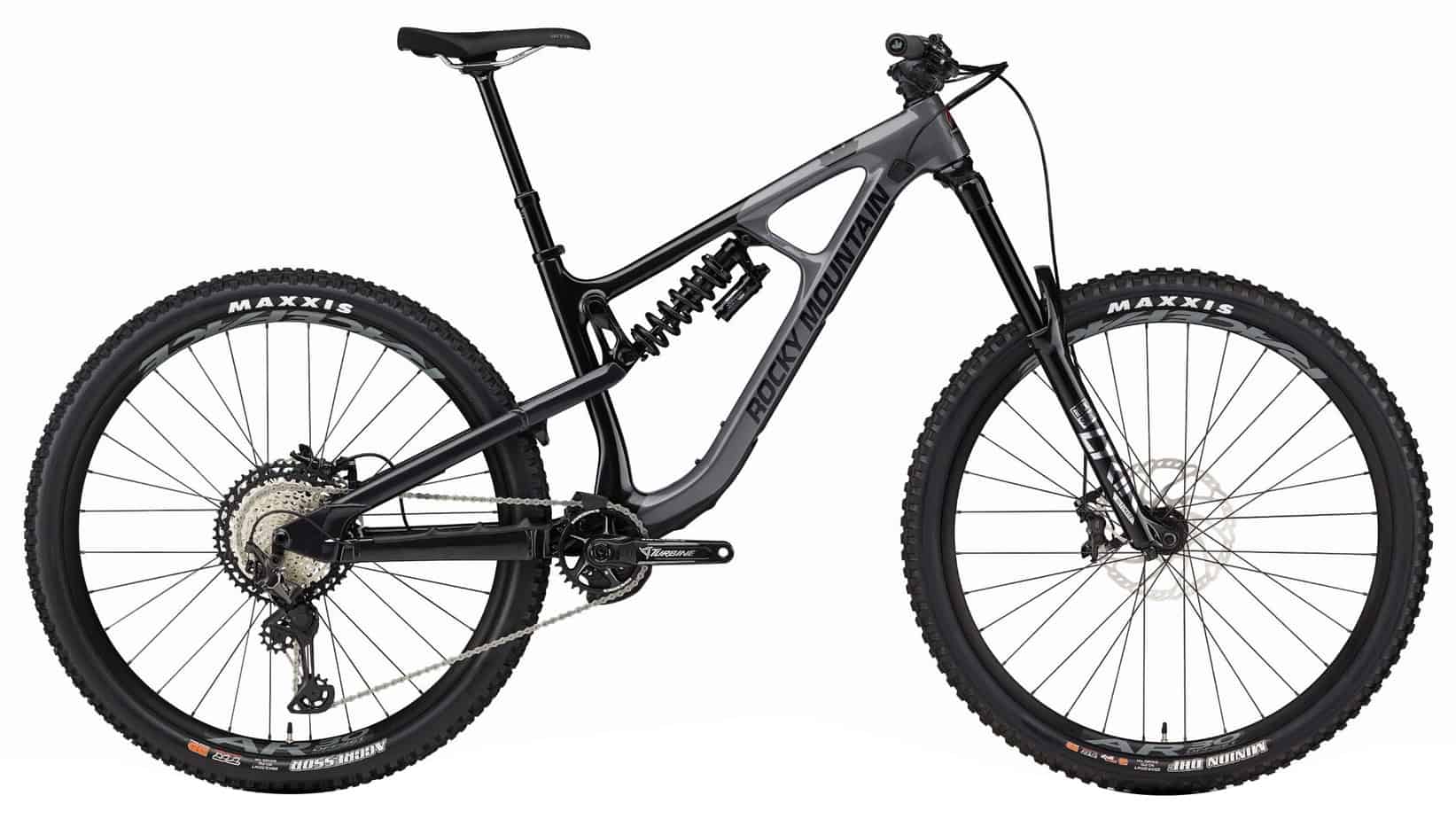 This bike comes with the optional 29" (accompanied by 170mm front and rear travel) and 27.5" wheels (that has 180mm travel at both ends). The frame consists of a Smoothwall carbon front triangle and a FORM alloy rear triangle. The bike's ability to adapt to any terrain is emphasized by its tubeless-ready rims and tires that should provide you with great traction, a smoother downhill ride, and minimized risk of flats.
When it comes to technical components, Rocky Mountain Slayer boasts a full range of top-quality Shimano parts including the strong and reliable Shimano XT Trail 4-Piston disc brakes, Shimano XT 1×12-speed drivetrain, and Shimano HG8100 chain. Detailed specifications and the actual price of this bike can be found here.   
Rocky Mountain Slayer | Jenson USA
Whether you're smashing through the roughest trails imaginable or scrubbing lips in the park, the Slayer is built for those who charge. This bike is meant for riding fast and sending it deep.
Buy Now
We earn a commission if you click this link and make a purchase at no additional cost to you.
Are you looking for a truly unique downhill mountain bike? YETI SB165 T1 is a self-confident all-terrain enduro bicycle designed for those who are not afraid to stand out from the crowd. This recently redesigned robust, long, and extremely sturdy mountain bike is equipped with 27.5" wheels, 63.5° head angle, 165mm travel, and 480mm reach size. The frame is made of carbon with a Cane Creek 40 Inset headset and WTB Custom Volt saddle. 
Although some users might argue that small wheels in combination with long travel are not ideal for modern downhill trails, in practice, everything about this bike seems to be in perfect balance and harmony. The bike is very fast yet steady, it is great at absorbing bumps on all types of terrain, and it also looks fabulous – especially in bright turquoise. 
YETI SB165 T1 sports Maxxis tires with EXO+ sidewalls for a perfect grip, efficient coil-sprung rear shock, responsive and sensible Fox Factory suspension, and a Switch Infinity suspension platform. Moreover, it also comes with Yeti's lifetime warranty. Click here for the latest price and more details on this mighty bicycle.
Yeti SB165 Turq | Jenson USA
The SB165 is made to clear big gaps and descend burly technical trails. Not many bikes boast a playful nature, have enough travel to tackle any world cup course, and retain the ability to make it up every climb, but the SB165 checks all the boxes.
Check Price
We earn a commission if you click this link and make a purchase at no additional cost to you.
Find here some Reviews and Comparisons you might need:
FAQs About Downhill Mountain Bikes
Is downhill mountain biking dangerous?
Yes, without proper equipment mountain biking can be really dangerous, so always make sure you are well eqipped for such a ride.
Can you use a downhill bike for trails?
Not everyone can afford to purchase two expensive bikes for different rides, so yes, you can use your downhill bike like Enduro for cross country, although the ride will be a bit difficult because the bike is heavier, which means you will need to put more effort riding uphill.
Can you use a hardtail for downhill?
Yes, sure. You can use a hardtail bike for downhill rides, however, do know that which this type of MTB you will feel every bump you hit in the back, so you need to carefully plan your trail.