Our Maxxis Ardent EXO TR review is going to give you all the information you need about this mountain bike tire.
Maxxis is one of the most well-known brands of tires for mountain bikes, motorcycles, cars, and much more.
In our review of the Ardent EXO TR tire, we'll go over the core features of this model, how it performs as well as its pros and cons. We'll also look into any alternative mountain bike tires that are on the market.
First, let's dive into the key specifications of the Maxxis Ardent EXO TR.
Find the main specifications for the Maxxis Ardent EXO TR below.
| | |
| --- | --- |
| Tire type | Cross Country, Trail |
| Tire size | 26", 27.5" and 29" |
| Tire weight | 695g to 895g depending on size |
| Tubeless compatibility | Tubeless ready |
| TPI | 60 TPI |
| Latest price | Click here for the latest price |
Core features of Maxxis Ardent EXO TR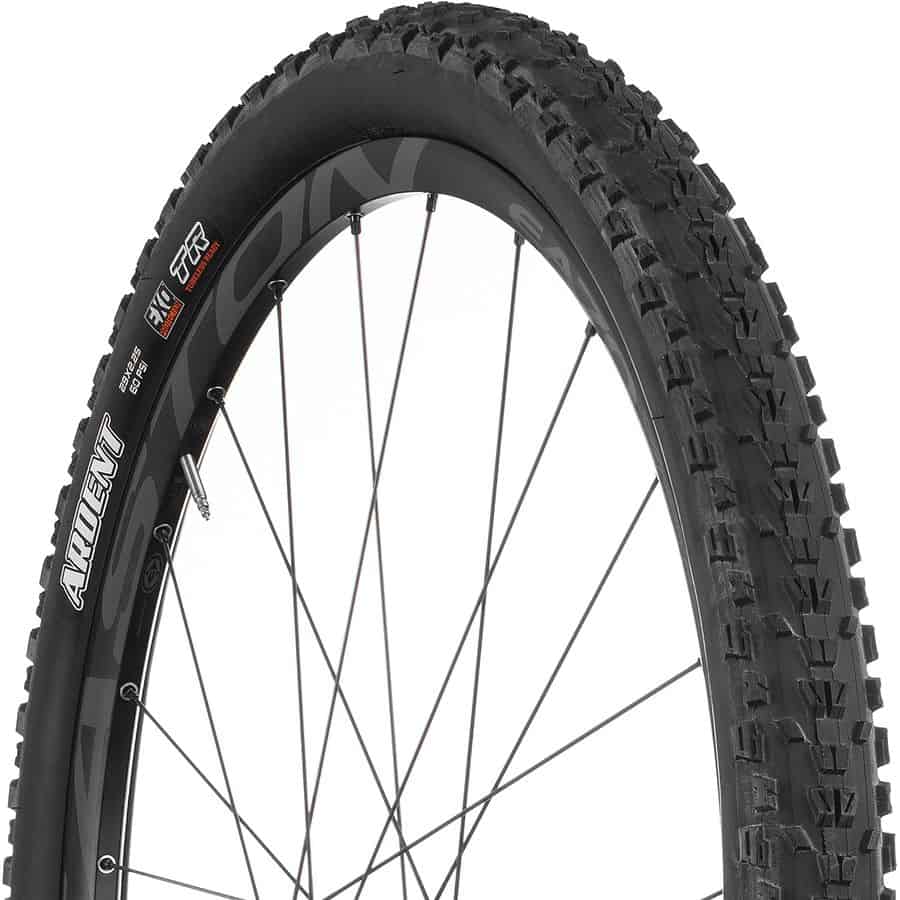 The Maxxis Ardent EXO TR is one of the most popular mountain bike tires. Many people use them on their bikes in arduous conditions. Let's explore the core features that the Ardent EXO TR offer.
Durability
For cross country and trail riding, durability is key along with control. As you will be riding on the pretty hard and tough wearing ground, your tires need to be able to hold out.
The Maxxis Ardent EXO TR is a very durable tire. Its construction means that it has been designed for mountain bike riding and cross country and trails specifically. This gives it good longevity.
You shouldn't need to change these tires every often even when using them on hard and tough ground. They do use a folding bead design. This will impact slightly on durability (wire beads tend to be more durable) but this tire should last over hard trails and terrain.
Control
Another core feature of the Ardent EXO TR is the fact that it provides a high level of control. Compared to many other mountain bike tires, the Ardent EXO TR performs very well in gripping whatever surface you are on.
They offer a really good grip on both dry and wet conditions. On rocky trails and uneven surfaces, these tires are built to offer a high amount of traction. The strong sidewall also helps with overall control as well as adding to the durability of the Ardent EXO TR.
Tubeless Ready
The Maxxis Ardent EXO TR tire can be used as a tubeless tire on your mountain bike as they come tubeless ready.
This provides several benefits. One being that the susceptibility of punctures when out on country trails is vastly reduced. Another benefit is that you can run these tires at a lower pressure which can aid with better grip and control. Tubeless tires are also usually a bit lighter than non-tubeless models.
It can add a slight complication to the installation if you aren't experienced with fitting tubeless tires on your mountain bike. That being said, many cross country and trail riders now opt for tubeless designs.
Speed

One thing you should notice when using the Maxxis Ardent EXO TR tires is a boost in speed.
They are designed so that they not only offer increased speed but this doesn't necessarily come at the expense of traction and control. They aren't the lightest tires you'll find for a cross country mountain bike, but they certainly aren't the heaviest.
Momentum is maintained with the Maxxis Ardent EXO TR tires too so you can retain speeds as you push along tough and challenging trails.
Braking
The ramped centre blocks on the EXO TR helped to provide great braking performance.
This helps to offer low rolling resistance too. Braking on your mountain bike with the EXO TR tires is very responsive. They grip onto surfaces really well. Cornering traction is improved as well with the squared off knobs.
Loose ground is also going to be challenging to brake consistently and effectively on and the Ardent EXO TR tires do an excellent job with their stopping power.
Installation
As we mentioned above, tubeless tires can be a bit trickier to install. It might be an area you'll find somewhat difficult if you haven't done this before.
That being said, the installation of the Maxxis Ardent EXO TR tires isn't as difficult as it might seem. They fit onto compatible wheels fairly easily. There is a bit of extra work involved but not massively so. As a side point, the aesthetics of these tires are really nice too so they'll look good once you get them onto your mountain bike.
How does Maxxis Ardent EXO TR tires perform?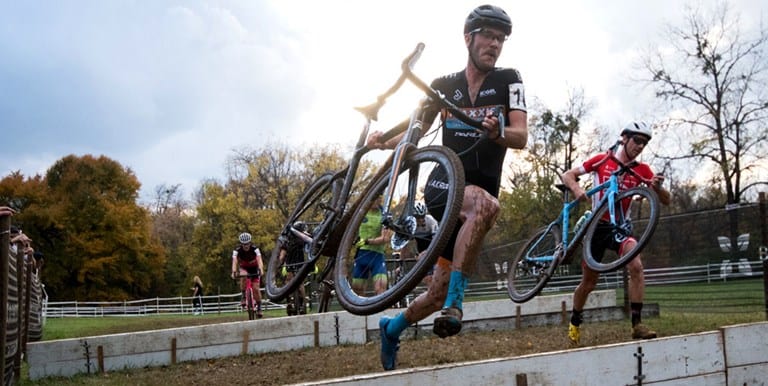 What we have found with the Maxxis Ardent EXO TR tires is that they perform to a very high standard even on rough and ready terrain.
We found that they produce a really good speed and they keep their momentum too. Sometimes with mountain bike tires, speed can come at the sacrifice of control. That isn't the case with these tires.
The Ardent EXO TR's grip and handle a variety of cross country terrain really well. Even in wet conditions, we felt that they performed admirably.
Some loss of control on loose terrain but that is fairly commonplace with most tires. Comfort levels are great with these too. You don't notice the impacts and bumps with these tires on as you do with many others especially stock tires.
Overall they perform great. They not only offer speed in conjunction with traction and control but they absorb shocks and make for a comfortable ride.
Pros of Maxxis Ardent EXO TR
The Maxxis Ardent EXO TR is a high performing mountain bike tire designer for cross country trails. There is a lot to like about it. We've pulled out the best bits.
They are durable
This is really key if you are looking for new mountain bike tires. Due to the rocky, rough and uneven surfaces you bike on, your tires need to be able to withstand this terrain. The Ardent EXO TR tires are very durable. Even though they don't have a wire bead, they will still last.
They offer great traction and control
These tires will grip well to pretty much any surface and their design provides good traction. This makes them ideal for cross country and general mountain bike riding. In fact, the versatility with these tires isn't talked about enough and they are suitable in various scenarios.
Comfort and speed
The Ardent EXO TR tires are very comfortable when in use. You will notice a difference from stock mountain bike tires in that you won't feel bumps and impacts as readily. They pick up good speeds and even though these tires aren't the lightest, it doesn't massively impact how quick they are.
Available in different sizes
These mountain bike tires are available in different sizes so you'll find a set that is compatible with your wheels. They can be found in 26", 27.5", and 29. This gives them good versatility and coupled with their construction, means they are ideal for a variety of bikes and riding conditions.
Cons of Maxxis Ardent EXO TR
Even though we do really like the Maxxis Ardent EXO TR tires, there are some things to be made aware of.
They are a bit heavy
What you'll find with the Maxxis Ardent EXO TR tires is that they do carry a bit of weight. Depending on what size you go for, the weight varies from 695g to 895g. You'll find heavier tires on the market however the weight of the EXO Tr's isn't for everyone. If you want a lighter mountain bike tire you might want to look elsewhere.
Don't cope with mud very well
This can really be said for a lot of mountain bike tires. Mud poses a lot of problems when mountain biking and the nature of the terrain means you'll encounter it more often than not. These tires can get clogged up quite easily which hampers their performance and will cause you to slip and slide.
Are there any alternatives?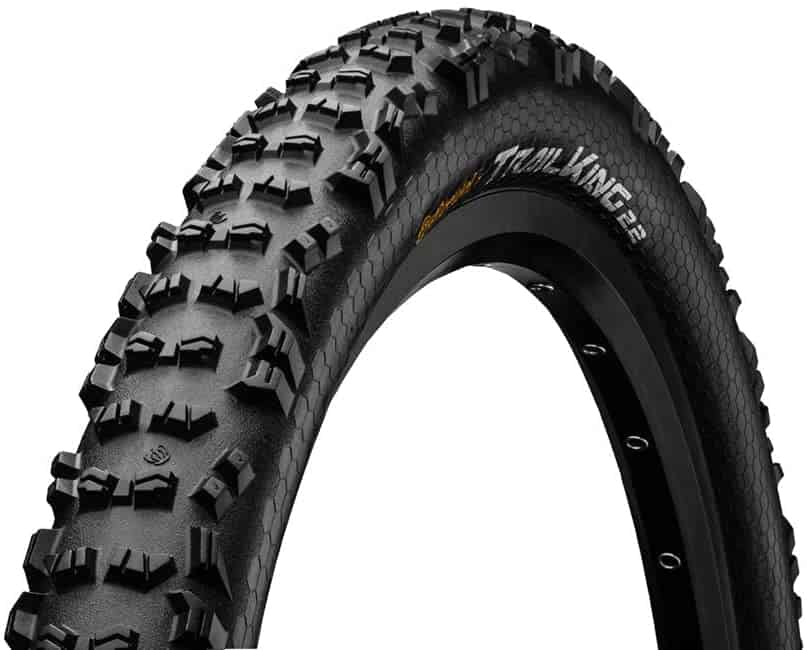 The Continental Mountain Bike ProTection Tire is another tire that is ideal for mountain biking. It is a tubeless tire so it offers great protection against punctures.
The Black Chili Compound provides excellent grip on a wide variety of different terrain and this can be up to 30% more grip than some other tires. Rolling resistance is also very good with this tire from Continental.
For what you get with this tire it is very reasonably priced too. It isn't the cheapest mountain bike tire you'll find but the extra money you pay out does offer quality.
With great control, a tubeless construction, and durability with a sturdy sidewall, it is a suitable tire to handle the challenge of cross country trails.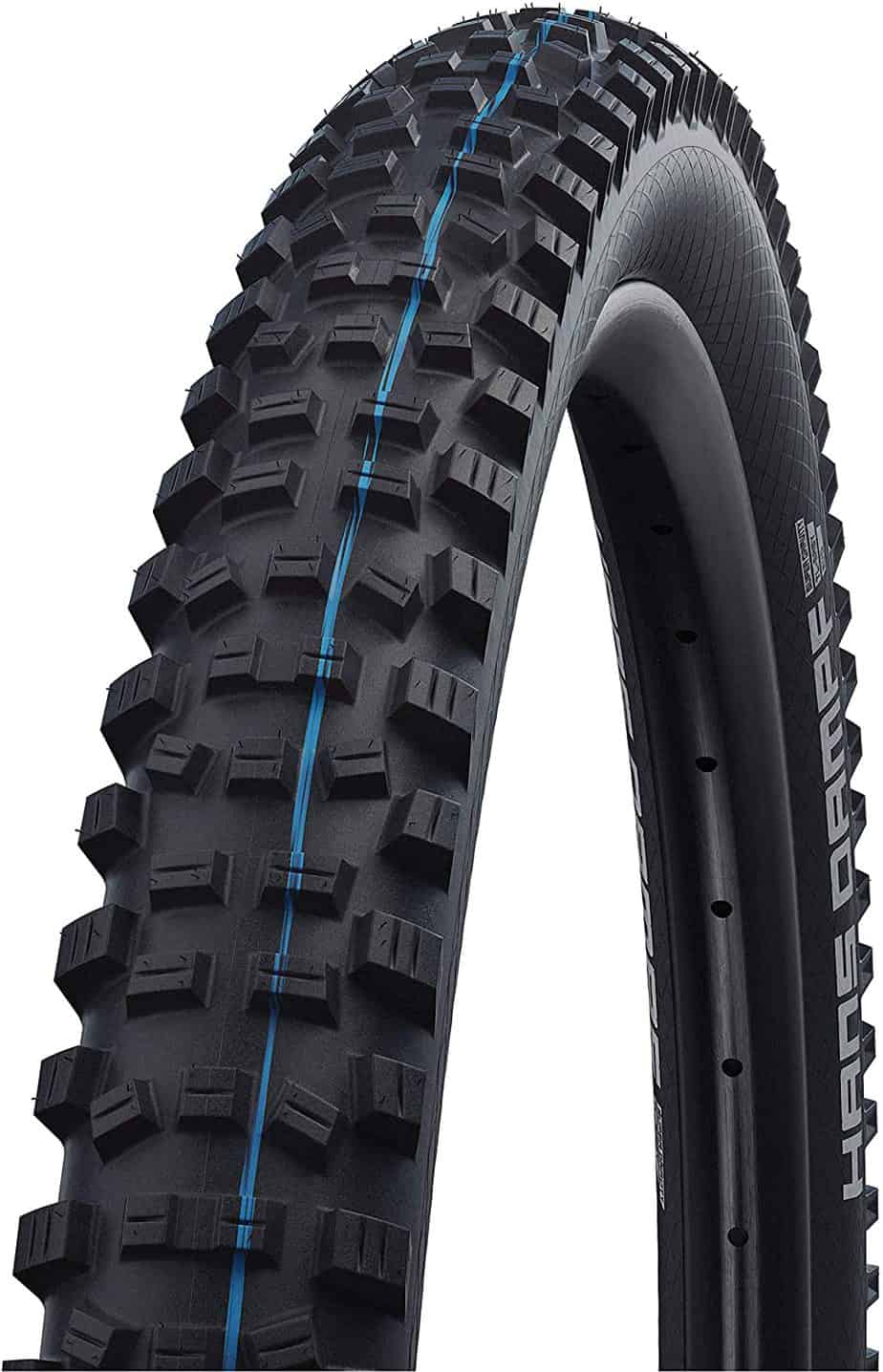 This tire is a bit more expensive however, it is well equipped to handle tough trails and terrain.
The SCHWALBE Hans Dampf Addix Evo Folding Mountain Bike Tire provides a high level of durability and stability. Control and traction are great when riding with these tires on your bike and it offers low rolling resistance too.
The semi-open blocks mean that it should handle mud fairly well. It can be used as a tubeless tire to help prevent punctures however you can also run it with tubes if you wish.
For the cost, you are getting a very good mountain bike tire. There are various sizes available and if you want something that will be able to handle different forms of mountain biking, you can't go wrong with this offering from Schwalbe.
FAQs
Final thoughts
The Maxxis Ardent EXO TR tires provide a consistent all-round experience albeit with some flaws.. There is a lot more to like than not to like about the Maxxis Ardent EXO TR tires.
While they are a bit heavy and that can put some people off, they won't drastically weigh you down. Mud can be a tricky surface to use these tires on as they are prone to slips and slides and if you aren't experienced in fitting tubeless tires, this can pose a slight problem too.
All that being said, we really like how these tires perform.
They have very good durability so even challenging trails and cross country riding shouldn't cause you to change these tires too often. The tubeless design will help in avoiding punctures. They also offer great control and traction on both wet and dry surfaces. Even on loose terrain, they handle very well indeed.
They might be a bit heavy but it doesn't appear to impact much on the speeds you can reach with these tires. One of the upsides is that they are pretty affordable. It will depend on the size as to what they'll cost however the cost of two Maxxis Ardent EXO TR tires isn't going to break the bank.
Considering the performance you get especially on cross country trails, you can see why the Ardent EXO TR tires are a very popular choice amongst many mountain bikers.