Latest posts by Kieran Cunningham
(see all)
Since its founding in 1994, Santa Cruz has blessed mountain bike enthusiasts with a great many high-performing, stylish, and incredibly well-made rides, from long-travel downhill rigs to XC endurance hardtails and some of the most badass trail bikes the market has ever seen.
Below, we take a look at one of Santa Cruz's two current hardtail offerings—the Santa Cruz Chameleon—to see if all those riders we've seen whizzing by on one are onto something we ought to know about.
The Chameleon has been part of the SC range since the brand was founded and its latest iteration boasts the kind of specs and has received the kind of gushing reviews that have had us casting a covetous eye in its direction whenever we've seen one. As such, we thought it high time we put it to the test ourselves with our very own Santa Cruz Chameleon Review.
Before we get down to that, however, let's first take a look at some of the most important features and design components you should be considering when buying a mountain bike for your two-wheeled adventures.
Santa Cruz Bicycles Chameleon 27.5+ S Mountain Bike | Backcountry.com
This particular Chameleon 27.5+ S Complete Mountain Bike carries all of these updates, just with fresh color schemes for 2019, making it an absolute blast to rail around corners, plunge into steep descents, and even pedal a few laps around the local bike park.
Check Price
We earn a commission if you click this link and make a purchase at no additional cost to you.
How to Choose a Mountain Bike
Mountain Bike Key Features
The most important features to consider when buying your mountain bike are frame materials, suspension, wheel size, gearing, and brakes.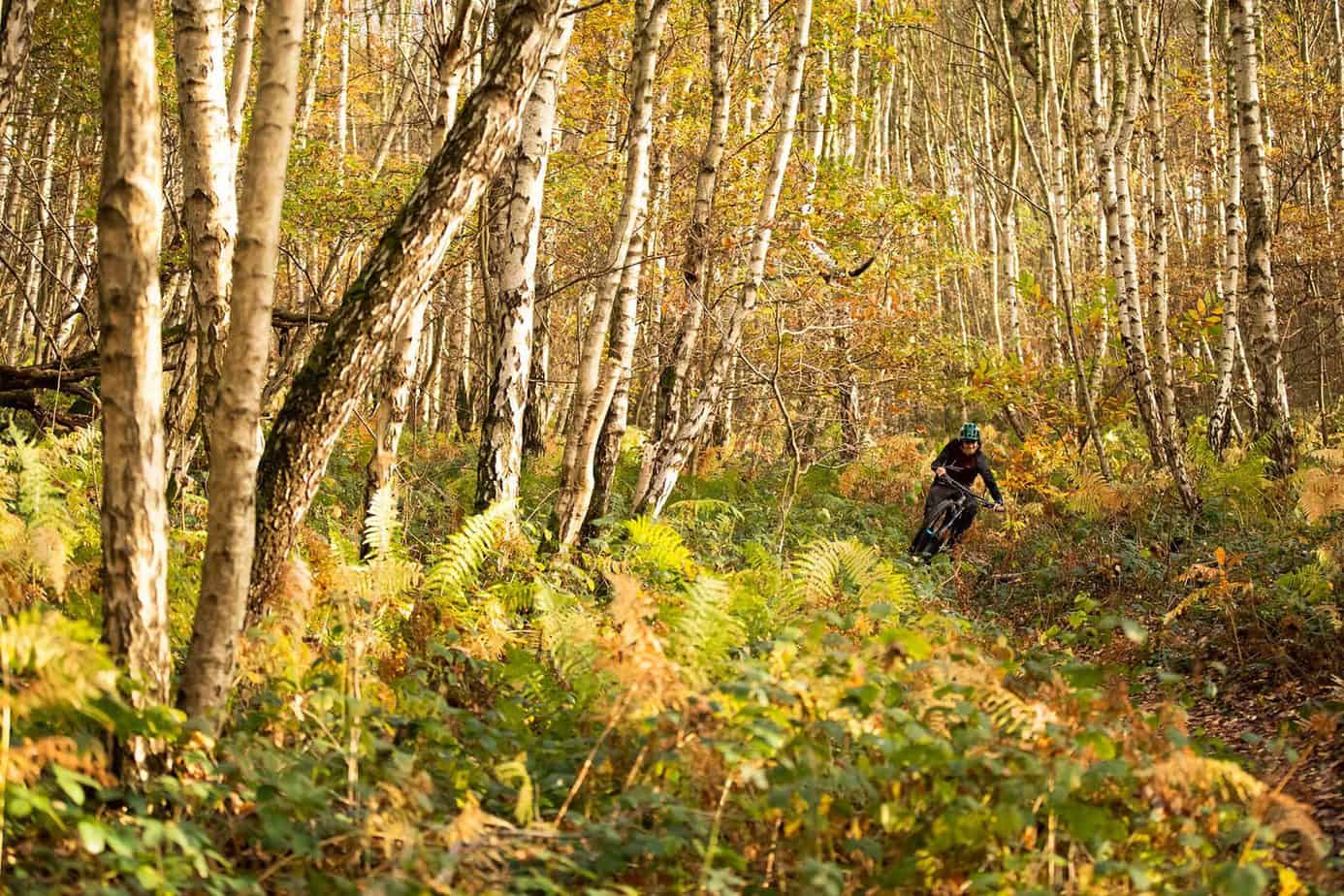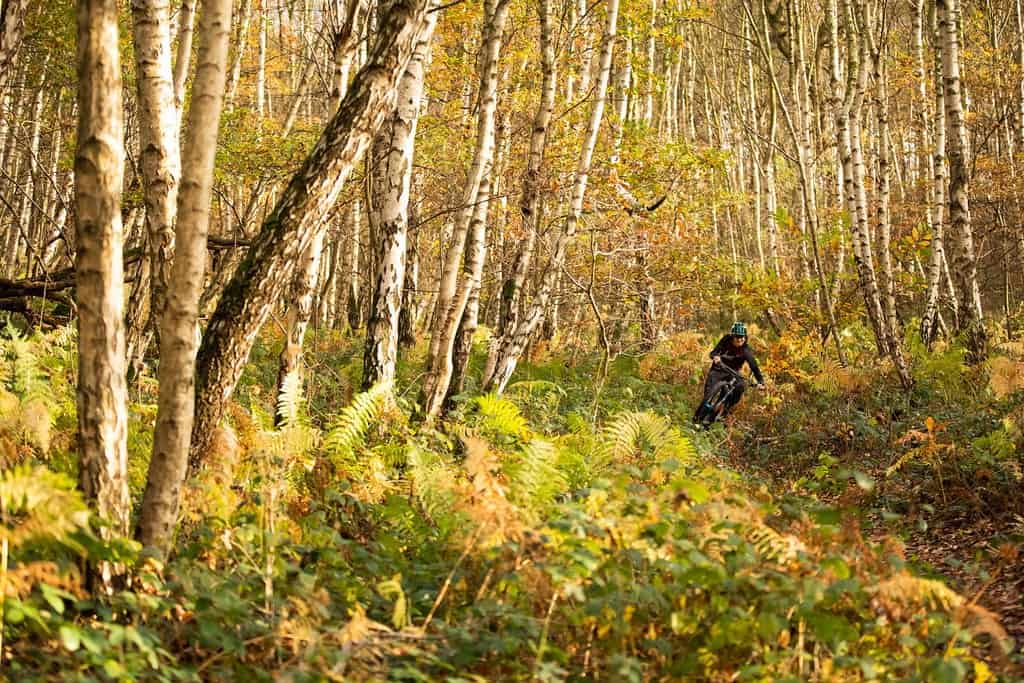 Frame Materials
A mountain bike's frame is the biggest contributor to the bike's overall weight, strength, longevity, ride quality, and—most importantly, perhaps—price.
The most popular frame material is an aluminum alloy, though some models also use steel, titanium, and carbon fibre.
Aluminum alloy is found in a wide variety of mountain bike types, ranging from cheaper models found in department stores to top-end XC and trail bikes, with the latter using lighter varieties of the material and specialized tubing designs in an effort to keep the frame as light as possible.
Aluminum is the second lightest and second stiffest mountain bike material after carbon fibre. Its versatility means that it is used in several frame types, from extremely agile XC to tough, highly resilient DH frames where strength and durability are essential. Generally speaking, aluminum frames offer the best price-to-performance ratio and, as such, are a great option for recreational riders looking for a lightweight frame without breaking the bank, thereby leaving you more $ to put towards higher-performing components.
Steel frames are tough, offer excellent longevity, and are cheaper than most other materials, but in most cases weigh considerably more than aluminum alloy, carbon fibre, or titanium alternatives.
The two main types of steel frame used on mountain bikes are hi-tensile and Chromoly.
Hi-tensile is low carbon steel that is inexpensive and used, most commonly, in very basic trail bikes. Chromoly is made with a combination of chromium and molybdenum alloys and is usually used in more advanced steel mountain bike frames. While heavy, Chromoly frames typically offer a smooth ride, reliability, longevity, strength, stiffness, and good value for money. If you prioritize durability overweight, in short, then a steel frame is well worth considering.
Titanium frames, as you might imagine, are incredibly light and strong, but also tend to cost a small fortune and are usually overkill for sporadic riders, novices, or those not especially keen on eeking every last gram of performance out of their frame and have the healthy bank balance required to match their aspirations.
Titanium is the rarest of mountain bike frame materials and is used by only a few frame manufacturers, mainly in the XC and light trail category. It's an incredibly light material (about half the weight of steel) and excels in vibration dampening, thereby providing a very smooth, forgiving ride on bumpy terrain. On the downside, titanium frames are prone to failure, are a touch too flimsy for some activity types, and costs a small-to-medium-sized fortune.
Carbon fibre frames are commonly used in a wide variety of mountain bikes, including cross-country bikes, fat bikes, and high-end trail bikes, and all-mountain bikes. Carbon Fiber is not a metal but a composite that is made with fibres bonded together with an epoxy. It's a very lightweight and strong material but typically far pricier than aluminum alloy and steel.
Research the frames used by the racers at the XC and DH World Cups and the chances are everyone will be using carbon fibre. Why? Simply put, these are the lightest and strongest frames available. But they're not without their downsides…
Unlike steel, titanium, or aluminum alloy, when a carbon fibre frame breaks it really breaks, with its lack of elongation and natural stretch meaning that what might have been a ding, dent, or bend on another frame will be a race or riding-ending break with carbon fibre. Oh, it's also kinda pricey, with most frames falling between titanium and top-end aluminum alloy models on the price scale…
Suspension
The type of suspension used on your mountain bike, together with wheel diameter, is the most significant factor in determining the terrain type to which the bike is best suited. A variety of suspension options are available:
Rigid Suspension: These bikes use no suspension and are something of a rarity in all categories of mountain biking with the exception of fat biking, where most riders, but not all, find that the girth and depth of the tires provide enough shock absorption to do without frame/fork suspension. The main benefits of this style of bike are that they are very easy to maintain and usually a lot cheaper than bikes with suspension.
Hardtail Suspension: These bikes use a suspension fork at the front of the bike to absorb bumps and bangs on the front wheel, but no suspension in the rear (i.e. "tail") of the bike. This style of bike is typically cheaper than models with full suspension, easier to maintain, and usually has a locking feature that allows you to ride with a fully rigid configuration when necessary.
Hardtail bikes are popular with cross-country riders and some all-mountain riders because owing to the lack of rear suspension, they provide for more direct power transfer between the pedal and the rear wheel, which is particularly important on ascents.
Full suspension: Full suspension bikes use suspension both in the front fork and the rear of the bike. This style of suspension not only soaks up shock and reduces the impact of bumps on the rider, but also increases traction, thereby making for a smoother, more controlled, and more forgiving ride.
The downsides to full-suspension mountain bikes are that they can reduce energy transfer, particularly when riding uphill and they cost more than both hardtail and rigid suspension types.
Wheel Size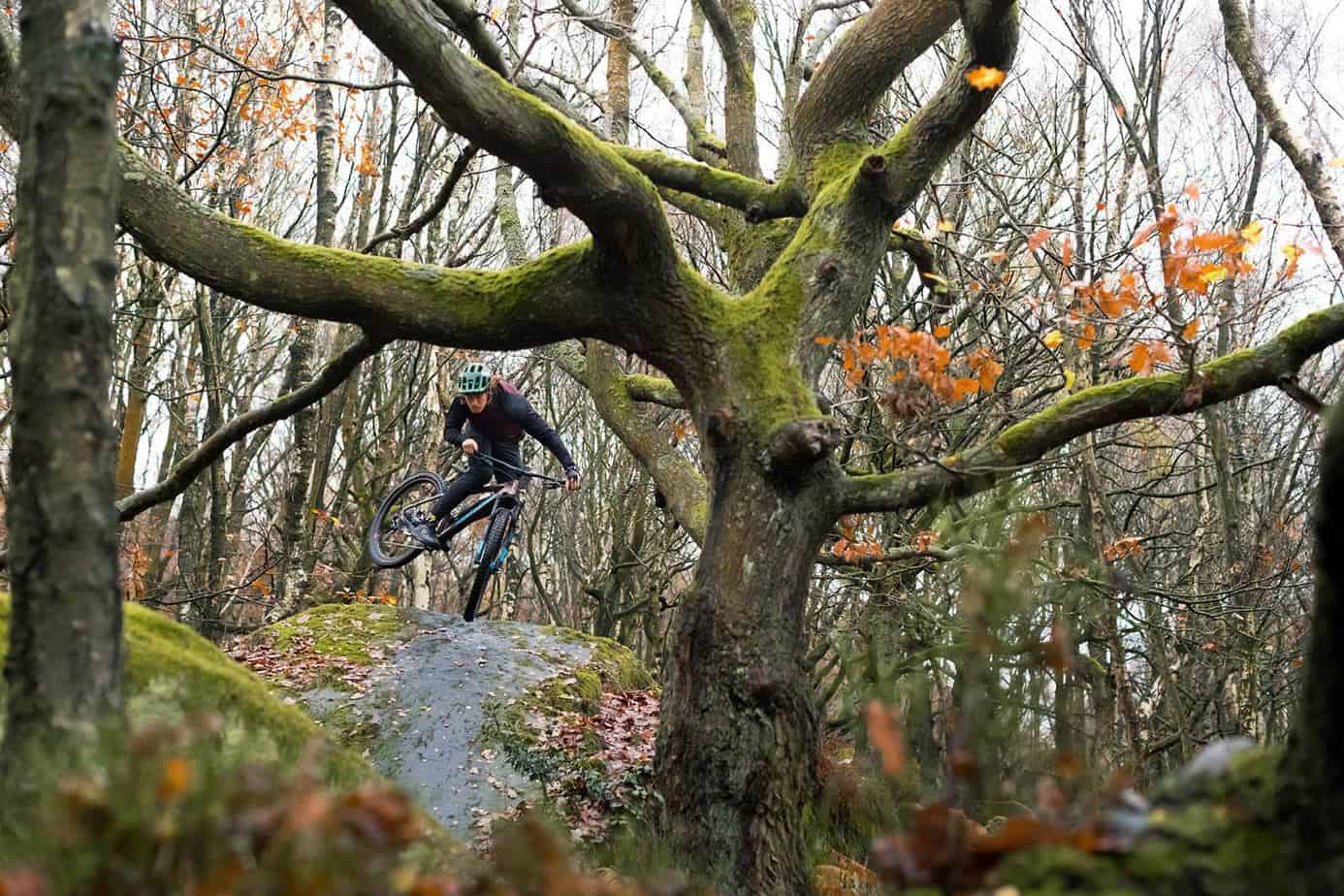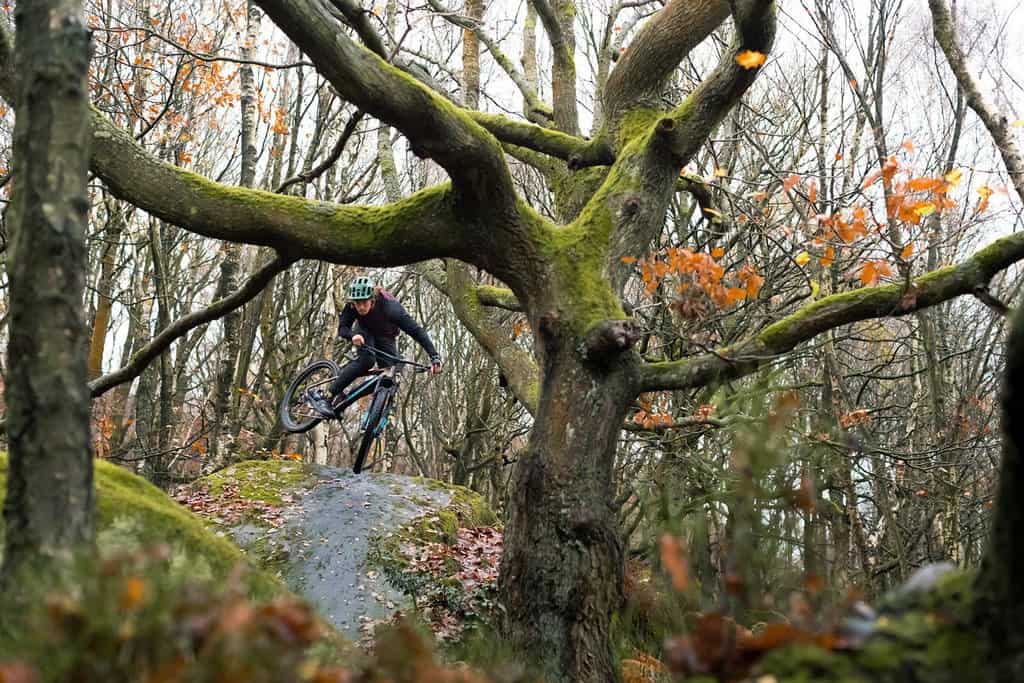 24 inches: This wheel size is typically used on kids' mountain bikes and is generally suited to users aged 9 to 14.
26 inches: Until a few years ago, 26-inch wheels were the standard on all types of a mountain bike. These days, 26-inch wheels compete with 27.5-inch wheels and 29ers, both of which offer a better roll, but are still a good option for those who prioritize easy manoeuvrability.
27.5 inches: This wheel size offers a happy medium between the superior role of 29ers and the agility and manoeuvrability of 26ers.
29ers: This wheel size offers far greater efficiency on long-distance rides, rolling over bumps and obstacles with far greater ease and maintaining momentum better than smaller wheels. As such, 29ers are a great choice for cross-country riders who plan on putting in some serious mileage. On the downside, 29ers are a touch trickier to manoeuvre, slower to accelerate, and can feel clumsy to riders used to either 26 or 27.5-inch wheels.
Gearing
Mountain bikes can be bought with various gear configurations, ranging from single-speed models to models with upwards of thirty gears. Simply put, the number of gears any bike has is determined by the number of front chainrings multiplied by the number of sprockets on the cassette.
When choosing your mountain bike, and the number of gears you wish to have, the most important factors to take into consideration the type of terrain you envision riding in and your fitness levels.
For those who plan on riding in hillier terrain, then we'd highly recommend opting for a bike with a higher number of gears (eighteen plus). If you foresee riding only in flatter terrain, then you can get away with buying a bike that has fewer gears.
While it might seem a no-brainer to buy a bike with more gears just in case you happen to hit the odd hill or mix up your cycling routes, many riders opt for bikes with fewer gears because doing so helps to keep the weight of their bike to a minimum.
Gearing on mountain bikes comes in various configurations. In days gone by, mountain bikes used two or three chainrings and a cassette with six or seven sprockets. These days, however, bikes with a single chainring and a cassette with up to 11 cogs are becoming increasingly common, mainly owing to the fact that single-chainring models are lighter and easier to use, requiring only one shifter to shuffle through the gears on the cassette.
Brands SRAM and Shimano have something of a monopoly over the market of mountain bike gearing or derailleurs.
Both brands offer derailleurs suitable for all types of rider, from novices to competitive bikers. The Shimano Tourney and Altus M2000, for example, are often found on budget models of bike designed for general use and are an affordable option for non-competitive riders, whereas the Saint and XTR group are designed for high-level bikers and pros.
SRAM's X5 group is its entry-level answer to Shimano's Tourney and its top-end GX and SX Eagle offer competition to Shimano's Saint and XTR groups.
The best type of gearing for your needs often comes down to personal preference, and before buying we'd highly recommend taking the bike out on a test ride to get a feel for the gearing, particularly if you plan on buying at the higher end of the price scale.
The brakes used on your bike will determine several important factors related to your bike's overall performance and suitability for your needs, most notably control and handling.
These days, all but the most basic, budget models of mountain bike use hydraulic disc brakes instead of padded mechanical brakes.
Mountain bike disc brakes use a steel rotor, a rotor calliper with brake pads, a brake lever, and are filled with hydraulic fluid. The main benefits of hydraulic disc brakes are that they offer stronger braking with less effort. They are also more reliable, provide for faster braking, and offer greater control over the degree of braking force applied.
The only real downsides to hydraulic braking systems are their cost and the difficulty of installation and maintenance. Unlike mechanical brakes, most hydraulic systems must be installed by experts and checked regularly.
Mechanical brakes are usually a much cheaper option and easier to maintain or replace, but are also heavier and offer less precise braking control.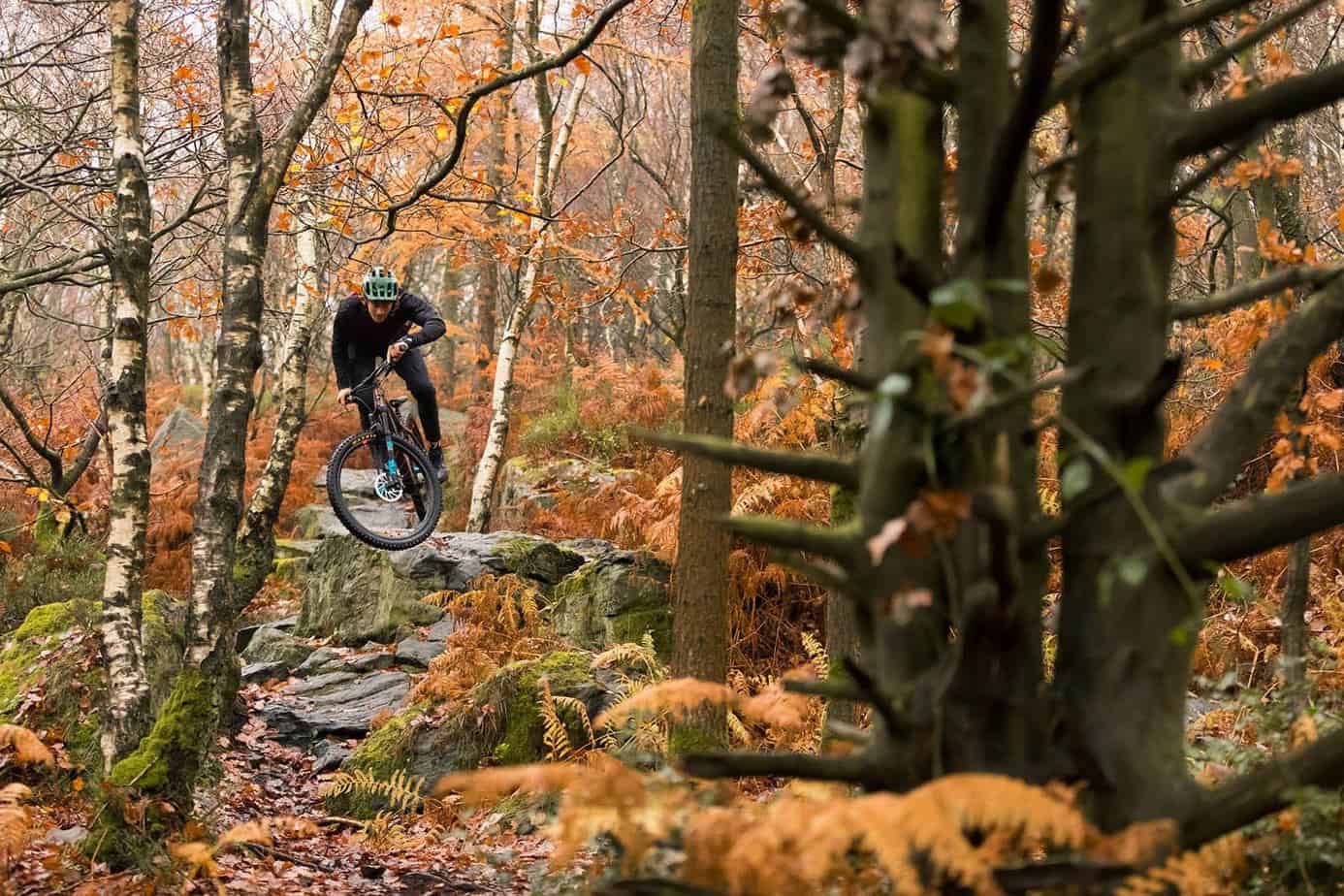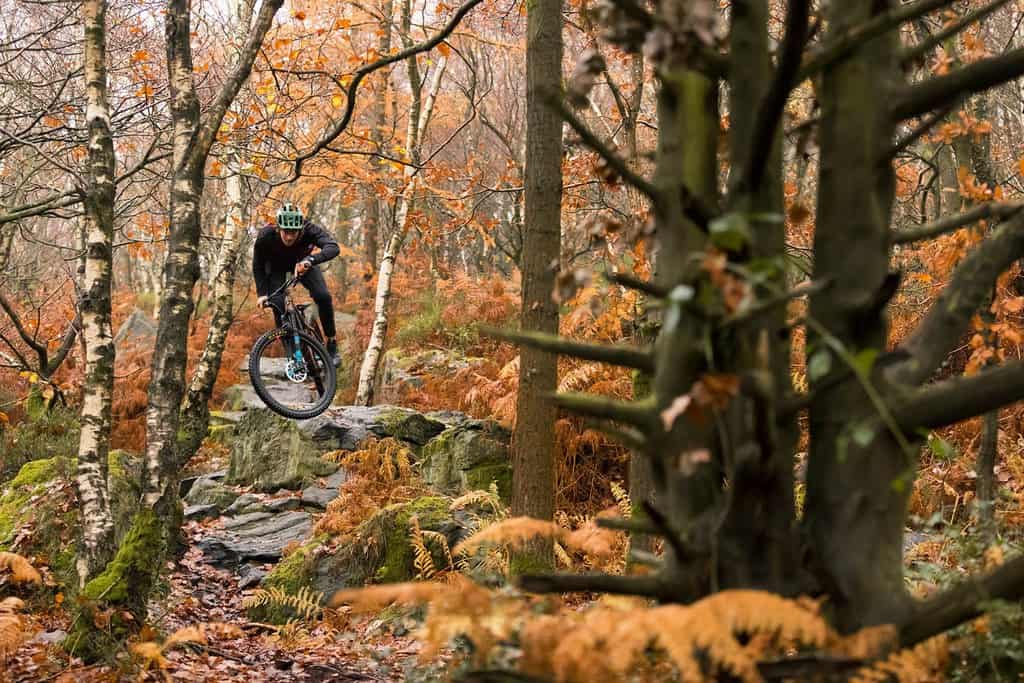 Fit/Sizing
Let's get straight to the point: getting a mountain bike that is the right fit and size for your height and riding style is of the essence if you want to get the best out of the bike and enjoy your rides.
Because there's no standardized regulation of bike sizing, do not rely on manufacturer-given sizes when buying your bike but hunt down the particular measurements in the product specs or get into a store to have the bike fitted. What you should be looking for are the bike's measurements for the reach (the distance between the saddle and the bars) and stack (the vertical distance, in centimetres, from the centre of the frame's bottom bracket/crank to the top middle point of the head tube).
If you know the stack and reach the requirement of your riding position—done with the help of a bike fitter and a sizing cycle that will provide the accurate measurements—you can then research new bikes referring to the stack and reach dimensions on a frame sizing chart to find out whether or not the bike will be a good fit before purchasing.
If you happen to be between sizes, we'd always recommend opting for the smaller of the two models as it's easier to make the necessary adjustments on a bike that's slightly too small than on one that's slightly too big.
Finally, if you're in any doubt whatsoever, do the sensible thing and take the bike out for a test ride or try out a bike with identical measurements to make sure you won't be buying something you can't use.
This refers to the degree of movement in the bike's front and rear suspension. Most trail bikes have up to 140mm of suspension travel, whereas XC bikes normally have a max ST in the region of 120mm and Enduro and All-mountain models can have STs well upward of 150mm to deal with technical, hardcore terrain in which the rider can expect to encounter serious impacts.
This refers to the angle that the head tube forms with the ground. In short, the steeper the head-tube angle, the better a bike will climb and the faster it will turn (ideal for trail and XC riding). Bikes with a "slacker" (lower) head-tube angle usually offer superior stability at high speeds (ideal for DH) but don't climb as effectively.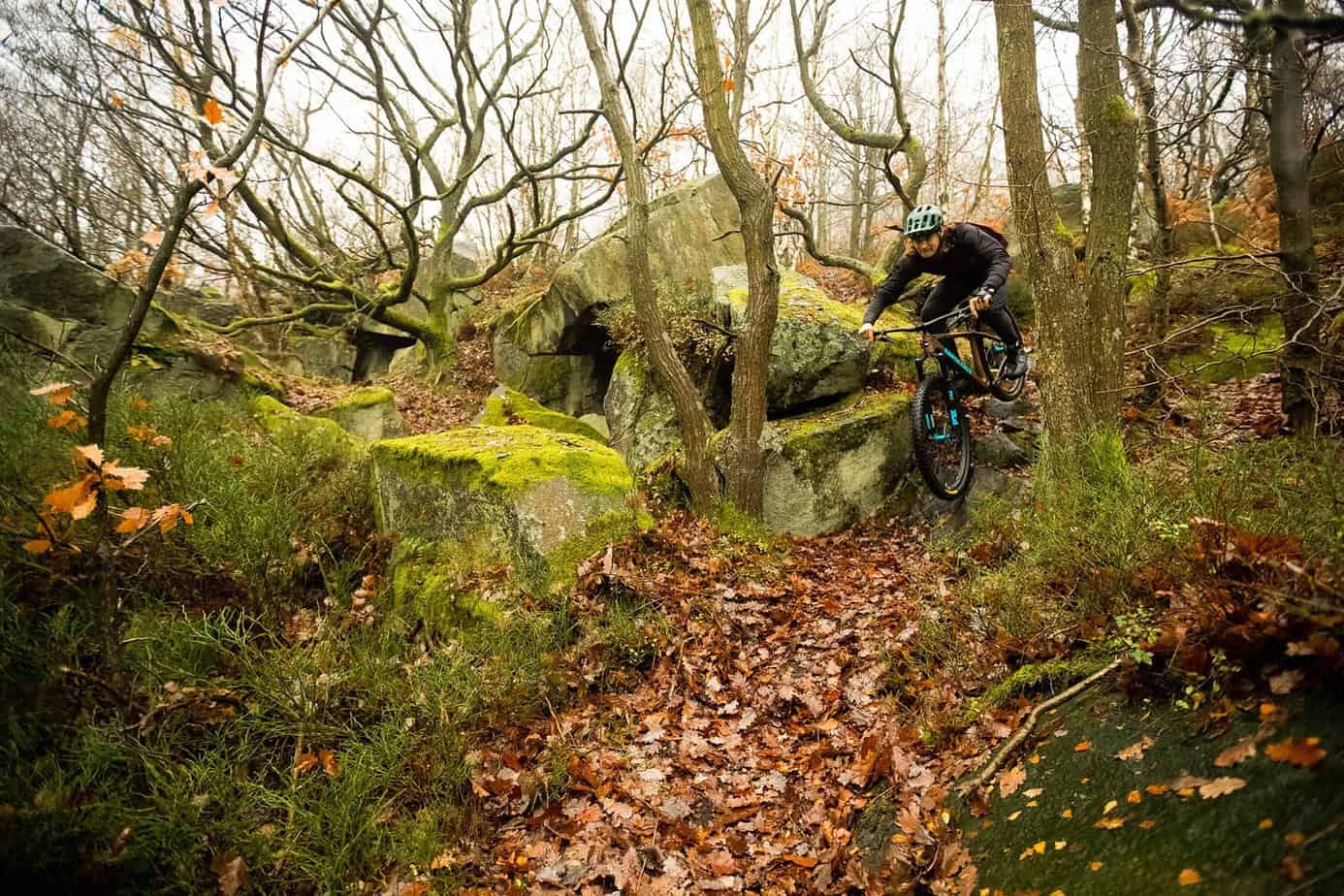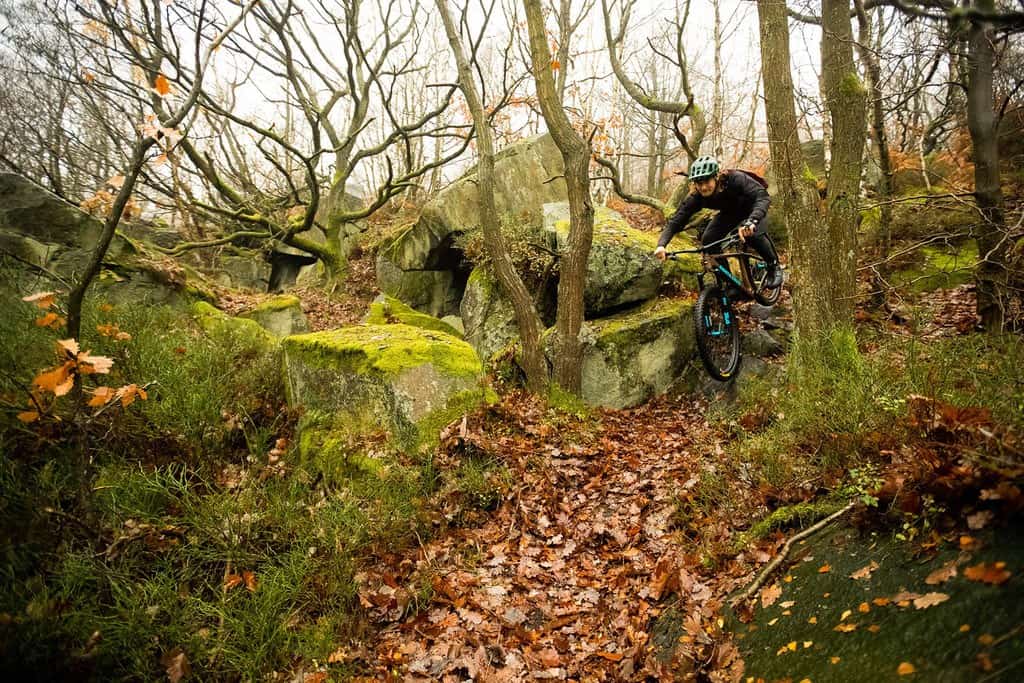 Types of Mountain Bike
The term 'mountain bike' is a bit of an umbrella term that encompasses several different styles of the bike better suited to different types of terrain, different riding styles, and different activities. Below, we cover each of these with a quick guide to each sub-category of a mountain bike.
Trail bikes are the most popular variety of mountain bike on the market, mainly because of their versatility and suitability for more general off-road use. Within this category, models range from entry-level bikes designed for beginners and those who plan on riding in more moderate terrain to top-end competition bikes. As a general rule, these bikes are a good choice for riding a mixture of climbs and descents and use in the region of 120-140mm of suspension with a 67-70° head-tube angle, which makes them better suited to steep climbs and provides better turning ability.
These bikes are designed for fast travel in rough terrain over longer distances. As such, they typically use a steep head-tube angle (70-72°), lightweight materials, and around 80–100mm of suspension travel.
All-mountain mountain bikes are designed to excel in extreme trail-riding terrain and offer superior performance to regular trail bikes on steep descents owing to a slacker head-tube angle and suspension travel in the 140–170mm range.
Fat bikes use oversize (i.e. "fat") tires that measure from 3.7 inches to over 5 inches wide. This gives them excellent traction and grip in terrain in which it would be impossible to ride other bikes, such as mud, sand, and snow. Ideally suited to rough terrain, the low tire pressure and girth of the tires on these bikes allow them to absorb shock and impacts better than bikes with standard tires, in some cases even without the use of front or rear suspension.
Downhill mountain bikes are designed for high-speed descents on steep courses, off-season ski slopes, or steep, rocky trails. They are typically sturdier than all other types of a mountain bike, use full suspension (170-210mm suspension travel), slacker geometry (63–65° head-tube angle) and place an emphasis on durability and stability rather than weight as most riders use them in lift-serviced bike parks.
Santa Cruz Chameleon Review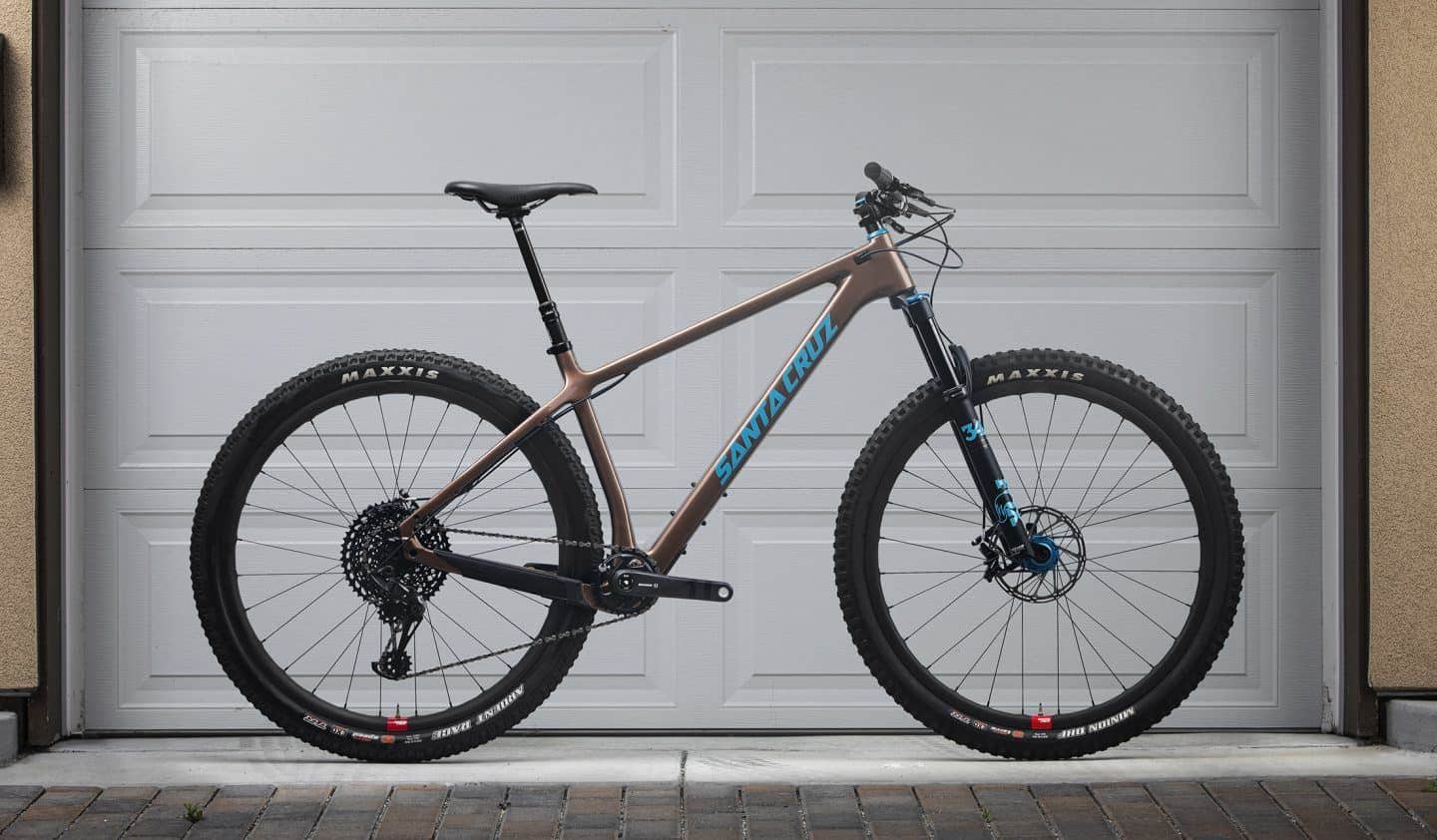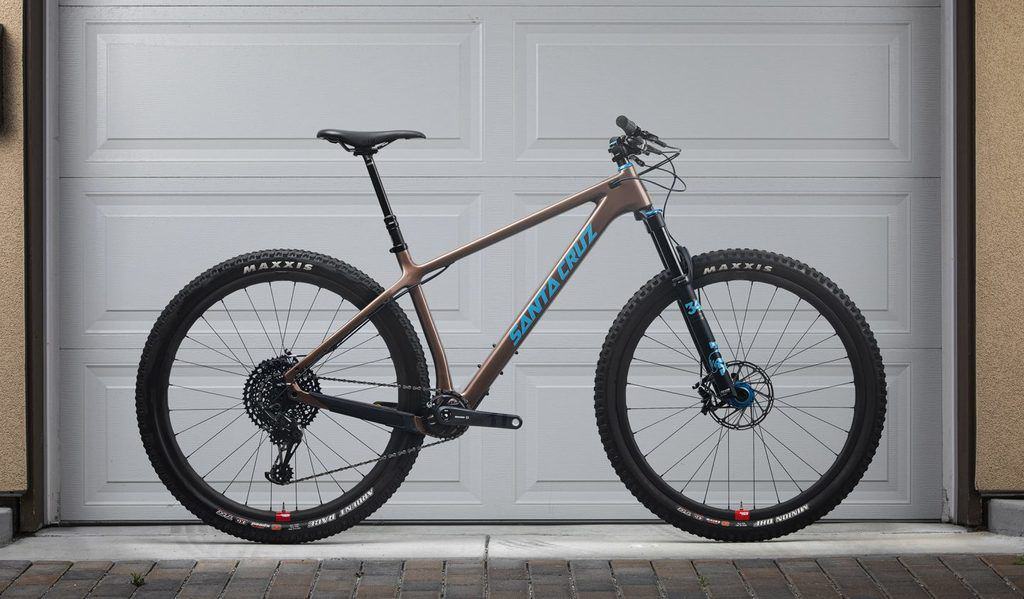 Now that we know what to look for in a mountain bike, let's take a more in-depth look at the Santa Cruz Chameleon to see how it performs in each of the important factors identified above.
At-a Glance Specs (D Kit)
| Kit | D |
| --- | --- |
| Price | $1799USD |
| Weight | 12.82kg / 28.27lbs |
| Fork | RockShox Recon RL 120 |
| Rear Derailleur | SRAM NX Long Cage |
| Shifters | SRAM NX |
| Crankset | Race Face Ride, 30t—170mm (S), 175mm (M-XL) |
| Cassette | SRAM PG1130 11-42T |
| Chain | SRAM PC1110 |
| Brakes | SRAM Level |
| Brake Rotors | Avid Centerline 180mm |
| Headset | Cane Creek 10 IS Integrated Headset |
| Bars | Race Face Ride |
| Stem | Race Face Ride Stem |
| Grips | Santa Cruz Palmdale Grips |
| Front Hub | SRAM MTH 716, 15x110, Torque Cap, 32h |
| Rear Hub | SRAM MTH 746, 12x148, 32h |
| Rims | WTB ST i25 TCS 2.0 29" Rims |
| Spokes | DT Competition (32) |
| Front Tire | Maxxis Minion 29x2.3 DHF EXO TR |
| Rear Tire | Maxxis Crossmark 29x2.1 DC EXO TR |
| Tubes | Stans Sealant 2oz |
| Seat Post | Race Face Ride |
| Saddle | WTB Silverado Comp |
Frame
The Chameleon is available with both an aluminium alloy and a carbon fibre frame, both of which can be used with either 29-inch wheels or 27.5+ wheels and have clearance for up to 3-inch tires.
The stack and reach measurements in the large size of the Chameleon are 652mm and 460mm respectively, while the head tube angle is 66.5 degrees, the seat tube angle 73 degrees, and the overall weight without tubes and pedals 30 lbs and 5 oz. There is also a slider system on the rear dropouts that lets you adjust the chainstay length and overall wheelbase by roughly 15mm.
Gearing
While the gearing in the Chameleon may vary depending on the seller, the standard build kit uses the inexpensive but super-smooth SRAM NX Eagle 12-speed drivetrain, which is one of the most affordable 12-speed drivetrains on the market but also reasonably crisp and sharp on ascents.
The benefits of this 12-speed configuration are that it provides a large enough range of gears for any terrain without the need for a front derailleur. Although significantly heavier than other drivetrains in the Eagle range and despite using cheaper materials, the NX offers great quality and durability and the difference in performance will likely only be noticed by professional or very serious amateur riders.
Brakes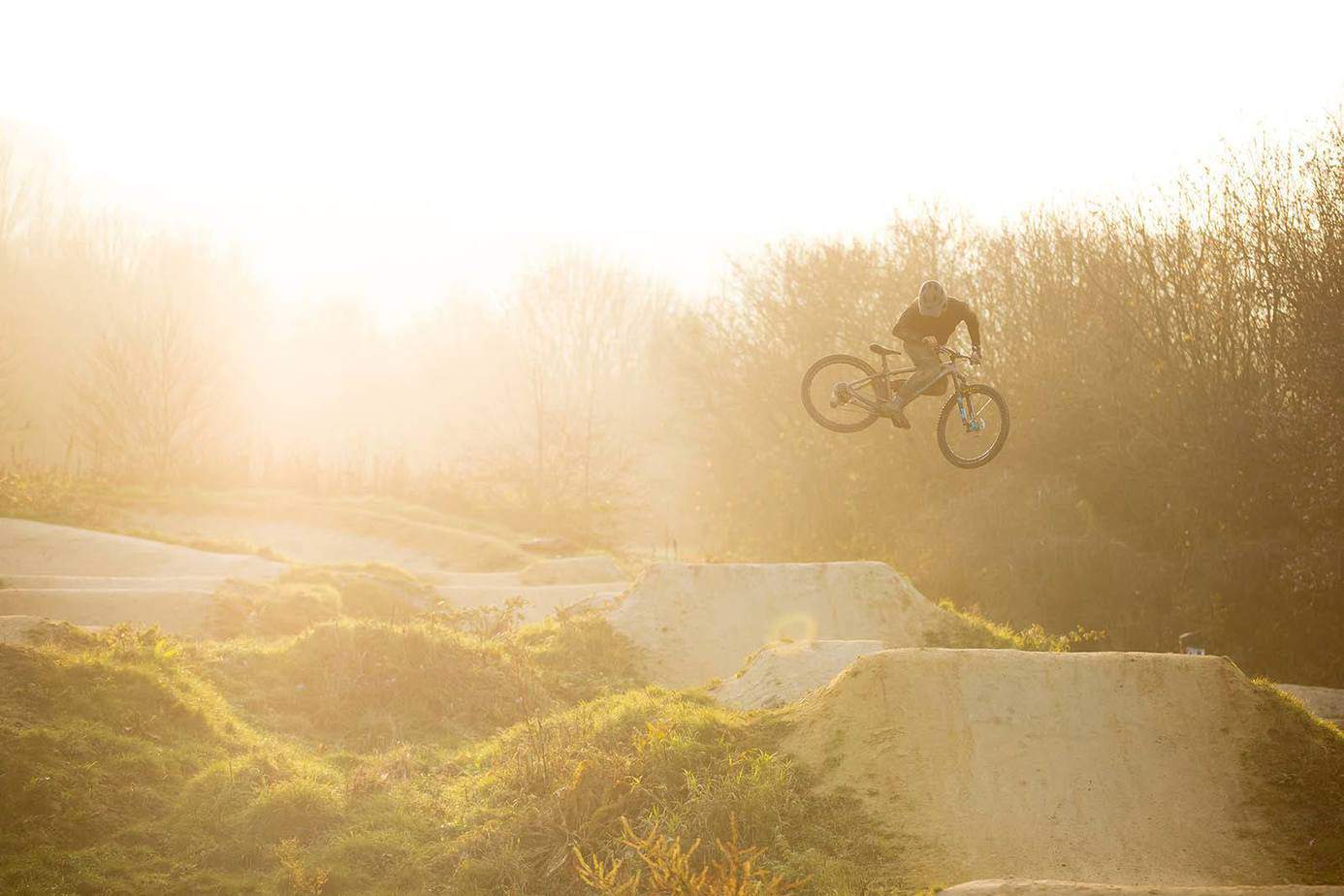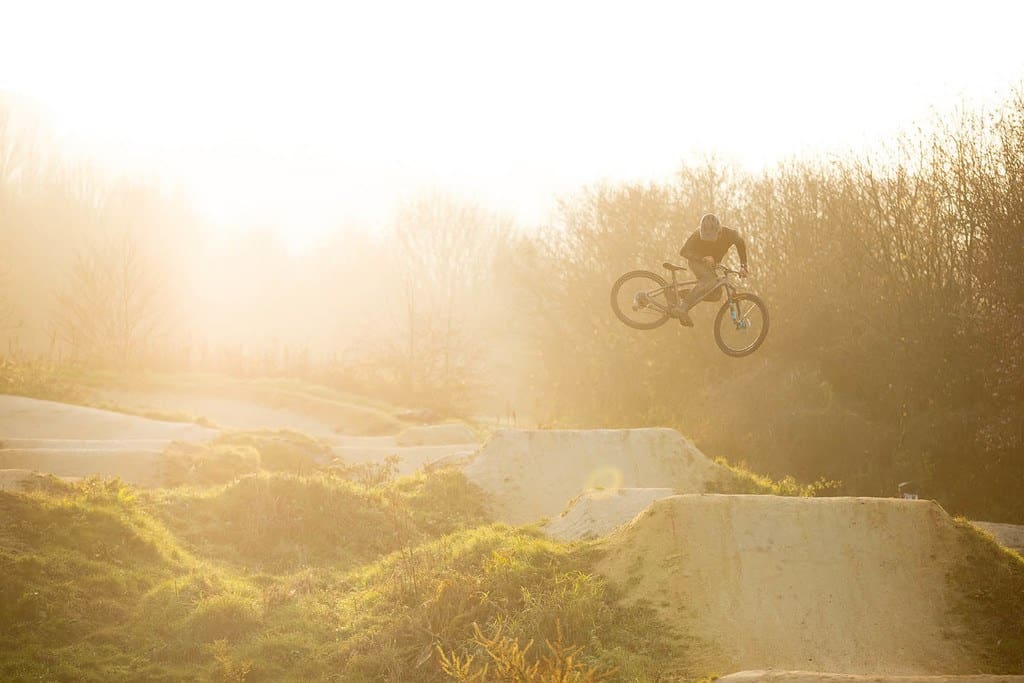 The SRAM Guide T brakes used in the Chameleon use a 4-piston, dual-diameter calliper and offer more than adequate power and modulation for most trail riders and also very good lever feel. Pad wear on the standard brake set supplied with the bike is significant, but you can mitigate this problem by swapping them out for a metal pad compound. All told, the Guide T's are a reliable performer for trail riders and represent a welcome upgrade on 2-piston brakes.
Wheels
The Chameleon is available with both 29 and 27.5-inch/27.5+ wheels. For cross-country riders, the 29ers rail superbly but can feel a little on the slim side (2.3 inches) on loose, muddy, or mixed terrain and the traction in the rear wheel is noticeably poor and inordinately prone to washing out when ground conditions are less solid. The 27+ wheels, however, offer far more traction, better overall handling, damping, and are way more fun on choppy and gnarlier ground.
Handling & Performance
The Chameleon comes into its own on lung-busting climbs and is one of the top performers in this respect of all the bikes we know in its price range, which is particularly impressive given that it weighs in at over 30 pounds.
The climbing position is relatively powerful and, overall, the bike carries speed very effectively. There are lighter and more power-efficient bikes out there, sure, but for a typical afternoon or morning on the trails, the Chameleon ticks just about every box that needs ticking.
Just about…
On the downside, the rear tire problem mentioned above is never more evident than when climbing on mixed or loose terrain, when it's apt to spin out, and the bike's short chainstays make things a little Jarry and jolty when working through short turns or ledges in more technical and rocky terrain.
In terms of downhill performance, the Chameleon again offers a mixed bag of pros and cons. It does offer superbly quick steering and responsiveness and rolls very quickly, but on bumpier, rocky ground the steep frame geometry feels less than confidence-inspiring, particularly when things get a little on the steep side in the attack position. In terms of ideal terrain, this is a bike that is made to be ridden on flow slopes as opposed to rock gardens…
Comparison Chart
| | | | | |
| --- | --- | --- | --- | --- |
| Bike Model | Type | Weight | Uphill/Downhill Performance (max 5) | Cost |
| | Hardtail Trail Bike | 30 lbs 5 oz | 4/4 | $$$$$ |
| | Hardtail Trail/XC Bike | 26 lbs 8 oz | 5/3.5 | $$$$ |
| | Hardtail Trail Bike | 29 lbs 8 oz | 3/5 | $$$ |
Santa Cruz Chameleon: The Verdict
The Santa Cruz Chameleon is a bike, in a few words, that is built for fun. Granted, this might not be the best option out there on rough, rocky, or bouldery trails and has a little bit a spin-out problem with the rear wheel in looser terrain, but otherwise, this bike is an absolute hoot to ride and is sure to provide many a fun outing on less extreme, more mellow trails.
It offers quick-handling, agility, excellent responsiveness, works well through switchbacks, and is a dream for blasting your way down flow trails. Last but not least, the price point on this bike is very reasonable given that it packs an above-average build kit and offers the kind of performance many mountain bike buyers have paid a heck of a lot more for.
Santa Cruz Bicycles Chameleon 27.5+ S Mountain Bike | Backcountry.com
This particular Chameleon 27.5+ S Complete Mountain Bike carries all of these updates, just with fresh color schemes for 2019, making it an absolute blast to rail around corners, plunge into steep descents, and even pedal a few laps around the local bike park.
Check Price
We earn a commission if you click this link and make a purchase at no additional cost to you.