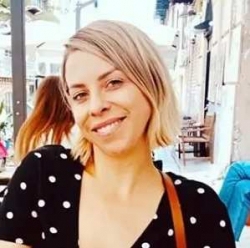 Latest posts by Jodie Chiffey
(see all)
When it comes to buying a mountain bike, you generally can't go wrong with a Yeti. They are experts in the field, creating mountain bikes that perform incredibly well on all sorts of terrain.
Although their popular plus-sized Yeti SB5+ that utilizes lightweight technology has recently been discontinued (we'll share more details on its replacement Yeti SB140 later in the article), we still believe it deserves a detailed review. After all, this bike is in some regards still very unique and it will probably be sought after on the second-hand market long after it disappears from the regular stores. What makes it special?
In our Yeti SB5+ review, we'll be looking at a plus-sized bike that utilizes lightweight technology. Some mountain bike manufacturers are looking to be more inclusive in the products that they create, focusing on creating products that can work well for plus-sized riders – disproving the myth that you have to be slim to be a mountain bike enthusiast.
So, is the Yeti SB5+ any good? Let's find out.
Yeti SB140 Turq | Jenson USA
The Yeti SB140 TURQ T1 Bike is a lightweight and highly capable all-mountain bike that is at home anywhere you take it. The TURQ Series Carbon frame features a new school geometry that is responsive and designed to feel like an extension of the rider.
Check Price
We earn a commission if you click this link and make a purchase at no additional cost to you.
How to Find the Best Mountain Bike
Buying a new mountain bike is a huge investment. Here are a few things to remember:
What Kind of Riding Will You Be Doing?
The type of bike you choose will ultimately depend on the kind of riding you'll be doing. If you're a downhill enthusiast, for example, you'll need a bike with excellent brakes. If you're a beginner and you fancy trail riding, a good all-rounder XC bike will work wonders for you.
What's Your Budget?
It can be really easy to go over budget when you buy a new mountain bike, so it's better to figure out your budget in advance so you can make the most strategic buying decisions. The great (and addictive) thing about mountain biking is that your bike is endlessly customizable – from derailleurs to hubs, you can tinker around with it to your heart's content. This means you can go slightly cheaper in some areas and invest more in others. For example, it's always worth spending a bit more on your suspension kit.
However, don't be tempted to choose the cheapest options. It's a false economy to go for the cheapest, as it will wear out quickly, especially if you want to ride on tougher terrains. You'll end up spending the same, or even more because you'll have to replace parts or have your bike repaired.
Keep an eye out for sales, too – you never know when you'll get a bargain.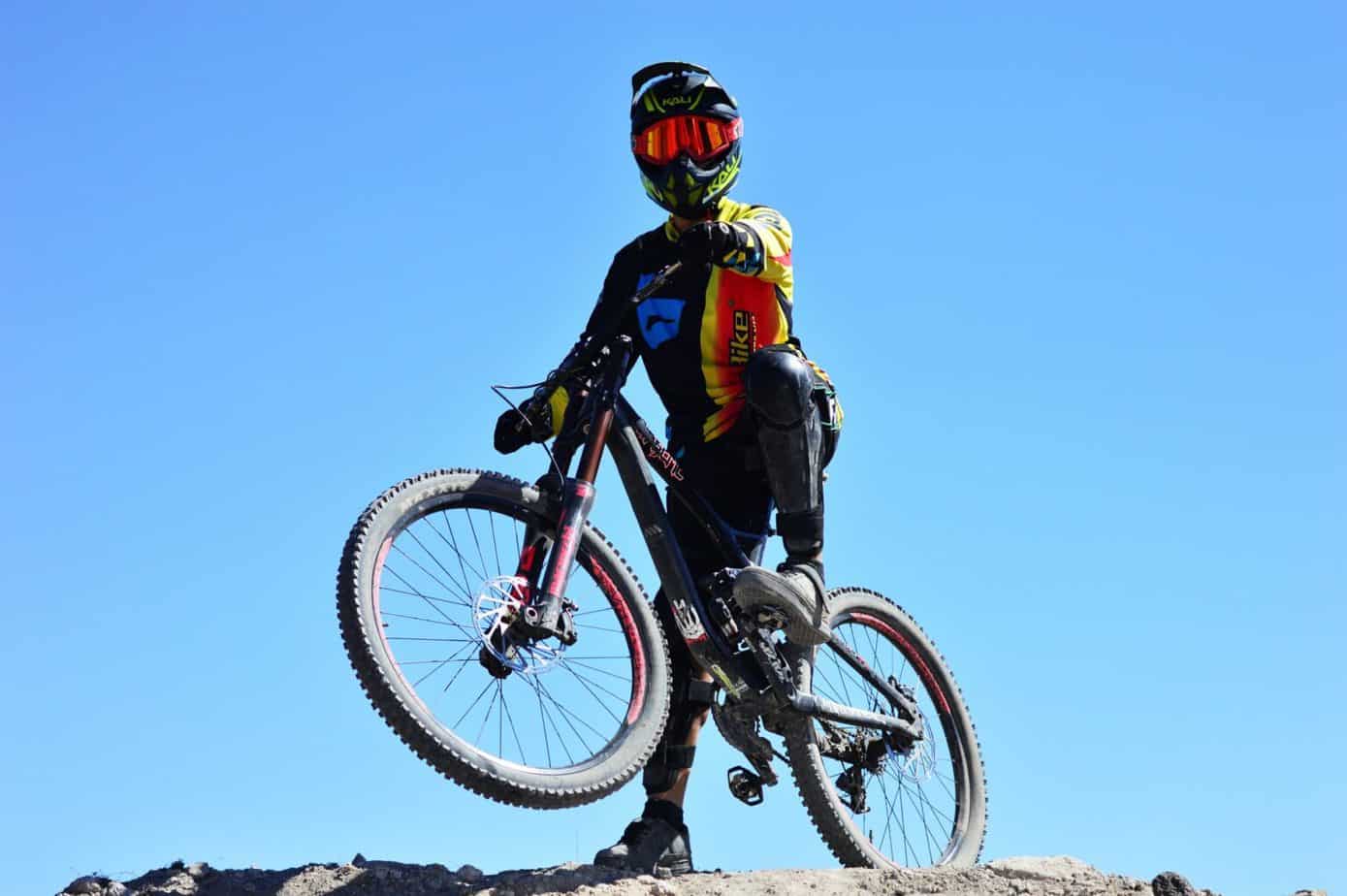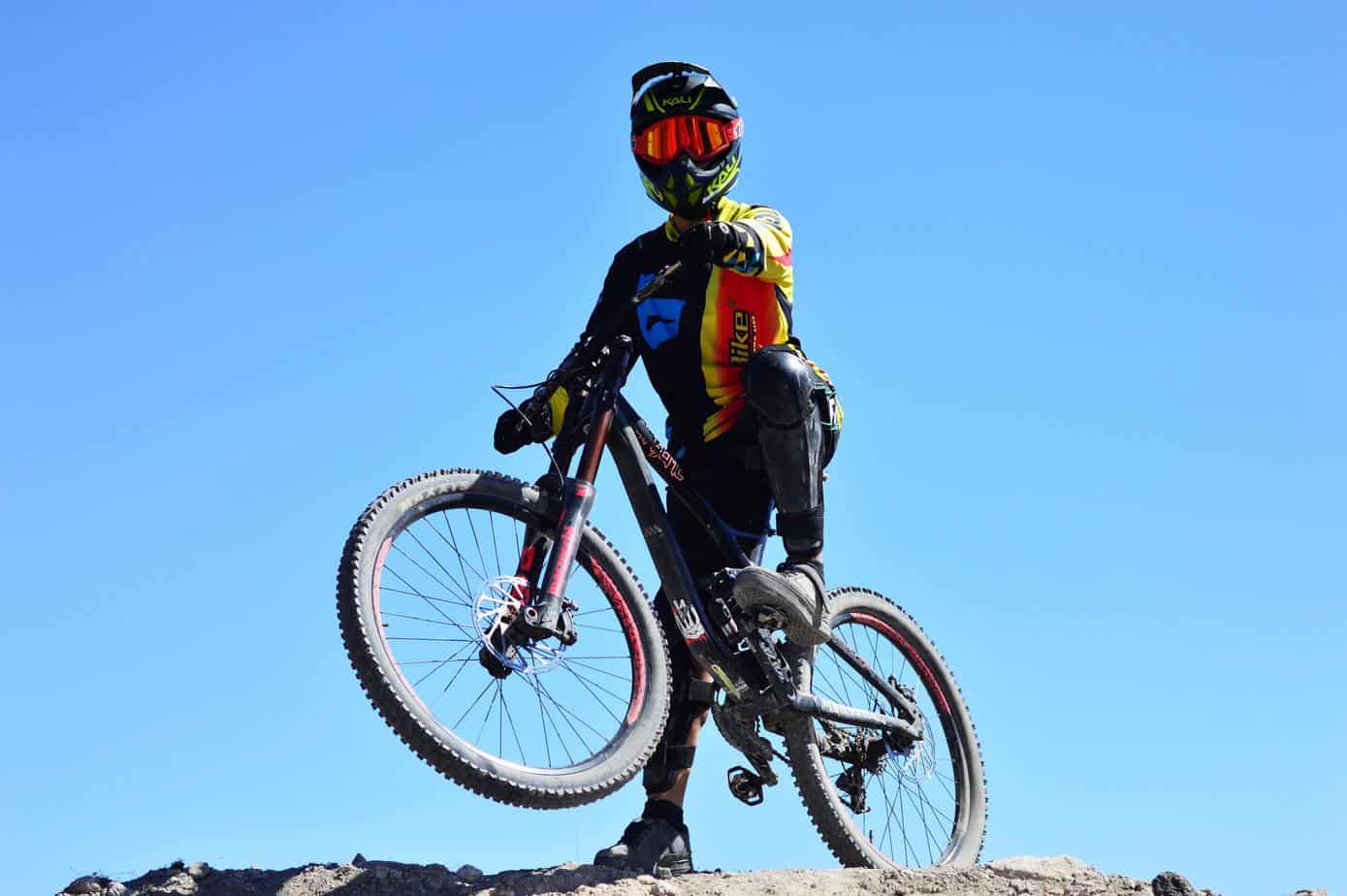 Don't Forget to Budget for Extras
You also have to factor in the cost of extras. It's really important to stay safe when you're riding, so you need to budget for a decent helmet, gloves, knee pads, and shoes.
Consider Your Size and Weight
Your height can have an impact on the size of the frame you will choose. For those on the shorter size – under 5'3" – you'll want to go for 13-15 inches. If you're on the taller end of the scale, say 6'2"-6'4", you'll want 21-23".
You can get bikes that are designed for lighter riders, as well as bikes designed for plus-size riders (which we're looking at today).
Choose Your Retailer Wisely
Going to a local bike specialist store can be a good idea, as they have years of experience and can help you find the right kind of MTB for you. However, you may be able to find some parts and accessories cheaper online – but make sure you buy them from a reputable source, as you might accidentally stumble upon a knockoff version online.
What is Yeti?
Founded in 1985, Yeti are passionate about what they do – which is to build good-quality, long-lasting mountain bikes. Built by racers for racers, they spent the latter half of the eighties creating mountain bikes for well-known riders, such as Juli Furtado, John Tomac, and more. They have years of knowledge about materials, suspension, and frame geometry, and they quickly became a well-known name in mountain biking.
Yeti was briefly acquired by Schwinn bicycles, but in 2001, two Yeti employees clubbed together to buy the company, making it independent again. Since then, they've continued to create innovative mountain bike technology. They are located in Golden, Colorado.
What is Yeti known for?
Yeti is known for its innovative design team, working hard to create new concepts in mountain biking.
They created the Switch Infinity, which is known to have had an impact on suspension design in the MTB industry. Their focus on suspension means they have created some excellent mountain bikes that perform well in all kinds of scenarios.
They're also more recently known for creating smaller, lighter bikes designed specifically for women.
You might recognize a Yeti bike from the color – they're known for 'Yeti Teal,' a specific frame color. If you see a teal bike, it might well be a Yeti!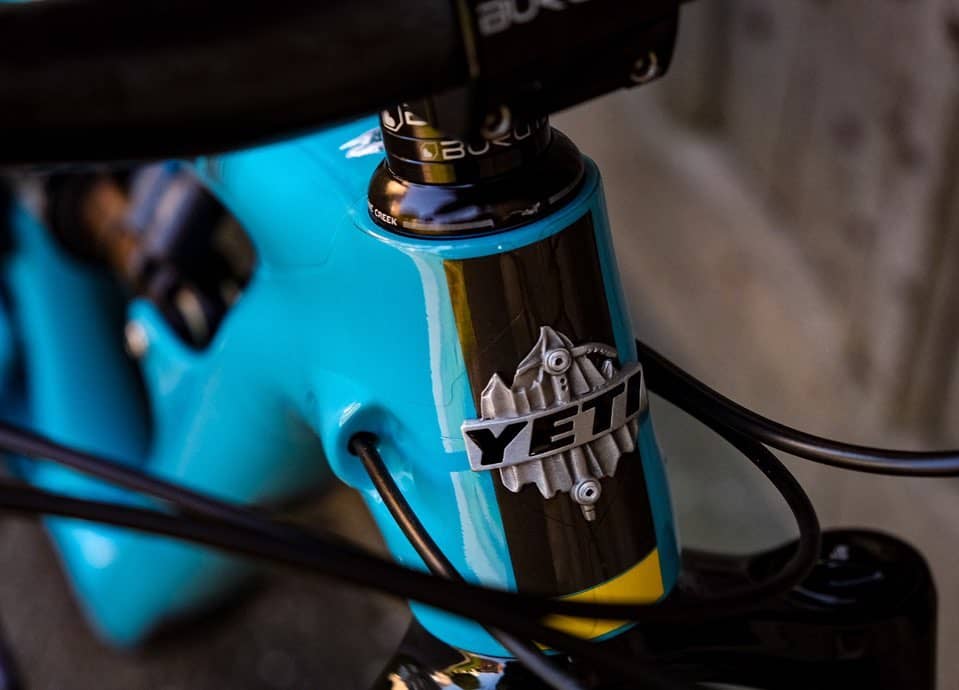 How does Yeti Compare to Other Brands?
Yeti bikes are known for their great performance – they're a popular brand, lusted after by many MTB enthusiasts. They create excellent, high-performing bikes, and you can usually find their products at the top of many 'best of' lists online.
However, compared to other brands, Yeti is very expensive. While we could say 'you get what you pay for,' there are other brands making similar products at a lower price, like Santa Cruz. However, it has to be said; if you buy a Yeti bike, you're investing in something that is going to last a long time and has been designed by a company that really knows its stuff when it comes to mountain biking.
Yeti's Plus-Sized Bikes
When you buy a plus-sized bike, the focus will be on the wheels and tires. Generally, they're equipped with plus tires, which are wider. They add traction, helping to remove some of the shocks and bumps that you may otherwise feel as a plus-sized rider.
Reviews of plus tires tend to be mixed: there are drawbacks because they add weight and rolling resistance, which can impact the feel of the ride. Tire manufacturers have to use thinner casings with less rubber – which means they have a little less support than other types of tires. They also tend to degrade quicker than regular tires.
Bike manufacturers will need to compensate for this by creating a lightweight frame, which some manufacturers do better than others. The SB5+ is the first plus bike that Yeti offers – but hopefully, it will make more in the future.
The SB5+ was the first plus bike that Yeti offered, but others followed shortly – now, when this model (along with some others) was officially discontinued, a new range of Yeti fun-packed enduro bikes sized from S to L (including Yeti SB140 we'll discuss more in a moment) follows the same direction.
Generally, a bike is considered a plus bike if it allows for 27inch wheels, with some offering 29inches. They also tend to have 2.8in to 3.0in tires – so slightly wider than regular bikes.
Where Can I Buy a Yeti Bike?
You can find Yeti bikes in many specialist bicycle stores across the US – it's worth checking in your area to take a look at them in person.
The Yeti SB5+
There are four basic types of bikes:
XC Bikes – or cross-country bikes. These allow you to travel across tough terrain with ease.
Dirt Jump Bikes – these are designed to give you a lot of time in the air.
Euro Bikes – these are similar to XC bikes but are a bit heavier and more robust
Downhill Bikes – these have great suspension with full shock-absorbers, allowing you to ride fast
The Yeti SB5+ is a good XC bike, tough enough to make it over some bumps and hills. If you want to go trail riding over bumpy terrain, it could be a good choice for you.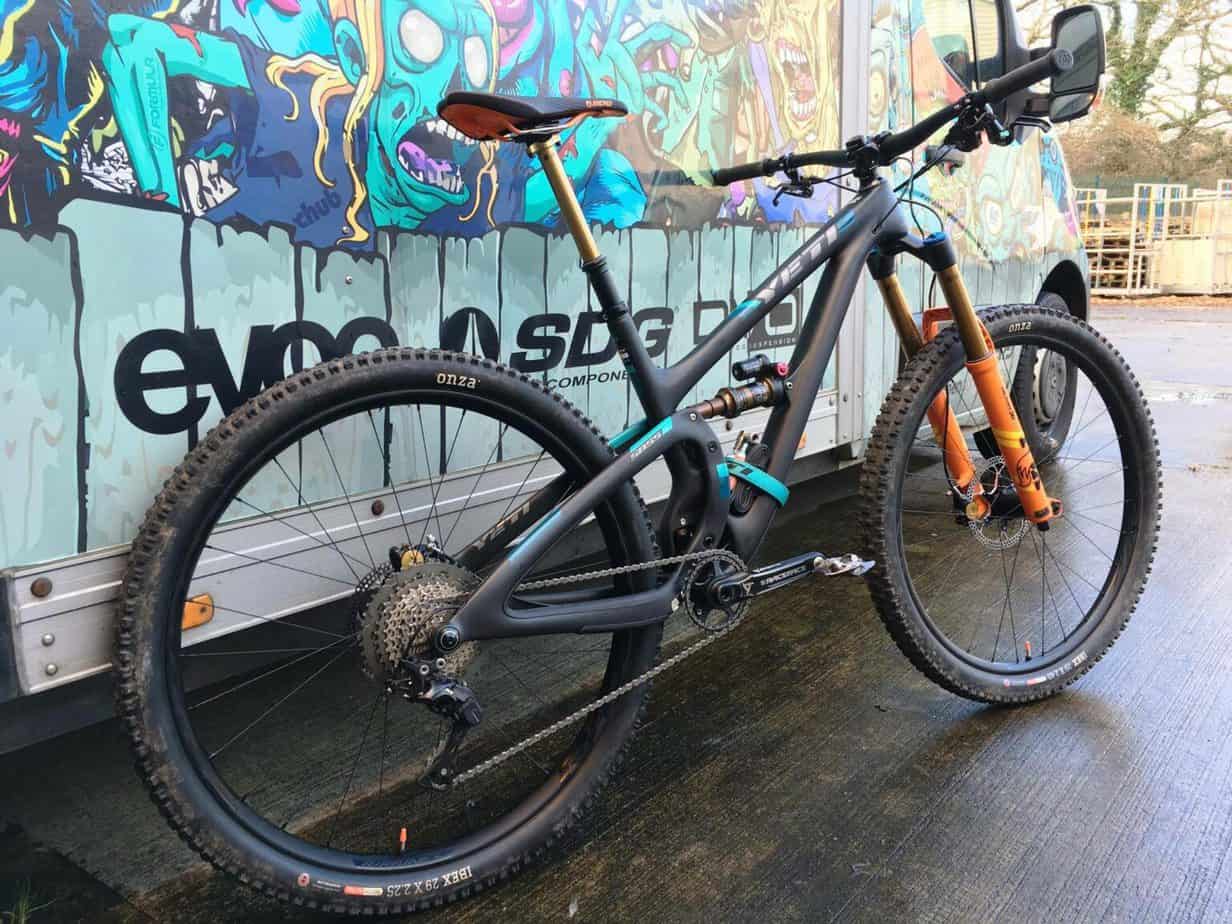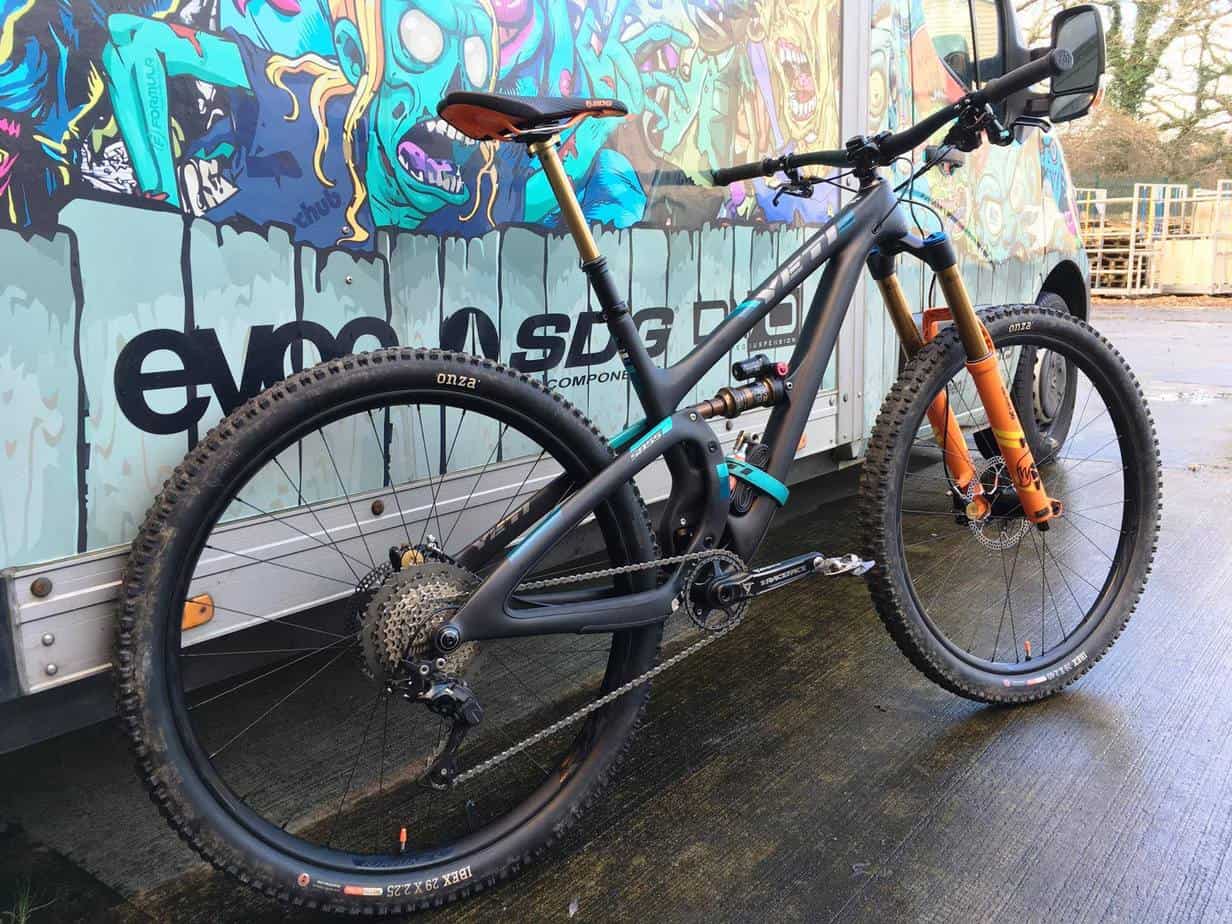 How Much Does It Cost?
Depending on the setup, the price range for the Yeti SB5+ starts at $4,699 and goes all the way up to $10,000. It's a big investment and may be out of the price range of a lot of riders, especially if you want the higher-priced materials. However, you are paying for quality.
Now that this model was discontinued, you are probably more likely to get your Yeti SB5+ bike on the second-hand market. Depending on its condition and age, a used SB5+ can cost you just around half of its original price. 
Of course, you should choose a second-hand mountain bike very carefully and pay attention to every detail. Repairs and component replacements can be very expensive too – not to mention how dangerous it can be to ride a mountain bike that is not in perfect condition.  
What Is It Made From?
Yeti is known for using good-quality materials. You have two options here: carbon, or Turq carbon, which is incredibly lightweight. The Turq carbon option is going to push the price up, so you may need to take that into consideration.
However, it will make the whole setup a few pounds lighter. The components are robust, which adds to the weight, but for a plus bike, it's fairly lightweight at 5.34lbs (Turq Carbon series) or 5.58lbs (Carbon series).
What are the Wheels Like?
The wheels are the focus here. Yeti has built this with 27.5+ wheels and tires in mind, and riders report that it is well suited for plus-size riding, with the tires offering a lot of traction. Users say it works well on tough trails as well as more calm, mellow rides.
The downside is that they do not offer 29in wheels, and you cannot adjust for them, so you need to be sure you're happy with 27.5in before you buy.
What Other Features Does It Have?
There are a few notable features here, including:
Switch Infinity System – Suspension
The suspension is, as you would expect from a Yeti bike, a notable feature. The suspension feels consistent and even works well for lighter riders, which is great.
Angled Seat
The seat is angled at 74 degrees, which is great for fast ascents. It's also very comfortable.
Yeti SB5+ is Suited for…
Plus-size riders who want a lightweight performance
Riders who want to tackle decent terrain as well as smoother rides
Those looking for a comfortable ride
Yeti SB5+ is Not Suited for…
Downhill riding
Those on a right budget – the SB5+ is expensive
Warranty
Yeti have introduced lifetime warranties for frames from 2019, including those with the Switch Infinity link. This covers you for:
Damage because of a manufacturing fault
Paint and finish damage for one year only
You have to go onto the Yeti website to register your bike. They do not offer a warranty for general wear-and-tear.
User Reviews
Users have some great things to say about the SB5+, with many commenting on the comfortable ride that the plus tires provide and that the handling, grip, and general performance are great. Some even suggested that the bike performs so well that it actually improved their riding skills. They also felt safe riding it – even in snowy conditions in some cases.
However, other reviewers felt that compared to other Yeti bikes they'd tested, it didn't feel as good to ride and that the descents weren't as smooth. However, this may be an issue with plus tires in general, not this one specifically. They also commented on the price, wondering if the price tag is justified for the performance, given that there are comparable bikes out there at a lower price.
Overall, though, the SB5+ has some great reviews, and generally, people seem to be happy with the performance.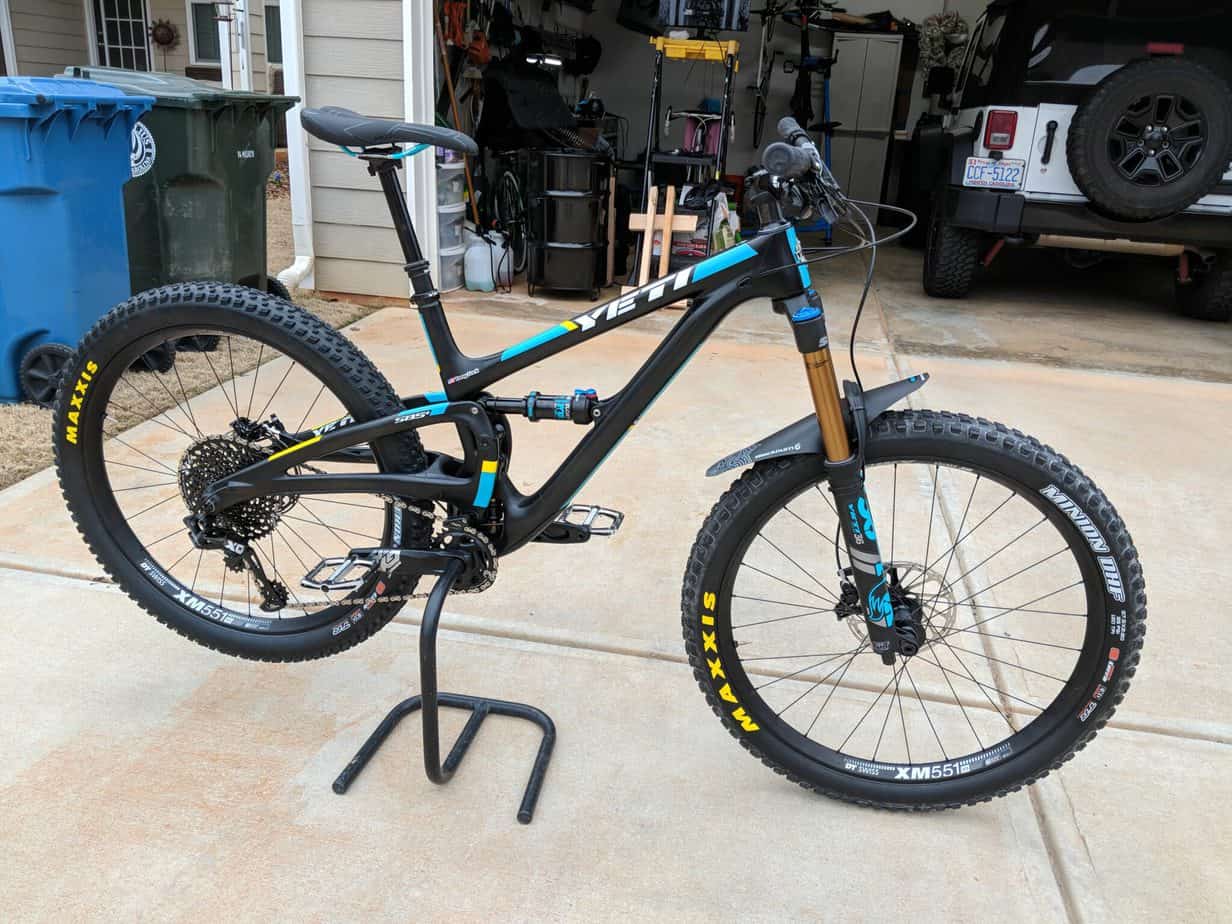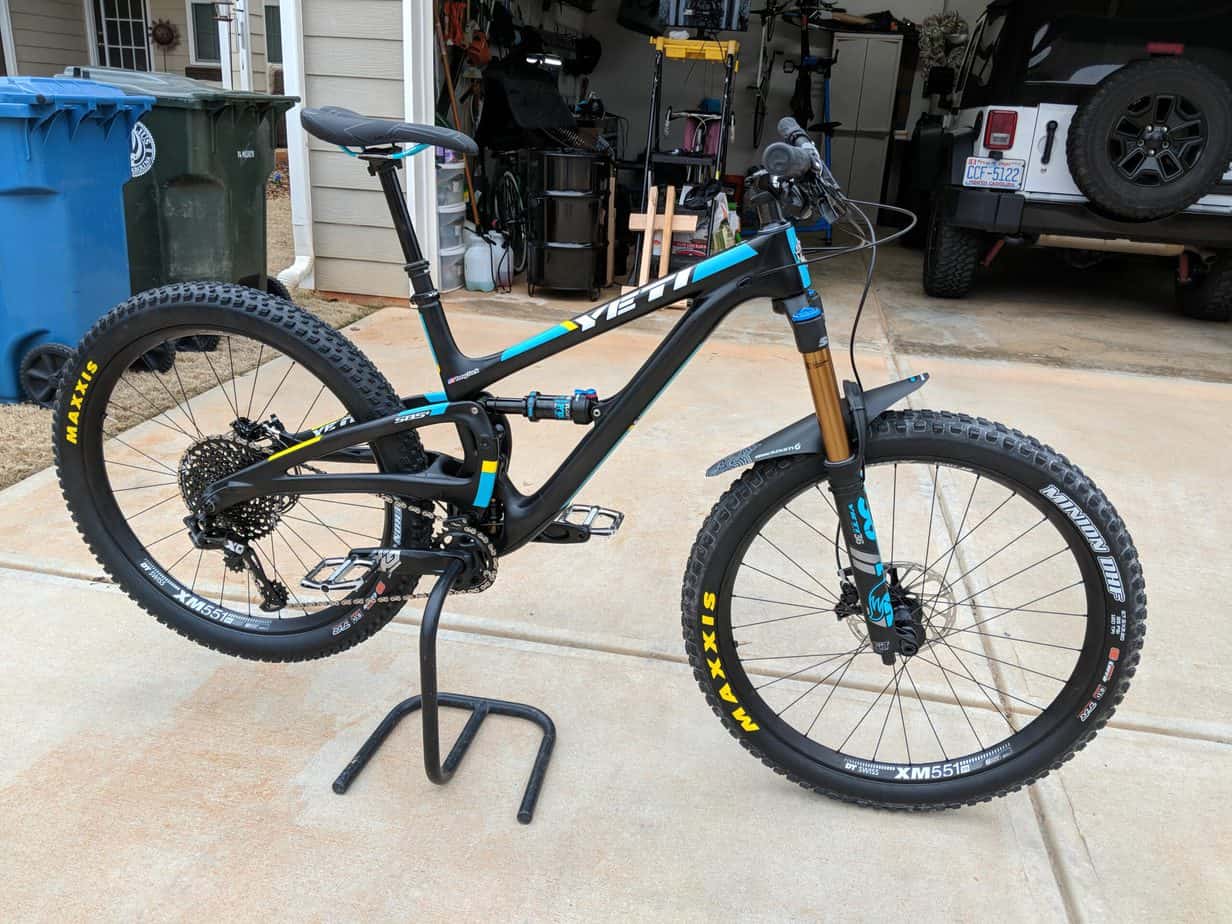 The Pros and Cons of the SB5+
In a nutshell, here's what we like and dislike about it:
Pros
Excellent materials make it a robust but lightweight bike
Big, springy tires make it well suited for plus size riders
The angled seat is comfortable and allows you to ascend quickly
Cons
The price point is out of reach for some riders
Some people didn't get on well with the tires
Frequently Asked Questions
Here are some of the most commonly asked questions about the SB5+:
Who is best suited for the SB5+?
The SB5+ is best suited for XC riders who want to be able to make decent climbs. It's a springy bike that works well on rough terrain and works well for plus-size riders.
Is the SB5+ covered by a warranty?
Any bike purchased from Yeti after 2019 is covered by the lifetime frame warranty against defects in manufacturing. You're also protected from paint damage for one year (if you register the bike on their website).
Can I buy the SB5+ online?
It's not easy to find Yeti bikes online – you're better off buying Yeti bikes from a trusted local retailer. However, you can buy spare parts for Yeti bikes on their website, as well as other items like saddles, gloves, and grips.
Why are Yeti bikes so expensive?
It's mostly down to the materials used and the technology provided. Like anything, there are varying levels of 'prestige' when it comes to mountain bikes, and Yeti is right there at the top in terms of wow factor. There's substance behind it, however, as they do make excellent quality bikes
Yeti SB5+ Replacement: How Good Is the New Yeti SB140?
As I've mentioned throughout this article, finding a brand new Yeti SB5+ bike in shops might currently be quite difficult since the manufacturer recently discontinued its production along with some of its other models (namely, Yeti SB4.5, Yeti SB5.5, and Yeti SB6). 
Fortunately, the company immediately offered a whole new range of bikes that are meant to fill the gap and replace the discontinued models seamlessly. The closest substitute for the Yeti SB5+ is the new Yeti SB140, so I've decided to take a look at this bike in detail and compare it to its predecessor. 
Here's are some of the SB140's most important features:  
The name of this bike refers to its 140mm long rear axle.
The bike has 160mm of fork travel.
Yeti SB140 sports 27.5″ wheels. 
It comes in three colors: brownish "Ron", bright orange "Inferno", and Yeti's distinctive tone of "Turquoise". 
There are both smaller (SB100 – 130) and larger bikes (SB150 – SB165) in the new Yeti range.
The manufacturer claims that this model sits somewhere between the older models SB5 and SB6 (which are now both discontinued).
Yeti now distinguishes two main categories of its bikes: Race and Rip. SB140 should belong to the latter category.
Users who previously owned Yeti SB5+ claim that SB140 feels extremely familiar and performs very similarly to its predecessor. 
When it comes to price, Yeti SB140 is comparable to SB5+. Nevertheless, the final price depends on the exact version, equipment, features, and retailer you choose. For the current price of this bike check here. 
Yeti SB140 Turq | Jenson USA
The Yeti SB140 TURQ T1 Bike is a lightweight and highly capable all-mountain bike that is at home anywhere you take it. The TURQ Series Carbon frame features a new school geometry that is responsive and designed to feel like an extension of the rider.
Check Price
We earn a commission if you click this link and make a purchase at no additional cost to you.
Can You Recommend Another Alternative to the SB5+?
There are a few more alternatives we can recommend:
If you're looking for a fully customizable mountain bike made for the roughest trails, Intense Primer 29″ Elite Bike (model 2020) might be for you.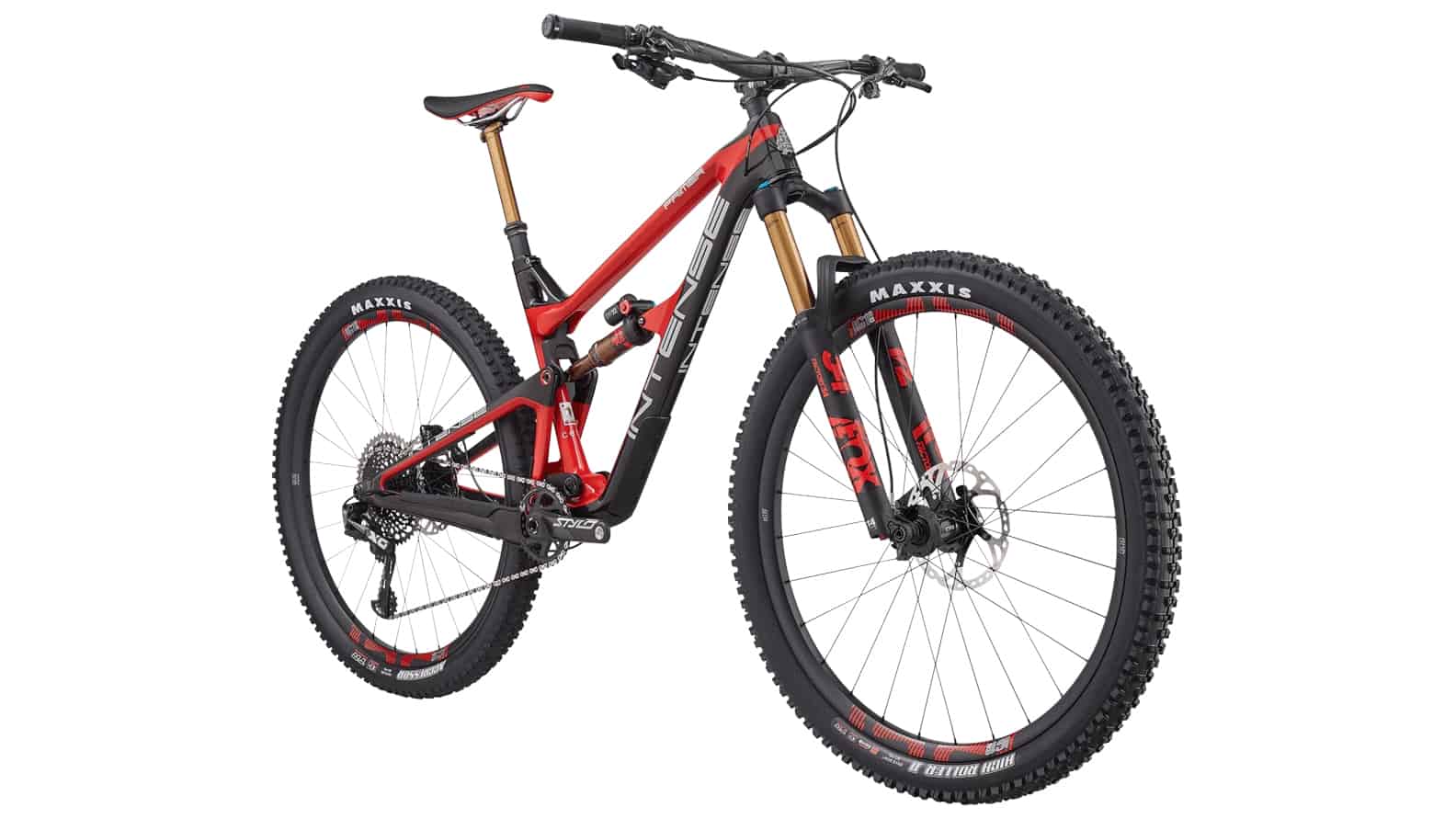 It comes with optional 27.5" to 29" wheels, so you are free to choose the size you prefer. With its Fox Factory 34 front fork + DPX2 rear shock, SRAM X01 Eagle 12-speed drivetrain, and Shimano XT M8020/M8000 hydraulic disc brakes, this bike is perfectly adapted for any terrain. 
Users usually praise this bike for its great versatility, perfect reliability, and extremely smooth performance. Given its top-quality equipment, the price of this bike seems to be right too. Check it out here.
Intense Primer Elite Bike | Jenson USA
The Intense Primer 29 Elite stays true to the trails and comes with a great build kit for the price. A Fox Factory 34 fork up front and Fox Factory DPX2 rear shock smooth out the roughest trails.
Check Price
We earn a commission if you click this link and make a purchase at no additional cost to you.
GT Force's newest AL PRO Bike (2020) is particularly designed for bikers who are interested in gravity-style riding, so it is a perfect choice for anyone who plans to use it mostly on downhill trails. Nevertheless, thanks to its 29" alloy frame, it will surely also attract those looking for a versatile plus-size bike and the unique kind of experience it offers.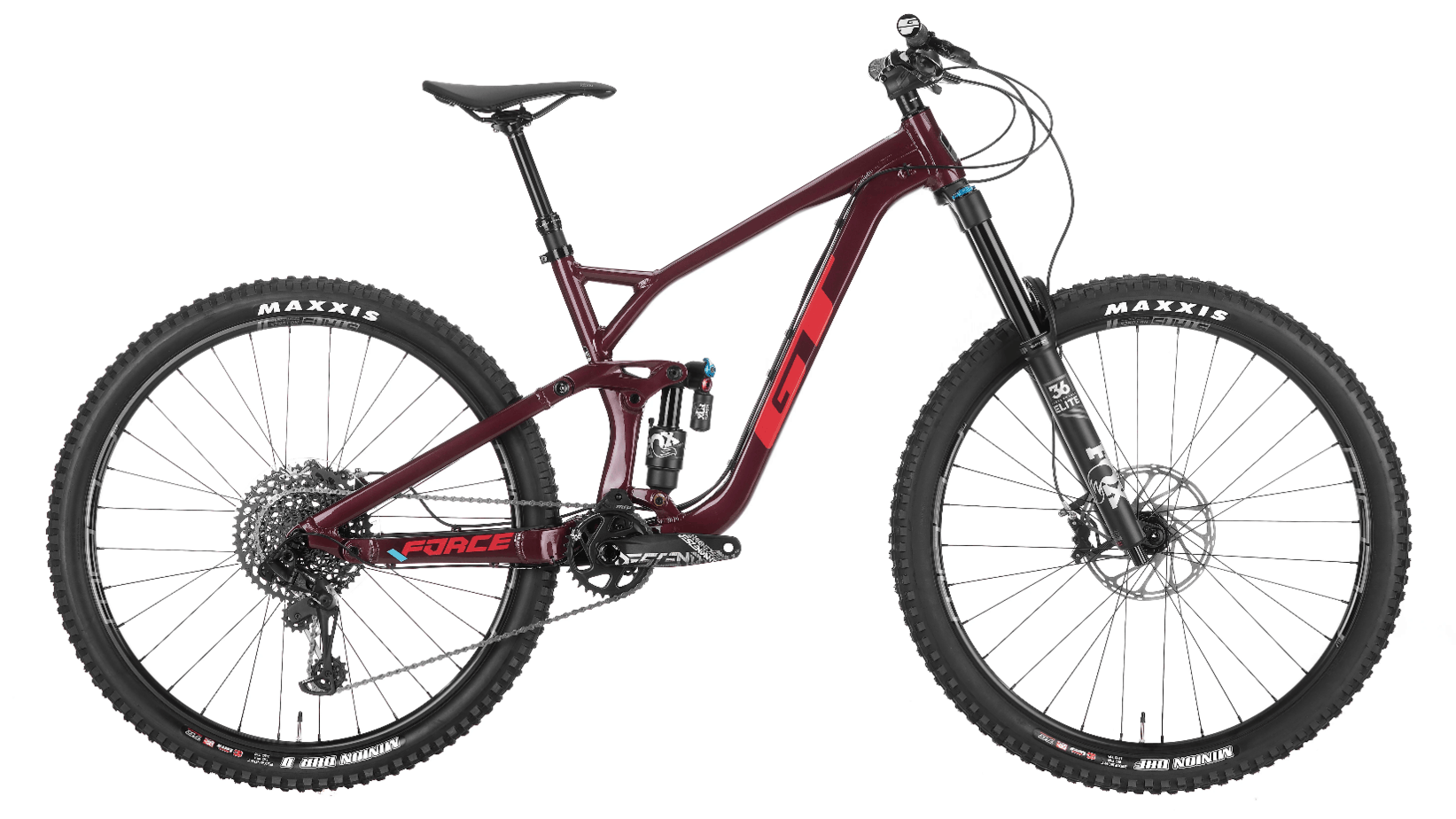 This bike is equipped with SRAM GX Eagle 12-Speed shifter, Fox Float Performance Elite fork, Fox Float X2 Performance rear shock, and SRAM G2 RSC hydro brakes. According to its owners, it is a great all-mountain enduro bike that will not disappoint even the pickiest cyclists. Click here to see its current price.
GT Force AL PRO Bike | Jenson USA
The GT Force AL Pro 29″ Bike is designed for riders that seek out big hits and a lot of gravity. The frame uses LockR Pivots, has Boost spacing, and a threaded bottom bracket.
Check Price
We earn a commission if you click this link and make a purchase at no additional cost to you.
And a few more options for you to consider:
The Pivot Switchblade is a good choice here, offering a very similar ride – but it's around the same price as the SB5+, so if the price is an issue, you might want to try something else.
The Scott Spark Plus is a good one to try if you're on a tighter budget. It offers a carbon frame and high-quality parts.
The Vitus Sentier VR+ is a great bike for those on a lower budget but comes with smaller tires, so you'll have to replace them to make it a plus bike.
In Conclusion: is the SB5+ Worth the Expense?
It's a tough one to call.
With any Yeti bike, you're buying years and years of knowledge and experience crammed into every detail – everything is well-thought-out and designed with riders in mind. They also use the best quality materials for their bikes. So, if you buy a Yeti, you're guaranteed to make other riders green with envy. But is this particular model worth splashing out on?
There are other plus bikes out there that are cheaper, including some of the alternatives I've mentioned in the article such as the Scott Spark Plus. However, the cheaper models don't have the excellent reviews that the SB5+ has. The Pivot Switchblade is a very close match, with a lot of similar features – so if you prefer Pivot as a brand, you might want to opt for that one.
However, if you are looking for a plus bike and you've got the money, the SB5+ (or its current replacement SB140) could be the one. Ultimately, MTB riding should be fun – and you should feel joy and happiness when you're on the trail. The SB5+/SB140 offers that, with many users commenting on how much fun it is to ride. In the end, if you have the money, you might decide that the feel of the ride is worth the price.
Yeti SB140 Turq | Jenson USA
The Yeti SB140 TURQ T1 Bike is a lightweight and highly capable all-mountain bike that is at home anywhere you take it. The TURQ Series Carbon frame features a new school geometry that is responsive and designed to feel like an extension of the rider.
Check Price
We earn a commission if you click this link and make a purchase at no additional cost to you.