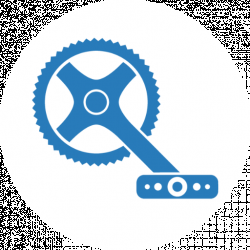 Latest posts by MTB Insider Team
(see all)
The Orbea Occam is a modern inspired mountain bike packed with tons of innovative design features and options that can help you take your riding to the next level. Any mountain bike you ride needs to fit your specific riding style, and the Orbea Occam is an excellent option for avid trail riders. 
The Occam comes in a wide range of different color options and you can customize your fork when purchasing the bike online. Another impressive feature of this bike for me is the concentric axle point that enables you to huck hard when you need to! While most trail bikes claim to offer an array of benefits that deliver practical performance, the Occam actually delivers on its promises. 
Everything from the rear suspension to the bike's astonishing performance on uphill climbs contributes to why many call this the ultimate trail bike. To give you a more realized view of all of the features and capabilities that the Ocaam offers, I'm going to give you a thorough review of the bike below.   
Orbea Occam M10 Complete Mountain Bike 2021 | Evo
This beautiful trail bike brings it in both the looks and performance departments, with progressive angles and a dash of that euro style. 140mm of smooth Fox suspension works with their solid shapes and an impressive build kit to make for an excellent all around trail bike.
Check Price
We earn a commission if you click this link and make a purchase at no additional cost to you.
The Ocaam was designed for those riders that want a serious trail bike capable of delivering superior performance in virtually all situations.
The bike combines the perfect balance of innovative features, high-quality components, functional design elements, and customization all into one sleek and very capable bike. The carbon fiber frame the bike is made from delivers a lightweight, durable, and reliable ride. Allowing you to take on more trails with confidence. 
The Occam weighs a total of 28.1lbs. which is slightly heavier than similar bikes from competitors in the same category. Orbea mountain bikes intended this bike to used primarily on the trail, and that's where you'll notice this bike shine the most.
With all of the upgrades and customizations available straight from the manufacturer, it's the perfect bike for a broad audience of trail bike riders looking to step up their game. 
Pros & Cons: Orbea Occam
No matter how many positive things I point out about the Orbea Occam, there will always be a negative or two in the mix, which is why I have laid out all of the noticeable pros and cons of the bike below.
Pros 
Carbon fiber frame that is ultra-durable and lightweight

Customization options available from the manufacturer 

Sensitive yet stable ride dynamics 

A lightweight overall design for ultimate versatility 

Aesthetically beautiful

Carbon wheels from DT Swiss 

XTR Drivetrain that delivers sustained power and performance 

Race Face carbon cranks 

Fox suspension system 
Cons 
Some tuning may be required for heavier riders to experience the full benefits of the bike 
All of these different elements must be considered before you make a decision about whether this is the right bike for you or not. Everyone has their own unique riding style and preference when it comes to riding.
When it comes to trail riding, this bike is amazing, while there are better options for Enduro or intense downhill.
Core Features: Orbea Occam 
The Occam manages to jam-pack a lot of different features and capabilities into a streamlined package that delivers efficient performance on trails of all kinds. The parts and design concepts used in the production of this bike comes together really well in the end product.
With a hefty price tag of about $8,000, you can expect the Occam to deliver a lot of performance-driven benefits and innovative features. 
I'm going to go over all of the stand-out features of the Occam so you can see exactly what you're getting for the money.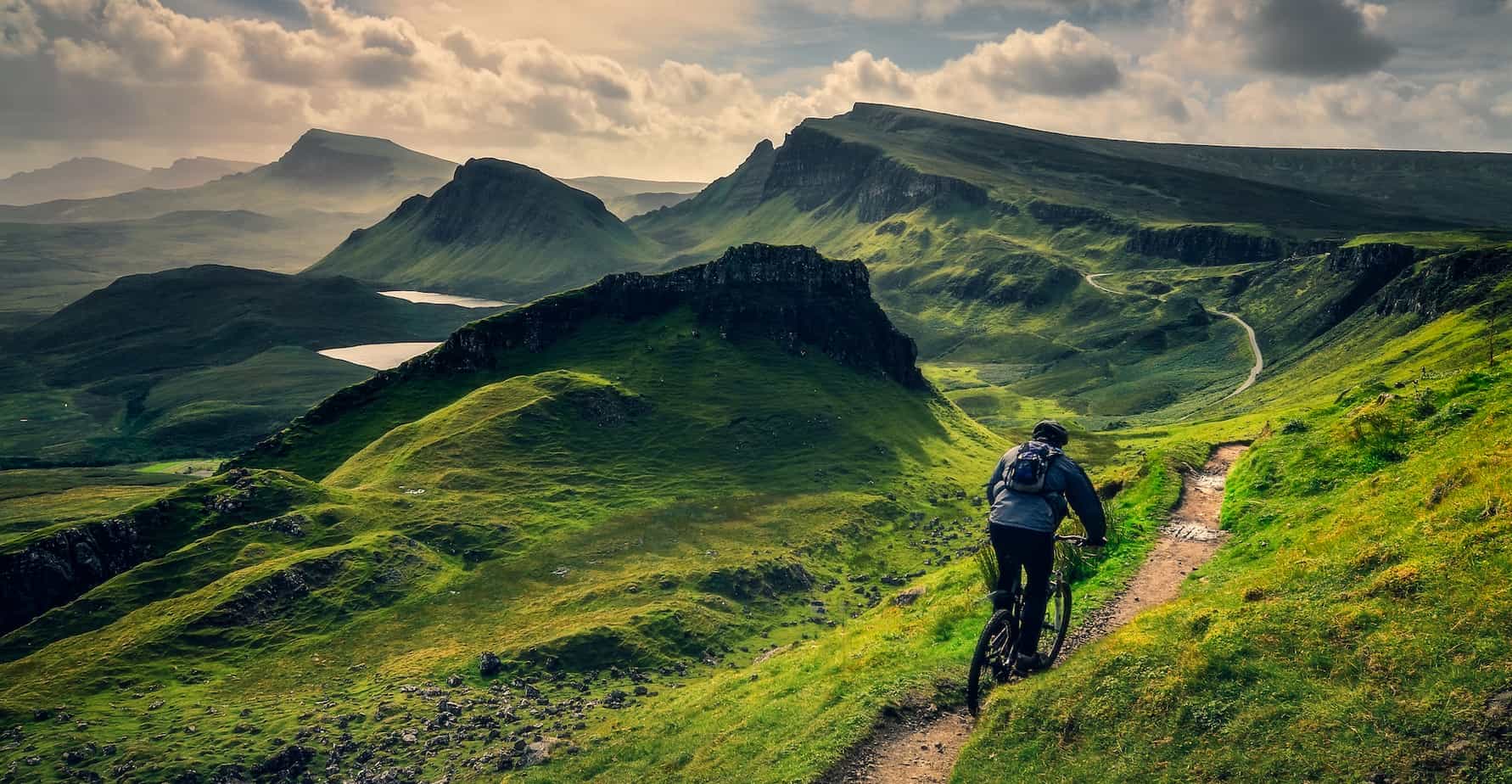 Frame 
The Occam uses a carbon Orbea Monocoque Race frame that integrates high tensile fibers and modulus fibers for unmatched durability. The frame utilizes prepreg carbon sheets that are laser cut to deliver precision ride dynamics by minimizing overlap.
The frame undergoes a comprehensive multi-hour pre-molding process that achieves maximum compaction while utilizing minimal carbon material. A full expanded polystyrene mold is added to get rid of voids and wrinkles. 
The frame also features a single-sided strut located on the left side of the bike. Orbea took their design inspiration a bit further by removing any ISCG tabs on the bike and replacing them with a direct-mount chain guide that mounts on the main pivot. All of the cables are routed internally which gives the bike a very polished and clean look. 
You'll also notice a chainstay protector that runs along the length of the body of the bike. All of the components integrated into the frame design for the Occam translate nicely into practical benefits. 
Trail Geometry 
The Occam features some very useful and innovative trail geometry that gives you the ability to choose between a 140mm or 150mm fork. The bike uses a lower bottom bracket to help you take on rough corners with ease in addition to a long wheelbase that adds stability to the bike's handling at high speeds.
You'll also find a short seat tube that enables you to install long dropper posts without much hassle. The extended cockpit allows you to move freely so you can maintain the perfect riding position without losing your balance. The very steep seat angle enables riders to achieve an optimal pedaling position under any conditions. 
Shock Setup 
The Occam doesn't use the same "shock tunnel" setup as most trail bikes do, instead, the shocks are installed on the left side of the bike's frame to deliver more asymmetrical support that enables more direct path pedaling.
With the straight-line closely following the outline of the shock mount, suspension forces are neutralized by way of the front triangle. Thus, resulting in a smooth and balanced ride regardless of what trail you're on. 
Ergonomics 
The entire design of the Occam and the placement of all its components are strategic and well thought out. The shock system is mounted in a way that allows for easy accessibility to your damper control and yes, you can even store a bottle on the left side of the bike if you want.
Even with some drastic design elements like the steep seat, there was never a moment where I felt the Occam was uncomfortable or unstable. 
Suspension 
The Occam is outfitted with a Fox DPX2 suspension system that has 140mm of travel which gives you a lot of room to play with in terms of mobility and versatility while on the trail. The suspension system feels solid while not being restrictive which is great for those riders who engage in a lot of tricks or professional riding.
Orbea says that they've managed to increase anti-squat figures by 7% with the latest iteration of the Occam. That efficient pedaling backed by such a responsive suspension system is why the Occam stands out in its class compared to other similar bikes. 
The Occam also comes packing a pair of carbon wheels made by DT swiss which help you take on rough trails with confidence.
Top Alternative Recommendations 
#1 SAVADECK DECK300 Carbon Fiber Mountain Bike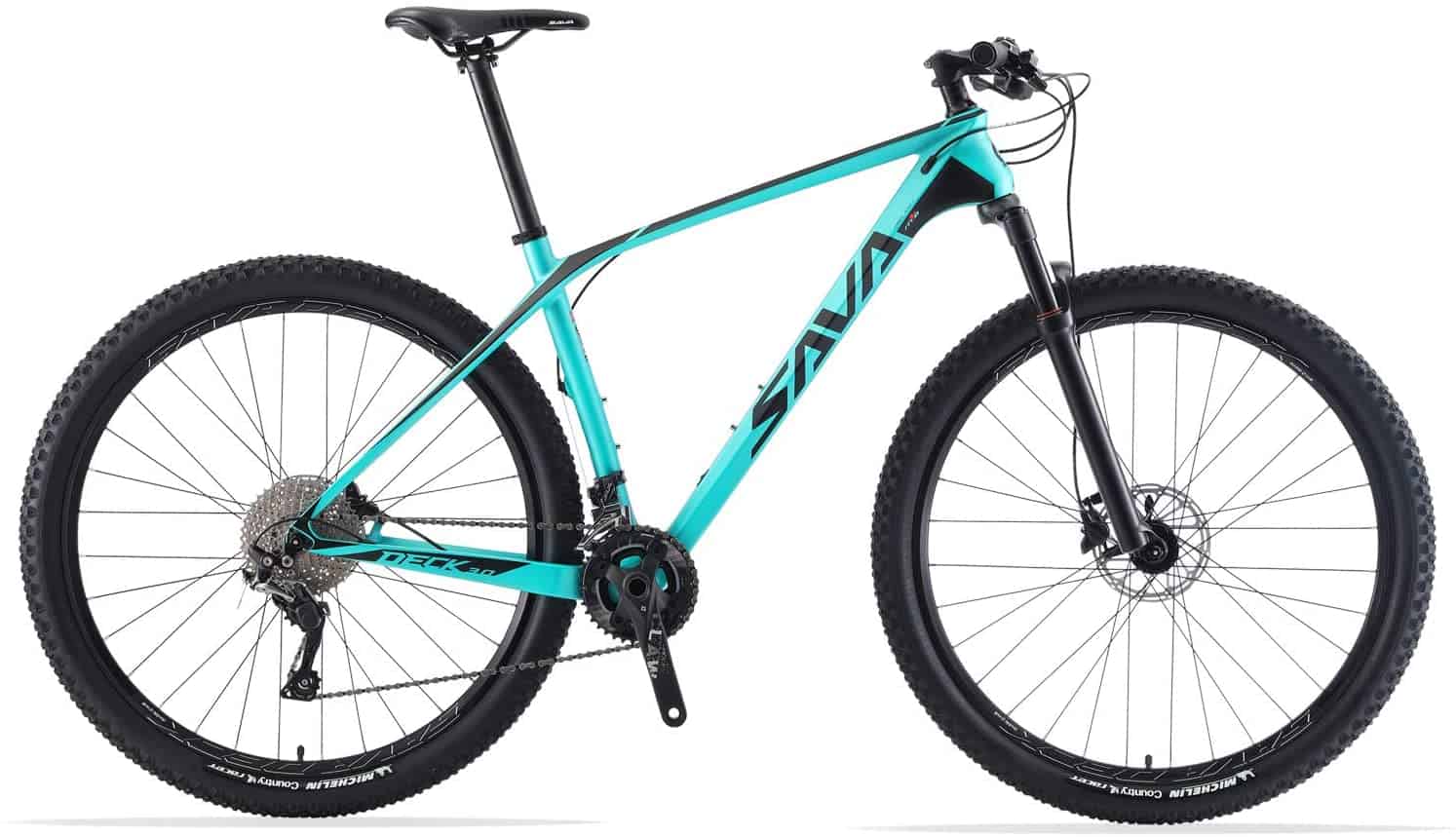 The SAVADECK DECK300 Carbon Fiber Mountain Bike is built using a TORAY T800 carbon fiber frame that delivers a durable and lightweight basis for this bike's other performance specs. It's also outfitted with an SR Suntour fork that provides 100mm of suspension travel in addition to more precise control.
The high-quality fork also aids in supporting a comfortable ride in various environments, which is a great bonus. This bike has a Shimano RD-M6000 front derailleur and a Shimano RD-M6000 rear derailleur that allows you to efficiently operate the bike and jumpstart your rides more accurately.
The braking system on this bike is a Shimano MT200 disc brake system that uses double mechanical disc brakes to deliver ultimate stopping power in virtually any terrain. You'll also find continental tires on this bike, which adds more versatility to the bike's ability to handle many ride conditions with ease.
This bike is easy to assemble and is excellent for beginner to intermediate riders who want a solid trail bike for the price. 
Pros:
Innovative design, high-quality suspension.
Cons: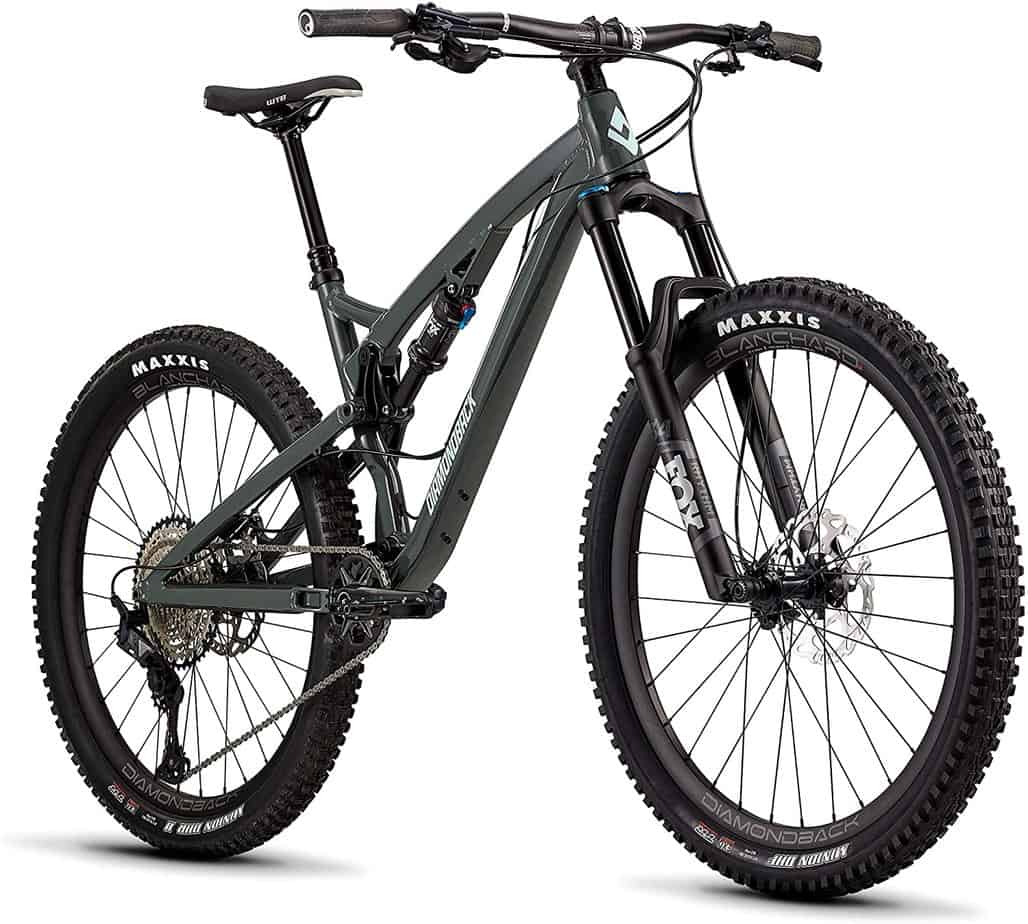 The Diamondback Bicycles Full Suspension Mountain Bike comes outfitted with a level link design that delivers 130mm of optimal rear suspension support. This bike is crafted from a lightweight yet durable carbon frame with a Boost 148x12mm Maxle dropout for added ride versatility.
You'll also find that this bike has a KS LEV Si dropper post w/ an integrated Southpaw remote lever that provides enhanced maneuverability when attacking downhill. The rear shocks on this bike are Fox 34 performance float and fox DPS EVOL LV which deliver excellent suspension travel.
The gears on this bike use an SRAM NX Eagle 11-50T single-ring drivetrain to deliver maximum versatility and power. If you're in the market for a premium high-performing mountain bike, this is a great selection.
Pros:
Powerful drivetrain, great brakes.
Cons:
Diamondback Bicycles Full Suspension Mountain Bike | REI
The Diamondback Bicycles Full Suspension Mountain Bike is a full-suspension and not-so-entry-level bike with a level link design that delivers 130mm of optimal rear suspension support.
Check Prices
We earn a commission if you click this link and make a purchase at no additional cost to you.
#3 Tommaso Gran Sasso 29er Mounain Bike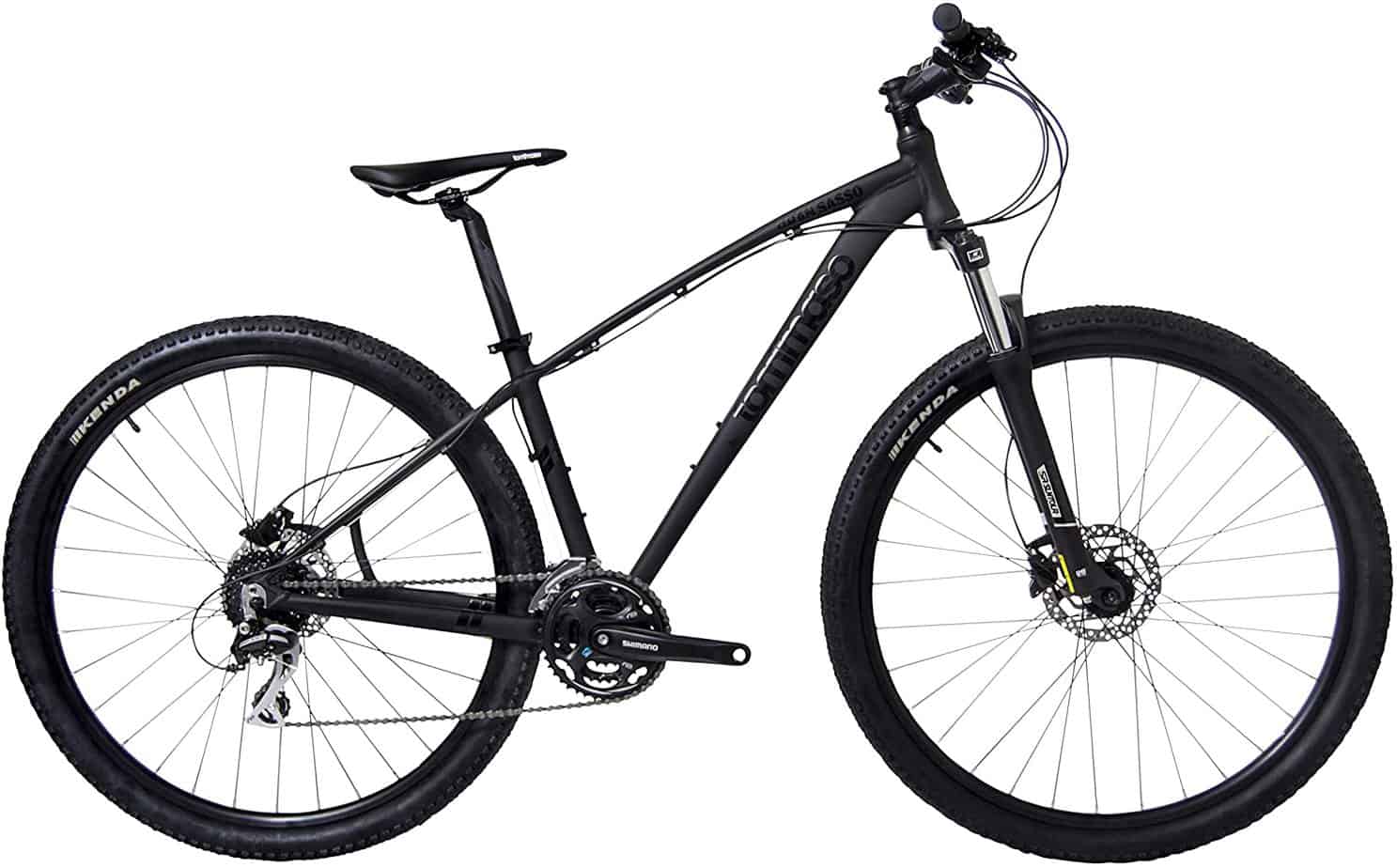 The Tommaso Gran Sasso, 29er Mountain Bike, features a durable alloy frame that can withstand virtually anything you throw at it. The bike comes with 29er wheels that deliver ultimate grip and momentum to keep you moving even n challenging difficult terrain.
These tires can withstand roots, rocks, branches, hucking, and more without even breaking a sweat. This bike also has a 24-speed Shimano drivetrain that delivers enhanced power and accurate control consistently. It also comes with a Suntour SF 15-XCM form that adds 100mm of travel for even more ride versatility.
It's outfitted with a 68mm handlebar, which is comfortable and optimized to provide you with superior posturing so that you always maintain precise control over the bike. Finally, this bike is a hardtail, making climbing easier. 
The bike comes with a standard one year warranty from the manufacturer, and all of the Shimano branded a two-year warranty covers parts. If you're a rider who is looking for great performance at an affordable price, this bike will be a great choice for you. 
Pros:
High-quality parts, 24-speed drivetrain.
Cons: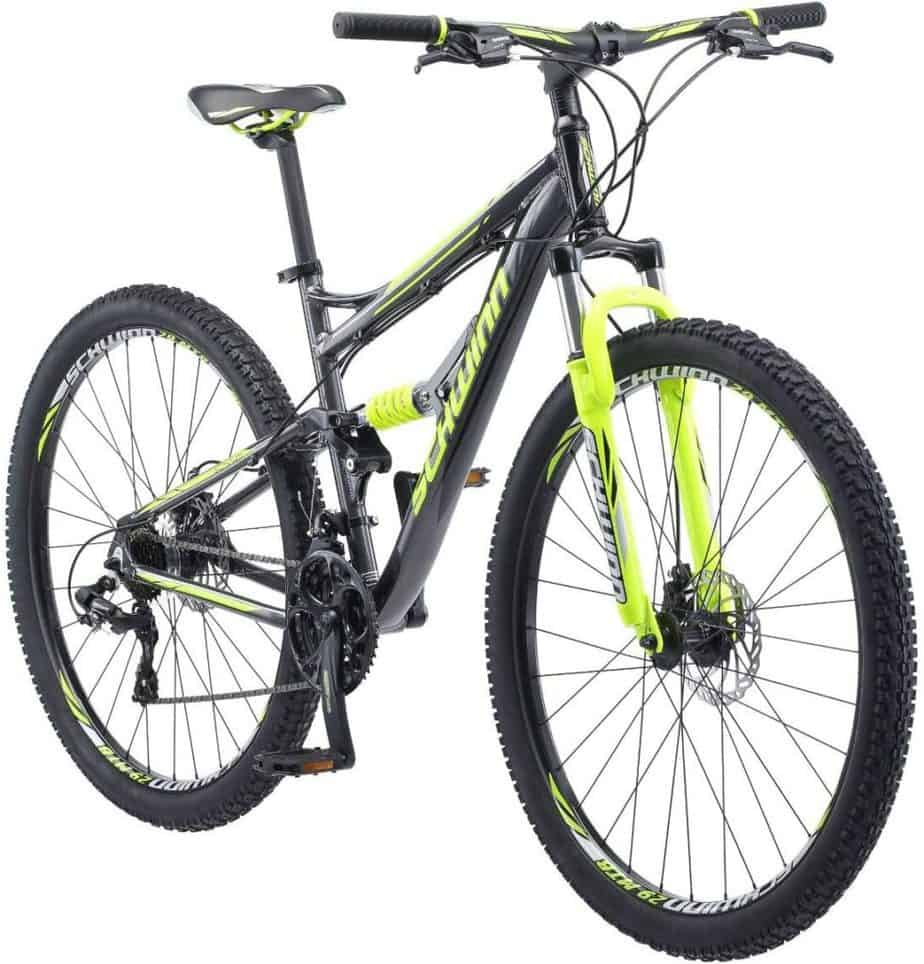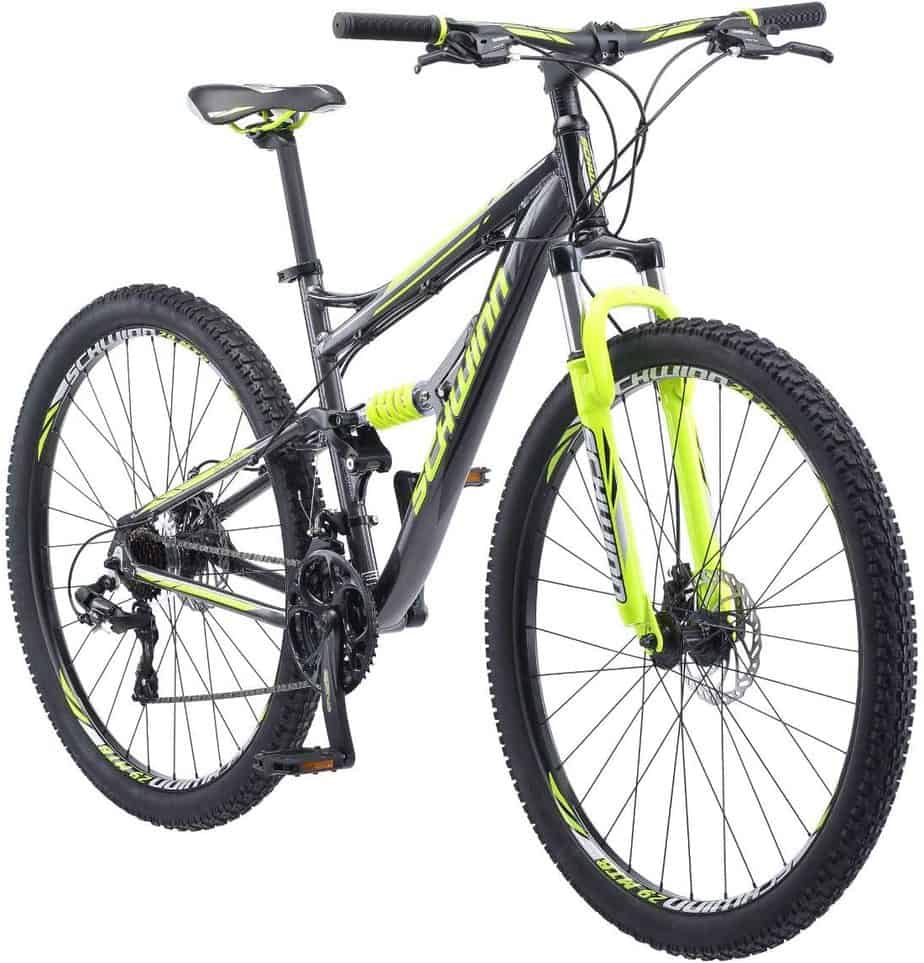 The Schwinn Traxion Mountain Bike comes with a 24-speed Shimano EZ fire trigger shifter that makes it easy for you to change gears on the fly. I also like the extra-wide double-wall rims that come on this bike because they are very durable while remaining lightweight and agile.
The rims are complemented by 2.25in wide knobby mountain ties, which are ideal for those riders who commonly take on rough terrain. The Schwinn branded alloy cranks on this bike are responsive, making it easier for you to focus on your ride instead of your bike during the heat of the moment.
Pros:
Wide tires, can handle rough terrain.
Cons:
Schwinn Traxion Mountain Bike | Amazon
The front and rear mechanical discs brakes on the Schwinn Traxion Mountain Bike deliver SUPER clean and crisp stopping power that can be achieved in a wide range of different conditions or terrains.
Buy at Amazon.com
We earn a commission if you click this link and make a purchase at no additional cost to you.
09/30/2023 12:06 am GMT
FAQs 
Question: Is Orbea a good bike brand? 
Answer: Yes, Orbea is known to be a reliable mountain bike brand trusted by many riders both professional and casual riders. 
Question: How much does Orbea Occam weigh?
Answer: The Orbea Occam weighs 27.95lbs total which is considerably light for a trail bike. 
Question:  How do you pronounce Orbea bikes?
Answer: You pronounce Orbea like "Or-Bay-uh" which is the correct way to pronounce the brand's name. 
My Honest Opinion 
In my honest opinion, the Orbea Occam is a very powerful and capable trail bike that delivers some really impressive features. The Occam can absorb rather large drops and features without being compromised. One of the main complaints I see is that the bike is relatively heavy if you want to bomb steep downhill trails. 
You do have a lot of room to upgrade and customize the Occam which is another highlight of the bike for those that like to fine-tune their MTBs. The price point will be one of the major deciding factors with his bike as you can find comparable models from leading competitors in the industry for much less. In terms of quality and practical design benefits, the Occam meets the criteria and then some. 
If you are willing to shell out almost 10 grand, and you're looking for an amazing full-suspension trail bike that can take on various trails and terrains with ease and efficiency the Occam is a great bike that'll allow you to do just that. 
Orbea Occam M10 Complete Mountain Bike 2021 | Evo
This beautiful trail bike brings it in both the looks and performance departments, with progressive angles and a dash of that euro style. 140mm of smooth Fox suspension works with their solid shapes and an impressive build kit to make for an excellent all around trail bike.
Check Price
We earn a commission if you click this link and make a purchase at no additional cost to you.