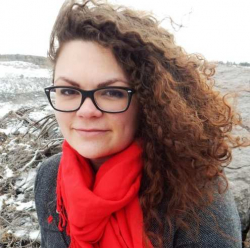 Latest posts by Candace Osmond
(see all)
Are you a mountain biker whose been dying to try a new bike? New to mountain biking? I was ready to hit the trails when I found out about the Cannondale Trail 7 bike, which I'm going to review today. In this Cannondale Trail 7 Review, I'll dig deep into the pros and cons of this bike, what makes the Cannondale Trail 7 bike so special, and go over its key features. If you want even more options, I'll talk about four alternative bikes to the Cannondale bike and show you what makes them unique.
About the Cannondale Brand
We like to know where a brand is coming from before buying into their product. We have been impressed with Cannondale-around since 1971; they've set about creating unconventional mountain bikes with unique materials. We're a fan of their signature single-sided forks and bikes with an aluminum and carbon fiber frame.
Cannondale has certainly come a long way since the first bikes were made in a little workshop in Connecticut. Cannondale strives to revolutionize the cycling industry in new ways with each model they create, and with the Trail 7, I think they've done that.
Pros and Cons to the Cannondale Trail 7 Bike
In this section, we'll break down the great and not-so-great points of the Cannondale Trail 7 bike. After everything we've learned about this bike, I see the pros far outweigh the cons, but we'll let you decide.
Pros
It comes in black and green
Made from innovative, high-quality materials
It comes in 5 different sizes
A chart in the product description helps you find the right size bike
Built for handling and durability
Lightweight SmartForm C3 alloy frame
SR Suntour XCT suspension fork, 100mm travel
microSHIFT 8-speed drivetrain
Double chainring crank
Tektro hydraulic disc brakes
Stable handling
Meant for low-impact trails, relaxing rides, and gravel roads
Cons
Only two colors to pick from
Pricy
Not for high-impact trails
What Makes the Cannondale Trail 7 Bike so Special?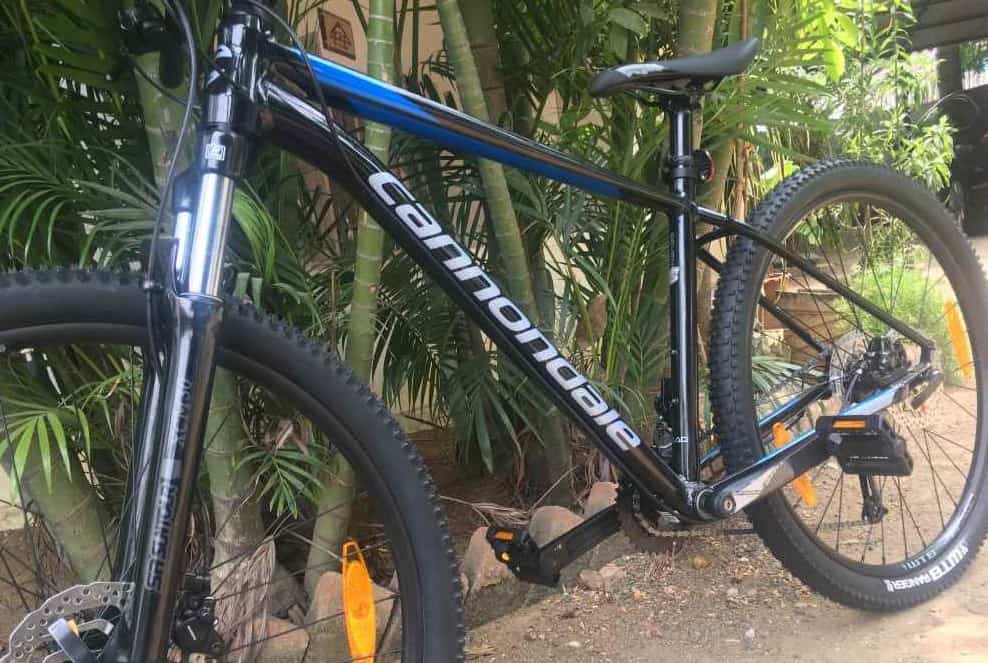 Just what makes the Cannondale Trail 7 our new favorite mountain bike?
The frame is lightweight and easy to maneuver.
The tilted head makes it easy to steer and control
The SR Suntour XCT suspension fork with 100mm travel offers smooth rides
The bike absorbs the shock of minor bumps and dips in a trail
The brakes allow for smooth stops
And because of many more features, we're going to cover down below
What to Look for in a Good Mountain Bike
This section will put a magnifying glass on mountain bikes and show you what to look for when you're searching for quality. Some mountain bikes skid to a stop when you put on the brakes, or some may have a bulky frame. When you know what to look for in a product description, eliminating less-than-top-quality bikes gets much easier.
Quality
The easiest way to find out if a mountain bike is of good quality is to check the product description for what materials were used to make the bike. The Cannondale Trail 7, for instance, has a lightweight aluminum and carbon fiber frame with the information listed in a picture slideshow and the product details.
Suspension
The suspension travel of a quality XC race mountain bike should at least be between 80-100mm. The Cannondale Trail 7 bike has 100mm, which puts it on the higher end of the range.
Frame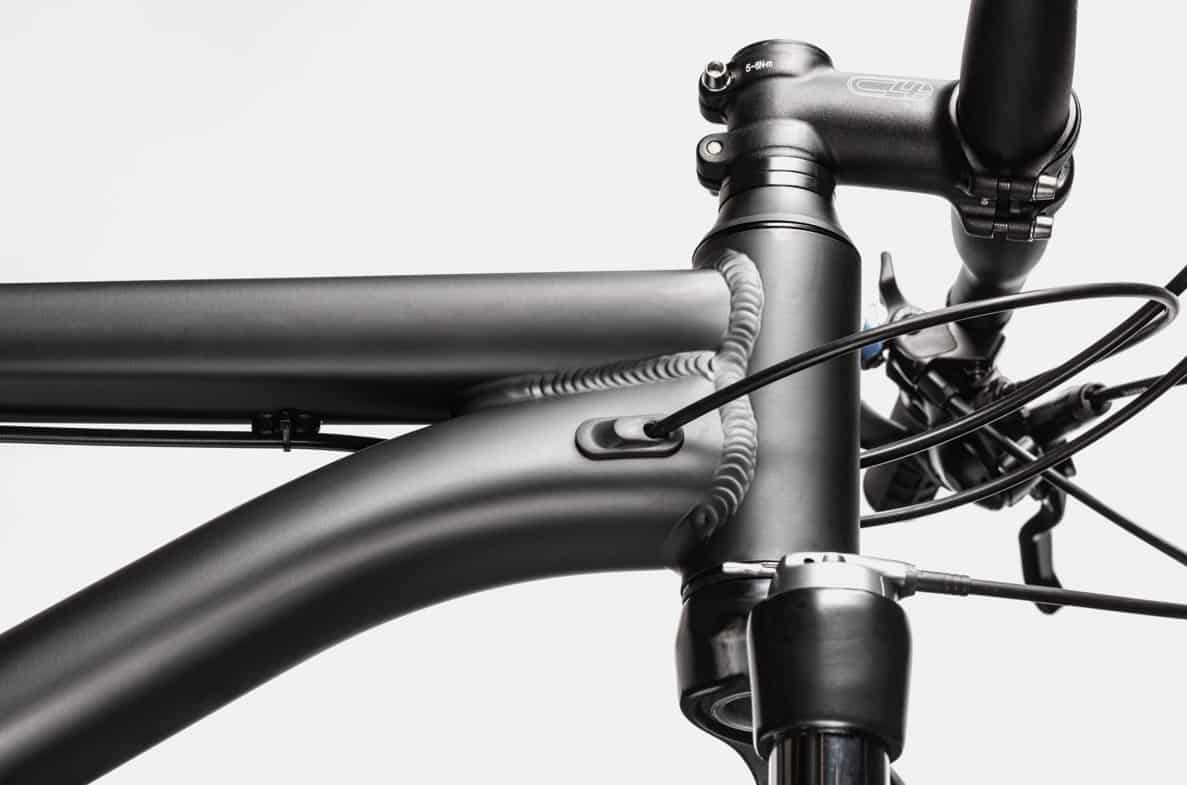 Choose a frame that is made of lightweight but durable material. Some frames sound promising because they are made of good quality metal, but bike riders quickly realize that some metals are much heavier than others. If you have to carry your bike for any reason, too, you'll want a bike with an aluminum frame.
Price
The truth is quality mountain bikes are pricy. A lot goes into creating each part to give you a smooth ride through uneven terrain. Some can be upwards of $1,000, and some are as low as $250. I don't recommend buying a bike under $150 because you get what you pay for at a certain price point.
Warranty
Luckily, most mountain bikes will have a warranty protection plan! Mountain bikes are a pricier investment to make, which is why manufacturers want their customers to know they'll help them out if a part malfunctions. Check the product description of the mountain bike you want to see if warranties are available.
Features of the Cannondale Trail 7 Bike
In this section, I'll summarize the best features of the Cannondale Trail 7 bike. This mountain bike is perfect for cruising along gravel roads after work or taking on mountain trails on your days off. We'll tell you all about it.
Materials
Lightweight SmartForm C3 alloy is one of the highlight materials of the Cannondale Trail 7 bike because this is what the bike's frame is made from. These types of aluminum and carbon fiber are both incredibly durable and very lightweight, especially compared to many other bike materials out there.
Construction
The construction of the Cannondale Trail 7 is one of its main selling points. Why? It's got:
A 68° head angle makes for very stable and smooth steering
Wheels made to fit the five individual bike sizes you can choose from
Micro-suspension technology to give you more control over the bike
Dropper post cables and shift easily move through the down tube's Straight Shot window
Design
The Cannondale Trail 7 bike has a sleek and modern design. Not only that but it was built to give you optimal control over your bike ride and offer a smoother ride. The unobtrusive frame is aesthetically pleasing. I like that the design and adjustability of the seat make it comfortable and stylish.
Warranty
The warranty for Cannondale bikes is a little… complicated. It isn't complicated compared to other mountain bikes, but it may be if you've never bought a product with parts that have separate warranties. Here's what I mean:
The frame has a lifetime warranty
The decals and paint have a 1-year warranty
Your Cannondale bike has to register with Cannondale or a Cannondale dealer for the warranty to apply
Color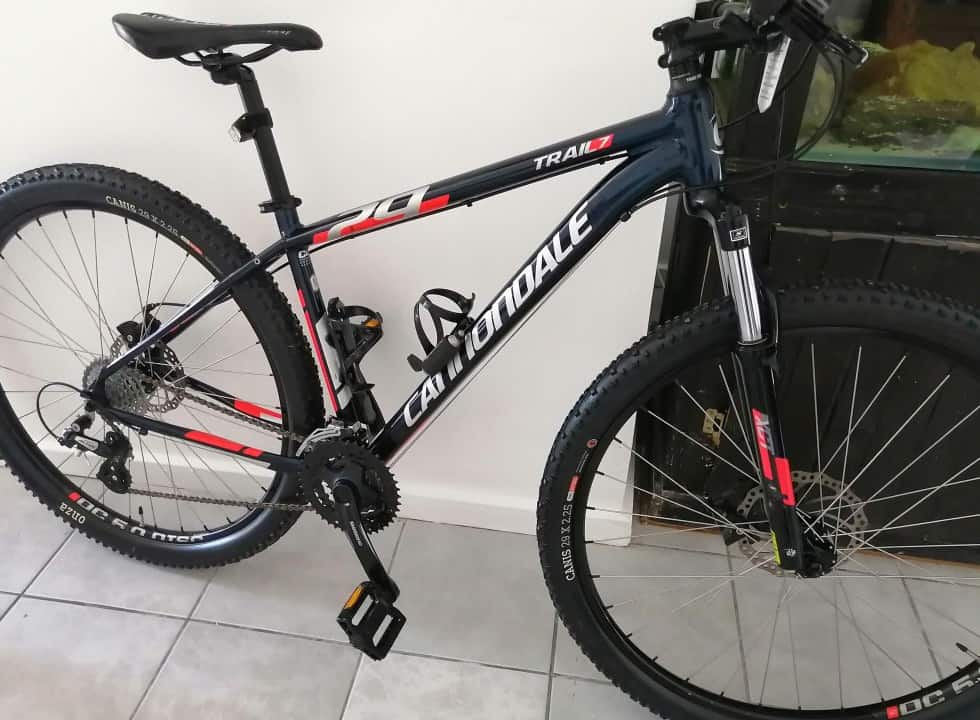 There are two colors to pick from with the Cannondale Trail 7 bike! You can choose either black or green. The black bike has white lettering, and the green bike has black lettering.
Special Features
In addition to everything else we've mentioned, the Cannondale Trail 7 has high-quality Shimano tires with spokes made of stainless steel. The handlebars are made from a dual-density material that is easy to grip and won't strain your hands. The brakes, which are Tektro M275 hydraulic discs with 160/160-millimeter rotors, offer a smooth slow-down even if you have to stop suddenly.
Alternatives to the Cannondale Trail 7 Bike
Maybe you're itching to hit the trails but want to see some more options before you choose the mountain bike for you. In that case, I have four alternatives to the Cannondale Trail 7 bike to show you.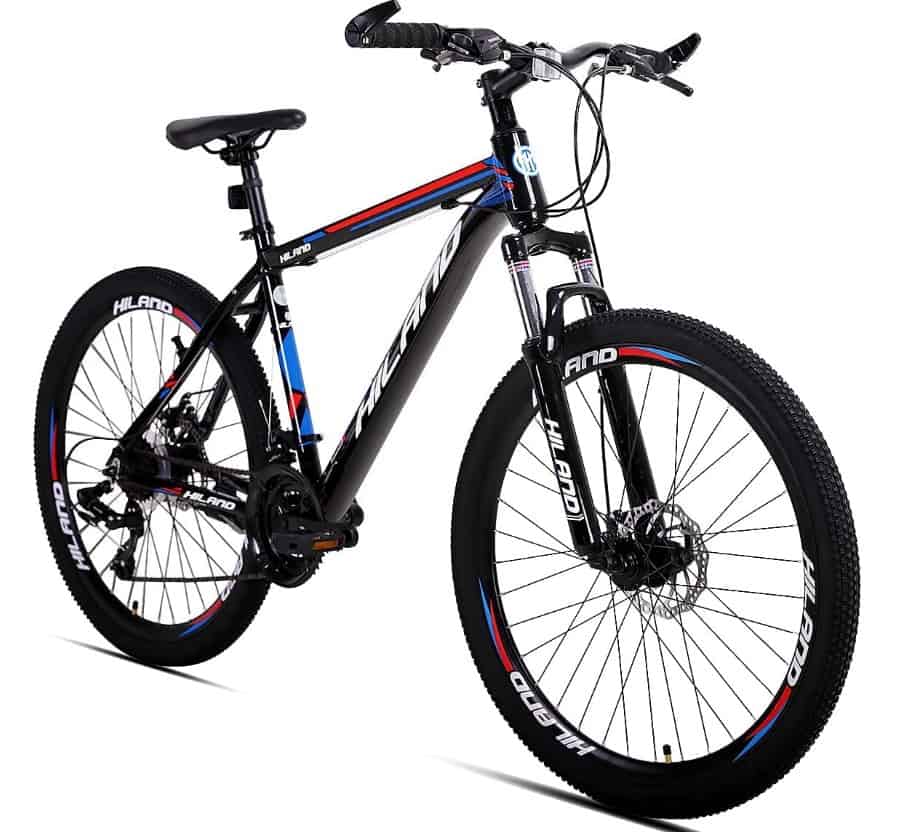 About
This aluminum frame mountain bike from Hiland has a perfectly lightweight frame. I awarded this bike the best customizability because you'll be able to choose from three different sizes. You'll also get to pick either black, gray, blue, or red as the color. This bike has 24 speeds and has disc-style brakes.
Material: Aluminum
Price Range: $190-$360
Warranty: Please contact the seller directly
Best Feature: Comes in multiple sizes and colors
Care
To clean off the surfaces of your mountain bike, use a disinfectant spray and a microfiber cloth or a disinfectant wipe. Clean off the handlebars and seat after each use.
Pros
24 speeds
Reasonable price
Range of colors and sizes
Cons
Bike gets more expensive the bigger the size
About
This is a steel frame mountain bike by Mongoose. I love the sleek black color with the stark white lettering, but you can also buy this bike in tan, silver, and silver/red. The fat tires are ideal for gripping rugged terrain and keeping the bike steady. This bike makes it easy to come to a smooth stop even if you brake suddenly by having front and rear disc brakes.
Material: Steel
Price Range: $430-$470
Warranty: Please contact the seller directly
Best Feature: Fat tires
Gifting Ideas
If you're buying this mountain bike as a gift for a cyclist, consider pairing it with:
High-protein energy bars
Insulating water bottle
Bike accessories
New helmet
Protein shake powder
Pros
Great for rugged terrain
Fat tires
Front and rear disc brakes
Cons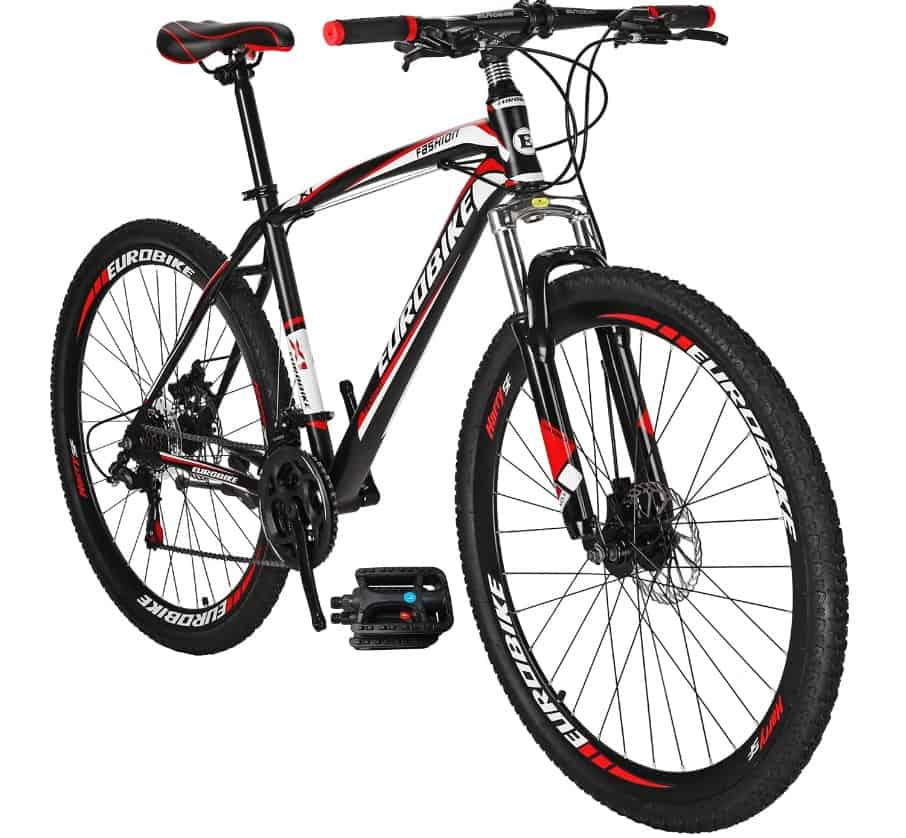 About
This is an eye-catching mountain bike from Eurobike that comes in two colors: black/red and black/yellow. You can choose to have the regular steel wheel spokes for this bike or pick the 3-spoke wheels. The wheels are 27.5", which I like for a smooth and controlled ride. The dual disc brakes help you stop without skidding to a halt.
Material: Steel
Price Range: $250-$290
Warranty: Please contact the seller directly
Best Feature: Eye-catching design
Assembling Your Bike
Instructions come with this mountain bike to help you when you're setting it up. It's very important to read these instructions thoroughly so you can ride safely, particularly when tuning the speed and brake systems.
Pros
Great design with bright colors
Can choose 3-spoke wheels
21 speeds
Cons
No options for different sizes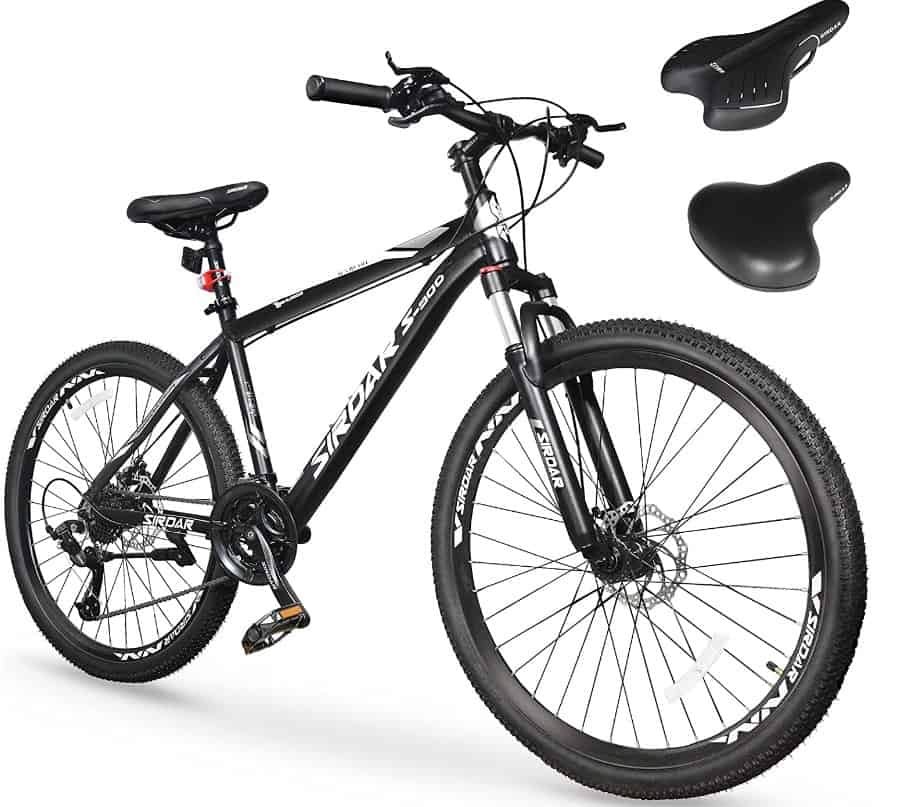 About
This is our favorite alternative to the Cannondale Trail 7 mountain bike. Reasonably priced and equipped with 27 speeds, this bike will take you over mountain trails with ease. The bike is black, two replaceable seats are included, and there is a frontal/rear disc-style brake system.
Material: Aluminum and carbon steel
Price Range: $270-$310
Warranty: 1-year after-sales service
Best Feature: 27 speeds
The 2 Replaceable Seats
Cross-country saddle: Made for long bike rides across far distances
Wide soft saddle: Meant for shorter, leisurely rides
Pros
27 speeds
Two replaceable seats
Lightweight, high-quality frame
Cons
Only after-sales service for one year
FAQs
In this section, we'll answer your most frequently asked questions about the Cannondale Trail 7 bike and the Cannondale brand. Got any more questions about this mountain bike before riding out into the wilderness? Please leave us a comment below and we'll answer your question ASAP!
Question: Is the Cannondale Trail 7 a Good Bike?
Answer: The Cannondale Trail 7 is a good bike because it comes from a highly reputable brand. Not to mention, being the 7th model in a series of Cannondale bikes means the engineers have had six separate times since the first Cannondale Trail bike came out to make adjustments. This bike is well-made and offers a smooth ride.
Question: Are Cannondale Bikes Worth the Money?
Answer: I say yes for a few reasons. If you are serious about mountain biking, it's worth it to buy a bike that will last for many years into the future. If you're new to mountain biking, it's better to have better-made equipment like the Cannondale bike because it is safer.
Question: Is Cannondale a Good Brand?
Answer: Cannondale is a great brand! Cannondale has successfully produced and sold tons of high-quality bikes since the 1970s. Decades of experience have allowed the Cannondale team to create innovative bikes.
The Finish Line
We covered a lot of ground, didn't we? I discussed why the Cannondale 7 Trail bike is our favorite mountain bike out there, what the Cannondale brand stands for, and key features to look for in quality mountain bikes. I also showed you four excellent alternatives to the Cannondale bike that get you through tough terrain in style.
Do you have any questions about the Cannondale Trail 7 bike or questions about mountain biking? Let me know below! For even more great content about products for an active lifestyle, check out this guide to the best Schwinn mountain bikes!