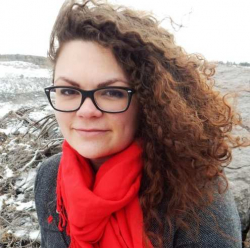 Latest posts by Candace Osmond
(see all)
Suppose you're someone that enjoys mountain, racing, or cross-country biking. In that case, you probably know all too well that many women's bikes are lacking in quality, control, and customization to suit the unique needs of an often light and more petite body.
This can sacrifice your performance, maneuverability, speed, and more – that's where Juliana bikes come in. Juliana bikes are made to help women experience the best of mountain biking with quality, built-for-women bikes. Read on to learn more about Juliana bikes and our top picks!
Top Picks
If you know all about Juliana bikes and what makes them unique from other bike brands and you're just looking to buy – here are some of our top picks for Juliana Mountain Bikes.
About the Juliana brand
Juliana Bicycles was created by UCI World Champion Juliana Furtado. She created Juliana bikes with one goal in mind – developing mountain bikes designed to fit and perform according to the unique needs of female bikers.
With grips, bars, saddles and frames made to comfortably fit women in their various styles of mountain biking. Everything you get with the best mountain bikes out there just with the added bonus of being designed to fit women instead of women being forced to make men's and unisex bikes fit them and their needs.
Currently, Juliana Bikes are available in six styles each targeting a specific type of mountain biker and unique needs and preferences – from cross country to racing and for speed demons or casual trail bikers.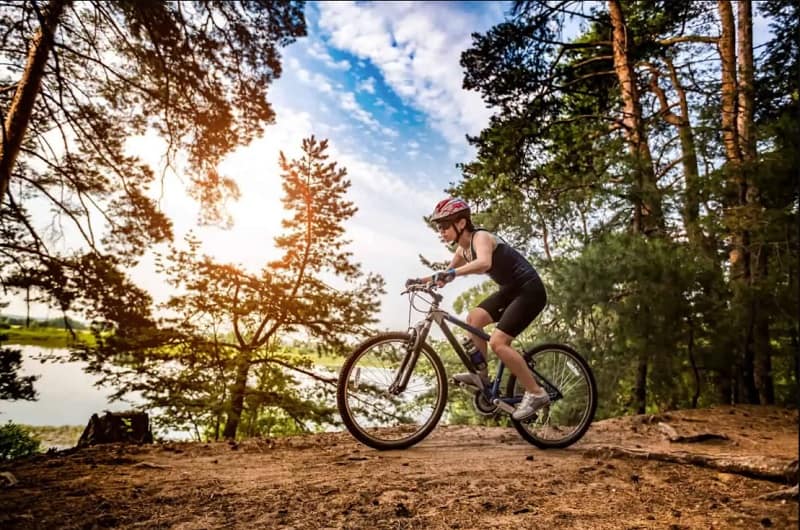 What Makes Juliana Bikes Different from Other Brands?
What makes Juliana bikes different is that they're designed from start to finish to meet the unique demands of female mountain bikers. This means that frames, grips, saddles, etc., are all designed to be a better fit for women's bodies and their style of biking.
For example, when it comes to control, speed and maneuverability – weight can be a huge factor when it comes to biking.
Many men's or unisex mountain bikes are too heavy, bulky, or just don't have quite the right fit to allow many women to comfortably handle their bikes with precision.
Juliana bikes home in on these needs and create women-led designs for every style of female mountain biker, from the trail rider to the racer to the mountain climber.
Female Mountain Bikes vs Male Mountain Bikes
At first glance, it can be different to tell just how different male and female mountain bikes can be. But for those that are serious about the sport, the contrast in comfort and performance is astounding. Here are some of the main differences between female and male mountain bikes:
Frames/Geometry
Women's bikes tend to have smaller frame sizes to men's bikes or even unisex bikes. Additionally, stand over height also tends to be lower in women's bikes which is important in mountain biking as you're spending more time out of the saddle than in it compared to road biking.
Saddles
Women's mountain bikes are designed for the female anatomy, and this is most evident in the saddle design. Cushions, depressions, holes, etc., need to be placed differently on women's bikes than men's bikes.
Women's mountain bikes will typically ensure a more comfortable ride for women, whereas men's bikes tend to require a saddle replacement to improve comfort for female riders.
Wheels
Depending on the type of bike and the brand, wheels tend to be smaller on women's mountain bikes due to their smaller frame sizes.
Juliana bikes, however, differ in tire size depending on the specific style of biking the design is targeting, and in many cases, their bikes with smaller 29er tires can accommodate a larger tire if the biker prefers it.
Grips/Breaks
Grips and brake levers on women's bikes tend to be smaller and closer together to allow for easier and more comfortable control of the bike and braking.
Men's bikes tend to have larger grips with brake levers further away from the grips, which can be less comfortable and make it harder to control the brakes.
Weight
In some cases, you may find that women's bikes are more lightweight than men's bikes as they're built to accommodate the smaller and lighter frame of most women.
Weight is important in biking as it impacts overall control, speed, and maneuverability, especially when it comes to mountain biking and rough terrain riding.
What to Look for in a Female Mountain Bike
So, if you're looking to upgrade your cycling situation and want to consider switching to a female mountain bike such as the Juliana Bicycles Brand, here are some things you should be looking for:
Suspension
Suspension is an important part of helping tone down the impact of rough, bumpy terrain. This is an important factor in buying a mountain bike due to terrain typically being dirt trails, rocky hills, etc. Good suspension will create a smoother ride and ultimately more control.
There are typically two categories of suspension on a mountain bike – front suspension (hardtail) and front and rear suspension (full or dual suspension). If a mountain bike has no suspension at all, which is rare for mountain bikes in recent years, it's considered rigid suspension.
Hardtail suspension is a popular choice in mountain biking as riders typically ride out of the saddle with a lot of weight focused over the bike's front end. The front suspension handles this extra weight exceptionally well allowing for a smooth and controlled ride.
In many cases, suspension can be adjusted to suit the needs of the rider and terrain – this is done with an Allen key, lock-out switch, or other methods for quick adjustments on the go.

Lightweight frame
Weight when it comes to a bike or frame will be a matter of preference for the rider. Some riders don't mind or even prefer a heavier frame, while others find more control with a lighter frame.
In general, women's mountain bikes are made with a smaller and lighter frame to account for the, on average, small and lighter rider when compared to men's bikes.
A lightweight frame can make it easier for the rider to control and maneuver their bike on tricky trails and terrain and build and maintain more speed.
However, the slightly heavier (though often not by much) frames of men's or unisex bikes can sometimes be preferred if a rider likes feeling more stable and planted to the ground.
Comfortable seat
Arguably the most important feature of a women's mountain bike is the saddle. Women's saddles are different shapes and feature cushioning, depressions, and holes in different seat areas to accommodate female anatomy.
Saddle preference, however, is up to personal taste, and some do prefer the shape and feel of a men's or unisex saddle. The most important thing to consider about the saddle when buying a women's mountain bike is how it actually feels when you're sitting in it.
The right saddle should be barely noticeable, not causing active discomfort, and is suited to your style of riding.
More attention needs to be paid to the comfort of the saddle if you're a cross-country or long-haul rider vs. a causal trail rider and certain terrains and styles of riding leave you out of the saddle more than in it.
Luckily, if you find the perfect bike but aren't quite convinced the saddle is right for you, it's an easy part to replace, and your local bike shop will be happy to help you find a more suitable option for your needs.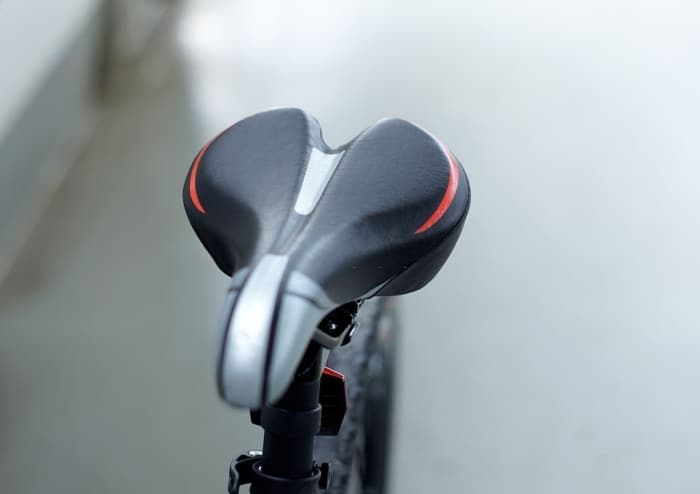 Handlebars
There are a few things to pay attention to in terms of handlebars when buying a women's mountain bike – shorter reach, narrower bars, and grips.
The reach is the distance between the saddle and the handlebars. For female riders, this is often shorter than it would be for a male rider. So, it's important to check the reach on your mountain bike to ensure the handlebars are at a comfortable distance.
Similarly, women tend to have narrower shoulders than men meaning that the handlebars themselves tend to be shorter in span than on a men's bike. This allows for more control and a more comfortable ride.
This will vary depending on the bike, but in many cases, the grips on women's mountain bikes tend to be smaller, with brake levers closer to the grips to allow for easier access and use for female riders with smaller hands.
Men's bikes tend to have chunkier, more padded grips, which can be uncomfortable for smaller hands and make female riders feel less in control.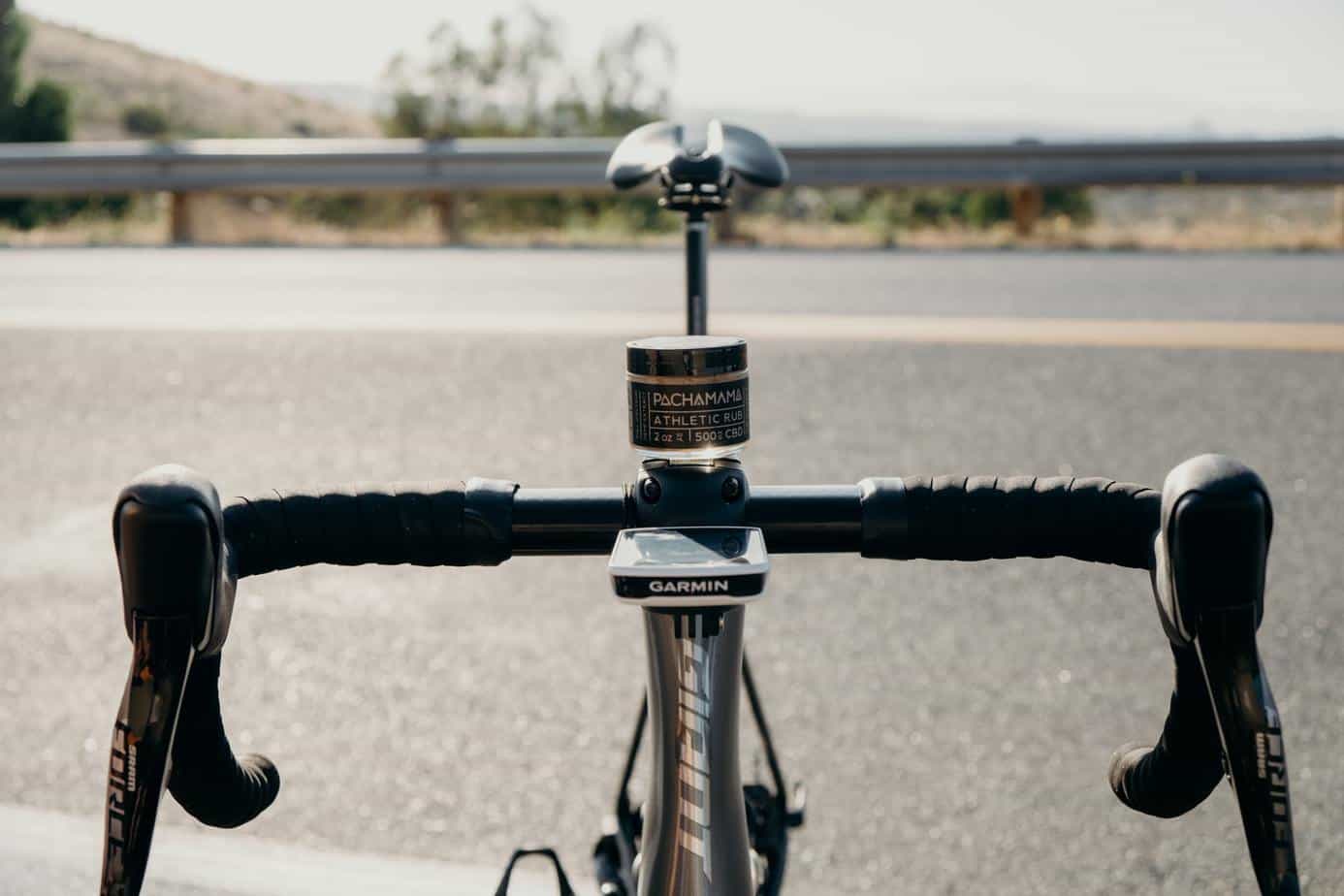 Wheel Size
There are a variety of different wheel sizes for mountain bikes and which size is right for you depends mostly on your riding style and the terrain you typically ride on.
29″ wheels tend to be the most popular choice for mountain bikes as they're great on lots of different terrains and for a variety of riding styles, including cross country.
It's the "go-to" size if you're not sure what to choose or tend to switch up your riding terrain frequently as it's fairly adaptable. This size will also give you decent speed.
A 27.5″ wheel provides a more precise feeling ride, which can be preferable for some trail riders. These are the best choice for those that want a bike that can take jumps, maneuvers easily and is easier to get up to speed. For women specifically, it's a great choice as it's particularly great at handling smaller riders.
MX refers to mixed wheels meaning that front and rear wheels are different sizes. Typically, this means the front wheel is 29″ while the back is 27.5″. T
his mix allows for a combination of great traction and better handling. It tends to be popular on bikes that target serious mountain bikers who tackle a lot of hills, and downhill racers.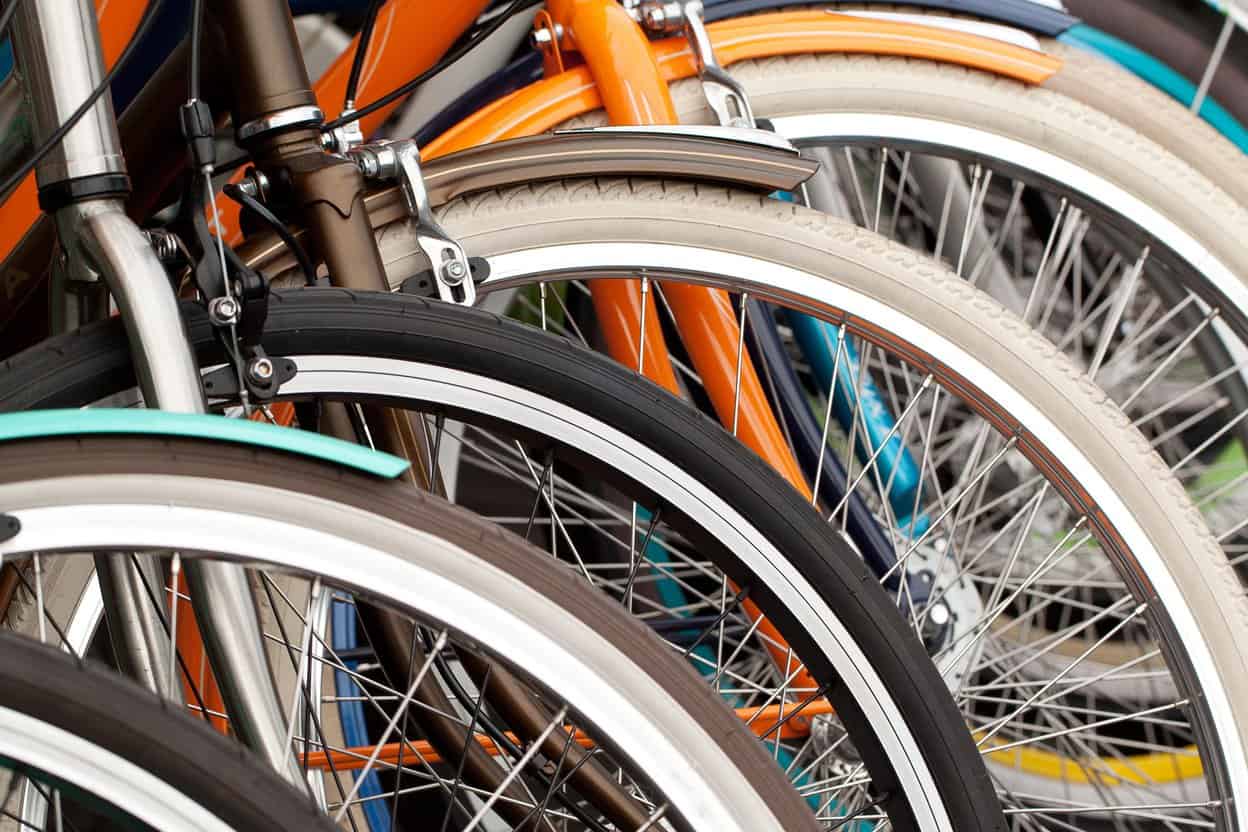 Best Juliana Mountain Bikes
Looking to buy one of the best women's mountain bikes to up your cycling performance? Here are the best Juliana Mountain Bikes for every style of rider.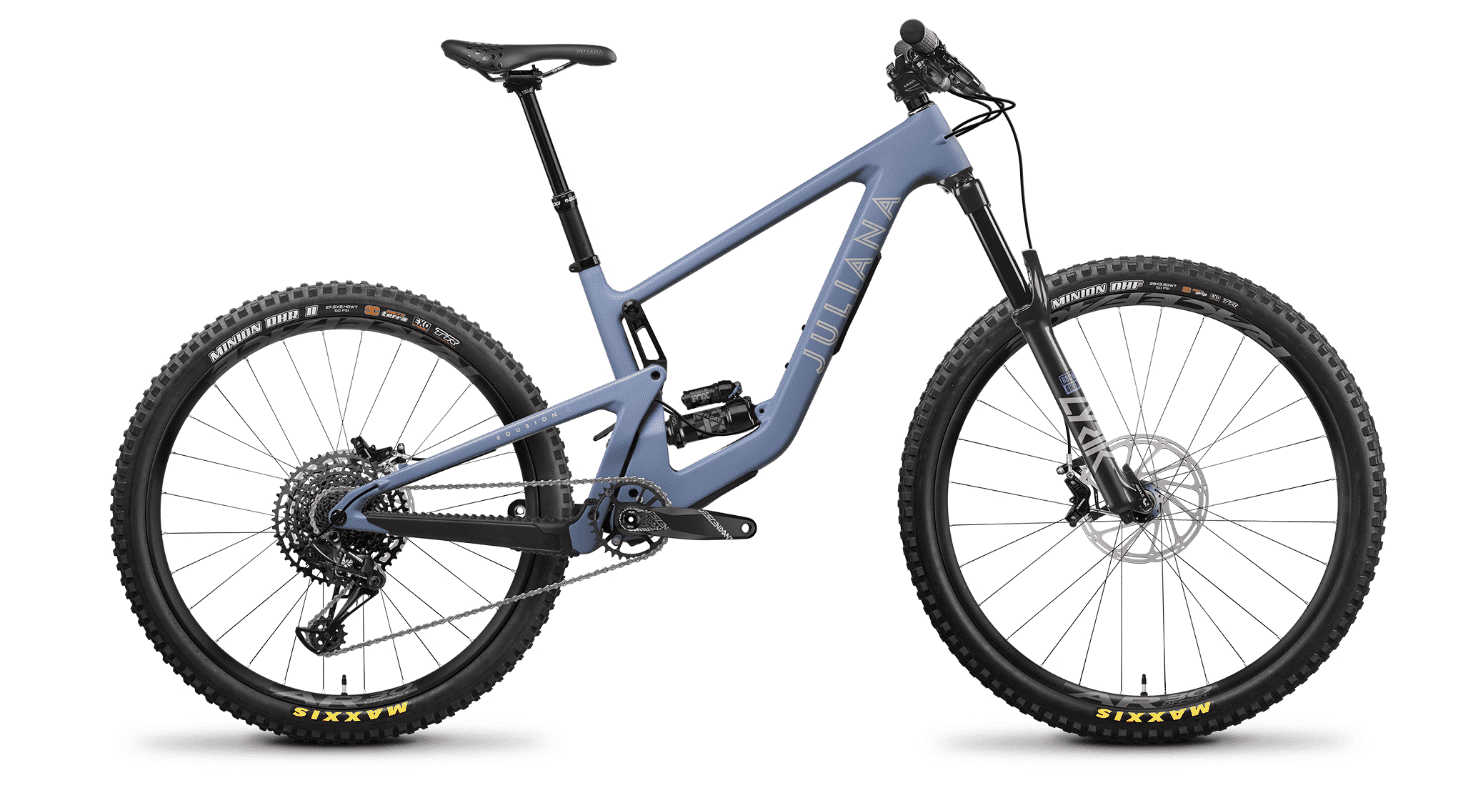 The Roubion is a super quick high-performance mountain bike. Great maneuverability and stopping power make it the perfect choice for trails and rough terrain.
Wheel Size: MX
Price range: $3600 – 10000
Fork: FOX 36 Float Factory, 160mm
Warranty: Lifetime warranty
A serious bike for the mountaineer, or rugged explorer.
Pros
Carbon C and Carbon CC frame
MX wheels
Available in S – M
Lifetime warranty
Customizable to your preferences
Cons
May not be suitable for those over 5'9″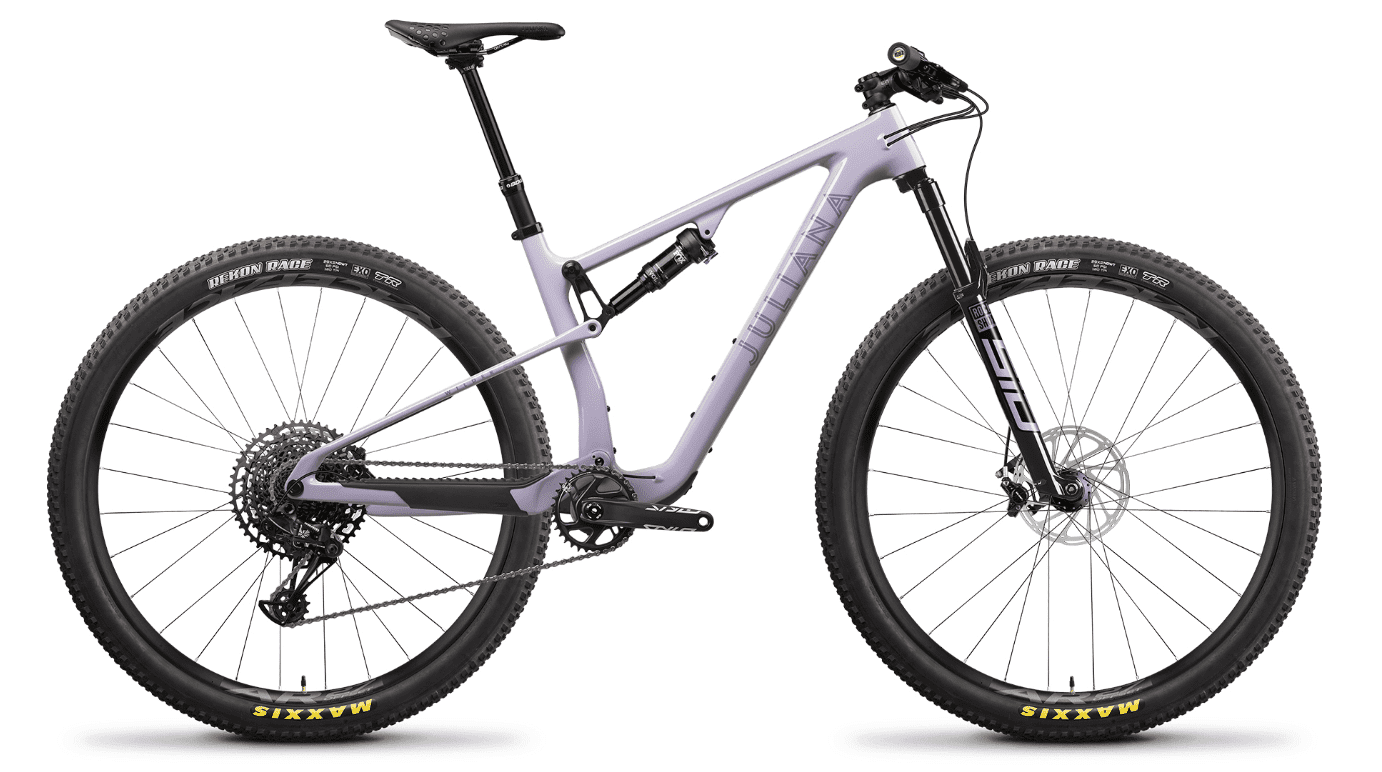 The Wilder is a mashup of cross country and trail with a lightweight frame and comfortable handling and performance no matter your height.
Wheel Size: 29er
Price range: $3400 – 10000
Fork: FOX 34 Step Cast Factory, 120mm
Warranty: Lifetime warranty
29er wheels make speeding, passing and handling a breeze whether you're a long-hauler or trail explorer.
Pros
Superlight suspension
29er Wheels
Lifetime Warranty
Lightweight for speed and control
Combines cross-country and trail in a great race bike
Carbon C and Carbon CC frame
Available in S – L sizing
Cons
May not be a good fit for those under 5′
Built for speed and racing vs. casual biking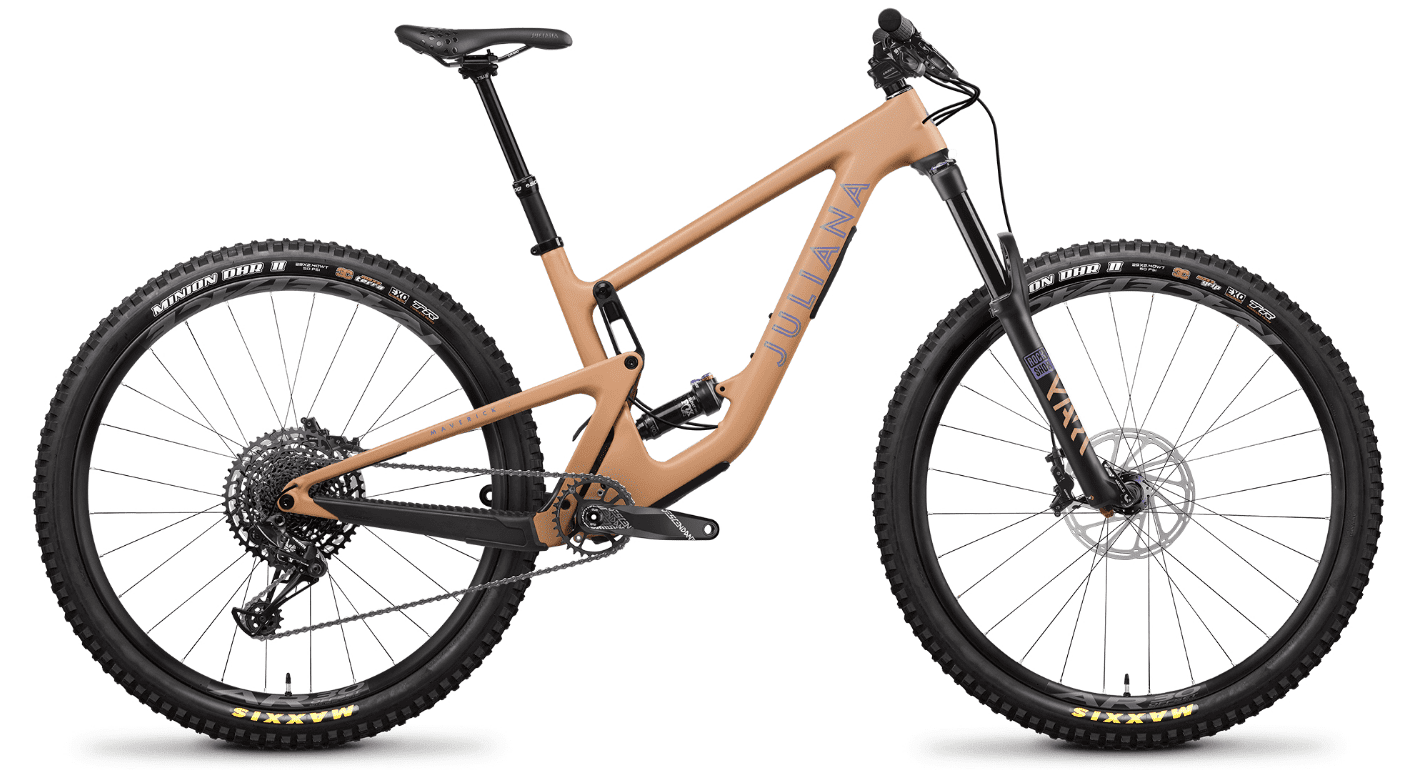 The Maverick is the ultimate do-it-all bike for riders that like adventure and speed. Built to handle everything from ledges to trails.
Wheel Size: 29er
Price range: $3600 – 8500
Fork: FOX 36 Float Performance Elite, 150mm, 29″
Warranty: Lifetime warranty
Equipped with an Allen key you can adjust the headtube and bottom bracket to suit the terrain and your own riding preference.
Pros
Lifetime warranty
Integrated flip chip
Customizable to your own preferences
Carbon C and Carbon CC frame
29er wheels
Sizes from S – L
Cons
Performs better on trails than pavement
Not for those under 5′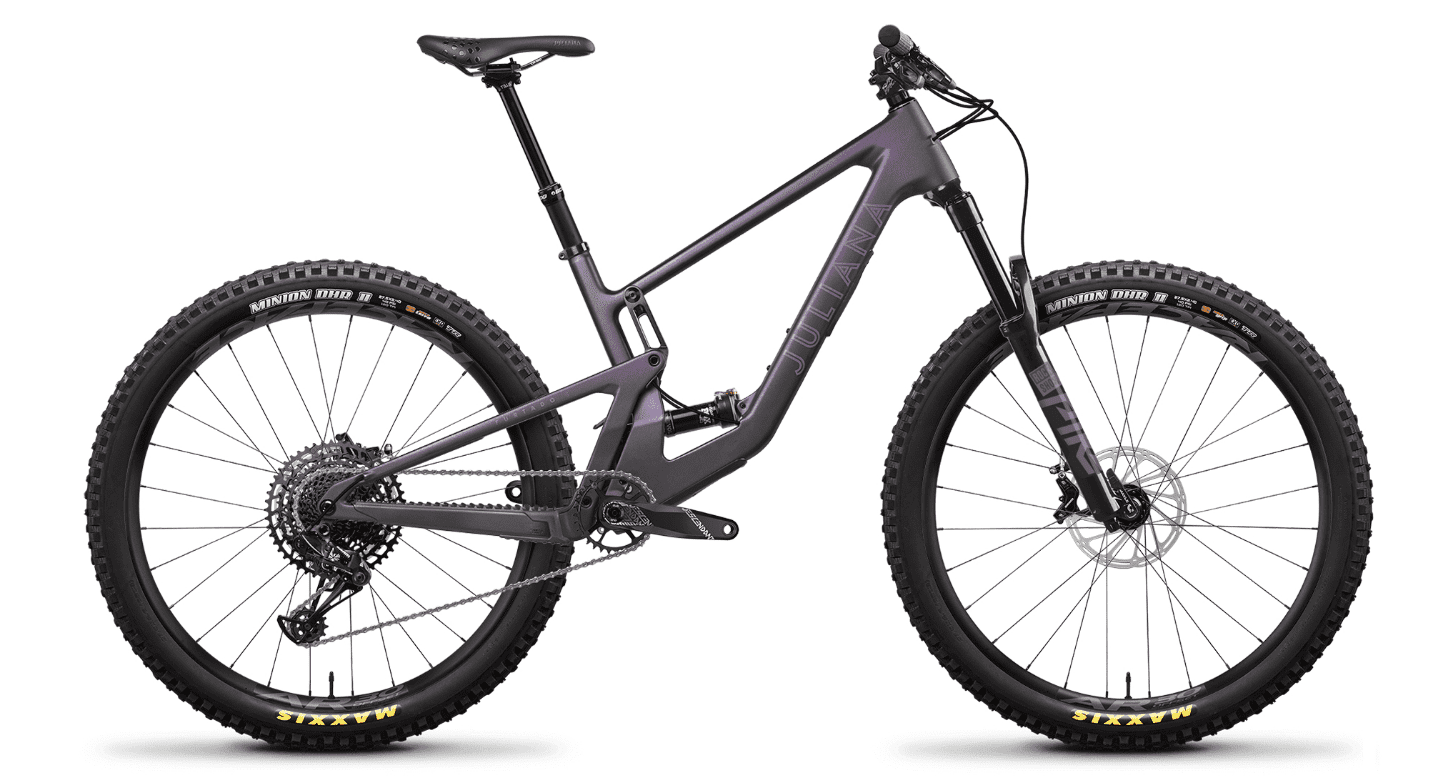 The ideal bike for the trail rider that likes to challenge themselves and their bike to ledges, rocky terrain and more.
Wheel Size: 27.5″
Price range: $3600 – $10000
Fork: RockShox Pike Ultimate 140mm 27.5″
Warranty: Lifetime warranty
The base features will give you full ability to take even the rockiest terrain, but kits and customizations will let you perfect the Furtado into your ultimate escape vehicle.
Pros
Lifetime warranty
Sizes from XS – M
Choice of Carbon C and Carbon CC frame
Grippy 2.4″ tires
Customizable to fit personal preference.
Great for unpredictable/rugged terrain
Cons
Expensive
Not suitable for those over 5'9″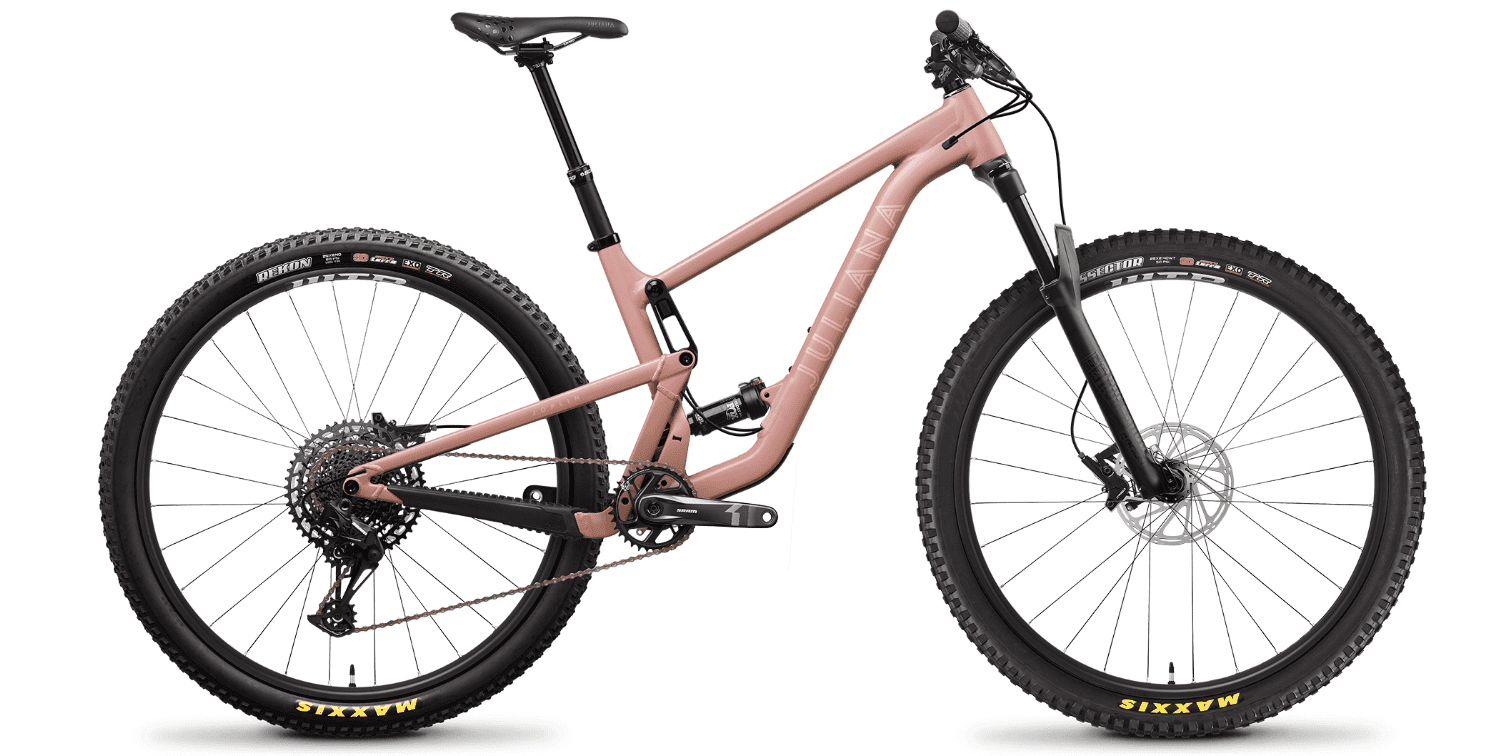 The Joplin is a cross country bike made to take on any terrain challenges you may face from bumps to jagged pavement.
Wheel Size: 29er
Price range: $2200 – 8000
Fork: Varies depending on aluminum/carbon frame choice and added kits.
Warranty: Lifetime warranty
A bike built for the long-haul, the Joplin is comfortable and ready for anything the road throws at it. With sizing to fit most every rider, it's great for the serious long hauler.
Pros
Lifetime warranty
Size ranges from XS – M
Choice of Aluminum, Carbon C and Carbon CC frame.
Larger 29er tires
Customizable to fit personal preferences
Cons
Not suitable for those over 5'9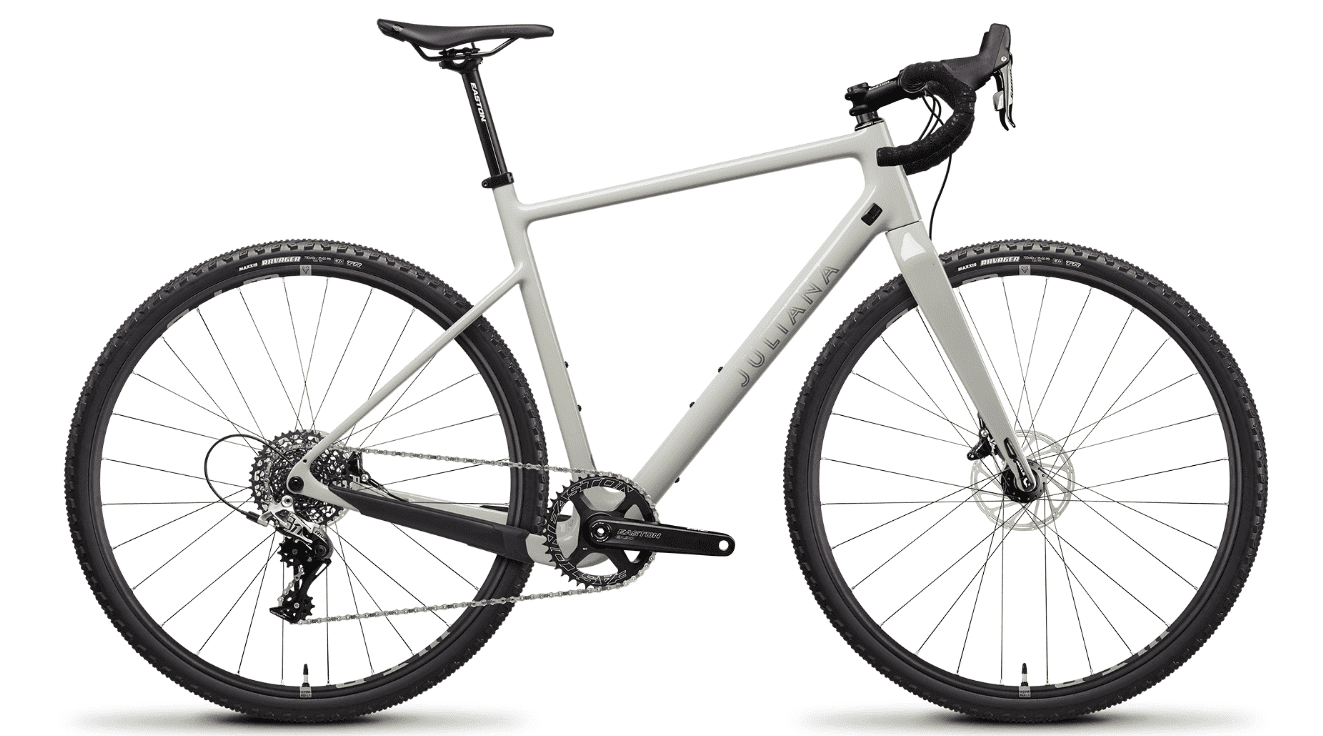 The Quincy bike is made for those looking for a bike that's ready to adapt to any terrain, from dirt roads to the pavement.
Wheel Size: 700cc
Price range: $2600 – 5000
Fork: Carbon CC
Warranty: Lifetime Warranty
Easy to customize to your preferences, 3 water bottle cages, hydraulic brakes, and more make this the ultimate bike for all conditions. It fits those 5′ – 5'9″.
Pros
Lifetime warranty
Adaptable and customizable to your preferences
3 water bottle cages
Carbon frame
Cons
Not for riders taller or short than 5′ – 5'9″
Alternatives to Juliana Mountain Bikes
Juliana bikes can be expensive and may not be a great choice for those just looking to start mountain biking. If you're looking for a more affordable, beginner-friendly mountain bike these alternatives are a great place to start.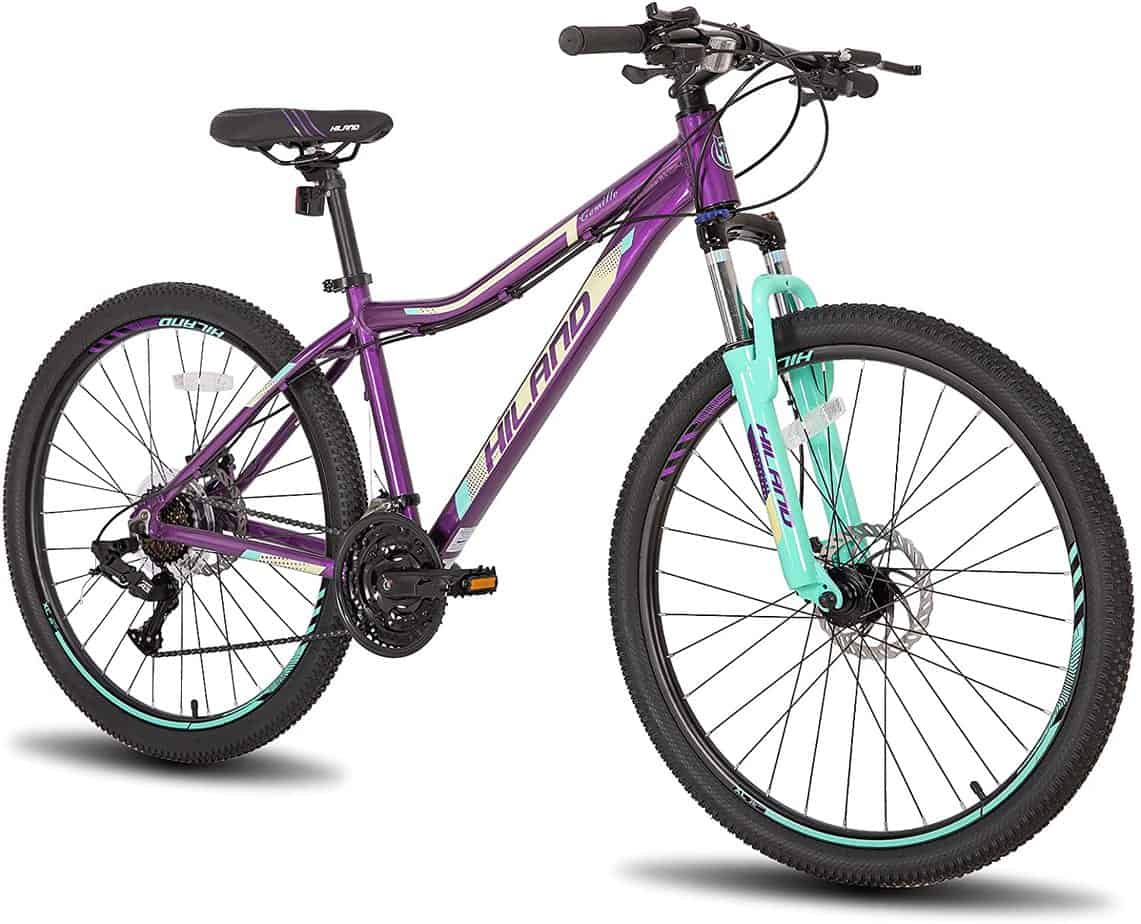 If you're looking for a great affordable and versatile bike, the Hiland Aluminum Mountain Bike may be exactly what you're looking for.
Wheel Size: 26in
Price range: $300 – 450
Fork: Lock-out switch suspension fork
Warranty: Limited Lifetime Service
With lock-out suspension fork and 24-speeds you can quickly customize your riding experience to suit all types of terrain – uphill/downhill, pavement, or rough trails. Super comfortable design for short-distance riders without sacrificing experience for more dedicated bikers.
Pros
Lightweight
Lock-out suspension fork for easily adjusting to rough, uphill, downhill or pavement riding.
Easy to assemble
24-speeds
Affordable
Cons
Only two color and size options
Lifetime service warranty may have poor customer service
May require upgrading and modification for some riders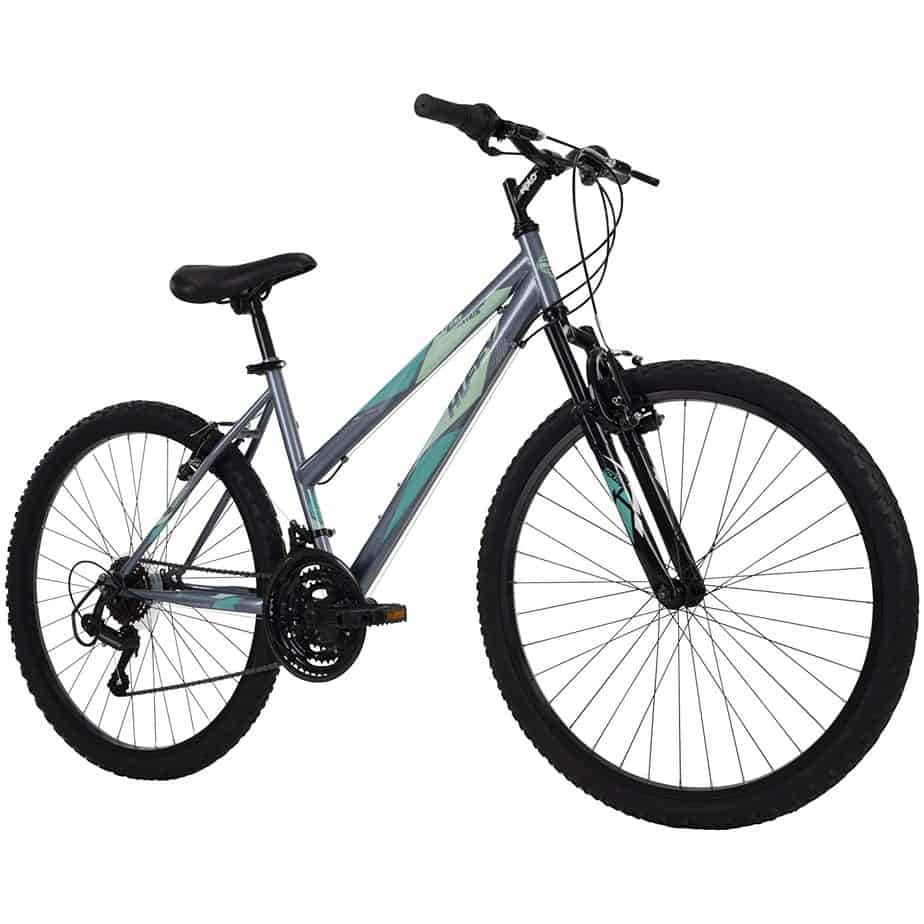 The Huffy Stone Women's Mountain Bike is an easy to assemble and affordable trail bike for the new biker.
Wheel Size: 26in
Price range: $80 – 300
Fork: Suspension
Warranty: Limited Lifetime Warranty
A durable steel frame available in a variety of color choices and suspension fork make it a great easy trail rider and features 21 speeds to help with uphill, downhill, acceleration, and more.
Pros
Affordable
Variety of colors
21 speeds
Durable steel frame
Lifetime warranty
Easy to assemble
Cons
Only one adult frame size
Cheap parts may not last long
Not great for rough terrain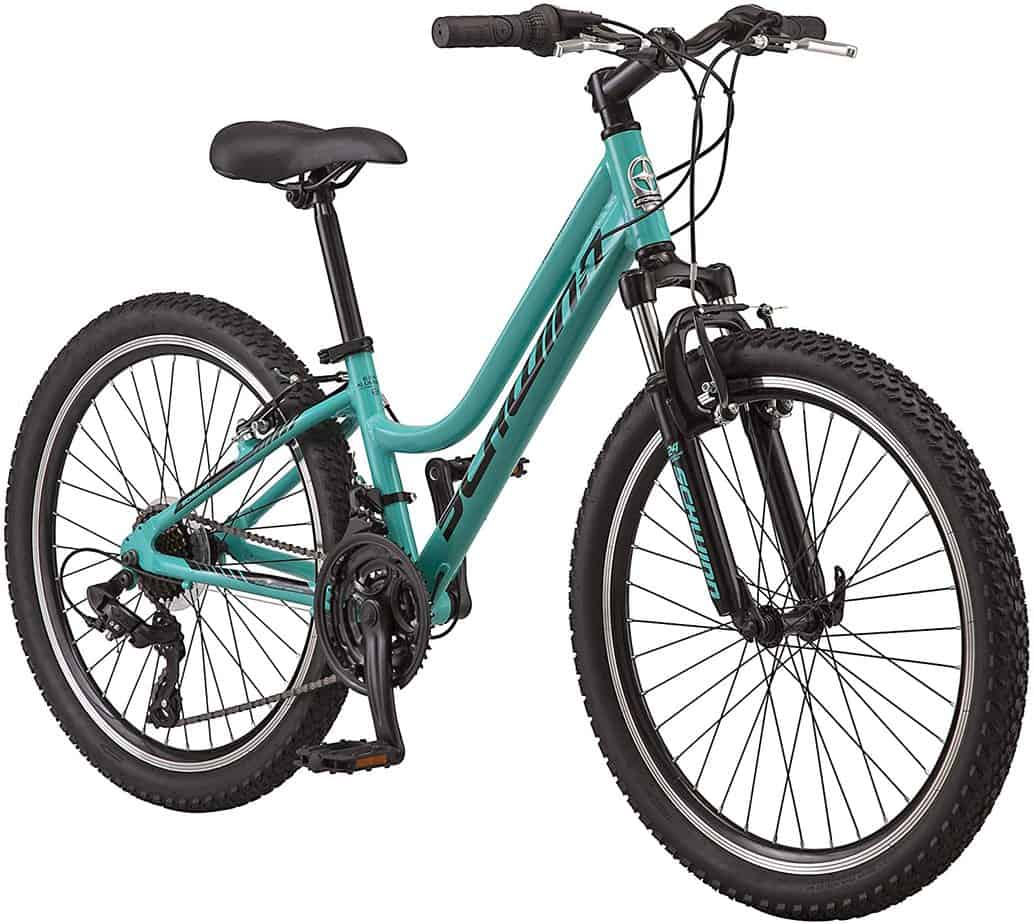 A great bike for those that ride on a variety of terrains, from roads to trails. With a durable frame in a variety of sizes and colors, it's easy to find the perfect fit for any rider.
Wheel Size: 27.5in
Price range: $430 – 1000
Fork: Steel Suspension
Warranty: Limited Lifetime Warranty
A super lightweight bike with easily adjustable height – a great bike for the everyday biker.
Pros
Variety of colors, sizes, and frame materials
Perfect for a variety of terrains
Lifetime warranty
Lightweight
Cons
Some reviews suggest poor quality parts and issues with adjusting the bike
May not perform well on rough terrain
FAQ
Question: Why are women's mountain bikes different?
Answer: The major difference between men's and women's mountain bikes is the fit. As women tend to be smaller, on average, than men, women's bikes are designed to accommodate a shorter stack height and reach length.

Stack height refers to the space between the bottom of the bike frame and the top of the bike frame that sits just below the bike seat. Reach length is the space from the seat to the handlebars.
Question: What size mountain bike should a woman ride?
Answer: Bike size is typically determined by the height of the rider. Typically, women's bikes range from 140 – 185cm or 13 – 20in.

The best way to determine the frame size that's right for you is to visit your local bike shop to be properly fitted or take a look at the size guide for the bikes you are interested in and pick the size that's indicated for your height.
Question: What size mountain bike does a 5'7 woman need?
Answer: Typically, a 5'7″ woman would need a Medium or 17-18in (167-178cm) bike frame. However, most bike brands will have a small variance in their bike sizing, so it's always best to double-check the size guide for the bike you are interested in.
The Bottom Line
Overall, if you're looking for a bike that requires less tweaking to fit to your size and ride style as a woman, a female-focused bike brand like Juliana Bicycles may be just the thing for you.
Juliana bikes are made with the female rider in mind, meaning you don't have to worry about frame weight, wheel size, and reach and spend more time finding your perfect bike – like the Juliana Furtado Bike, which is a great overall mountain bike.
As always, if you like this article, be sure to let us know down in the comments below. And check out our guide to the best mountain bike helmet!