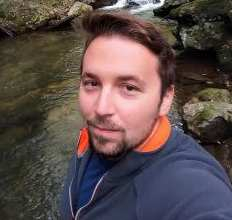 Latest posts by Coty Perry
(see all)
In the last few years, gravel bikes have been a hot topic for discussion in the cycling world. In fact, the rising popularity of gravel racing has made many pros believe that this is not a passing fad.
Gravel bikes offer excellent versatility to regular bikers looking to explore beyond road bikes. Those who are looking to venture beyond the smooth asphalt will find gravel bikes an exciting option. But, for casual riders, the speed and lightweight design of road bikes are important factors.
Before you explore the topic of gravel bikes vs road bikes, know that they are designed for different environments. Even though these two types may look similar, once you scratch the surface, you will find multiple key differences.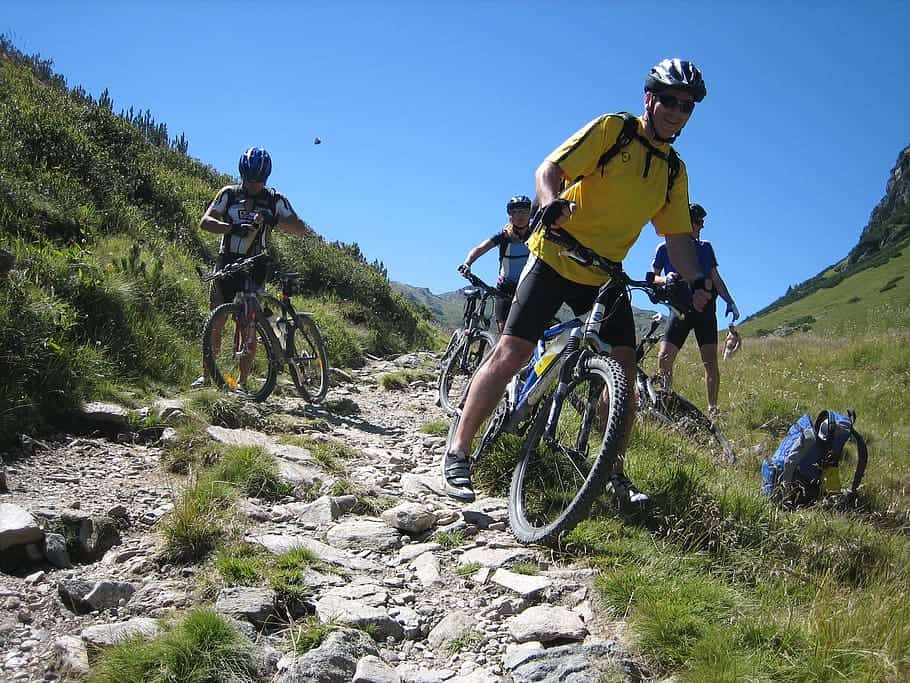 In a nutshell, the road bikes are designed for the tarmac and offer a speedy ride. On the other hand, a gravel bike comes with a rugged design that offers more comfort and reliability on rocky, sandy, or dirt trails.
This doesn't mean that road bikes can't tackle gravel roads. But their performance comes with a few limitations. A gravel bike is more versatile and is equally capable on the tarmac or on rougher terrain.
In this article, I will break down the major differences between the two to help you get a clear idea.
Main Differences of a Gravel Bike vs Road Bike 
The main differences between gravel bike vs road bike are:
Road bikes have an aggressive geometry for fast and efficient rides, whereas the geometry of gravel bikes ensures a more relaxed and comfortable ride. In gravel bikes, the focus is to offer more clearance and better stability on tougher terrains.
Road bikes come with narrow tires with a smoother tread pattern, whereas gravel bikes have higher tire widths and a more rugged tread.
Road bikes are built more for speed and balance, whereas gravel bikes are designed with a more durable structure.
Road bikes use rim brakes or drum brakes, whereas gravel bikes come with disc brakes.
Road bikes have a lower gearing range as they are for tackling tarmac only, whereas gravel bikes come with a wide range of gearing to handle steep climbs.
Actually, the most striking difference between the two bikes is the wheel and tire sizes. Many of the other differences are nuanced and can go unnoticed unless the two bikes are placed side by side. 
However, these factors can make a big impact when it comes to real-world performance. Basically, road bikes are designed to offer the right rhythm, responsiveness, and high speed. But gravel bikes are all-rounders that can handle any terrain.
Feature Comparison: Gravel Bike vs Road Bike 
Note, even though all road bikes look similar, there can be subtle differences that affect the ride quality. Broadly speaking, road bikes can be classified into three types- race bikes, aero bikes, and endurance bikes.
In essence, gravel bikes are an upgraded version of the road bike that makes them perfect for multiple cycling activities. The only aspect where gravel bikes lack is they are not designed for speed.
Here is an in-depth comparison between the two based on the main features.
The Geometry and Design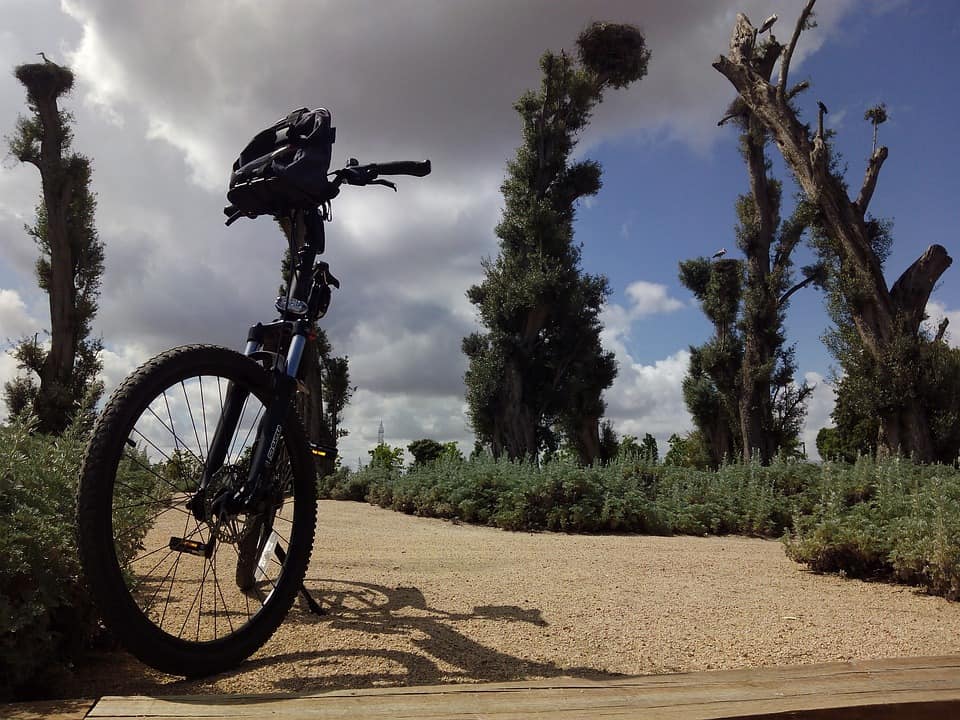 In gravel bikes, the head tubes are longer, and the head angles are more relaxed. This makes the ride higher and improves the overall stability and comfort levels. Also, the handling is slowed down for tackling obstacles and tricky descents.
Other geometrical changes in gravel bikes include a sloped top tube compared to the flat ones in a road bike. This makes steering the bike easier. The bottom bracket is also elevated to offer more ground clearance. 
In addition, gravel bikes also have a broader wheelbase that increases the overall stability. This also ensures more comfort for the rider over long distances.
In comparison, road bikes come with a more aggressive design that makes the rider sit lower and in a more aerodynamic position for faster and efficient rides. The steeper head angles also make the handling livelier.
Another common feature in gravel bikes is flared drop bars. These provide additional stability and more control, especially during steep descents. The bars usually come with a shallow drop to maximize rider comfort.
Some high-end gravel bikes also have a dropper seat post. This allows you to raise or lower the saddle during steep or rough descents.
Wheels and Tires
Road bikes use the standard full-size 700C wheel. Gravel bikes usually come with the 700C but they can be used with 650b wheels as well. This gives you the ability to use wider tires if needed.
Most road bikes come with tires that are between 23 to 25mm. The pressure is also kept high at around 90 to 100psi. The aim is to reduce the rolling resistance as much as possible. While this makes the bike faster, the ride quality and comfort levels are significantly reduced.
Gravel bikes come with wider tires ranging between 35 to 47 mm. This allows them to run at lower pressures of around 40psi. With a wider contact with the ground, you get lower rolling resistance.
The result is better ride quality and more traction over tricky terrain. The extra width also helps in negotiating the rough patches.
Besides, gravel bike tires also come with more aggressive tread patterns. Depending on the trail, you can pick special trad that can tackle softer surfaces and offer more grip.
For example, you can use a diamond tread on dry trails. However, more aggressive patterns with additional side lugs will be useful in mud or slush.
Gearing and Brake 
The gearing option in road bikes is designed to ensure that jumps between gears remain smaller. A typical gearing configuration consists of dual front chainrings paired with an 11-33 cassette. 
Since gravel bikes need to tackle a wide variety of terrain, they have a wider range of gearing. They can come with both single-chainring and double-chainring systems. These can be paired with an 11-40,11-42, or 11-34 cassette as needed.
In a 1x drivetrain, the jumps between the gears are more noticeable. Gravel bikes also have a clutch mechanism on the rear derailleur for eliminating chain slap.
All gravel bikes come with hydraulic disc brakes that deliver excellent stopping power and a high level of precision. You can confidently use them in rough conditions. 
Traditional rim-style braking systems are mostly used in road bikes. However, disc brakes are becoming common in road bikes as well.
Durability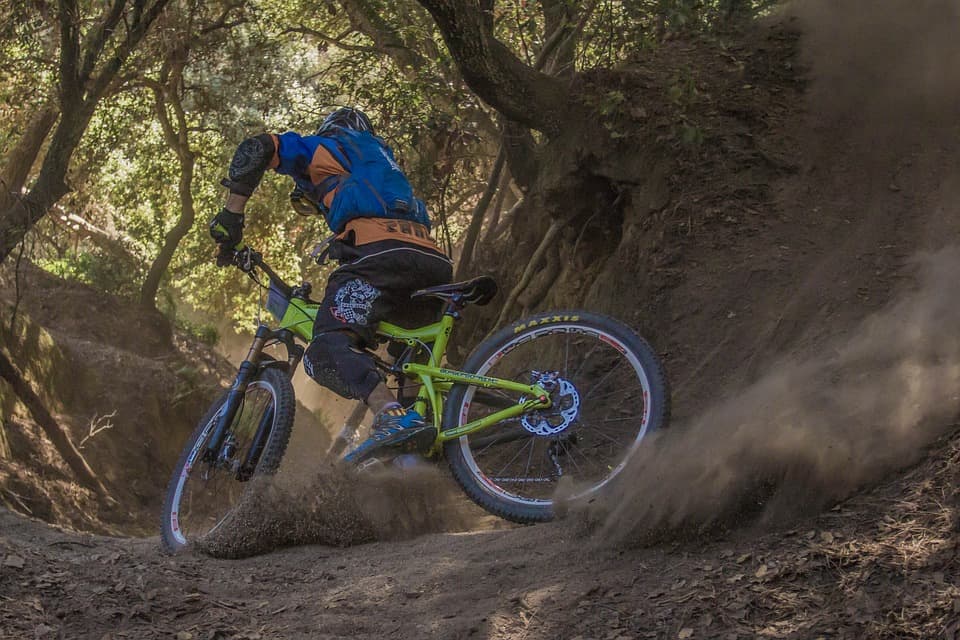 Perhaps unsurprisingly, a gravel bike comes with a more durable structure than a road bike. A gravel bike frame can be made from carbon fiber, titanium, aluminum, or steel. But the material can have an impact on the price of the bike.
Needless to say, each material has its own set of pros and cons. In general, manufacturers prefer using carbon fiber as the frame material to balance durability with ride comfort.
That makes gravel bikes heavier. The tubes need to be thicker for withstanding abuse and heavy stresses while gravel riding.
In addition, gravel bikes are also designed to carry the extra weight of bags or extra gear, without affecting performance. They also have eyelets on the frame for mounting racks, fenders, or frame bags.
Mounts 
Another important feature of gravel bikes is unlike road bikes, they have multiple mounts for accessories. The bike structure is designed to accommodate the extra weight of the luggage.
In most cases, finding safe drinking water is difficult on off-road trails. So, gravel bikes have mounting points for bottle cages. There can also be bolts below the down tube for carrying an extra water bottle.
Additional eyelets can also be helpful for fitting a mudguard or a feed bag on the top tube. In some bikes, the fork crown can have a special mount for fixing a dynamo light.
Top Picks: Our Favorite Choices 
Tommaso Siena Shimano Tourney Gravel Adventure Bike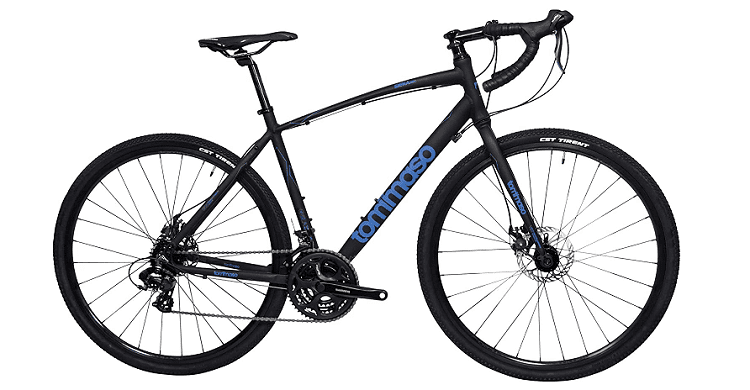 The Tommaso Siena comes with an aluminum frame and an SST steel fork for enhanced durability. The 700x40c tires add to the overall stability, and the Avid BB5 disc brakes offer excellent stopping power in wet or muddy terrains. 
A combination of a 30/39/50T Claris crankset and 12x28T Tourney cassette makes this bike a good choice for a wide variety of terrains. The higher gears also deliver a faster speed on flat tracks. With an affordable price tag, the Siena is a good starting point for buyers looking for a gravel bike.
Pros
3×7 Shimano Tourney group set
28 spoke rim
A lifetime warranty on frame and fork
Rugged Design
Cons
Not the fastest drivetrain
Royce Union Men's Gravel Bike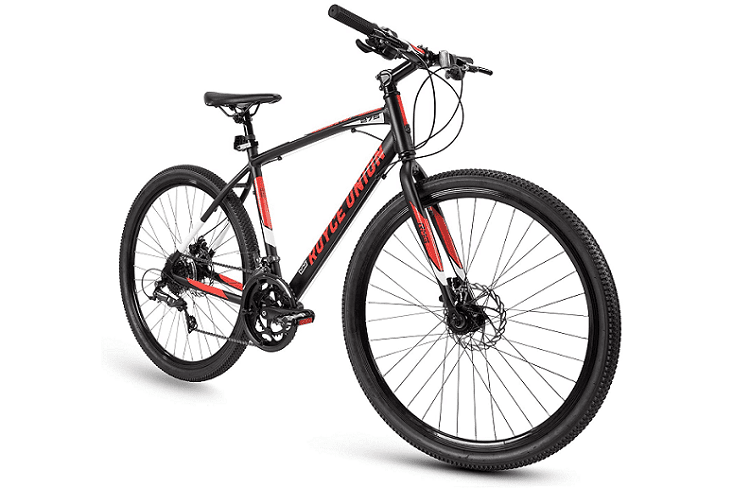 The Royce Union bike has a durable aluminum frame coupled with a Shimano Claris 16 speed gearing that allows it to tackle tough terrains with ease. It also comes with Shimano EZ Fire Trigger shifters that ensure lightning-fast shifts. Beyond that, you will find the front and rear disc brakes providing solid stopping power.
The bike has 27.5inch wheels and comfy seats that keep you comfortable on the rough sections. Other than that, the handling is sharp, and the drivetrain offers a good response on tricky terrains. Considering the price, we feel the Royce Union offers the right bang for your buck.
Pros
Shimano Claris rear derailleur
Relatively lightweight at 36.3pounds,
3-piece crank
Cons
Handlebar design is not the best
Eurobike 21 Speed Shifting System Road Bike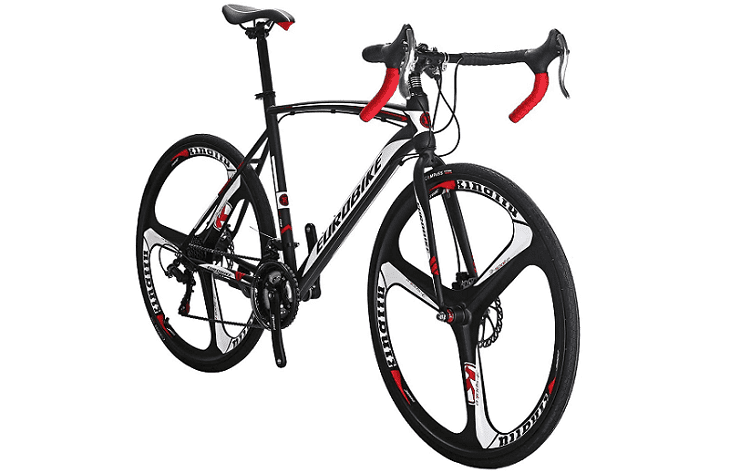 For starters, the black and white colors of the Eurobike Road Bike give it a sleek look, and the high-carbon steel frame makes it super sturdy. The ergonomics is spot-on, and you get the right levels of ride comfort. You also get a 21-speed transmission system that can handle dirt roads and slopes with equal ease. 
Interestingly, the bike has a triple chainring in the front, along with Shimano front and rear derailleur. The 3-spoke wheels look elegant, and the bike also allows freewheeling. There are aluminum dual disc brakes for added safety. 
Overall, this is a versatile bike that offers solid performance and great value.
Pros
Eye-catching design
700x28C road bike tires
Shimano A050 shifters
Ergonomic handlebar, and seat.
Cons 
Vilano R2 Commuter Aluminum Road Bike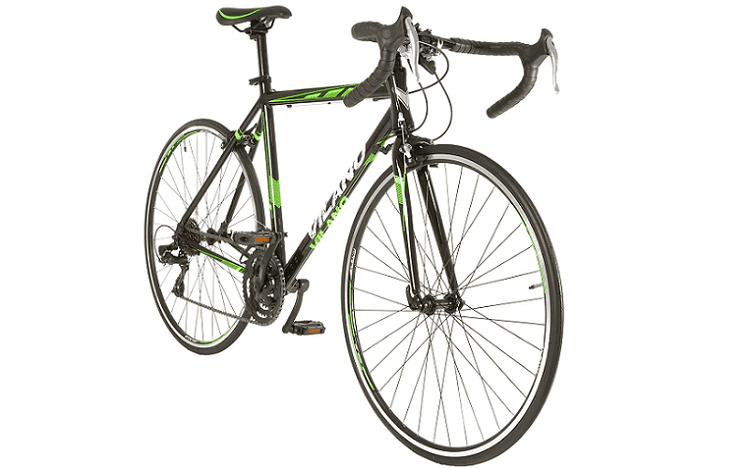 The Vilano R2 has a 6061 double-butted aluminum frame which is durable as well as lightweight. The Shimano A050 thumb shifters are paired with a Shimano 21 speed drivetrain to deliver a smooth ride. The 700c x 25c tires and an urban commuter saddle provide the right balance of speed and comfort.
You will find the handling is great even on unpaved roads. This bike has alloy caliper brakes and the braking performance is good. Also, this is one of the easiest bikes to assemble. Upgrading the components is also easy. 
Pros
Sturdy aluminum frame
21 Speed Drivetrain
Double-walled CNC machined wheelset
Affordable price tag
Cons
FAQs
Question: Can a Gravel Bike be Used as a Road Bike? 
Answer: Yes, you can easily use a gravel bike on a paved road. You will get a more comfortable ride and better stopping power from the disc brakes. There will be some restrictions on the speeds, and the bike will not corner responsively like a road bike. However, in most cases, that will not be a huge deal.
Question: Is a Gravel Bike Safer Than a Road Bike? 
Answer: Since gravel bikes come with a "do-it-all" design, they offer a safer ride than road bikes. The main factors behind that are a robust frame that can handle abuse and disc brakes that offer better stopping power.
Question: What are the Advantages of a Gravel Bike?
Answer: Gravel bikes are designed to handle rough roads better than road bikes. These bikes are more durable, offer a wider range of gearing options, and can carry gear. You can also change the tire to match the type of road you will be tackling.
Question: Is Riding on Gravel Harder Than on the Toad? 
Answer: Riding on gravel roads results in more vibrations. This results in more stress on the muscles of the forearms and the lower back. Since the body takes more beating, gravel riding also consumes more energy.
Final Thoughts
That's all about the gravel bike vs road bike debate.
Who is the winner?
If you're planning for an adventurous ride without compromising the comfort factor, gravel bikes are undoubtedly the best choice.
That said, if you need a bike solely for off-road journeys, a professionally designed mountain bike is the best choice. You can check out some of the best deals on mountain bikes that we recommend.
For me, the ruggedness and versatility of gravel bikes make them a clear winner over road bikes. They can also carry gear for long trips and handle rough weather conditions better. Not to forget, the comfort levels and the overall stability are better too.
Sure, you can choose road bikes for their better speed and efficiency. But the fun factor of riding a gravel bike is much higher. All in all, if you want to mix up paved surfaces with some off-road terrain, gravel bikes are a great choice.
But don't just take my word for it. Try out a gravel bike and see for yourself.