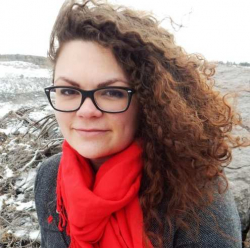 Latest posts by Candace Osmond
(see all)
Perhaps you're ready to venture into the world of mountain biking, or maybe you're an experienced cyclist with a craving for new adventures. Whether you're a beginner or an expert mountain bike rider, I know you're going to fall in love with Cannondale Mountain Bikes as much as I did.
That's why I will give you insight into the innovative Cannondale brand and what to look for in a quality mountain bike. I've also rounded up the 8 best Cannondale Mountain Bikes based on their overall design, functionality, and price range.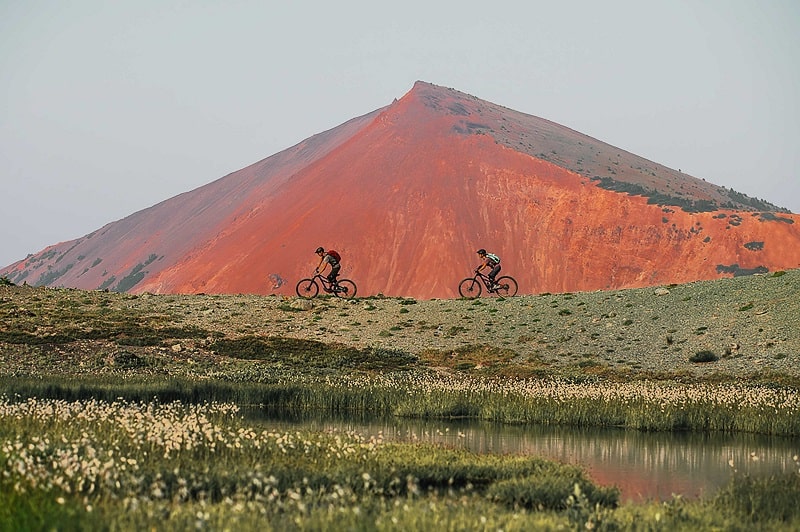 The Best Cannondale Mountain Bikes at a Glance
Cannondale's Mountain Bikes are made a little different, so some models may be better for one cyclist than another. These are my top 8 favorite mountain bikes from Cannondale, and though I'm going to describe each of these bikes in further detail below, I wanted you to be able to check them outright from the start.
About the Cannondale Brand
It's a good practice as a consumer to understand a little bit about the brands you're buying from. Today, I've made that easy for you by breaking down what Cannondale stands for. I'll tell you how Cannondale got started, how they became successful, and how they've stayed on top of the mountain bike industry.
Cannondale's Roots
The Cannondale brand had humble beginnings. In 1971, the founders of this brand started making bikes out of a small workshop in Connecticut. The goal was to create bikes using innovative materials and designs that would shake up the cycling industry for the better.
How the Cannondale Brand Grew
The Cannondale founders succeeded in their goal of creating revolutionary bikes. Cannondale had the idea to create bike frames out of aluminum and carbon fiber instead of steel, which made their bikes more lightweight than their competitors. With even more creative ideas for bike design, Cannondale's popularity grew.
Where Cannondale Is Today
According to Owler, the annual revenue sales for Cannondale is $820,000,000. Not bad, right? Cannondale has taken over the mountain bike industry with high-quality bikes made from creative minds. Even today, Cannondale continues to engineer new bike models that offer a smooth and controlled ride.
What Makes Cannondale Mountain Bikes So Good?
Just what is it about the Cannondale brand that makes their bikes such knockouts? Well, these are some aspects of Cannondale Mountain Bikes that I'm a personal fan of, and think you might be, too:
Lightweight frames made of aluminum and carbon fiber
Large variety of bikes made in different sizes and colors
Many types of bikes for different kinds of cycling (exp: racing vs rugged trails)
Head tilted for easy control of the handlebars
Smooth and incredibly powerful braking capabilities
High-quality wheels with an ideal amount of traction

How to Find the Best Mountain Bike for You
You're ready to feel the wind in your hair and breathe in that fresh mountain air, but… what mountain bike should you buy? Don't worry, because I will show you how to pick out the perfect mountain bike for you. There are mountain bikes created for every cyclist, so the key is knowing what to look for in the product descriptions.
Tires
Consider what activities you like to do as a cyclist so you can buy a mountain bike with the right amount of traction. Do you like to ride uphill and downhill through rugged terrain? You need tires with a lot of traction. Do you like to do tricks with your mountain bike? Your tires should be much smoother.
Suspension
Like Cannondale Mountain Bikes, some bikes account for the fact that suspension will need to be different for different-sized riders. Look for a mountain bike that has the suspension adjusted according to size.
You may also want to consider suspension capabilities when you're picking a bike for the specific kind of cycling you enjoy. If you ride downhill on slopes a lot, you'll want a bike with more suspension, because that means more shock to your arms and torso will be absorbed. If you don't ride over rugged terrain often, you can pick a bike with less suspension.
Quality Frame
A quality frame should be made of durable and lightweight materials. Cannondale mountain bikes are made from either carbon or aluminum and carbon fiber. Both are very lightweight and strong, making them ideal choices.
Handling
You should feel like you are completely in control at all times when riding your mountain bike. The handlebars should be easy to grip and tilted back so you won't strain forward reaching for them. The construction of the bike should be so that everything is easy to reach.
Brakes
It is critically important you choose a bike with good brakes when you're riding over the potentially dangerous terrain that mountain bikes were built for. The 2 main types of brakes you'll see that mountain bikes have are standard and hydraulic.
Standard disc brakes are cheaper and they're easier to fix if something goes wrong, but their stopping power isn't as good. Hydraulic disc brakes have much better braking power, and many riders believe they are worth the investment.
Size
As you may know, mountain bikes come in different sizes. Apart from "adult" and "kid" bikes, you can buy bikes in sizes that go from small to extra-large. Websites like the Cannondale site will show you a chart that explains their bike sizing so you can select the right size when you purchase from them.
Electric vs Standard Bikes
One important choice you'll need to make as a mountain biker is deciding whether you want a standard mountain bike or an electronically powered mountain bike. Electric mountain bikes, or e-bikes, are more expensive than their standard counterparts because they have more equipment (like an engine and motor.)
Even though it is arguably easier to ride an electric mountain bike for longer periods of time than a standard bike, you'll still have to pedal to make the e-bike go forward. That's right an electric bike takes on some of the hard work for you, but certainly not all of it.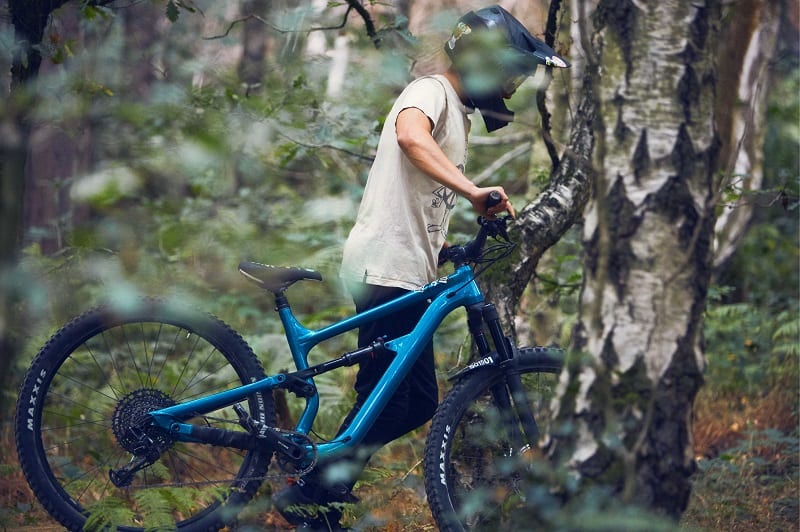 Different Types of Bikes to Consider
Aside from standard and electric mountain bikes, there are categories of bikes to consider. We'll run through some of the popular types of mountain bikes and what kind of riding they're best for.
Trail Bikes
Trail bikes are a popular type of mountain bike because they're designed for fast, fluid motion over rugged terrain. Trail bikes are typically a good bike for performing tricks, too.
Hybrid Bikes
These bikes have a mix of features between a mountain bike and a road bike. They're easier to power than a mountain bike, but they're more comfortable and better for off-roading than a road bike. These bikes are perfect for calm off-road trails, gravel roads, and smaller hills.
Downhill Bikes
Downhill bikes are designed for riding, well, downhill. People who enjoy biking down steep hills, off-season ski slopes, and tricky downhill courses enjoy these bikes that make full use of suspension capabilities.
Importance of Wheel Sizes
Choosing a bike with the right size wheels is important so that you have absolute control when you're riding. We recommend choosing mountain bikes from a brand like Cannondale that matches your wheel size to the size of the bikes you're buying.
Wheel size also matters when it comes to what kind of cycling you like to do.
Big wheels are great for riding in a straight line and going uphill
Small wheels are better for going downhill
What Are Tubeless Tires?
You'll notice that some mountain bikes have tubeless tires. Some cyclists like tubeless tires better than tires with an internal tube running through them, because tubeless tires:
Won't go flat as often
Offer better traction
How to Clean, Care for, and Store Your Cannondale Mountain Bike
I'll break this section down into 2 parts:
Cleaning and Care
Storing
After all, if you're going to make the investment into a quality Cannondale Mountain Bike, we know you'll want it to stay in pristine condition for years after you buy it. It's pretty easy to keep mountain bikes clean with a little general maintenance, so we'll show you how it's done.
Cleaning & Care
It's a good idea to clean your Cannondale Mountain Bike every time it's gotten dirt and mud on it. Even if your bike doesn't get dirty after every ride, try to clean it every couple of weeks to once a month if you're a more casual cyclist. This is what you do:
Fill a bucket with warm water and bike cleaner.
Grab a microfiber cloth, bike degreaser, and a brush kit.
Take your bike outside and rinse it off with a hose on a low setting.
Hit the cassette, derailleurs, chain, and chainrings with the degreaser, but don't put it anywhere else.
Let the degreaser sit while you clean the rest of your bike.
Use the soapy bike cleaner water and the brushes to scrub the rest of your bike.
Scrub the drivetrain using drivetrain brushes.
Rinse the bike again with a low setting on the hose.
Let your bike air dry or dry it off with the microfiber cloth.
Add lube to the drivetrain once your bike has dried, letting it sit in the chain for 5 minutes before wiping away any excess.
Make your bike shiny by adding bike polish onto a clean microfiber cloth and wiping down your bike's frame along with other visible, shiny pieces.
Storage
Properly storing your Cannondale Mountain Bike will ensure the elements aren't taking a toll on its mechanisms. Here's what I recommend you do when it's time to put the bike away for a little while:
Don't leave your bike chained up outside when it's raining or snowing, or it can rust.
Don't leave your bike in a hot, humid attic, or the humidity can rust it.
For the best storage solution, you can find inexpensive indoor bike racks online.
Store your Cannondale on an indoor bike rack in a dry, cool-room temperature area.
The Best Cannondale Mountain Bikes
Cannondale makes many wonderful mountain bike models to choose from, and each has its own unique features. After carefully sorting through each one, these are the 8 best Cannondale Mountain Bikes we have to show you. Whether you're a dedicated cyclist with a need for speed or a newbie who prefers pleasant trails, there's a bike out there for you.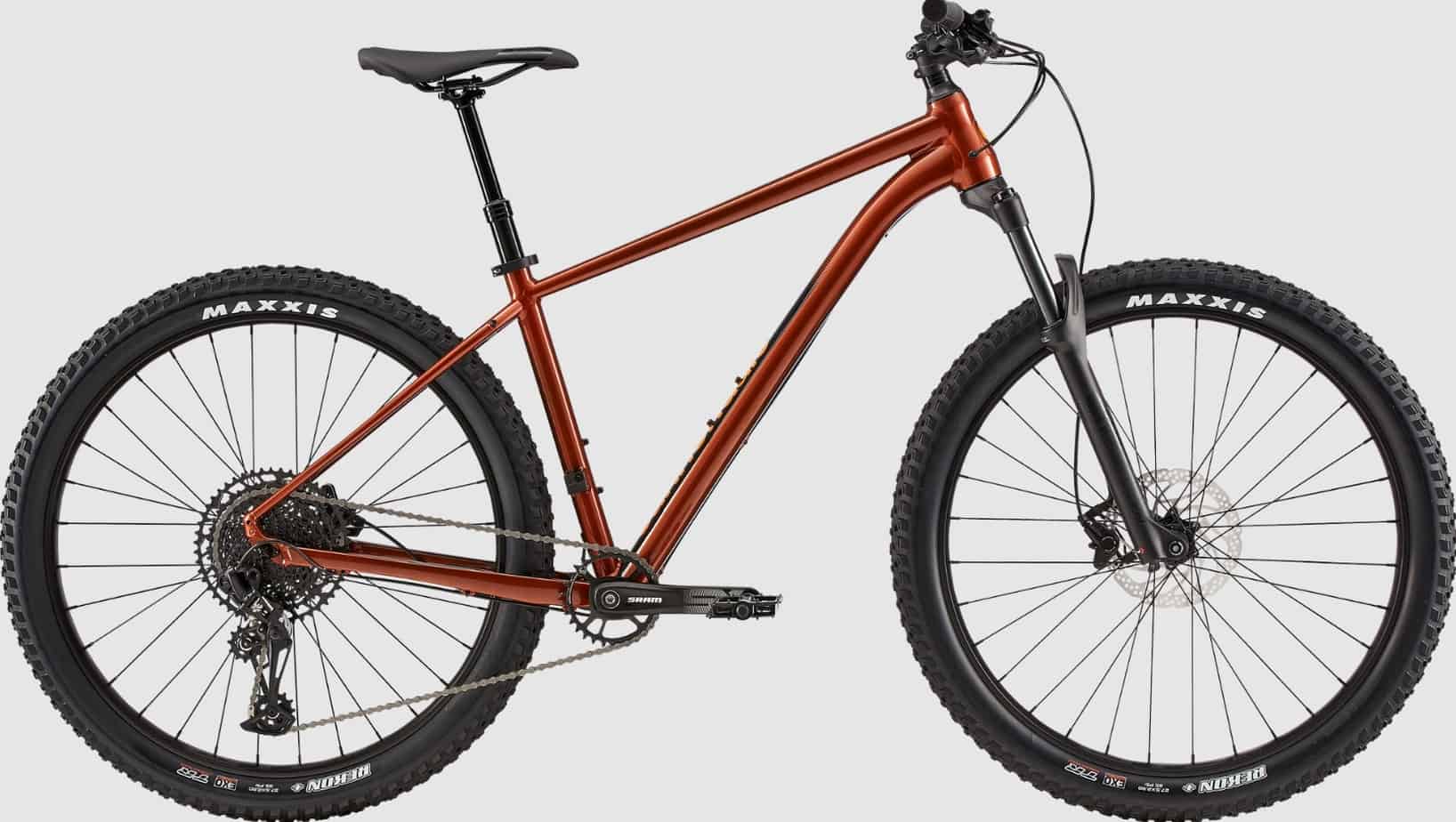 Best For: Leisurely Rides
About
This is the perfect mountain bike for cyclists who enjoy relaxing rides down gravel roads or flat grassy plains. The seat and handles were built for comfort, while the hydraulic disc brakes offer a smooth ride. The Shimano tires, which are sized to the size of your bike, are designed for excellent traction, which gives you better balance.
Material: Aluminum and carbon fiber frame
Price Range: $1,500-$1,900 CAD
Warranty: Frame covered by a lifetime warranty
Best Feature: Tires made for excellent traction
Care
Even if you aren't riding this Cannondale mountain bike through muddy uphill trails, it's a good idea to clean your bike at least once every few weeks if you ride regularly. Make sure to use soap made specifically for cleaning bikes because this will thoroughly disinfect the bike, remove dirt, and protect the paint.
Pros
Great beginner mountain bike
Tires built for traction
Very well balanced
Cons
Not great for doing tricks or completing complex courses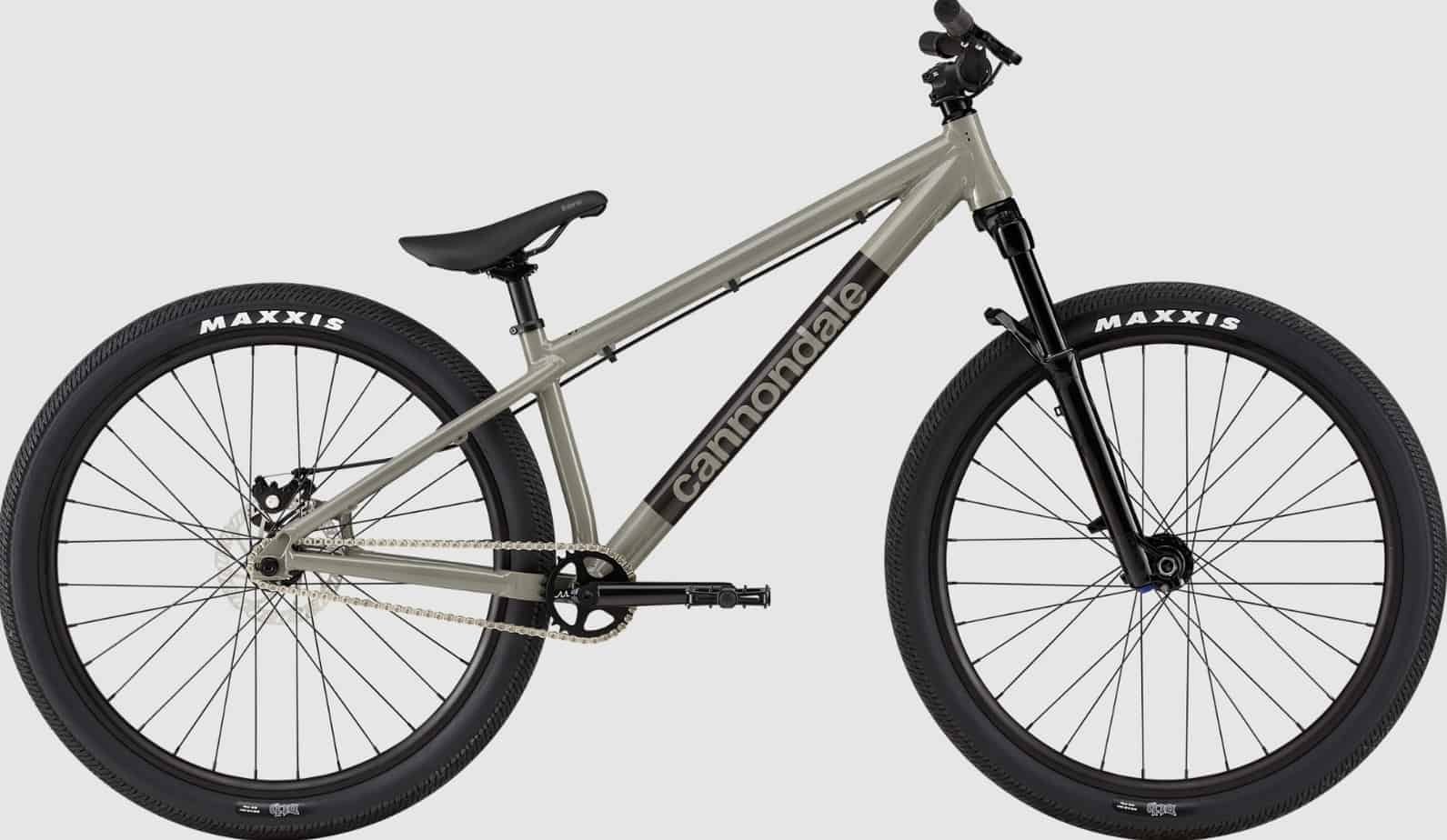 Best For: Tricks
About
This lightweight mountain bike from Cannondale is the least expensive bike on our list. If you like to perform tricks with friends or with your GoPro, this is the mountain bike for you. Its tires are meant for smooth gliding because they have very little traction. Because this is a mountain bike for flips and smooth, fluid motions, the Tektro cable-actuated disc brake makes it easy to stop safely.
Material: Aluminum and carbon fiber frame
Price Range: $1,200-$1,500 CAD
Warranty: Lifetime warranty for frame
Best Feature: Lightweight for performing tricks
Mountain Bike Tricks
When you're learning fun tricks you can do on your mountain bike, try out some of these popular moves:
Bunny Hop
Nollie
Jump
Wheelie
Wheelie Drop
Fakie
Stoppie
Pros
Least expensive of the bikes on the list
Excellent for performing tricks
Lightweight frame
Cons
Tires have very little traction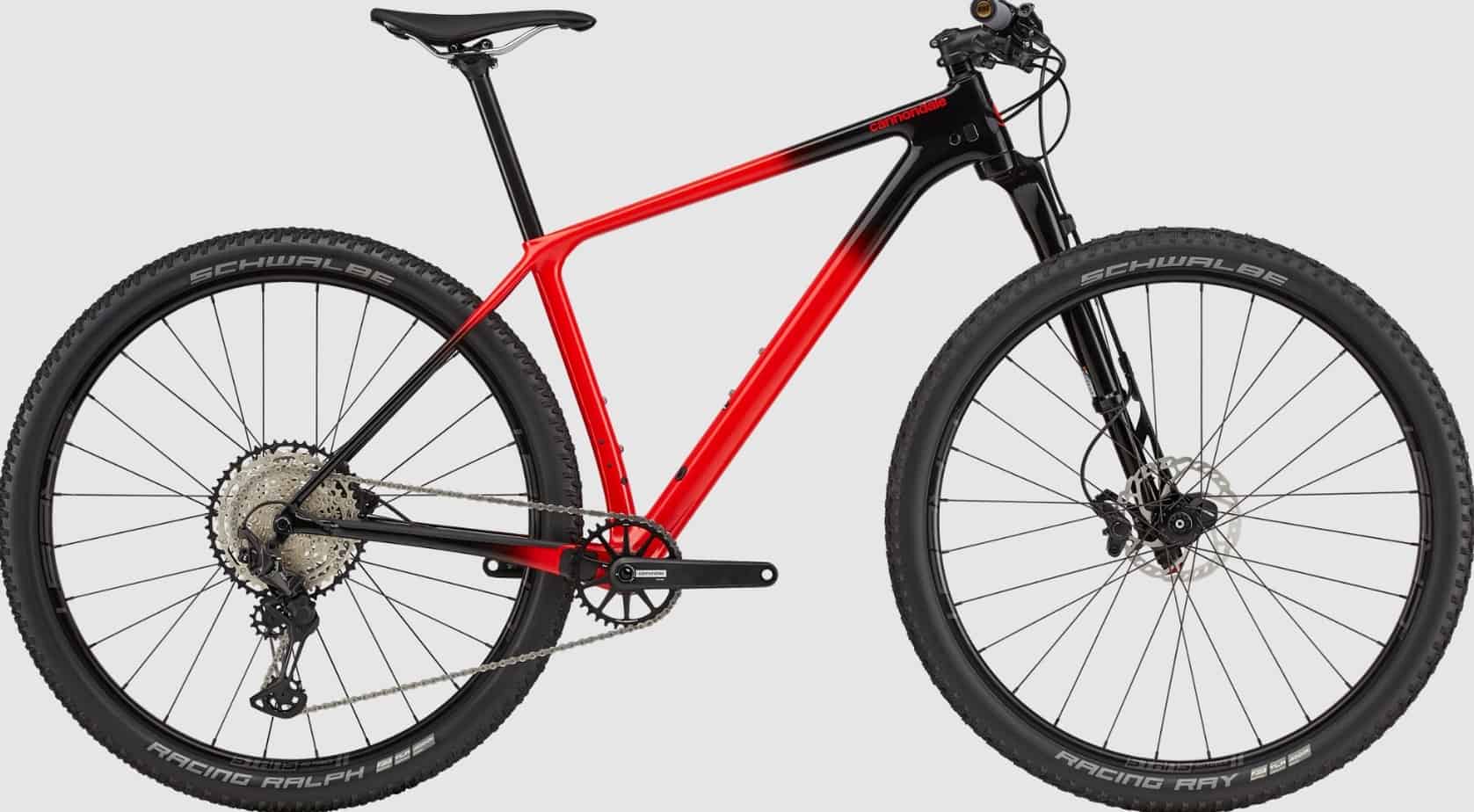 Best For: Design
About
This is a gorgeous and lightweight Cannondale Mountain Bike that features striking red and black paint. The frame, made from BallisTec carbon, makes this an incredibly lightweight bike. This bike is versatile in that it is perfect for handling elevated terrain because it gives you excellent control over uphill and downhill courses. It is also made to be very fast, making it a great racing bike.
Material: BallisTec carbon frame
Price Range: $5,000-$5,500 CAD
Warranty: Lifetime warranty on frame
Best Feature: Sleek design
Care
Since this is such a gorgeous mountain bike, you'll want to keep the paint looking pristine. After washing your bike and letting it dry, use bike polish and a microfiber cloth to make it shine like new. Put the polish onto the cloth instead of directly onto the bike when you're ready to use it.
Pros
Beautiful design
Built for going fast
Smooth ride uphill and downhill
Cons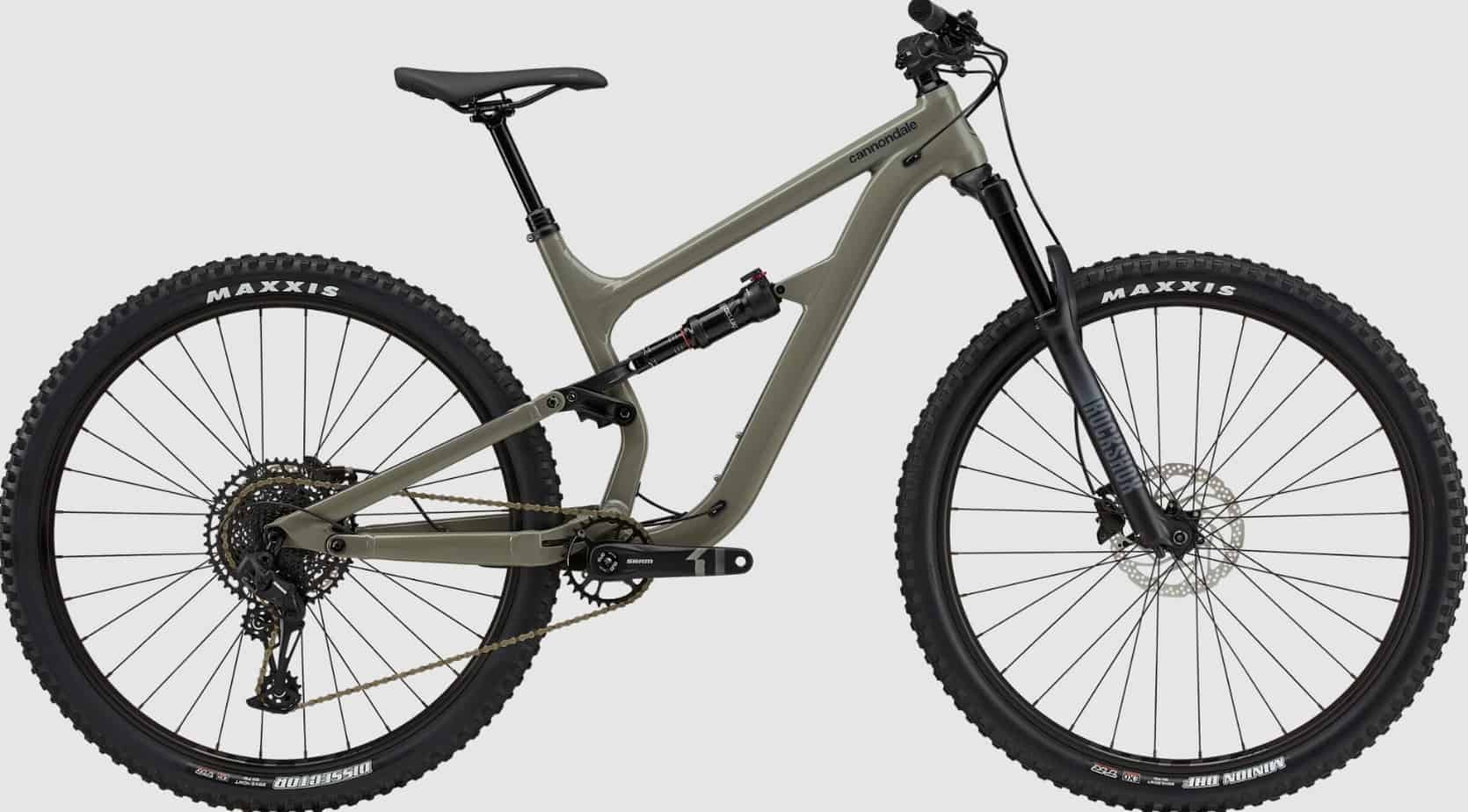 Best For: Challenging Trails
About
This is your perfect Cannondale Mountain Bike if you enjoy challenging rides uphill and downhill across rugged terrain more than racing. This bike was created to give you tight control and lasting durability. The steep seat angles make it easy to peddle uphill when you're on a challenging course.
Material: Aluminum and carbon fiber frame
Price Range: $3,500-$3,800 CAD
Warranty: Lifetime warranty for frame
Best Feature: Extremely durable construction
Giving this Bike as a Gift
If you're buying this Cannondale mountain bike for a cyclist you know who loves to explore the outdoors on 2 wheels, consider buying this gift paired with:
A novelty backpack
A high-quality windbreaker
Organic granola bars
An insulated water bottle
Pros
Durable build
Tires have excellent traction
Steep seat
Cons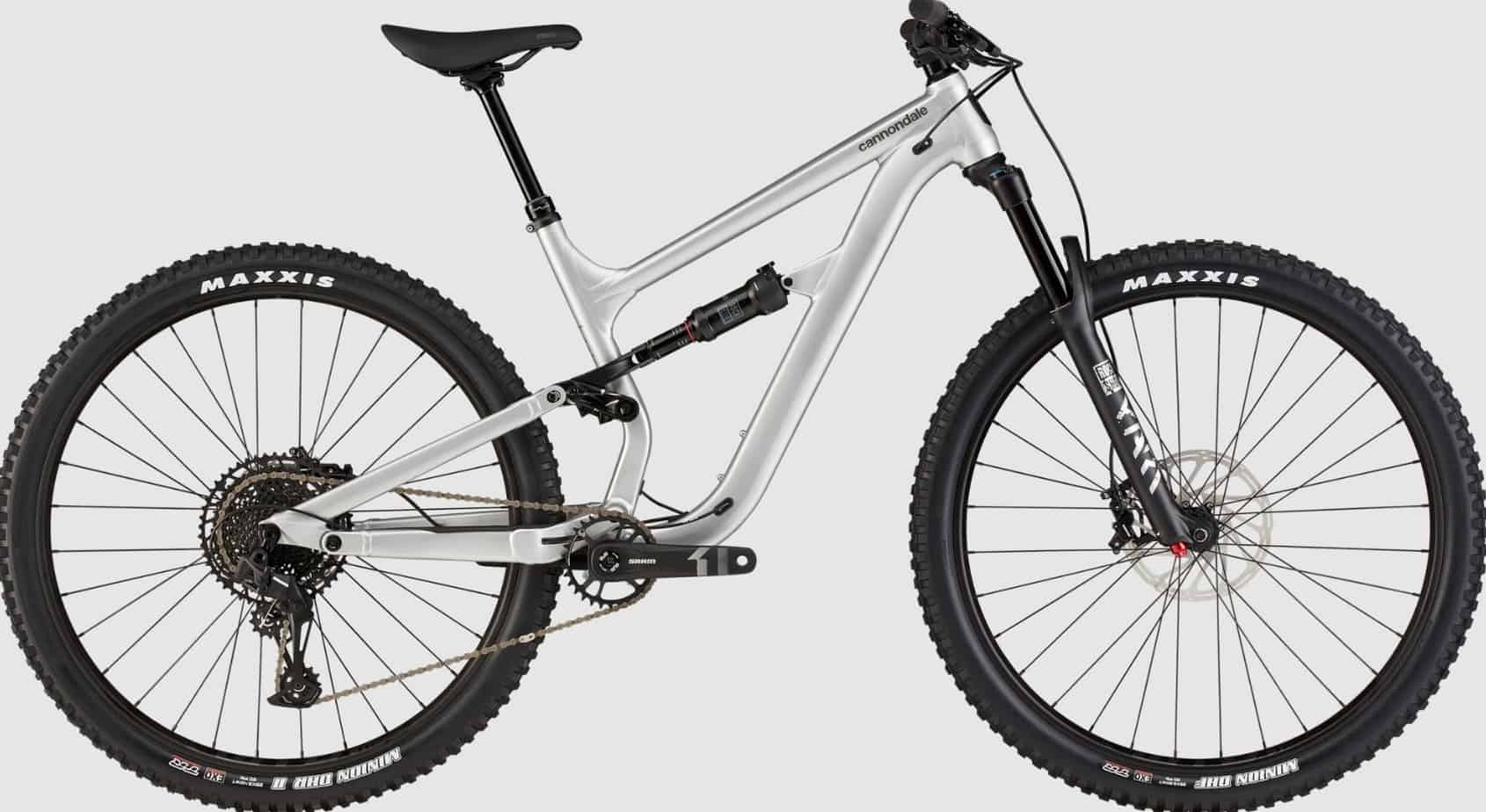 Best For: Overall
About
This is our favorite Cannondale Mountain Bike on the list because of its sleek design, excellent traction, smooth braking power, durability, lightweight frame, and more. Like all Cannondale Mountain Bikes, you'll be able to select from sizes small to extra-large with this bike.
The tires for this bike are even bigger than usual to give you excellent gripping power and control. The durable suspension pivots make this a mountain bike you could ride every day and get years and years of use out of.
Material: Aluminum and carbon fiber frame
Price Range: $4,000-$4,300 CAD
Warranty: Lifetime warranty on frame
Best Feature: Best combination of features
Storing Your Bike
Make sure it isn't too humid wherever you store your bike, or this could cause it to rust. Also, do not expose your mountain bike to the elements by keeping it outside. This can cause parts to rust, and in some cases, fall off.
Pros
Extremely durable
Large tires with excellent traction
Stylish design
Cons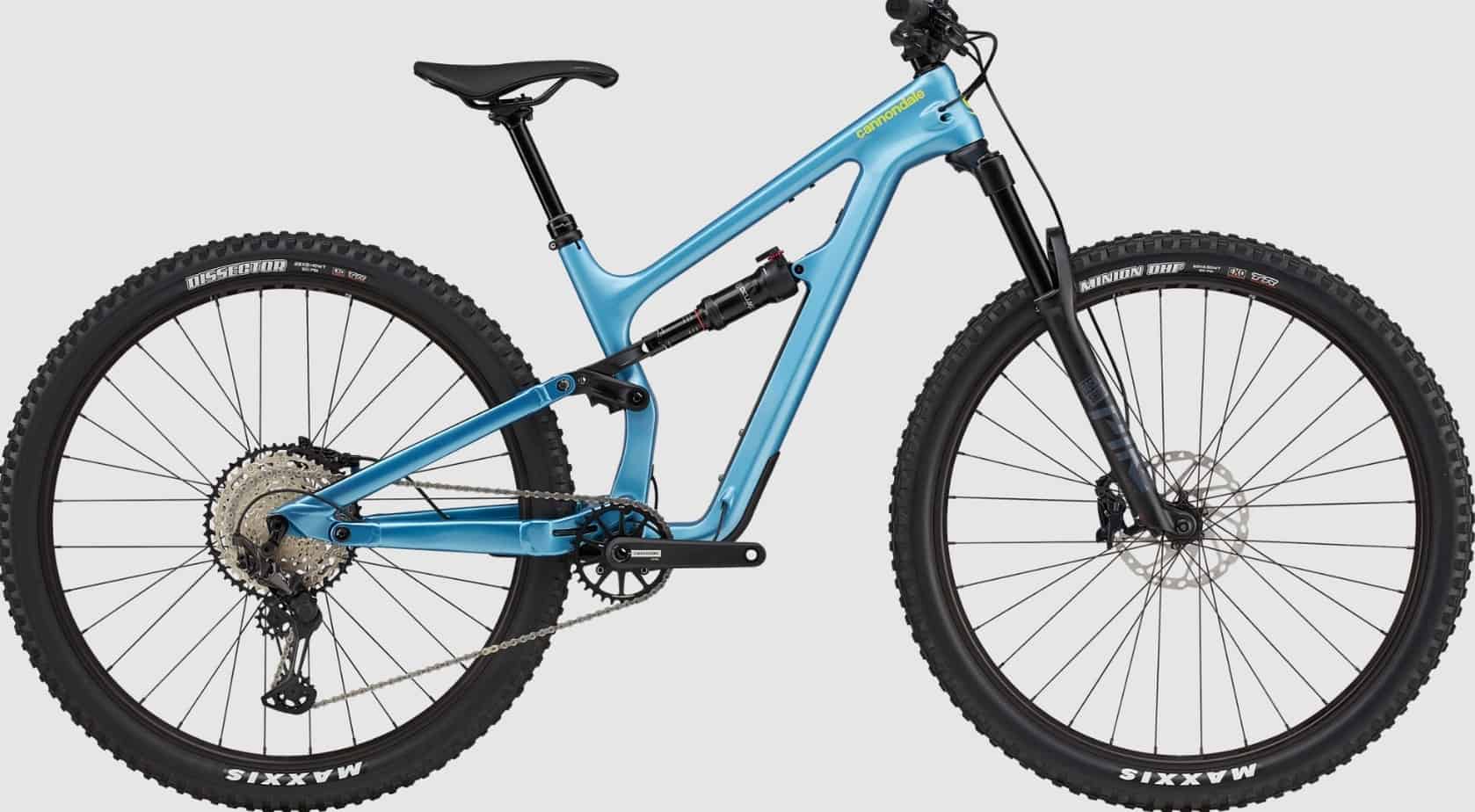 Best For: Best for Small Cyclists
About
If you're a cyclist on the smaller side having a hard time finding a high-performance bike that fits you, try this bike from Cannondale. This mountain bike only goes up to a size medium. Its carbon frame makes it easy to carry, and its shock absorption makes it safe to ride. Not to mention, the alpine color is gorgeous.
Material: Carbon frame
Price Range: $5,500-$5,800 CAD
Warranty: Lifetime warranty on frame
Best Feature: Small construction
Buying the Right Size
If you aren't sure which size mountain bike is right for you, Cannondale made a chart to help. If you click the question under the size options that says, "what's my size?" you can pull up their size guide.
Pros
Lightweight
Great for small cyclists
Beautiful color
Cons
Not great for larger cyclists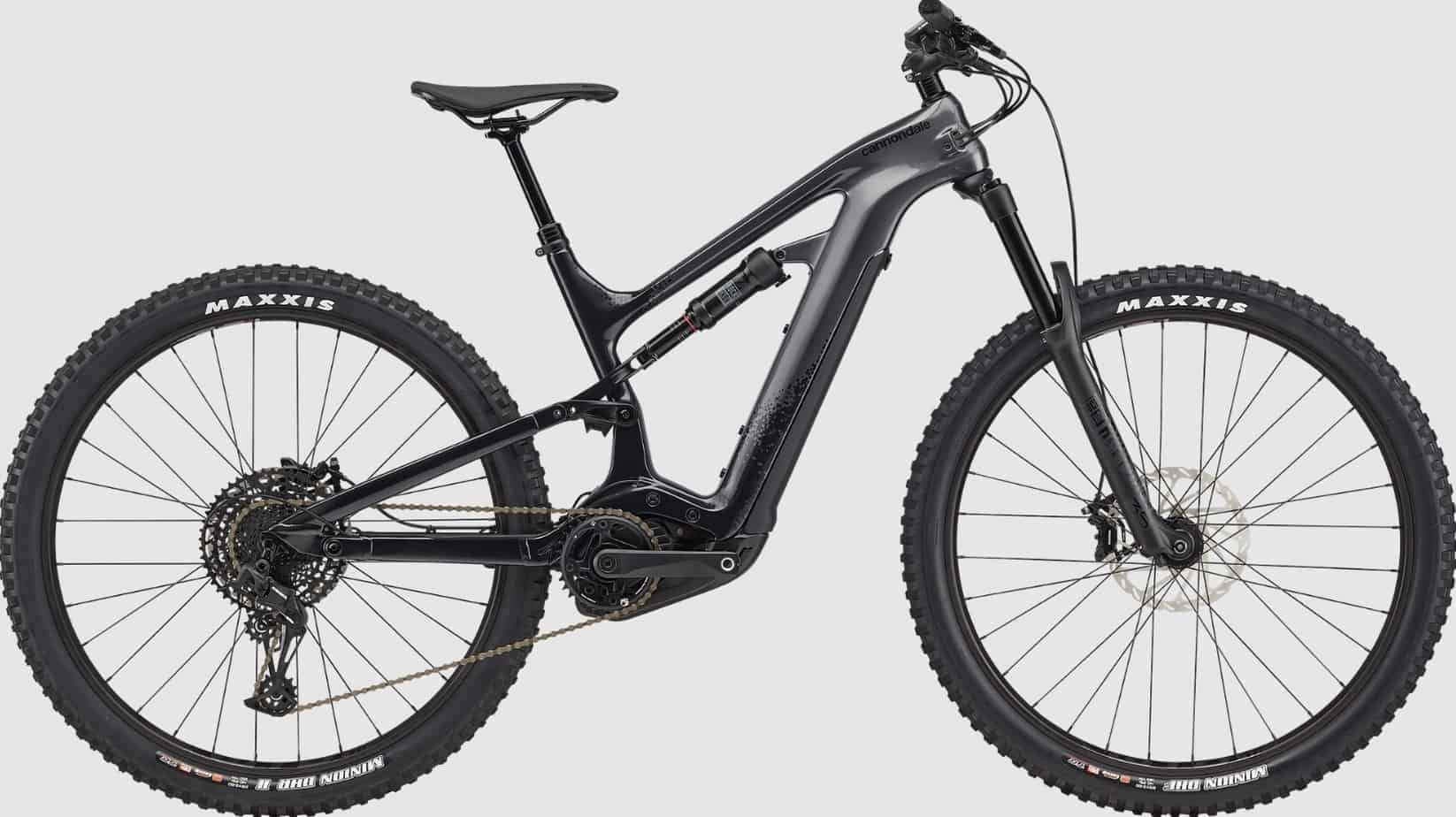 Best For: Racing in Rugged Terrain
About
This is an electronic mountain bike from Cannondale that was created to withstand some of the toughest terrains. Though there is a steep price, this bike is for passionate mountain bikers. The long-lasting battery means you can ride this bike for extended periods without needing a recharge. Even through mud and rain, the impressive traction makes it safe to take on tough courses.
Material: Carbon frame
Price Range: $8,000-$8,200 CAD
Warranty: Lifetime warranty on frame
Best Feature: Electronic
Proportional Response
This Cannondale Mountain Bike was made to accommodate riders of all sizes using proportional response mechanisms. The suspension layout is different in every size bike so that traction and control are optimal for all cyclists.
Pros
Extremely durable
Sleek black design
 Electronic
Cons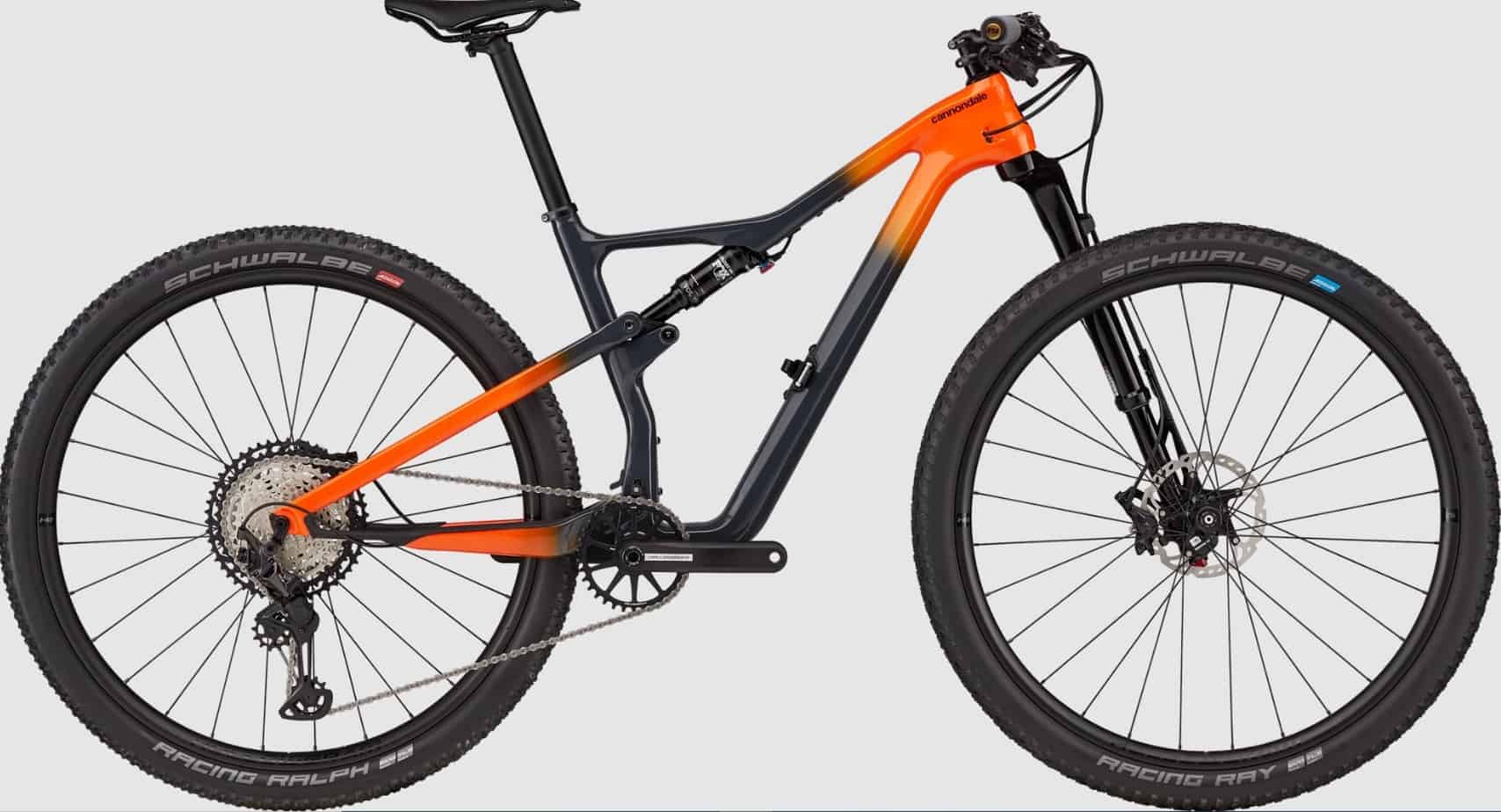 Best For: Racecourses
About
If you are into bike racing, this Cannondale Mountain Bike is the perfect bike. The HollowGram 25 carbon tubeless-ready wheels eat up the pavement and give you control. The frame is incredibly lightweight, allowing you to glide past the competition.
Material: BallisTec carbon FlexPivot frame
Price Range: $8,000-$8,300 CAD
Warranty: Lifetime warranty on frame
Best Feature: Best suspension
Care
The repair kit that comes with this bike allows you to fix if you're on the go. Technical difficulties won't stop you from completing a race when you come prepared.
Pros
Best suspension capabilities
Built for speed
Repair kit included
Cons
FAQ
In our last segment of the article, we've answered your most frequently asked questions about Cannondale Mountain Bikes. Got any more questions that we haven't answered yet? Please leave us a comment below with your question so we can answer you ASAP!
Question: Are Cannondale Mountain Bikes Good Quality?
Answer: Cannondale mountain bikes are made from excellent quality materials. Cannondale has earned a name for itself in the high-performance mountain bike industry.
Question: Are Cannondale Bikes Worth the Price?
Answer: We say yes. If you are serious about mountain biking, then the quality is worth the price. Even if you're a leisurely cyclist, high-quality bikes make for safer rides.
Question: Which is the Best Cannondale Bike?
Answer: The answer entirely depends on what you want your mountain bike to be for. Some models are better for racecourses, some for rugged terrain, and some for leisurely rides across grass and gravel. Our guide above explains how different Cannondale bikes are made for different cycling activities.
Finishing Up
I've reached the end of the course! It's been a smooth ride learning about why the Cannondale brand has made it into our list of favorites and what to look for in the perfect mountain bike. I've also gotten to share the top 8 best Cannondale Mountain Bikes so you can have your own rocky mountain adventure. But, if you ask me, the Habit Waves is the best for overall design and function.
Do you have any more questions about Cannondale bikes or stories to tell about your time on the trails? Let me know in the comments below! For even more great fitness ideas, check out this guide to finding the best helmet for you!