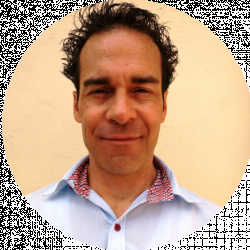 Latest posts by Douglas Bloom
(see all)
Ignaz Schwinn founded Schwinn Bikes in the 20th century. Having featured in the bike manufacturing industry for the past six decades, the brand is famous for producing various high-end bikes. Some of the popular models that the company specializes in are the production of BMX and mountain bikes.
Our Top 6 Schwinn Bikes
After thorough research from online journals, testimonials, and reviews, we have compiled a list of the top 6 Schwinn bikes for you. If you are looking for a mountain bike that will meet almost all your requirements, from pricing to performance, look no further. A Schwinn bike will take you anywhere you want.
Let's get started!
Schwinn High Timber: Best Youth/Adult Mountain Bike
If you need a quality entry-level mountain bike, this is the right bike for you. Whether you are a novice rider or a professional, it doesn't matter. This bike is suitable for anyone. With it, you can ride on different terrains.
To offer great durability for tough riding, this bike is built with an aluminum and steel frame. Apart from the frame being sturdy, it's also lightweight. Its geometry can also handle any terrain out there while giving you the most comfortable ride.
Schwinn High Timber is a 21-speed mountain bike. This means it offers effortless shifting when you engage various gears. This ensures that you are riding at the right speed. That said, to prevent you from jumping when you hit bumps on your way, the chain is securely attached.
This bike features high-quality alloy wheels that offer stability on the road. They come with lightweight alloy rims that provide the needed strength for riding. The tires are wide and knobby, making them suitable for all-terrain riding.
Any quality mountain bike should have a suspension fork. Fortunately, Schwinn High Timber has a front suspension fork that absorbs shock when you ride. This provides comfortable rides on bumpy terrains making the bike ideal for casual riding both on and off-road.
Additionally, you can stop instantly when riding at high speeds because this bike has quality disc brakes that offer prompt stopping power. Even though this model offers you top performance, it also has some setbacks.
For starters, it's not easy to assemble and may require you to seek professional help. At times it may be difficult to mount the front-wheel bolt on the front fork because it's short.
Pros
Best for an entry-level rider
Lightweight frame
Budget-friendly
21-speed
High-quality alloy wheels
Front suspension fork
Cons
Complicated to assemble
Short front-wheel bolt
Schwinn Mesa: Best Adult Mountain Bike
Do you want to take your mountain biking experience to a higher level? If yes, do so with a Schwinn Mesa mountain bike. It's suitable for single track and gravel riding. With this bike, you have the needed riding confidence regardless of the terrain.
Schwinn Mesa features a mountain-tuned aluminum frame that enables you to ride anywhere you want. The aluminum suspension fork reduces the impact of bumps on any trail. To give you comfortable rides, Mesa has a relaxed trail geometry.
A combination of the EZ-FIRE shifters and Shimano Tourney 21-speed provides precise gear shifting. You can easily switch the gears to experience efficient control on the road. For precise stopping power regardless of the condition, the bike is equipped with aluminum mechanical disc brakes.
Mesa comes with quality tires and 27.5″ wheels that offer good traction and stability on the trail. It's suitable for riders with a height ranging between 5 feet 2 inches to 5 feet 6 inches. Luckily, it comes partly assembled. This makes it easy to assemble.
This is one of the best mountain bikes to have in your bike collection because it's equipped with the best hand grips. However, it also features some drawbacks. The plastic pedals, gear system, and wheels break easily. This means you should be prepared for regular replacements.
Pros
Easy to assemble
Comfortable to ride
It features the best hand grips
Made of sturdy and quality materials
Shimano Tourney 21-speed
It is equipped with aluminum mechanical disk brakes
Cons
Plastic pedals, gear systems, and wheels break easily
Grips are best for cruiser bikes and not mountain bikes
Schwinn Bonafide: Best Men's Mountain Bike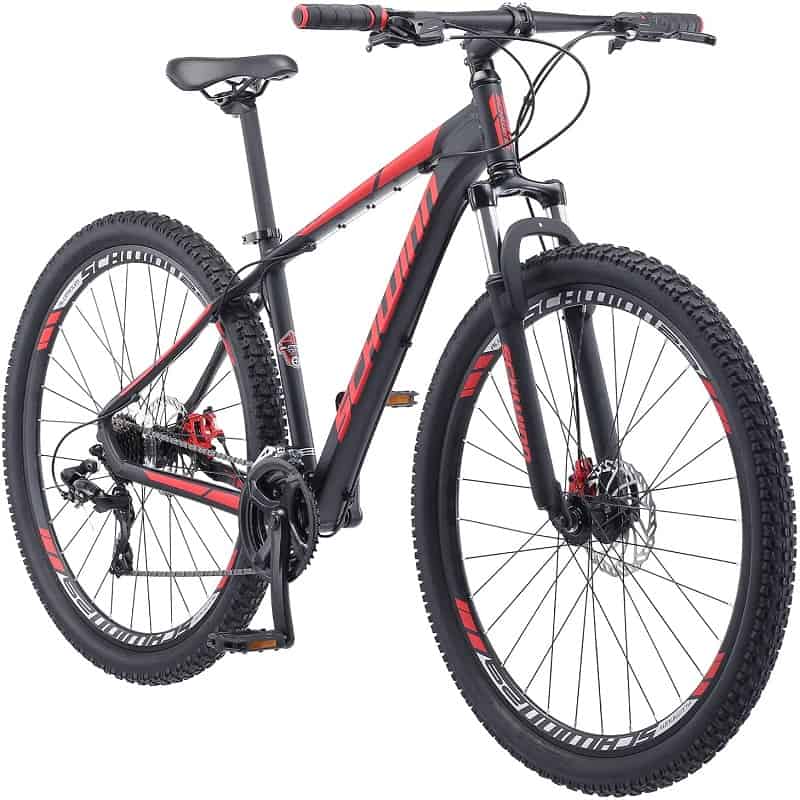 Get the Schwinn Bonafide men's mountain bike and ride with freedom and confidence. Apart from being designed and built to handle trails perfectly, it's also durable. The model is lightweight enough to handle rocky and tough terrains. With it, you'll enjoy the natural beauty of any landscape.
Being a 24-speed mountain bike, it comes with rear and front derailleurs. These provide you with a wide range of gear changing that suits your terrain. To ensure your gears remain steady, the double alloy crank requires little maintenance.
For crisp stopping power on the trails, Bonafide features mechanical disc brakes on the rear and front. Fortunately, it features a sturdy and lightweight aluminum frame. More so, the bike has a reliable suspension fork for absorbing thumps and bumps, making riding fun and comfortable.
Buying a Bonafide will give you the chance to enjoy better durability and performance with the double-wall alloy rims. The fact they are light and strong enhances their longevity. You can handle bumpy terrains well because of the 2.25 inch wide knobby tires. In addition, the 29-inch wheels provide better traction on most of the terrains.
This is one of the easy-to-assemble mountain bikes since it takes less than 20 minutes. Some drawbacks are facing it, though. Customers have launched several complaints of missing parts and an instruction manual that is not user-friendly.
Pros
Easy-to-assemble
It comes with 29-inch wheels
Budget-friendly
It features mechanical disk brakes
24-speed
Cons
Un-friendly user's manual
Low-quality shocks
Schwinn Protocol 1.0: Best Men's and Women's Mountain Bike
Are you a mountain bike enthusiast who loves impressive features? If so, the Schwinn Protocol is perfect. It's the ultimate bike for rough terrains and downhill riding. To give you the best off-road riding experience, everything, including the suspension, tires, gears, and frame, work well.
This adult bike comes with a full-suspension steel frame with a dual-suspension fork to offer you a good ride. With 26-inch wheels, it's suitable for tall riders. Your arms and shoulders will not experience discomfort since the front fork absorbs all the impact caused by bumps.
Amazingly, Schwinn Protocol comes with 24-speed trigger shifters. As a result, you get various gear ranges with precise shifting. There's no need to worry about speed. This is because the high-performance mechanical brakes on the rear and front are reliable, providing you with precision stopping power.
The Protocol is durable and suitable for all-day riding. Its rims are light and strong, meaning they can support the tires and provide them with better traction. Whether you want to ride on loose gravel or sloppy terrain, this model is a good option.
One of the reasons you should purchase this bike is that it's also effortless to assemble as well as being good-looking. The full suspension makes riders prefer it when riding on bumpy roads. Note that it features plus-size tires that offer better traction on muddy spots.
However, there are numerous complaints which buyers have launched. These complaints are quality-based and refer to various parts of the MTB.
Pros
Effortless to assemble
It comes with plus-size tires
Durable
24-speed trigger shifters
Full suspension steel frame
Cons
Unparalleled wheel holders
Heavy tires
Schwinn Traxion: Best Full-Suspension Mountain Bike
Are you looking for a full-suspension mountain bike with impressive features to excellently handle gnarly trails? If so, the Schwinn Traxion is perfect for such needs. It's easy to assemble because you only need to put the handlebars, pedals, and wheels together. The dual suspension aluminum frame is lightweight and durable.
The braking system is one of the most essential factors that any biker needs to look at when choosing a bike. It should be reliable to avoid accidents. This model features mechanical disc brakes on the rear and front to provide precision stopping power under any circumstance.
You can change gears easily using this model. It's due to the combination of the 24-speed Shimano EZ trigger shifters with front and rear derailleurs. With this bike, you enjoy versatility whether you want to ride downhill or on smooth terrains.
Traxion is packed with a quality crank to offer steady gearing. Unlike other bikes, it needs very little maintenance. The wheels are large enough to handle obstructions on the trail without putting you at risk. It comes with 2.25″ tires that are wide and knobby to handle bumpy terrains perfectly.
That said, the double-wall alloy rims are wide, light, and strong to offer unmatched longevity. You'll not ride a bike that is too small or large for you because the saddle is adjustable forward and back, providing a comfortable fit. Proper adjustments give you the right hip position when you sit.
Like other popular Schwinn models, this bike is also easy to assemble because most parts come already installed. Being a decent-quality mountain bike, it's best for both mid-range and high-end users.
While there are numerous things to admire about this model, several customers have complained about unsafe rides. For instance, some forks are misaligned with the brakes having poor quality craftsmanship.
Pros
Budget-friendly
Easy-to-assemble
Wide seat
Quality crank
24-speed Shimano EZ trigger shifters
Cons
Misaligned forks
Brakes have poor quality craftsmanship
Schwinn S29: Best Budget-Friendly Men's Mountain Bike
Are you looking for a reasonably priced, easy-to-maintain mountain bike? Schwinn S29 meets your needs. You will love its responsiveness when handling bumpy rides since it provides riding freedom. It's easy to overcome obstacles and move around corners as you tackle different terrains.
The frame is made of durable, lightweight aluminum. Its medium size is ideal for riders ranging from 5 feet 9 inches to 6 feet 2 inches tall. The bike features a dual suspension fork together with rear and front shocks to ensure shocks from bumps are fully absorbed.
Mechanical brakes on the front and rear ensure you have reliable stopping power. Their crisp stopping power controls your speed. The drivetrain consists of 21-speed trigger shifters combined with front and rear derailleurs for precise shifting with different gear ranges.
Luckily, the 2.1-inch knobby tires are covered with wide double-wall alloy rims. S29 also has a 7-speed freewheel that works perfectly with alloy triple crack to provide the gearing power you require when riding.
Pros
Budget-friendly
It features quality disc brakes
7-speed freewheel
Easy-to-maintain
Durable
Cons
Handlebars rust quickly
Lacks tools to make adjustments on the rear shock
Schwinn Bike Alternatives
In case you don't get your ideal Schwinn bike, feel free to go through the alternatives provided in our review. These are here to ensure you get a mountain bike that will meet all your requirements as a biker.
Yeti SB130 C2 GX Eagle: Best Do-It-All Trail Mountain Bike
If you want an efficient climber with a light and playful personality, SB130 is your answer. It's a ton of fun on smooth and flowy sections. However, it's not overkill on easier terrain, unlike some burly bikes.
This model comes in four different sizes with six different colors. Yeti sticks to high-end parts. Its pricing is quite close to competitors like Ibis Ripmo and the specialized Stumpjumper. Apart from a lifetime guarantee against defects on the frame and a crash replacement warranty, other features include:
BB92 bottom bracket
150mm fork
31.6mm seat post
130mm frame travel
SB130 has an aggressive geometry with premium construction. As a result, performance is superb both up and downhill. The only setback facing this model is its high price.
Pros
29″ wheels
Aggressive geometry
Premium construction
Superb performance on both up and downhill
Available in 6 different colors
Cons
Not budget-friendly
It lacks a dropper post
Ibis Ripmo V2 SLX: Best Enduro Mountain Bike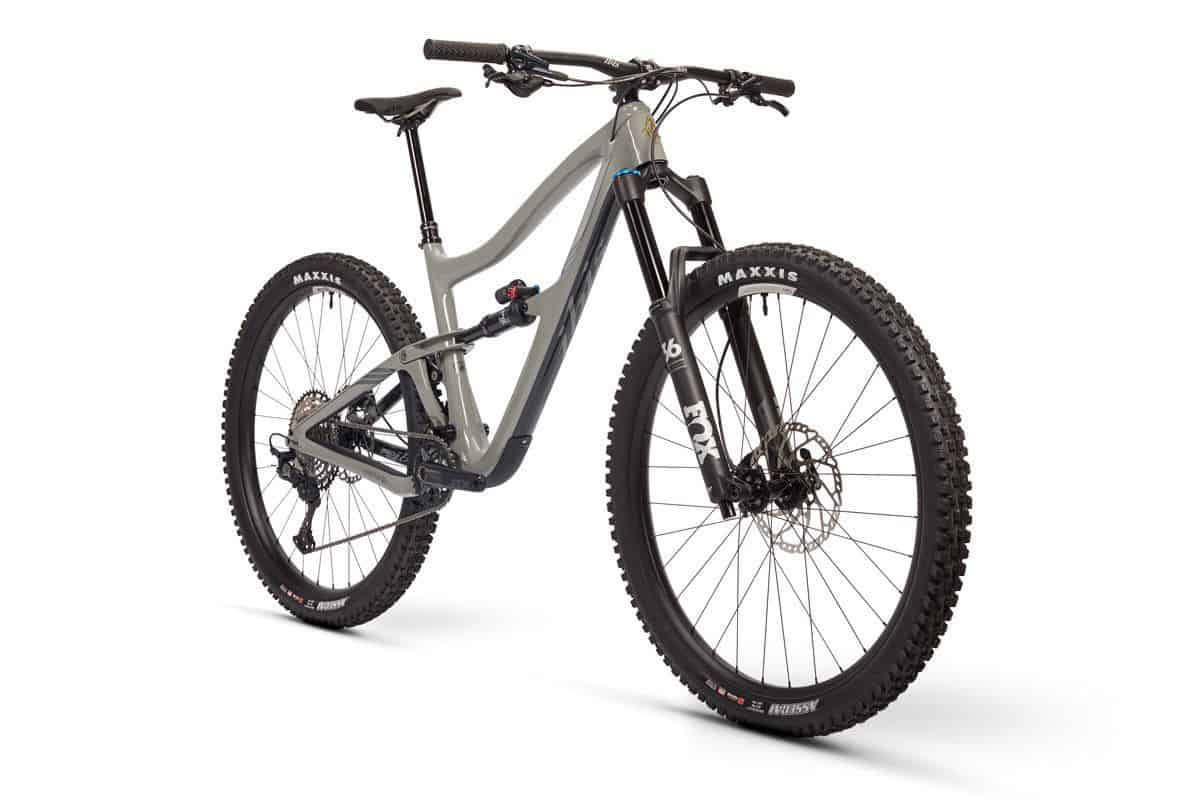 Would you prefer a cushier ride for absorbing big hits? Or do you reside in a zone where your local trails are filled with rough and steep terrain like the Pacific Northwest? It's hard to beat Ibis Ripmo V2 SLX, which steps up in aggressiveness after Yeti SB130.
With this bike, you get an extra 14mm of travel at the rear and 10mm at the front. It also features a slacker head angle with burly Maxxis Assegai tires. If you plan to dabble in the enduro world, there's an option to select a coil shock. However, what makes Ripmo a favorite among trail riders is its "do-everything" performance.
The quality Shimano SLX and the carbon frame groupset help keep weight in check. In addition, the DW-Link suspension and steep seat tube make this Ibis model out-climb expectations. Ripmo is overkill for flatter and less technical trails, considering that it comes with 29″ wheels.
Despite this model being lighter and snappier, it's our top choice among short-travel options since it covers both ends of the trail category well.
Pros
Aggressive geometry
Quality Shimano SLX
It features a DW-Link suspension
29″ wheels
It comes with burly Maxxis Assegai tires
Cons
Overkill for tame trails
Not budget-friendly
Specialized Turbo Levo Comp: Best E-Mountain Bike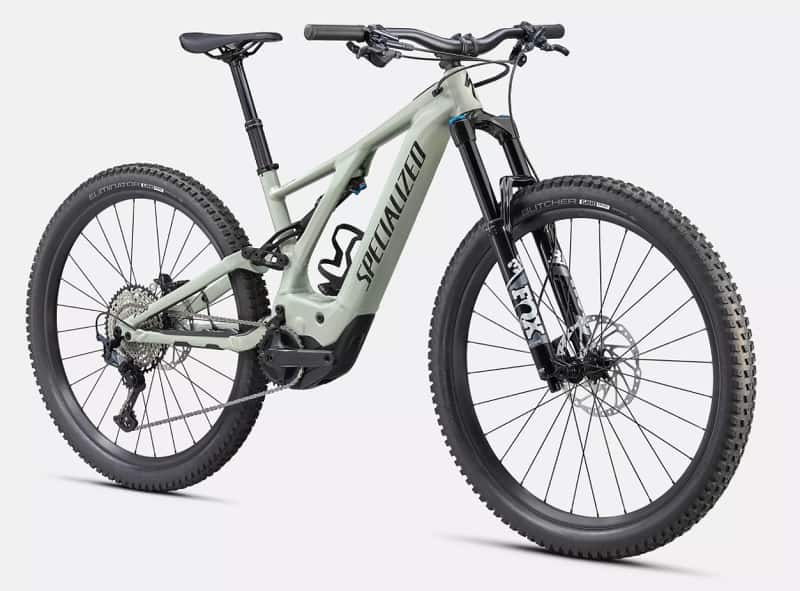 Specialized brand has been at the forefront of electric mountain bikes in North America, with Turbo Levo as the top mountain bike design. In recent years, this model has been updated with a host of improvements. For starters, it has been upgraded with a more powerful battery and motor. As a result, its platform remains based on the excellent Stumpjumper full-suspension bike.
Additionally, you can have quick access to the battery's status using the Mission Control App. This allows for easy customization of performance. Therefore, we think that the latest Turbo Levo Comp is at the top when looking at the fast-growing and competitive field of e-mountain bikes.
The biggest hindrance to owning an e-mountain bike is the price. The extra drive system adds more weight to this bike which has performance drawbacks. Compared with the non-motorized Stumpjumper, the Turbo Levo is a bit less "flickable".
Lawmakers and physical planners are still trying to figure out where e-bikes fit into outdoor recreation. Despite regulations varying by state and riding area, e-bikes are technically not legal to ride on singletrack trails.
Pros
It features a Mission Control App
Easy to customize performance
It comes with a powerful battery and motor
Premium construction
Super-fast
Cons
Not budget-friendly
It can't operate without a motor and a battery
Schwinn Bike Buying Guide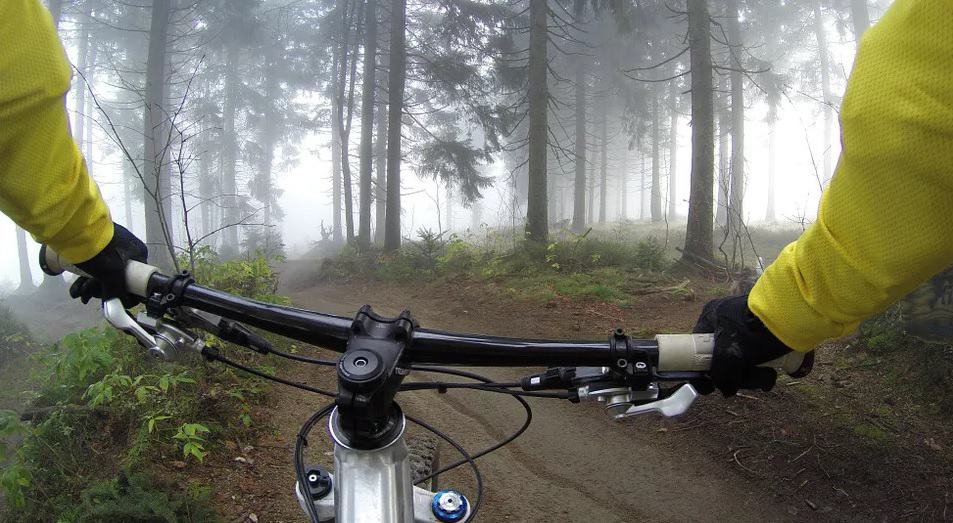 It's difficult to figure out the best bike when there are so many different types to choose from. Take time to understand Schwinn bike styles to see which one matches your style.
Cruiser Bikes
These retro-looking bicycles come with wide seats and balloon tires to keep you in an upright seated position. Some versions have a single-speed drivetrain (single gear). On the other hand, others have a much simpler mechanical design which is incredibly durable and easy to maintain.
Moving from one point to the other is not a problem with cruiser cyclists. Why? Because they primarily ride on flat terrains. A cruiser is an excellent option for a stylish and casual cyclist looking for a stable bike like the classic Schwinn Sting-Ray.
Mountain Bikes
These bikes are durable and feature shock absorbers, a sturdy frame, wide knobby tires, and straight handlebars. The seat is raised to keep you in an upright seated position, as opposed to road bikes. A mountain bike like the High Timber series can handle potholes, dirt, and gravel of off-road biking when fitted with stable wheels.
As a caution, sturdy features on a mountain bike make a ride on the road heavy and slow. On the same note, they can also make it excellent for rough terrains. If you are a cyclist who loves riding off-road and on rough terrains, your ideal ride should be a mountain bike.
Hybrid Bikes
If you want an excellent in-between bike that optimizes fitness and comfort, then get a Hybrid bicycle. For example, the Network series combines both mountain and road styles creating a perfect compromise.
The Hybrid comes with light skinny tires that allow for more speed plus an upright riding position. It's ideal for a cyclist looking for a general-purpose bike capable of handling multiple terrains and riding conditions.
This model is best for beginner cyclists or commuters. The reason is it's durable, comfortable, and faster than a commuter or cruiser bike.
Commuter Bikes
These bikes are durable and can handle any possible hazards of the city road because of their strong frames. Some of them come with fenders to keep you free from mud and water. The handlebars enable you to sit upright and fully enjoy your ride. Commuter bikes are best for city dwellers who want to get around quickly while commuting to work or when running errands.
Road Bikes
This model of bikes features light frames, skinny tires, and a forward-leaning riding position to allow you to go fast on pavements. Proper fit for road bikes is essential. A poor fit reduces pedal efficiency and makes your ride uncomfortable.
They have two types of handlebars for meeting the various needs of any cyclist. For that cyclist who wants to go faster, drop-bar handles are the best option. Besides being lightweight, they also create a more aerodynamic riding position. This allows you to transfer your energy perfectly to move the bike.
To reduce strain on your wrist, back, and shoulders, flat-bar handles allow you to sit in a more upright position. Take note that they aren't as efficient in speed compared to the drop-bar road bikes. If you are looking towards riding your bike fast on the pavement for lengthy distances and a long period, buy a road bike.
Schwinn Bike FAQs
Question: Which Company Manufactures Schwinn Mountain Bikes?
Answer: Pacific Cycle. This company has dominated the American bicycle industry for most of the 20th century.
Question: Are Schwinn Bikes Produced in the USA?
Answer: No. Even though Cannondale and Schwinn are among the few iconic American bike brands, Schwinn bikes are not made in the United States. Another well-known American bike brand whom most of the bikes are made outside America is Trek.
Question: Is Schwinn a Quality Mountain Bike?
Answer: Yes. It's famous for the production of all-rounded mountain bikes, great for all kinds of uses. For instance, the High Timber model is in its league. You can enjoy it not only on trails but also on your daily rides, offering you the best in all biking applications.
Question: How Do You Identify A Vintage Schwinn Bike?
Answer: You can do so by looking for the serial number on the lower head tube, which is right above the front wheel. This is for Schwinn bikes produced between 1970 and 1979. Those produced during this time frame come with a serial number stamped on the bottom bracket shell.
Conclusion
Our best pick is Schwinn High Timber. It's great for older children and adults who are starting out in the mountain biking world. This means it can be great for a family with teenagers. Additionally, It's also a great option for those who have experience in the biking world.
Schwinn is a worthy bike investment. For a trail mountain bike, it won't disappoint. However, in case your preferences are not fully met, feel free to check out the alternatives provided above. Hopefully, you will get a worthy Schwinn option. The buying guide should help you confirm whether or not you have made the right purchasing decision.