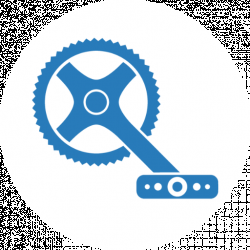 Latest posts by MTB Insider Team
(see all)
The Salsa Timberjack is a reliable, hardtail mountain bike designed to meet the needs of extreme riders. It's packed with tons of features and an overall streamlined design that adds real-world performance you can feel.
The Salsa Timberjack comes in several different models and variations; however, I will be focusing on the Salsa Timberjack 2020 model for this review.
The Timberjack combines the best of high-performance mountain bikes with the mobility and storage capabilities that you would expect from a commuter. The company that makes the bike is Salsa Cycles, and they have a solid reputation in the industry for producing top-level mountain bikes for riders of all spectrums. 
Salsa Cycles is also known for pushing the boundaries of innovation and functionality, which is evident in the release of the Salsa Timberjack. You can purchase the Timberjack in five different sizes, including XS, S, M, L, and XL, which allows virtually anyone to experience the benefits that this bike has to offer. (For more options check Trek Marlin 7 or Pivot Mach 6 and choose).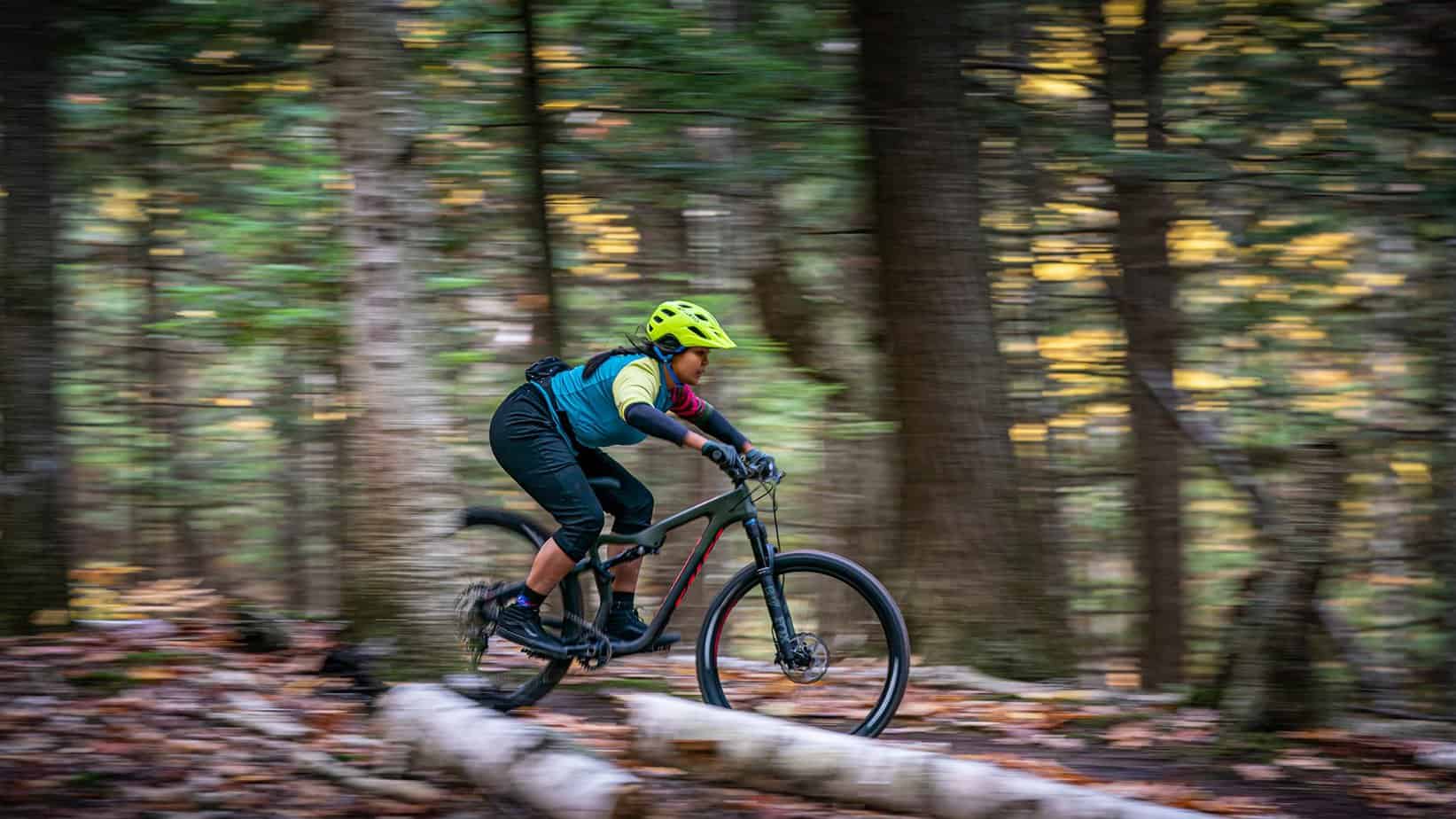 All of the features that come with the Salsa Timberjack combine to deliver smooth trail riding capabilities, and reliable off-roading functionality that's hard to find in similar mountain bikes in its class. 
It's made of premium quality components entirely, which means that it is a very durable mountain bike that will last a long time even when exposed to tough variables. The bike also comes with three separate bottle mounts and a rear rack mount, which adds bike-packing capabilities to an already versatile mountain bike. 
If you've been looking at the Salsa TImberjack as one of the possible options for the next mountain bike you plan on purchasing but haven't been able to find enough information, you've come to the right place. Below, I'm going to provide you with a detailed breakdown of all the critical features, capabilities, and specifications that you need to know about the Salsa Timberjack. 
Who is the Salsa Timberjack for? 
At its core, the Salsa Timberjack is a versatile, hardtail mountain bike that delivers well-rounded performance and reliable components. If you're someone looking for a power-packed, fun single-track home rider that you can trust to muscle through some of the roughest terrains out there, this is a great choice.
The Timberjack delivers impressive climbing abilities with that hardtail, which is excellent for those steep uphill climbs. It also comes equipped with an adjustable wheelbase, making it easy for you to fine-tune the bike to your exact ride profile. 
As a hardtail bike, you may be surprised to find out that the Timberjack runs for about $1,999, which is relatively expensive compared to similar bikes in its class. Although, the specifications of this bike don't only look good on paper; they translate into real-world performance that you can experience when on trails and even city commutes. 
All in all, the Salsa Timberjack is a great bike for the intermediate to a professional rider that is looking for a reliable and versatile powerhouse of a climber for those weekend trail rides. Now, let's take a look at some of the main pros and cons that riders share after using the trail bike for some time. 
Pros & Cons: Salsa Timberjack 
All-mountain bikes will come with their set of pros and cons due to how particular each rider is about their setup. That doesn't mean that you should base your buying decision on the opinion of someone else.
Always take into account your preferences as it relates to the build quality, functionality, and performance that you want so that you can make the right choice about which bike is perfect for your off-road adventures. 
The Salsa Timberjack is no different; it has pros and cons depending on who you ask and how they ride. Below, I'm going to detail the primary pros and cons of the Timberjack from a purely practical design perspective; you can decide for yourself whether or not these features are desirable for your riding style. 
Pros
Integrated bottle holders and rear rack attachment add versatile storage
An adjustable wheelbase that lets you lengthen or shorten its ratio or you can put it in a single-speed mode
RockShox Sektor Fork that delivers maximum absorption on hard bumps
Customizable configuration thanks to backward compatibility with previous model years
12-speed SRAM NX Eagle drivetrain provides powerful climbing capabilities under virtually any condition
Seamless integration of powerful single-track performance with bike-packing specific features that make this bike a real versatile gem
Cons
Front end stability is in question as multiple riders report it's an inability to respond accurately to control movement on steep climbs
Quite expensive for a hardtail mountain bike
OEM tires may hinder performance for riders who use the bike on multi-day trips
These are some of the main pros and cons that you can expect to encounter from a design perspective. How all of these features translate to real-world performance for riders will vary on a case by case basis. Simply use our above comparison to get a general view of what the Salsa Timberjack may have to offer your ride game. 
Salsa Timberjack Specifications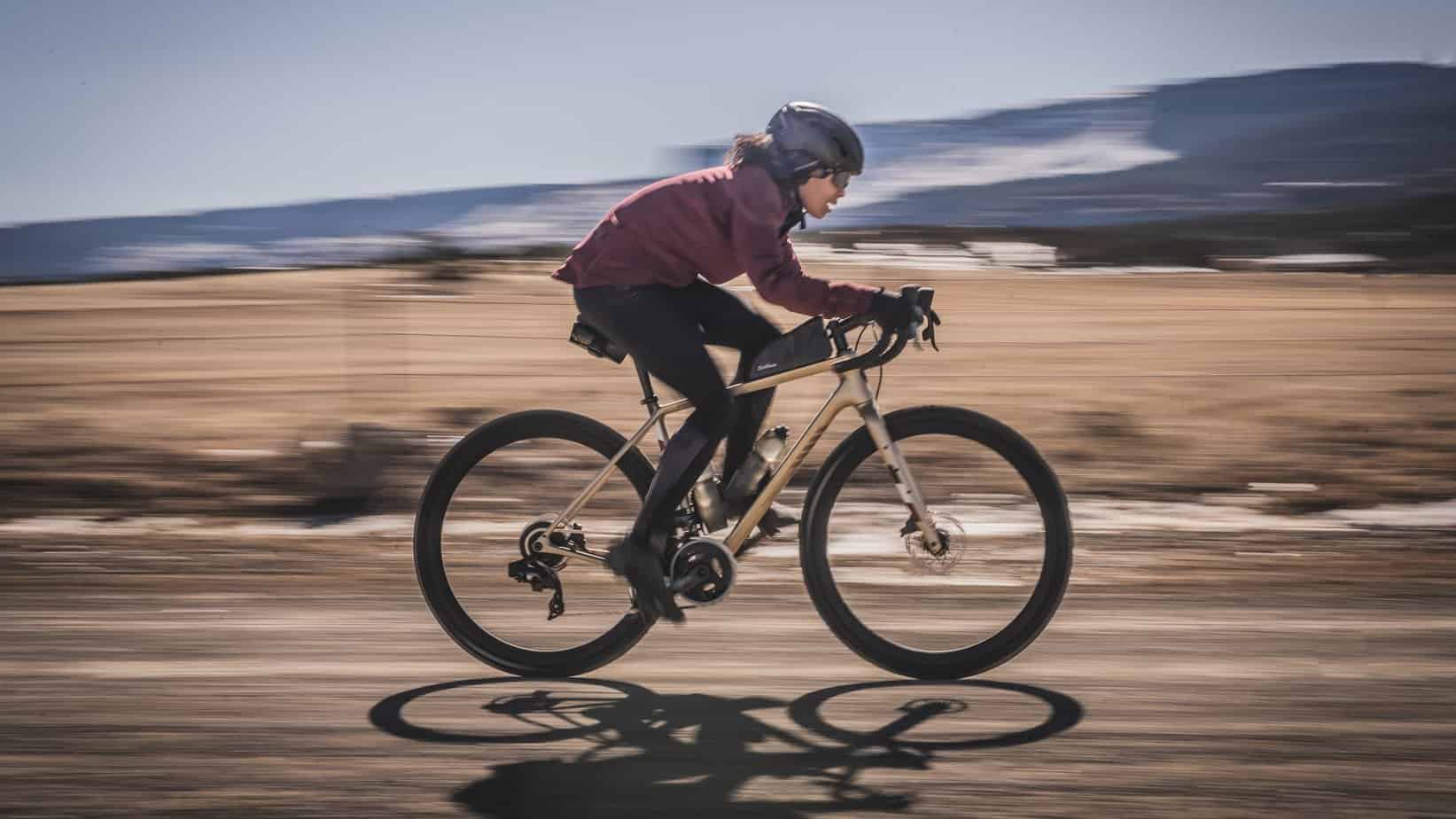 The Salsa Timberjack is an intuitively designed hardtail mountain bike that delivers impressive performance and extremely durable build quality. It's bold yet agile frame in combination with the adjustable wheelbase, and superior components make the Timberjack a trail predator in its own class.
Before you buy any new trail bike, it's essential to know about all of the core specifications and features that come with it to ensure you're selecting a bike that will provide you with real performance once your tires hit the trail. 
Below, we're going to provide you with a detailed look into all of the core features that come with the Salsa Timberjack to help you make an educated purchase decision. 
Design Geometry 
The Timberjack features streamlined geometry that aids in enhancing your overall ride performance on the fly. It has a 67-degree head tube angle that delivers the perfect balance for the suspension travel of the bike. This finely machined geometry specification is ideal for steep climbs and giving the right amount of slack during descents. 
Frame 
The frame of the Salsa Timberjack is very intuitive and well put together; the cables are internally routed, which gives the bike a beautiful clean look, and the orange frame design is very eye-catching. The integrated RockShox Sektor fork is painted black and adds a subtle premium aesthetic to the bike that many riders love.
There is an ample amount of tire clearance in the rear of the bike, and you can also upgrade the standard tires to 3.0in tires with ease. The frame can even accommodate 20-inch wheels with tires with a width of up to 2.6in, so there is no shortage of customization and versatility options.  
Brakes 
The Timberjack features SRAM level brakes, which are high-performing and very responsive under various conditions. The actioning of the brakes is very crisp, which is great for sudden stops that require an immense amount of power. They also come outfitted with a reach adjustment feature that makes it easy for you to adjust the bike to your exact ride profile. 
Drivetrain 
The Salsa Timberjack comes outfitted with an SRAM Eagle NX drivetrain that is the highlight of the entire bike. The drivetrain has a 50-tooth sprocket in the rear, which gives you the ability to spin when attacking steep climbs quickly. This drivetrain also helps streamline the shifting process so that you can easily adapt to changing variables in your environment. The drivetrain is very durable and long-lasting, so you can be confident when taking on rough terrains. 
Tires/Wheels 
The Timberjack is packing Sun Ringle Duroc 45 32h rims and WTB 27.5 x 2.8 Vigilante TCS fast-rolling wheels in the front in addition to Ranger TCS fast-rolling tires in the back. This tire and wheel combination is very capable when it comes to high-performing grip and cornering capabilities, which match perfectly with the intended design of the rest of the bike. They are very durable, and you have the option of upgrading to thicker wheels whenever you'd like. 
Seat 
The Salsa Timberjack comes with a TransX dropper seat post that is very responsive, allowing you to adjust your ride angle with ease. It's also very durable, so you won't have to worry about it breaking when attacking features or corners. 
All of these features combine to deliver what is known as the Salsa TImberjack hardtail mountain bike. Carefully read over all of the core features I've detailed above to decide whether or not this is the right bike for you. 
Alternative Recommendations 
#1 Co-op Cycles DRT 2.2 Bike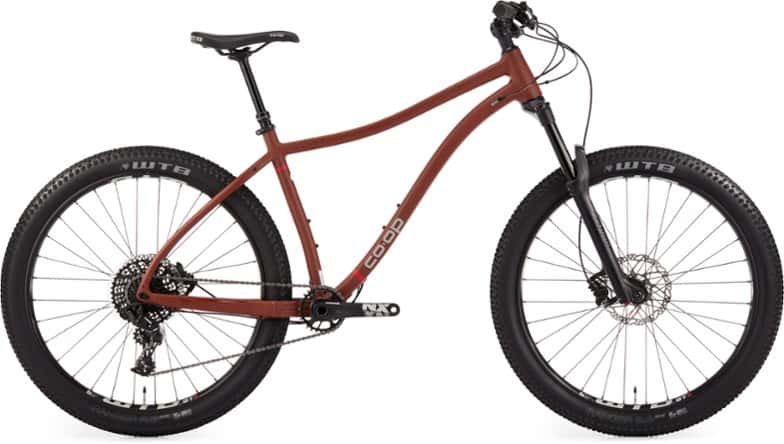 The Co-op Cycles DRT 2.2 Bike comes outfitted with 27.5 plus tires that deliver great traction and enhanced handling capabilities on all terrains. You'll also find that this bike comes with an X-Fusion Manic Dropper Seatpost with remote capabilities and 150mm of travel that delivers quick transitions during your entire ride.
The front suspension system on this bike has 120mm of travel and a remote lockout feature that makes it easy to lock your fork when climbing steep hills. It also has a 1×11 Shimano SLX drivetrain that dissolves the need for a front derailleur for enhanced performance.
This feature also reduces the overall weight of the bike, making it more agile and capable of handling tricky conditions. The rear-derailleur is configured with a Shimano SLX Shadow Plus clutch-style unit that reduced the amount of chain slap the bike experiences for more reliable shifting. 
The brakes on the DRT 2.2 are powerful Shimano hydraulic disc brakes that deliver great stopping power regardless of the conditions. The bike also has front and rear thru-axles, which add rigidity to the bike's overall design for more dialed-in ride control. This bike comes fine-tuned from the factory and is perfect for those riders that want serious performance capabilities in an agile and well-built bike.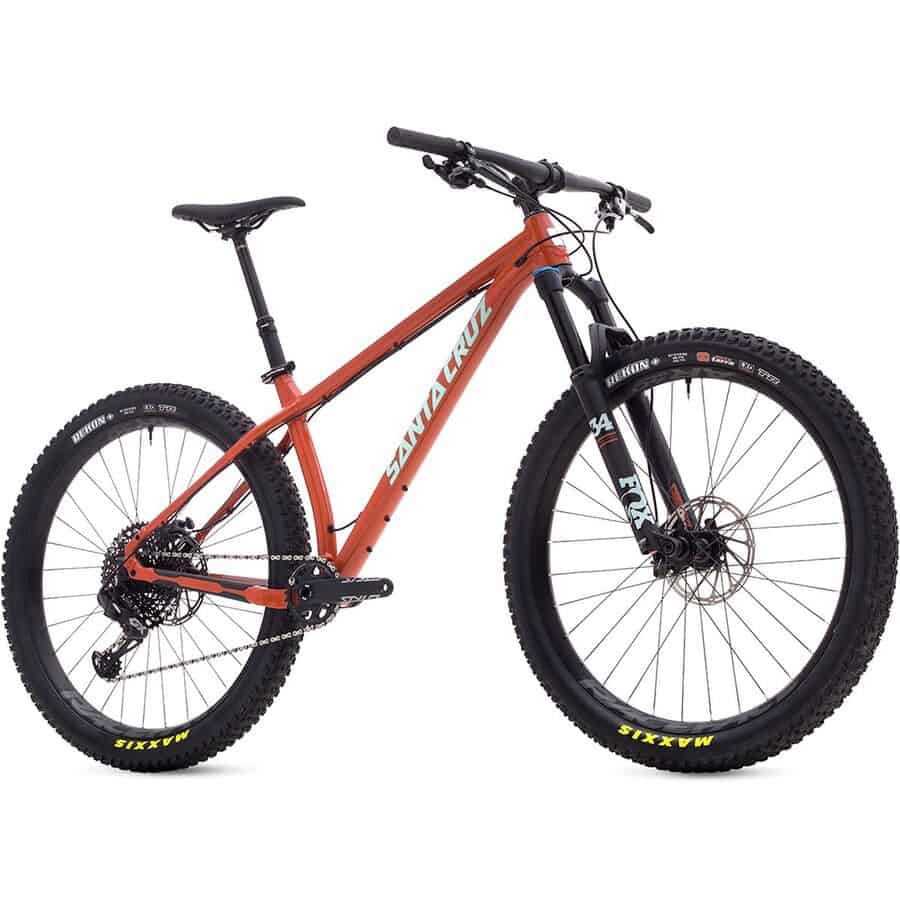 The Santa Cruz Bicycles Chameleon 27.5+ R Mountain Bike comes outfitted with a 67.5-degree head tube angle that delivers great ride stability when accelerating. The bike is made from an aluminum frame that has a balanced strength-to-weight ratio for optimized riding.
It also has an SRAM NX Eagle drivetrain that provides a 1×12 gear range for an affordable cost. The bike has a large front end and short chainstays, which gives the bike a playful and overall agile feel. You'll also love that this bike has an interchangeable dropout that gives you the ability to upgrade from 27.5in to 29in wheels. It has a 130mm FOX Rhythm Fork that easily soaks up the impact of roots, rocks, and more. 
The standard 27.5in wheels on this bike provide maximum traction and handling over treacherous terrains. If you're looking for a high-performing hardtail bike that offers power and versatility, this is a great choice. 
Santa Cruz Bicycles Chameleon 27.5+ S Mountain Bike | Backcountry.com
This particular Chameleon 27.5+ S Complete Mountain Bike carries all of these updates, just with fresh color schemes for 2019, making it an absolute blast to rail around corners, plunge into steep descents, and even pedal a few laps around the local bike park.
Check Price
We earn a commission if you click this link and make a purchase at no additional cost to you.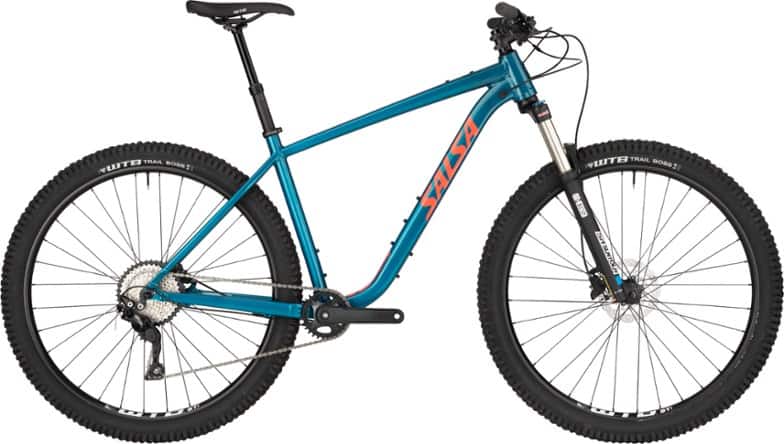 The Salsa Rangefinder Deore 29 comes with top of the line Shimano Deore components which deliver reliable shifting, as well as an 11-42 tooth cassette that expands your gear options, and a 30-tooth chainring.
This bike uses proprietary 6066-T6 double & triple-butted aluminum tubing in the main triangle and 6061-T6 seat stays and chainstays that result in a durable, responsive, and lightweight ride. It has 120mm of front suspension travel that can take on the roughest terrains without showing any signs of wear. You'll also find a 15 x 110mm thru-axle that keeps the front-end stiff for accurate handling. This bike easily achieves a stable ride throughout its Rangefinder Trail Geometry, which interconnects a short stem and long top tube in addition to 439mm chainstays. 
The frame on this bike has two integrated bottle cages, making it easy for you to stay hydrated on long rides. You can also upgrade the standard wheelset on this ride reasonably easily, which is useful for those who want to tailor their riding experience. If you're looking for a sturdy mountain bike packed with tons of premium features, this is a great option.
Salsa Rangefinder Deore 29 Bike | REI Co-op
Dip your tires into the world of mountain biking with the Salsa Rangefinder Deore 29 features. Its stable trail geometry, dropper post and 120mm of fork travel keep confidence—and stoke—levels high.
Check Price
We earn a commission if you click this link and make a purchase at no additional cost to you.
FAQs About Salsa Bikes
Is Salsa a good bike brand? 
Yes, Salsa is known for its superior quality manufacturing standards, and they also offer very reasonable pricing on all of their products.
Where are Salsa Cycles based? 
Salsa Cycles is located in Bloomington, Minnesota.
Are all Salsa bikes made in the USA? 
While the bike frames are made in Taiwan; however, their main office is located in the United States, they import a lot of their finished manufactured products.
Our Honest Opinion 
After taking an in-depth look at the Salsa Timberjack, it's time to give you our honest opinion. In terms of performance, the Timberjack delivers impressive results thank to its unique design and committed hardtail feel. Right out of the box, this bike is ready to handle rough terrain, and high-flying features, which makes it great for that rider who wants a great bike right out of the gate. 
The ability to upgrade the existing parts makes this a very versatile hardtail. When you factor in all of this, the Salsa Timberjack delivers great power, functionality, and versatility for its price range. If you're looking for a reliable hardtail that can withstand virtually anything you throw at it, the Timberjack is an excellent choice. 
Conclusion 
Use all of the information and tips I've given you throughout this article to make an educated decision about whether the Salsa Timberjack is right for you. In this article we have gone over all of the most essential variables that will factor into your buying decision, so you should be able to make a clear and educated choice. Remember to be safe on the trail, but don't forget to have fun!