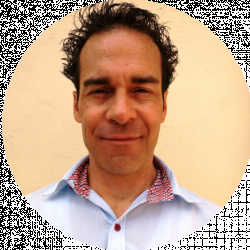 Latest posts by Douglas Bloom
(see all)
Shimano Ultegra and 105 are the most popular groupsets among road cyclists all over the world. They both mix quality and value in a package that is respected by amateur and professional cyclists. The question is which groupset is the best?
Unfortunately, every cyclist has their opinion on the best groupset. If you are looking to purchase one and are having problems making a decision, you have come to the right place.
We have done thorough research to give you detailed information on both. Read on to get this information and make an informed buying decision.
Overview
Main Differences Between Shimano 105 vs Ultegra
The main differences between Shimano 105 vs Ultegra are:
Shimano 105 dual control levers weigh 500g, whereas Ultegra weighs 438
Shimano 105 brakes cost around 50$, whereas Ultegra cost approximately $130
Shimano 105 is designed for beginner and intermediate cyclists, whereas Ultegra is designed for professional cyclists.
Shimano 105
There has been a lot of unconfirmed information regarding Shimano 105 all over the internet. People who appreciate a good bike, for any reason whatsoever, may not have detailed information about the product.
The current Shimano 105 has features that ensure your bike meets or even surpasses, other competitors. So how does this work? We have researched the various 105 groupset parts to give you an insight into everything Shimano 105. Check out the information below to understand what you need to know about the product.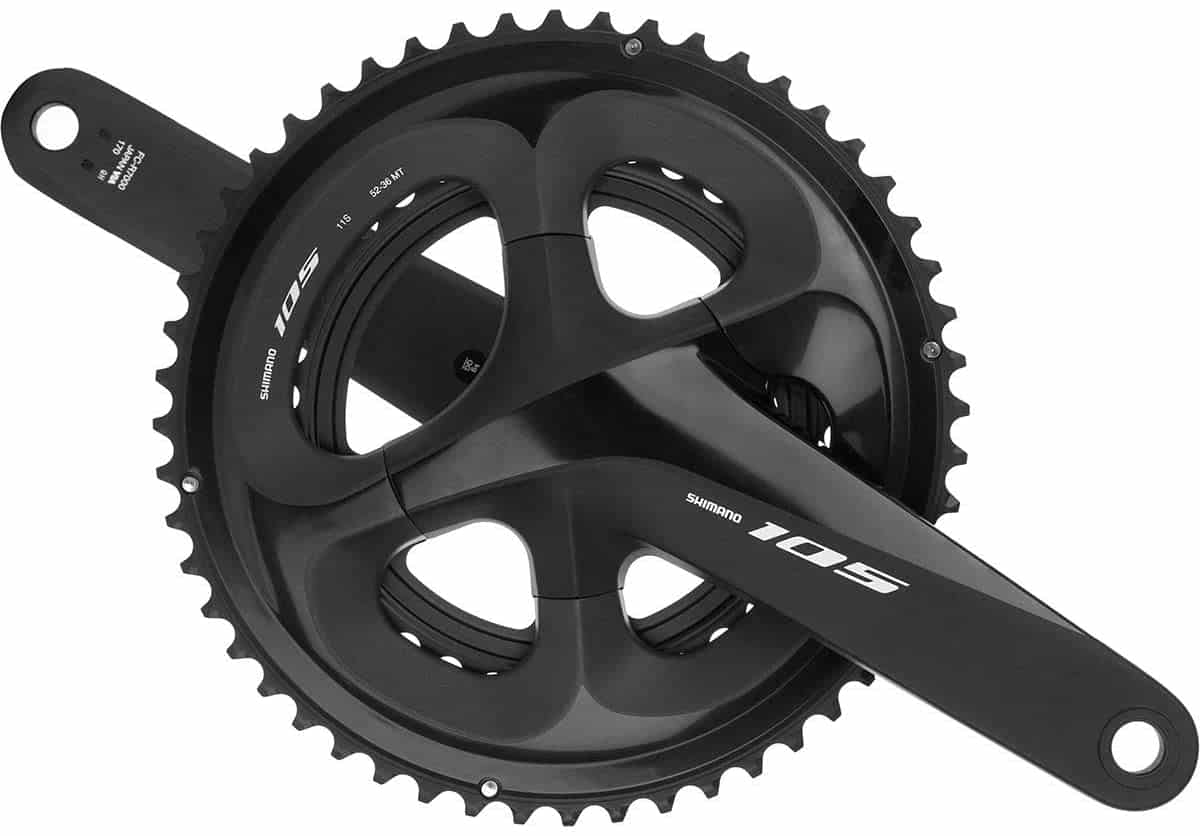 In any bike, the crank is at the heart of making sure your power is converted to forward motion. When it comes to cranks Shimano is king. Made from aluminum, the Shimano 105 Crank Set is durable and can compete with other similar products made from carbon.
Current designs use a 4-bolt design, unlike the previous chainring design. The chainrings are a substantive downgrade from Dura-Ace and Ultegra. Both use hollow forged rings, while the current 105 has been machined out on the backside.
On the plus side, the new ring has been machined out on the backside giving it a good shift despite it not giving a Dura-Ace "instant shift." Shimano chainring sizes hit the popular choices of 50/34, 52/36, and 53/39.
Shimano 105 Crankset | Amazon
Make no mistake, this isn't budget gear. Its race-worthy equipment designed to be affordable, and since it benefits from Dura-Ace and Ultegra trickle-down technology, it doesn't compromise performance.
Buy at Amazon
We earn a commission if you click this link and make a purchase at no additional cost to you.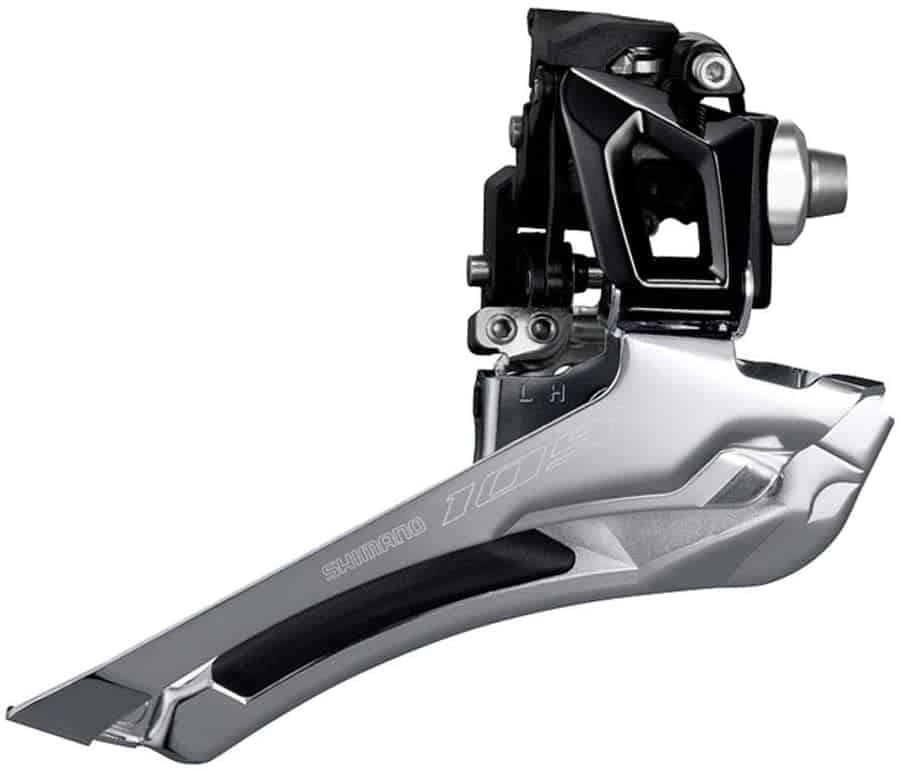 Previous versions of front derailleurs were popular for their excellent front shift quality. The previous versions of the same had problems with tire clearance. People have stated that they have had issues when they relied on a long swingarm.
It used to pivot closer to the rear tire, resulting in interference and rubbing with wide gravel tires. The good news is that this is not a problem for any triathlon tire sizes. The new 105 design ensures a great shift quality is maintained.
SHIMANO 105 FD-R7000 Front Derailleur | Amazon
This 105 derailleur features trickle-down technology that we're used to seeing from Shimano's higher-tiered Ultegra and Dura-Ace groups including a redesigned cage that's optimized for road bikes with the wider rear dropout spacing utilized for disc brakes along with shorter chainstays.
Buy at Amazon.com
We earn a commission if you click this link and make a purchase at no additional cost to you.
09/29/2023 06:52 pm GMT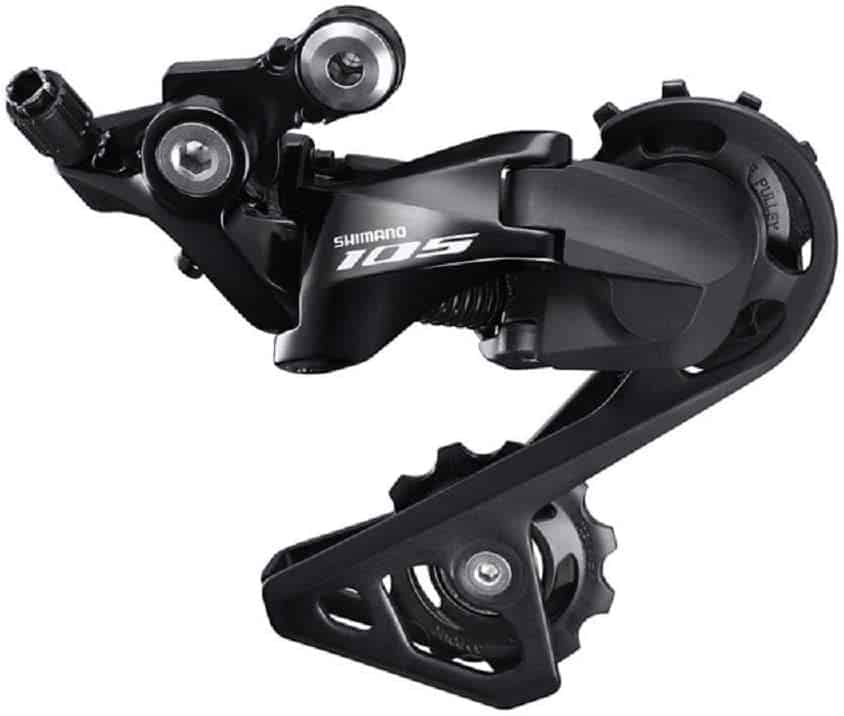 Shimano's' Shadow design, originally designed for mountain bikes, has been used to update the new rear derailleur. The 105's rear derailleur is tucked inboard by about 12mm to provide better protection should you crash. It is also compatible with direct mount derailleur hangers.
Currently, there are two cage length options. The short cage works best with 25 – 30 tooth large cogs. The long cage is recommended for 28 to 34 tooth large cogs.
If you are not sure, it is better to err on the longer side. Unfortunately, the new derailleur does not have an option for a clutch limit. Considering the price, this is not a deal-breaker.
SHIMANO 105 Rear Derailleur | Amazon
The new brakes are redesigned and borrow the same new pivoting mechanism for a linear feel that provides an incredibly consistent power distribution from the lever to the rim's braking surface.
Buy at Amazon.com
We earn a commission if you click this link and make a purchase at no additional cost to you.
09/29/2023 04:47 pm GMT
Cassette sizes have a nice range with a downside of a 12 – 25 oddity. The beauty of getting plenty of rear cogs is the option of choosing different ranges with reasonable jumps from one cog to the next.
SHIMANO Cassette 105 | Amazon
The Shimano CS-5700 10-speed cassette provides stable shifting performance and feel thanks to Hyperglyde technology. To save weight, it features an aluminum sprocket carrier.
Buy at Amazon
We earn a commission if you click this link and make a purchase at no additional cost to you.
09/29/2023 11:04 am GMT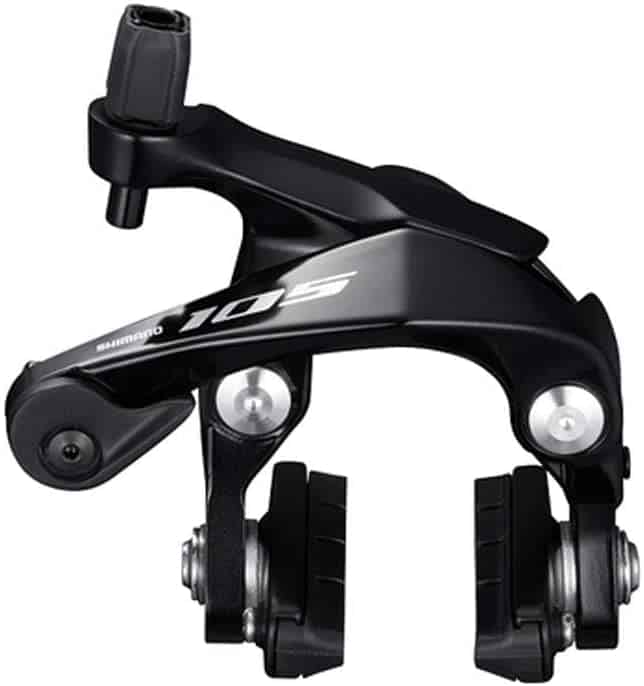 Any avid bike rider knows Shimano makes great brakes. The bushings and pivots are smooth, burly, and durable. Compared to many cheaper OEM calipers, these brakes have low braking noise. They are available in all popular variants like special under-BB option, direct-mount, and standard.
Currently, there is an official 105 series hydraulic caliper in the brake disc department. At the moment there are no hydraulic or mechanical 105 TT brake levers.
105 hydraulic brakes are designed to be used with the road drop shift/brake levers. If you still want to use mechanical disk brakes, there are options such as Shimano CX77, Avid BB7 Road, and TRP Spyre.
SHIMANO 105 Brake | Amazon
The new brakes are redesigned and borrow the same new pivoting mechanism for a linear feel that provides an incredibly consistent power distribution from the lever to the rim's braking surface.
Buy at Amazon.com
We earn a commission if you click this link and make a purchase at no additional cost to you.
09/29/2023 06:16 pm GMT
Di2 or 1x or 12-Speed?
Even though Shimano hasn't officially launched 12-speed road components, we all know it's a matter of time. It will start with Dura-Ace, followed by Ultegra, and finally 105.
When it comes to single (1x) chainring systems, Shimano isn't officially on board for road cycling. The good news is you can make your system using components such as Wolf Tooth 1x chainrings. Take note 105 doesn't have a clutch-equipped derailleur.
By the time you have everything in place to make the system work, you will be near the price point of buying a ready-made system from SRAM. We recommend the 105 if you want two rings and you are on a budget. SRAM Rival 1 is the way to go if you prefer a single chainring.
Soon we shall see 105 level Di2 concerning electronic shifting. Shimano was the first company to offer electronic shifting on a wide scale. It is the only company with the ability to pull off a mid-level electronic groupset.
Shimano Ultegra
Present-day Ultegra groupsets present a host of real improvements. If you don't mind paying a 260g penalty, then you can consider the Ultegra over the 105 or Dura-Ace.
Improvements in current Ultegra groupsets include a very handsome look, flawless shifting, and incredible braking performance.
On the downside, the two-position brake quick release may not suit your taste and the barrel adjuster is a bit finicky. Other features you should look into are: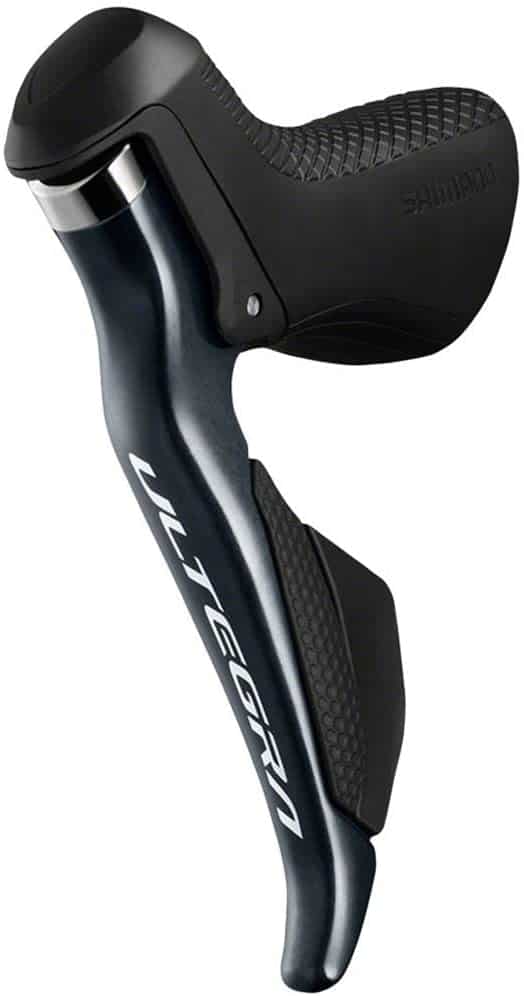 Ultegra levers are almost identical in profile when compared to 105. They have dual control levers that come with aluminum main levers and plastic brackets reinforced with carbon-fiber. The main difference between previous and current versions is the shape.
Your index finger's curve is more pronounced. If you like wrapping your finger around the bar you will find it quite comfortable. The shape lets you use only your second finger when braking as you slow. You can easily add the remaining fingers for hard braking efforts.
Shimano ST-R8000 Ultegra Double Mechanical 11-Speed STI Levers | Amazon
The Ultegra ST-R8050 series shares the same Di2 electronic shifting technology as Dura-Ace, at a more affordable price. Featuring stress-free cable-actuated operation and improved ergonomics for all-day riding comfort and performance.
Buy at Amazon.com
We earn a commission if you click this link and make a purchase at no additional cost to you.
09/29/2023 06:31 pm GMT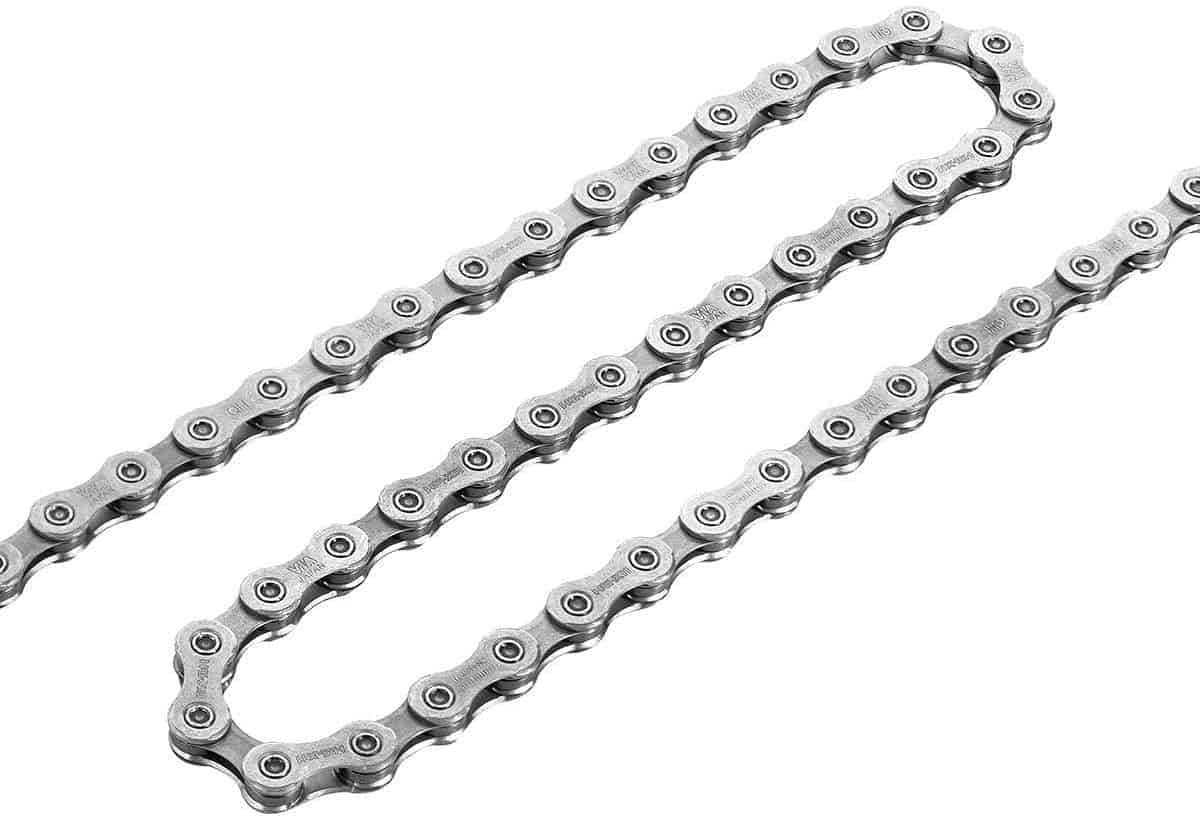 Tooth chainrings for the Ultegra include 50-34, 52-36, 53-39, and the option of a 46-36 cyclocross. They all use the same bolt circle diameter of 110mm. This means you can swap a 50-tooth outer chainring for a 53-tooth.
In key areas, the Ultegra and 105 chainsets use the same materials and technology. Although other manufacturers have moved to carbon-fiber cranks, Shimano has maintained using aluminum.
Hollowtech technology from Shimano allows the Ultegra to retain stiffness while keeping the weight low. Additionally, the chainring is of higher quality as it features a two-piece construction. On the downside, the design is likely to store grime in all the recesses.
Ultegra front derailleurs come with light shifting, a chrome-plated steel chain guide, aluminum inner link, and glass-fiber reinforced plastic outer link.
This reduces the possibility of chain rub as you move across the cassette. These derailleurs have been designed to use cam arrangements in a bid to actuate the shift. This means the current units are more compact than their predecessors.
Ultegra features an adjustment screw meaning you do not need an inline barrel adjuster. The 53-tooth is the largest chainring recommended for use with Ultegra. It is okay for most people. However, if you like pushing big gears and you are not a pro you may struggle a little bit.
SHIMANO Ultegra FD-R8000 Front Derailleur | Amazon
The SHIMANO ULTEGRA R8000 series front derailleur offer lighter front shifting operation and easier setup thanks to the new link construction and integrated cable tensioner.
Buy at Amazon.com
We earn a commission if you click this link and make a purchase at no additional cost to you.
09/29/2023 11:56 am GMT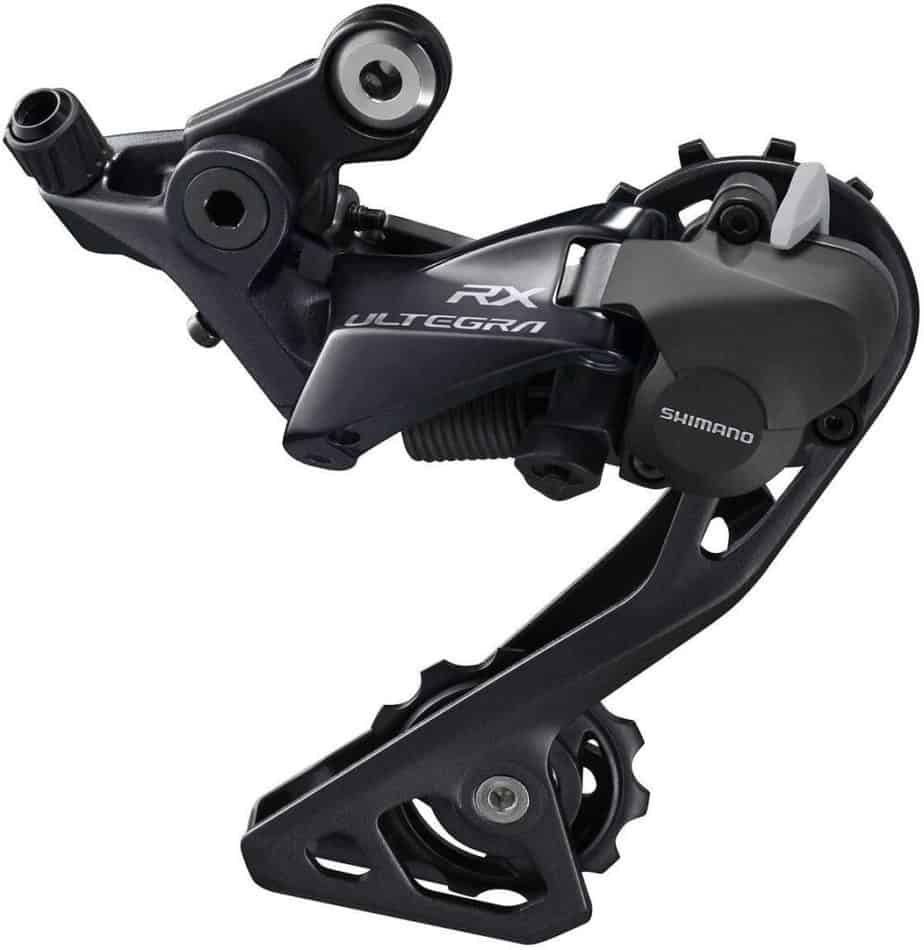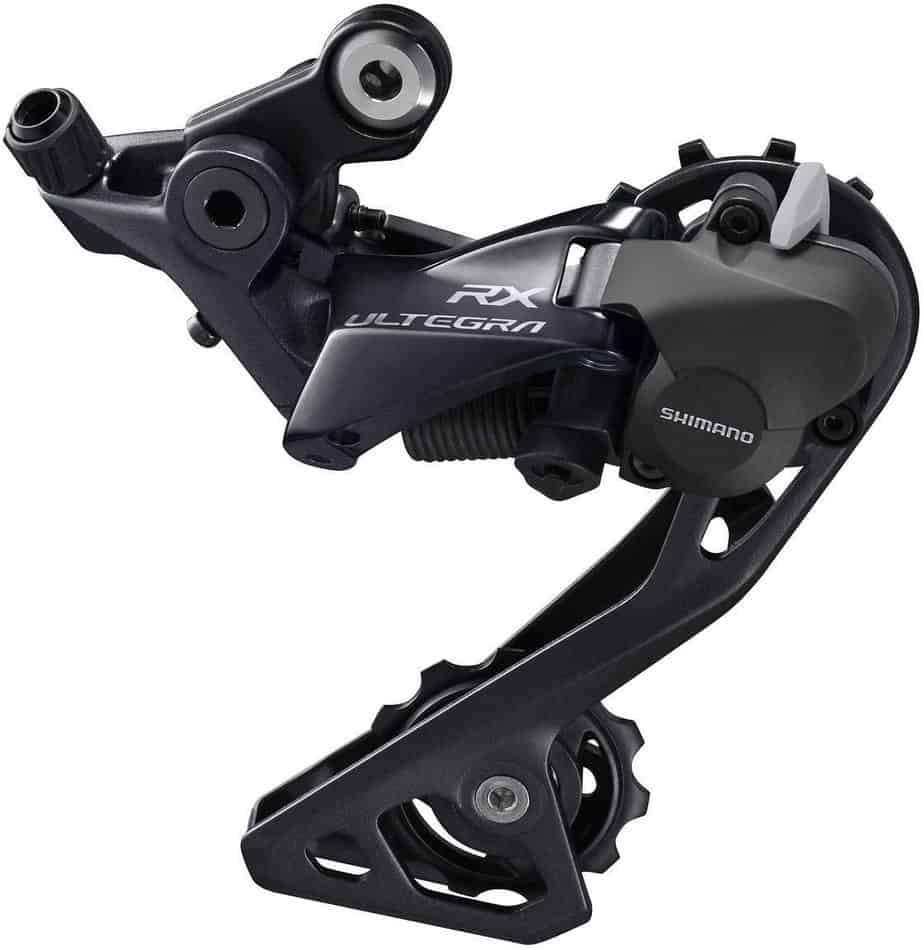 Ultegra derailleurs are available in the medium cage (GS) and short cage (SS) versions to suit the cassette and chainset you are using. The design means when you look at the bike from the rear, the rear derailleur profile is narrower.
It is a good thing since you have a less chance of wrecking your gear hanger or damaging your bike should the bike get blown or you crash it. The Ultegra design is compatible with direct mount frames despite their low number in the road sector.
SHIMANO Ultegra RD-RX800 Rear Derailleur | Amazon
Outfit your all-road or CX bike with Shimano's Ultegra RD-RX800 Rear Derailleur and enjoy increased chain tension thanks to its mountain bike technology offering better chain management and less noise over rougher roads and gravel.
Buy at Amazon.com
We earn a commission if you click this link and make a purchase at no additional cost to you.
09/29/2023 06:22 pm GMT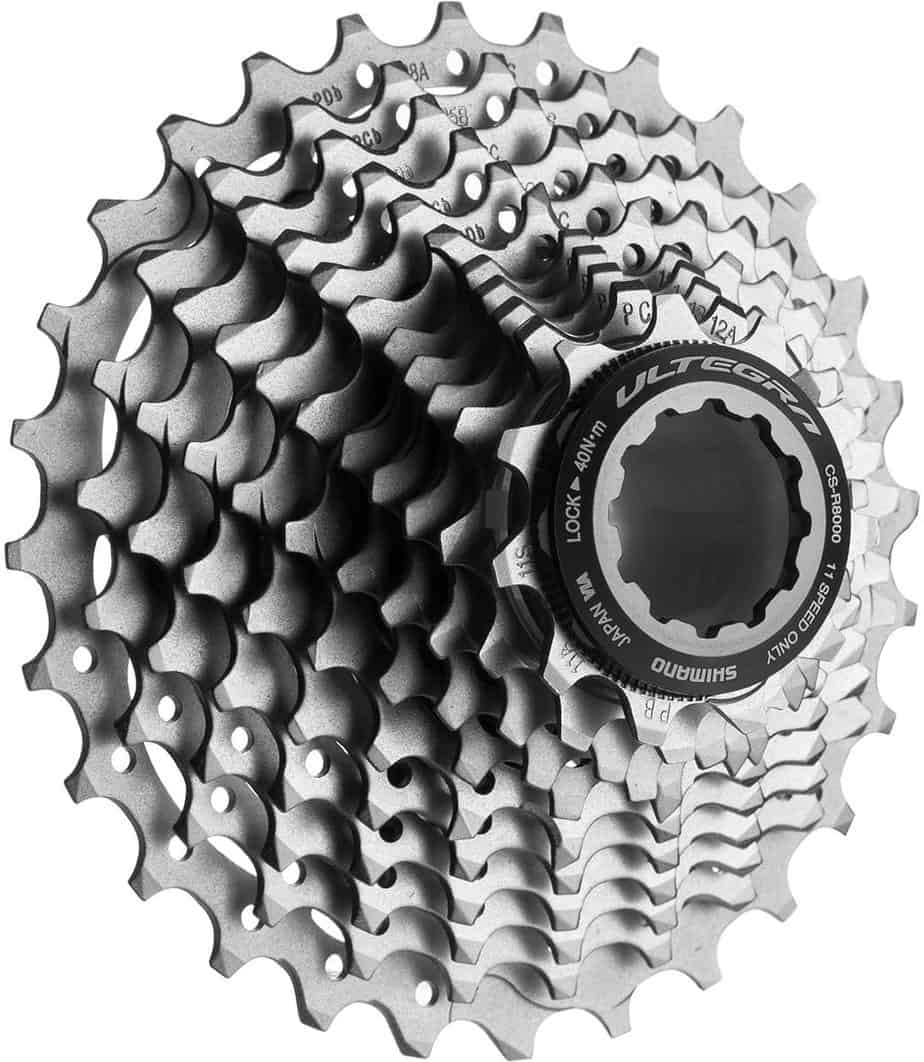 Being 11-speed systems, Ultegra cassettes are available in 14 – 28,12 – 25, 11 – 25, 11 – 34, 11 – 32, 11 – 30, and 11 – 28 – tooth options. Take note you can use an Ultegra cassette with a 105 groupset and vice versa. According to Ultegra, the largest sprocket you can use is a 34-tooth.
In truth, you can go quite larger than that. There are gear systems with 11 – 40 cassettes that work well with Ultegra. Although the cassette is made using an anodized aluminum locking and carbon/aluminum spider arm, nickel-plated steel is used to make the sprockets.
Shimano Ultegra R8000 Cassette | Amazon
Shimano's Ultegra group is one of the most popular out there with good reason: it's the perennial favorite when you factor the performance-to-dollars equation. With different demands for drivetrain ranges required for road, gravel, and CX riding, Shimano has created cassette ranges designed to allow the R8000 drivetrain to easily satisfy the needs of a variety of riders.
Buy at Amazon.com
We earn a commission if you click this link and make a purchase at no additional cost to you.
09/29/2023 05:21 pm GMT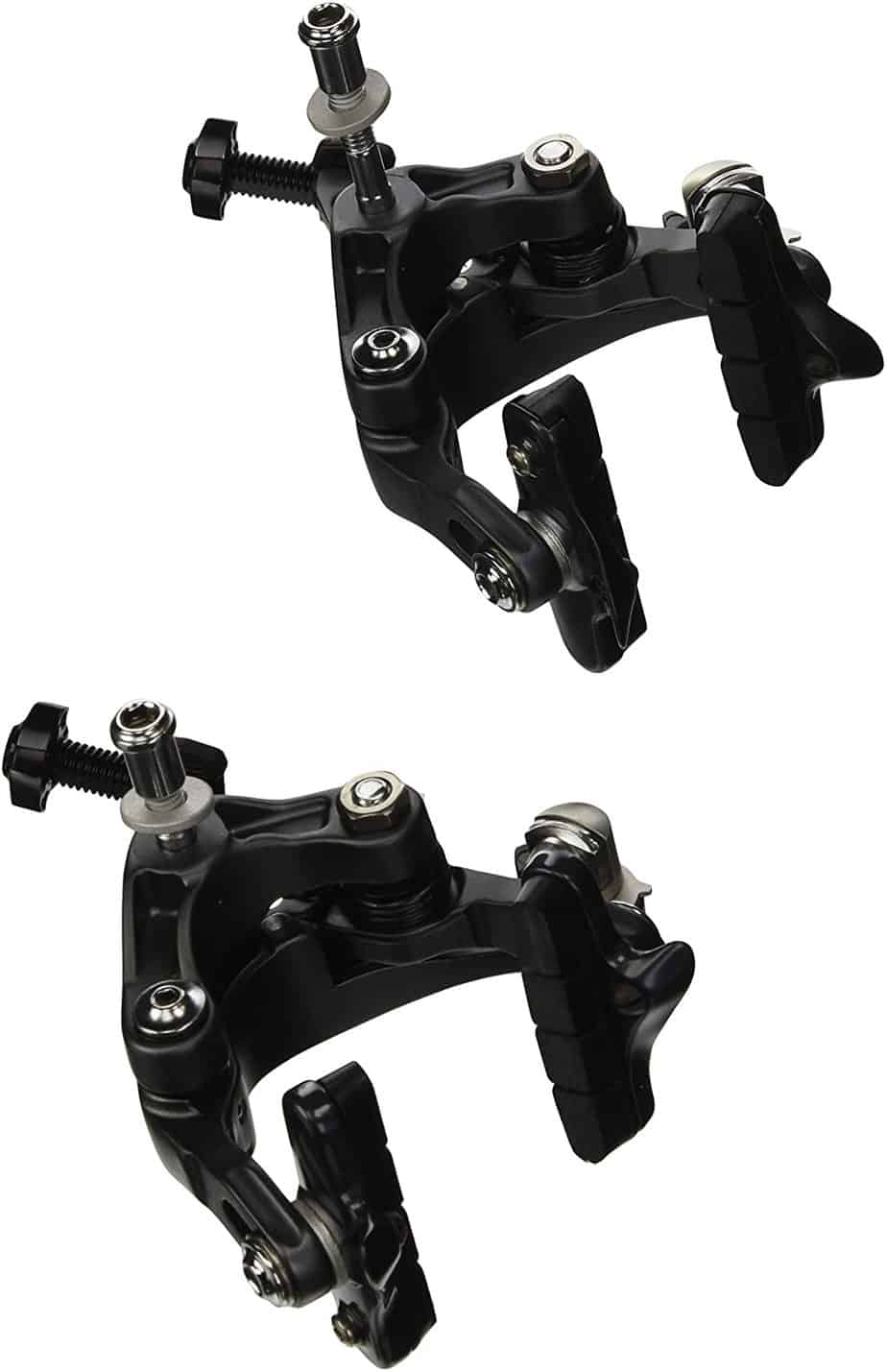 Anodized aluminum is the material used to make the dual-pivot rim brakes. The design used is a symmetrical twin pivot system. It is made to balance the braking force through each arm giving you better power and control. For Ultegra, Shimano recommends a maximum tire width of 28mm.
SHIMANO Ultegra R8000 Street Tweezers | Amazon
The Ultegra BR-R8000 Group Brake Callipers provide the performance of the Shimano Premier at a price that is pleasant.
Buy at Amazon
We earn a commission if you click this link and make a purchase at no additional cost to you.
09/29/2023 02:01 pm GMT
Groupset Buying Guide
People consider buying a new groupset for various reasons. The main reason is usually a performance upgrade. Typically, the differences between high-end and entry-level groups are a matter of nuance.  All the same, riders can expect more precise, crisper, and lighter gear shifting combined with more powerful and smoother braking when they opt for high-end components.
Another advantage of upgrading your groupset is saving some weight. For instance, Shimano's 105 11-speed groupset is heavier than Dura-Ace's equivalent.
At the same time, Ultegra Di2 is heavier than Dura-Ace Di2. Individually, the weight difference will not have a large impact on the bike's final weight (at about 5 – 10%). For professionals, the combined difference in weight and performance makes it worth the investment.
Keeping up with the trends and progress in the industry are other reasons for purchasing a new groupset. In recent years, there have been evolving groupsets from traditional 10-speed to the new 11-speed transmission. Also, there is the introduction of powered derailleurs and electronics.
The speed of innovation in groupsets means most of them to get outdated within five years or less. This does not mean they will stop working, but finding replacements will become a challenge.
Choosing between Electronic or Mechanical Groupsets
Each bike groupset manufacturer offers multiple electrical and mechanical options using different operating procedures and names. For instance, Shimano has Di2 which stands for Digital Integrated Intelligence. Knowing the differences between the two will help you make the right purchasing decision.
Electrical Shifting
It works via wires attached to the derailleurs and shifters to transfer a signal. Some use wireless technology similar to ANT+ or Bluetooth devices.
Pros:
Downloadable information on efficiency and shifting habits
Programmable shifting
Decreased cable routing difficulty
Easier shifting at the lever
Lack of deviation from the set adjustment
Precise shifting
Cons:
Heavier compared to mechanical shifting
Increased price
Failure to charge batteries will result in a system breakdown
Shimano, the clear market leader, has the largest range of road specific groupsets. It may be one of the reasons why it is a favorite among professional teams.
The company pioneered the STI (Shimano Total Integration) lever, the most commonly used lever in the market today. It is an ingenious system that allows the rider to brake and change gears up and down with one hand.
The left-hand lever controls the rear brake and front derailleur. The right-hand lever controls the front brake and front derailleur.
Keep in mind brake orientation may vary depending on the region. STI levers allow multiple shifts meaning you don't need to move your hand's position to change gears or slow down.
During operation, the brake lever swings inward pulling the derailleur in one direction. There is a smaller shift lever located behind the brake lever. It releases the cable for the derailleur to move in the opposite direction.
Mechanical Shifting
Shifting in this case uses cables that are attached to the shifters. They run through the frame, externally or internally, to the rear and front derailleurs.
The benefits of mechanical shifting include a "more" natural shift feel, decreased cost, and weight reduction. The downside is mechanical shifting is not flawless since it relies on cables. If they are not in good working order, shifting may be a challenge.
The main challenge of mechanical shifting may arise when using some types of frames. For instance, frames with acute angles and long frame tubes make cable installation difficult. Such frames also decrease the performance of the whole system especially if it is not adjusted regularly.
Deciding between Ultegra and 105
The majority of Shimano's groupsets are designed to work together. This works only if they share the same number of gears. Working with different groupsets makes it possible to mix componentry. For optimal performance, it is recommended to keep uniformity.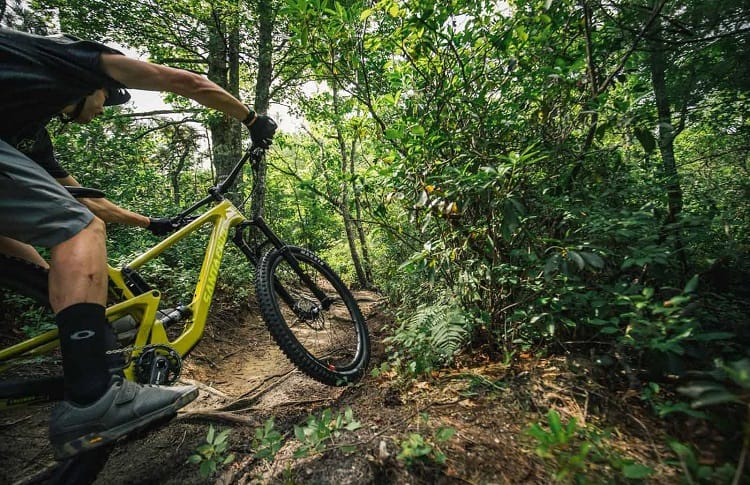 105
Commonly referred to as the "working man's groupset", 105 is the most popular groupset option. Overhauled in 2018, the R7000 is designed for the intermediate level road rider.
With this in mind, it is equal parts reliable and durable. The groupset also features most of the same technology you would find on the more expensive Ultegra.
Ultegra
It is squarely aimed at intermediate to high-level road riders. The latest iteration of Ultegra features both disc and rim brake options. It includes an all-new chain stabilizing rear derailleur for cyclocross, gravel, and road bikes dubbed Ultegra RX800/RX805.
Ultegra Di2
Ultegra Di2 uses motor-driven mechanics at the rear and front derailleurs to provide a perfect and crisp shift. The R8020/R8070 Di2 groupsets are slightly heavier than the mechanical options.
One of the features is you can shift via satellite buttons or Di2 specific shifters. The companion app allows you to customize groupset characters, battery use, and shift settings. This creates a more personalized riding experience.
FAQs
Question: What is the bike's groupset?
Answer: It is a closed circuit in a bike responsible for propelling and stopping the bike. It consists of shifters, derailleurs, brakes, cassette (rear cogs), chain, chainrings (front cogs), and cranks.
Question: How long do bike groupsets last?
Answer: If you ride in wet conditions, a groupset can last hundreds of miles. Dry conditions are the best for groupsets and they can last for at least 10,000 miles. Generally, Shimano groupsets last for long, about 30K miles, especially if you are not an avid bike rider.
Question: Is it worth investing in a groupset upgrade?
Answer: If it has not completely worn off, an old groupset can work for a winter bike. If you are not tight on money and your bike's frame is electronic compatible, upgrading to electronic shifting is worth the investment if the groupset is worn out.
Question: Is any groupset compatible with my bike?
Answer: As long they are compatible with your bike, any Cyclocross, Shimano Road, or SRAM groupset will work on your bike. If you want to upgrade to an 11-speed group from a 10-speed group, you may need new wheels to make your bike compatible.
Question: Is Shimano better than SRAM?
Answer: Shimano services more of entry-level and mid-level enthusiast segments. SRAM is more of a high-end level segment. Go for Shimano if you are a leisure biker and SRAM if your riding is professional.
Conclusion
From the above information, there isn't all that much difference between Ultegra and 105 components. The engineering and shaping are similar meaning they work more or less the same way. No major technological features are in the Ultegra that are not in the 105.
105 offers a similar level of performance to Ultegra at significantly lower prices. It may be a factor to consider if the budget is more important than performance. Professional bikers need to consider Ultegra as the combined differences will have an impact on performance.