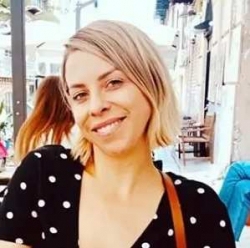 Latest posts by Jodie Chiffey
(see all)
If you want to replace parts on your MTB, you'll need to know how everything works – from the pedals to the brakes, to the suspension. One complicated-sounding part of a bike is a groupset – which is actually the name of a few different parts that work in conjunction to get your bike moving.
In our guide on how to find the best mountain bike groupset, we'll take some of the mystery out of it. We'll examine each part in detail, looking at how they work in conjunction with one another, as well as looking at the most popular brands and what to look for when you're buying a new one.
We'll also review a few of the best models on the market today, looking at their features and pros and cons, to help you find the best one for your MTB.
Without further ado, let's ask the question: what exactly is a groupset?
What is a Mountain Bike Groupset?
The word 'groupset' is used to describe the parts that make up a bicycle's drivetrain. These parts include the crankset, shifters, bottom bracket, derailleurs, cassette, and chain. You can buy groupsets that are all included, but you can also mix and match, buying different parts from varying brands.
Sometimes, a groupset will also come with brakes and levers – this isn't always the case, but you may find the more expensive groupsets do include these.
Parts of a Groupset
Let's take a look at each part in detail to see how they work together.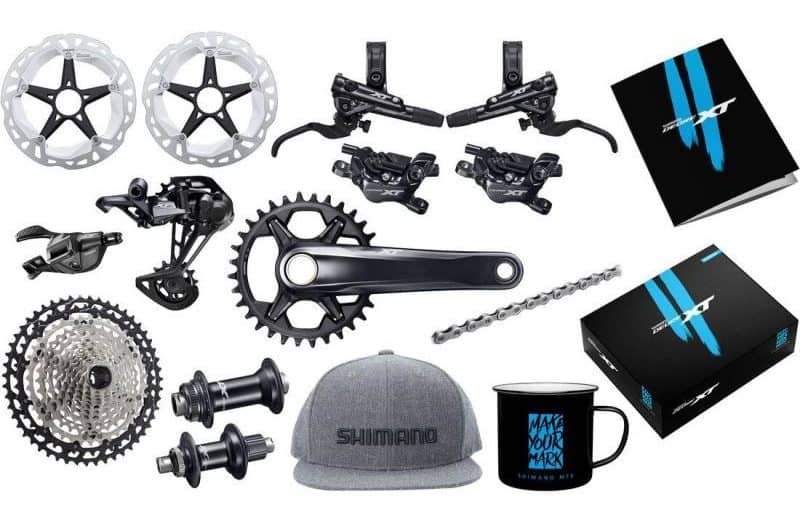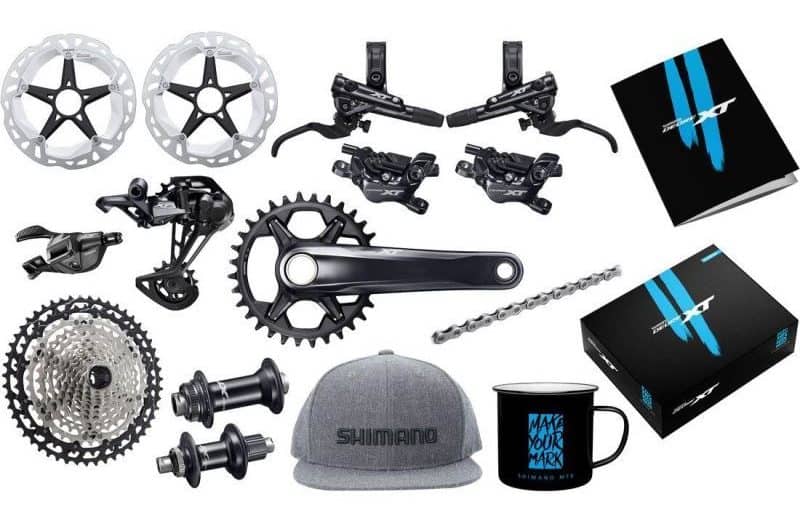 Crankset
A good crankset can help you reach higher speeds, improve pedaling efficiency, and allow you to shift gears more smoothly. It's the part of a bike that turns the motion of the rider's legs into the motion used to drive the belt, which drives the rear wheel. It's made of one (or more) sprockets, attached to the cranks, which then attach to the pedals.
They can vary, both in chainring size and crank arm lengths. The typical length is around 175mm for mountain bikes. You can get shorter ones on smaller bikes (around 165mm) and they can go all the way up to 180mm.
Short arm lengths are suited for uphill riding, whereas longer arms are better for downhill riding. Ideally, you should match the crank arm size to your leg length – shorter cranks for a shorter leg length, and longer cranks for longer legs – but you may find you get on fine with the standard 175mm.
How much work you have to put in to turn the wheels is called 'gear ratio'. This is dependent on the number of teeth on the front chainring.
Cranksets are normally made of aluminum alloy, carbon fiber, titanium, or steel. Carbon fiber is more expensive but performs very well. Steel is cheaper but comes at the cost of being the heaviest material.
Crankset chainrings come in three different varieties – single, double, and triple.
Single
Recently, there has been more of a push to produce single chainrings. They can be referred to as a '1x' (one-by) chainrings. They are particularly well suited to downhill mountain bikes, where you are not as likely to need a large gear range. They are becoming the norm on mid-level and high-level mountain bikes, and you can occasionally find them on entry-level bikes.
They come in a variety of sizes – from 28 to 38-tooth chainrings. A single-chain drivetrain is lighter and is known for being easier to use.
Double
Double chainrings are still pretty popular, and they tend to use a smaller inner ring (22-28 tooth) and an outside cog, too, which can go up to 34-36 tooth). You can ride pretty fast with a double-chain crankset.
Triple
The triple-chain crankset used to be the standard. It consists of three chains, and the largest goes up to 44-tooth. Because of the three chains, it offers a very wide range of gears.
They are becoming less and less popular, so you won't tend to find them as much anymore, especially on new mountain bikes. Triple-chain cranksets are heavier, so that puts them at a disadvantage.
Mountain Bike Bottom Bracket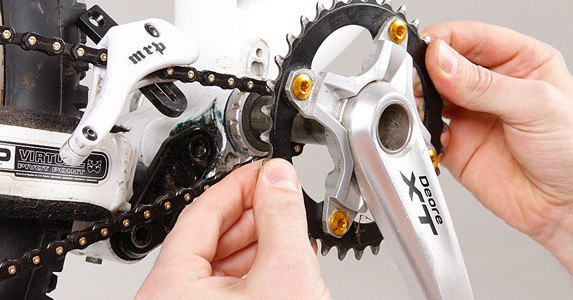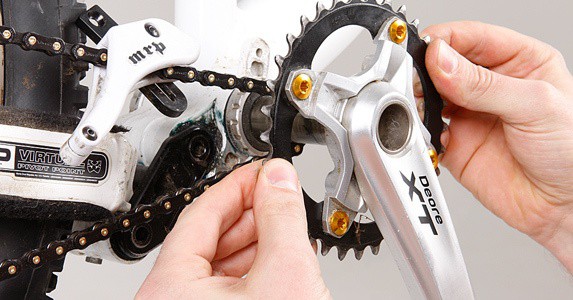 The crankset needs bearings to spin on, which are threaded into the bottom bracket.
Bottom bracket standards are actually pretty complicated, and there is a huge amount of different types you can buy, varying in materials used sizes, and more. You will have to figure out the bottom bracket size that is applicable to your bike frame, and then you can work out which one you need.
There are many charts online that go into this in detail. Most cranksets come without the bottom bracket – so you'll need to purchase this separately.
There are three main types of bottom brackets: cartridge-type BB, external (or outbound) BB, and the press-fit BB (this is the type you're most likely to see today).
You can purchase adapters, which may help you to fit a bottom bracket even if it's not exactly the size that you need.
Cassettes
Mountain bike cassettes also come in different sizes. The type of cassette you buy will depend on the kind of riding you'll be doing. You can get them from 7-12 speed versions. You can find out the speed based on the number of teeth on the smallest and largest cogs.
Mountain bikes are well suited to a cassette with a lot of gears, so you can make changes if required whilst climbing. Downhill bikes are better suited to a narrow-range cassette. If you have a single-ring drivetrain you can go a lot wider with your cassette, providing faster speeds.
Derailleurs
Derailleurs move the chain between the crankset and the cassette. They're pretty similar – when they are pressed, a cable is released which moves the derailleur, changing gears.
Chains
The size of the chain you choose will depend on the number of gears you have. The greater the gears, the narrower the chain will need to be. You'll have to make sure that the chain you have chosen matches the cogs on your cassette exactly, otherwise, it won't work properly. Chains are usually made of steel and come with different levels of durability.
Bike chains will wear out over time. Your bike chain can suffer from 'chain stretch', which is when the chain's length grows over time, or 'slop', which is another type of wear and tear. Having an old bike chain will compromise the performance of your mountain bike, so it's important to replace it when it starts to wear out.
Shifters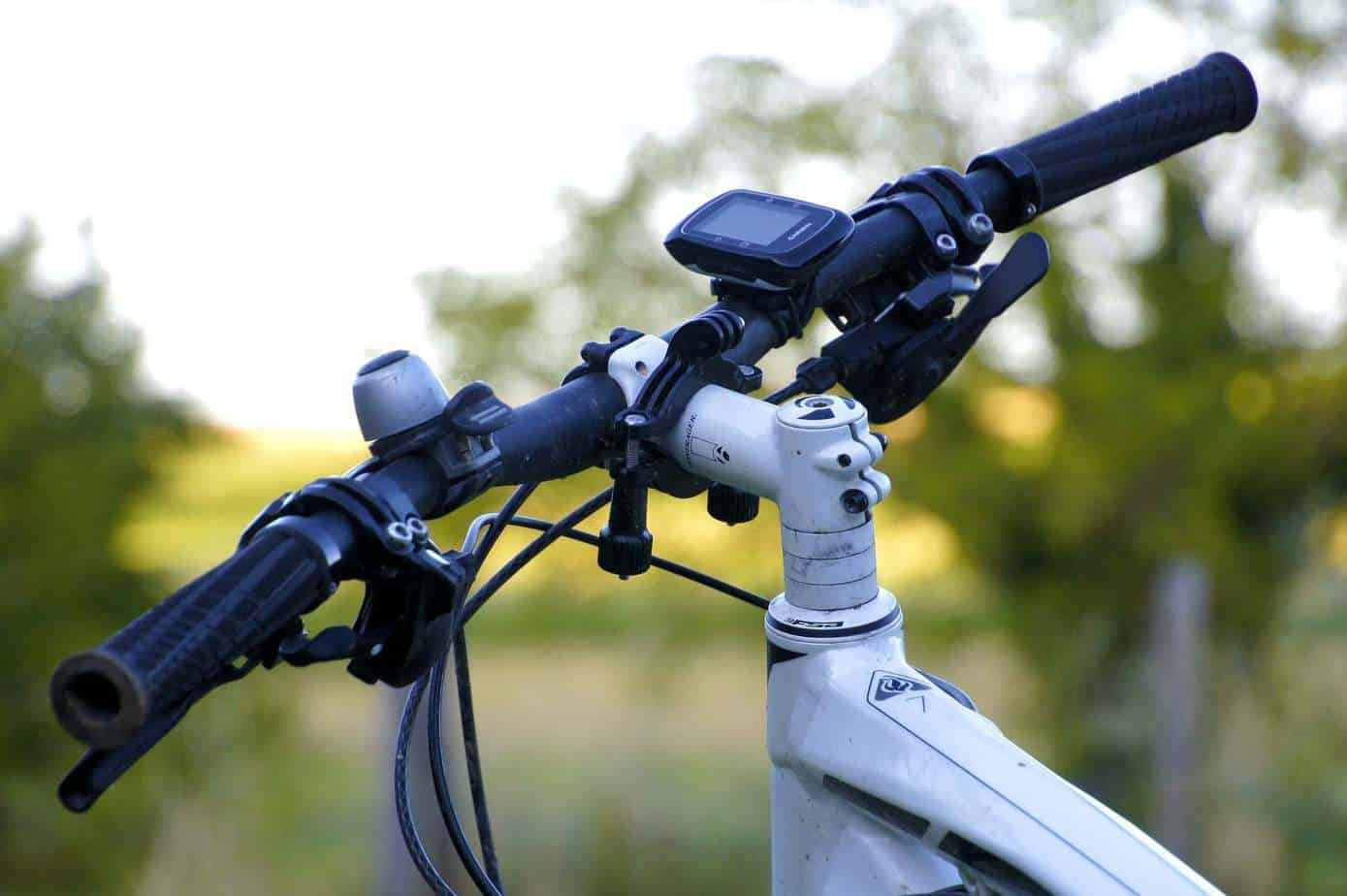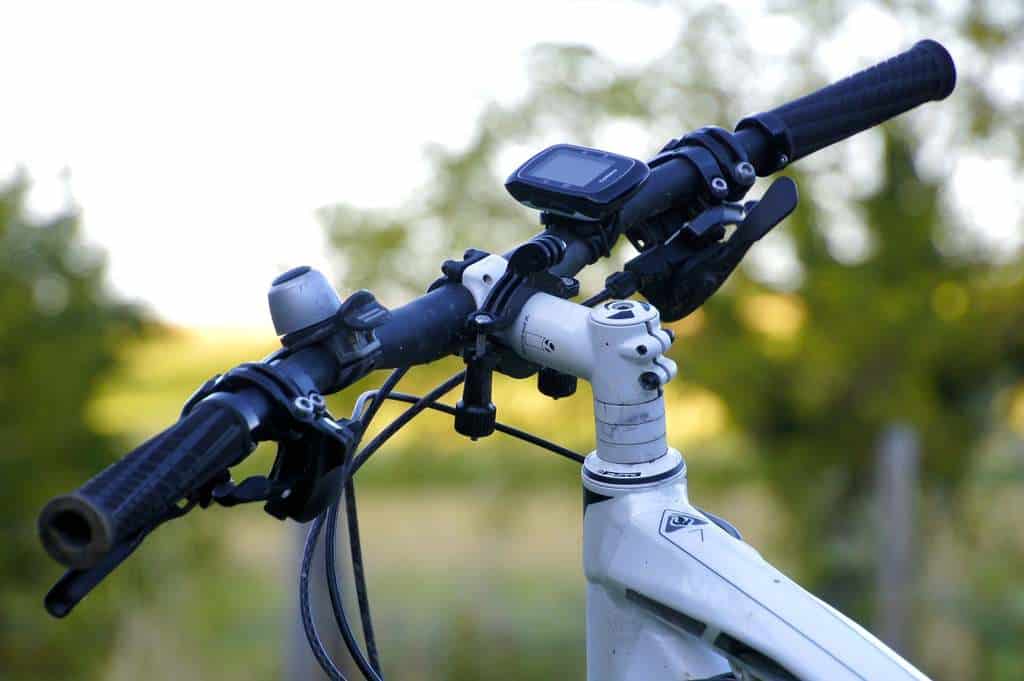 Shift levers operate the derailleurs. They come in two main varieties:
Twin-Lever Trigger Shifters
These are the most commonly found shifters on mountain bikes. As the name suggests, they have two triggers, one for going up a gear, and one for going down.
Twist Shifters
These work by twisting the mechanism, that makes part of the grip on the handlebar.
Electronic Shifters
There are now electronic shifters being introduced to the market – these are battery-powered and offer instantaneous shifts. This is an exciting new technology and could shape the future of shifter design and engineering. These are still pretty unusual and more expensive, however – you're much more likely to find twin-lever trigger or twist shifters in groupsets.
Power Meter
A power meter is an add-on that you might consider. It's not technically part of a groupset, but it's an interesting addition. They measure and store data on pedaling power output – so you can see exactly how much power you're exerting as you ride.
They are very expensive – up to $800 – and they're not universally compatible, so if you're interested in one, you'll need to make sure that it fits first.
If you're on the lookout for a decent one, the GEN 3 Stages Power L is a good option. True, it's pricey, but it has the latest technology to accurately capture pedalling power output.
It has a great water resistance rating, so you don't have to worry about it getting damaged if you have a particularly muddy, wet ride. Plus, it only adds 20g of weight to the base crank arm – meaning you won't notice it, and it won't impede or hinder your ride in any way.
Things to Look Out For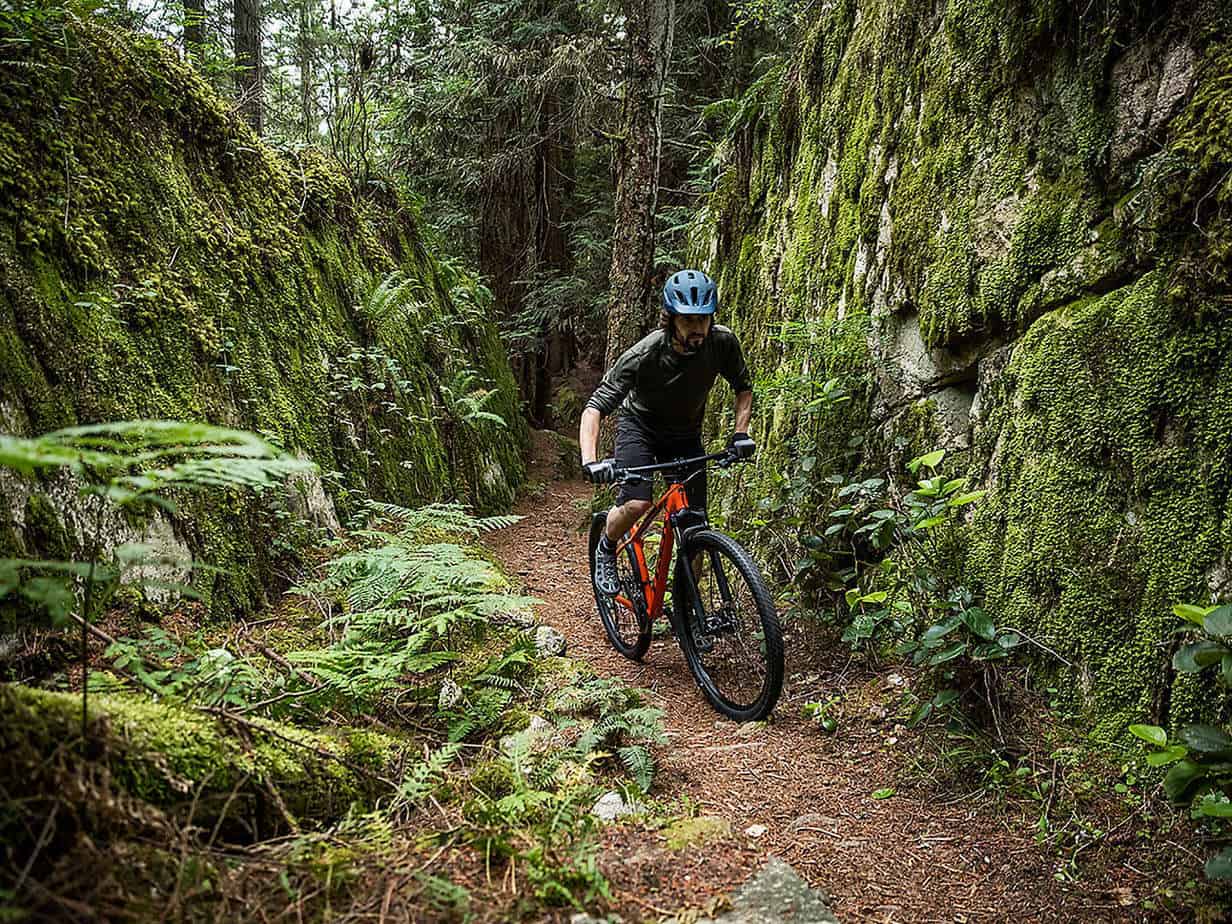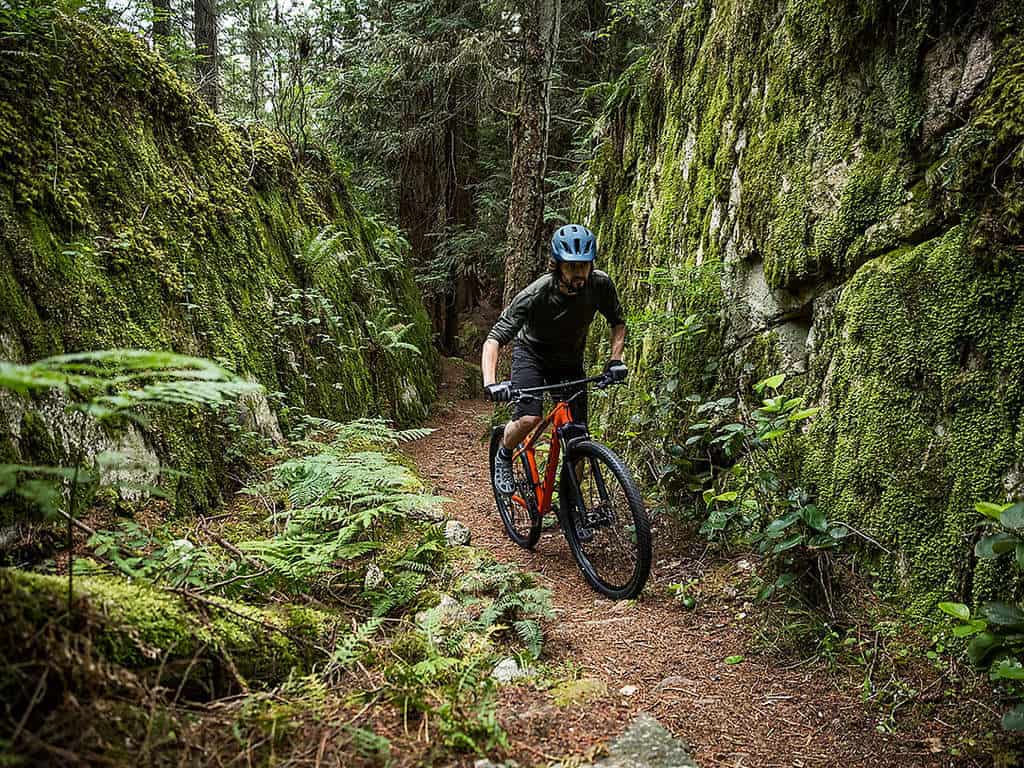 What are the things you need to look out for when you're buying a new groupset (or parts of it)?
Weight
The heavier the parts, the heavier your bike will be. This will, in turn, impact your bike's performance. You'll spend more to buy lighter parts, as the lighter parts tend to be made of more expensive materials and took more engineering/refining. If it's important for you to have a lightweight bike, you may want to consider spending more.
Performance
Higher priced groupsets will offer you a smoother ride, with quicker shifts between gears. You won't have to work so hard – the whole ride will feel a little easier and more smooth. More expensive parts offer a more efficient power transfer from the pedals to the rear wheel – meaning you shouldn't have to pedal so hard to reach the speed you want to.
Strength
How strong are the parts of your groupset? The tougher they are, the longer they'll last.
Again, more expensive options may be made from more durable materials – so they're probably worth the investment if you have the cash. However, it's not always that simple – sometimes, the more expensive options are so light that they don't tend to last as long (although they do, as we said earlier, reduce the weight quite a bit).
However, spending more on things like shifters and derailleurs will mean that you're investing in a great bit of engineering that is designed to last a long time.
Checking the reviews for durability is always a great idea when you're investing in new parts for your MTB.
Bike Fitting
Is it worth having your bike fitted professionally, so everything works together for you?
Having your bike custom-fitted for you is an expensive job. However, many people who have experienced this say it has revolutionized their bike riding experience. Having a bike fitted to fit your size and shape can help you to avoid little niggling aches and pains which may put you off from getting on your bike at all.
However, as we said, it is expensive – so you may need to research the price beforehand and see if you think it's worth it.
Brands to Look Out For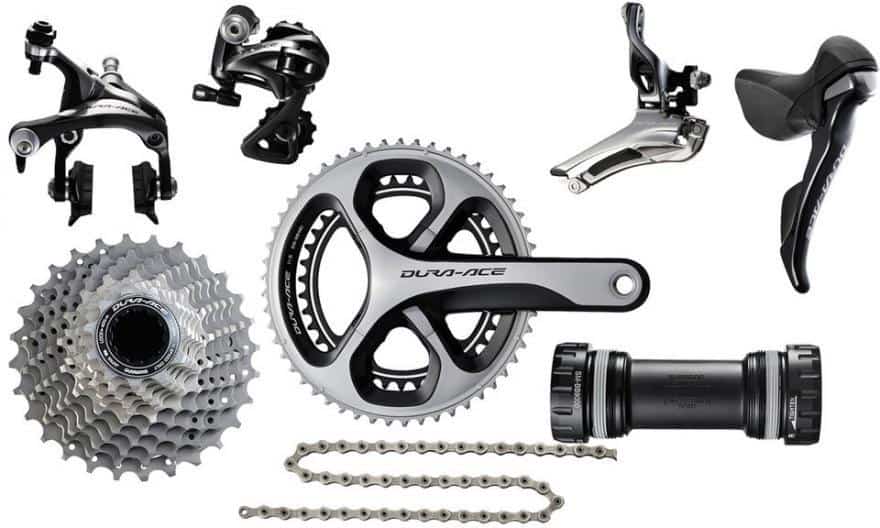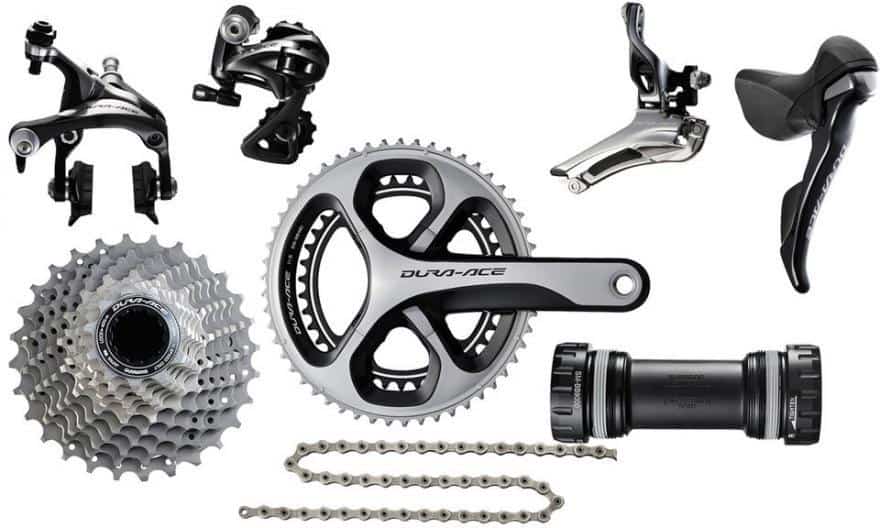 Groupsets tend to be made by one of three manufacturers: SRAM, Shimano, and Campagnolo.
Shimano
Shimano, Inc. is based in Japan and manufactures cycling components, as well as fishing tackle and rowing equipment. They are passionate about cycling technology, creating new products, and exploring the science behind cycling. They offer a range of groupsets, varying in price. Here's the full range:
Shimano Dura-Ace 9150 Di2
Shimano Dura-Ace 9100
Shimano 105 R7000
Shimano 105 5800
Shimano Ultegra R8000
Shimano Ultegra R8050 Di2
Shimano Ultegra 6870 Di2
Shimano Ultegra 6800
Shimano Tiagra
Shimano Sora
Shimano Claris
SRAM
SRAM LLC is privately owned by the three founders – Scott, Ray, and Sam (hence the name). Founded in 1987, it is based in Chicago, Illinois.
It has four main groupsets:
Red eTap
Force
Rival
Apex
Each groupset has its own variations, however.
Campagnolo
Founded in 1933, Campagnolo is an Italian bicycle component manufacturer, based in Vincenza, Italy. They specialize in groupsets, and currently offer five groupset 'levels':
Super Record
Record
Chorus
Centaur
Potenza
Campagnolo do not currently offer entry-level groupsets, so you don't see them as often as you see SRAM or Shimano groupsets.
Product Recommendations
In this section, we'll be looking at some great products that could be exactly what you're looking for. We'll have a look at three of the best groupsets out there, as well as the best individual parts, looking at their pros and cons and their main features. We'll start with a good entry-level groupset.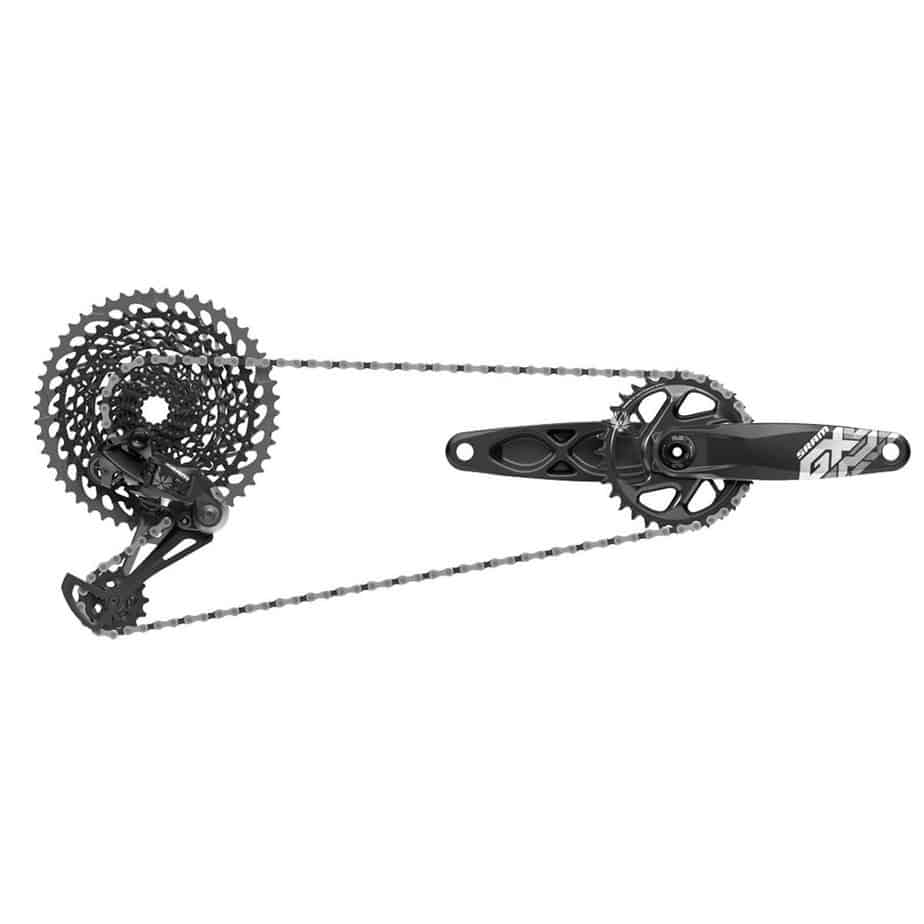 The Eagle group of SRAM groupsets is a great option for those trying to save a little money, but still wanting good results. The 12th gear and large cassette gives, in their words, 'some of the best mechanical shifting on the market'. It will give your bike everything it needs for the trail, and is made of 7000-series aluminium, so it's light and strong at the same time.
Although it's not made of carbon-fiber, which is ideal for saving weight on your bike, it's still a great option. SRAM created the DUB spindle for the crankset, which is designed to be compatible with almost any frame.
According to reviews, it's comparable to its more expensive counterparts. It's solid and well-made and is built to last.
SRAM Eagle Dub Groupset Includes:
Rear Derailleur: GX Eagle 12-speed
Shifters: GX Eagle 12-speed
Crankset: GX Eagle DUB Direct Mount 12-speed Boost
Teeth: 32t
Crank Arm Length: 170mm, 175mm
Pros of the SRAM Eagle Dub Groupset
Decent price point
Well-made
Gives great mechanical shifting
Light and strong
Cons of the SRAM Eagle Dub Groupset
A little heavier than some of the more expensive options out there
SRAM GX Eagle Dub Groupset | Amazon
The GX Eagle rear derailleur gets the job done with a thoughtfully designed cage architecture that improves chain management. With a wide range 10 to 50 tooth cassette you can be fast on the flats and control the climbs and it uses lightweight, stamped steel cogs for longer life.
Buy at Amazon.com
We earn a commission if you click this link and make a purchase at no additional cost to you.
09/30/2023 12:07 am GMT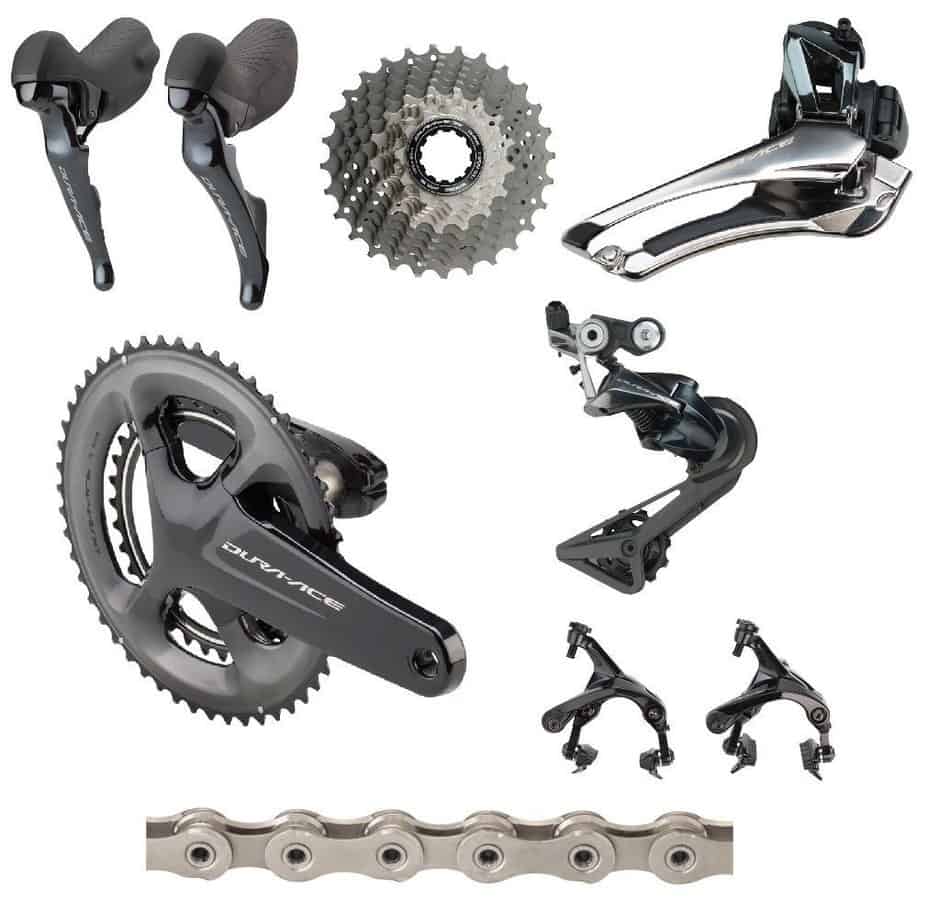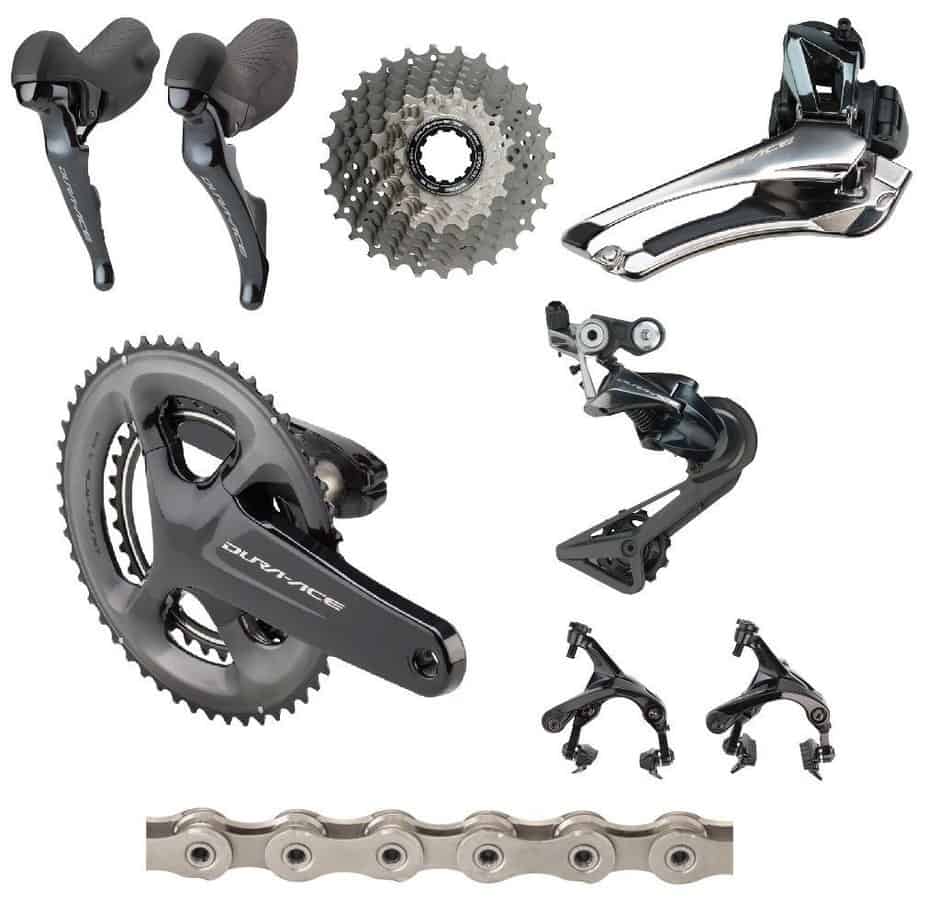 The price jumps up a little here, we'll admit. However – it could be well worth it. This includes everything: the crankset, chain, front and rear derailleurs, cassette, Double STI-Lever set, and brake caliper set – so really, it's got everything you need.
The levers are shaped to be ergonomic, with great control. The shifting action is light, making it easy to change gear. The shifts are reliable and smooth, with no clunking or awkward jolting.
The parts are lightweight and well-engineered, and the reviews are excellent – no matter what configuration you go for, the Shimano Dura-Ace is going to work well for you.
Shimano Dura-Ace 9100 Includes:
Shimano Dura-Ace R9100 11-Speed Crankset with 11-Speed Chain
Shimano Dura-Ace R9100 11-Speed 31.8/28.6mm Front Derailleur, Shimano Dura-Ace R9100-SS 11-Speed Short Cage Rear Derailleur
Shimano Dura-Ace R9100 11-Speed 11-28t Cassette
Shimano Dura-Ace R9100 11-Speed Double STI Lever Set
Shimano Dura-Ace R9100 Brake Caliper Set
Pros of Shimano Dura-Ace 9100
Lightweight
Engineered to work smoothly
Includes everything you need
Cons of Shimano Dura-Ace 9100
Shimano Dura-Ace 9100 Groupset | Amazon
Shimano offers a Compact Groupset that includes: 11-Speed Crankset , Shimano Dura-Ace, XTR HG901 11-Speed Chain, 31.8/28.6mm Front Derailleur, 11-Speed Short Cage Rear Derailleur, 11-28t Cassette, Double STI Lever Set and a Brake Caliper Set.
Buy at Amazon.com
We earn a commission if you click this link and make a purchase at no additional cost to you.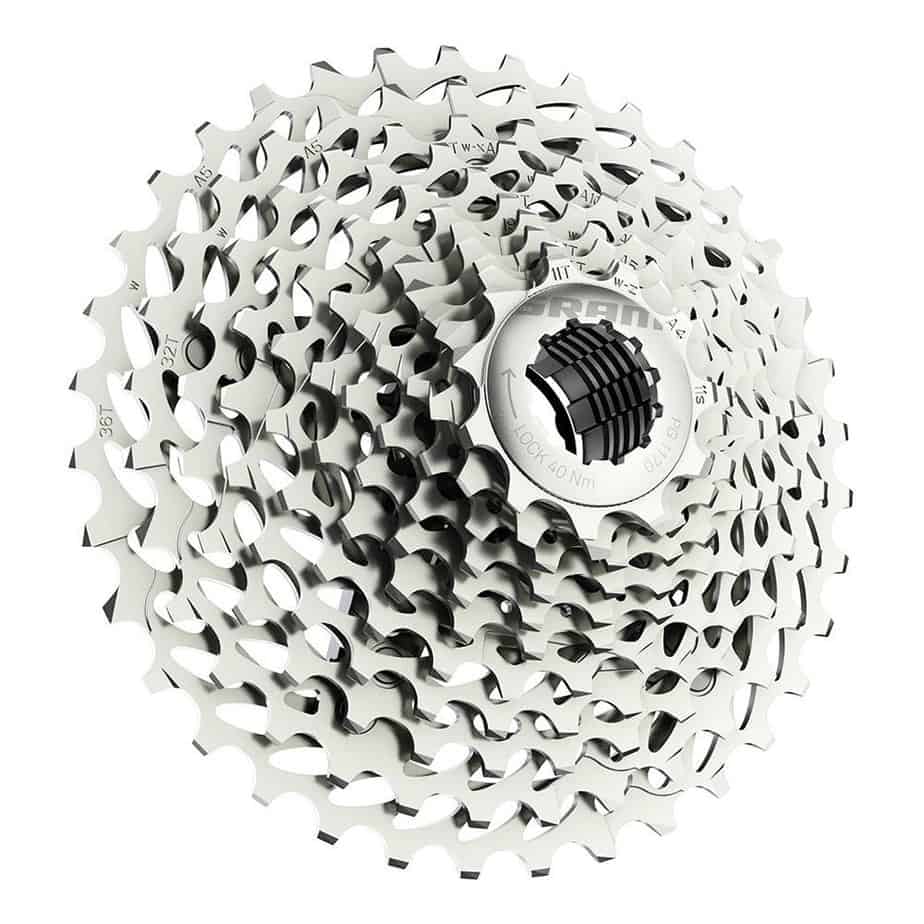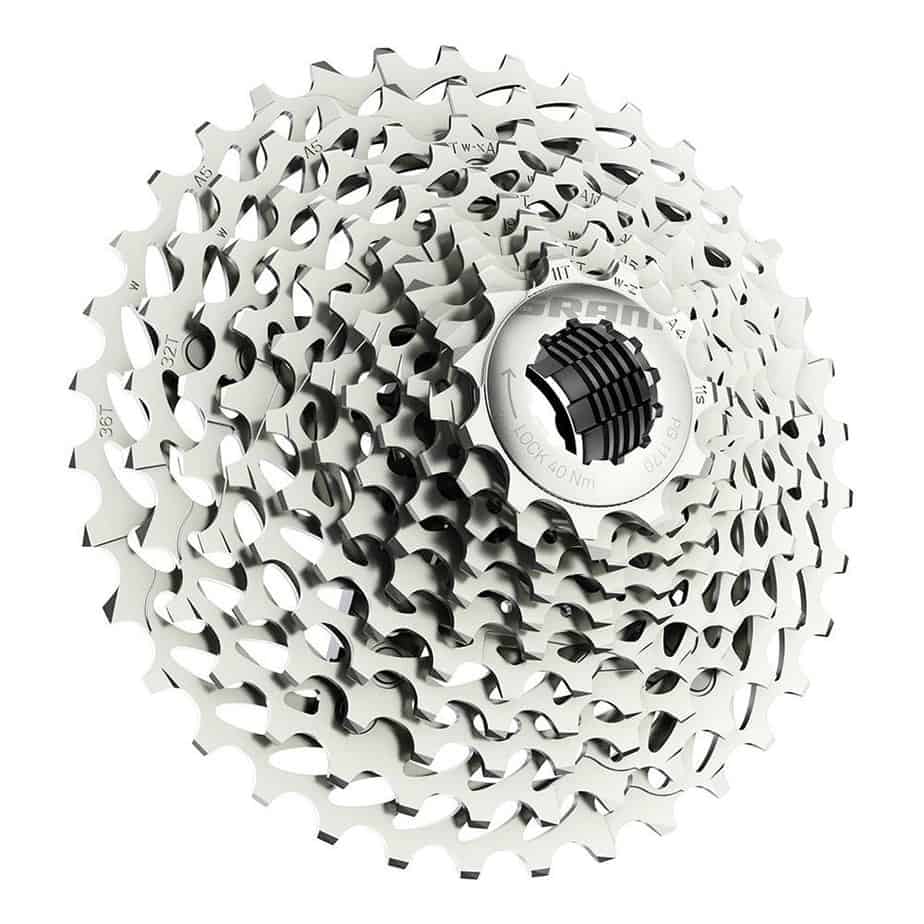 Meanwhile, if you want the best of the best, you'll do well to go with Campagnolo. It's expensive, yes, but the design and engineering is superb.
Made of carbon fiber, the whole thing is incredibly light. The chain is slim, robust, and precise, and is designed to be durable and safe. The 12-speed controls look great and work really well.
You can adapt the levers to different-sized hands. It comes with brakes, too, which work incredibly well. The 3D Embrace technology that they use to make the derailleurs allows the chain to maintain optimum traction, which in turn increases the power and speed of your ride.
Campagnolo Super-Record 12-Speed Includes:
Derailleurs
Brake levers
Brakes
Cassette
Chain
Pros of Campagnolo Super-Record 12-Speed:
Engineered to last
Incredibly lightweight
Derailleurs work very well
Cons of Campagnolo Super-Record 12-Speed:
Very expensive – so not accessible for beginners
Campagnolo Super Record 12 Speed Cassette | Amazon
Record 12 speed sprocket cassettes: That gives the user ideal advantages, thanks to the matching dimensions and complete compatibility with wheels and frames.
Buy at Amazon.com
We earn a commission if you click this link and make a purchase at no additional cost to you.
09/30/2023 12:04 am GMT

This is an expensive model – but you might decide it's worth it. Made of carbon fiber, it has aluminum pedals and spindle-interface reinforcements, oversized changing, and wider bolt spacing (to increase stiffness).
It comes in a multitude of combinations, so you'll be able to find the perfect fit for your MTB. It's the first crankset specifically designed for 2×10 – so it's innovative, too.
According to users, the shifting is smooth and instant – so it makes for a much nicer ride.
SRAM XX GXP Includes:
Pros of SRAM XX GXP:
Very light
Smooth shifting
Looks great
Cons of SRAM XX GXP:
Very pricey
Doesn't include bottom bracket
SRAM XX GXP 166 Q-Factor | Amazon
Carbon fiber arm/Spider design, insert-molded aluminum pedal and spindle-interface reinforcements.
Buy at Amazon.com
We earn a commission if you click this link and make a purchase at no additional cost to you.
09/30/2023 12:07 am GMT


As we mentioned earlier in the article, buying the correct bottom bracket can be a bit of a minefield. This one is a solid choice if it suits your MTB. It has labyrinth seals, so water won't get in even in the wettest conditions.
In fact, the whole thing is really solid – it's built to last, so it will suit heavy-duty riders who want to ride in all weather conditions. Once you've invested in this, it should last a long time.
Shimano SM-BB80 Includes:
Pros of Shimano SM-BB80:
Looks great
Tough and durable for riding in all weather conditions
Cons of Shimano SM-BB80:
Not everyone gets on well with a hollow bottom bracket – you may want to check first if there are other options that might better suit your riding style/riding conditions
Shimano SM-BB80 | Amazon
Shimano Hollowtech II external bearing bottom brackets with non-replaceable bearings. Designed for Hollowtech II MTB crank sets.
Buy at Amazon.com
We earn a commission if you click this link and make a purchase at no additional cost to you.
09/30/2023 12:05 am GMT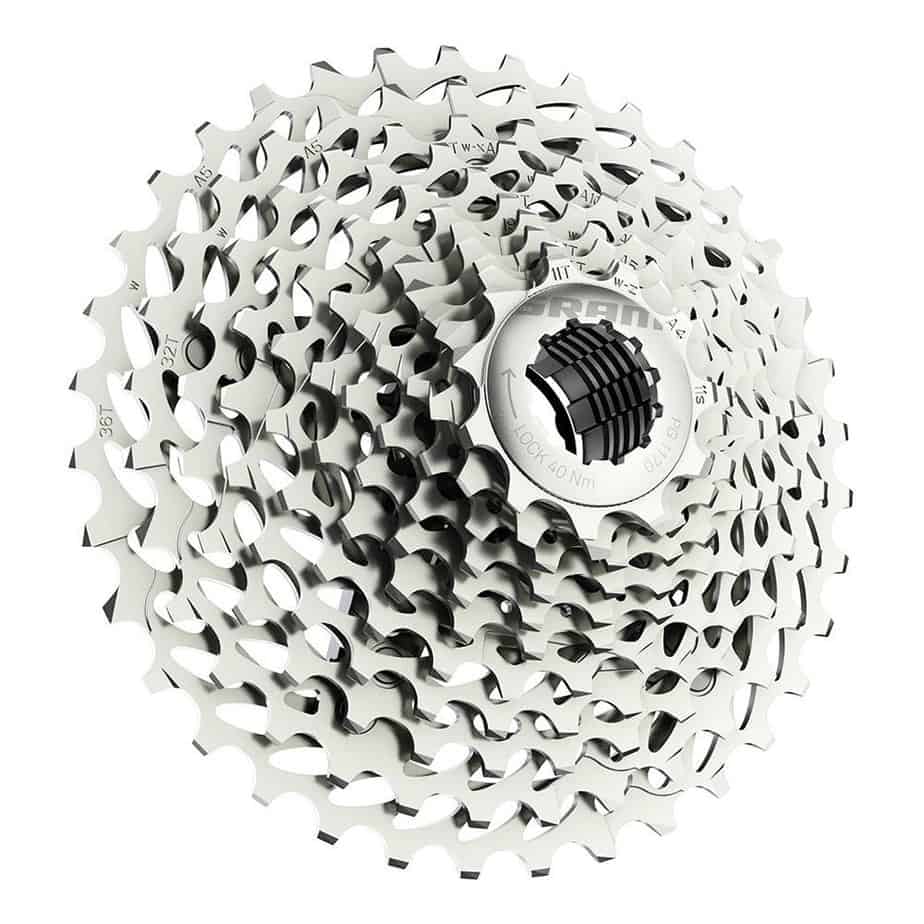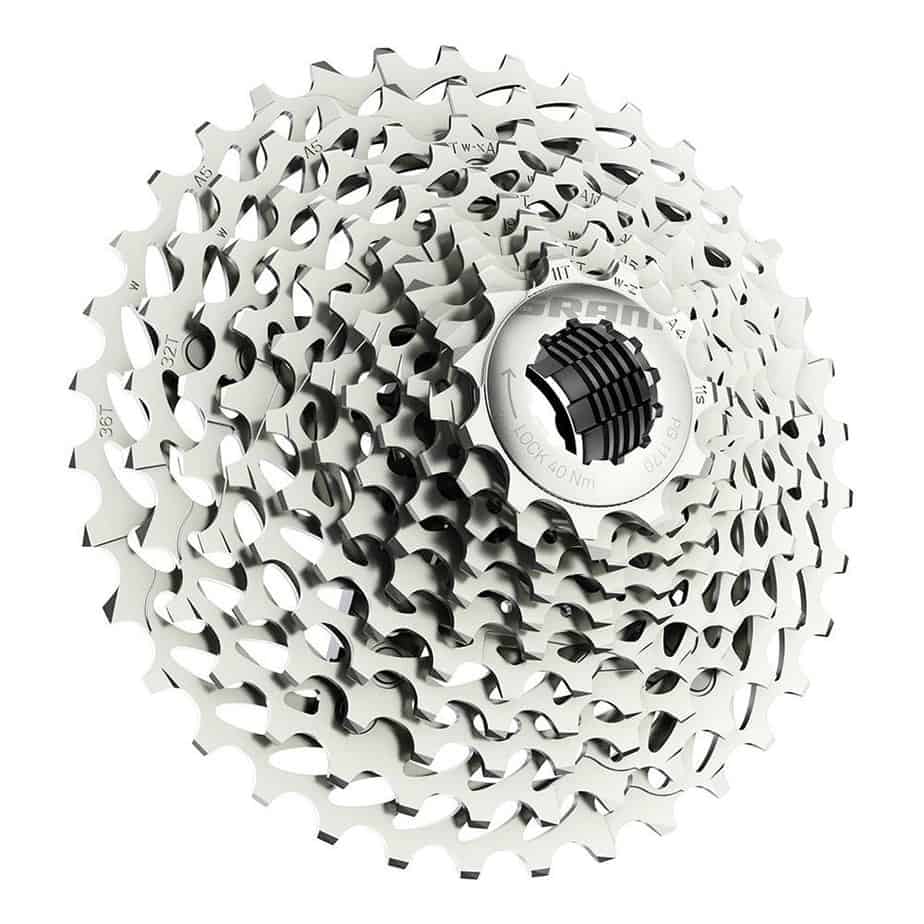 This is very reasonably priced given how light and durable it is. It has SRAM's PowerGlide tooth profiles and shift ramps, which allow for great shifting performance. It's designed to run quietly and has a great stiffness-to-weight ratio. It's also available in three different ranges, so you should be able to find one that suits your riding needs.
This model has great feedback from users – it's designed to last a long time, and users are quick to praise the cassette's shifting performance. It has 11 speeds and 22 usable gears, too, which is great.
SRAM PowerGlide 1170 Includes:
1 x SRAM PowerGlide 1170 Cassette
Pros of SRAM PowerGlide 1170:
Very lightweight
Decent price point
Durable
Improves shifting performance
Cons of SRAM PowerGlide 1170:
Doesn't perform as well as more expensive cassettes from SRAM
SRAM PowerGlide 1170 | Amazon
PG-1170 Cassette - Designed for smooth, high shifting performance with a quieter chain/cassette combination.
Buy at Amazon.com
We earn a commission if you click this link and make a purchase at no additional cost to you.
09/30/2023 08:36 am GMT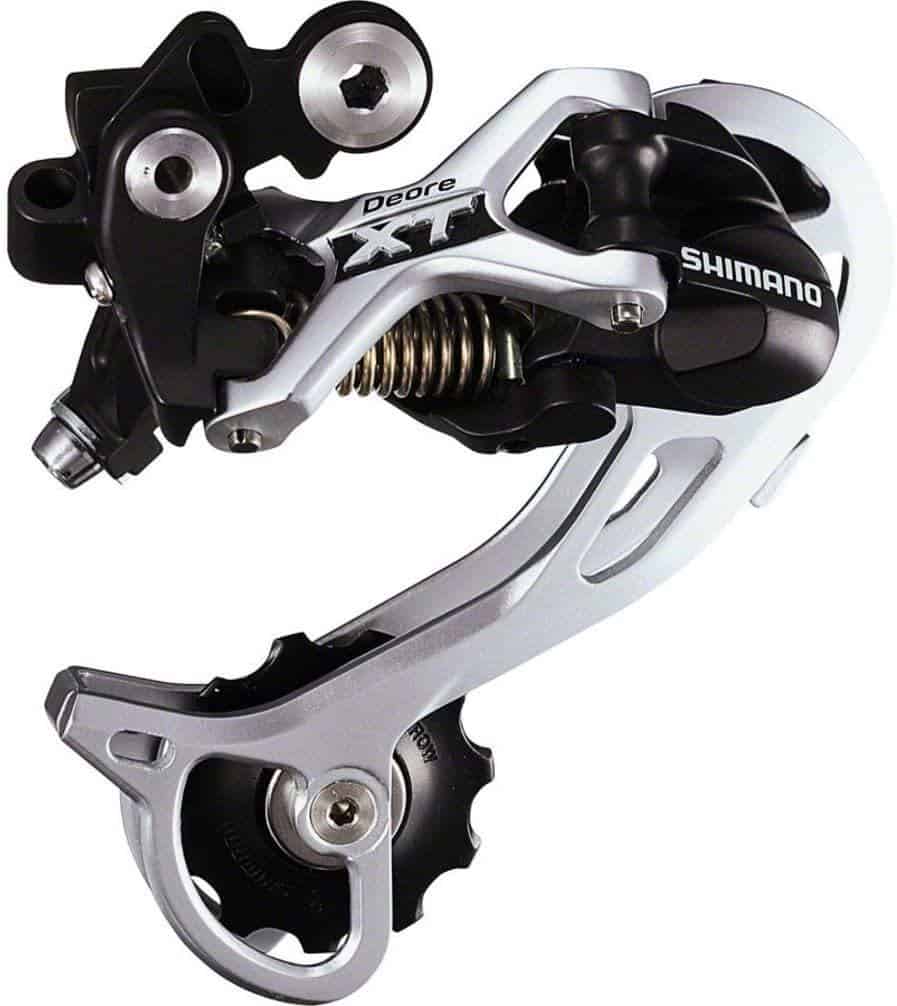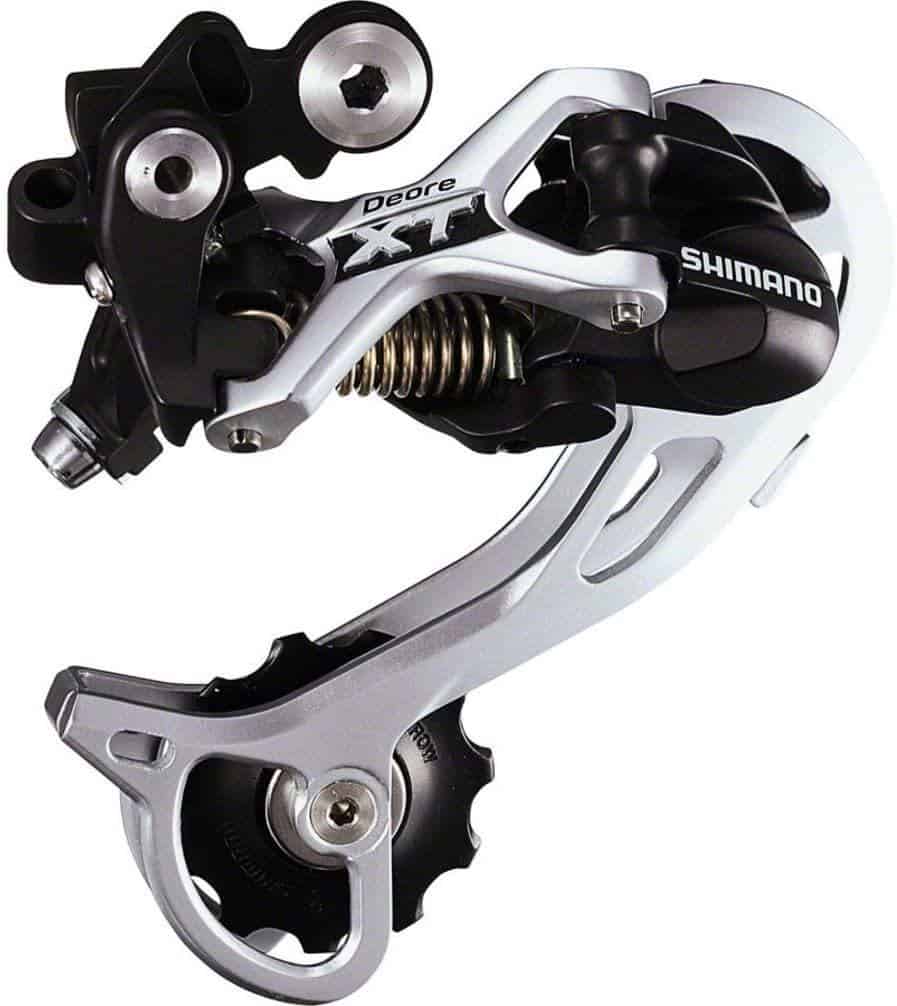 Again, considering how lightweight and durable this is, the Shimano Deore XT Rear Derailleur comes at a great price. It's 9-speed compatible and can be used with all Shimano 9-Speed HG-cassettes, mountain shifters, and chains. It has direct routing, which reduces the risk of snagging, and the design reduces the risk of damage as you ride – so it's perfect for riding in tough conditions.
Plus, the strong return spring allows you to shift precisely, which is great. It has excellent reviews, with users praising the shifting as well as how tough it is. It's suited for cross-country, all mountain, and trekking mountain bikes.
Shimano Deore XT Shadow Rear Derailleur Includes:
1 x Shimano Deore XT Shadow Rear Derailleur
Pros of Shimano Deore XT Shadow Rear Derailleur:
Lightweight
Looks great
Good for tough riding conditions
Improves shifting performance
Cons of Shimano Deore XT Shadow Rear Derailleur
Doesn't include barrel adjuster
Our Favorite
SHIMANO SGS Derailleur | Amazon
With a lower profile design, less body movement, increased protection and lighter weight, this long cage, rear derailleur is the perfect option for those of us who are more at home on extreme technical trails!
Buy at Amazon.com
We earn a commission if you click this link and make a purchase at no additional cost to you.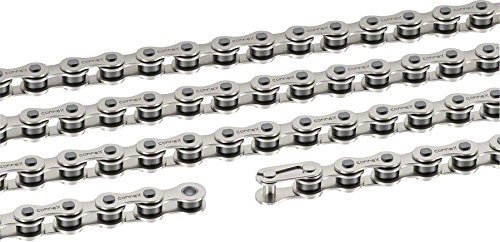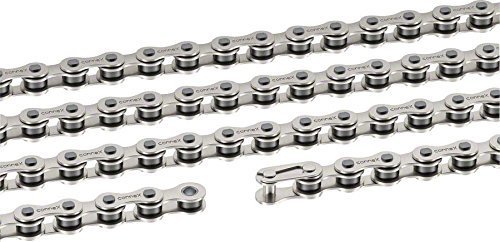 This isn't a brand we've mentioned yet in this article, but this particular chain has great reviews and comes in at a good price. Its nickel coated inner and outer plates give you good protection against corrosion, so you can ride in all weathers.
It's good for track bikes, dirt bikes and BMX bikes (with wide sprockets). It also has a spring clip included. It's not so good for long-trail riders, however.
Connex 108 Includes:
1 x Connex 108 Chain
Spring clip
Pros of Connex 108:
All-weather protection
Works well with track, dirt and BMX bikes
Cons of Connex 108:
Connex 108 | Amazon
Connex 108 1/8 x 1/2 Track and Single Speed chains.
Buy at Amazon.com
We earn a commission if you click this link and make a purchase at no additional cost to you.
09/30/2023 12:06 am GMT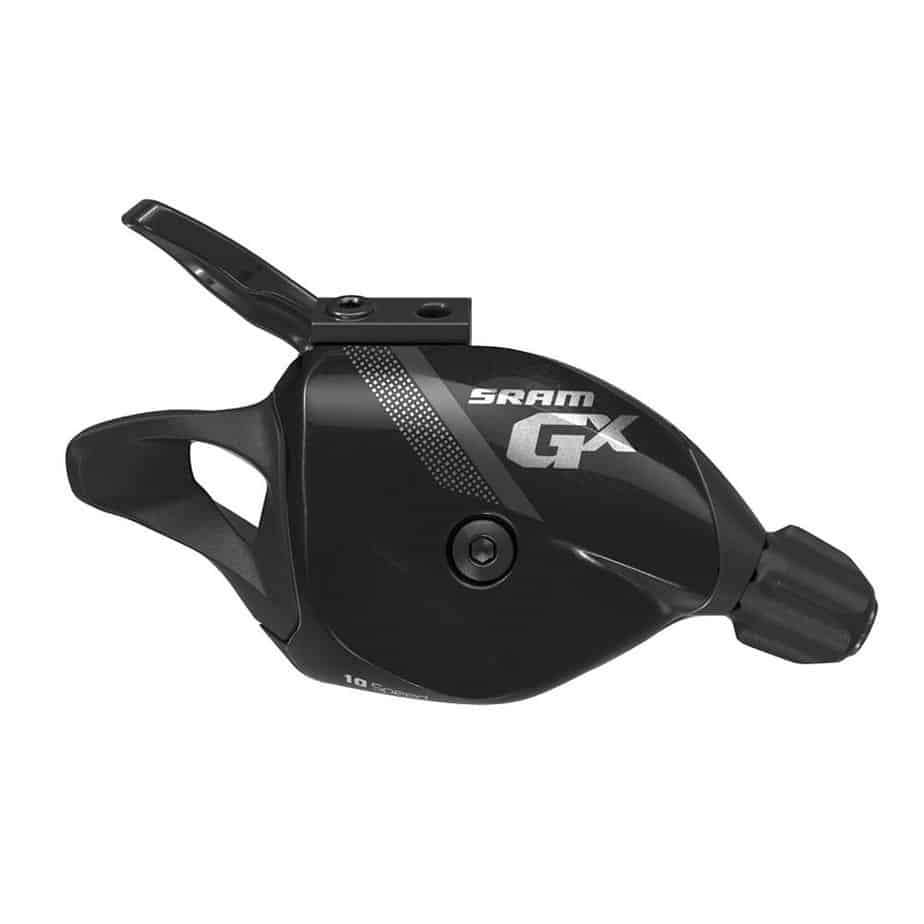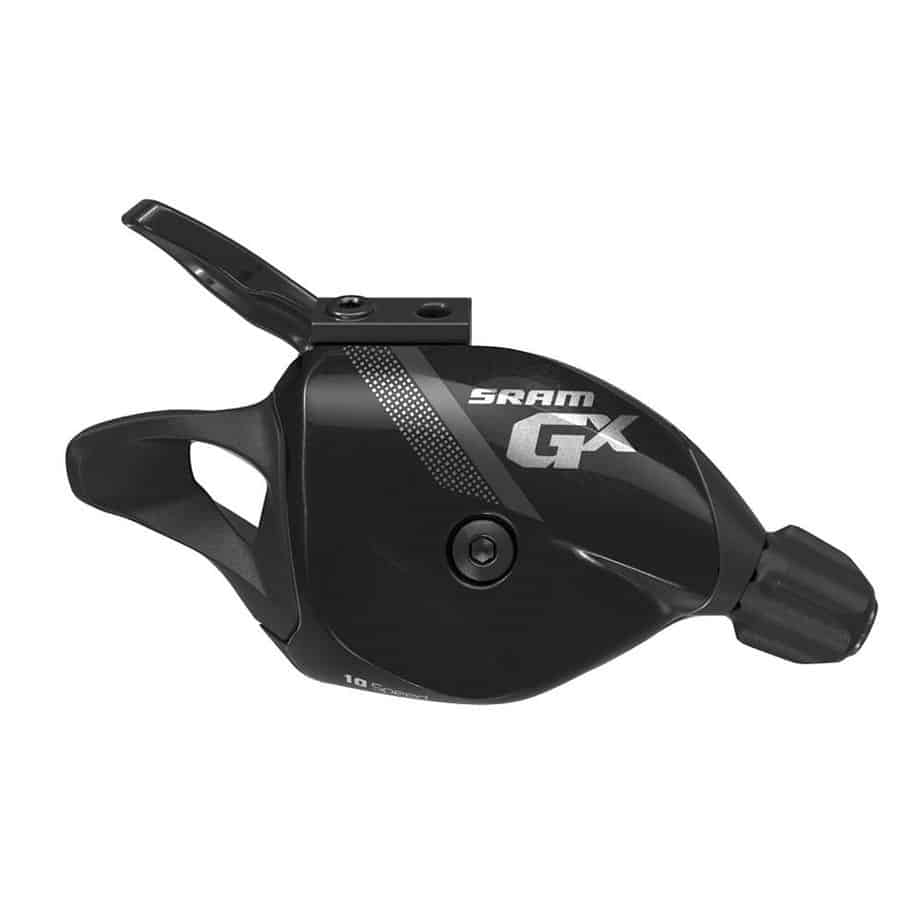 This model boasts durability with minimal weight – it's made of aluminum, which helps to keep the weight down. It's also built to last. It's designed to work with other SRAM products, to make shifting more precise and reliable.
It has a discrete clamp, and it's fairly easy to set up. Reviewers say it's durable and works incredibly well, improving shifting and making for a more comfortable, smooth ride.
SRAM GX Trigger 10v Rear Shifter Includes:
1 x SRAM GX Trigger 10v Rear Shifter
Pros of SRAM GX Trigger 10v Rear Shifter:
Durable
Lightweight
Improves shifting
Works well with other SRAM products
Cons of SRAM GX Trigger 10v Rear Shifter:
Doesn't have a gear indicator
SRAM Rear 10 Speed GX Bicycle Trigger Shifter | Amazon
The SRAM GX trigger 10v rear shifter incorporates cam aluminum obtaining a minimum weight with maximum durability. It matches the remote control with matchmaker clamp to restructure your handlebar adjustment.
Buy at Amazon.com
We earn a commission if you click this link and make a purchase at no additional cost to you.
09/30/2023 12:04 am GMT
Frequently Asked Questions About Groupsets
Here are the most commonly asked questions about groupsets:
Why are groupsets so expensive?
Whole groupsets do tend to be expensive. They're usually made of expensive materials, and they work better together as a groupset rather than buying parts from different manufacturers – so you pay for the convenience of having it work smoothly together.
Are groupsets interchangeable?
Yes – theoretically you can mix and match from different manufacturers, as long as you install them properly. However, you may find they don't work as well together as parts designed by the same company.
How many miles should a groupset last?
It's difficult to put a number on this. A decent groupset should last years – but the smaller parts, like chains, rings, and cogs, wear out quickly. If you maintain your groupset properly, occasionally changing the parts that have the worst wear and tear, you should be able to use it for a long time.
Should I buy a secondhand groupset?
You can definitely buy secondhand if that's a better option for you. However, there are things to look out for. Ask for pictures, and make sure you check for rust, wear-and-tear on the chain, and the general cleanliness of the set – you don't want to have to spend ages cleaning something you're potentially going to spend a lot of money on.
Does a better groupset make you faster?
Technically it won't increase your speed – however, it will make the ride a much smoother experience. Lightweight bike parts will, in general, make you go a little faster, as you have less weighing you down as you ride.
Groupset Maintenance
How do you maintain your groupset to make it last longer? There are a few things you can do. The main thing you can do is to keep it clean: using an old rag, you can wipe away the worst of the dirt and grime, and then you can go in with an old toothbrush to get the little tiny bits of dirt from the harder-to-reach areas.
A good degreaser will help here, too: it will help to remove any oily residue which could compromise the groupset performance.
Conclusion
We hope this has helped you to understand each part of the groupset and how they all work together. Working out how all the parts of your MTB work together is vital to improving your ride experience. Armed with this knowledge, you can start tinkering with your bike, improving your speed and efficiency – which is very addictive, but a lot of fun.
Read More