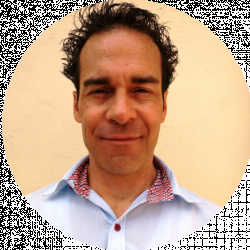 Latest posts by Douglas Bloom
(see all)
Diamondback is one of the best bikes in the market. They have a wide range of bikes to choose from. Of their wide variety, we have picked the 5 best Diamondback bikes in the market. These are the best in terms of their versatility, components, and performance.
Additionally, we have compiled information on the best alternatives and a small guide on how to choose the best Diamondback bike. Use the information below to get the information you need to make a sound decision.
Diamondback Bicycles Atroz 3 | Moosejaw
With the Atroz 3, we took the proven and refined single-pivot full-suspension design and upped the ante in a big way. It's a full RockShox affair when it comes to suspension, including the 130mm travel Recon RL air-sprung fork with 32mm stanchions and a quick release thru-axle.
Check Price
We earn a commission if you click this link and make a purchase at no additional cost to you.
Our 5 Best Diamondback Mountain Bike Picks
The following is a list of the best Diamondback bikes you can ride. They vary in terms of use, price, performance, and components. Take a look at each and its pros and cons to make a sound buying decision.
Overdrive ST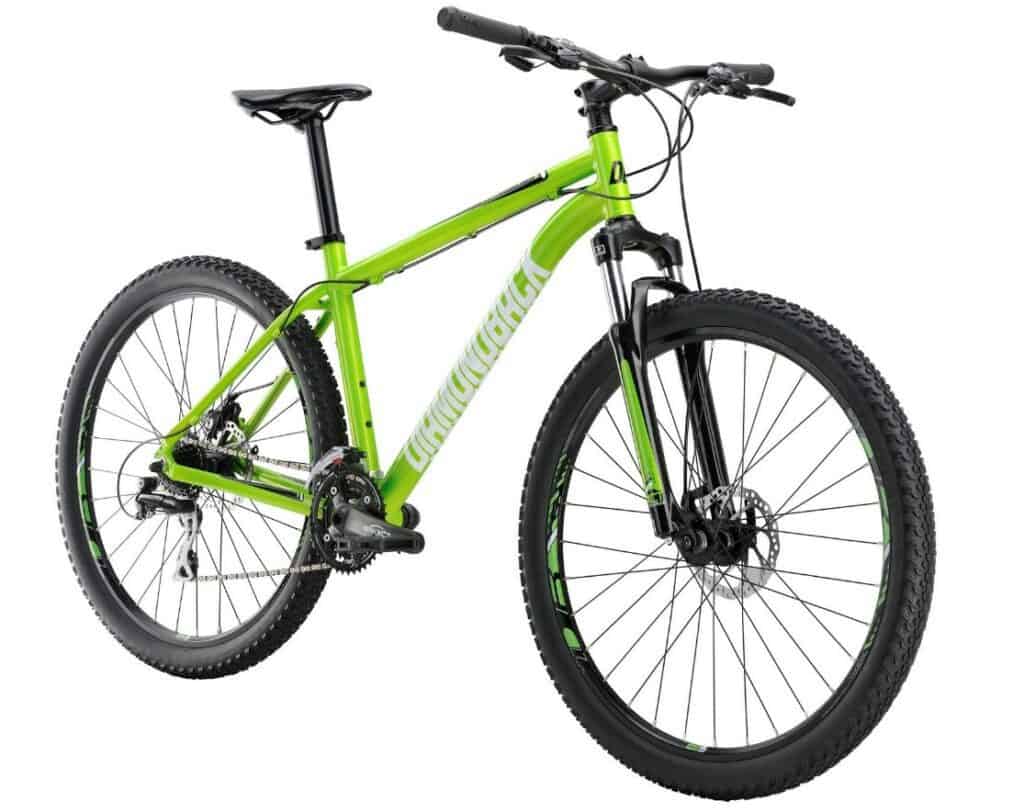 Frame
The frame is composed of high-quality aluminum that is light. Currently, 650b wheels are in the market. The sizes lie between 26″ and 29″. They handle and ride relatively well, making it the ideal wheel size for the Overdrive ST.
The Diamondback Overdrive ST is a hardtail mountain bicycle with a frame that doesn't have a rear shock. The lack of these rear shocks increases peddling efficiency while decreasing bump absorption. The frame dropouts and the derailleur hanger are designed to be easy to replace in the event they get bent.
Components
This MTB has mechanisms that can be categorized as beginner components. It's because the components are on the lower end of the component spectrum. However, you can't expect more if you are willing to spend more. For starters, you get an SR Suntour XCT fork which features 80mm of front travel and it's approximately just over 3 inches.
The fork, which happens to spring through the internal coils, functions as a normal fork. It is the best for trails and they are not that too harsh for urban use. All the derailleurs and the shifters on this bike are Shimano. They offer the best performance making it rare to find this quality on other mountain bikes. KMC, one of the most reliable brands, makes the chain, assuring you that it doesn't break when you are on your adventures.
This bicycle comes with Tektro Aires mechanical disk brakes making a big step from the V-brake option. They lack much feel. However, because of their stopping power and value, they are considered to be great brakes. The rest of the components, such as the grips, rims, stems, handlebars, seat, and seat post, are Diamondback products.
Gears
The Diamondback Overdrive features 8 gears on the rear and three on the front. This combination gives the bike a total of 24 gears. This kind of gear option will get you through any scenario during your riding escapades. It's a good option if you are looking for a great MTB and are working with a small budget.
Pros
Modern 650B wheel size (27.5")
Tourney and Acera derailleurs
Comes with Shimano shifters.d
Aluminum frame.
Four different sizes of frames.
Cons
Uses beginner components
Riding on harsh terrain would be a rough riding experience.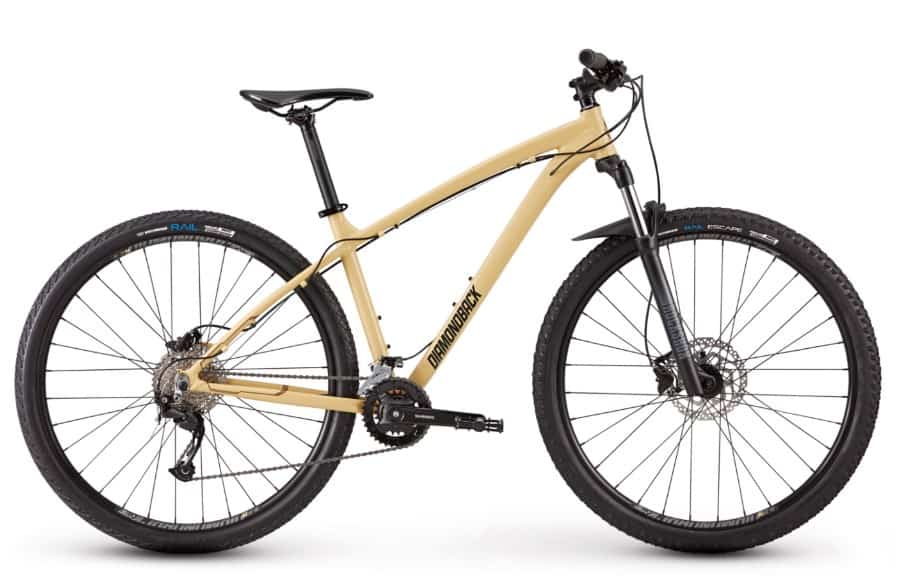 The Diamondback Overdrive 29 2 is a charming and smooth bike that takes you on most XC trails. The features are described below.
Frame
The Overdrive 29 2 frames are made using the butted 6061-T6 aluminum. The result is a lightweight but sturdy build. The frame comes with sufficient spacing to cater to a 29″ wheel. You will comfortably ride these wheels on different terrains. The experience is best when combined with the RockShox Judy Silver fork with 100mm of travel. Since it's a hardtail frame, it means that there are no rear shocks.
Components
The components are categorized as being in the lower and middle range. This means their prices are affordable. One of the things you notice is the derailleurs and the Shimano Alivia/Acera shifters make changing gears a breeze. The cranks are FSA comet made that are good because they are good for this price point. The rims are compatible with tubeless tires. Most riders are switching to tubeless tires. This means these rims can be used on both tube and tubeless tires.
The tires are WTB nine-line, 29" x 2.25″, which offer medium traction with minimal rolling resistance. As discussed earlier, there is a relative plush RockShox Judy Silver with 100mm of travel to help you through any moderate XC trail. Shimano MT200 hydraulic disc brakes are the braking system.
The components are great and easy to use, making it a good choice for most beginners to mid-level cyclists. Most of the components in this bike are made by Diamondback. They include handlebars, grips, stems, seats, and seat posts.
Gears
The 2019 Overdrive 29 2 comes with a 2X drivetrain meaning it has two front gear rings. A 9-speed cassette is at the back to give you 18 different gears to select from. It's a broad range that will perform well in fast-paced riding and climbing.
Diamondback Bicycles Overdrive Hardtail Mountain Bike | REI
The classic returns this year with 27.5" wheels, 24 speeds, a plush four-inch Suntour suspension fork, and powerful disc brakes. Big knobby tires grip every root and rock, keeping you confident and in control as you explore the trail. Whether you're a diehard hardtail aficionado or looking for a solid starter mountain bike, the Overdrive doesn't disappoint.
Check Price
Buy at Amazon
We earn a commission if you click this link and make a purchase at no additional cost to you.
Pros
Shimano Alivio / Acera
Great components for this price point
29″ wheels make it a fast bike
Great for XC-focused rider
Tubeless-ready rims
Cons
Not a very "playful" bicycle
Brakes lack contact point adjustment.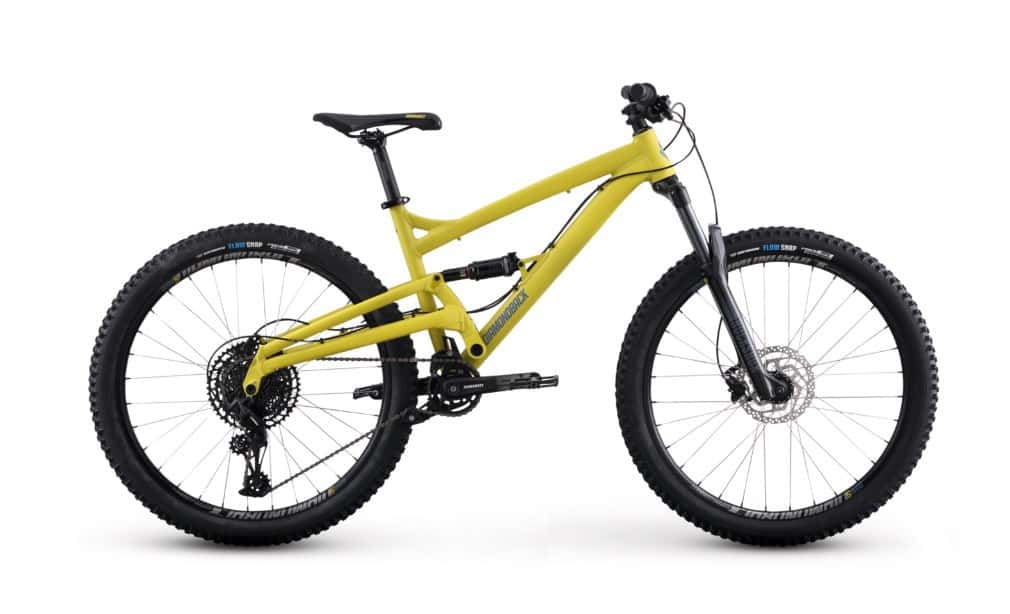 Frame
The Diamondback Atroz 3 is a beginner to intermediate MTB full-suspension trail bike. You will not get a better MTB with complete suspension at this price point. The frame is aluminum and it's optimized for 650b wheels.
It's designed with a single pivot suspension system for absorbing impacts and bumps on the trail. The pivots comprise of a sealed cartridge bearing which holds up firmly well to different challenges on the trail. The Atroz 3 frame has a tapered steerer tube that is compatible with a tapered fork.
Components
The RockShox suspensions are positioned on both the rear and front of this bicycle. The design is made to improve its performance. The Monarch R air shock in the suspension of choice for this bike. It is easy to set up. You just need to pump the correct air pressure to meet your weight and style of riding. You also have the option to adjust the rebound speed.
The front is fitted with Rockshox Recon with 130mm of travel. The Atroz 3 comes with the SRAM NX 11-speed groupset. SRAM's high-end product features in this bike make it a pocket-friendly option. The tires are WTB making them quite suitable for most people looking for an affordable mountain bike.
Nonetheless, more aggressive riders on rougher trails may need something a bit more heavy-duty. The inclusion of high-quality race face components by Diamondback makes it an awesome choice. A stem combo and the race face respond handlebar are quite a nice touch. The rest of the components of the bike are designed by Diamondback. Overall it's a good bike, although there are better ones at higher price points.
Take note these components help keep the price relatively low. Tektro Gemini hydraulic brakes provide you with sufficient stopping power. The Atroz 3 has a lever reach adjust to help you adjust it to meet your preferences.
Gears
The derailleur and SRAM NX shifters combine to ensure you can change gears swiftly and easily. A modern 1 x 11-speed drivetrain provides an 11-speed gear option. It's a nice touch as it drags away the weight, complexity, and bulkiness of the front derailleur.
Diamondback Bicycles Atroz 3 | Moosejaw
With the Atroz 3, we took the proven and refined single-pivot full-suspension design and upped the ante in a big way. It's a full RockShox affair when it comes to suspension, including the 130mm travel Recon RL air-sprung fork with 32mm stanchions and a quick release thru-axle.
Check Price
We earn a commission if you click this link and make a purchase at no additional cost to you.
Pros
Easy-to-adjust rear shock.
Unique and modern 1X drive train
Reach adjust lever
No front derailleur
High-quality components at this price point
Cons
Low-quality fork
Tires are not the best quality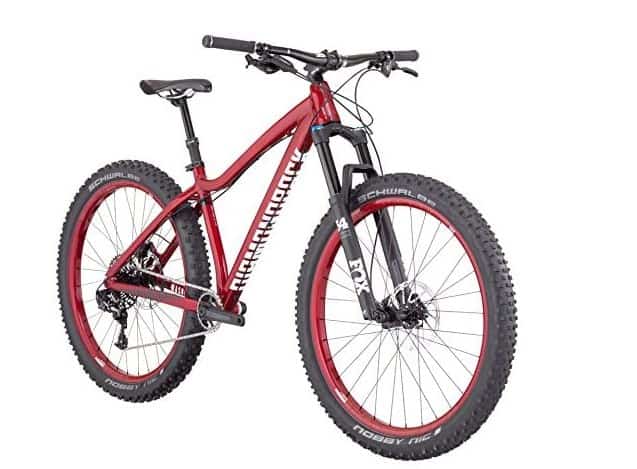 If you are looking out for an excellent hardtail that can manage to tackle almost anything, then the Diamondback Mason Comp Plus is a good option. Continue reading to get details on its features and components.
Frame
The bike is designed with a 6061-T6 Aluminum frame that is light and sturdy. You will find boost spacing on the rear triangle which means the bike can run extra broad hubs. This means you can use wide rims with plus-sized 27.5″ tires. It also features the new style ISCG-05 tabs for the chain guide.
Components
The Fox 34 Float performance fork comes with 130mm of travel. On the upside, it's fully adjustable through a three-position lever for "on-the-go" tuning. Through axles are placed on the go tuning to ensure the bike is always stiff. Plus-sized tires are used to provide increased traction, especially on slippery or muddy trails.
The SRAM GX makes it easy to change gears on the go. Diamondback has the concept of putting a KS dropper post on this bike. It has proved to be a brilliant idea. It allows the rider to quickly adjust the seat post height via remote control on the handlebars. This attribute makes this a great bike for a cyclist who uses various terrains. For instance, climbs and descents need diverse seat heights for the best comfort.
SRAM is again the go-to manufacturer when it comes to braking. The SRAM level-T hydraulic disk brakes with a reach adjust are combined to make up the braking system. A 180mm rotor is located at the bike's front and back for consistent and powerful braking. Diamondback components for this bike can be purchased in most states in the US.
Gears
A 1 x 11-speed drivetrain is a new feature of the Mason Comp. The lack of a front derailleur makes it easy to change gears. It also reduces the weight of the bike. The bike's back has a 10-42 tooth gear range. It's an easy, wide enough ratio for any MTB rider.
Diamondback Mason 2 | Moosejaw
The Diamondback Mason 2 is a hardtail trail bike for aggressive riding that doesn't skimp on performance. Its wider tires provide more grip on rough terrain, adding necessary traction when things get a little shifty.
Check Price
We earn a commission if you click this link and make a purchase at no additional cost to you.
Pros
Extra-wide plus tires
Comes with a dropper post.
Has a 34 Fox fork
No front derailleur
10 – 42 tooth gear range
Cons
The components are not high-quality
Mission 2C Carbon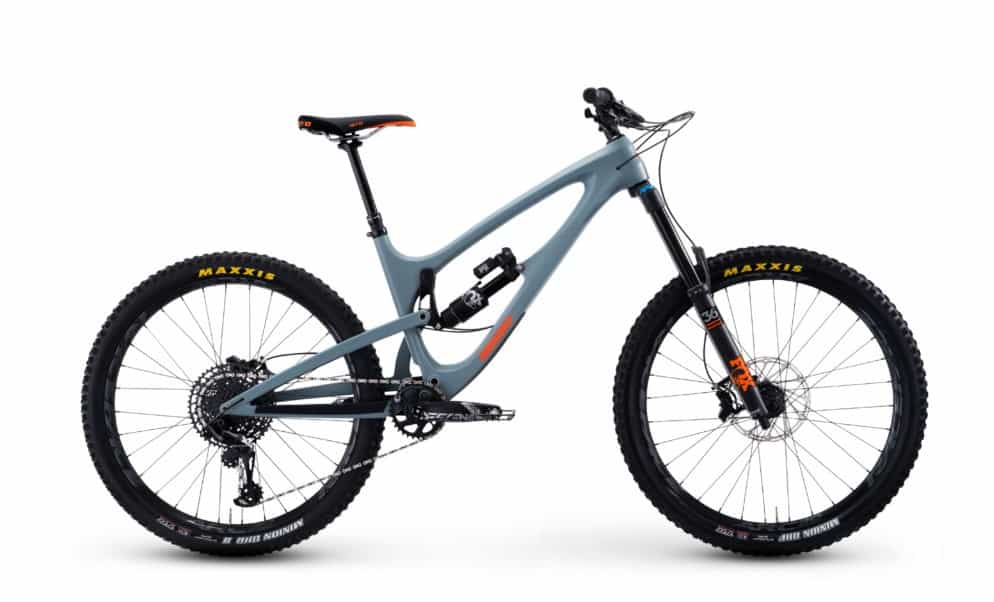 This Diamondback model is a monster machine that can handle all-mountain terrains well. It features 180mm of travel. More details and information about Mission 2C Carbon are provided below.
Frame
To ensure the strength and reliability of the MTB, the frame is made from Monocoque carbon. It is fitted with a tapered head tube with modern ISCG-05 mounting brackets. This ensures the chain guides offer an excellent pedaling platform.
Components
The bike is fitted with high-quality components. The suspension is unique, with the 36 Float Fork positioned on the front. On the back, you find a Fox Float X2 Performance Elite shock. Both are air-sprung and fully adjustable to offer an almost unlimited customizable ride.
The SRAM's X01 Eagle group is one of the best drivetrains you can find in the market today. The Mission 2C Carbon is made using this drivetrain. It's a testament to the commitment Diamondback has. Raceface products are easily spotted all around this bike.
A Kindshok E201 dropper post provides quick seat height adjustment. It's controlled by remote control on the handlebars. Braking is done by is by SRAM Code R. They have tool-free reach adjust levers with ample stopping power. For maximum traction, there is a combination of wide tires and a boost front hub.
The tires are Maxxis DHR II 2.40 and Maxxis DHF 2.50 that offer incredible performance. This tire is a great choice, although some riders prefer to swap them. Tubeless tires are used since they provide fantastic performance. Tubeless valves are included in the package when you purchase this bike. Any rider can push this MTB to the limit without worrying about damaging it. A tool kit and a shock pump are also included.
Gears
Putting a 1 x 12 speed SRAM drivetrain on this bike is a perfect choice. It lets the owners ride any terrain they want without the hustle of a front derailleur. Mission 2C Carbon has an 11-50 tooth range at the back and a 32 tooth ring on the front. These are enough gears for riding on different types of terrain.
Pros
Powerful Fox suspension
1 x 12 speed SRAM drivetrain
Dropper post provides different seating options
Lack of front derailleur
Extras such as tools included in the package
Cons
Not for everyday use
The inline shock and fork are not the best match
Diamondback Alternatives
If you didn't find a Diamondback MTB you like from the above list, you could look at other options. We have compiled a list of 3 great options to help you decide. Check out our list of 3 bikes that are great alternatives for the above Diamondback MTBs.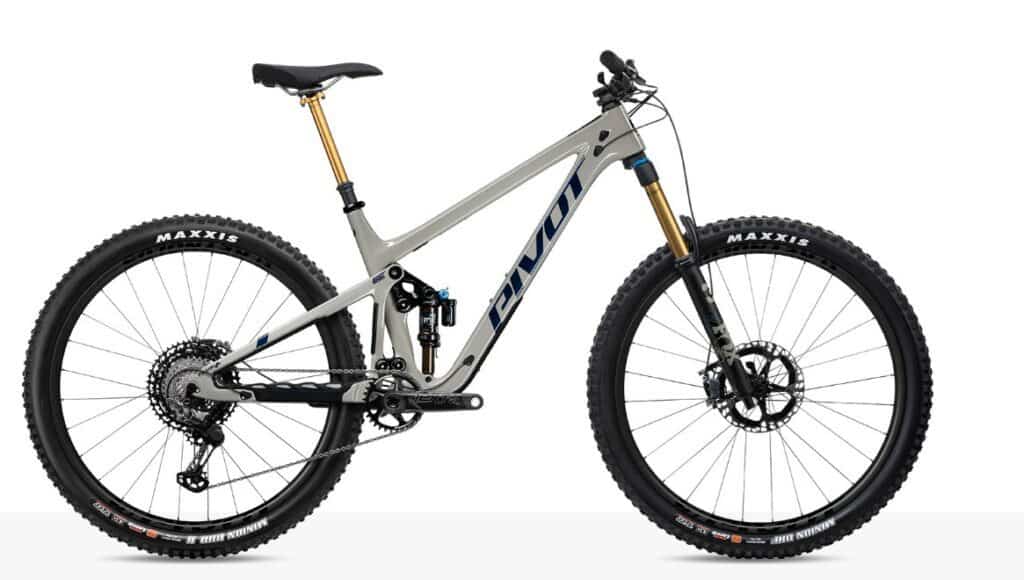 The Switchblade is described as one of the most fun, precise and maneuverable MTB you can find in the market. This model has been one of the best from the company for quite some time. The 2021 model has seen a significant change when compared with previous versions.
One of the changes is a progressive geometry that makes the mountain bike more agile and adept in different riding situations. The rig comes with straighter tubes featured in a compact frame. Combining these features results in a stiffer and lighter bike, with more standover height on all its sizes. You get a bike that is easier to handle in challenging trails.
A longer dropper post is accommodated thanks to a steeper seat tube. There is enough room in the frame's main triangle to fit the company's new bike-mounted tools or a water bottle cage. It's the result of using a DW-Link shock-mounted upside down.
The gear range is sufficient to allow you to manage the steepest climbs. For downhills, the extra-wide Superboost rear triangle and suspension design work wonders. The combination allows you to overcome rider failures and big obstacles on the trail.
Pivot Switchblade | Competitive Cyclist
This fully capable enduro-specific machine is built for the descents and gets us down with confidence and control.
Check Price
We earn a commission if you click this link and make a purchase at no additional cost to you.
Pros
142mm rear and 160mm front suspension
Agile hill climber
Carbon frame
Sufficient space for a water cage or bike-mounted tools
Extra-wide Superboost
Cons
Pricier than others with similar features
Schwinn Axum – Best Budget Alternative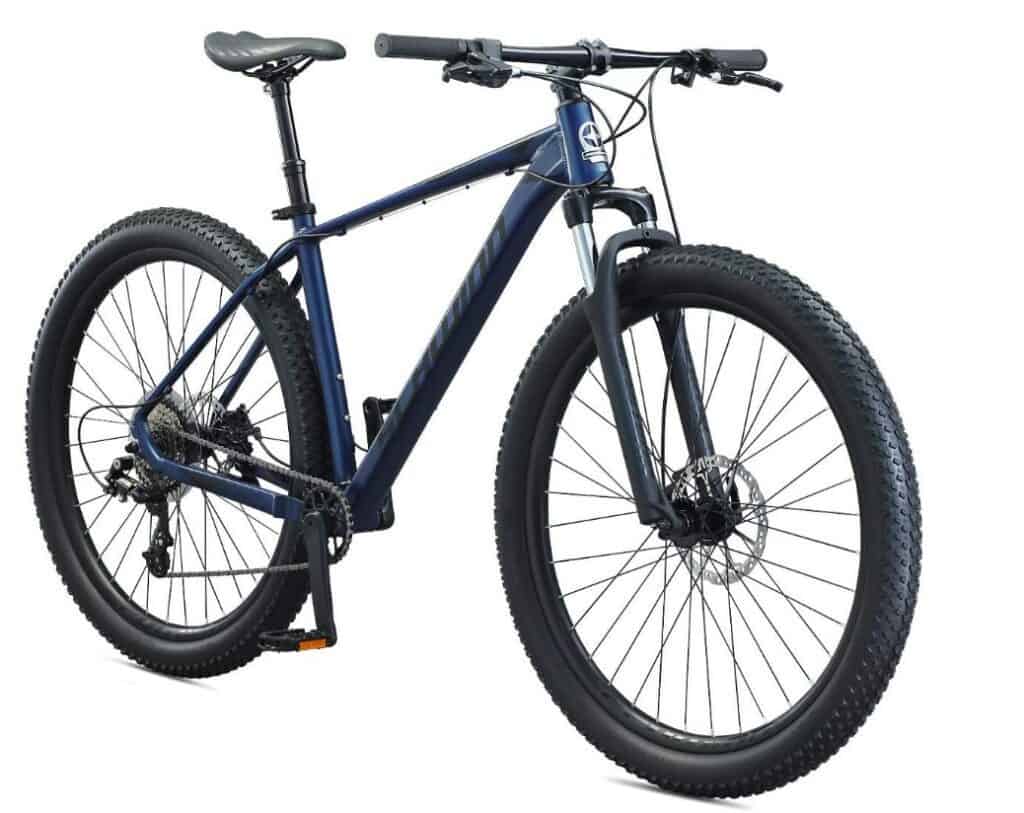 A hardtail bike is the best option if you are working on a budget. Schwinn Axum is our pick because it can handle smooth singletracks, rec paths, and rail trails. This MTB has 29-inch wheels, a 100mm front suspension fork, and a rigid rear.
The Axum uses mechanical brakes that have sufficient stopping power for various scenarios. This type of disc brake is a more affordable option than hydraulic disc brakes and is low-maintenance. They have significantly more stopping power compared to rim brakes.
Unlike what you see on most cross-country bikes, this model has 2.6-inch wider low-profile tires. The additional road contact gives you a stable feel that inspires you if you are a beginner. It also has 29-inch rims that are great for smoothing out the terrain. Even though wide tires add weight, they stabilize the bike and make rolling over smaller obstacles fun.
Schwinn Axum | Walmart
Great for rough terrain and cross country (XC) trails, the Axum features a light Schwinn aluminum frame and suspension fork. The 100 mm travel front suspension fork with lockout absorbs bumps on the trail for a more comfortable ride.
Check Price
We earn a commission if you click this link and make a purchase at no additional cost to you.
Pros
Lightweight aluminum frame
Large 29-inch wheels
Above-average stability
Low maintenance mechanical brakes
Affordable
Cons
Available in one size only
Rocky Mountain Growler 60 – Best Hardtail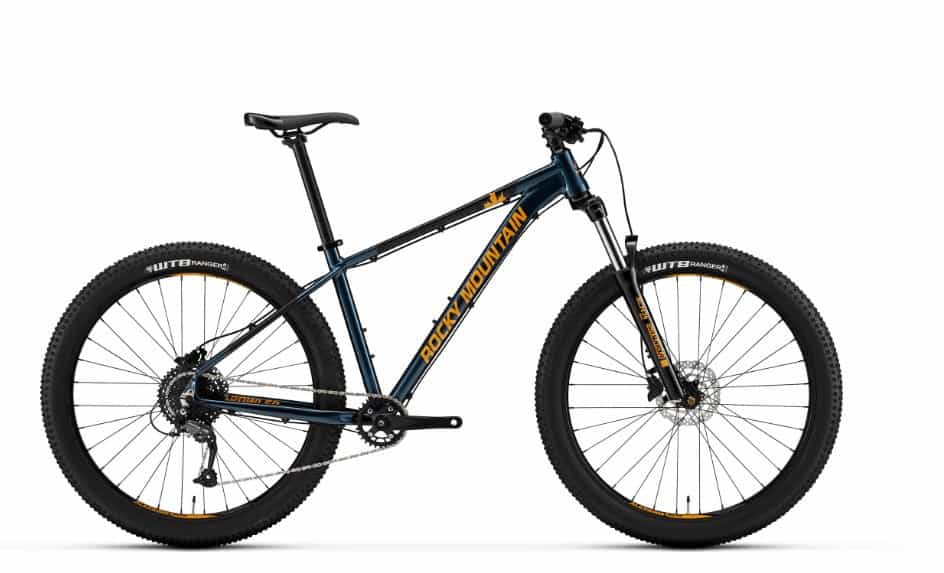 If you love singletrack and you are tight on funds, then this is the bike for you. Rocky Mountain designed it with bells and whistles that ensure you experience a compromise-free ride. Some features include an SRAM 11-50T Eagle cassette with 12 speeds, dropper post, and high-quality RockShox 35 Gold RL offset fork (140mm, 44mm).
When it comes to geometry, the Growler has a similar geometry to a full-suspension enduro bike. The upside is it comes without the rear-end squish. Other features include a 1,237mm wheelbase rolling on 2.6-inch tires, a 470mm reach, a 75-degree seat tube angle, a 64-degree head angle, and 29" wheels.
With such specs, you can easily power through roots and rocks. You also have the choice of getting in the air to clear a few doubles before railing the next berm. Take note moving from a full suspension to a hardtail bike is not easy.
Growler uses 2.6-inch WTB Trail Boss tires to help take the edge off. If you need spring to your climbs, the stiff frame will do just that. A combination of 29" wheels, grippy and fat tires, and slack geometry give the MTB more guts than you would expect from a hardtail. However, it's not as gutsy as full-suspension mountain bikes. To soften the ride, consider running low tire pressures.
Pros
Slack enough for technical riding
Affordable
Lightweight aluminum frame
Large 29" wheels
Requires less maintenance
Cons
Factors to Consider when Choosing a Diamondback MTB
The following are tips you should consider when you are purchasing a Diamondback mountain bike:
Frame Size
It's not a daunting task finding the right frame size to suit your riding preference. For most bikes, you just need to decide whether you want small, medium, or large. It doesn't matter whether you are riding on the road or you are on a trail. The frame size always impacts your riding comfort and experience.
Standover height is mainly used to measure the frame size to suit your needs. It's used to measure how tall the bike will be. Ideally, you need a clearance over the frame irrespective of the type of bike. Diamondback and other major bike labels have a size guide to help you decide on the best frame size for your height.
The standover height is the primary measurement used to size road frames. It is simply how tall the bike is. You will want a clearance over the frame, no matter the style of the bike. Every bike usually has a size guide manual to go along with it.
Seat Height
One of the most critical adjustments you make right off the bat is having your seat at the right height. Most beginner riders have their seats too low, which, apart from causing fatigue or even injury, reduces the bike's performance. Additionally, it's dangerous and uncomfortable to ride a bike whose seat position is too high.
To set the seat height, stand flat-footed next to the bike. Ensure the seat touches your hip bone. This offers the best baseline height. Make sure the bike free-stands with the assistance of either a wall, a friend, or a resistance trainer.
Your leg should be locked out with your heel above the spindle when your pedal is at six o'clock. When the ball of your feet is moving above the spindle, you should spot a slight bend at the knee. You need to lower your seat a little bit if your hips rock when you pedal.
Reach
Proper reach is crucial to all riders. The reach is too far for you if the bars cause your arms to lock out. In such a case, you easily end up with tingly arms and/or a stiff neck. The worst-case scenario is when you lack sufficient control of the bike.
It's easy to risk interfering with your body's movement and response when your reach is too short. Too short a reach results in various problems. For example, you risk getting a sore back that may lead to serious back problems.
Try to adjust your saddle setting to the point your elbows are slightly bent. It's also advisable to note that straight elbows will not absorb road bumps and vibrations. Ensure that you always try to maintain a straight back while riding. The idea is your upper arms need to be positioned perpendicular to your torso. Ideally, you need 45 degrees to be the angle of choice. This makes it one of the best and comfortable riding positions.
Components
You may find it necessary to change some parts of your new bike after riding for a few miles. Saddles lack a break-in period, although they are sometimes not compatible with specific riders. At the same time, challenge yourself by trying out an old saddle or even experiment with different stem heights and lengths. A significant difference comes through a few changes to bring about ultimate enjoyment and comfort.
For expert tuning, you need to visit a bike fit professional. Alternatively, it's a great idea if you have the knowledge and means to do this. You can also get the best components by spending quality time tinkering with your setup manual.
By personalizing your bike and always listening to your body, you can get the most out of your rides. Any adjustments that you make on your bike should be made knowing the changes are reversible. It's your bike, and you should strive to ensure it's adjusted to give you the best riding experience.
Diamondback FAQs
Question: How Can You Tell the Year a Diamondback was Made?
Answer: Though it does vary, the first 2-3 digits are letters that will help identify the factory in which the bike was made. The following 2-4 digits illustrate the date of manufacture. For example, 0412 means the bike was manufactured in December 2004.
Question: Can Diamondback be Classified as a Good Bike Brand?
Answer: Diamondback manufactures high-end and high-tech designs for mountain biking and road racing. The company strives to keep the prices relatively low and affordable. Diamondback has a bike collection that is one of the most multi-purpose bikes available in the market. They have options for touring, commuting, and gravel riding.
Question: How Can You Tell the Model of a Diamondback Bike?
Answer: You can do this by searching the serial number on the Diamondback website. The serial number is on the underside of the crank that bears the housing.
Question: Does the Diamondback Offer a Warranty?
Answer: Diamondback bike's specifications are subject to change without notice. On the upside, all their bikes are under warranty. Diamondback is a licensed and registered trademark.
Question: Where are Diamondback Bikes Manufactured?
Answer: Raleigh America, the owner of this brand, has its offices in Kent, Washington DC. However, a considerable number of Diamondback bikes are made by Kinesis Industries. It's a Taiwanese-based company with a factory in China.
Bottom Line
If you are an entry-level rider, you may find the Overdrive ST to be too much. The combination of its components set and 27.5-inch wheels are not the best for beginners. You should consider the 29 2 Overdrive a better option if you are an amateur in MTB riding.
If you are looking for an affordable full-suspension MTB, then Atroz 3 is the best choice. It has a combination of SRAM and RockShox, which is rare at this price point. Diamondback Mason Comp Plus is a good option if you require more travel. Use the above information to help you make the right purchasing decision.
Diamondback Bicycles Atroz 3 | Moosejaw
With the Atroz 3, we took the proven and refined single-pivot full-suspension design and upped the ante in a big way. It's a full RockShox affair when it comes to suspension, including the 130mm travel Recon RL air-sprung fork with 32mm stanchions and a quick release thru-axle.
Check Price
We earn a commission if you click this link and make a purchase at no additional cost to you.