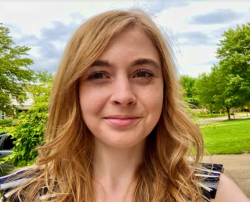 Latest posts by Erin Jamieson
(see all)
As much as I love the mountain biking community, I think a lot could be done to make it more welcoming to beginners- and those on a budget. I want everyone to experience the best mountain bike trails. Maybe that's why relatively more affordable brands like Marin interest me. 
From hardtails to full suspension bikes, Marin offers a wide lineup. Models like Eldrige Grade, Alpine Trail, Bobcat Trail, and Palisades trail are popular not so much for their accessories or premium features but their reliability and versatility. While not cheap, Marin mountain bikes, in my review, are a good option if you need a practical bike and can't pay top dollar. 
Here's my review of the Marin mountain bike lineup. I'll tell you how I selected the best models- from downhill to cross country and so much more. Plus, here's my honest opinion on who Marin mountain bikes are any good for and if this is the brand for you. 
Bottom Line Up Front Summary: Marin has been making bikes for over 30 years, and they're known for their reliability and affordability. While they don't have a perfect track record or the latest and most premium features, these bikes are a solid choice for mountain biking with a cost-conscious approach. I've reviewed and selected the best bikes not purely on popularity, but rather the overall value. That includes looking at key performance components, such as your saddle, suspension, fork, derailleurs, shifter, brakes, and more.
If I had to recommend just one Marin mountain bike, it would be the Rift Zone Carbon 2. It's one of the most versatile bikes Marin offers, with a blend of speed and control for a variety of trails. It's also an upgrade from many of their bikes, with its focus on a full suspension carbon frame. The slack geometry and micro-adjustments are excellent perks too. 
My Top Picks
Marin Rift Zone 29 Carbon 2 | Bikes Online
Small travel meets big fun in the New Rift Zone 29. It is poised to push the envelope both up and down the mountain.
Check Price
We earn a commission if you click this link and make a purchase at no additional cost to you.
What You Need to Know Before You Buy From Marin 
Before heading into my selection criteria and the best Marin mountain bikes you can buy, here's a glance at what you need to know about Marin as a brand. Feel free to skip this section- but for purchases as expensive and personal as a mountain bike, I like to know something about the company. And with Marin, that's mostly positive things- with a few drawbacks.
30+ Years of Experience
Chances are you've heard of Marin. That's because they're one of the oldest US-based bike brands, with over 30 years of experience. What's interesting about Marin is that their main staff is quite small, but they sell bikes internationally. Over time, they've evolved to include more biked model series, more bike types, and more options. 
Something For Everyone 
Whether you're looking for a mountain bike or commuting bike, Marin probably has a model that will meet your needs. They have a wide range of sizes- including kids, too. Within their lineup, you can expect hybrids, an array of mountain bikes, general fitness bikes, multitrack bikes, dual sport bikes, gravel bikes, and more. I can't complain that there isn't enough variety!
Versatility First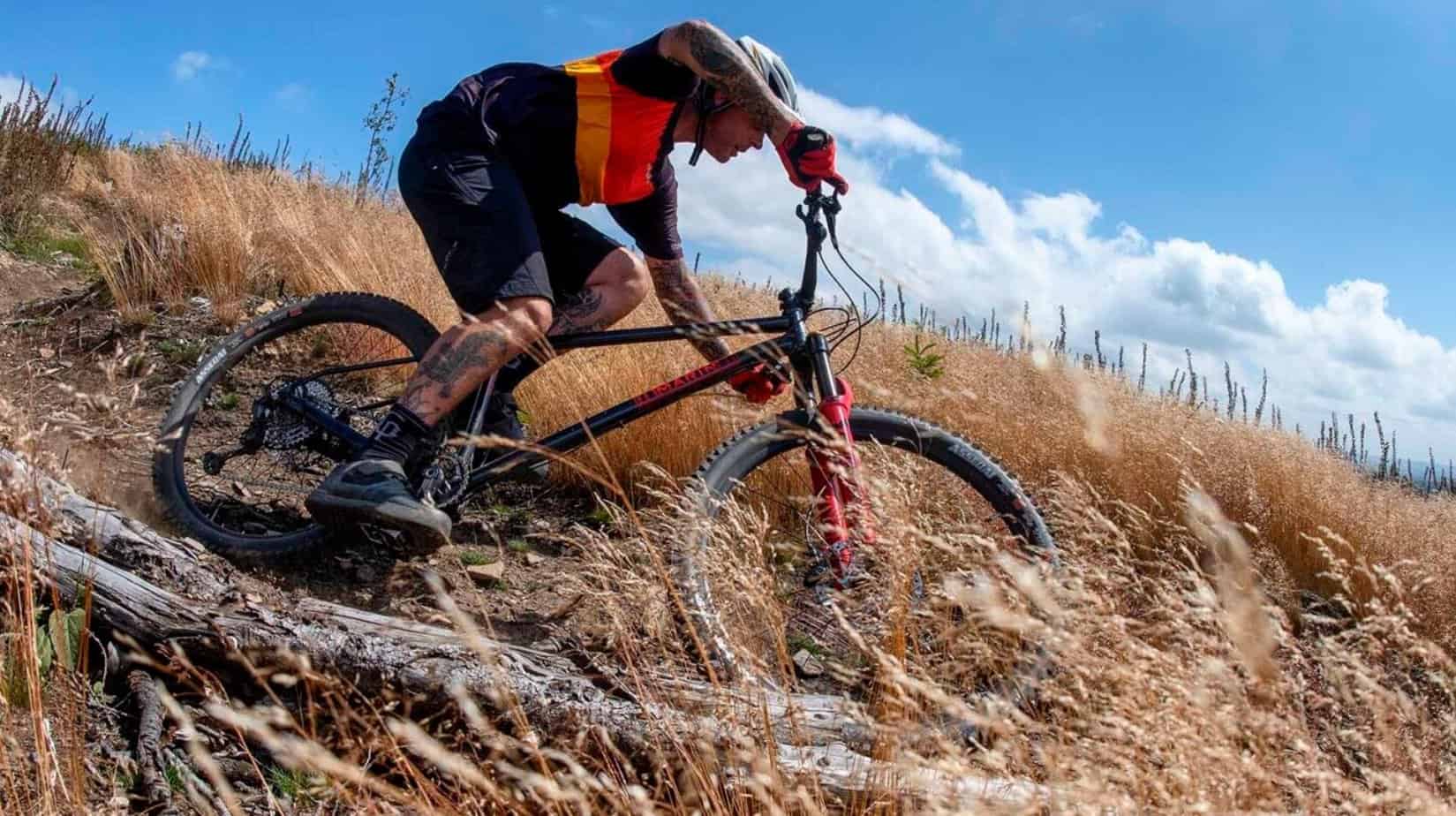 Marin is a practical brand. What do I mean by that? Their mountain bikes aren't designed with a top speed in mind, or the top premium or cutting edge features. Tying into the wide array of bikes they make, they are more focused on affordability, reliability, and versatility. So if you want a mountain bike with the latest technology, Marin may not be for you. 
(Not) Made in the USA
Marin is based in California- but the majority of its frames and components are made overseas. 
Recalls & Reliability
For the most part, Marin is a reliable brand- and that's something I love to see in a mountain bike. But like most brands, it hasn't been perfect sailing for Marin. The 2021 recall for bottom bracket safety impacted: Quentin 1, San Quentin 20", San Quentin 24", Wildcat Trail 1, Wildcat Trail 3, Fairfax 1, Fairfax 2, Terra Linda 1, Terra Linda 2, Presidio 3, Kentfield 2, Kentfield 2 ST, Larkspur 1, Muirwoods RC, San Anselmo DS1, San Anselmo DS2, San Rafael DS1, San Rafael DS2, Hidden Canyon 20" and Bayview Trail 24 (all of that year). 
My Selection Criteria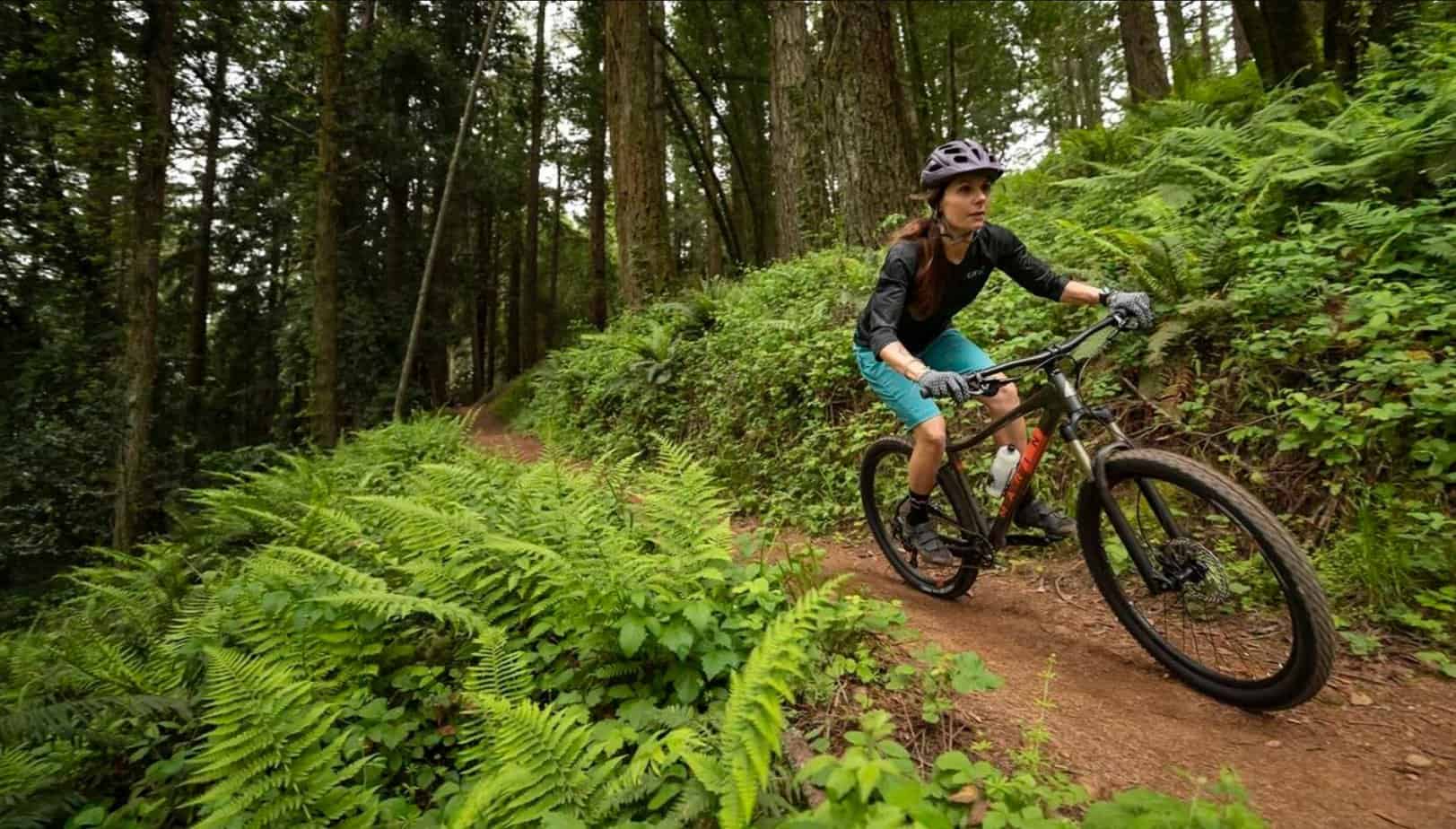 How did I select only the best Marin mountain bikes? Carefully. With a wide selection of bikes to choose from, I looked for the best for a range of different needs. Since Marin is focused on affordability and versatility, I selected bikes with the best balance of features and materials for the price point. 
Types of Marin Mountain Bikes
First up, I wanted to showcase all the types of mountain bikes Marin offers. That includes:
Enduro/ All Mountain
Trail 
XC Trail
Adventure 
Dirt Jump
E-bikes
Gravel Bikes 
Why Not All Full Suspension?
I'm also including both full-suspension and hardtail bikes. I prefer full suspension bikes because I like the feel of a smooth ride and I love the optimal steering control. But I've ridden more hardtails than full suspension- and they're a good solution for anyone who wants a lower maintenance bike, is on a tight budget, or is just getting into mountain biking. 
Frame Materials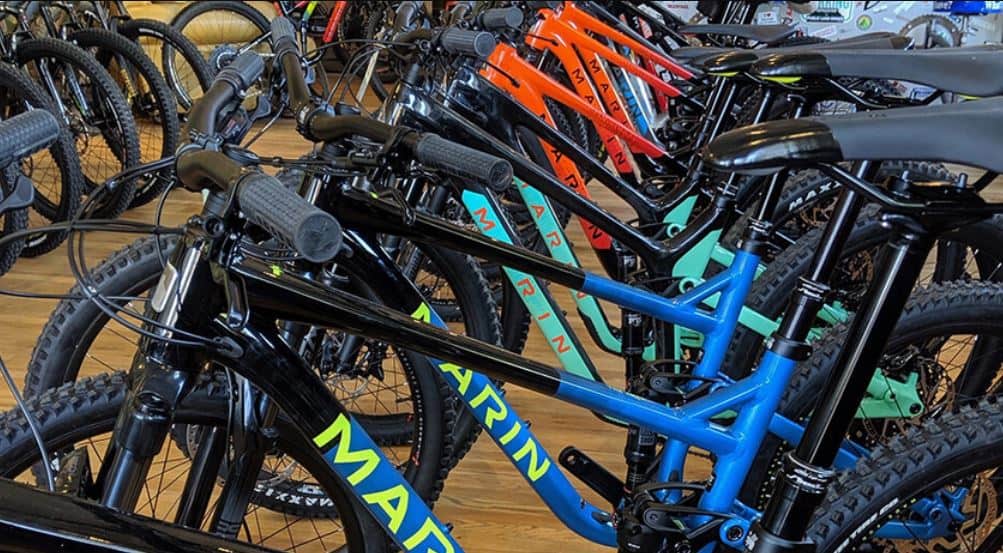 Because Marin favors affordable and lightweight bikes, I wasn't surprised to see many models in their lineup are made out of aluminum. As much as I like the lower sticker price, I highly preferred carbon frames. Carbon provides a smoother ride and it's less prone to damage- and it won't corrode as heavier steel frames can.  However, with proper maintenance, a steel bike can be a great choice, especially for adventure bikes- so I included a model for that purpose. 
Unfortunately, I had to make some exceptions for e-bikes The good news is that this is balanced out with quality features and systems for stability and reliability. 
Focus on Reliable Performance
Brake systems, drivetrains, derailleurs, and cassettes are all components I considered. Why? They make a notable difference in how smoothly and aptly your bike will perform. While I consider slightly different aspects of each for different bike types, I researched the reliability of these components. I also included bikes that have ample speed shifter settings (10+). For brakes, I favored high-quality hydraulic brakes- but sometimes had to sacrifice that smooth braking (disc brakes) for certain models. 
Along with this, bike geometry separated mediocre Marin bikes from noteworthy models. Wheelbases should be around 50 inches, and your connecting chain needs a minimum of 16 inches. For seats and; es, I tried to stay in the mid to low the 70s for most. Reach was also a consideration- with mid-reach being my ideal. However, for a few models, I considered where a shorter or longer reach made sense. A head angle of 65 to 70 was my range for a practical mountain bike. 
For wheel size, I included 27.5 Marin bikes and 29ers. (27.5 I favored for lightweight performance and 29ers for rugged trails. For more information, read my Guide on 27.5 vs 29ers Mountain Bikes). 
Comfort 
I've known some people who'll ride in any saddle, but I'm more particular. Balancing performance and comfort, I selected firm but flexible saddles, with breathable materials. Carbon got my attention for performance bikes like soft mesh materials were more my preference for Marin's general trail bikes. I also favored it over steel, which can 
Top Marin Mountain Bikes: My Picks!
Without further ado, here are the top Marin mountain bikes that you can buy now- whether you're hitting gravel trails or a daunting downhill. Not sure what size is right for you? Check out the Marin Bike Size Chart before you buy any model.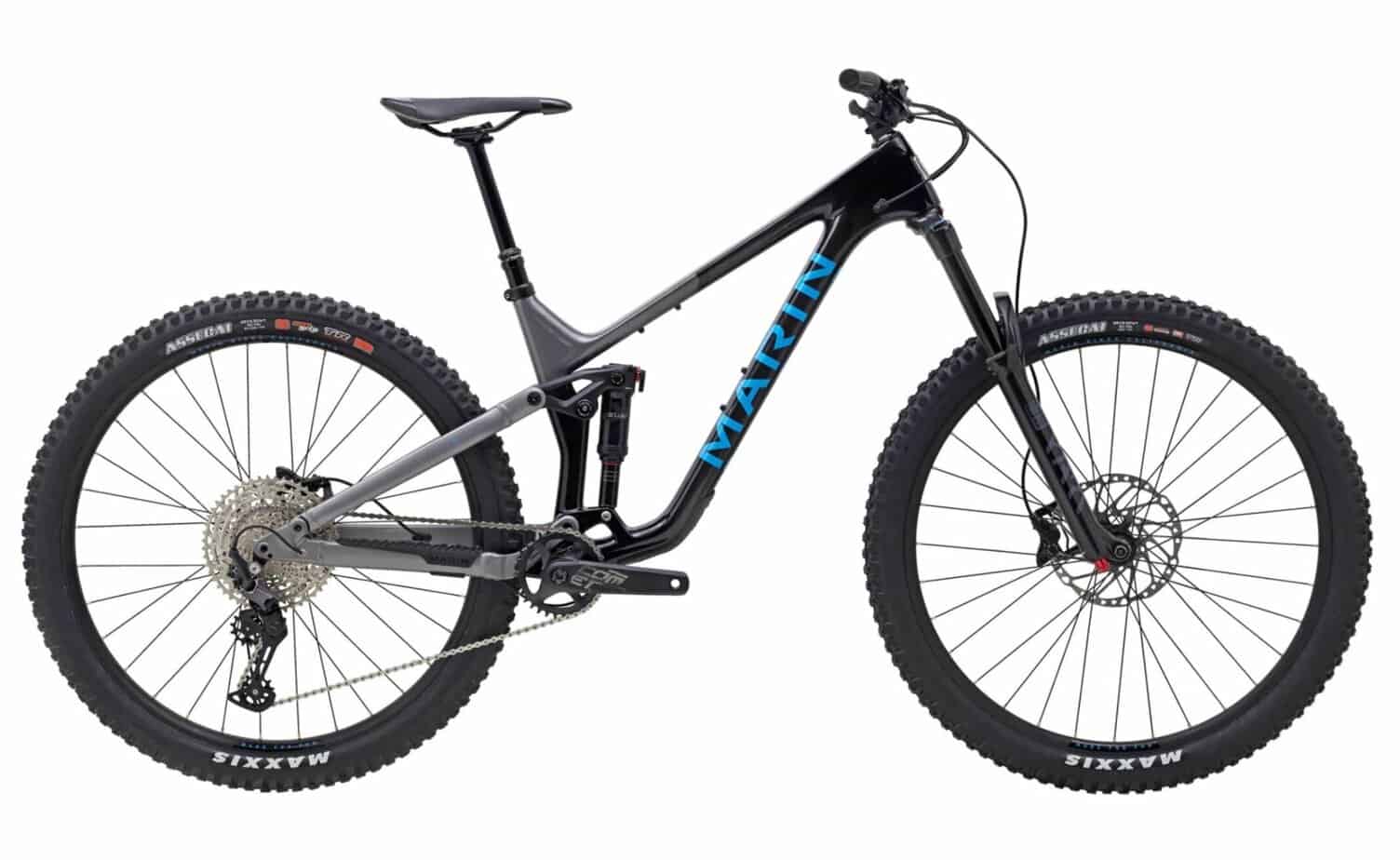 If you've ever tried enduro or all-mountain biking, you know conditions can get rugged. In my opinion, that's part of the fun of it. But the mistake you don't want to make is taking out a lightweight XC bike in mucky conditions or on uneven terrain. The Alpine Trail Carbon I is the best Marin model that is built for those rugged conditions. I love how the generous 29-inch wheels pair with a substantial full suspension carbon frame. That's a big upgrade from their cheaper aluminum models or a hardtail.
While their previous model- the XR- is also a fair choice, it's worth the upgrade for the new carbon front triangle that optimizes the riding experience. The one-piece rocker links give you that stiffer support your need, paired with excellent tire clearance. 
Best For…
Enduro/ All Mountain Biking
Sizes Available 
Small, Medium, Large, X-Large 
Pros
Stiff Support
Generous Wheels and Clearance
Carbon Front Triangle 
Cons
Disc Brakes (less smooth braking power)

Pedals Not Included 
Interested? View Here. 
Marin Alpine Trail Carbon I | Jenson USA
The Marin Alpine Trail Carbon 1 Bike is a 29"-wheeled full-suspension bike built for the all-day enduro rider that earns their downhill fun. It has an all-new unidirectional carbon fiber front triangle with a series 4 alloy rear end.
Check Price
We earn a commission if you click this link and make a purchase at no additional cost to you.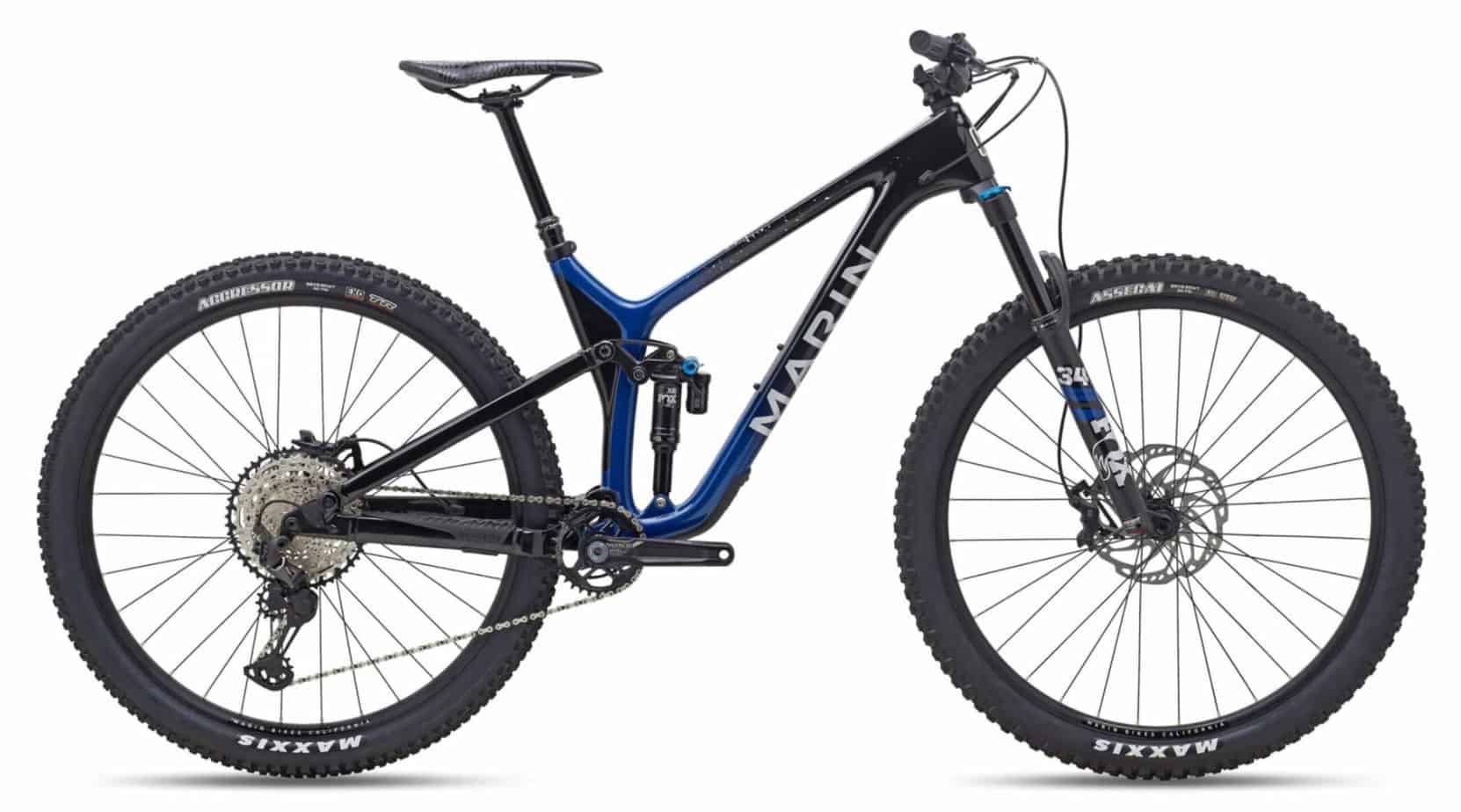 Marin isn't known for speedy bikes- but the Rift Zone series is their quickest option. Of the lineup right now, Rift Zone Carbon 2 offers the best value for a fun, zippy trail ride. It's also my favorite trail mountain bike from Marin overall. It's worth paying extra for the full suspension carbon frame- perfect for a smoother, quick ride. The slack, longer geometry is ideal for top speeds with greater control than a traditional XC bike.
 What caught my attention is its designation as a multitrack bike- a designation that many mountain bike brands don't have. It's able to tackle both trails and roads- making it a unique hybrid mountain bike. That means that this Marin bike can be taken on trails- but even used for commuting! Other features I love include the micro-adjustment front suspension, climb switch, and rebound adjustment. 
Best For…
Speedy Trail Riding, Commuting  
Sizes Available 
Small, Medium, Large, X-Large 
Pros
Micro Adjustment Suspension
Quick and Versatile
Slack Geometry for Top Speeds
Cons
No Dropper Post
29 Wheels Slow Bike Down
Interested? View Here
Marin Rift Zone 29 Carbon 2 | Bikes Online
Small travel meets big fun in the New Rift Zone 29. It is poised to push the envelope both up and down the mountain.
Check Price
We earn a commission if you click this link and make a purchase at no additional cost to you.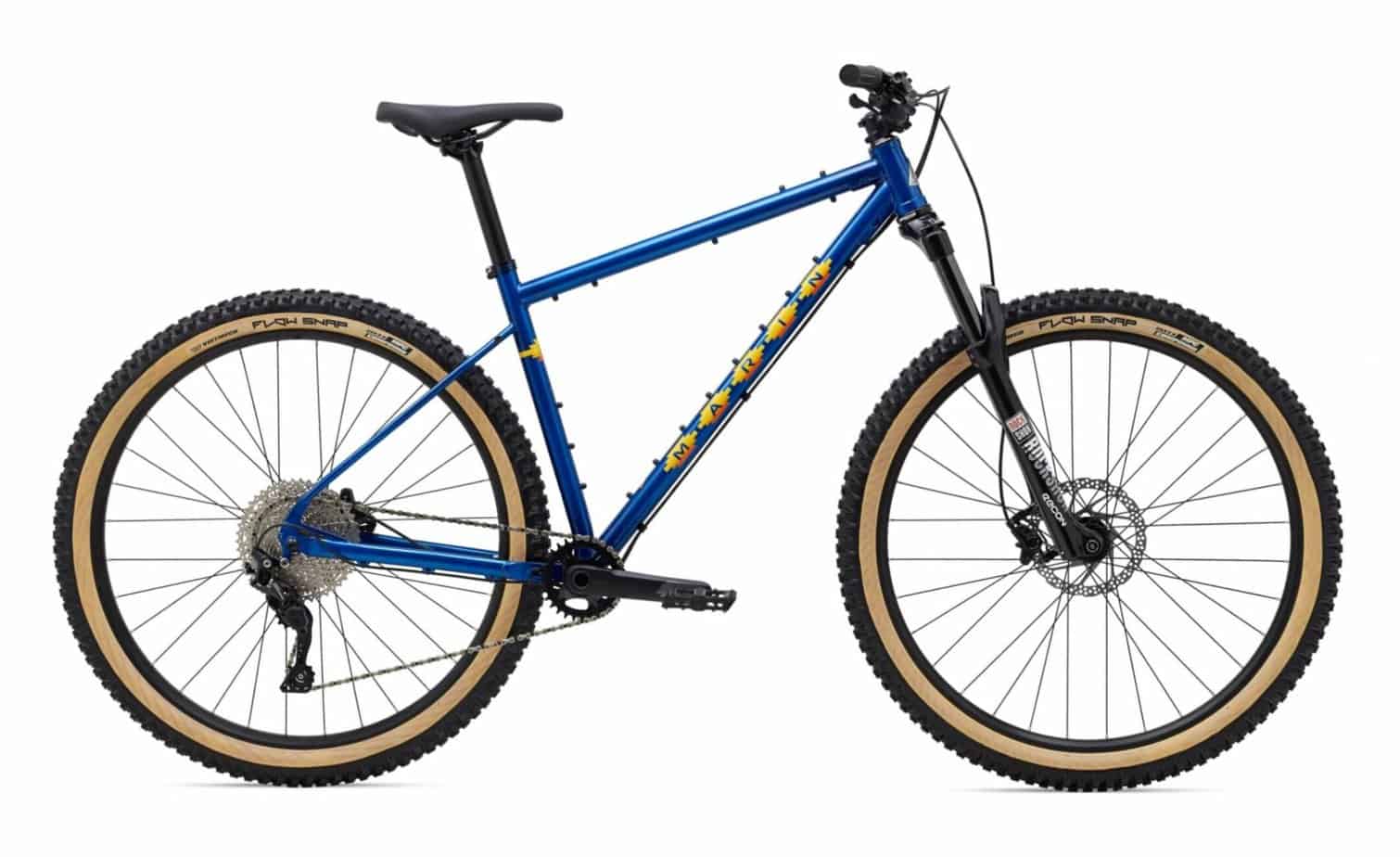 If you don't know about adventure bikes, you're not alone. When I first become interested in mountain biking, I didn't know much about them. The term is also used in the motorcycle industry, but it turns out they're a great option for someone transitioning from a road bike to a mountain bike. They feature slack geometry, an upright riding position, and a short tube top but aren't bulky like an Enduro bike. They also make fun trail and backpacking bikes. 
The Pine Mountain 1 is a great choice for beginners, with an easy maintenance hardtail designed with care. While hardtails aren't as smooth as full suspension, I like the dropouts, paired with a full fender. The head angle is a comfortable 66.5 degrees, and there are plenty of places for attaching accessories, like cargo. If you prefer to go tubeless, it's fully tubeless ready. And unlike many Marin adventure bikes, it's made with a steel frame for a hardier construction. Add that to the hydraulic brakes, and this is a steal for the price. 
Best For…
General Trails, Transition Bike, Backpacking
Sizes Available 
Small, Medium, Large, X-Large
Pros
Room for Accessories/ Attachment
Tubeless Ready
Sturdy Steel Frame
Cons
Steel Can Corrode If Not Maintained
Narrow/ Less Comfortable Saddle 
Interested? View Here
Marin Pine Mountain 1 | Jenson USA
The Pine Mountain features trail-ready geometry and a wide-range 1x drivetrain making it worthy of any epic trail adventure. It's time to get out and explore with the Marin Pine Mountain.
Check Price
We earn a commission if you click this link and make a purchase at no additional cost to you.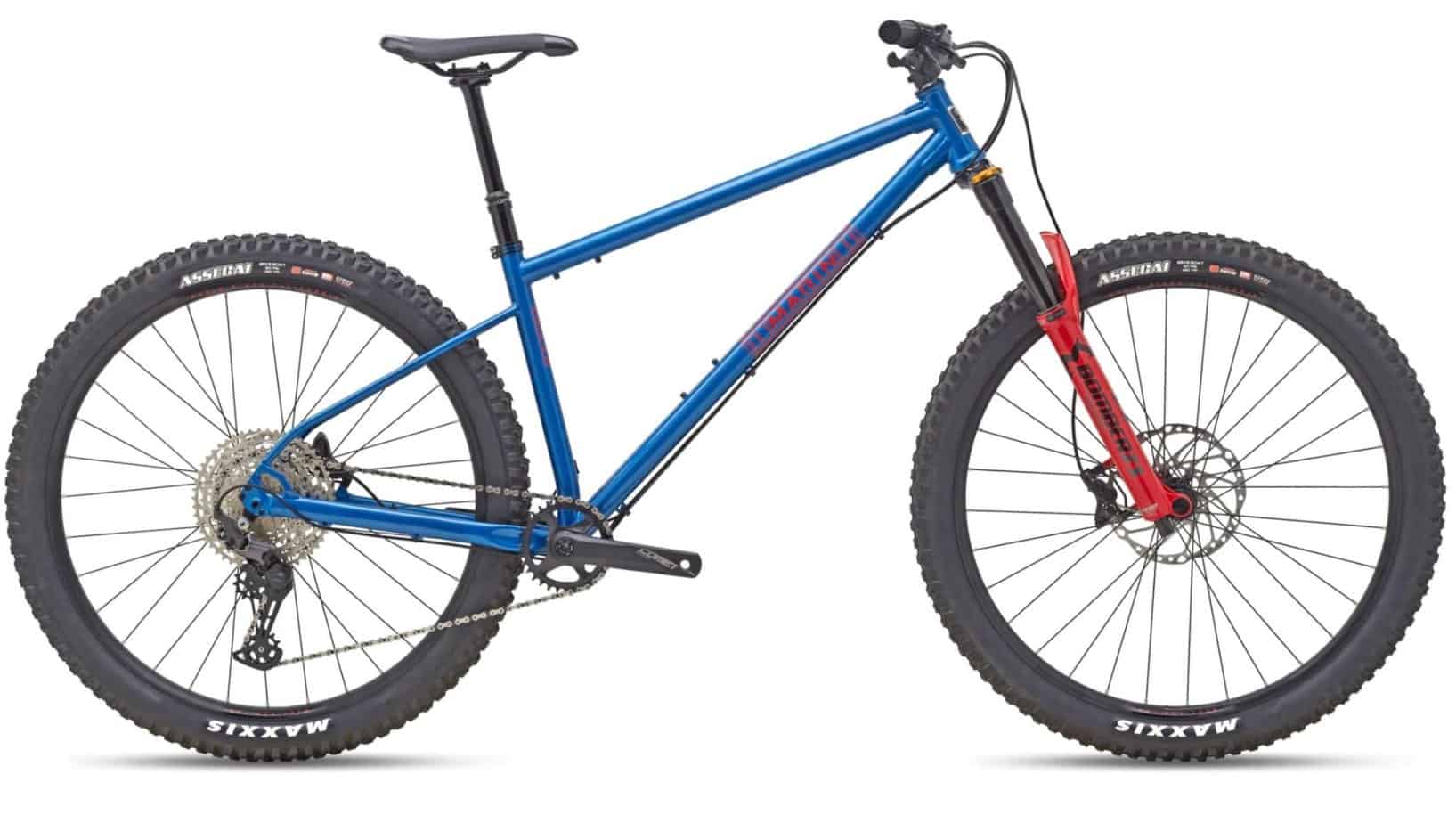 If you love the more adventurous side of mountain biking, then Marin's best option is El Roy. El Roy is designed to tackle steep downhills, dirt biking, and even some jumps. With a price point below $3,000, it's also quite competitive compared to other brands. For this price, you get aggressive geometry, a hardy steel frame, and excellent hydraulic brakes for capable braking. 
The 12-speed shifter is what you need to tackle the most challenging trails and there's a model that offers generous dropper posts. The extra coating on the steel frame means less maintenance- and they even sneak in top tube storage mounts for water bottles and more. Those seem like small features, but they add up when you're out and need something. The biggest disappointment? It's not intended for someone as short as me. 
Best For…
Dirt Biking, Jumps 
Sizes Available 
Regular, Grande (with dropper post)
Pros
Dropper Post
Storage Mounts
Hardy Coated Steel Frame 
Cons
Not Intended for Riders Under 5'5"
Somewhat Heavy For Jumps
Interested? View Here 
Marin El Roy | Bikes Online
The El Roy is the ultimate aggressive steel hardtail that'll get you to the top and then really shine on the way down, with a spicy mix of progressive geometry and supple steel.
Check Price
We earn a commission if you click this link and make a purchase at no additional cost to you.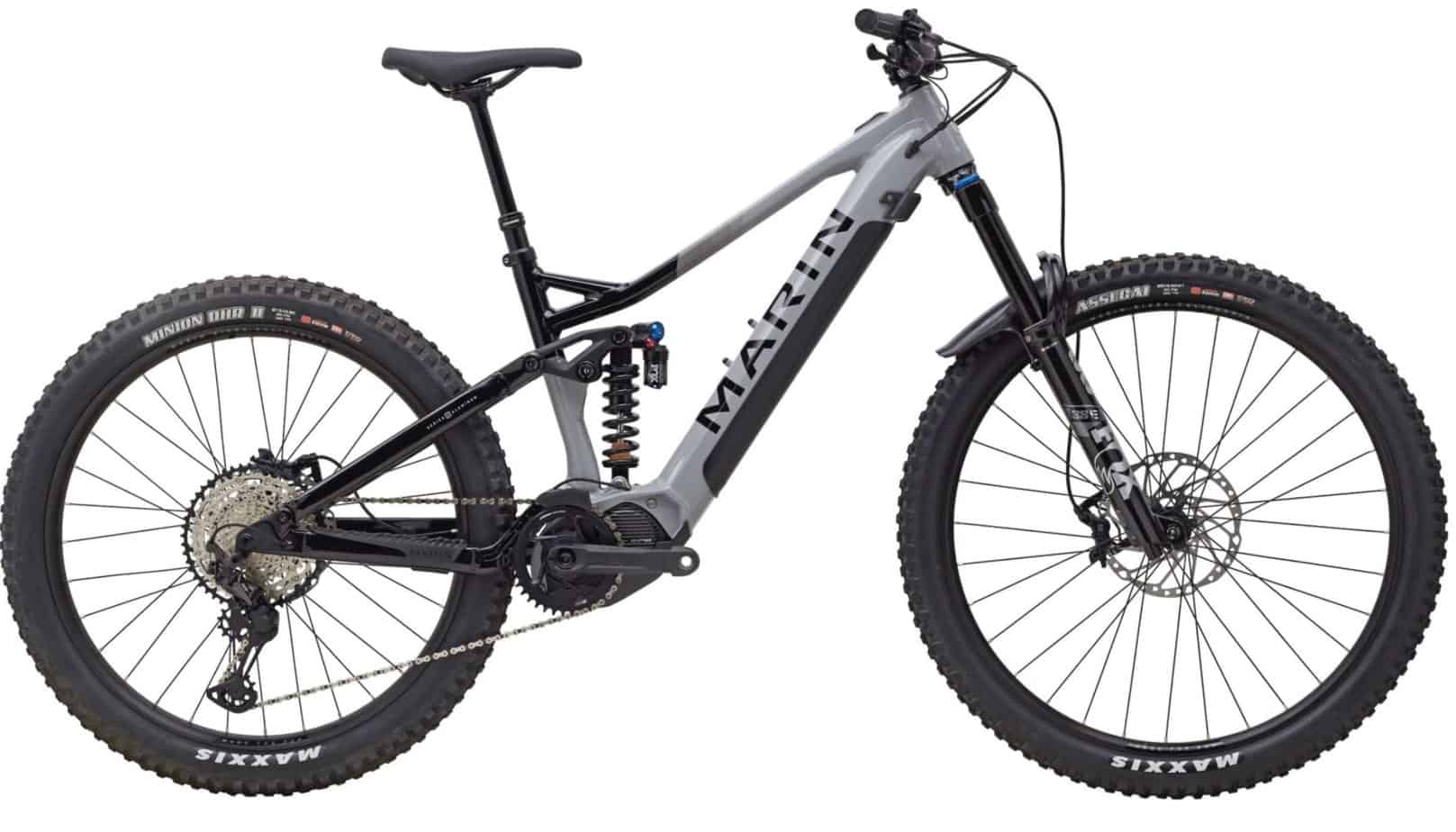 If you've ever wanted more power uphill and a smoother ride, an e-mountain bike can be tempting. E-mountain bikes can expand what hills and challenges you take on- and the ride is unlike any other type of bike. Just keep in mind you have to charge them, and upkeep is expensive. While there are more premium options out there, the Alpine Trail E2 follows Marin's traditional practical, slightly paired down features for a very competitive price.
I like this model mostly because of several notable upgrades from their previous E1. Those upgrades include a new battery system, improved shock suspension, and a respectable 12-speed drivetrain. The multitrack system is another excellent touch because you don't have to worry about lockout levers (a big pain when you're tackling hills!). Perhaps most unique is the decision to mix wheel sizes. That decision allows you to enjoy both speed and greater traction- though it may take some time to get used to. 
I hope in the future they will make an eMTB with a carbon frame and hydraulic brakes- but of course, that would raise the price. 
Best For…
Anyone looking for a high-tech boost up hills
Sizes Available 
Small, Medium, Large, X-Large
Pros
Extra Boost Up Hills
Upgraded 12-Speed 
Mixed Wheels For Performance
Cons
Aluminum Frame
Disc Brakes
Interested? View Here.
Marin Alpine Trail E2 | Bikes Online
Alpine Trail E models are built upon our Series 4 aluminum frames, with detailed forgings, highly manipulated tubes, and full internal cable routing, giving the rider the highest-end alloy frame that Marin offers, compatible with modern coil or air shocks.
Check Price
We earn a commission if you click this link and make a purchase at no additional cost to you.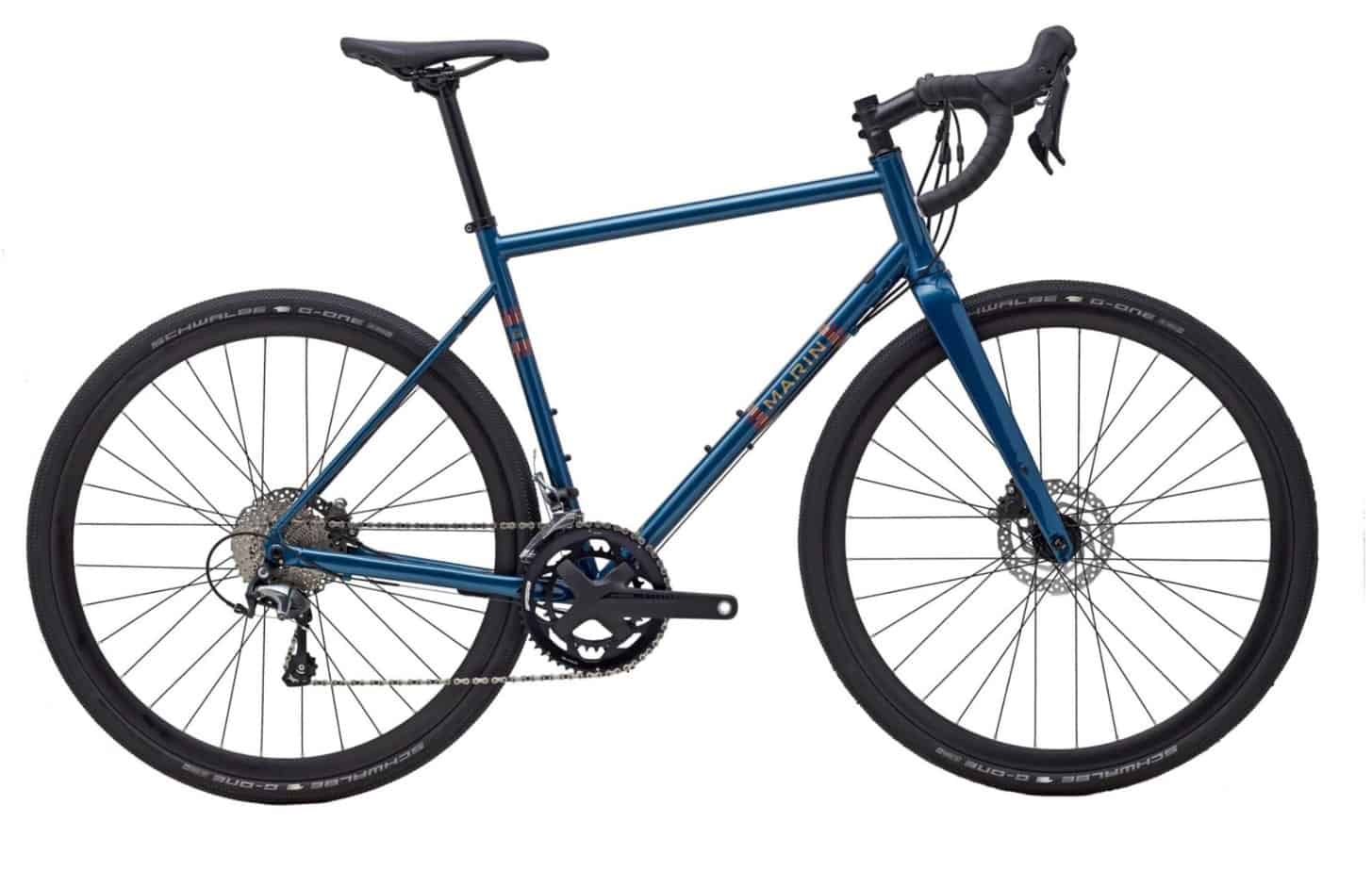 One thing I think we need to work on in the mountain biking community is realizing how hard it is for some beginners to get started. That includes not just learning the ins and outs of mountain biking, but also budget restrictions. The truth? While most of Marin's lineup is affordable compared with competitors, most still exceed $2K or $3K. Not everyone has that to spend, which is why I included an option well under $2,000. 
The Nicaso 2 is also a good choice for a  beginner who isn't ready to invest more and is starting on fairly easy trails. Of the cheapest bikes Marin sells, Nicaso 2 stands out to me for the features you get at a great price. They took the base Nicaso and made several upgrades, including a double-butted frame with dropouts, a carbon fork, and Shimano hydraulic discs. That's far beyond what I expected for the price point. 
The geometry is suited for trails- but not so different from road bikes that it'll startle anyone new to mountain biking.
Best For…
Beginners, Anyone on a Budget
Sizes Available
50, 52, 54, 56, 58, 60 (riders 4'10" to 6' 4") 
Pros
Hydraulic Disks 
Solid Dropper Post
Under $2,000
Cons
Aluminum Frame 
Not Exceptionally Fast, Not Suited For Rough Terrain 
Interested? View Here.
Marin Nicasio 2 | Bikes Online
Beyond Road Geometry offers a blend of endurance road handling with enhanced stability for off-pavement use. The Nicasio uses Series 1 butted 4130 CrMo frames with disc brakes, full fender and rack mounts, and two to three bottle bosses.
Check Price
We earn a commission if you click this link and make a purchase at no additional cost to you.
Frequently Asked Questions
Question: Is Marin a good bike brand?
Answer: Marin is known for its practical commuter and gravel bikes- in addition to its mountain bikes. They are known for their overall quality and reliability, especially for a more affordable price than some competitors. Probably their closest competitor is Trek- which is also known for reliable and practical bikes. Smooth and practical bikes round their lineup, and it's a good brand for beginners as well. However, they don't have as many premium options- and there have been a few safety concerns raised in 2021 for the bottom brackets of several of their models. ".
Question: Where are Marin bikes made?
Answer: Although Marin bikes are headquartered in Marin County, California, like so many more affordable mountain bike brands, they aren't made in the USA. Their main components and parts are made overseas in Asia. It's unclear if that is China or another nation. This is a way they reduce the price tag for consumers- but it's a downside for anyone looking for bikes made in the USA. This also ties into their business model: they staff a team of around two dozen at their headquarters, yet they are sold on the international market. 
Question: What kind of bike is a Marin?
Answer: Marin is known for its mountain bikes, but they are not the only bikes they carry. Like Trek bikes, Marin has a lineup of options for different consumers. That includes gravel bikes, urban bikes, hybrid bikes, dual sport bikes, comfort bikes, and kid's bikes. They also sell drop bikes, a wide array of model families, and even bikes for general fitness and mobility issues. It's easy to see why the Marin brand name is so well known. 
Question: Are Marin bikes fast?
Answer: Marin bikes are designed to meet the needs of many different consumers- so top speed isn't the top priority. However, there are some faster bikes in their lineup, including the Marin Rift Zone series. These bikes are classified as multitrack bikes- a unique combination of XC and Enduro for incredible versatility. Due to their lightweight frame and thoughtful geometry, they're speedy on a variety of trails while still capable of tackling different terrain types. The Rift Zone 29 is specially designed for speed- unlike most Marin bikes. 
Final Thoughts 
Marin bikes aren't made in the USA, nor are they focused on speed or exceptional premium builds. But that doesn't take away from their more affordable price tag and their wide selection of bike types in their lineup. Even within their mountain bike lineup, I was impressed with the range of options and model choices. There are some bikes, though, that stand out and as you can see, each comes with helpful and versatile features. While no Marin mountain bike is perfect, there's something in their lineup for anyone interested in mountain biking. 
Final Recommendations
Marin mountain bikes are practical and versatile- but which model is right for you? For the intermediate or average mountain biker who wants a practical bike, I recommend something like the Rift Zone Carbon 2. It's an example of how Marin pairs value and a great price with a practical and versatile bike. Take this out for fast trails and enjoy the slack geometry and side features to make for a fun and memorable ride. 
Marin Rift Zone 29 Carbon 2 | Bikes Online
Small travel meets big fun in the New Rift Zone 29. It is poised to push the envelope both up and down the mountain.
Check Price
We earn a commission if you click this link and make a purchase at no additional cost to you.