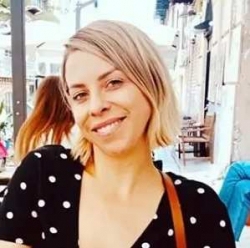 Latest posts by Jodie Chiffey
(see all)
Do you need a bike that you can rely on regardless of the weather condition or the terrain? If this is the case, getting an enduro bike is probably your best option, since you'll be able to crush climbs and storm down trails with ease. Unlike downhill and XC mountain bikes, enduro bikes are not created with a single purpose in mind, which makes them perfectly suited for all newcomers to the world of mountain biking.
Models from the Pivot's Switchblade series are arguably among the best enduro bikes on the market, so in this Pivot Switchblade review, we are going to take a closer look at what these enduro bikes have to offer.
Pivot Switchblade | Competitive Cyclist
This bike is a cut above the rest. Masterful suspension performance, an industry-leading carbon frame, dialed geometry, and eye-catching looks characterize this versatile steed.
Check Price
We earn a commission if you click this link and make a purchase at no additional cost to you.
How Many Different Types Of Mountain Bikes Are There?
Different types of mountain bike racing require you to have a bike that can overcome the challenges you encounter on the trail. Enduro is the most basic type of mountain bike racing that takes place on trails that are mostly downhill, although the trails are much less extreme than those used for XC or downhill races.
That is why bikes like Santa Cruz 5010 or Trek Top Fuel 8 can be somewhat an overkill if you just need a bike that is equally efficient during climbs and descents. Moreover, if you are a newcomer to the mountain biking world, getting a versatile enduro bike like a Pivot Switchblade can be a great option if you're planning to ride through different types of terrain.
Which Additional Mountain Biking Equipment Should You Get?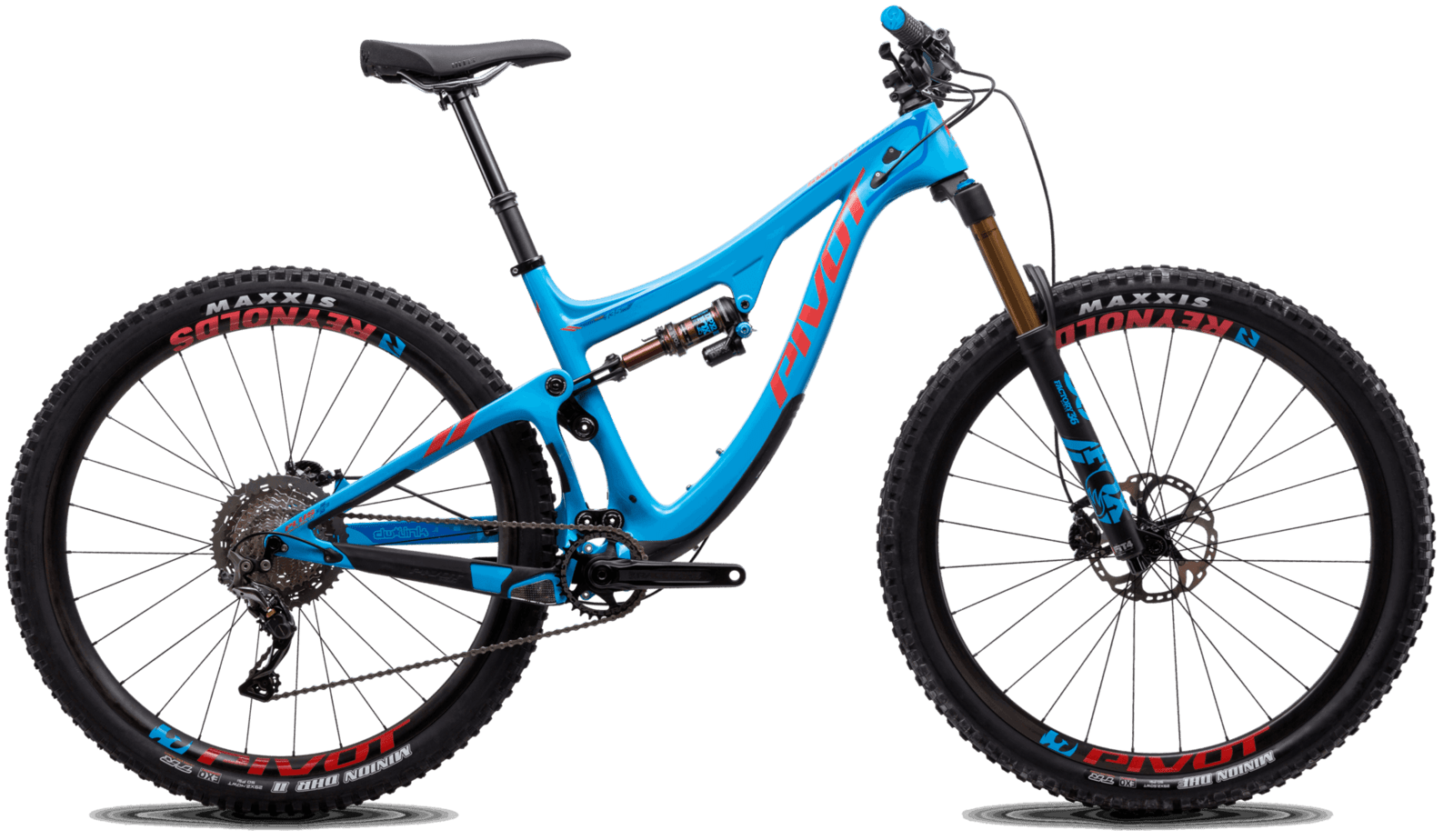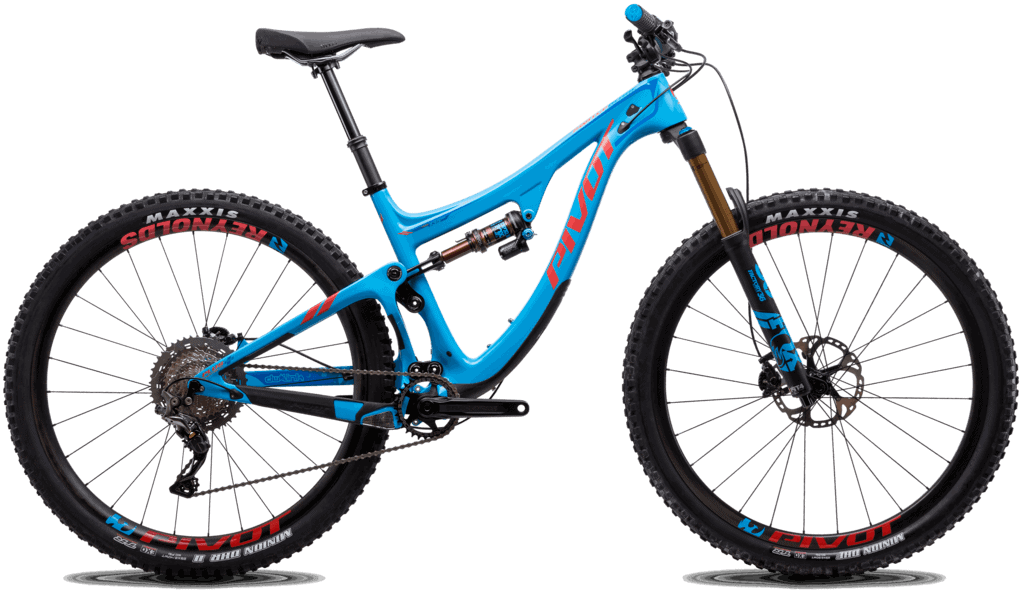 Besides a bike you can rely on virtually any trail, you are going to need a plethora of accessories that are going to make the riding experience safer and more enjoyable. Helmets, knee pads or gloves are among the most common accessories mountain bikers use to protect themselves from hard falls or biting cold.
Hydration is extremely important, especially on long biking trails that take hours and even days to complete. Most mountain bikes have their own stock water bottle cages, but you can also install a water bottle holder in case you want to carry a larger bottle.
Are Pivot mountain bikes any good?
It has been twelve years since the first Pivot bikes hit the market, and the company's name is already synonymous with quality and high-end performance. At the time when they were released, their Mach 4 and Mach 5 models were considered game-changers due to the innovative technologies during their production.
Over the course of the previous decade models like Firebird, Phoenix or LES MX4 have established the Pivot Cycles company as one of the industry leaders that produces bikes for all types of professional and amateur mountain biking. The first Pivot Switchblade model was released in 2016, and in just three short years this enduro bike has secured its position as one of the best all-round bikes on the market.
One of the most important things you need to check while shopping for a new mountain bike are the components. Some mountain bike components like tires or pedals can be changed effortlessly while installing new brakes or forks and suspension kits is a more technical and time-consuming task.
There are more than ten different builds of Pivot Switchblade you can choose from, which enables you to select the components that fit well to your style of riding. However, all Pivot Switchblade bikes share some of the same components, so let's take a brief look at some core components these enduro bikes offer:
All frames of Pivot Switchblade bikes are made of carbon
Pivot Switchblade bikes can either have 27.5'' plus or 29'' wheels
The breaks on Pivot Switchblade are produced by SRAM and Shimano
All Pivot Switchblade bikes have dw-link® rear suspension
All models have 135mm of travel
Pivot Switchblade bikes have a ten-year warranty
Most models have a Fox Performance 36, 44mm fork
All Pivot Switchblade bikes have Phoenix WTB Race Vigo saddle
Is Pivot Switchblade bike expensive?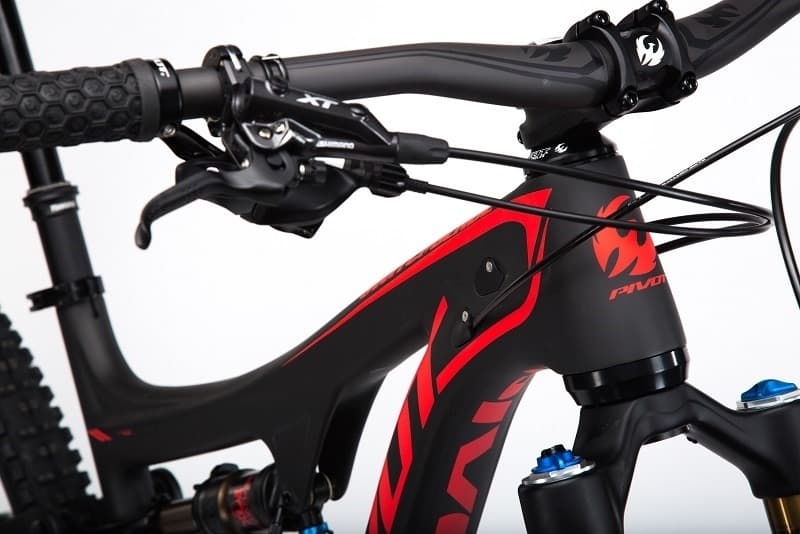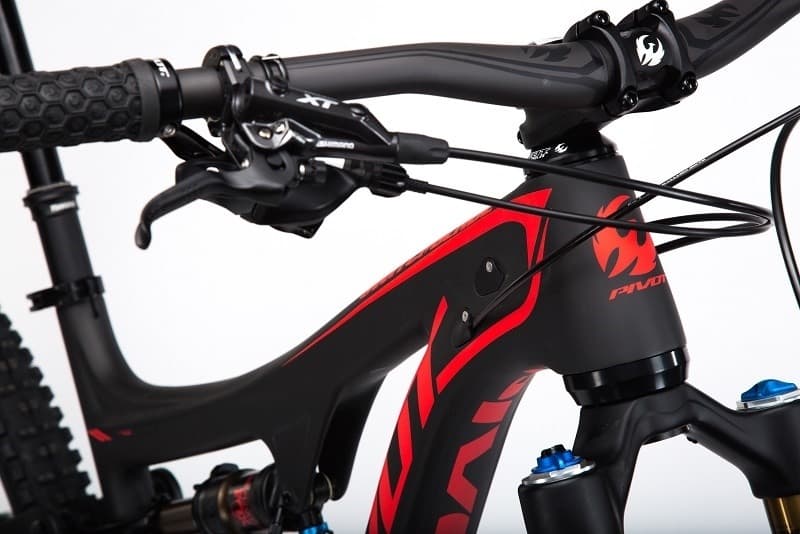 Different models of Pivot Switchblade fall into different pricing categories, as the most expensive model can be purchased for $10,399. Models like Team XX1 or Team XTR can be obtained for a little over $9,000 or $8,000, but these enduro mountain bikes are aimed at professional cyclists.
The Pro X01 model is slightly cheaper than the previous three models, and you can get one for $7,299, while Race XT 12-speed and Race X01 are even more affordable as they cost a little over $5,000. Pivot Switchblade bikes are pricier than most enduro bikes but there are less expensive options available.
However, the carbon-made frame, as well as an amazing set of components you are going to get if you choose to purchase a Pivot Switchblade bike, are excellent reasons to perhaps spend a little extra on your next enduro bike. Even if you opt for the cheapest Pivot Switchblade option, you are still going to be able to drive effortlessly through rough terrain.
Pivot Switchblade: An enduro bike for any occasion
Mountain bikes come in all shapes and sizes, and they can be used for a broad range of purposes. So, unless you are dedicated to XC or downhill racing there is no reason to get a bike that wasn't designed to be used on all trails. All of the Pivot Switchblade builds perform remarkably well during climbs and downhill rides, which makes them perfectly suited for the vast majority of trails novice cyclists ride.
The bike's dw-link® rear suspension that was developed by David Weagle is designed to make climbs and descent much smoother and easier. Moreover, the Fox Float DPX2 shock is tuned specifically for Switchblade models, while the Fox 36 160 mm ensures you have complete control over the bike even while you are rushing down a steep trail in less than perfect weather conditions. Both the shock and the fork are extremely durable and they are designed to endure heavy-duty use over prolonged periods of time.
From which material is Pivot Switchblade's frame made of?
The frames of the first versions that were released in 2016 on Pivot Switchblade bikes were made from carbon. Two years later, the manufacturer has released models that are aluminium-made, so if you are considering getting a Pivot Switchblade bike you can choose between carbon and aluminium options.
In addition, the 67.25 head angle is a bit unusual for a bike that supports both 27.5'' and 29'' wheels, while the height of the bottom bracket is only 340mm. The reach of Pivot Switchblade bikes depends on the size you pick and it can vary from just 389.9mm for XS models to 485mm for XL models.
Are Pivot Switchblade bikes lightweight?
Part of the reason why Pivot Switchblade bikes are more expensive than most enduro bikes is the material from which they are made. The models that have carbon-made frames weigh around 27 pounds which makes them incredibly useful during long climbs.
The weight of Pivot Switchblade bikes that have aluminium-made frames is approximately 32 pounds, which makes them too heavy for challenging uphill rides. This five-pound weight difference may seem small, but it is, in fact, huge, and it can be easily felt on climbs that take hours. Consequently, opting for the lightweight Pivot Switchblade models is a much better option if you want to crush climbs without having to spend too much energy.
Does Pivot Switchblade have a good geometry?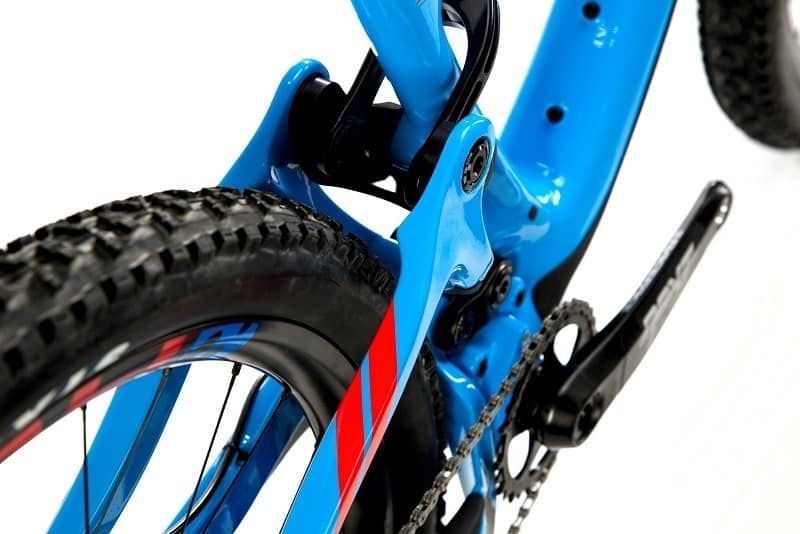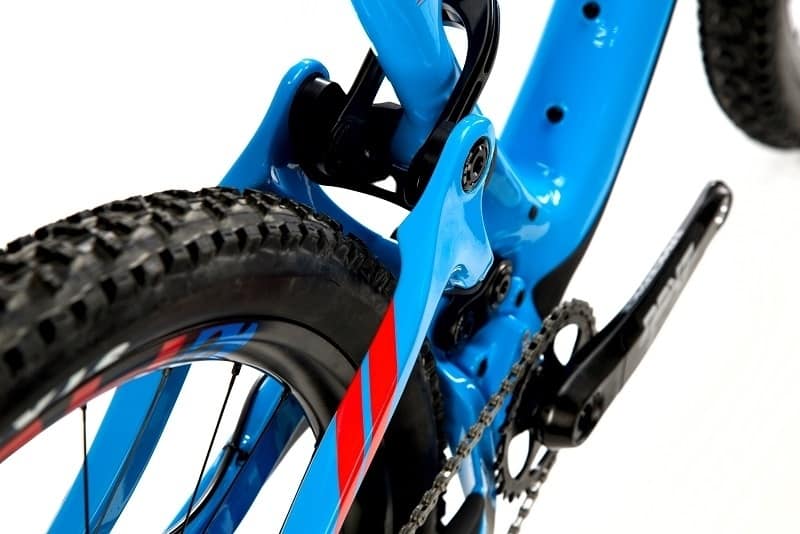 Low and long are the two words that best describe all Pivot Switchblade models. The seemingly long 46.8'' wheelbase can accommodate both 27.5' and 29'' wheels, which gives the bike more stability and enables the tires to have a better grip over different types of terrains.
The 67.25 head angle is the same for all Pivot Switchblade builds, unlike the seat angle that varies from 74.75-degrees on smaller models to 74.25-degrees on larger models.
In addition, the lengths of seat tube, top tube, and head tube all depend on the size of the bike, and for that reason, you must pick the Pivot Switchblade geometry the fits your height.
Which fork does Pivot Switchblade have?
Nearly all Pivot Switchblade builds feature the Fox Factory 36 29″, 44mm offset, FIT4 – 160mm-travel fork and only the least expensive models like Race XT 12-speed or Race X01 have Fox Performance 36, 44mm offset GRIP – 160mm-travel forks.
Even so, the difference between these two forks is marginal, and it is highly unlikely that you'll ever consider replacing the stock fork that came with your Pivot Switchblade model.
The forks that are featured on Pivot Switchblade bikes are sturdy and reliable, which enables you to steer the bike exactly where you want to go even while moving at high speeds.
How good is Pivot Switchblade's shock?
The value of a good shock is often underappreciated until you find yourself on a rocky and steep downhill trail. Besides being an excellent choice for uphill rides, Pivot Switchblade is also capable of stunning performances even on most challenging descents on rocky trails.
The bike's Fox Factory Float DPX2 shock is partially responsible for Pivot Switchblade's capability to make descents down rough terrains look easy.  It eliminates any rocking and allows you to glide smoothly down most biking trails, which makes Pivot Switchblade a versatile option that can be used in different contexts.
The Race XT 12-speed and Race X01 build are equipped with Fox Performance Float DPS EVOL shocks that are less efficient than those you can find on more expensive Pivot Switchblade models.
Which brakes do Pivot Switchblade enduro bikes have?
The brakes you can find on Switchblade bikes vary from model to model, so you can choose from brakes manufactured by Shimano or SRAM. For instance, the most expensive Team XX1 AXS model features SRAM G2 Ultimate 4-piston brakes, while more moderately priced builds are equipped with Shimano XT M8210 4-piston or SRAM G2 RSC brakes.
It is also worth noting that Pivot Switchblade enduro bikes have Shimano and SRAM rear derailleurs that simplify the process of speeding up and slowing down. What's more, all builds of Pivot Switchblade bikes offer the possibility to install front derailleurs in case you want to upgrade this already impressive enduro bike.
Pros and Cons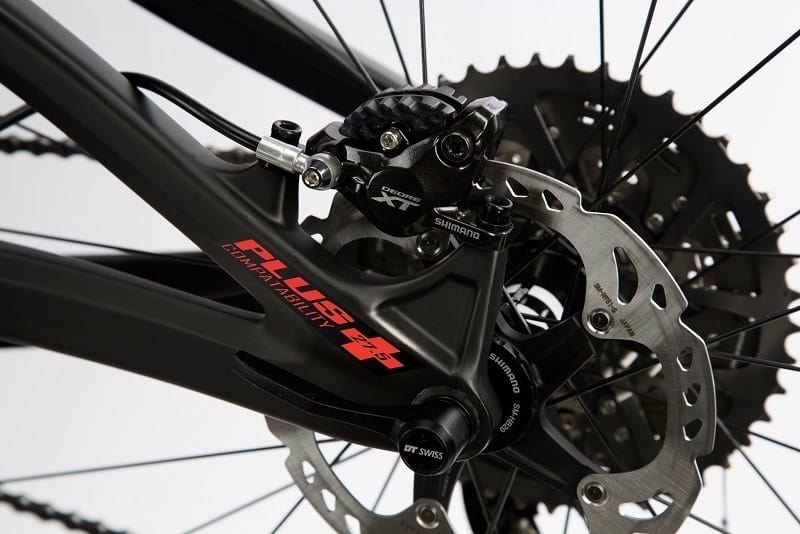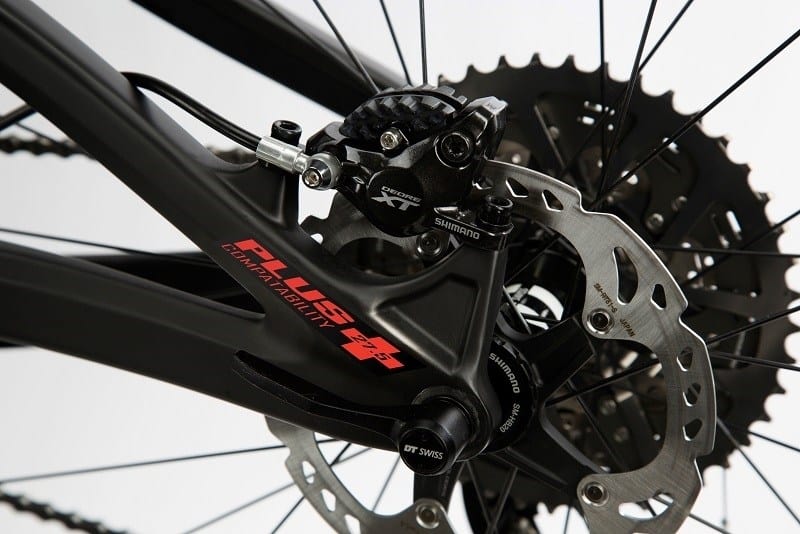 Pros
The carbon-made frames make Pivot Switchblade lighter than most enduro bikes
Equipped with the industry-leading dw-link® rear suspension
29'' tires provide extra grip so that the bike can move smoothly
Equally reliable for long climbs and steep descends
Cons
The price can be too high for a novice mountain biker
Not the best choice for people who are taller than 6'3''
Frequently asked questions
Which bike size should I choose?
Pivot Switchblade bikes are available in X-Small, Small, Medium, Large and X-Large sizes, which is why it is advisable to make sure that the model you would like to purchase is suitable for your height.
What is Super Boost Plus 157?
Super Boost Plus 157 utilizes the chain line that is developed for DH bikes and combines it with common trail bottom bracket widths and crank combinations to enhance the performance of 29'' and 27.5'' wheels.
Is switching from 27.5'' to 29'' tires difficult?
Even though changing the tires on Pivot Switchblade bikes isn't difficult, you must also remember to adjust the height of the bottom bracket.
Which forks can I use on a Pivot Switchblade bike?
You can either use 150mm or 160mm forks on any of the Switchblade builds, while the maximum travel length the can be used cannot exceed 160mm.
What headset do I need for the Switchblade?
With this bike, the brand advise using a ZS 44mm top and 56mm bottom.
Can I run a water bottle on the Switchblade?
The Switchblade lets you travel with 2 bottles of water on the Small to X-Large frame sizes. The other frame sizes have a space for a large water bottle on top of the down tube.
Can I use a dropper post with this frame?
The internal stealth routed dropper posts conciliable with the frame. This means you can use a dropper post with this and other Pivot´s models.
What are the best Pivot Switchblade alternatives?
If you're looking for a bike that grants you sufficient stability so that you can dedicate your full attention to the trail, Pole Stamina is currently one of your best options. Despite being considerably cheaper than Pivot Switchblade, Pole Stamina can also be divided into two halves which makes it easier to store or transport.
Professional racers and mountain biking enthusiasts are going to enjoy riding this 29'' wheel enduro bike off-road or on easy trails. Its carbon-made frame and a lower-link driven VPP suspension ensure that you can move effortlessly through different types of terrain. Even though Santa Cruz Megatower is more expensive than enduro bikes that have aluminum frames it is still more affordable than most Pivot Switchblade builds.
The fact that the GT Force 29 is frequently used on professional enduro events speaks volumes about what this 29'' wheel bike can do. In fact, the GT brand is not a newcomer to the enduro bike market, as their models attracted the attention of mountain bikers since the early 1990s. However, if you are considering getting a GT Force 29 bike you should keep in mind that this is a heavy bike that isn't the best choice for non-professional cyclists.
GT Force 29 | Chain Reaction Cycles
A Pro level full-suspension ride for the fast and furious enduro enthusiast, this model of GT's Force comes kitted out with top-end componentry and a durable build, so you can get everything from every fierce off-road ride.
Check Price
We earn a commission if you click this link and make a purchase at no additional cost to you.
The verdict: Is purchasing a Pivot Switchblade enduro bike a good investment?
Every component from a derailleur to forks and suspension kits matters when you are on a trail because they enable you to keep your attention glued to the road ahead. Even the least expensive builds of Pivot Switchblade enduro bikes offer an impressive set of components that guarantee smooth rides through muddy or rocky terrains.
Despite being a relatively new addition to Pivot's collection of enduro bikes, Switchblade models are undoubtedly among the best mountain bikes you can find on the market. The sturdy carbon frame, the 160mm travel fork or powerful SRAM G2 Ultimate 4-piston brakes are only a few among numerous reasons why mountain bikers hold Pivot Switchblade is such high regard.
So, if you are looking for a bike you can rely on for both challenging climbs and descents you should opt for the build of the Pivot Switchblade bike that has all the components that can enhance your style of riding. Each of the available builds is capable of excellent performances on most tracks, and you will make a great investment even if you opt for the least expensive Pivot Switchblade model.
Pivot Switchblade | Competitive Cyclist
This bike is a cut above the rest. Masterful suspension performance, an industry-leading carbon frame, dialed geometry, and eye-catching looks characterize this versatile steed.
Check Price
We earn a commission if you click this link and make a purchase at no additional cost to you.