Santa Cruz Bronson Review: Does this Downhill Bike Live up to The Expectations?
Rushing down a biking trail can at times be dangerous if you don't have the right gear. The weather conditions, as well as rough terrain, can make descents challenging especially if you don't know the trail you are on very well.
A bike like the Santa Cruz Bronson can be a great choice for both experienced and novice downhill bikers as it offers stability and excellent control over the chassis even on most demanding trails. The company released new Bronson models earlier this year and they are already attracting a lot of attention from biking professionals and enthusiasts.
That is why we decided to take a closer look at what all the fuss is about in our Santa Cruz Bronson Review.
Who should get a Santa Cruz Bronson Carbon C bike?
Santa Cruz bicycles are famous for their ability to perform even under the most challenging weather conditions or on rough terrains. Since 1994, when the company was founded, we've seen models like Santa Cruz 5010 or Santa Cruz Tallboy exceed all expectations and set new standards for downhill or  XC racing.
All Santa Cruz Bronson models that became available on the market earlier this year are currently praised by most professional downhill bikers.  Only a brief look at what these bikes can do reveals that Santa Cruz's latest models might be the best ones we've seen since Bronson line was introduced back in 2013.
If you find yourself on steep biking trails often, then Santa Cruz Bronson bike is certainly one of the options you should look into, as you will have complete command over the bike even while you are riding through muddy or rocky parts of the trail.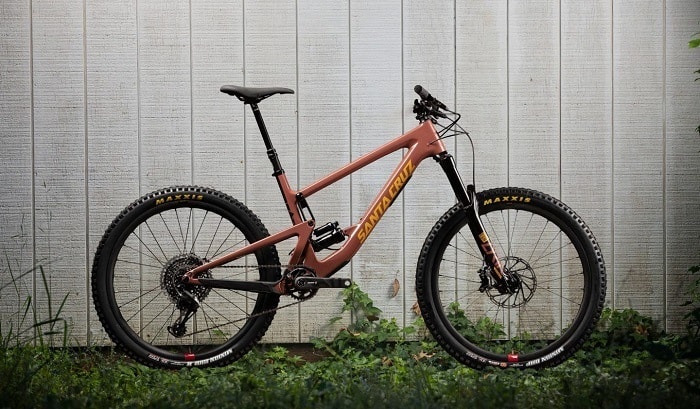 Santa Cruz Bronson's key features
Seasoned mountain bikers should not settle for second-grade bicycles, because the quality of the brakes, the material from which the frame is built, or the wheel size can all play a major role while they are racing down steep trails.
Santa Cruz Bronson is equipped with a variety of features that are going to make your biking experience safer and more enjoyable.
There are three different options available when it comes to the frame of this downhill bicycle, so you can either opt for the aluminum, Carbon C or Carbon CC versions of Santa Cruz Bronson. You should keep in mind that the specifications depend on the frame and build you select. Here are some of the essential specifications you should know before you choose to get this mountain bike.
The wheel size is either 27.5'' or 27.5''+
Rear travel is 150mm
Santa Cruz Bronson is equipped with the RockShox Super Deluxe R Rear shock
The bike has the RockShox Yari Motion Control RC or RockShox Lyrik Ultimate fork with a 160mm travel
Bronson has SRAM Guide T with Avid Centerline 200mm front and 180mm brake rotors
The brake levers are SRAM Guide T
This downhill bike has 12-speed SRAM NX Eagle shifters
The Race Face Aeffect Seatpost has a 31.6 mm diameter, while the bike's saddle is WTB Silverado Race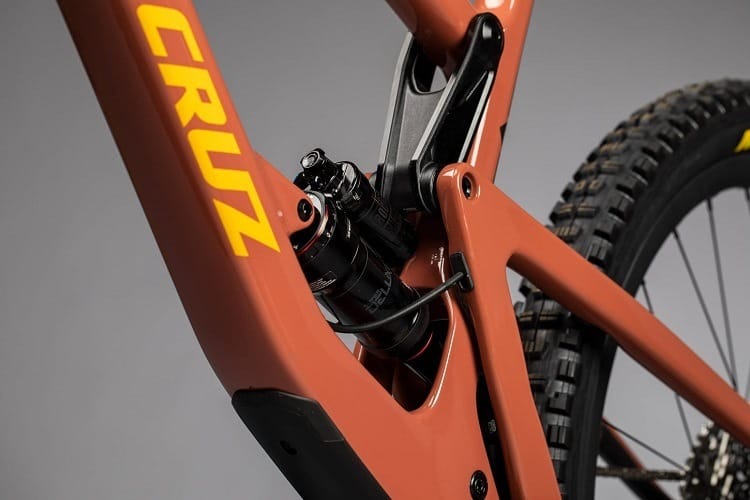 Climbing and descending bike trails with Santa Cruz Bronson
If you've spent a lot of time on Bronson bikes then you already know how efficient they are on descents, however, the 2019 model outperforms all of its predecessors. This is largely due to the revamped rear suspension design that insulates you even while you are going through the roughest patches of the trail.
Unlike the 5010 model, Santa Cruz Bronson is not a short-travel trail bike, but that doesn't mean that bouncing off obstacles or long and short jumps are off the table. Furthermore, the bike's rear-wheel tracks the ground effortlessly even while you are riding through rough and slippery terrain.
Despite being one of the best downhill bikes ever created, Santa Cruz Bronson is far from being the best option for long climbs. Even so, the latest Bronson model is still perfectly capable of getting you to the top of the trail, although getting there may involve a bit more effort on your part.
How well a bike performs during a long climb depends on the weight of the wheels and tires, so don't expect your next uphill ride with Santa Cruz Bronson to be a cruise.
How much does Santa Cruz Bronson bike cost?
The amount of money you have to spend in order to get the latest Santa Cruz Bronson model depends on several factors, most notably the material from which the frame is made.
The least expensive option is the aluminum frame as it costs between $3,499 and $4,199, while the Carbon C models can be obtained in the $4,399 to 6,399 price range. Mountain bikers who want to ensure they have the best and the most durable version of Santa Cruz Bronson will have to spend over $7,000 to get a frame that is made out of Carbon CC.
You'll get a lifetime warranty regardless of the model you choose, which makes the hefty price tag more justifiable. Additionally, Santa Cruz Bronson is one of the best options you have at your disposal if you are searching for a downhill bike that can handle rough terrains with ease and offer excellent performances in different types of weather conditions.
What does Santa Cruz Bronson have to offer?
Saying that Santa Cruz Bronson is exclusively a downhill bike would be unfair, as this bike can provide an enjoyable riding experience on the vast majority of trails. It is clear that the latest Bronson model has a lot to offer when it comes to descending, but it also has a lot to offer when it comes to mild climbs or while covering relatively flat portions of the trail.
Furthermore, leaning to the left or right in sharp curves is an effortless process that will come naturally once you get used to it. While it's obvious that this shouldn't be your first choice if you're looking for an XC bike, you can hardly go wrong if you opt for one, even if you are just looking for a bike you can ride on relatively easy trails that don't require high levels of shock absorption or involve riding through rough terrains.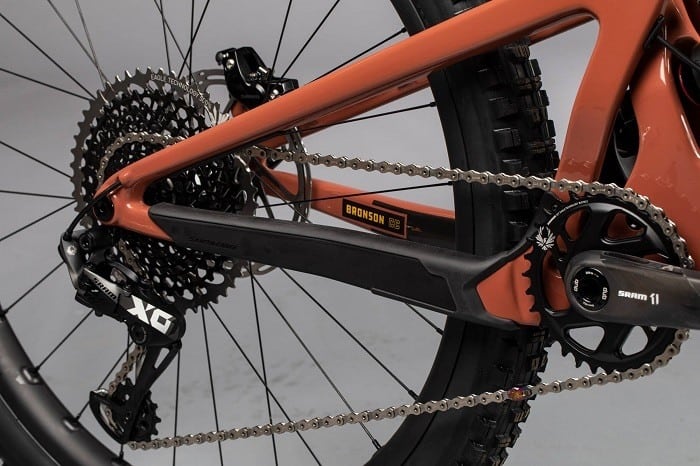 Frame
It is no secret that all Santa Cruz frames are built with great attention to detail, and their latest Bronson models continue this tradition. As we already noted, you can choose from aluminum, carbon C and carbon CC-made frames depending on the sum you are willing to spend on your next mountain bike.
Moreover, all of the models include tubes for brakes and a derailleur that is internally routed which simplifies the installation process. The rear shock mudguard protects you from all the debris you can encounter on the trail and makes you safer while riding through gravel or muddy portions of the road.
Like all Bronson models released in recent years, Santa Cruz Bronson 2019 is equipped with a flip-chip that is positioned at the end of the shock. This feature enables you to alter the angles of the bike's head and seat tubes or change the height of the bottom bracket.
Geometry
In terms of geometry, Santa Cruz Bronson bikes were never among the industry leaders, and their latest models are the same in that regard, as its reach numbers don't exceed the industry standards.
However, 160mm and 150mm travel as well as the 65.4-degree head tube angle fall in line with what can be expected from most downhill bikes that are currently available on the market.
Bronson 2019 is available in a variety of sizes that range from XS to XL, which gives you the opportunity to choose the one that is best suited for your demands.  All of the latest Bronson models have a 75.3-degree seat tube that puts you in a perfect position during steep climbs.
Fork
The 160mm fork travel ensures smooth motion control of Santa Cruz Bronson even while you are rushing down the trail. Although the fork travel is the same regardless of the build you select, the fork itself will differ from one model to another.
However, most models are either equipped with RockShox Yari RC or RockShox Lyrik Select forks, but you can also find models that feature Fox 36 Float Performance forks. Each of these options grants you complete control over the bike's motion and they require a minimal amount of force to get them moving.
Which of these forks you are going to choose depends on your personal preferences, and you can also install a new fork if you are not satisfied with the one that came with your Santa Cruz Bronson model.
Shock
If there was a segment in which Santa Cruz Bronson bikes could improve, it is the shock, since the shock on the earlier models was underwhelming, at best. Fortunately, the manufacturer has recognized this flaw and they equipped their latest Bronson models with the powerful RockShox Super Deluxe R.
Needless to say that this is one of the finest stock shocks you will find on the market as it is extremely flexible, perfectly capable of absorbing the impact, which in turn makes controlling the bike easier. Although, it is better to stick to the stock shock you can also install your own shock as long as you select the air shock.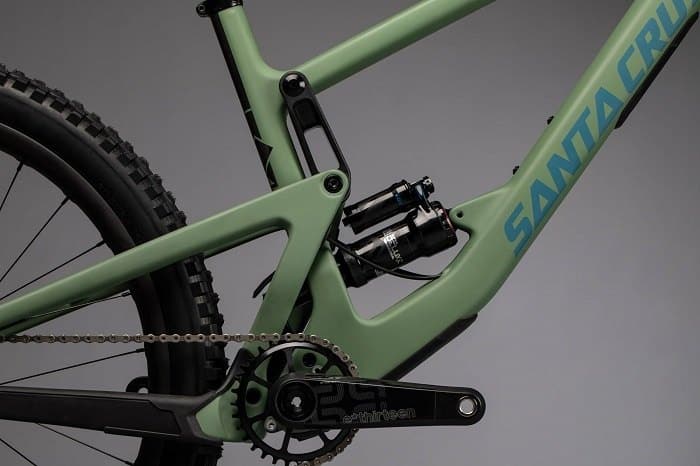 Wheels and Tires
There are two options to choose from while selecting the tires for the Santa Cruz Bronson's 27.5'' wheels. You can opt for the Maxxis Minion DHF, 2.5'' 3C EXO TR front and Maxxis Minion DHR, II 2.4'' EXO TR rear tires if you want to use the regular-sized tires.
Optionally you can choose the Maxxis Minion DHF, 2.6'' DC EXO TR and Maxxis Minion DHR II, 2.6'' 3C EXO TR front and rear tires that are even heavier than the regular-sized option.
The maximum width of tires you can use on Santa Cruz Bronson bikes cannot exceed 2.8'', and you should keep in mind that the type and the size of the rims depend on the model you choose.
Weight
Neither of the Santa Cruz Bronson models that were released earlier this year can be described as light-weight. The exact weight of the bike varies from model to model and it depends on the material from which the frame is built.
The wheel and tires also add to the overall weight of the bike, but the models made of carbon CC weigh between 28.87lbs and 29.39lbs while those made of aluminum vary between 32.72lbs and 34.35lbs.
The weight is by no means the only factor you should consider if you are thinking about getting a Santa Cruz Bronson bike, but it is certainly something worth looking into in case you are planning to ride your bike uphill.
Brakes
Like the weight, the types of brakes also vary from model to model although all builds of Santa Cruz Bronson use brakes manufactured by SRAM or Shimano. The priciest versions of Bronson 2019 are equipped with SRAM Code RSC brakes that include Avid Centerline 180mm brake rotors.
Choosing the build that comes with SRAM Code RSC or SRAM Code R brakes is currently a better option than opting for the model that has Shimano XTR M9120 brakes since they cannot offer the same amount of stopping power. In either case, all Santa Cruz Bronson models enable you to stop the bike effortlessly even when you are descending down a bike trail at a high speed.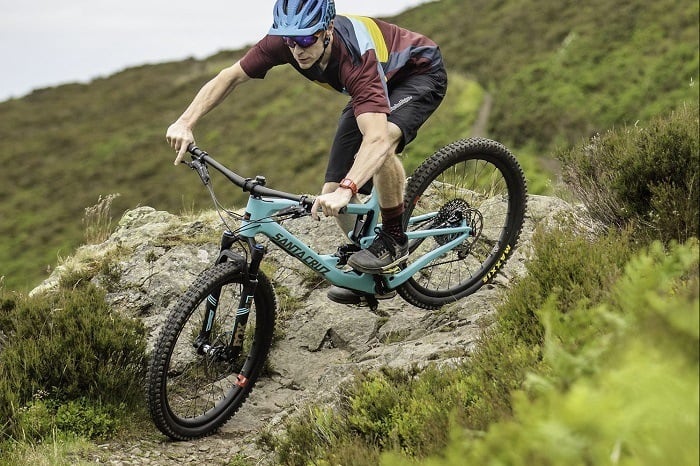 Pros and Cons
Pros
Cutting-edge suspension design
Excellent performance during descents on all trails
A number of different builds are available
Equipped with high-quality components
Cons
More expensive than most downhill mountain bikes
Not the best option for uphill rides
Frequently Asked Questions
Can I install a front derailleur?
None of the Santa Cruz Bronson models offer this option.
Am I going to get a warranty if I purchase a Santa Cruz Bronson bike?
Yes, you are. Santa Cruz gives a lifetime warranty for all of its Bronson models.
How difficult is it to change the shock on a Santa Cruz Bronson bike?
Even though changing the shock on a Santa Cruz Bronson bike isn't difficult, you shouldn't do this unless it is absolutely necessary. If you decide to do this you must make sure that all of the specifications of the new shock are suitable for the frame you have.
Is it possible to adjust the geometry settings?
In order to adjust the geometry settings you just have to remove lower shock bolt and use the flip-chip to alter the settings.
Santa Cruz Bronson Alternatives
There is very little doubt that you are going to get your money's worth if you choose the Commencal Supreme DH 29, over Santa Cruz Bronson. You won't save a lot of money, but you will get a bike that has all the features you are going to need for a smooth downhill ride even on rough terrains.
If you can't decide between 27.5'' and 29'' wheel configuration, why not get a bike that can do both? Besides GT Fury Expert has the LTS four-bar suspension system that provides excellent braking capabilities as well as great absorption potential to ensure smooth rides regardless of the weather conditions.
Despite being more affordable than any of the latest Santa Cruz Bronson models, Canyon Sender AL 5.0 is also a great option for all newcomers to the world of downhill racing. Its specs may not be as impressive as those you will find on a Santa Cruz Bronson bike, but you are still going to get a ton of value at a considerably lower price.
Our recommendation: Why we think you should get a Santa Cruz Bronson bike
Although only six years have passed since Santa Cruz released the first Bronson model, there are currently only a handful of downhill bikes that can compete with the latest builds of Santa Cruz Bronson.
The innovative VPP suspension platform, the RockShox Super Deluxe R shock or the 160mm RockShox Lyric Ultimate fork are just a few reasons why Santa Cruz Bronson is one of the best downhill bikes you can find on the market.
How much money you have to spend in order to get a Santa Cruz Bronson bike depends on the build you select, but you should keep in mind that the lower-priced models cannot perform at the same level as the most expensive Bronson models.
The aluminum-made builds are heavier and their features are not as impressive as those you can expect from Santa Cruz Bronson models that are made of carbon CC.
However, each of the Santa Cruz models is capable of stunning performances during downhill rides, and if money is no object you can't go wrong if you opt for one.
Further read: