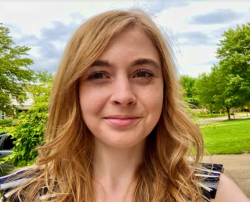 Latest posts by Erin Jamieson
(see all)
High value, high performance, and impressive versatility– those are three features many would love to see in a mountain trail bike. But does Trek Fuel Ex 5 hold up to its marketing in a review– or are there better options?
Trail mountain biking is nothing new. But in the past decade, trail mountain biking has steadily grown from a niche activity to one loved by many. You only need to look at 2020 mountain bike riding statistics to get a picture of just how impactful trail biking has become and what it means for many. 
Trail riding is unsurprisingly the most popular of all types of mountain biking, including enduro, downhill, and more. In a survey, over 92 percent of cyclists participated in the trail ride, a little over 56 percent in enduro, and 30 percent in downhill in 2 years. 
But what's driving so many to hit the trails? Trail riding is the most accessible for new riders, requires less heavy-duty equipment, and poses a lower risk of injury vs something like downhill riding. Mountain biking of all forms is a means of exercise, exposure to fresh air, and enjoying the community. 
But even though the survey also indicated mental health benefits– with over 92 percent of respondents saying cycling helps balance negative emotions–there remains a barrier. Mountain biking is expensive, and not everyone can afford the equipment. But even if you can, you don't want to overspend– and you also want to find a bike that will provide a smooth, stable ride.
That's why I want to look at Trek Fuel Ex 5, a trail bike that claims to be of great value. This guide will tell you my selection criteria for finding the best trail bike and review how Trek Fuel Ex 5 compares.
Fuel EX 5 Gen 5 | Trek Bikes
Fuel EX 5 is a full-suspension trail bike that's ready to handle it all. The Fuel EX 5 hits the mark as a high-value, high-performance mountain bike with exceptional versatility.
Check Price
We earn a commission if you click this link and make a purchase at no additional cost to you.
Main Pros and Cons Trek Fuel Ex 5
Pros
High-Quality Hydraulic Brakes

140 mm Width Travel

Quality Performance Saddle

Fluid 12 Speed Gears

Wide Range of Sizes

Dropper Post

Angled Straight Top Tube
Cons
Heavy For Aluminum Frame

Tires with Low TPI

Single Drive Chain

More Expensive Than Some Entry Trail Bikes
What is trail mountain biking?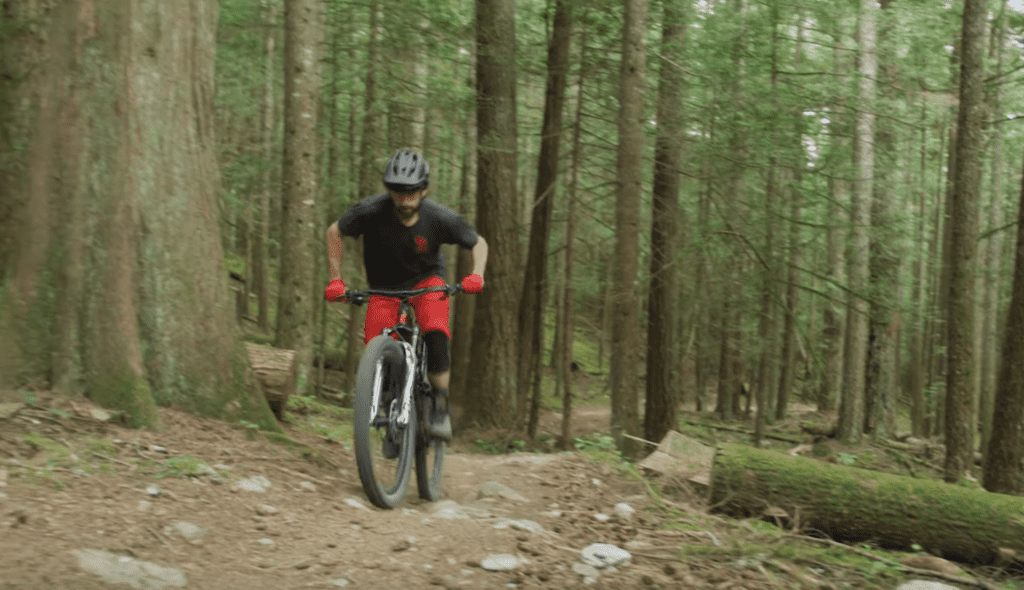 When you think about mountain biking, you may picture steep inclines and declines and even jumps. But in between that rigorous biking and road biking is trail mountain biking. Trail riding is a general term that encompasses off-road riding.
Dirt and grass path away from a hectic life. Unlike with road biking, you're not going to encounter cars– though you could encounter other cyclists if you pick a popular TRS that are most common, and they may feature twists, turns, and inclines or declines– but that isn't the main focus.
The concept of trail riding is providing timail. You'll contend with various terrain, and trail mountain biking is more challenging in terms of technique and balance– but also slower than road cycling. 
Is mountain biking a better workout than road biking?
Whether or not mountain biking is considered a better workout vs road biking, as you can imagine, is somewhat a matter of perspective. That is: how do you define a good workout? For some, it's calories burnt. Others are worried about muscle gains or enjoyment.
All of these, and, of course, cardiovascular fitness, are valid factors. Mountain biking is more ideal for muscle development and a full-body workout. You'll use more upper body strength, while road riding is mostly focused on lower legs and cardiovascular endurance. 
You can cover more ground more quickly road cycling, but the ground you're covering riding on trails is more challenging. Holistically, mountain biking is considered a slightly better workout– with the added advantage of scenic and quiet locations. Still, road biking can be an excellent workout if you enjoy it more or if that's simply what you have access to. 
Do I need a trail bike?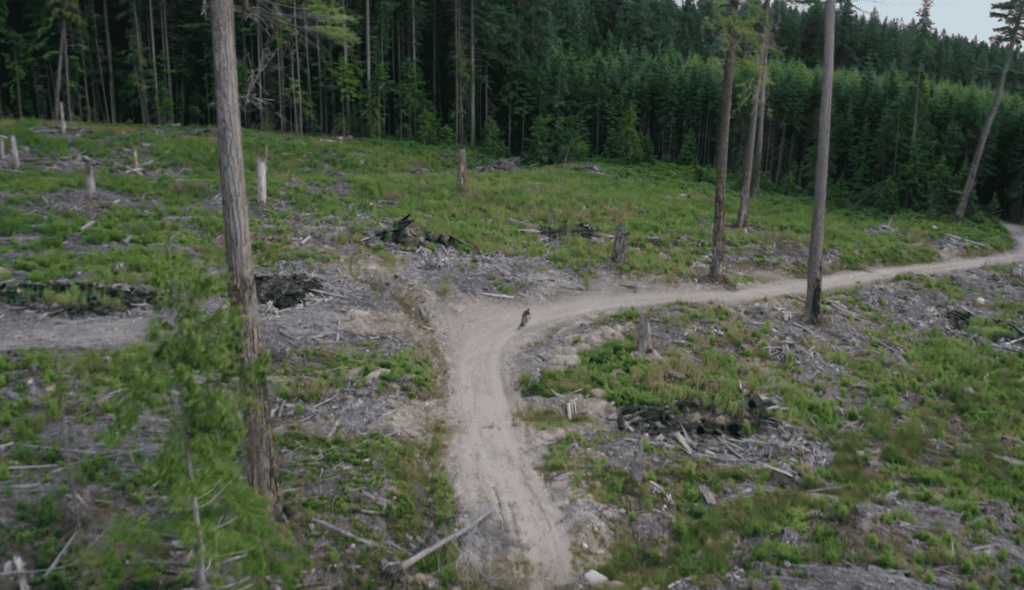 The first step is to assess whether or not you need a trail bike. Chances are if you're considering a trail bike, it's for good reason. If you already have a road bike it may be tempting to take it out on a trail- but that's not a good idea. While bike categories may seem arbitrary, they exist for a reason.
Road bikes are typically made with a lightweight aluminum frame or other lightweight material, slim tires, and dropped geometry. A road bike is designed to reduce friction and optimize speed– so it's not going to hold up well on uneven terrain. Road bikes simply don't provide the traction and control you need for trail riding.  
What is the difference between a trail bike and a mountain bike?
Mountain bike is an umbrella term for many types of bikes. A trail bike is a form of a mountain bike, so it's a misnomer to say the two are different. So instead, I want to take a look at specific bike types and how they compare with a trail bike. 
What is the difference between enduro and trail MTB? 
Enduro mountain bikes are hardy bikes designed for downhill riding. They're notable for their long travel and also accelerate at steep inclines. Enduro bikes are bulkier than general trail mountain bikes but are also more efficient, designed for trail racing competitions. You should get an enduro if you plan on racing or want to take on steep descents and inclines.
If you just want to ride recreationally on moderate trails, a trail bike will save you money, storage space and is a bit easier to learn how to ride.  All-mountain bikes are included in the general category of enduro (which refers to racing), so the differences between trail and all-mountain bikes are the same as for enduro. 
What's the difference between a trail bike and a motocross bike?
Motocross bikes have a very specific purpose. These bikes are a form of a motorcycle and are ridden on muddy tracks with controlled conditions. Not only are they motor-operated, but they also feature bulky tires and handlebars and are bulky.
Dirt bikes are in between– nonmotorized bikes meant to tackle muddy conditions with knobby tires and a heavy frame. Trail bikes are far lighter and a bit more versatile, meant to tackle different trial types, and also designed for riding in fair to moderate conditions. 
What's the difference between XC and trail?
XC, or Cross Country, is a popular mountain bike type known for its versatility. XC bikes are ridden on trails and roads, making them a great crossover bike– though they're more efficient on trails and not meant as a replacement for road bikes. It depends on the model you're looking at.
Still, XC bikes are more lightweight and accelerate more easily than your average trail mountain bike. XC bikes are used for tortuous paths, but they're not equipped for climbing or descending as much. XC bikes are used more for racing, while trail bikes are used for general rides and focus on control and greater shock absorption. 
What is a trail bike good for?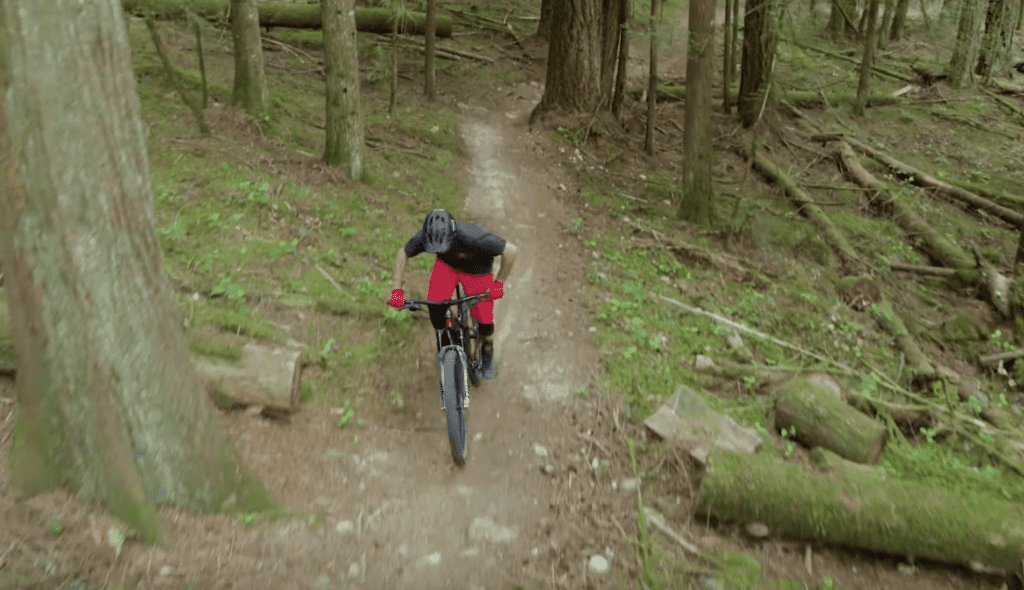 A trail bike is the most popular type of mountain bike for a good reason. It's less specialized than other mountain bikes and can be used for most trails. Trail bikes can climb up or descend, though they aren't intended for racing or especially steep inclines and declines or as inclement weather. Think of a trail bike as a recreational bike that's harder than a road bike and offers more stability than a racing XC bike. 
Can you jump a trail bike?
Technically you can jump just about any bike, but there are bikes designed for jumping. Trail bikes are not a great option for jumping, as they don't have the acceleration and inertia to get much air. And while they offer control, that control isn't designed for performing jumps. At most, you could do some modest jumping. If your main objective is to find a bike for jumps, I recommend a dirt bike. 
Can I take a trail bike to a bike park?
While trail bikes are more versatile than some mountain bikes, they aren't designed for road or bike parks. Trail bikes do perform at their best on trails. 
Can you use a trail bike for downhill?
Trail bikes climb and descend efficiently. They offer control, but they're not meant for the very steepest trails, nor are they designed for purely downhill biking. The key here is to understand that trail bikes value control over speed.
You can't expect to do downhill racing, but a good trail bike can handle inclines and declines. 
How do I choose a trail bike? ( My Buying Criteria)
If you've decided that a trail bike is the right type of bike for you, make sure that you find a bike that's going to last and provide stability. Before I review Trek Fuel Ex 5, here's a succinct guide to my selection criteria for finding a great trail bike. 
What trail mountain bike size should I get?
Determining the right size is important for comfort and control, but it can also be tricky. Different brands have different sizing standards. Smaller frames or sizes may vary from manufacturer to manufacturer, so the best idea is to refer to that brand's sizing guidelines. Click Here for Trek Mountain Bike Sizing. 
How important is bike standover height and the top tubes?
Another sizing consideration is the standover height. A bike's standover height refers to the length of the top tube to the ground and most commonly included within sizing information. This is important and also can lead to a better fit.
A standover height that's too great can risk injury, while a too short height can leave you feeling cramped. For straight handlebars, I recommend an inch to two inches of clearance
. This provides a good fit and proper visibility. A sign a bike is too small is if you're sitting on the bike and easily able to touch the ground with your feet.
Is a 27.5 or 29er tire better for a trail bike?
For the tire size, your most common options are a 27.5 vs a 29er. Both are fine, but I mean more towards a 29er for a trail bike. A 27.5 tire is generally more efficient at accelerating, but a 29er is going to provide a bit more traction and control.
But size isn't the only factor in finding the best tire type. A dual compound improves durability. You'll want a tread pattern that offers grip and traction for turning corners and some sidewall support. Puncture resistance is ideal for trail riding too. 
What material is best for trail cycling?
You'll have an option of aluminum, carbon, steel, and titanium for most mountain bikes. Of these, I'd recommend carbon the most for a trail bike. While titanium is a bit smoother and lasts just as long, it does get quite pricey, and may not be necessary for a trail bike.
Carbon is lightweight and, unlike steel, not prone to corrosion. Aluminum is attractive for being lightweight and budget-friendly– but I'd prefer aluminum for something like a road bike, as it's more prone to damage. 
Fuel EX 5 Gen 5 | Trek Bikes
Fuel EX 5 is a full-suspension trail bike that's ready to handle it all. The Fuel EX 5 hits the mark as a high-value, high-performance mountain bike with exceptional versatility.
Check Price
We earn a commission if you click this link and make a purchase at no additional cost to you.
How many gears should a trail bike have?
Considering that mountain bikes can have up to 40 gears, it can feel like you need as many gears as possible, but that's not the case. For a solid trail bike, I recommend around 20-27 gears.
This provides more control and versatility- needed for trail riding– but doesn't require you to search long and hard and pay top dollar. Aside from the number of gears, also pay attention to the type of gears.
You'll also have the option between single, double, and triple drivetrains. 
Type of DriveTrain
Pros
Cons
Single (10 Cassette)

Lightest Weight

Minimalist Design

No Hanging Chain/ Derailleur 

Straight Line is More Efficient 

Fewer Gears

Wear Isn't As Widely Distributed

Not As Suited For Steep Climbs 

Double

Greater Clearance

More Room For Error

More Lightweight than Triple 

Fewer Gears than Triple

Less Efficient Gears than Triple

Triple

Most Generous For Gears and Spread

Helpful For Inclement Weather/ Extreme Conditions 

Durable 

Most Expensive

Heaviest 

Bulky 
Of these, I recommend a double drivetrain. It's a nice balance for a trail bike. You'll have situations where you may need more than a single, but you also aren't using a trail bike the same way you would an enduro bike. 
Are disc brakes better on a trail mountain bike?
Between disc brakes and rim brakes, I recommend disc brakes for trail bikes. They're smoother, more reliable, and less likely to become damaged when riding on trails. Some even consider a bike on a trail without disc brakes to pose safety hazards– I'd consider this feature nonnegotiable.
But you will need to decide between mechanical vs hydraulic brakes. Hydraulic brakes use fluid for stopping power, while mechanical brakes are purely based upon traditional brake chain force. Hydraulic brakes tend to be smoother and more expensive, and they're quicker to respond.
I prefer hydraulic brakes for a trail bike, especially if you get caught in inclement weather. That doesn't mean mechanical brakes are bad– they're just not as efficient. 
Is a hardtail mountain bike good for trails?
Full suspension tech is better for a trail bike if you have the money, though you can argue it's not a must-have. With the full suspension, you'll get both rear and front shock, equipping the bike with greater traction, steering control and making for a more comfortable ride for bumpy trails
. You're adding weight and cost, but for many, those trade-offs are well worth it, especially since trail bikes aren't intended for racing and quick acceleration. With a hardtail, you have a rear shock and a lighter setup. If you opt for a hardtail bike, I recommend sticking to even trails. If you're doing fairly light trail riding, a hardtail may be just fine. 
How much travel do you need for trail riding?
Bike travel is measured to determine the distance from the front or rear suspension that will absorb force. Thus, the greater the travel, the more shock resistance.
Bikes with greater travel may not accelerate as quickly, but they provide a smoother, more controlled ride for uneven trails. 100mm is the minimum I'd go, but 120mm to 130mm is a great range.
Above 140mm isn't necessary for a general suspension trail bike. 
How much is a trail bike?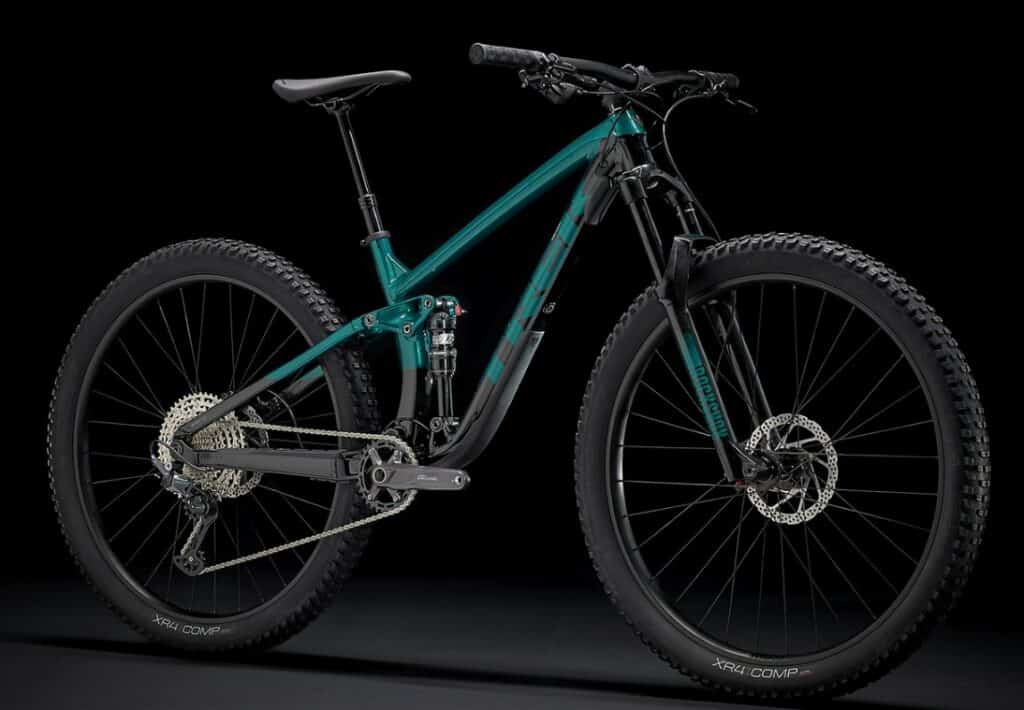 As you can imagine, the price of a trail bike ranges depending on materials, construction and brand. Trail bikes are more expensive than road bikes, but they're also less expensive than something like an enduro bike.
You're unlikely to find a trail bike that quality features for under $1,500, but spending a bit more leaves room for some great upgrades. 
Are dropper seatposts worth it?
Dropper posts are sometimes used for mountain bikes to provide greater adjustments than your Seatpost. This can provide greater visibility and comfort, and for some avid cyclists, it's worth it. However, for a trail mountain bike, it's not usually necessary. 
How do I choose the right mountain trail bike seat?
There is no perfect saddle for a trail bike seat, as we all have different bodies and different personal preferences. There are three general categories for mountain bike saddles: performance, racing, and recreation.
Since trail bikes aren't used for racing, opt for a recreation saddle, or a performance saddle if you like a little versatility. You'll want some cushioning and shock absorption, with gel offering the best cushioning and foam second.
A synthetic material like nylon that's weather-resistant is wise for a trail bike. A center cut-out will provide a lighter profile and some breathability. Still, a saddle without a cut-out has more overall cushioning. 
What is Trek known for?
Now that you know my criteria for finding the best trail bike, I want to examine Trek as a brand. If you've considered buying a mountain bike before, chances are you've heard the Trek name, and for a good reason. Trek is one of the most popular makes for mountain bikes of all kinds.
Trek is also known for its wide selection of entry-level bikes, which some competing brands don't offer to the same extent. That is of course tied to the fact that Trek is the largest US-based cycling company. The Roth Distributing Company owns Trek. 
Where are Treks made?
Up until 2017, Trek bikes were all manufactured and shipped from Waterloo, Wisconsin. Now they outsource some of their manufacturing to Asian countries, so none of their bikes are fully made in the United States. 
Is Trek a good movie?
Trek retains its reputation as a solid brand for entry-level and more specialized mountain bikes. One way they've done so is by staying on top of new biking technologies while still offering bikes at an accessible range of prices. Their diverse inventory and willingness to improvise both highlights why Trek bikes remain well regarded and popular. 
How long does a Trek bike last?
Trek bikes don't all last the same time because that depends on the materials used and how heavily the bike is used. There's so much variability– for all brands– for these and other factors that it can be difficult to estimate.
While most Trek bikes are well made, you're not guaranteed that a bike will last a certain length of time. Regular bike maintenance is critical for whatever model you purchase. 
Is the Trek Fuel Ex 5 Worth It?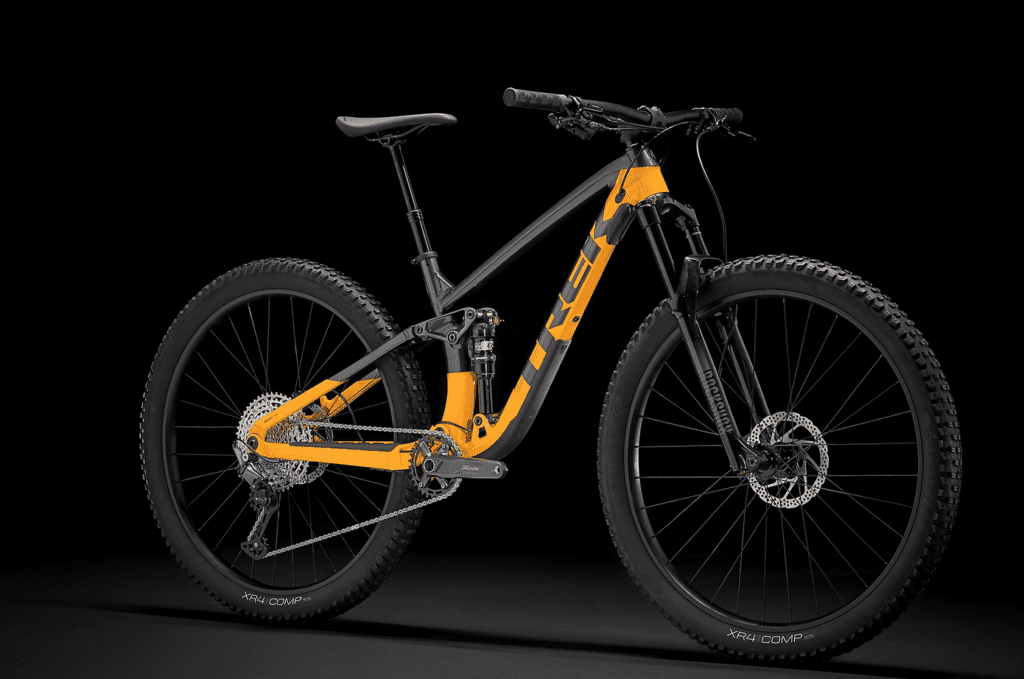 Trek Fuel Ex 5 is a striking but approachable bike, marketed as a high-value and high-performing option. With a dropper post and other great features, is it all hype or worth your money?
What type of bike is the Fuel Ex 5?
The Fuel Ex 5 is a mountain trail bike equipped with a blend of higher-end and accessible materials and features. It's touted as a gateway to a mountain bike. The wording makes me think that the Fuel Ex 5 is trying to cater to those new to mountain or trail biking, or perhaps those who want great features but not at an eye-watering price point. 
How much does a Trek Fuel Ex 5 cost?
Still, the price is higher than some trail bikes by a good $1,000, so it's important to investigate every feature offered. Prices are subject to change and vary based upon your make and specifications. Still, you're looking at spending roughly $2,500 as of the end of 2021/ early 2022. 
What material is the Trek Fuel Ex 5 made out of?
The Trek Fuel Ex 5 features a lightweight aluminum frame, which surprised me for a few reasons. For one, at the price point, I expected perhaps a carbon fiber frame. But it also is a little heavy for its make.
Aluminum isn't a terrible choice if you're starting suspension trail riding. It is reasonable for moderate trails– but it can dent and become damaged by impact and debris. I do appreciate that aluminum won't easily rust. 
How much does a Trek Fuel Ex 5 weigh?
The Trek Fuel Ex 5 comes in at 34 pounds and 6 ounces for medium frame size. This is interesting because the average weight for a full suspension trail bike with an aluminum body is between 29 and 33 pounds.
This makes the Trek Fuel Ex 5 a bit heavy for what you'd expect, especially considering it's not a full-suspension bike. I would argue this isn't the biggest problem for a trail bike, but it still should be noted.
Your ride will feel a little less springy than you might expect from an aluminum body. 
How much travel does a Trek Fuel Ex 5 have?
Here's where the Trek Fuel Ex 5 shines: the travel. You get an impressive 140mm of travel, providing a smoother and more controlled ride. This is generous for a general trail bike, and an advantage over some competing bikes. 
Does the Trek Fuel Ex 5 have a dropper post?
The Trek Fuel Ex 5 likewise has a dropper post. By opting for a dropper post, you're getting more versatility out of your seat positioning, as well as offering a slight advantage for visibility. While not a must-have, it's a nice feature to have if you know how to use it effectively. 
What kind of drivetrain does the Trek Fuel Ex 5 have?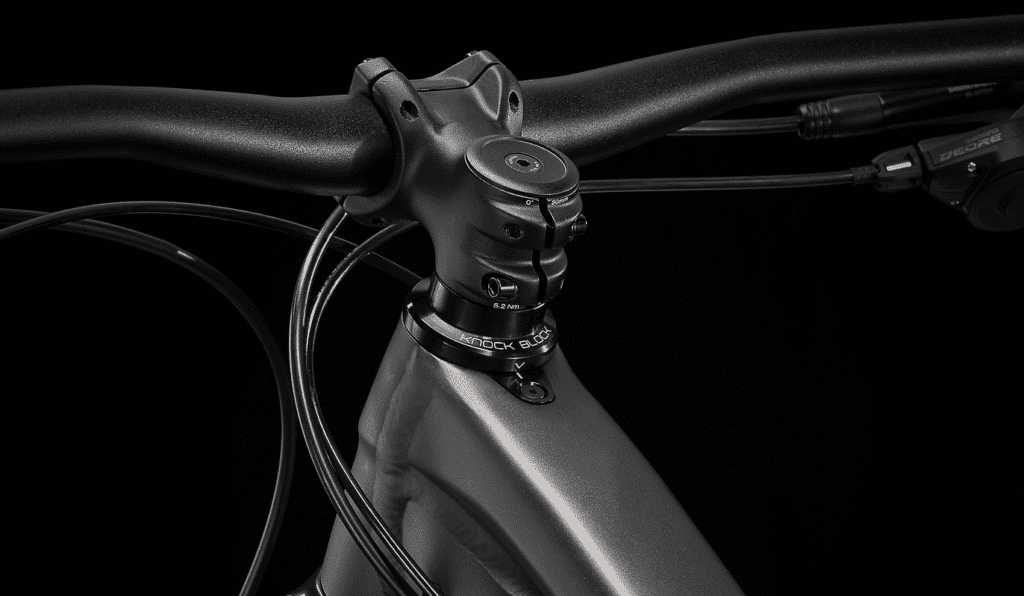 Trek Fuel Ex 5 has a Shimano 1×12 drivetrain. You're getting 12 gear speeds and a single cassette. The 12 gears are sufficient for a trail bike for moderate trails, even if it's not as generous as some models.
Shimano is a respectable brand and usually makes quality products. Their 12-speed drivetrain provides a stable and clean stop with new Hyperglide technology that's meant to improve the single drivetrain experience.
For a single drivetrain, it's a solid option, but I do wish they added a double drivetrain. 
What type of brakes does Trek Fuel Ex 5 have?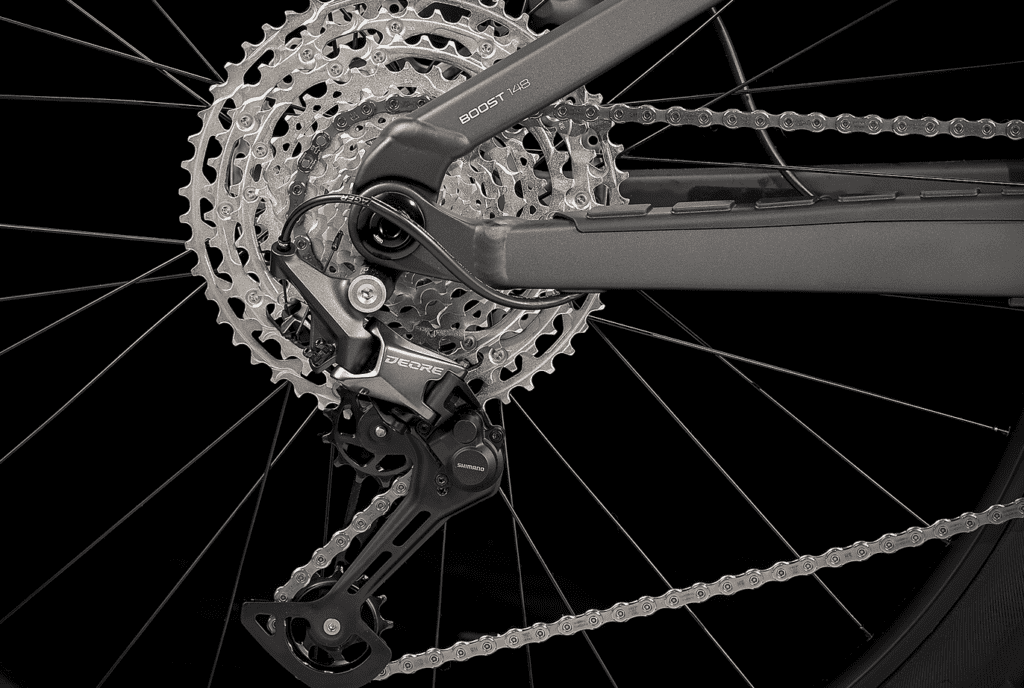 Hydraulic disc brakes are used for this model, which is a great upgrade for a mountain trail bike. The breaks are also manufactured by Shimano, which is another plus.
Is the saddle comfortable on the Trek Fuel Ex 5?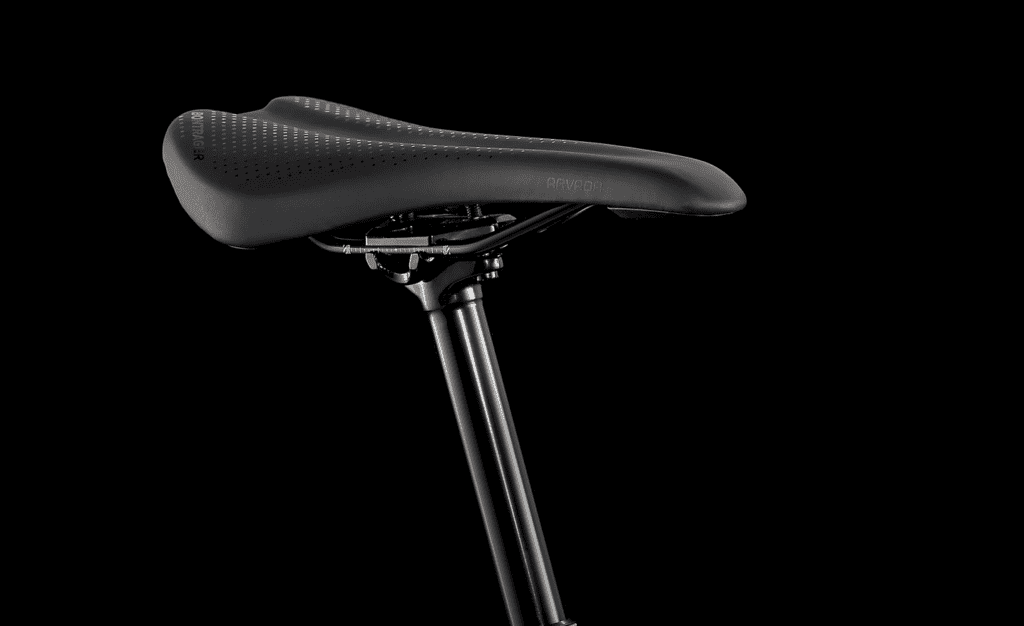 The saddle is a Bontrager Arvada. This is a performance saddle seen on both road and trail bikes and is made with microfiber. Microfiber is known to be lightweight and fairly durable. While it's not fully weather-resistant, it can repel water.
The rail is made out of steel, which is strong but also can corrode over time. The cut-out is designed for pelvic rotation and is focused on balancing comfort and efficiency.
It's a reasonable saddle choice– not a stand-out, but suitable for regular trail riding. 
What are the tires like for Trek Fuel Ex 5?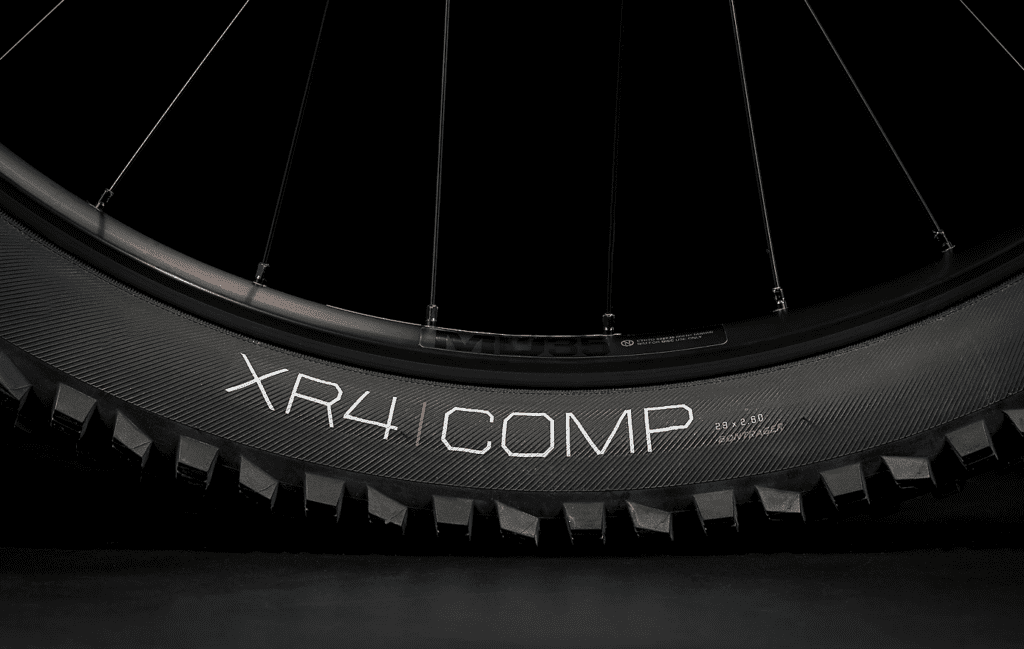 The tires are a  27.5" Bontrager XR4 Comp, with a 30 TPI. The size is designed a little more for acceleration than traction. 30 threads per inch for the tire is on the low end. Utility tires are around 15 tpi, while the high end may be 120 TPI.
For general trail riding, you want a tire that falls between 60 and 120 TPI, and it is always a trade-off and balance. The highest tapis has less rolling resistance, while the lower end is less likely to puncture.
If you do buy the Trek Fuel Ex 5, you may want to consider if you can swap out the tires for a bit higher tpi. 
Bontrager XR4 Team Issue TLR MTB Tire | Trek Bikes
The XR4 Team Issue TLR tire offers incredible grip and fast-rolling efficiency in a new and improved tread pattern with 120 TPI casing. Save yourself from punctures with our Inner Strength sub-tread protection while squeezing out every bit of cornering traction with the 61a/50a dual-compound rubber.
Check Price
We earn a commission if you click this link and make a purchase at no additional cost to you.
Frequently Asked Questions
Question: What is the difference between Trek Top Fuel and Trek Fuel Ex?
Answer: This depends on the model you're considering. If you look at a newer model of both, you'll be getting a carbon body with either bike. They also both feature full suspension for a general mountain bike. The main difference is that the Trek Fuel Ex 9.7 and the Top Fuel 9.7 are in the wheels, travel, and gear capabilities.

The Top Fuel comes with either 27.5 or 29ers, while the Top Fuel Ex has 29ers and more gear capabilities. The Ex is better for a trail bike, while the Fuel could be argued for as an XC bike. 
Question: How much does a Trek Fuel EX 9.8 weigh?
Answer: Ther Trek Fuel EX 9.8 features a carbon frame and weighs 28.94 pounds for a medium frame. 
Question: How much does the Trek Fuel EX 7 weigh?
Answer: This Trek model is a versatile trail bike with a platinum aluminum frame and 150mm travel. It weighs 31.92 pounds for a medium frame. 
Final Thoughts
The Trek Fuel Ex 5 has some great features going for it: hydraulic brakes, a dropper post, impressive travel, a respectable saddle, and well-designed gears. It is a bit limiting in other ways.
For example, an aluminum body frame but a heavier than average weight and low TPI tires make this bike a bit mixed in terms of features. It's a decent bike for general light to moderate trail, and what's here is mostly well done– I do wish it was a little cheaper. 
Interested? Buy the Trek Fuel Ex 5 Here. 
Fuel EX 5 Gen 5 | Trek Bikes
Fuel EX 5 is a full-suspension trail bike that's ready to handle it all. The Fuel EX 5 hits the mark as a high-value, high-performance mountain bike with exceptional versatility.
Check Price
We earn a commission if you click this link and make a purchase at no additional cost to you.
Final Buying Alternative 
If you like Trek as a brand but are looking for an upgrade from the Trek Fuel Ex 5, consider the Slash 9.7. This trail mountain bike features a carbon frame, responsive 29ers, a tube guard to protect against damage, and a generous dropper and seat tube. Buy the Slash 9.7 Here.  
Slash 9.7 | Trek Bikes
Slash 9.7 pairs fast-rolling 29er mountain bike wheels with long travel suspension to make one speed-hungry rig that's perfectly suited to both rowdy trail rides and enduro races.
Check Price
We earn a commission if you click this link and make a purchase at no additional cost to you.