Trek Marlin 5 Review [May 2020]: Worth the Money?
From electric to fat-bikes and hybrids, Trek is an extremely versatile brand combining several different manufacturers.
In the Marlin 5, Trek has created good quality, an entry level hardtail mountain bike that is ideal for children, everyday adventure seekers and those new to mountain biking (and need a real mountain bike).
It is a not a great bike to do any type of jumps or handle extreme terrain, however, but if you are looking for a thrilling trail experience on the gravel or trails (trail riders) and cross country trips that don't involve too many TTF's (Technical Trail Features), this bike could be very interesting for you!
Bottom Line Up Front: The Trek Marlin 5 is an EXCELLENT all-rounder mountain bike. It's an affordable base platform that doesn't do too much, but with a clean base to add customatizations and upgrades as you go. A great starter moutain bike. Check out the latest discounts and promos directly on Trek.com here.
Tips on Buying The Best Entry-Level Mountain Bike
I have made some good and bad bike choices and I didn't actually start out as a mountain biker at all, but did miles of road cycling a day.
It was part of my life from a very young age. But the off-road experience became appealing once I started to travel and there were slightly more interesting trails available than the ones we have in Belgium.
Since this is a good entry-level bike (if not a GREAT bike), let me offer you some tips on what you need to keep an eye out for in buying your first or all-round mountain bike for trail adventures!
Is the Marlin 5 Worth it?
The short answer is a resounding YES. Extremely capable as an all-mountain intermediate bike, the Marlin 5 packs WAY more that it's price tag. Trek is known for their quality and customer service. Can't go wrong in this price range!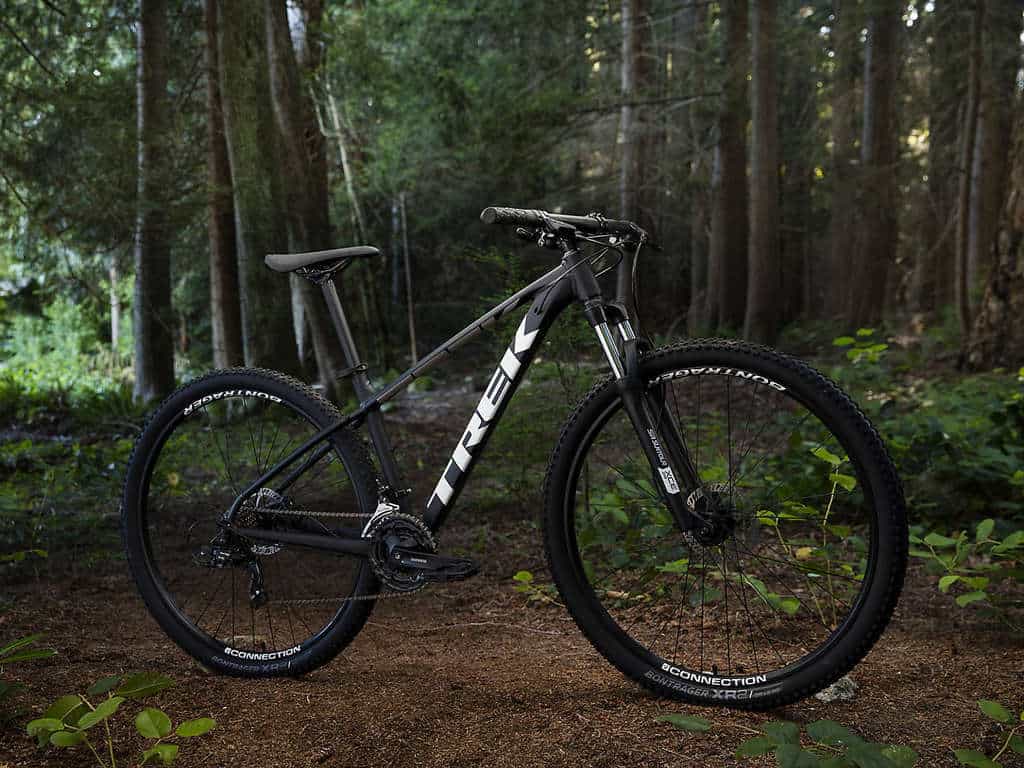 We earn a commission if you click this link and make a purchase at no additional cost to you.
Avoid Flash And Start Simple
We are a very visually driven culture and it is so easy to fall into the flashy bike trap. It's, of course, okay for a bike to look good, but make sure you prioritize the right things and tick some necessary technical details off the list first. More on that below.
Set Your Budget But Don't Go Too Low
Entry-level bikes still need to adhere to proper safety standards and it is a mistake to think that since you are just going for simple rides, that 60 dollar bike from the supermarket will do. They always compensate in quality to get the price that low. The frame will usually be heavier and made from inferior steel.
The individual components will be of lesser quality as well and unless you plan on sticking to paved roads only, you will probably be replacing all of them within months, perhaps even weeks. For a good quality entry-level mountain bike, you will be looking at a minimum of around 400 USD but will still pay below 750 USD.
Think About Suspension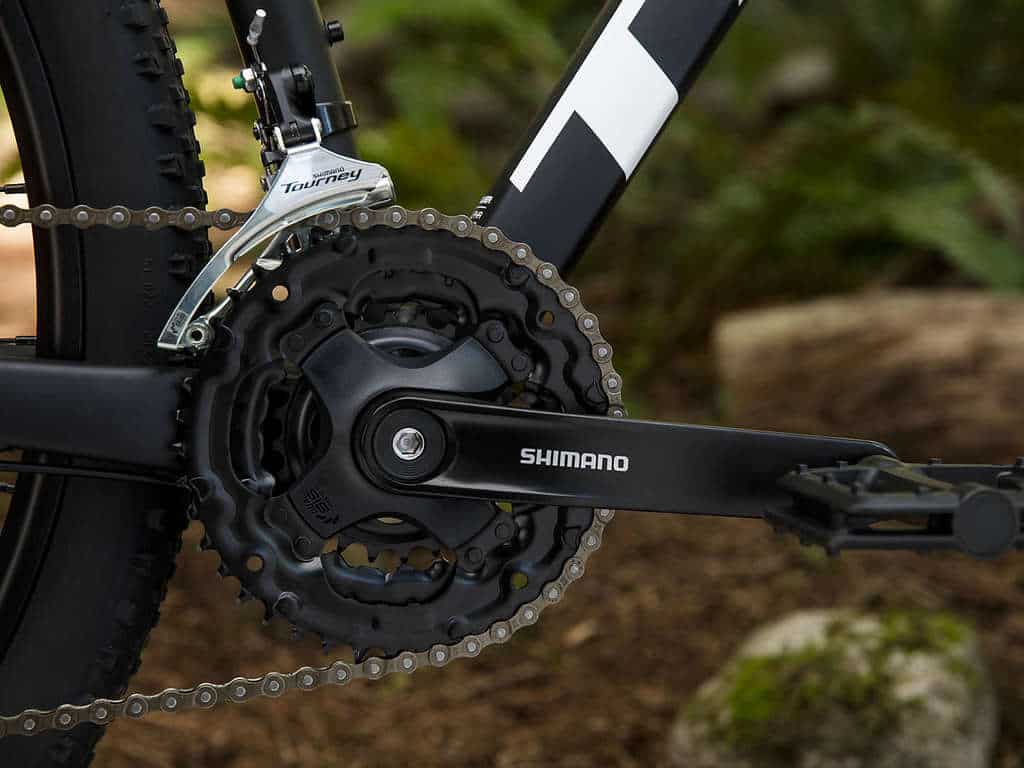 If you plan on embarking on slightly rougher terrain, the front suspension is important for comfort and a smooth ride as well as your bike's health. Suspension forks vary depending on the model, but for a good entry-level hard tail with the above-mentioned price range, you should expect suspension travel from 80 to 120 mm (a relatively rigid hard fork).
If you are planning smooth rides rather than bumpy ones, it can be okay to forego the suspension and look for higher quality in other parts of the bike. Do keep an eye out for a rigid fork that is well made and relatively light, since weight and performance can be a problem with a cheaper fork.
Were you perhaps considering full suspension? For one, this would only be necessary for particularly rougher terrain, not for an entry-level bike, and you should also know that within this reasonable price range, manufacturers might cut corners in the quality of design elsewhere to compensate for the full suspension.
So you will have to double your budget to still get top quality in other areas. But again, for an entry-level mountain bike, it is not necessary in my opinion. Don't let anyone convince you it is!
Don't Underestimate The Value Of Frame And Wheel Size
Frame size matters greatly for your comfort levels, whether you are trail riding or just biking for commuter purposes. Always consult the size chart that accompanies the bike. That being said, do try the bike before buying or exchange it if it doesn't quite fit well after buying online.
Nowadays, the 27.5 inch wheels are among the most popular in use. The 29" is popular with some, though it doesn't fit every type of person. The biggest perk about 29" wheels is that they can increase grip and stability on some trails (grips less stable debris), but can be too heavy for some grips.
Also, note the knobs on the wheel itself, rougher terrain will benefit from from the more pronounced knobs while speeds will increase with a smoother design once on less aggressive trails. Think carefully what type of trails you will be hitting.
What About the Gear Shifters / Shift Levers?
A bike within this price range will often have a 21-speed drivetrain gears, which refers to a 7 Speed cassette and 3 chain-rings in the front.
A 20 speed or 2 x 10, 10-speed cassette with 2 chain rings, which generally improves performance due to producing less duplicate ratios. A lot of bikes will have just the one ring up front in order to simplify as well as take away some of the weight.
Key Features And Performance – Does The Trek Marlin 5 Qualify?
| | |
| --- | --- |
| Pros | Cons |
| Excellent for all-round use | Not suited for jumps of any kind or hardcore TTF's – wheels might bend. |
| A Lifetime Trek Warranty (one of the biggest pros in my book) | |
| Smaller frame sizes have a shorter reach brake making it great for kids (short reach brake levers) | |
| Very light and strong silver aluminum frame with optimally designed tubing | |
| Internally routed cables and hydraulic brakes (disc brakes) | |
Key Features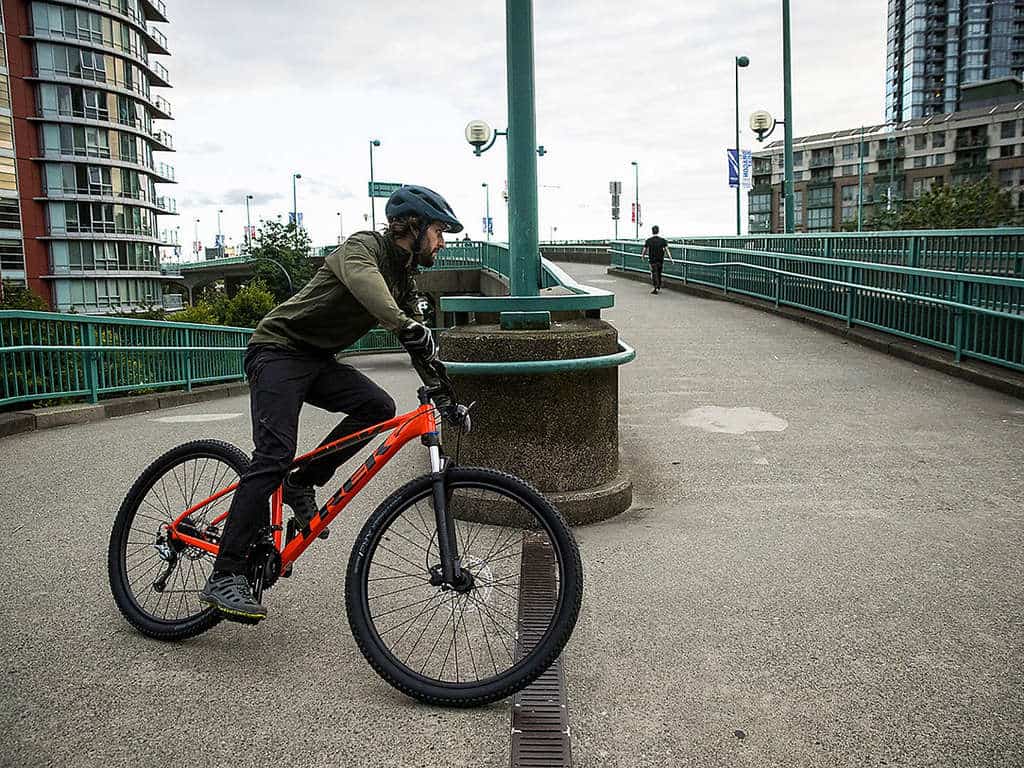 The Trek Marlin 5 boasts an Alpha Silver Aluminum Frame with internally routed cables. It has a very sleek and modern design with the added bonus that the cables will not collect dirt or indeed get damaged. This feature is usually available on more expensive bikes only!
It offers SR Suntour XCE 28 Suspension Fork with 100 mm of travel suspension which makes it ideal for rougher terrain that doesn't get too technically demanding and the Bontrager Arvada Saddle mounts ensures comfort even on longer cross country biking trails or even for commuter riders.
The Shimano Tourney 21 Speed Drivetrain is of high quality and most commonly used in this price range. If you prefer to convert the 3-chain ring in the front to a single one to compensate the weight, you can, but you will be needing a new single-ring crank.
With the Tektro HD-275 Hydraulic Disc Brakes you only need one finger to use the disc brakes (unlike mechanical disc brakes) which means you will be less likely to strain your hands on the way down (whether on hard surfaces or as off-road disc brakes). It also means that children or people with less strength in their hands will feel safe (fully in control of the brake situation) and comfortable on this bike with these brake levers.
The Bontrager XR2 27.5/29 x 2.2/2.0" Tires are of excellent quality for gravel and mountain roads but less so for muddy terrains. Consider more articulated tire knobs for this. Bontrager parts – in general – are an indicator of quality.
The Wheel Sizes range from 27.5"- XS and S 29" to M, ML, L, XL, XXL. See the above part on wheel sizes to get an idea about which one could be best for you and always test before buying!
Is the Marlin 5 Worth it?
The short answer is a resounding YES. Extremely capable as an all-mountain intermediate bike, the Marlin 5 packs WAY more that it's price tag. Trek is known for their quality and customer service. Can't go wrong in this price range!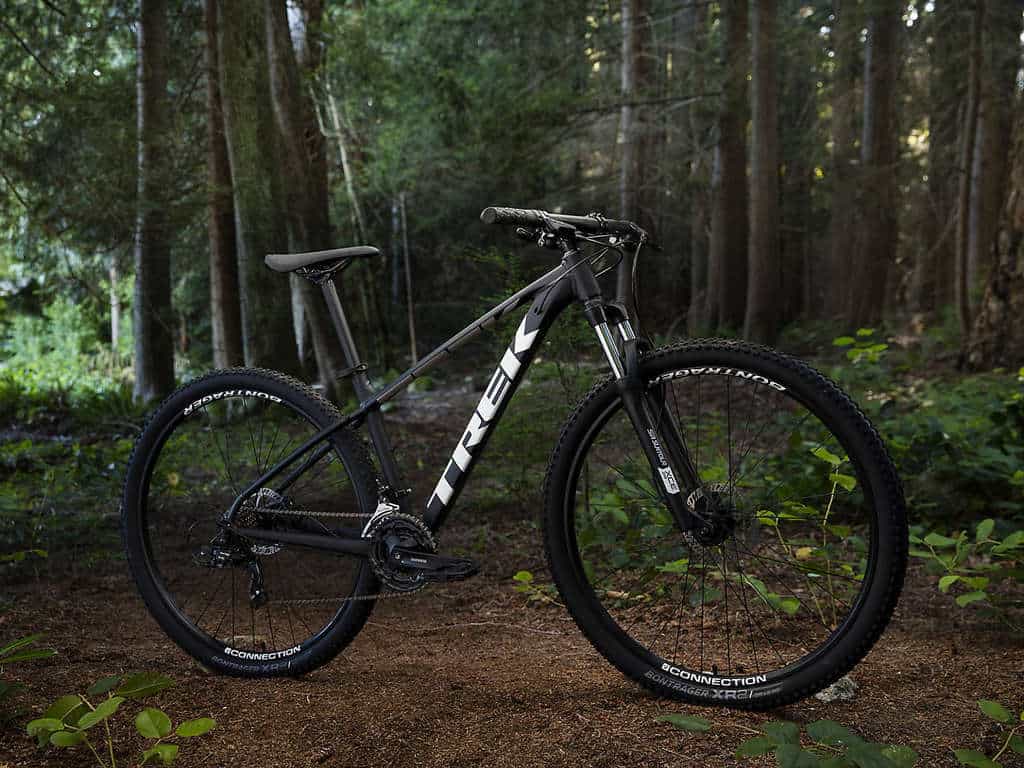 We earn a commission if you click this link and make a purchase at no additional cost to you.
On Which Terrain Does The Trek Marlin 5 Perform Well?
As an entry level hardtail, it can handle rougher terrain but not one equipped with too many technical challenges. There are many different biking trails and tracks you can try out, just make sure you check the difficulty levels before embarking on your trip.
Suitable types of mountain biking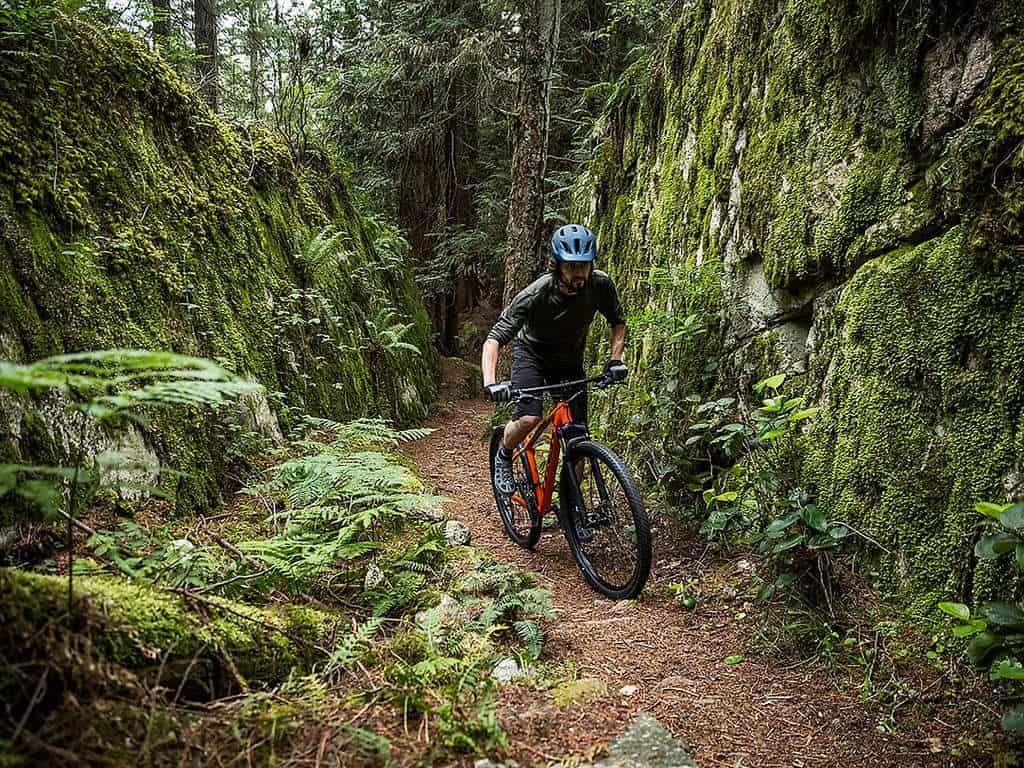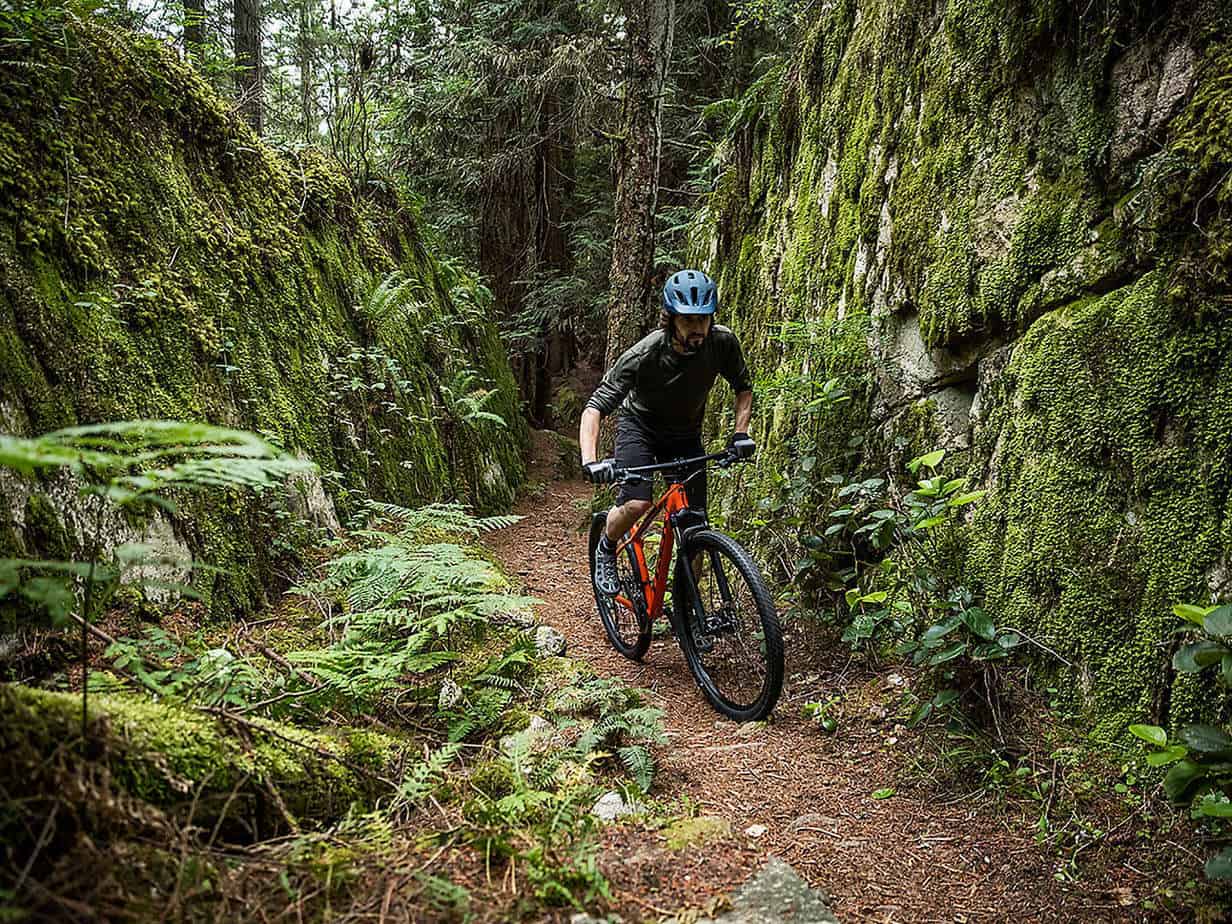 Trail riding without excessive TTF's. Trail riding is a beautiful introduction into the sport if you focus on multi-use paths (a great multipurpose bike), bridleways and other tracks that require no technical skills. The Marlin 5 is an awesome bike for that, with the appropriate riser bars, mounts and dropper post.
Singletrack, doubletrack and bike parks: These cover many types of trails in one. Make sure to pay attention to the color coding since they determine the level you and your bike will need.
Downhill (DH): The excellent hydraulic brake system is very suitable for downhill rides and riders. But here too, pay attention to difficulty levels and do not push it to extremes, despite the high durable nature of the Trek 5.
Cross Country (XC): In some cases, cross country can be enjoyed if you forego the possible jumps. The bike it otherwise suited as a hardtail with 100mm front suspension and the corresponding mounts. Cross Country tracks range from fire roads (go for it!) to more technical singletracks.
Your everyday commute: The high levels of comfort and stability of the Marlin 5 mean that you can even use this bike on your commutes as well!
Not suitable for
Dirt jumping: The bike is not suited for jumps, even smaller ones.
Free ride: This type of mountain-biking typically combines DH with dirt jumping and will need more complex and expensive models.
MTB Touring: The sleek design and light aluminum frame is perfect for a thrilling ride, but less so for long distance when you need to drag a lot of stuff around since the bike is not fitted well for touring. You can however, if you like, fit the bike with some extra racks front and back. But too many adjustments (like racks) might compromise the quality in other areas.
Trek Marlin 5 Prices
With pricing between 500 and 600 USD, the Marlin 5 fits perfectly within the above-mentioned budget. You can order it online but your local dealer is likely to have this bike in stock. Go have a test ride!
Do these key features add up to the top tips for buying an entry-level mountain bike? In my opinion, it does. If you use this bike right and don't push it into terrains where it is not built for, you will have a wonderful, budget, high-quality bike kids and adults alike can enjoy.
Trek Marlin 5 Q and A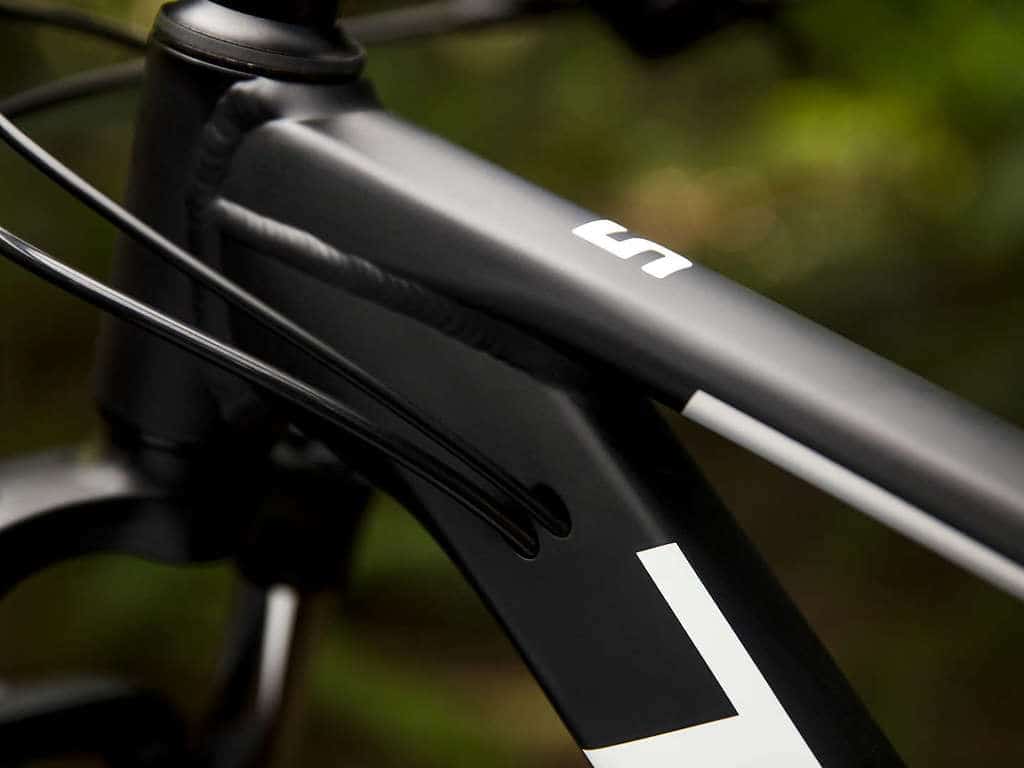 Which Aluminum Frame Size Should I Get?
Consult the sizing chart for the best bike size for your standover height and inseam. Make sure to try it out before completing the purchase.
XS

S

M

M/L

L

XL

XXL

Your height

137 – 155 cm

4'5.9" – 5'1.0"

153 – 162 cm

5.2" – 5'3.8"

161 – 172 cm

5'3.4" – 5'7.7"

170 – 179 cm

5'6.9" – 5'10.5"

177 – 188 cm

5'9.7" – 6'5.2"

186 – 196 cm

6'1.2" – 6'5.2"

195 – 203 cm

6'4.8" – 6'7.9"

Your inseam

64 – 73 cm

25.2" – 28.7"

72 – 76 cm

28.3" – 29.9"

76 – 81 cm

29.9" – 31.9"

80 – 84 cm

31.5" – 33.1"

87 – 92 cm

34.3" – 36.2"

87 – 92 cm

34.3" – 36.2"

92 – 95 cm

36.2" – 37.4"
Can the Trek Marlin 5 be equipped with a child seat?
Yes, a rear tire rack, as well as a child seat, can be equipped on the Trek Marlin 5.
Is this bike suitable for tabletop jumps?
This is an entry level bike and is not suitable for any type of jumps. The wheels have been known to bend even when attempting a lower jump, so don't try it.
Can I use tubeless tires with this bike?
Tubeless tires are not compatible with the Marlin 5's wheels. But they do come with the robust and highly resistant Schrader Valve Tubes that rarely gets damaged.
Does the Trek Marlin have lockout suspension?
The Marlin 5 does not have a full lockout suspension, but it does have coil spring with a pre-load adjuster.
Is the Marlin 5 Worth it?
The short answer is a resounding YES. Extremely capable as an all-mountain intermediate bike, the Marlin 5 packs WAY more that it's price tag. Trek is known for their quality and customer service. Can't go wrong in this price range!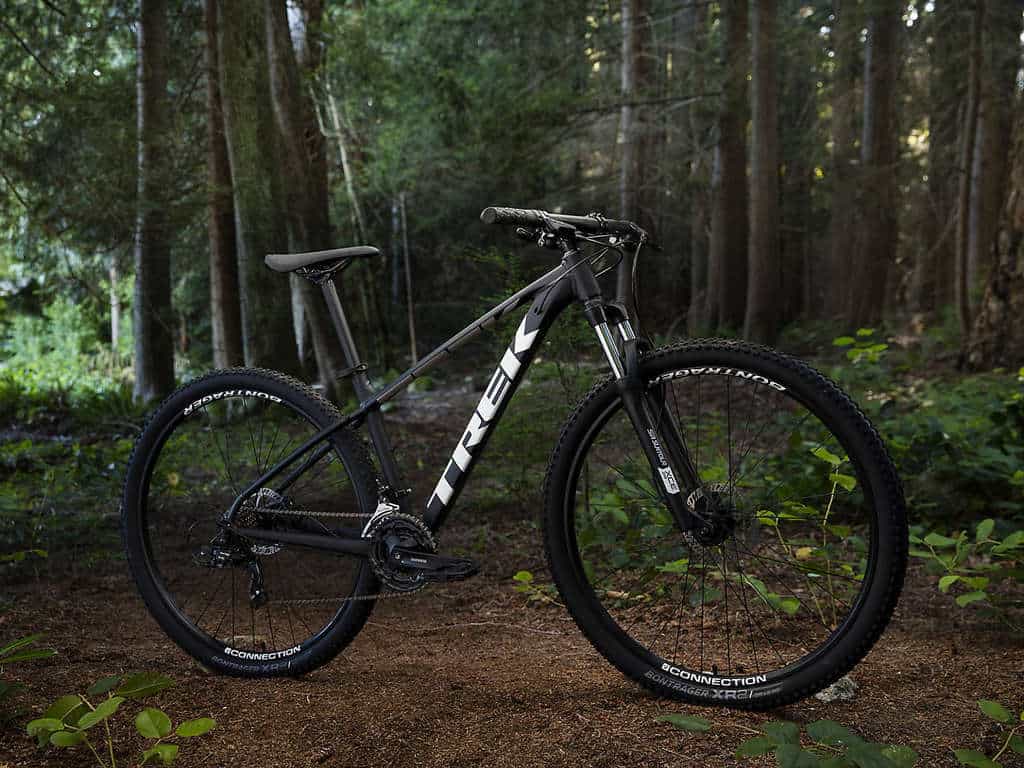 We earn a commission if you click this link and make a purchase at no additional cost to you.
Trek Marlin 5 Alternatives
If you are looking for other quality hardtails in the same pricing category, the Vilano Ridge 2.0 Mountain Bike and the Tommaso 2018 Gran Sasso 29er are excellent options. The Vilano is an excellent entry-level option and the Tommaso will suit the entry-level as well as the intermediate rider. So, consider the last one if you are looking to grow as a mountain biker but don't want to make a switch to another bike too fast.
Another option to consider is the closely similar Trek Marlin 6 which we've also reviewed.
Further Related Reading
Read more about:
Trek Marlin 5 Review: Conclusion
The Trek Marlin 5 s an excellent little all-rounder that provides fun for beginners, children, and everyday thrill-seekers looking for everday adventures on a great bike.
While not fit for more extreme off-road experiences and riders, the Marlin 5 is a great bike as a budget option, combining high quality trail worthy designs with some surprising design choices you will usually only find in more expensive models.
Do you need the perfect gift for your outdoorsy child or are you looking for a nice bike that handles the commute as well as a weekend outing? Then Marlin 5 is perfect for you.
Where to Buy the Trek Marlin 5?
There are a few places you can pick this baby up, but I'd recommend these awesome online retailers:
Trek Online (Direct): Where better than to go to the source? Trek has an excellent customer experience online, with free shipping and the ability to deal directly with THEIR support staff if you ever need to. Check out this listing here.
Next: Think About The Right Gear
When setting a budget for a mountain bike for everyday adventures, it is easy to forget you need more than just the bike itself. Keep some room for these items selected for your ride comfort as well as ride safety. This list does not include safety items for more hardcore trails such as knee and elbow pads.
Biking shorts: Important for mobility, breathability, and comfort. For men, check out the Ezrun 3D Padded Shorts and for women the Cycorld shorts.
Half finger mountain bike gloves: This way you are able to further tighten the grips without discomfort, especially Downhill. A great and cheap option is the GEARONIC TM Foam Padded MTB gloves.
Short-sleeve jerseys: Make sure to wear breathable and comfortable shirts. For men, check out the sponeed cycling jersey and for women this fast-drying mountain bike jersey.
Sunglasses: Aim for comfort, a strong grip, and protection, but also keep in mind that you shouldn't go too dark. It will make it harder to see the nuances in the road. Fine examples are the Oakley Flax 2.0 XL and the 100% Speedcraft.
Mountain biking shoes and socks: Make sure to keep an eye on the compatibility with the pedal (often Bontrager pedals or aluminum pedals vs plastic pedals), comfort, flexibility, and weight. If you are looking for quality examples, check out the Sidi SD15 Bike Shoes for men and for women, the Giro Empire VR90.
Helmet: Safety first! Invest in a quality helmet. The Giro Montaro MIPS MTB Helmet is a quality example.
Lights: If you are planning to get out at night, consider a robust, water-proof light for increased visibility. The Cygolite Dash Pro– 600 Lumen Bike Light is one of the best ones to get.
Hydration pack: For longer as well as shorter rides, it can be a huge perk to have easy access to water. The CamelBak Skyline LR 10 has a 10 liter capacity with 3 liters reserve. It is also designed to move the weight down the back in order to prevent uncomfortable shifting. There are plenty more options available with more water storage, should you need it.
Trail-side multi-tool: The Topeak Mini 20 Pro Mini Tool has 23 functions you may need at any time on the road. If your bike tires are not tubeless, which most budget bikes will not be, a mini-bike pump and patch kit can also be a lifesaver.
Kickstand: This may sound basic for experienced riders, but if you use your bike for commuter purposes or in and around town, not having a kickstand can be a huge inconvenience. Some mountain bikes do not come standard with them, so be prepared to add (or upgrade) a kickstand if you need one.
Is the Marlin 5 Worth it?
The short answer is a resounding YES. Extremely capable as an all-mountain intermediate bike, the Marlin 5 packs WAY more that it's price tag. Trek is known for their quality and customer service. Can't go wrong in this price range!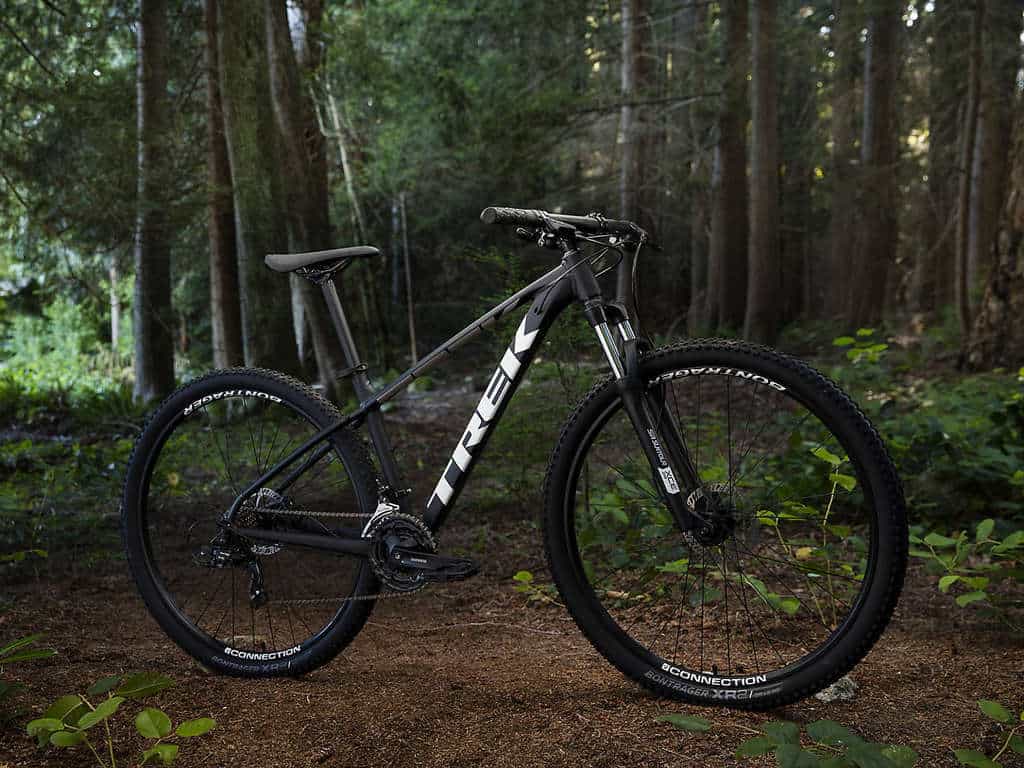 We earn a commission if you click this link and make a purchase at no additional cost to you.