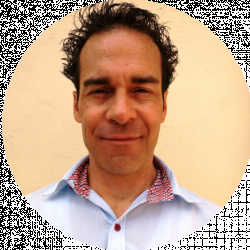 Latest posts by Douglas Bloom
(see all)
If you are looking for an upright and easy-going trail bike to ride on dirt roads and singletracks, then the CO-OP DRT 1.1 is a good choice. Not only is it affordable, but it also fits most people's riding requirements. Check out our CO OP DRT 1.1 Review to find out everything you need to know about it.
Co-op Cycles DRT 1.1 Bike | REI Co-op
Made for off-road adventures, the Co-op Cycles DRT 1.1 bike features a versatile 3 x 7 drivetrain and the solid stopping power of hydraulic disc brakes, giving new riders the right amount of control.
Check Price
We earn a commission if you click this link and make a purchase at no additional cost to you.
Quick Summary
Currently, it is easy to take baby steps in mountain biking. One of the bikes that allow this is the CO Op DRT 1.1. It is a unisex hardtail mountain bike built with front suspension on an aluminum frame platform. This combination provides a smooth ride on tame and moderate terrain.
To cater to women, the bike has a 1.1 W version with narrow handlebars, a women-specific saddle, a shorter stem, and a shorter top tube. If you are searching for an easy-to-look-after and affordable bike with wide tires and front suspension, this is the one for you.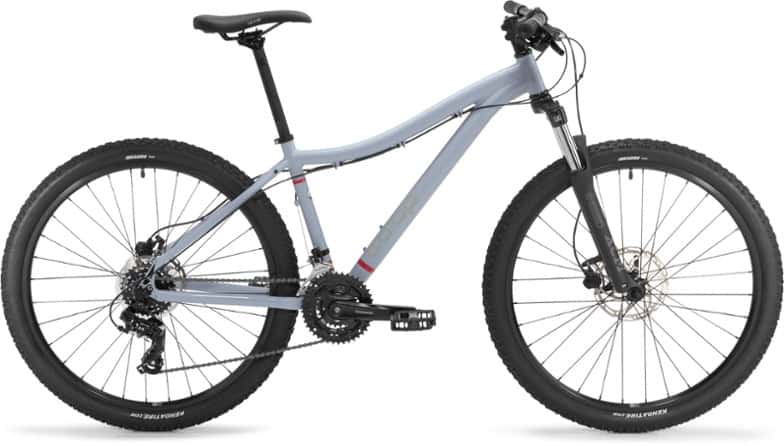 Just like any product, the DRT 1.1 has its benefits and downsides. Knowing them can help you make a better purchasing decision. The information will also help you understand all the features of the mountain bike. Here we go:
Aluminum Frame and Suspension Fork
The manufacturer decided to build the DRT 1.1 using their proprietary 6061 aluminum frame. It is not a heavy frame compared to others in the same class. The geometry is suitable for beginner riders. The construction is durable and strong since there are no reports of issues from long-time owners.
The bike uses an SR Suntour XCT fork. It is suitable for 27.5-inch wheels with 100mm of travel. For an amateur rider going off-road for the first time, this fork is more than good for the ride.
On the other hand, more experienced riders know it is the weakest link on the mountain bike. It has limited adjustability compared to air forks because it uses a coil spring. Additionally, the bike doesn't have a tapered headtube. This means finding a replacement fork in the future will be a challenge.
Entry-Level Shimano Components
If you take a look at the rear end of the mountain bike, you will notice decent Shimano's entry-level components. In the CO-OP DRT 1.1, this is Shimano Acera and Altus. They are groupsets designed for beginners. However, they get the job done with minimal setbacks unless you get aggressive and rowdy with them.
On the bright side, the entire drivetrain is Shimano. This includes the cassette and crankset. The mountain bike has 24 gears using a 3 by 8 drivetrain. 11 – 34T is the cassette range, which gives you enough options to climb reasonable hills.
Co-op Cycles DRT 1.1 Bike | REI Co-op
Made for off-road adventures, the Co-op Cycles DRT 1.1 bike features a versatile 3 x 7 drivetrain and the solid stopping power of hydraulic disc brakes, giving new riders the right amount of control.
Check Price
We earn a commission if you click this link and make a purchase at no additional cost to you.
Powerful Hydraulic Disc Brakes
We have talked about the bike's weakest link. The hydraulic disk brakes are its strongest link. They are a treat in this price range considering how it is almost impossible to come across these kinds of brakes on $500 mountain bikes.
Even though they are not of the highest quality, they are still several levels above V-brakes and mechanical disks in terms of braking power output and precision. One of their main advantages is the almost zero-adjustment required for them not to brush against the rotors and for them to work perfectly.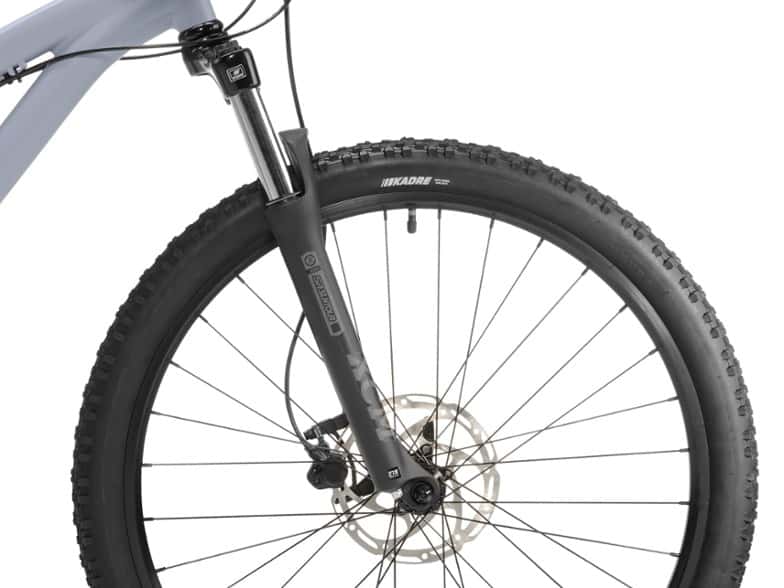 Wide Tires for Stability and Comfort
The CO-OP DRT 1.1 comes with 2.1-inch tires that give you a feeling of confidence when you ride on loose terrain. They are also not too wide for normal riding. The majority of trail bikes today come with 2.35-inch tires and above. The result is the bike is faster on harder surfaces like asphalt and hard-packed gravel.
The company opted for 27.5-inch wheels on this bike. Take note the mountain bikes come with double-walled rims. This means they are durable unless you do some big jumps. There is nothing flashy you get from the bike, but it is great value for money.
Pros
Good looking
Affordable
Great value for money
Lightweight
Good for beginner riders
Cons
Limited color options to choose from
Ultimate Mountain Bike Buying Guide
Mountain Bikes are versatile and tough machines developed to take on challenging off-road terrain. The variety of mountain bikes available is huge. They range from specialized models that are designed for particular off-road disciplines to beginner-friendly budget builds.
Our mountain bike buying guide covers everything you need to know when choosing a mountain bike. The following are factors you need to consider when choosing an MTB.
Suspension Design
Currently, there are as many suspension systems as there are manufacturers. New and improved designs are popping up all over the world.
The major problem with earlier generation suspension systems is they were overactive. Mostly they stiffened under braking and absorbed rider energy when power was applied during a pedal stroke.
A new generation of suspension innovations has helped overcome such issues.
Different manufacturers have developed ways to isolate pedaling forces from the suspension. They have also ensured the rear shock remains active when you brake. Advances in the development of platform-dampened shock give a new lease of life to classic suspension designs. This in turn counteracts pedal bob by ignoring pedal feedback.
Travel
A bike's travel plays an important role in determining how a bike will ride. Knowing the types of travel can help you understand how it affects your overall ride.
80mm – 100mm
Mountain bikes with 100mm or less travel are usually lightweight and fast. They are designed for long-distance and climbing efficiency. Such bikes are aimed at marathon riders and cross-country racers whose priority is cross-country speed instead of downhill thrills. The bikes feature steeper cross-country geometry to ensure optimum pedaling efficiency.
Bikes with 100mm of travel or less have fast-rolling, narrow tires of 27.5 inches or 29 inches with a selection of light but strong components. Materials used for the frame are either lightweight aluminum or carbon fiber. The latter is typically used for top-of-the-range models designed for serious racing.
Marathon and race bikes usually feature lightweight air shock, and they weigh about 22 pounds (10kg). They are built to take the sting out of sustained effort when used on off-road terrain.
120mm – 140mm
The majority of modern riders have discovered that 120mm – 140mm is the "sweet spot" for tackling a wide range of off-road terrain. These are trail bikes built with fun in mind instead of competition.
Mountain bikes with this travel come with slightly slacker frame angles. As such, they offer downhill confidence, wider tires and wheels for additional strength, and through-axle front forks with oversized brake discs for precision stopping and steering.
Older budget/design trail bikes often had 26-inch or 29-inch wheels. Currently, the standard is 27.5 inches. These newer models feature a lightweight and stiff carbon or aluminum frame giving them a weight of about 27 pounds.
If you are a modern rider, this is the bike of choice for you. You can use it if you do not mind losing some pedaling and climbing efficiency to get a more race-bred machine. This allows you to enjoy the fun factor of challenging and fast singletrack trails.
140mm – 160mm
If you are looking for a downhill bike, go for one with 140mm or more of travel. They have tough-as-nails components and a slack frame to match. Take note these mountain bikes are significantly heavier than their more trail-oriented and XC counterparts.
Bikes with 140mm or more of travel come with components designed to take big hits. For example, they feature wide handlebars, short stems, oversized rotors combined with powerful front and rear disc brakes, through-axle front forks, and strong, wide rims and tires. Extra features include chain guides and bash guards. Weight is usually more than 30 pounds.
Such machines are designed for riders who push limits in very demanding terrain. The upside is they can be pedaled uphill making them a popular choice with the latest generation Enduro riders. This is an emerging competitive discipline combining the elements of DH and cross-country. Beginners may find such bikes too burly for every day or all-around use.
160mm +
Full-suspension bikes with 160mm or more of travel are designed for the specific demands of a free ride (FR) and downhill (DH). Supper-slack DH bikes are like gravity sleds to get you from the top of a challenging downhill course to the bottom faster than the rest of your competitors.
They are built using ultra-tough components. For example, some have powerful oversized brake discs, coil shocks, long-travel triple-clamp forks, large-volume tires, and 26-inch wheels.
With such features, these machines are meant to hurtle through the rock gardens, roots, drops, jumps, and berms that constitute a typical DH track. They can be driven or pushed back to the top for another race run. It is common for such mountain bikes to weigh more than 40 pounds.
On the other hand, FR bikes are developed to take big hits of the most "extreme" parts of the sport. This is where riders with courage, experience, and skill take on the kind of drops, gaps, and aerial jumps that would destroy an average bike.
Bikes with this kind of travel feature overbuilt components and long-travel suspension. They are designed to absorb single massive impacts instead of the sustained high-speed punishment associated with DH racing. For obvious reasons, beginners should avoid riding them.
Related: CO-OP DRT 2.2 Review
Choosing a Hardtail Bike
Hardtail mountain bikes are created to take on rough off-road terrain without cushioning the rear suspension. This doesn't mean they are humble and are only options for beginners.
A variety of situations call for the advantages associated with hardtails. Many experienced riders appreciate the plugged-in trail connection and extra skills' edge demanded by the lack of a rear bounce that only a hardtail can offer.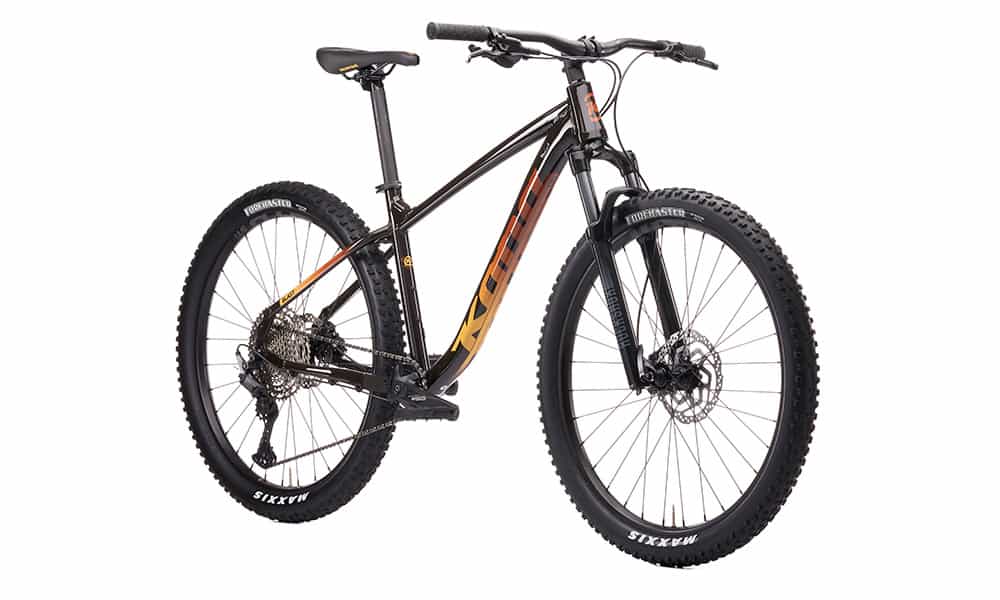 There is a wide variety of hardtail bikes. Some cater for specific needs while others are designed as all-rounders. Components, suspension travel, strength, and geometry will vary depending on the type of riding the bike is designed to do. Also, different frame materials suit particular demands of a branch of biking or rider preferences.
The majority of mid-range and budget hardtail MTBs feature a lightweight aluminum frame. High-end mountain bikes usually have lightweight carbon fiber. Some bike manufacturers also offer titanium or steel frames that appeal to a wide range of users.
The Best Mountain Bike for Beginners
A rider's first foray into the world of off-road riding is often a hardtail bike. The quality of components used to develop a complete bike is higher on hardtail bikes. This is because such bikes cost less than their full-suspension counterparts.
When you start, it is wise to get a bike with a front suspension that works effectively. You need reliable and strong brakes that stop when you need to stop. Tough wheels that can handle the punishment from rocky terrain are more crucial than rear suspension.
Important bike skills like cornering, climbing, weight positioning, and even jumping can be learned on a hardtail. This is why such bikes offer riders the perfect machine to hone their skillset and fitness before they decide to upgrade to a full-suspension bike.
Just like chameleons, hardtails can be versatile road and city training machines. A whole world of commuting and touring options are opened up with the addition of slick road tires, mudguards, and a luggage rack. These can be altered to return the MTB to an all-terrain beast in a few minutes. Take this into consideration if finances or storage space limits you to one bike.
Suspension forks with about 100mm of travel and a lightweight aluminum frame are featured on typical hardtail mountain bikes designed for beginner bikers. Wheels are usually either 26-inch or 27.5-inch depending on the bike maker.
Normally these bikes have 3 x 8 or 3 x 9 (24 or 27) gears combined with a triple front chainset. This ensures a wide enough range of gears for going uphill or downhill on steep hills.
Brakes are another factor to consider. Some budget bikes have easy-to-maintain and lightweight V-brakes. These are fine for occasional off-road trips and commuting.
However, if you are serious about the sport, all-weather reliability of disc brakes is mandatory. In such cases, go for hydraulic brakes. If you are on a tight budget, get a model that is equipped with a disc-ready frame and hubs. This will give you the option of upgrading later.
Race Bike
80mm – 100mm suspension is designed for hardtail bikes that are aimed at:
Generally covering plenty of off-road miles
Less technically challenging trail center trails
Long-distance marathon-style events
XC (cross-country) racers
Keep in mind the amount of suspension travel is not the only thing you should consider. Geometry may be more important. The tube lengths and angles of a hardtail frame are critical elements that determine how a bike will ride. They also determine what kind of riding the machine will be best suited for.
Marathon and race-style cross country bikes usually feature relatively steep seat and head angles. Usually, it is a head angle of around 70 degrees and a seat angle of around 72 degrees. This is considered as "classic" XC geometry.
Such angles place you in the optimum position for seated pedaling especially if you are riding uphill. Top tubers are on the long side providing the "stretched" riding position. It enables races and riders to get sufficient air into their lungs.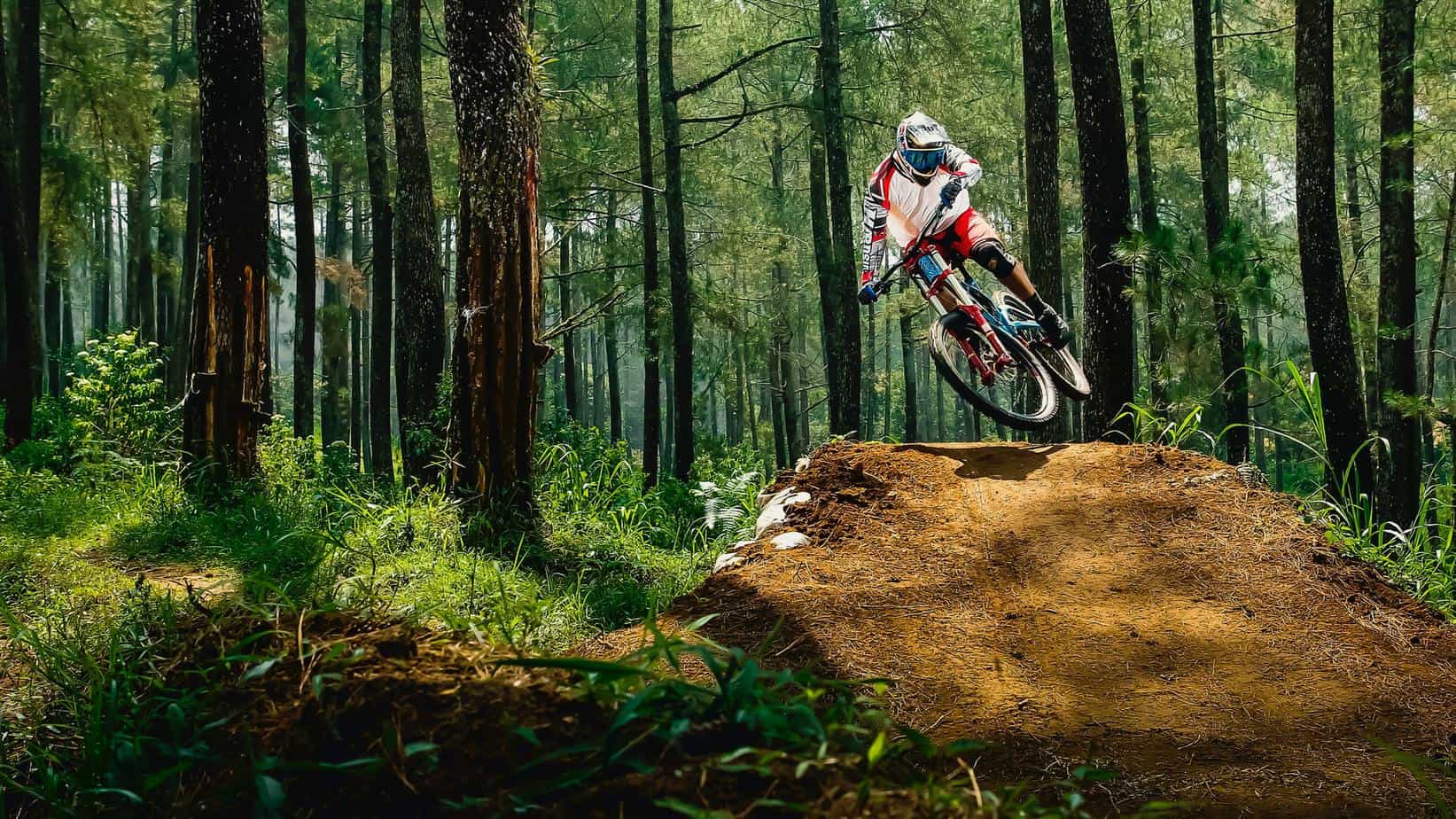 Wheels on race bikes range from 26 inches in older generation models. New models are coming in with 27.5 inches. It is also in this category that the efficiencies from 29-inch wheels come into play. Plenty of bike racers prefer the fast-rolling benefits of bigger wheels.
When it comes to components, the finishing kit, brakes, and gears focus on a balance between strength and lightweight. Disc brakes are the norm and 2 x 10 (20-speed) transmission is increasingly becoming standard.
4X, Dirt, and Street
Hardtails developed for the demanding disciplines of 4X (four-cross racing), street riding, and DJ (dirt jumping) are designed less with pedaling efficiency in mind. The design is not keen on the ability to take sustained and serious punishment, and live to tell the tale.
Street and DJ MTBs generally feature overbuilt steel or aluminum frames. These are heavier and tougher than the ones in trail and cross-country bikes. Take note smaller sizes offer increased "chuckability" and agility in the air.
The frames are connected to a tough but heavy selection of components and 26-inch wheels. They also have chain guides and/or bash guards. 100mm of suspension travel is common courtesy of the stiffly-sprung front forks. They usually have bolt-through axles to provide extra strength.
MTB FAQs
Question: How Much Do I Need for My First Mountain Bike?
Answer: At the bare minimum, we recommend starting with the most affordable hardtail bikes such as the CO-OP DRT 1.1. This bike goes for about $500 depending on the store you use to buy it. If money is not an issue, you can go for full suspension bikes that start at $1,500.
Question: Can I use a Trainer on an MTB?
Answer: Even though they are pricey, direct-drive trainers are usually the easiest to use on a mountain bike. The turbo trainer attaches directly to the rear axle. The majority offer a range of axle options that include the most common MTB setups. This is done by using removable endcaps. As such, you can fit these trainers on any mountain bike.
Question: What are the Best 5 MTB Bike Brands?
Answer: This is a hard question to answer. In 2021, the highest-rated mountain bike brands were:
• Yeti Cycles
• Cannondale
• Giant Bicycles
• Santa Cruz
• Trek Bikes
Question: Are Expensive Mountain Bikes Worth the Money?
Answer: It is clear the majority of expensive MTBs offer superior performance. We looked at the components of several highly-priced bikes and discovered they were superior by far compared to their cheaper counterparts. This is why professional racers and riders have MTBs that cost $2,000 or more.
Question: Do MTB Trainers Affect Tires?
Answer: It depends on the kind of trainers you use. Most people go for wheel-on trainers. They allow you to keep your rear tire while offering resistance by applying pressure through a roller against your rear tire. They are more popular due to their ease of use and lower cost. Unfortunately, they wear your rear tire faster than if you were riding outdoors.
Bottom Line
Our impressions of the CO-OP DRT 1.1 are positive. For about $500, you get an MTB that combines reliability, comfort, value, and budget. It is almost impossible to find a bike with such features at this price point.
Some flaws are obvious as a result of the low price. You can eliminate or reduce these flaws with some upgrades. Take note the flaws are nothing that a beginner should worry about. The CO-OP DRT 1.1 is a great bike to start your riding career, or for leisure riding.
Co-op Cycles DRT 1.1 Bike | REI Co-op
Made for off-road adventures, the Co-op Cycles DRT 1.1 bike features a versatile 3 x 7 drivetrain and the solid stopping power of hydraulic disc brakes, giving new riders the right amount of control.
Check Price
We earn a commission if you click this link and make a purchase at no additional cost to you.