All mountain bike enthusiasts want, in a sense, to see passion reflected in what they purchase, from the best biking gear to must-have components. But something that immediately caught my attention was the unique way that passion is reflected in trail bikes like CO OP DRT 2.2.
The CO OP DRT 2.2 comes from a respected outdoors equipment company, REI. Known for its mountain biking products but also camping and hiking gear, chances are you've at least come across the name if you're in search of a new bike, or even just the best mountain biking shoes to help you take on more trails.
What you may have missed is the full name: REI CO OP. REI is, in fact, a Co-op, with over 70 percent of its products given back to the community. Combining quality engineering, passion, and quality construction, the company stands out.
For models like the DRT 2.0 and the newer DRT models, their designs are "centered around being the alternative to many bike brands and thinking people first," according to an interview with Isabelle Portilla, DVP of product strategy and design.
In this review, I'll take a look at the CO OP DRT 2.2, a hardtail mountain bike, and see if it's worth the hype, and the price point. I'll also cover what to look for in order to find the best hardtail bike, and other frequently asked questions.
What is a hardtail bike?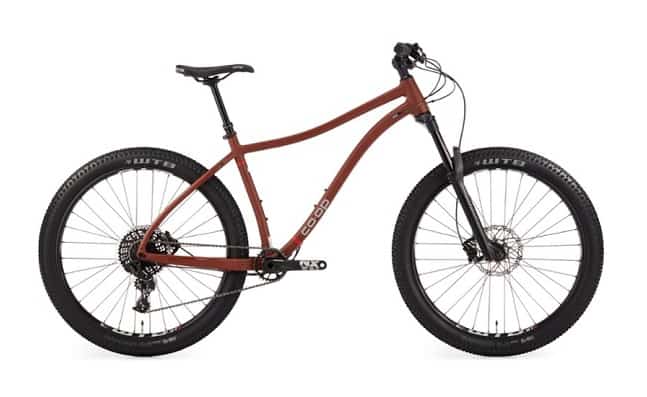 If you're new to mountain biking, it's first important to understand what kind of bike is right for you. Common types of mountain bikes include hardtail bikes, all-mountain bikes, XC bikes, dirt bikes, and downhill mountain bikes.
A hardtail bike is most commonly compared to and distinguished from a full suspension bike. Bike suspension is especially important for mountain biking and refers to the system that suspends one as they ride. The type of suspension impacts how much your body will be impacted, and the bike itself, as it goes over different types of terrain.
While a full suspension bike includes a rear shock and a front suspension fork, a hardtail bike is sort of a half suspension, in that it has the suspension fork, without the rear shock.
Can you convert a hardtail to full suspension?
Keep in mind that once you decide on a hardtail vs full-suspension bike, you're making an investment, but the distinction between hardtail vs full suspension is not quite as hard cut as you might think.
For instance, if you purchase a hardtail bike like CO OP DRT 2.2 and later decide you'd prefer full suspension, you technically could add on a full-suspension kit Seatpost or stem to get close to the same experience as a full-suspension bike. However, this isn't always the case, and sometimes, you may end spending enough it may not be worthwhile.
For most purposes, consider that, while it is often possible to convert a hardtail to a full-suspension bike, you're still better off buying the mountain bike that suits the majority of your needs in the first place.
Why should you ride a hardtail?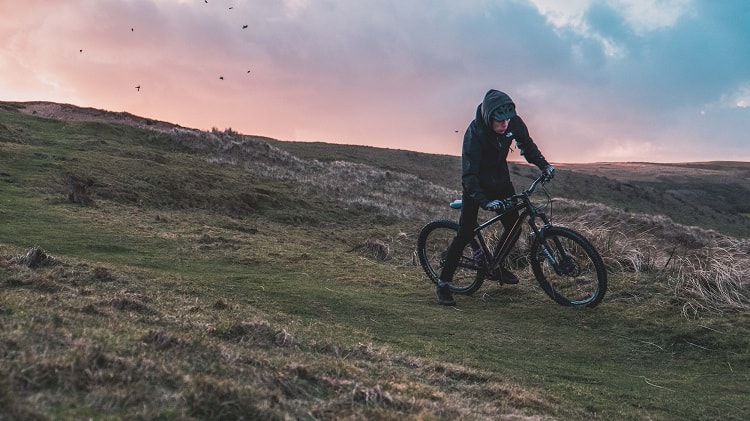 The question is: why should you select a hardtail bike over a full suspension bike?
Cost
One reason is cost. Hardtail bikes, by nature, tend to be far more affordable than full suspension bikes, which makes logical sense when you consider the design.
For this reason, hardtail bikes may be good options for beginning mountain biking, and for anyone who wants to get into the sport but costs are prohibitive. Adding the initial lower cost perk, they also tend to take less work and money to maintain.
Learning Experience
Hardtail mountain bikes are not as smooth as full suspension bikes, which may be a con for some, but can be a benefit in other ways.
Hardtail bikes are more likely to train you to control your bike and movements and may give you a better sense of the impact of different types of terrain.
In addition, hardtail bikes train riders to ride at a speed that makes sense, without that rear suspension to smooth and control things. That said, they can be more challenging, and I don't recommend a first-time rider taking one out on a difficult trail.
Speed and Versatility
Hardtail bikes, without the full suspension, are naturally lighter and can accelerate more quickly. Hardtail bikes are a bit more versatile than some full-suspension bikes and can be used both for trail and road riding.
How do you pick a hardtail bike?
The good news is that finding the best hardtail bike is not all that different from selecting the best mountain bike. However, in a hardtail bike, you'll need to be especially careful about the quality of the construction, fit, and comfort.
Since hardtail bikes tend to be both less expensive and far smoother of a ride, you need to make sure that fit and comfort level is there.
Frame and Wheel Size
Two of the most important features I look for first are the frame and wheel sizes. The frame size should be custom to you and based upon your personal measurements. Rather than relying on standard sizing, look for the following frame sizes in relation to your height:
| | |
| --- | --- |
| Height (Feet/ inches) | Frame (in inches) |
| 5 ft 4 in and under | 13-14 inches |
| 5ft 4ich to 5ft 7in | 14-16 inches |
| 5ft 7in to 5ft 10inch | 16-18 inches |
| 5ft 10inch to 6ft | 18-20 inches |
Anyone above 6ft will require an extra-large frame, normally around 21 or 22 inches. Some especially tall riders may need a custom frame.
For wheel size, you'll have to determine between popular sizes like 27.5 inches vs 29-inch wheels. I recommend 29ers for hardtails. They are more suited for tackling harder terrain, and even though they add extra weight, they'll add some needed stability to the rockier ride associated with hardtails.
Construction and Design
Rather than focusing on extra details or features, in a hardtail bike, you want to pay close attention to the quality of construction, design, and materials being used.
Materials
Great options include titanium and aluminum. Aluminum is known to be lightweight and durable, but I especially like titanium. Titanium will give you a smoother ride and has easy maintenance. Still, both are great options.
Crankset, Shifters, Gears
Look for a minimum of 8 gears, but I prefer 12 for more versatility. Both SRAM and Shimano are my go-to's for shifters and derailleurs. I like Shimano for its traditional stability, while SRAM tends to be a bit more innovative and provide features such as wireless technology.
Brakes and Brake Levers
For the best hardtail bike, I recommend going with Hydraulic brakes and brake systems. Well tested and fairly smooth, plus easy to maintain, they're a good match for a half suspension model. With rim vs disc vs drum brakes, I prefer disc brakes for a hardtail.
While they can wear down over time, they tend to handle all kinds of terrain well and are very readily available if you need to replace them.
Handlebars, Saddle, and Pedals
These features are critical to any hardtail mountain bike to ensure a comfortable ride. The higher the handlebar rise, the better it will be for harsh terrain.
The more handlebar rise, the taller the handlebar will feel. If you are someone constantly riding extremely steep terrain, you might benefit from a handlebar with a higher rise.
I recommend a cushioned, upward curved saddle for handling rockier riding, and lightweight pedals so you have an easy time navigating.
Weight
For weight, the average hardtail bike is about 30lbs. If you opt for a lightweight one, you'll be able to pick up more speed, whereas a heavier one may provide stability. I personally prefer a little more stability for a hardtail bike, but it depends on preference.
CO OP DRT 2.2: Worth It?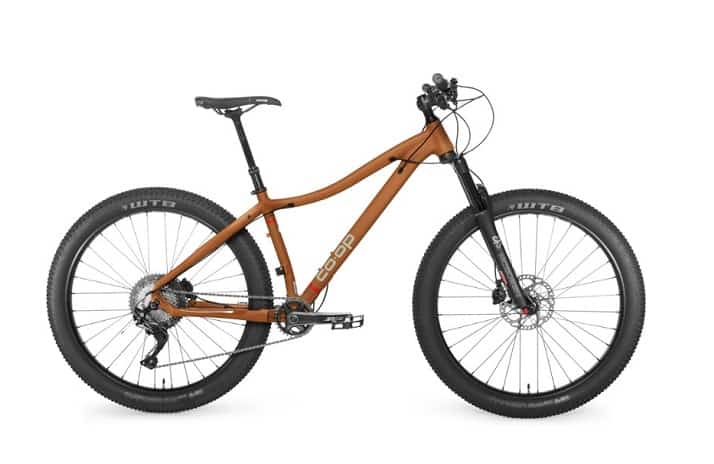 Now that I've supplied my criteria for how to find the best hardtail mountain bike, let's take a quick look at the CO OP DRT 2.2 and see if it's worth its price point, and whether or not this REI hardtail bike might be the right choice for you.
Frame and Wheel Size
First I took a look at the frame and wheel size options.
Frame Size
The CO OP DRT 2.2 comes in several sizes: extra small, small, and medium, as well as large and extra-large.
The fork travel is 120mm and small, and 140 mm for the medium through extra-large. This bike is suited for mostly shorter riders.
I was disappointed to see that there were no options for large and extra-large frames; as such, I most recommend the larger frame size for riders well under 6 feet tall. While I'd say you could be as tall as 5 foot 7inches or 8 and get by with it, taller riders may feel quite cramped riding the CO OP DRT 2.2.
Wheel Size
The CO OP DRT 2.2 uses 27.5 wheels. With 27.5 wheels, you'll have a bit less stability and control but will be able to accelerate more easily. It is not uncommon to find hardtails with this wheel size.
Construction and Design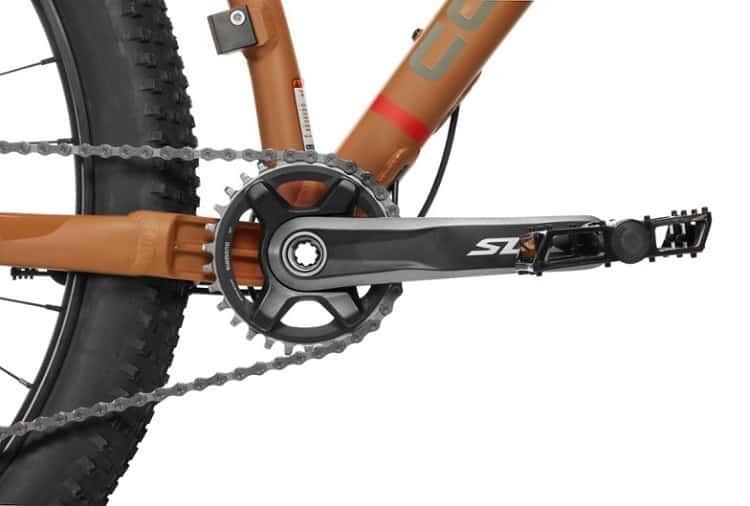 Materials
Considering the overall construction and design, the CO OP DRT is nothing luxurious, but it does appear to be well built and meant to handle a number of conditions.
The double-butted aluminum frame makes for lightweight durability, though it is a little less smooth of a ride vs titanium.
Gears, Shifters
In terms of gears and shifters, I love that this hardtail mountain bike comes with an impressive 12 gears, providing surprising versatility for a bike of its type.
The SRAM SX Eagle series is known as a quality but budget-friendly drivetrain system with a pulley and cage locking mechanism.
It has a good range, like more elite groupsets, However, it is a simplified system and may be slightly less durable, as it uses plastic vs aluminum in part to cut back on costs. In other words, it's reasonably reliable for performance and does reduce costs, but may not be the most durable for heavy riding.
Brakes and Brake Levers
The brake system for the CO OP DRT 2.2 consists of hydraulic discs. I think this is a good option for a beginner's hardtail bike and provides the balance of control, stability, ease of use, and easier maintenance.
The Shimano hydraulic brake system is reasonably rated and uses a master piston system with sealed brake tubing. They have a reputation for being reliable, with powerful braking capability.
Handlebars, Saddle, and Pedals
As far as the handlebars, saddle, and pedals, CO OP DRT 2.2 is once again reasonable, but not a standout in terms of the features that it offers. This bike features a WTB Volt Sport saddle, and a double-butted riser handlebar.
The WTB Volt Sport saddle is well rated by intermediate riders, beginning riders, and experienced riders alike. In fact, for WTB, it's a bestseller.
The saddle includes a curved shape and drop for more comfortable biking, as well as providing comfort while pedaling. Overall, it offers cushion without being excessive and is a smart design for the frame of the CO OP DRT 2.2.
Meanwhile, the handlebar makes this bike equipped to handle some moderate to steeper terrain. I should note that the bike does not come with pedals.
Weight
The CO OP DRT 2.2 is heavier than many hardtail mountain bikes in the market, weighing in at just over 31 pounds. Keeping in mind that the typical bike in this class averages about 1 pound lighter, it may feel a little heavier, but this has the bonus of adding a little stability, and it probably won't be a noticeable difference.
Price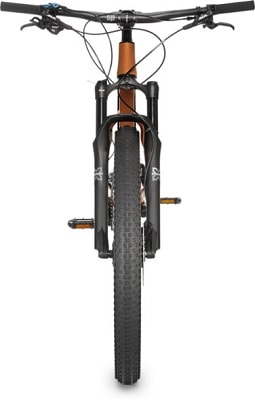 Finally, I wanted to take a look at the price. The CO OP DRT 2.2 retails for $1,799 and comes in one color (Mesquite). You'd be hard pressed to find any deals on it, as the best place to buy this model is directly from REI. Keep in mind that the price does not include pedals, or, of course, any mountain bike gear.
As far as price, it's a good deal. I recommend spending at least $1,500 even on a hardtail bike. If you dip too much lower than that, you're usually sacrificing quality construction.
Some hardtail bikes range up to $2,000 and more. This price strikes a nice middle ground. You aren't spending excessively, and the overall construction and features, in my mind, make it a fair price.
FAQs
Question: Are Hardtails faster than full suspension?
Answer: Hardtail mountain bikes tend to be more lightweight than full-suspension bikes, as they usually do not have a rear shock absorber.

As they want to be more lightweight, they can accelerate more quickly, but overall they are not necessarily faster. That's because, while they may be more lightweight, they take more force to keep speed than a full suspension bike. Compared with full suspension bikes, hardtail bikes also are not as suited for downhill mountain biking.
Question: Are Hardtails better for climbing?
Answer: As far as climbing for mountain biking, the debate between a hardtail and full-suspension bikes is an important one.

Hardtail bikes, despite being lighter, actually do not climb as well as full-suspension bikes. This is especially true for challenging terrain. A full-suspension bike is more equipped to handle steep climbs.
Question: Can you jump a hardtail mountain bike?
Answer: If you're interested in using a mountain bike for jumping, you can in fact perform jumps using a hardtail mountain bike.

Hardtail bikes can easily catch speed and some air. However, they may not be the best option for beginners. This is because they can be difficult to land, and require extra control and agility on the rider's part. In other words, they work for jumps because they tend to be less responsive and intuitive to use.
Buying Decision: A Quality Affordable Option
If you're looking for a relatively affordable hardtail bike, I recommend the CO OP DRT 2.2. It features a solid frame, decently comfortable seating, and is well equipped with a solid break and gear system.
It's not the most high-end option, but in some ways, that's what makes it attractive. I will mostly recommend it for beginning to intermediate riders, and for riders that are not especially tall.