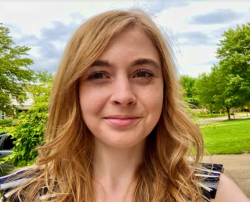 Latest posts by Erin Jamieson
(see all)
Santa Cruz is a manufacturer of high-end mountain bicycles, and their new Tallboy has stirred some interest. But in case you've never heard of a Santa Cruz Bicycle, rest assured others have. Nina Hoffman is one of the most celebrated names in the world of downhill biking, a German in her twenties who has spent her fair share on time on a Santa Cruz mountain bike–and in the limelight.
She started mountain biking five years ago when her then-boyfriend gifted her a full suspension bike. By 2015, she decided to take it to the next level and start competing, with her first race ride in downhill.
In the past year, she stunned many, coming from a little known name, to go on to compete at the World Cup in 2019 and securing third and second in subsequent races, which marks the first podium prize for Germany since 20000. For training and racing, she has ridden four bikes: a Juliana (V10) for racing; a Juliana Roubion for a trail bike, and Santa Cruz for both trail riding and dirt biking.
Of course, just because an elite athlete uses a certain brand for mountain biking doesn't inherently mean it's the right-back for you. Still, it shows that there is a good deal of trust in Santa Cruz as a manufacturer of mountain bikes.
Santa Cruz bikes have been featured alongside other good name bike brands, such as Yeti, Diamondback, and Trek.
But what is the Santa Cruz Tallboy, and is it worth the hype? In this review, we'll be taking a look at both the Santa Cruz brand itself and the Tallboy LT model.
Is the Tallboy Worth it? | Competitive Cyclist
Excellent crossover appeal and a well-balanced combo of speed, ease of use, traction and durability make the Santa Cruz Tallboy a CLEAR stand out to me. While it's not the cheapest, it IS one of the highest rated in class. Well worth it!
Check Prices
We earn a commission if you click this link and make a purchase at no additional cost to you.
What is Santa Cruz?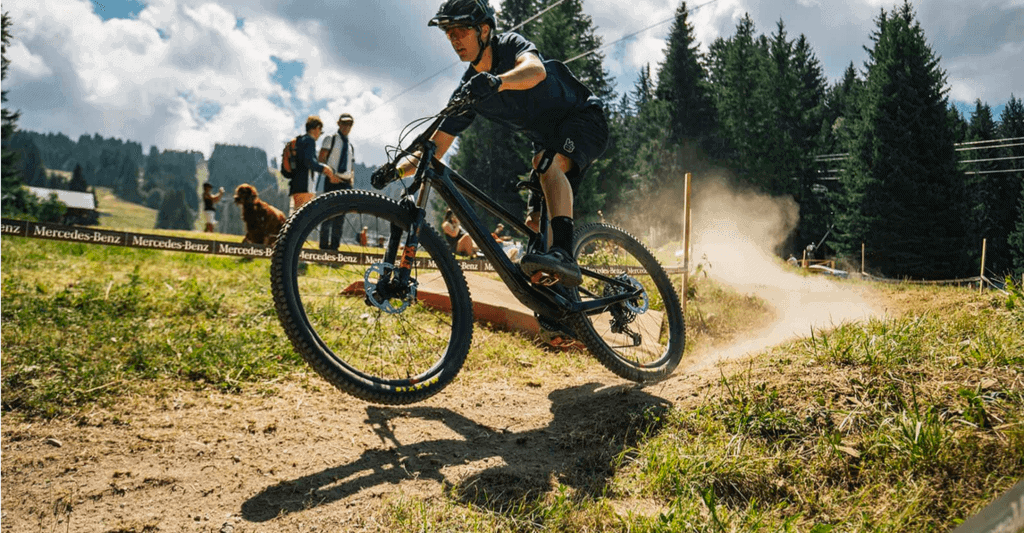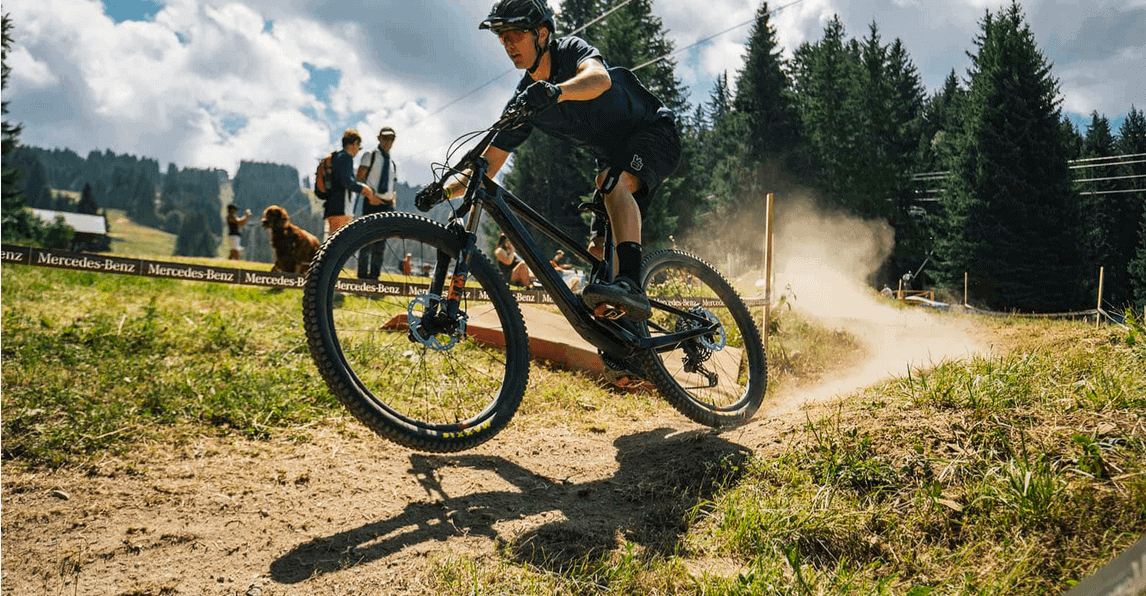 Santa Cruz is a well-known brand for mountain bikes of a number of types and well as associated parts and gear, such as bottles, grips, mens' and women's clothing, and tools.
As of now, they offer around a dozen bike models for a variety of purposes. Bikes are available in the most common wheel sizes, including 29ers, 27.5 and 26 tire models.
They've been making bikes since 1994 when they started off on a small scale in Santa Cruz with a singletrack pivot, double suspension bike called the Tazmon–a step towards the full-suspension model that would become popular later on.
What are Santa Cruz bikes known for now?
Santa Cruz has gained a reputation as a manufacturer of high-end performance and racing mountain bikes, more so for avid riders or athletes then beginners and basic fun seekers. That's in part due to price point and innovative design.
They do cover a broad range of mountain bike types, including both not limited to: hardtail, XC or cross country, and downhill, among others.
Every bike is assembled by hand in their flagship location in Santa Cruz and made of either aluminum or carbon fiber, following the trend of many mountain bike manufacturers.
What is the mission behind Santa Cruz's bikes?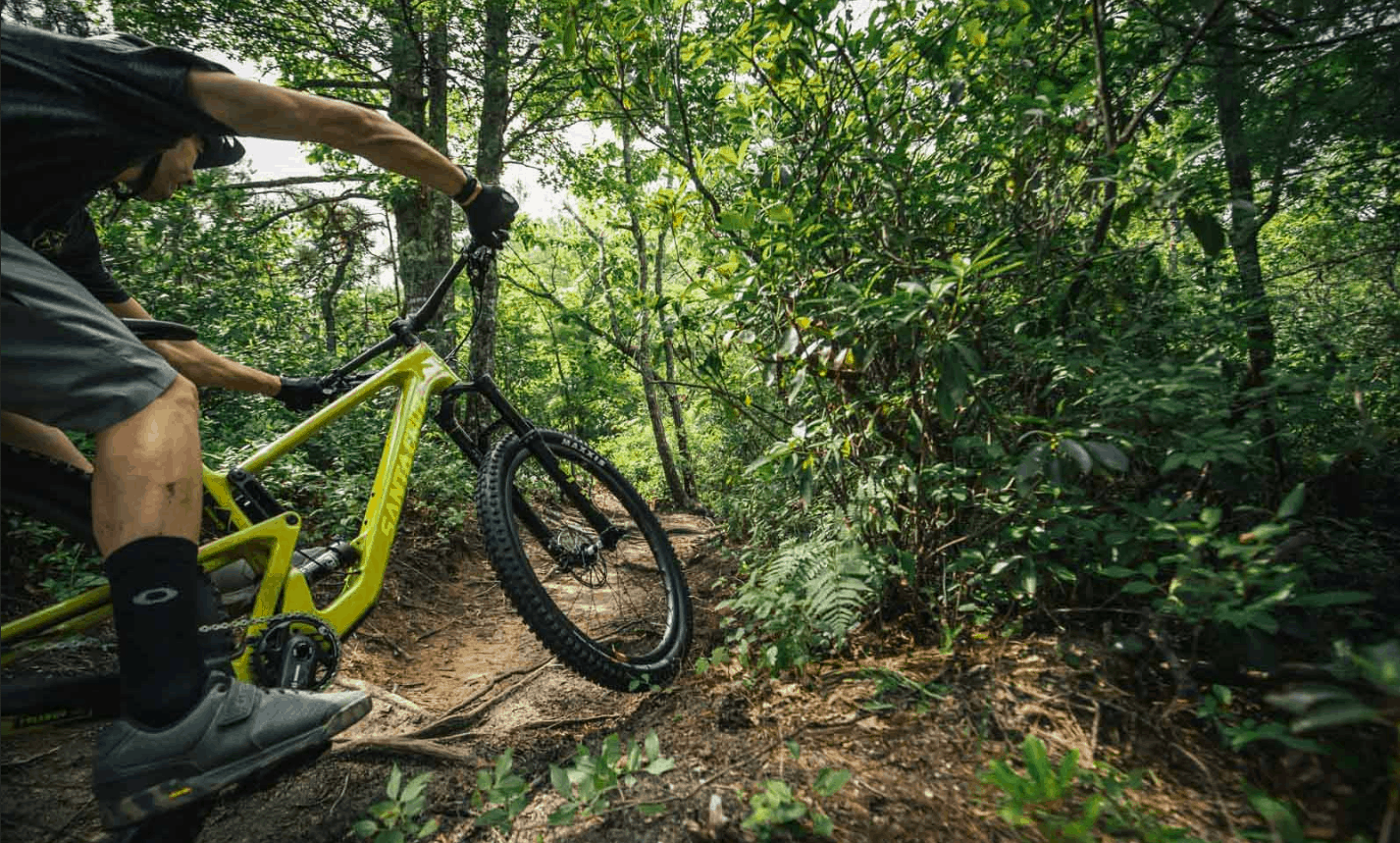 All Santa Cruz bikes are made with the purpose of being high performance, but also durable. All of their bikes are fitted with what they term high-end reserve carbon wheels (we'll look more into that claim later), as well as some innovative technology that they say sets them apart.
They are also committed to sustainability. Their initiatives and dedication to stewardship include:
Up to ninety percent of solar power used to run their site
Over four hundred thousand dollars raises in 2018 in support of trail creation and maintenance
A large portion of employees commute by bike or have commuted by bike
Sponsorship of a professional cycling team
How is Santa Cruz perceived compared with competing brands?
Santa Cruz regularly makes top ten lists. The Top Tens, a site specifically devoted to publishing lists of most popular brands, products and more as voted by users, currently ranks Santa Cruz as the sixth most popular mountain bike brand.
That comes behind other big names for mountain bikes, such as Trek, Giant, and GT, but ahead of other big names like Kona and Yeti.
Among customers, as a whole, many are impressed with Santa Cruz bikes for their varied options and overall versatility, while other praise models for their general geometric structure. Perhaps the best thing about the brand is that there are many reviews available for the company overall, as well as awards for certain bikes.
While Santa Cruz has many close competitors, at the same time the brand proves to be a consistent and fairly reliable choice for high-end mountain bikes.
Has Santa Cruz always been known for high-end mountain bikes?
You are surprised to learn that Santa Cruz at first seemed like an unlikely company for high-end mountain bikes, in part due to the fact that founders Rob Roskopp and Rich Novak come from a background in skateboarding.
In some ways, this is what has made Santa Cruz's approach a bit unique, and perhaps what led the company to try then innovative techniques, such as adopting a virtual pivot point suspension design, which was actually first owned by Outland.
Where are Santa Cruz bikes sold?
Due to the popularity of Santa Cruz bikes, they are sold through many, if not most bike retailers online. Storefronts can be found not only in the United States, but in fact in as many as thirty countries around the world. Of course, their original headquarters remains in Santa Cruz, California.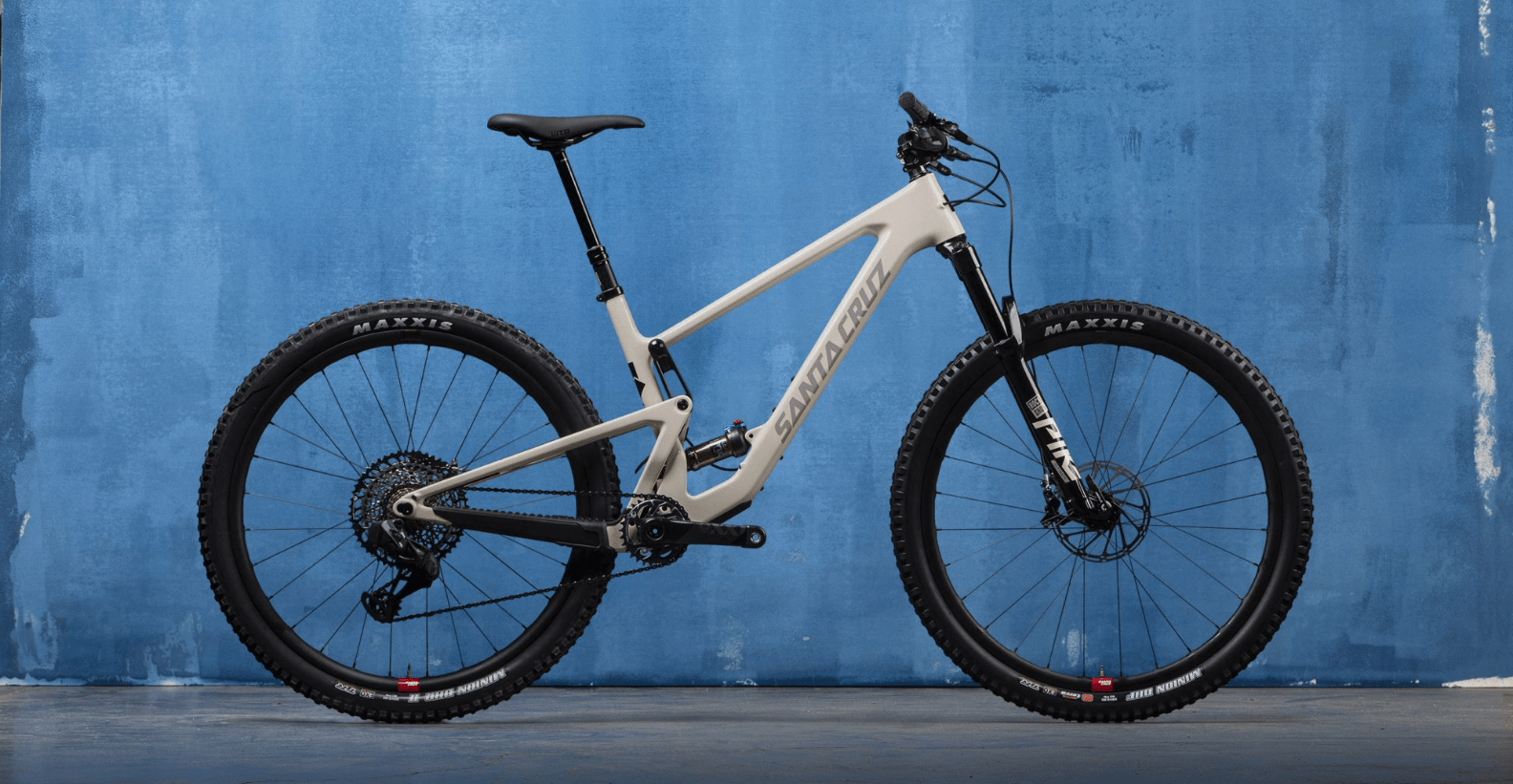 As you are probably well aware, one of the first steps as to how to find the best mountain bike is to determine what kind of mountain bike you need. Most look for one of the following:
Dirt jump bikes, which are also sometimes referred to as urban bikes, are equipped normally with front suspension, a lower seat tube (dropper seat post), and used for time spent in the air, performing jumps.
XC or cross country bikes, are meant for trail riding, but are quite light typically and able to travel quickly and accelerate with ease for climbing. XC Trail bikes are more suited for dirt roads.
Euro bikes, which have a number of features similar to XC bikes, but have a bit more strength, tend to be a bit heavier, and are suited for rugged trails with a more comfortable saddle.
Downhill bikes tend to have wide, full suspension, heavy rear shock absorption, and, of course, are designed for descents (including a specialized shock mount).
Santa Cruz Tallboy is marketed as a "gravity rider's" XC Tallboy bike. That means it should ideally be suited for riding on general trails and coping with some climbs and maybe even mild descents.
How expensive is Santa Cruz Tallboy?
Santa Cruz Tallboy retails for around twenty-seven hundred U.S. dollars as a starting point, placing it solidly in the mid to higher-end category of bikes. That initial price includes a basic aluminum frame, with a variety of features (A frame of this type retails for two thousand dollars).
Class A with an aluminum frame costs just under thirty-four hundred dollars
Carbon options are also available; a base frame starts at two thousand dollars, and the most expensive, an inclusive package and features cost over ten thousand dollars
While there are many quite expensive models, it is possible to find a bike for around three thousand to four thousand dollars–still expensive, of course, compared with budget friendly bikes.
Check this CompetitiveCyclist.com listing here AND this listing on Evo.com for the latest prices.
Is the Tallboy Worth it? | Competitive Cyclist
Excellent crossover appeal and a well-balanced combo of speed, ease of use, traction and durability make the Santa Cruz Tallboy a CLEAR stand out to me. While it's not the cheapest, it IS one of the highest rated in class. Well worth it!
Check Prices
We earn a commission if you click this link and make a purchase at no additional cost to you.
We've already covered this a bit, but the Tallboy is made out of three different materials (two versions of carbon and aluminum) depending on what model you select. All of their carbon is tested and built in their affiliate factory.
Aluminum frames have the advantage of being both durable and light. It's known as the most budget friendly of materials with neglecting strength. Less resistant to corrosion than carbon, these frames, however, may hold up better than carbon frames to crashes.
Carbon frames are much more expensive, as we see with the Santa Cruz Tallboy. It too is surprisingly light, and exceptionally tough and durable. It's also resistant to corrosion, but it is more vulnerable to damages with impact like crashes.
Overall, it at least appears Santa Cruz Tallboy is selecting sensible materials for the Tallboy, and quality control by supplying their own carbon is another plus.
What is the wheel size, and why does it matter?
Santa Cruz Tallboy comes as a 29er wheel, which is the largest standard size mountain bikes come with. There are both advantages and disadvantages to a 29er vs 27.5.
Compared with 27.5 wheels, 29ers have more traction and grip. The wheels cover more surface area on the trail and are more equipped to handle larger obstacles on trail, and rougher trails, terrain, and muddy conditions.
That said, 27.5 wheels are a bit better at navigating turns and are easier to maneuver. So, Santa Cruz Tallboy seems to be aiming for a compromise of the lighter XC frame but with wheels better equipped for handling more difficult trails.
What are the wheels made out of?
Santa Cruz Tallboy wheels are made out of Reserve Caron Rim. They are constructed to be more durable, while also offering a compromise of traction and rolling ability.
What are the rear and front travel dimensions? And what do they mean? 
Santa Cruz Tallboy comes with one hundred and thirty-millimeter front travel, and one hundred and twenty millimeter rear travel. It's being marketed as a shorter travel bike, but with extended capabilities.
Short travel bike models are mostly XC and trail cross over bikes, which means they have a degree of versatility in terms of off-road biking but are also not the best option for racing
Some have described short ride bikes as a small version of Euro bikes and tend to be compact and efficient models.
These models are hardier than light XC bikes, but not as big, tough or cumbersome as Euro bikes
Travel, or suspension length, tells you a lot about what kind of trails the bike can handle. At these dimensions, the Santa Cruz Tallboy is suited for general XC trails and sometimes more mountainous terrain, but not for steep descents
What role does VPP suspension play?
VPP suspension, also known as a virtual pivot point, is a unique alternative to the full, front, or rear suspension. A link and right rear axle adjustment are meant to apply pressure more evenly as you pedal.
With many full-suspension designs, pedaling creates pressure that pulls your bike slightly down and results in concentrated compression. The concept is that overall, the pressure is applied in a smoother way, which is helpful for providing a smoother ride on bumpy terrain.
What role does 'travel' geometry play in Santa Cruz Tallboy?
The Santa Cruz Tallboy prides itself on replicating geometry seen normally on longer ride models. All models incorporate a sixty-five and a half degree head-angle with an abbreviated offset 130mm fork.
The head angle, however, is in reality in line with a number of XC and trail bikes.
The four hundred and thirty-millimeter chainstay are also in line with what is typical for most 29ers, though the plus and minus ten millimeters of chainstay adjustment does provide additional customization.
The Tallboy also has what they say is a low BB. BB refers to the bottom bracket. At three hundred and thirty-five millimeters and a thirty-seven and a half drop, which is indeed below average BB for most mountain bikes. The idea behind a low bottom bracket is that it ostensibly provides more stability and lowers the center of gravity.
Is a bike this light really suited for crossroad trails?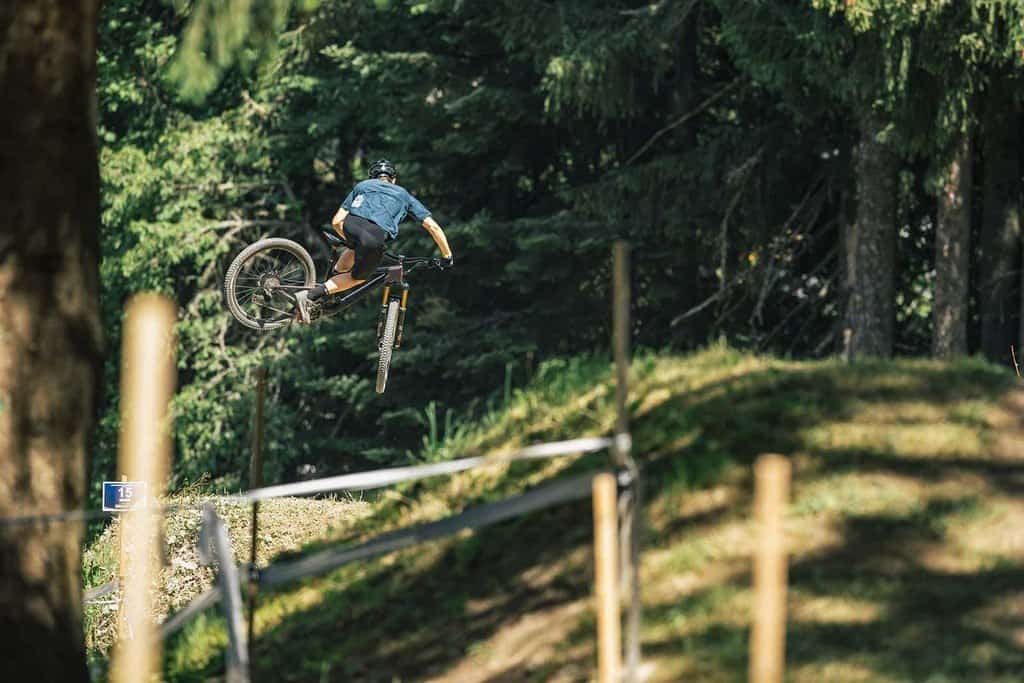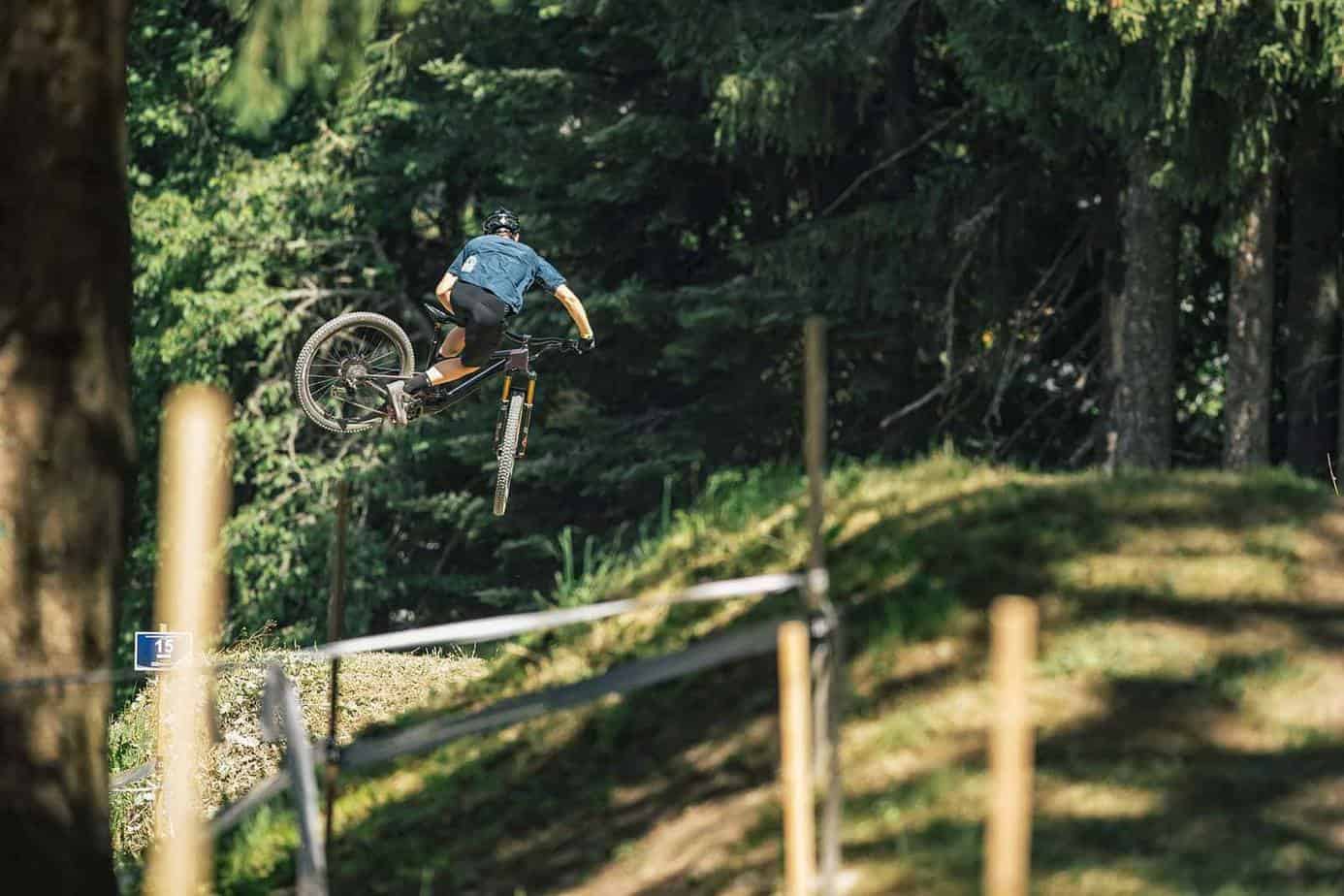 Weighing in at twenty-seven to thirty pounds, depending on the model, it's actually not considered lightweight as you'd think. In fact, the average weight bike stands at around twenty-eight to twenty-nine pounds.
While not as heavy as some mountain bikes, you can see how it might make sense as an XC/ trail crossover.
That's both a good and bad thing, depending on your perspective: if you're looking for lightweight, springy XC bike, Santa Cruz Tallboy isn't it. However, if you want an XC bike with some more crossover appeal, it may be more attractive.
What other features should I be aware of?
The other excellent thing about Santa Cruz Tallboy is how transparent they are in terms of detailed specifications. You can also directly compare and contrast different models and filter by aluminum and carbon frame, as well as shift through higher end models and price points. Here are some other details Santa Cruz Tallboy have in common except for the most expensive model, which integrates slightly upgraded of the same technology:
Float Performance DX shock absorption
SRAM SX Eagle shifters
Avid Centerline brake routers
DT Competition spokes
Has Santa Cruz Tallboy been well received?
Santa Cruz Tallboy, across sites, per customer and individual reviews, averages around four out of five stars. While initial the multifaceted crossover potential (for instance, a 29er with an XC design) caused some skepticism, for most the bike ended up delivering.
It's been described much in the way it's been marketed: springy, easy to maneuver but also sturdy and with enough grip for trail riding.
Do we recommend Santa Cruz Tallboy overall? 
Overall, Santa Cruz Tallboy is an excellent option if you're looking for an XC crossover mountain biking. From quality materials to excellence in geometric construction, VPP suspension technology, to an overall balance of durability, traction, and rolling motion, it also comes from a well-respected company.
Of course, it's not the bike for everyone, especially if you're looking for a traditional XC bike or something you might want to race with. It's also certainly not cheap, especially with mid and high range options and features.
Santa Cruz Tallboy Pros
Excellent, fully capable crossover appeal
Balance of ease, speed, durability (longer lasting), and traction
Excellent construction and design
Signature technology
Ability to customize
Comes well recommended
Santa Cruz Tallboy Cons
Can be quite expensive
Not as lithe as other XC bikes
Is the Tallboy Worth it? | Competitive Cyclist
Excellent crossover appeal and a well-balanced combo of speed, ease of use, traction and durability make the Santa Cruz Tallboy a CLEAR stand out to me. While it's not the cheapest, it IS one of the highest rated in class. Well worth it!
Check Prices
We earn a commission if you click this link and make a purchase at no additional cost to you.
Where to Buy the Santa Cruz Tallboy Online?
While your local shop MAY have it, they are typically aggressively priced when in stock (and sometimes quite hard to find locally).
I recommed checking the following online retailers (all with FREE shipping and zero hassle):
Santa Cruz Tallboy Alternatives
What if I'm looking for a new bike but not convinced that Santa Cruz Tallboy is right for me? If you like some aspects of the Santa Cruz Tallboy after this review, or if you simply don't see yourself spending so much money, there are other options for great mountain bikes. Here are a few you might want to look at:
Yeti SB100: From another well-respected company comes another crossover XC/ Trail bike with excellent features. You may not save a lot of money going with this model, but what it does offer is a more lightweight and playful design, while still having trail appeal. Further Read: Yeti SB100 Review.   
Is the Yeti SB100 Worth it? | Competitive Cyclist
The SB100 is a perfect pick for intermediate to advanced mountain bikers, focusing on XC and crossover mountain biking. This won't be your first bike, but it's probably the LAST bike you need to buy.
Check Price
We earn a commission if you click this link and make a purchase at no additional cost to you.
Niner Jet 9 1-Star NX1 Complete Bike: This is a good option if you anticipate riding on trails with more substantial inclines and declines. A nuanced suspension system, and some other features to provide stability, make it an attractive option.   
Trek Supercaliber: Looking for an innovative XC bike? The Trek Supercaliber is lightweight, with a sharper sixty-nine degrees head angle. You'll benefit from a full suspension, coupled with convenient options, such as a suspension link that doubles to hold water bottles.     
Trek Supercaliber | Trek Bikes
Supercaliber is a game-changing cross country mountain bike that's fast, light, and smooth through the rough stuff. Hardtails are efficient, full suspension bikes keep you in control, but only Supercaliber pairs the best parts of both.
Check Price
We earn a commission if you click this link and make a purchase at no additional cost to you.
FAQs About Santa Cruz Tallboy
Do Santa Cruz bikes go on sale?
Santa Cruz bikes are always somewhere on sale, so if you are planning to make a purchase on budget, make sure you check store deals first, and then check up with prices online in order to make the best deal.
Does the Santa Cruz Tallboy has a lifetime warranty?
Yes, the frame and fork come with a lifetime warranty, but the company will only repair it if it's workmanship defect or material defect. All the previous models until March 2015, come with a 5-year warranty.
Are there different Santa Cruz Tallboy sizes?
Yes. When you are paying such high price for a MTB, comfort and safety always comes first, thus here you can find the right bike size for you which will be crucial for your long rides.
Is the Tallboy Worth it? | Competitive Cyclist
Excellent crossover appeal and a well-balanced combo of speed, ease of use, traction and durability make the Santa Cruz Tallboy a CLEAR stand out to me. While it's not the cheapest, it IS one of the highest rated in class. Well worth it!
Check Prices
We earn a commission if you click this link and make a purchase at no additional cost to you.
Read More: