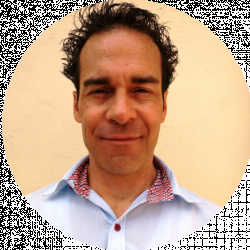 Latest posts by Douglas Bloom
(see all)
Mountain biking is an enjoyable activity and hobby whether it is taken seriously as a sport or for fun. Choosing between the Santa Cruz 5010 vs Tallboy can be a challenge if you do not know the differences. With the below information, you can easily determine the best mountain bike to suit your preferences. 
Main Differences Between Santa Cruz 5010 vs Tallboy
The Main Differences Between Santa Cruz 5010 vs Tallboy are:
The Santa Cuz 5010 has 210mm eye to eye length, whereas the Tallboy has 190mm

The Santa Cuz 5010 uses 27.5-inch wheels, whereas the Tallboy uses 29-inch wheels

The Santa Cuz 5010 has rear travel of 130mm, whereas the Tallboy has rear travel of 120mm

The Santa Cuz 5010 has one water bottle mount, whereas the Tallboy has two
Santa Cruz 5010 | Competitive Cyclist
When the whole industry is raving about 29ers, it's easy to forget that some of our best rides are on shorter travel 27.5in bikes. Touted by many riders as the "fun wheel size," 27.5in wheels have a playfulness and agility to them that 29ers simply can't match, and the all-new Santa Cruz 5010 brings out these qualities in full.
Check Price
We earn a commission if you click this link and make a purchase at no additional cost to you.
To simplify the process, look at the core specifications of the 5010 below:
Derailleur – SRAM X01 Eagle 12s

Cranks – SRAM X1 Eagle 175mm 32ft

Cassette – SRAM XG-1295 10-50t

Bottom Bracket – Threaded Bottom Bracket

Tires – Maxxis Minion 2.3"

Rims – Santa Cruz Reserve Carbon

Hubs – ST Swiss 350

Stem – Race Face Aeffect 50mm

Shifter – SRAM X01 Eagle 12s

Seatpost – Rock Shox Reverb 150mm

Saddle – WTB Silverado Team

Headset – Cane Creek 40 IS

Handlebar – Santa Cruz AM Carbon 760mm

Brakes – SRAM Guide RSC

Shock – Fox Performance DPX2

Fork – Fox 34 float performance 130mm

Frame – Carbon CC 130mm
All these features combine to offer the rider an incredibly versatile, durable, and capable bike. The features allow this MTB to withstand tough conditions and terrains without any issues. Other features of the bike worth noting are detailed below.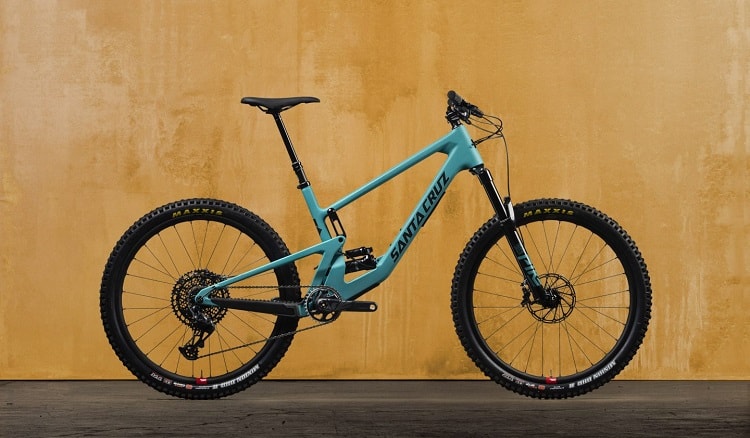 Weight
At 28.5 pounds or 15.18kg, this MTB is fairly lightweight. This makes it a well-balanced mountain bike with sufficient weight for you to ride solid without weight interfering with your ability to remain agile and mobile. Compared to other bikes of its category, the Santa Cruz 5010 is relatively lighter.
The lightweight makes it a great high-performance bike. You can take on moderate to light terrain without any problems. In addition to offering versatility with regards to the spectrum of movement you can accomplish with a ride, the weight allows you to easily manage the bike. 
Read Our Full Santa Cruz 5010 Review Following This Link.
Fork
The bike has a 130mm Fox Rhythm 34 fork. It offers versatility and agility by allowing you to rise on a variety of terrains. While out on the trail, the fork provides exceptional support and more responsive action for your posture and body. It is made using high-quality materials meaning you do not have to worry about damaging or breaking it. 
Frame
An Alloy 130m 650b configuration is the frame of this bike. It is highly resilient against breakage and damage making it durable. One of the benefits is it offers an immense amount of support as you ride it.
Additionally, it keeps you level irrespective of the climate or terrain you may be traversing. The frame's geometrically stable machined body and ergonomic design provide versatility, mobility, performance, and comfort to all sorts of riders. 
The frame has enough structural stability and integrity to help you breeze through a trail without any issues. It will not matter whether you're running over branches and rocks, taking steep dives, or hitting switchbacks. 
Shock
Fox Float Performance DPS shocks are installed on the Santa Cruz 5010. You do not worry about the after-effects of taking on steep dives. The shocks absorb intense amounts of impact to keep you comfortable on the majority of terrains. 
Shocks on the 5010 use highly absorbent technology. This protects the rider from direct energy transference when they are on rocky and bumpy terrains. It means you perform at optimal speeds while remaining efficient. They are highly responsive meaning you can quickly react to any changes in your immediate terrain. 
Shifters
High-performing shifters are installed in the 5010. They allow you to change gears efficiently and quickly without worrying about limited mobility. They are very responsive and easy to use. The shifters are made using high-quality materials to prevent you from breaking them while you engage gears in rough terrain. 
Tires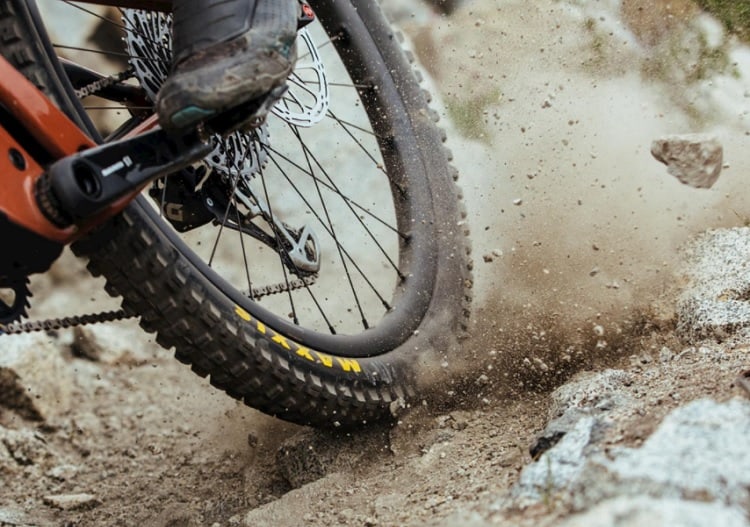 Maxxis Minion DHF 650 x 2.6-inch tires are fitted on the mountain bike. The other option is the Maxxis Reckon 650 x 2.6-inch tires. The configuration provides the MTB with enhanced performance capabilities that you cannot experience with other tires. 
Apart from having a wide design, the tires are made to take on tough terrains. You don't have to worry about punctures or damage to the tires when you are on a trail. The tires have been designed to ride on rough terrain regularly. 
Saddle
A WTB Silverado Race saddle is fitted on the Santa Cruz 5010. It is designed for performance and comfort. The saddle is made using balanced and weight absorbent material making your ride comfortable. It will not matter how long you stay on a trail. 
The saddle also caters to a wide range of weight classes. This makes it suitable for anyone who is searching for a premium and durable bike selection with the ability to handle any challenge thrown at it. 
Brakes
SRAM Guide T 180/180 brakes are installed on the Santa Cruz 5010. They are powerful brakes capable of slowing or stopping with precision. The design of the brakes was intended for maximum response in all types of terrains and immediate stopping power. They are the kind of brakes you need if you ride at high speeds and brake often. 
Pros
Shock system offering maximum resilience and resistance to high-impact

Available in multiple configurations and sizes

Highly responsive and durable shifters

Saddle designed for performance and comfort on long rides

High-quality frame model with a lightweight design

Fox Rhythm 130mm fork for more balance and agility
Cons
Stiff tail-end design makes some high-impact hits intense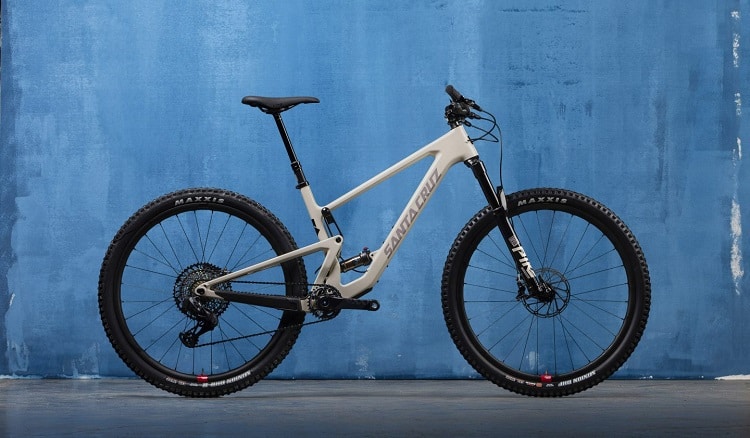 Santa Cruz Tallboy is a Santa Cruz model that has been redesigned. It may be why the use of their lower-link VPP suspension offering 120mm of travel is not a surprise. This is 10mm more travel than the previous version. The new Tallboy is also paired with big wheels, new-school geometry, and a 130mm travel fork. That is why it is fit for all sorts of purposes that previous versions of a trail bike couldn't fit not long ago. 
Is the Tallboy Worth it? | Competitive Cyclist
Excellent crossover appeal and a well-balanced combo of speed, ease of use, traction and durability make the Santa Cruz Tallboy a CLEAR stand out to me. While it's not the cheapest, it IS one of the highest rated in class. Well worth it!
Check Prices
We earn a commission if you click this link and make a purchase at no additional cost to you.
Read our Full Santa Cruz Tallboy Review Following This Link.
Key Features
Headtube/headset: Integrated IS41/52

Front derailleur: no compatibility

Suspension system: VPP

Shock Mounting Bushing Rear: 30×8

Shock Mounting Bushing Front: 20×8

Water Bottle Mounts: 2

Max Chainring Size: 36t

Max Tire Size: 2.6″

BB Shell: 73mm Threaded

Fork Compatibility: 130-140mm

Stroke: 45

Eye to Eye Length: 190mm

Seat Clamp: 36.4mm

Seat Post: 31.6mm
Frame Size
The Tallboy comes with higher-end, lighter-weight Carbon CC, Carbon C, and aluminum frames. There are five size options namely:
Carbon-only XXL (for riders who are 6'3" to 6'7")

Extra-large (6' to 6'3")

Large (5'9" to 6')

Medium (5'4" to 5'9")

Small (5' to 5'4")
The reach for these sizing options are 19.8", 18.7", 17.7", 16.9", and 15.9" for XXL, extra-large, large, medium, and small respectively. 
Brake Type
Disc brakes are the brakes used on the Tallboy. The kits mostly feature SRAM level brakes. Such brakes are popular for their excellent stopping power in any condition. If you are assembling the bike, keep in mind that installation requires taking the grips off the assembly.
Shifters
The majority of Tallboy kits use the SRAM NX1 drivetrain. This is standard and it features 30 – 42 gearing. As a fairly new 11-speed shifter, the SRAM NX1 is slightly below the GX1. Professional riders have determined that it performs shifting duties consistently and reliably, with a solid drivetrain.
Rims
You have various options to choose from when it comes to the bike's rims. The high-end kits have Race Face ARC. Race Face AR and WTB ST i23 are designed for low-end 29ers. Each of these options has an exceptional strength-to-weight ratio. 
Tires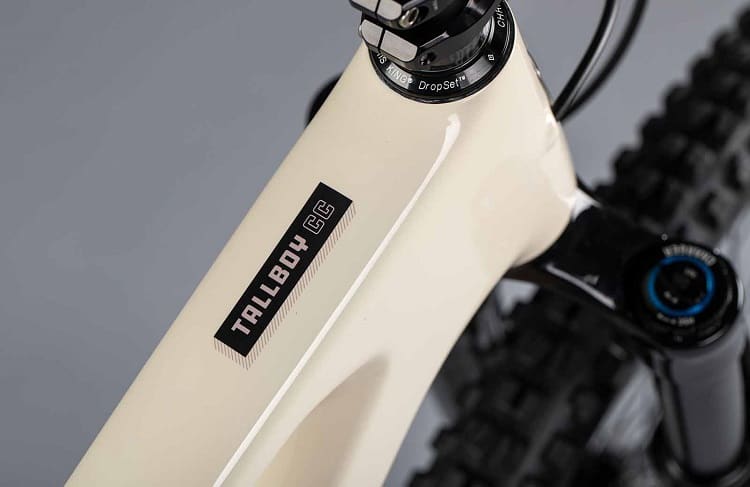 On the 27.5 kits, you get the Maxxis Rekon on both rear and front tires. Maxxis Minion is the front tires you get on the 29er kits. Maxxis Ardent Race and Maxxis Crossmark II are the rear tires on 29-inch kits. The latter is only available on high-end kits of the Santa Cruz Tallboy. Maxxis tires are popular among riders because they offer an excellent bite. 
Geometry
For the Tallboy, Santa Cruz has gone more contemporary. For a large-sized rig, you can get a 470mm reach on HI or a 468mm reach on LO. This is comfortable for a lot of people with a height of 5'10".
All sizes share the same chainstay length at 430 or 440mm. At the ends of the spectrum, the extra-small measures 398mm and the double-extra-large goes out to 515mm. In the LO setting, the angles for your bum are 76.2 degrees and 65.5 degrees upfront. 
Lower-Link VPP Suspension
Many years ago, Santa Cruz tinkered with prototypes in a bid to test a lower link-style VPP layout. The company was able to come up with the best suspension system by getting rid of the front derailleurs. Also, boost spacing made it possible to use this type of suspension. 
However, in the past, it was not possible to manufacture a carbon frame and a "shock tunnel" that was just above the bottom racket. Santa Cruz says this layout is highly versatile. Changing the pivot or links locations by a millimeter may have drastic effects on performance.
Pros
Comes well recommended

Ability to customize

Signature technology

Excellent design and construction

Balance of traction, durability, speed, and ease

Excellent, fully capable crossover appeal
Cons 
Not as good as other XC bikes

Can be pricier 
Santa Cruz Bike Buying Guide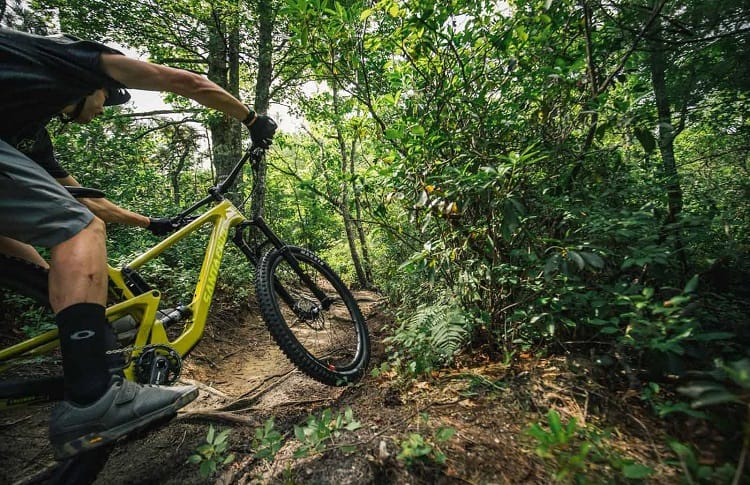 Santa Cruz doesn't do model years. However, they refresh their models every several years. Sometimes they also introduce new mountain bikes. There are some factors you need to consider when you want to buy a Santa Cruz mountain bike. They include: 
Understanding the Santa Cruz Range
You may assume choosing a Santa Cruz MTB is a walk in the park. You may think the company mainly makes trail bikes. Once you look at their products, you will realize there is a lot of information you may not have. 
In total, Santa Cruz has 11 different mountain bikes. They range from XC endurance hardtail using several iterations of modern trail bikes through to long travel World Cup Downhill rigs. It's the trail bike that requires the most explaining. 
The options include travel ranging from 100mm to 170mm and both wheel sizes. Picking the best Santa Cruz to meet your needs can be tricky. The information below has been thoroughly researched to show you the options available as well as their benefits.
Carbon C vs. Carbon CC
Santa Cruz makes bikes using two types of carbon. Carbon CC is more expensive than Carbon C. It may be because Carbon CC weighs slightly less while maintaining the stiffness and strength of Carbon C. 
Hardtail Mountain Bikes
When it comes to hardtails, the company offers three models. The first one is the jackal. It is a slope/dirt jump style bike. This is for expert or experienced riders who enjoy doing dirt jumps and similar activities. The other two choices, Chameleon and Highball, are for ordinary riders who enjoy riding hardtail MTBs. 
Full Suspension MTBs
If you are looking for a full-suspension Santa Cruz mountain bike, we recommend going with the v10 Downhill race bike. For non-DH full-suspension bikes from the company, you can choose from seven models. Travel on these MTBs range from 100mm to 170mm. They can also be classified as trail bikes depending on the trail and the rider.  
Full suspension bikes use a variation of the VPP twin-link suspension/VPP floating layout. The majority use a conventional seat tube and swingarm except one, the Nomad. It uses a rear shock that passes through an interrupted seat tube. 
Santa Cruz Women's Mountain Bikes
The company does things differently from other MTB manufacturers. Their Juliana brand is devoted to women bikes even though the bike maker states they don't believe in female-specific geometry on bikes. So what are Juliana bikes all about?
Some of the major features about these bikes are they have lighter tuned suspension damping, smaller diameter grips, are specced with women-friendly saddles, and are available in smaller sizes.
They are more small-body-specific than female-specific. If you are not a light or small woman, get one of the above-mentioned Santa Cruz models instead of a Juliana. 
There are four Juliana models. They can be described as:
Juliana Joplin is the female version of the Tallboy. Unlike the Tallboy, it can be run with 27.5-inch or 29-inch wheels

Juliana Furtado is the female version of the 5010

Juliana Roubin is the female version of the Bronson

Juliana Trega is the female version of the Nomad
Santa Cruz FAQs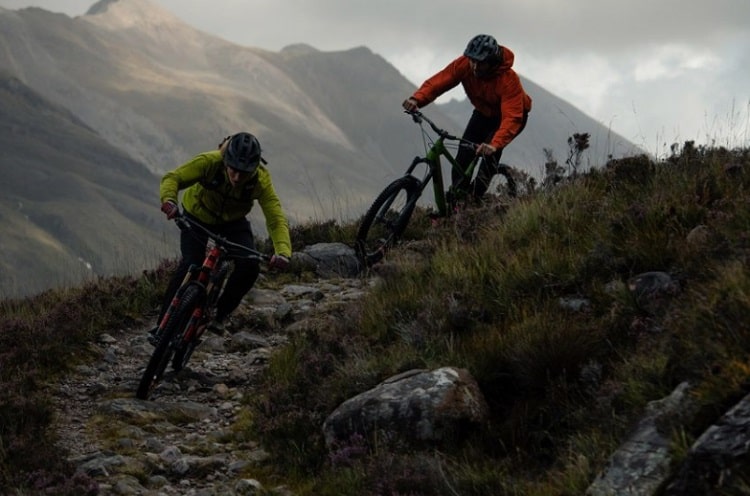 Question: Where Can I Test Ride the Newest 5010 Model?
Answer: Santa Cruz has the newest 5010 model for demo at their factory in Santa Cruz, California. If you are not in the area, contact your local Santa Cruz retailer. They will tell you if they have demo availability, or how to find the nearest one. 
Question: Is the 5010 Coil Shock Compatible?
Answer: Yes, it is! Take note that on a shorter-travel platform, you need a firm spring to prevent bottoming out too much with a coil. This is because you will not have the advantage of an air spring ramp-up. However, this model will work better with a coil than other MTBs with the same travel range and it has a rising-rate linkage. 
Question: What is the Purpose of the Rear Axle Flip on the Tallboy?
Answer: It is designed to change the chainstay length by adding or subtracting 10mm. This offers you a choice about how the MTB fits or rides. Longer has more traction for climbing and is more stable when descending. Shorter is more lively and playful. 

It also means taller riders can create a balanced front-rear proportion and tailor the fit of the bike. You can also flip the axle chip to long if you want to install 29 x 2.56 tires on your Tallboy. Unfortunately, the aluminum model of the Tallboy does not come with an axle flip-chip.
Question: Are there any Limitations to Changing the Rear Shock of my Tallboy?
Answer: The rear shock size of the Tallboy is 190 x 45mm. The rear hardware is 8 x 30 (bearing compatible) and the front hardware is 8 x 20. The Tallboy is compatible with the majority of air shocks except for Cane Creek and Fox Float X2 shocks. 

For optimal performance, we recommend the following:
• Rockshox Super Deluxe
• Rockshox Deluxe
• Fox Float DPX2
• Fox Float DPS
Bottom Line
If you are looking for a do-it-all MTB, go with Santa Cruz 5010. You can take it to your local Enduro race and XC then go on any trail during the week. The pilot is the only thing holding back this mountain bike. 
Tallboy is more of a light-duty trail and fun cross-country bike. It doesn't have the downhill prowess associated with 5010. However, it performs faster on XC-style trails. If you are looking for a bike you can enjoy riding on weekdays and it won't hold you back at local XC races, the Tallboy is the mountain bike of choice. 
Santa Cruz 5010 | Competitive Cyclist
When the whole industry is raving about 29ers, it's easy to forget that some of our best rides are on shorter travel 27.5in bikes. Touted by many riders as the "fun wheel size," 27.5in wheels have a playfulness and agility to them that 29ers simply can't match, and the all-new Santa Cruz 5010 brings out these qualities in full.
Check Price
We earn a commission if you click this link and make a purchase at no additional cost to you.