Trek FX 3 Disc Review: All You Need to Know
If you're after a bike that can handle your commute and take you on adventures at the weekend, then look no further – our Trek FX 3 Disc review is what you're looking for.
Not everyone who looks for a mountain bike wants to go for tough dirt trails. Many people are looking to make a swap from driving to cycling when it comes to their daily commute – both for environmental and health reasons. Cycling for fitness is always a good idea, and there are plenty of gentler trails or cycle paths to explore.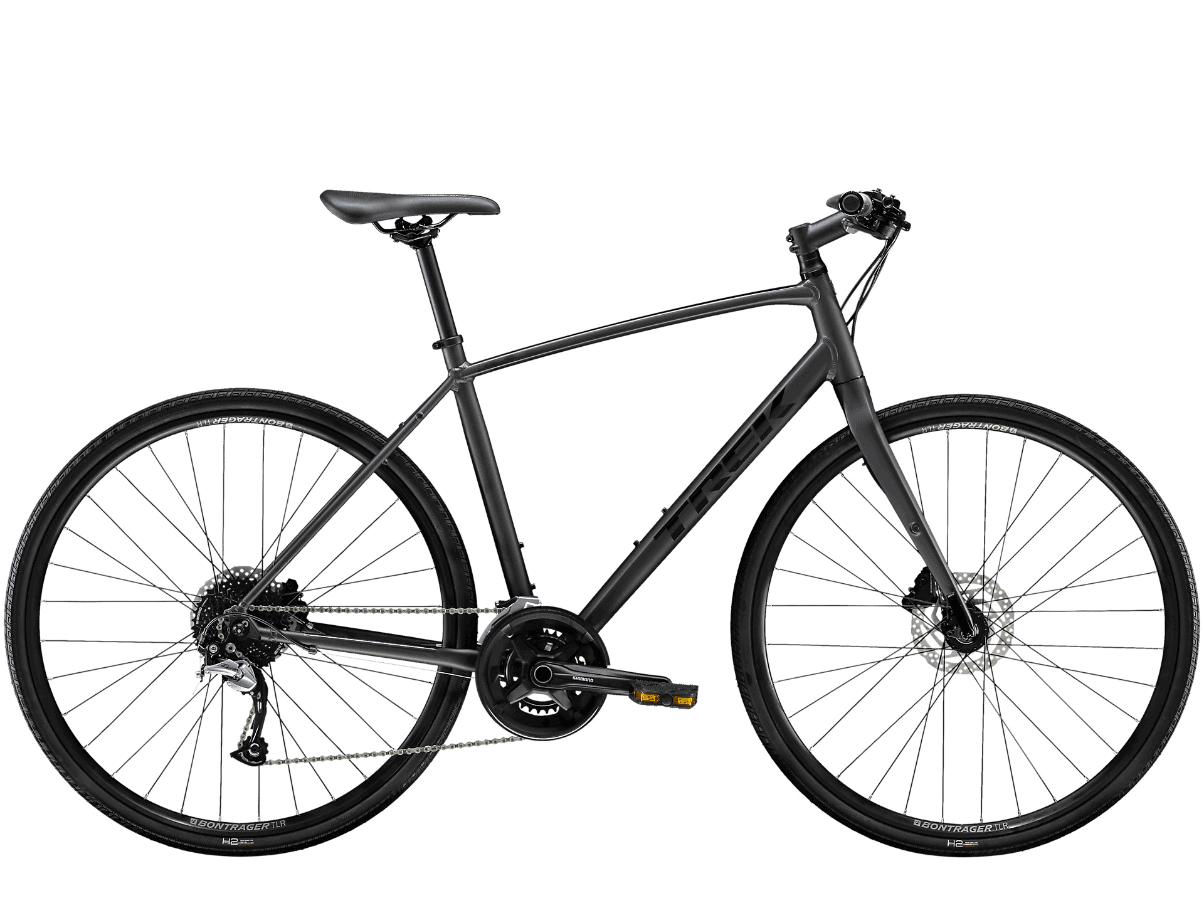 The question is – does the FX 3 Disc tick all those boxes?
The Bottom Line:
We think the Trek FX 3 Disc is a great, multi-purpose bike that can get you where you need to go safely and quickly. It's also comfortable enough to enjoy riding on the weekends, too.
If you want to know exactly why we like it so much, you'll have to keep reading.
We're going to be looking at:
If Trek is a good company and how it compares to its competitors

An overview of the FX 3 Disc

A more detailed look, including it's materials, wheels, features, performance, specs, warranty, and price range

Who the FX 3 Disc is suited for (and who it's not suited for)

What users think of the FX 3 Disc

The pros and cons

Some frequently asked questions

Our final conclusion about the FX 3 Disc
If you want to find out more about it, stick with us – we'll tell you everything you need to know!
How does Trek compare to other companies?
Trek was founded in 1976. They're well-known for their work with Lance Armstrong in the late '90s, and they have a good reputation in terms of designing and manufacturing excellent bikes. They were the first company to pay women the same amount as men for racing at a World Cup level. They're also starting to offer a range of eco-friendly products, designing bikes for those on a low budget to encourage cycling over driving. Overall, they're a good company with a great track record.
They're known for their generous lifetime warranties on frames and 2-year warranties on parts – which we'll go into in more detail a little later.
Trek offers bikes across a huge price range – from around $450-$500 dollars, right through to $12,000 or more. That covers all skill levels – from beginner to pro – and they also make bikes for kids.
Trek offers a big range, so they're not as specialized as, say, Evil (who produces a small range of bikes suited for tougher trails, like Evil the Wreckoning). They're quite close in terms of quality and price to Santa Cruz and Giant (you can read more about how Trek compares to Giant in our brand comparison here). You could also compare them to Diamondback in terms of quality, although Diamondback doesn't offer as many entry-level options as Trek.
What kind of bike is the Trek FX 3 Disc?
The FX 3 Disc is a hybrid bike, designed to be used on your commute, on pavements, or on rail trail. It's super-lightweight, which makes it ideal for public transport. It's ideal if you want to get fit and get places quickly at the same time.
It has an entry-level price point. There are cheaper bikes out there, of course, but this strikes a nice balance between quality materials and a low price. It's designed to be easy to use, with great brakes that work really well on pavements, even if it's pouring with rain.
It's a really simple-looking bike. If you want a bike that looks distinctive, or you're after a 'status symbol' bike, this won't be the one for you. If you want something that looks simple and sleek and functions well, it's a good choice.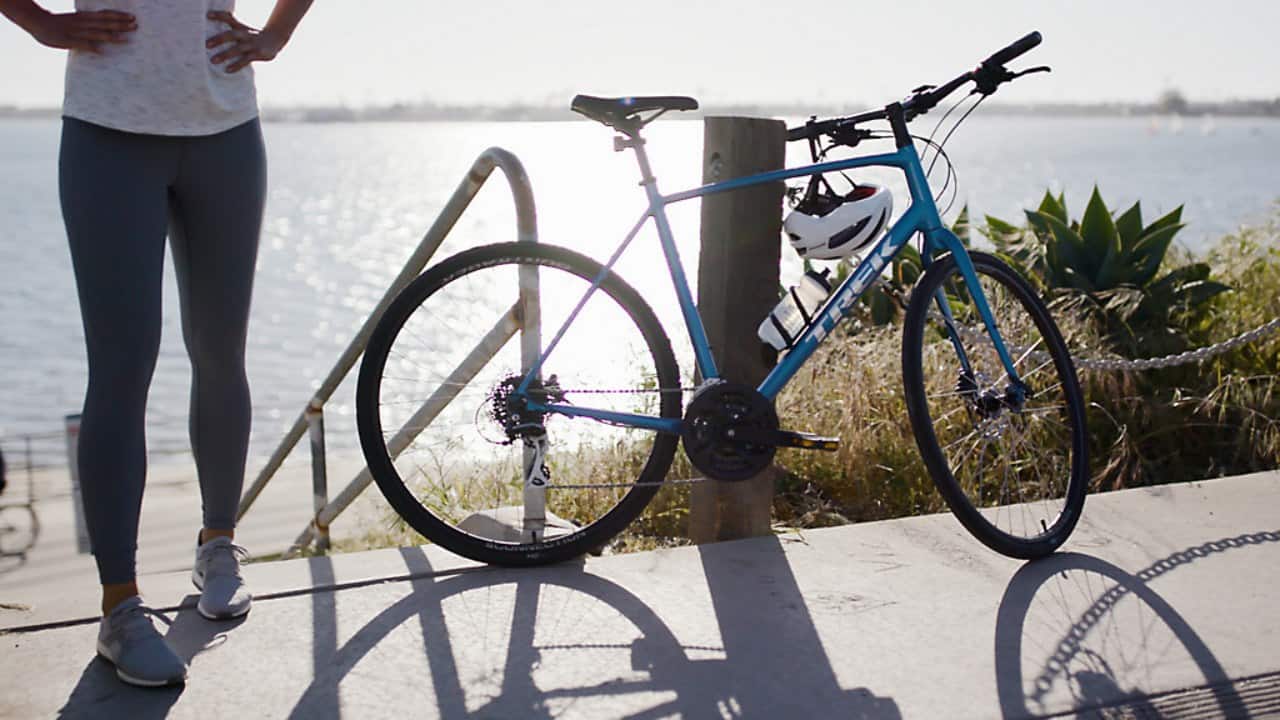 The main features of the Trek FX 3 Disc
Now, we'll look at the FX 3 Disc in more detail.
What is it made from?
The frame is made from aluminum, which helps to keep it light. The whole bike weighs 11.74kg (or 25.88lbs) – that's for the medium size.

There are five sizes to choose from, from S through to 2XL. 

It comes in two colors – Dnister Black or Rage Red.
What are the wheels like?
The wheels consist of Bontrager Tubeless Ready Disc 32-hole rims, and Bontrager H2 Hard-Case Lite tires.
The tires are designed to work really well on pavements (even in slippery, rainy weather). They're tough and puncture-resistant, so if you were to accidentally ride over something sharp, you won't have to worry about dealing with a flat on your way to work.
What other features does it have?
The great thing about the FX 3 Disc is that it has a few extra touches that make it very convenient to use. It has 'Blendr Stem' technology – this is a system involving a stem, base, and mount, meaning you can easily install accessories onto your bike. Whether you want to attach lights, a GoPro, or a Satnav, they'll be secured safely to the frame. You can also attach a water bottle mount and mudguards.
It also integrates a Bluetooth/ANT+ sensor. This allows you to track fitness routes with your computer or smartphone, with no external sensor required.
The frame looks sleek because it has the cables routed internally, which is a nice touch.
It also comes with built-in mounts, meaning you can easily add racks and fenders.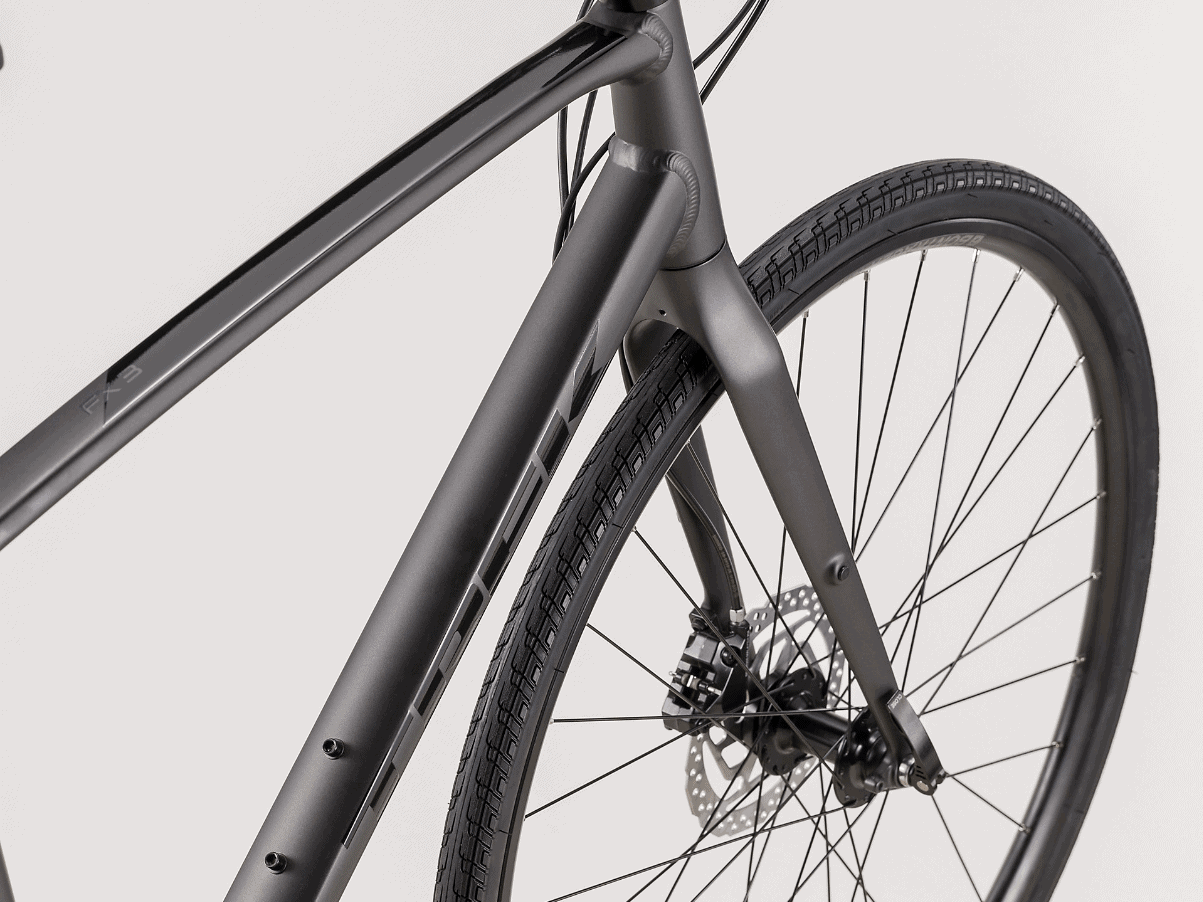 How does it perform?
It's a very smooth ride on pavements, but it also performs well on gravel and grass.
The excellent brakes mean that users feel safe even if the pavements are uneven or slick with rain – even going downhill at a faster speed, the brakes work really well.
You can go pretty fast with the FX 3 Disc – it compares really well with a specialized road bike in that regard – but you can transition onto other types of terrain, too.
It doesn't do well on very uneven surfaces – you won't be able to hit the trail with this bike, as the suspension isn't designed to deal with big dips or bumps. However, you should be able to deal with slightly bumpy terrain (like gravel or dirt paths) with no problems.
It's designed to be easy to ride. You don't have to be an expert with hours of practice to use the FX 3 Disc – perfect for those who want to make a swap for their commute, or those wanting to take up bike riding for exercise.
What are the specifications?
Here are the main specs for the FX 3 Disc:
Fork –

FX Carbon, rack and fender mounts – flat mount disc

Crankset –

Shimano MT210 46/30, chainguard, 170mm length (size S,M)/Shimano MT210, 46/30, chainguard, 175mm length (size L, XL, XXL)

Derailleurs –

Shimano Acera T3000, 34.9mm clamp (front)/Shimano Acera M3000, shadow design, long case (rear)

Brakes –

Shimano MT201 hydraulic disc, flat mount, 160mm rotor

Saddle –

Bontrager H1
What is the warranty?
As we mentioned earlier, Trek offers a lifetime warranty against defects in materials or workmanship. The lifetime warranty covers the frameset, main frame, and full suspension swing arms, as well as Bontrager wheels with carbon rims.
Then there's a 2-year warranty on apparel, parts and accessories, rear suspension linkage components, Bontrager wheels with alloy rims, and paint and decals.
Subsequent owners are entitled to a three-year warranty from the date of purchase from the retailer.
For an extra cost, they offer Trek Carbon Care, to obtain discounts on replacement frames or components in the case of damages that don't fall under the warranty conditions.
What is the price range for the FX 3 Disc?
The price range is around $800. This makes it a pretty good entry-level bike. There are some things available at an extra cost – like the Duo Trap S, a sensor that enables pairing with your smartphone or computer.
The FX 3 Disc is suited for:

Workers wanting to lower their carbon footprint by switching from driving to cycling for their commute

People wanting a lightweight bike – for example, those that can't carry a heavy bike, or those that foresee themselves transporting it often

People wanting to cycle for fitness purposes

Those wanting a bike that can deal with 'fun' rides at the weekend as well as commuting on pavements
The FX 3 Disc is not suited for :

Those wanting a hard-wearing bike that can handle tough trails

Those wanting a unique-looking bike – it looks nice, but it's not distinctive in design
What do users think of the FX 3 Disc?
Users have great things to say about the FX 3 Disc. Those using it for commuting really enjoy how safe it feels, particularly when going downhill or traveling on rainy days. They find it to be a great bike for shopping or just cycling around town.
Other users enjoy it for exercise purposes. The Bluetooth functionality provided by the additional Duo Trap S sensor is a popular feature, with users finding it helpful to see the data after a long bike ride.
Most users were impressed with how well the bike switches between different types of terrain – it can handle mild bike trails, grass, gravel, and pavements equally well. Some people found the ride provided by the FX 3 Disc to be so smooth that they've decided to cycle more than drive – which is great!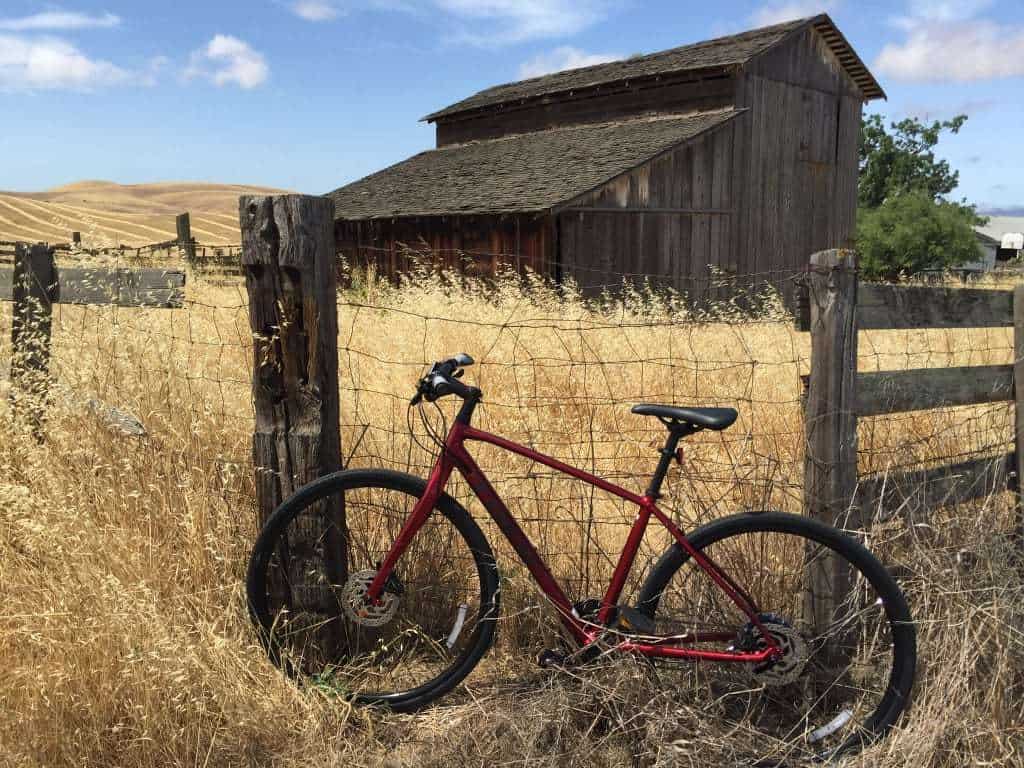 The only drawbacks seem to be the seat, which some people decided to swap out for something a little more comfortable, and the fact that it doesn't have a kickstand, which would be more convenient.
Some users found that the paint chipped and scratched a little when riding on gravel. You might find this is the case for a lot of bikes, but it's still worth mentioning that the paint isn't that resistant to scratches or marks.
The Pros and Cons of the Trek FX 3 Disc
Now let's take a look at the good and bad points of the FX 3 Disc.
Pros
Really versatile – fun to ride in lots of different situations

Smooth to ride – great for swapping out driving for cycling

The brakes are really strong even downhill or on slippery surfaces

Decent price point

A clean, simple frame
Cons
The seat isn't comfortable enough for some people

It doesn't have a kickstand

The paint may get scratched if riding on gravel
Frequently Asked Questions
Here are some of the most frequently asked questions about the FX 3 Disc:
Where can I buy a Trek bike?
You can buy one from the Trek website, or from certified retailers – they have a store finder to find one close to you.
Where are Trek bikes manufactured?
Some Trek bikes are assembled in Wisconsin, but most are made in Asia.
What's the maximum rider weight for the FX 3 Disc?
It has a maximum total weight of 300lbs.
Is it suitable for both men and women?
Yes, although there is a women's version available – the only real differences are that the women's version weighs a little less, and it has a slightly different saddle.
Are there older versions of the FX Disc?
Yes – there's the FX1 Disc and the FX2 Disc, which are slightly older and cost a bit less than the FX 3 Disc.
Are there any alternatives to the FX 3 Disc?
There are a few bikes to look at that are similar to the FX 3 Disc:
The Final Verdict – is the Trek FX 3 Disc Really Worth It?
We definitely think so!
The Trek FX 3 Disc isn't a perfect bike. You may need to make some swaps (for example, the saddle). You might find the extras you want, like the Blendr System technology to attach lights or smart devices, or the Bluetooth sensor for fitness tracking, bumps the price up quite a bit. It's also not the cheapest bike out there – there are definitely lower-priced options available.
However, we still think it's a great bike for beginners, and it's worth spending extra for. The materials are good-quality, but still lightweight. We like the fact that there are fenders and mounts already installed, and the fact that the cabling runs through the frame makes it look sleek.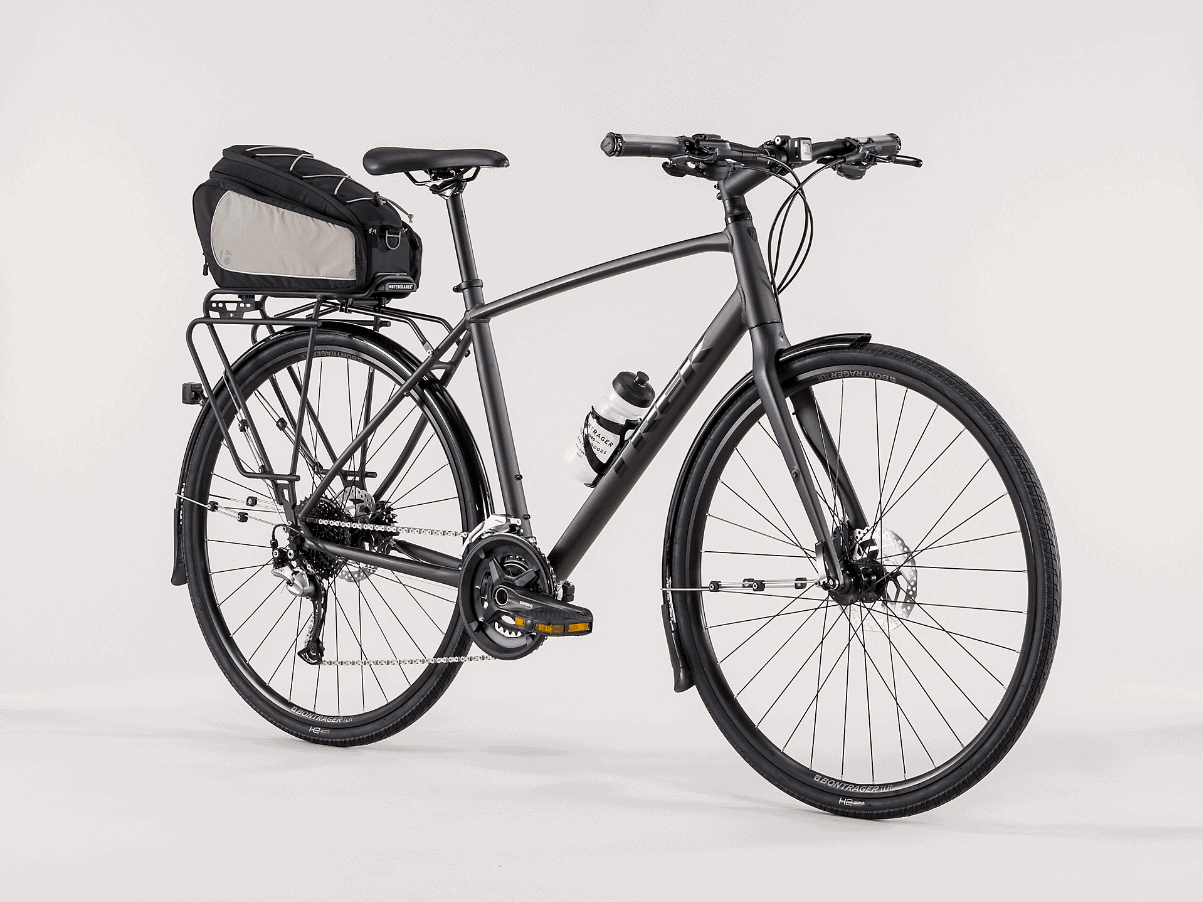 It's a comfortable ride on most terrains, and we really like the fact that it's safe – having good-quality brakes that can handle hills and slippery surfaces is really important for all bikes, but especially those commuting in high-traffic areas. 
We would recommend this bike for anyone, but particularly for beginners – it might just give you the cycling bug.
If you've used the Trek FX 3 Disc, we'd love to hear from you – let us know your thoughts about it in the comments!
Further read: