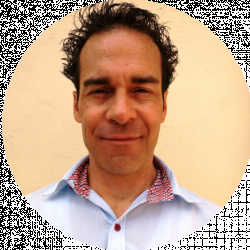 Latest posts by Douglas Bloom
(see all)
In 1986, Marin Bikes opened its doors to the public, where it relied heavily on the surrounding Marin County landmarks as an inspiration for the early model names. North of Mt. Tamalpais is the Pine Mountain which became the name of a steel hardtail. Decades later, it's still kicking on like never before. In this Marin Pine Mountain Review, we have focused more on the modern Pine Mountain 2. 
But of course, there are vast improvements in the new Pine Mountain 2 features compared to its early ancestors. The latest version is a dedicated adventure bike specifically for the long haul. However, Marin says that it's designed and built for bike-packing, trail rides, and all-day epics.
The Pine MTB comes in 2 different versions. The first is Pine Mountain 1, an entry-level bike, while the second is Pine Mountain 2 model offering standard features found on modern mountain bikes. 
Marin Pine Review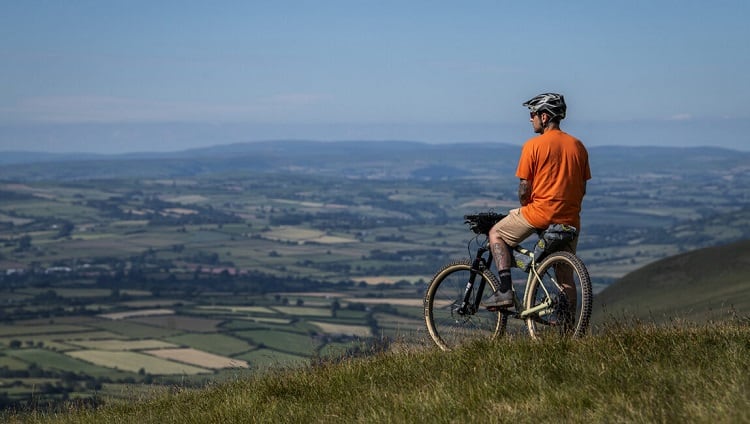 To understand everything about the Marin Pine mountain bike, you need to get information on its features and specifications. We have compiled data from the manufacturer's website and reviews from users to give you the best insight on Marine Pine mountain bikes.  
Frame
The frame is made of heat-treated and Series 3 double-butted Chromoly steel with 29" wheels. Boost 148 hub spacing offers you a variety of aftermarket wheel options. Together with an internal dropper post routing, they ensure that this bike is suitable for the modern era.
This bike comes with exposed cables and a threaded bottom bracket, making it as serviceable as possible while out in the backcountry. As stated earlier, Pine bikes are built for bike-packing, and as a result, Marin made sure that users could attach as many accessories as possible to the frame.
Components
Of course, for Pine Mountain 2 to ensure every adventure goes smoothly, it relies hugely on durable parts. It features a RockShox FS 35 fork with 120mm of travel up front. Shimano SLX 12-speed drivetrain system has a huge cassette for powering up climbs while loaded down with gear. 
Marin equipped this bike with double-wall alloy wheels wrapped in 29×2.6-inch Vee Flow snap tires. Apart from that, a TranzX dropper post enables bikers to take full advantage of the descents. 
Suspension
RockShox fork and the high-volume tires are the only suspensions on Pine Mountain. To achieve a base setting, you should follow the tuning guide on the back of your fork leg and leave it alone after that. Except for occasional road miles and long fire-road climbs, let it run in the open position.
Down and Dirty
If you love getting off the beaten path and heading deep into the backcountry with a few days' supplies, then this is your ideal bike. With this incredible bike, you can carry all your essentials using the multiple gear mounts and the cleverly designed handlebars. 
Just as Marin calls them "Bedroll bars," they are designed with a flat mounting spot on top of the handlebar. You can use them to mount a bag or a variety of handlebar accessories.
Climbing
When combined with an upright sitting position for all-day comfort, the steel frame offers you an efficient platform for pedaling. Fortunately, Marin focused on providing riders with a platform to spend hours on until they find their perfect camping spot.
Pine Mountain test riders state they favored and appreciated the Shimano SLX drivetrain after trials of loading gears onto the bike. Combining a 51-tooth cassette and a 32-tooth chainring is best for steep climbs and traveling with gears for several days. 
The Flow
Even though Pine Mountain can carry most of your backpacking accessories, Marin's slogan is "made for fun." Marin designed this bike to feature 150mm travel dropper posts to match and live up to the saying. They ensure you get as much fun as you want. 
Marin also tossed in a 66.5-degree head tube angle, along with short chainstays to keep the bike snappy.
Mods and Upgrades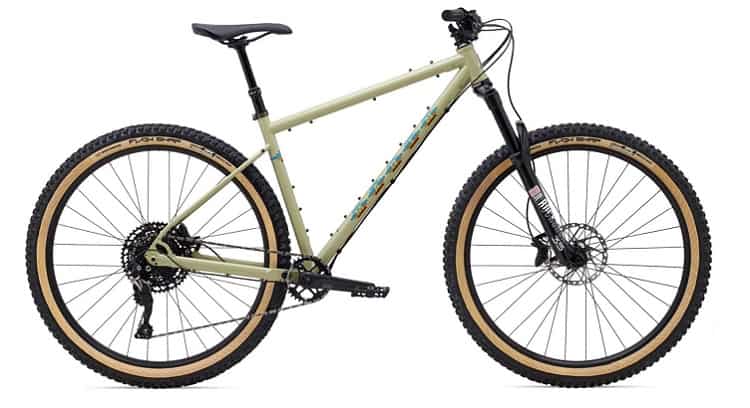 One of the most important factors to consider before upgrading this model should be converting the wheels and tires to a tubeless compatible system. Removal of the tubes would enable riders to reduce the air pressure and, as a result, reap the rewards of a smoother ride.
Getting accessories and bags to attach to the frame would be the next thing to do. Attaching a water bottle, a tire lever, and a tube to the frame would enable bikers to ride without carrying anything on their bodies. 
If you are a backpacker, you can look into custom-built bike bags. These can be conveniently mounted inside the frame without any need to strap on aftermarket bags. Note that you'll become addicted to attaching as many items as possible to your frame once you purchase a Pine Mountain.  
Pros
A good value purchase

SRAM GX gears prevent the chain from slapping

Light, robust and comfortable steel tubing

Retro simplicity

It comes with Shimano M445 Hydraulic brakes

Easy to repair external cabling

Features 150mm travel dropper posts
Cons
Somehow heavy because of the massive plus-size tires

Pine Mountain 1s and 2s lack dropper posts
Marin Pine Mountain Alternatives
If you don't find Marin Pine to be your ideal option, feel free to look into the alternatives provided in our review. They are the best option for this great bike. Check them out!
Giant Fathom 2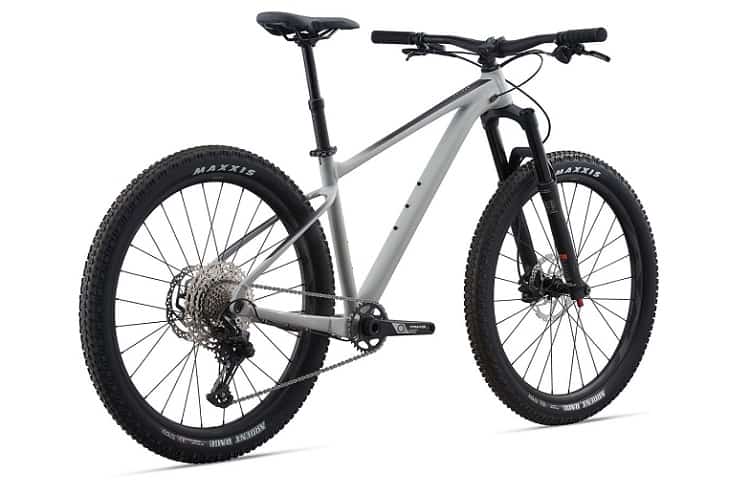 Giant Bikes is famous for producing the 27.5-inch Fathom 2 hardtail. This behemoth brand is committed to the 650b wheel size, together with the benefits that it brings to bike handling, both on technical and tight singletracks. That said, Fathom 2 is small-wheeled but a big tire trail shredder. 
If you miss this model on small wheels (27.5"), Giant also offers the Fathom in a 29er version. You will notice the dropper post is the standout feature that pairs well with the 27.5-inch wheels. It offers not only jumpy and twisty flow trails but also tight singletrack through the woods.
Giant produces almost all the components on their own, offering the most feature-rich spec for the high-end rider. These features include Crest 34 suspension fork, ALUXX SL-Grade aluminum frame, 130mm of travel, and other Giant cockpit components and wheels. 
The Shimano drivetrain, Tektro brakes (with 180mm rotors), Praxis crankset, and the Maxxis Ardent 2.6-inch tires are the only none Giant parts.
Pros
Effective and reliable Shimano gearing 

It comes with a neat internal cable routing

Features 2 piston brakes

Crest 34 suspension fork

ALLUX SL-Grade aluminum frame
Cons
Relatively unproven Giant fork

Dropper post displaces the seat at times
Trek X-Caliber 8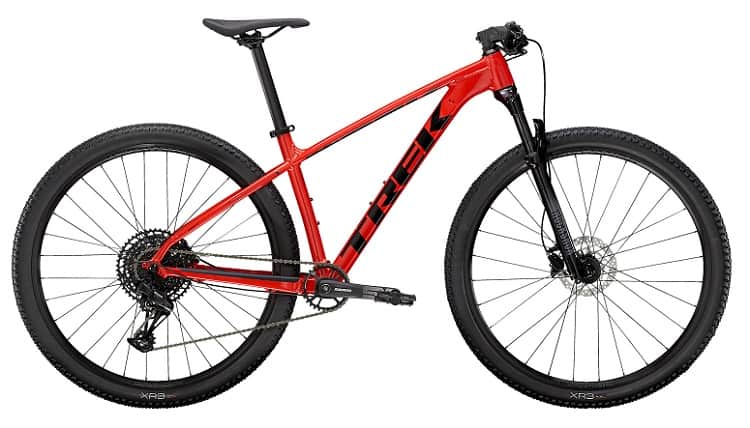 Being an entry-level cross-country hardtail, the X-Caliber shares a lot with the similar spec'd Trek Marlin. However, if you are looking for performance, there are some vital differences you notice. 
For efficient climbing, this model comes with a Maxle 15mm axle upfront and slightly longer geometry to allow precise steering on descents. You can get the X-caliber in varying sizes. The smallest size bike uses 27.5" wheels, while the rest roll on 29-inch wheels. 
Trek tailors crank length, handlebar width, and stem length for a better fit across the range of its bikes. Luckily, the frame is built for an entry-level cross-country race biker. It features Maxxis tires, Bontrager Kovee Wheels, 1x Shimano Deore drivetrain with an XT derailleur, and a 100mm RockShox Judy SL fork (XS size only has 80mm).
Despite this bike having tubeless-ready wheels and tires, it still comes shipped with tubes. All you need is to insert the valves, put in the sealant, and pump in the air.
Pros
Huge range of sizes

Quality Shimano shifting

It comes with Maxxis tires and Bontrager Kovee wheels

1x Shimano Deore drivetrain

It features tubeless-ready wheels and tires
Cons
It lacks a dropper post

Not budget-friendly
Boardman MHT 8.9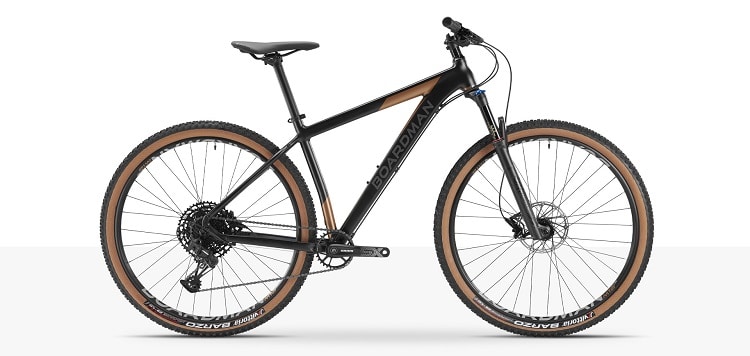 If you are looking for a more playful XC hardtail on the singletrack with a stylish colorway, look no further! Boardman MHT 8.9 is designed with these features. The 6061-grade aluminum frame comes in a slick finish with a wonderful elegant black and bronze colorway.
The Vittoria Barzo tan wall tires, color coordination, and overall graphic design make this Boardman hardtail look a bit more expensive than its list price. Apart from its appearance, MTH 8.9 offers a great component spec for both after-work forest singletrack sessions and high-mileage weekend rides.
The RockShox Reba RL 120mm fork up front makes for a "touch more" terrain absorption. Vittoria Barzo TLR Graphene 2.0 tires provide grip and traction. They have a relatively aggressive tread pattern with descent casing size, at 2.25".
The Boardman MHT 8.9 features a 148 x 12 thru-axle rear, unlike many other bikes in the $1,500 or less price class. This significantly boosts the overall frame's stiffness and stability in rocky terrains. Not only is this model good to look at, but it's also better to ride.
Pros
Awesome colors and graphics

It comes with a thru-axle rear for monitoring lateral stiffness

Smooth aluminum frame finish

Features Vittoria Barzo TLR Graphene 2.0 tires

It has RockShox Reba RL 120mm fork upfront
Cons
Only three sizes

Lacks internal cable routing
Marin Pine Mountain Buying Guide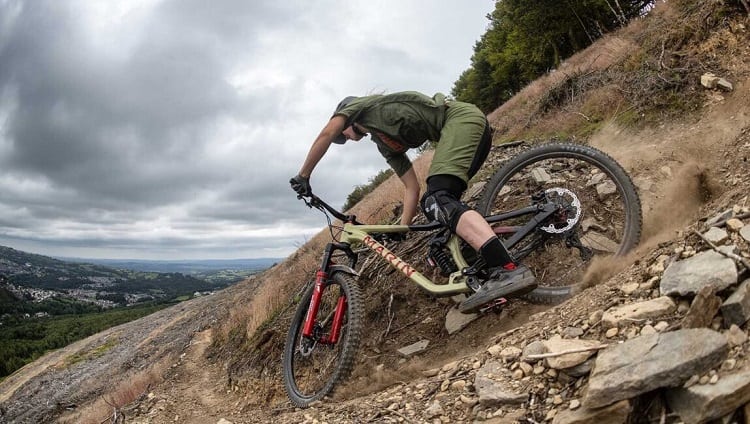 Some of the key attributes that determine the type of terrain a bike can handle are the wheel diameter and suspension type. Other factors to consider as you narrow down your MTB purchasing options include:
The number of gears

Frame material 
Suspension Types
There are numerous types of mountain bike suspensions. We have provided information on the various types suitable for rigid, hardtail, and full-suspension bikes. 
Rigid
Though not common, rigid mountain bikes don't have any suspension. Although they are cheaper and easy to maintain, most riders opt for bikes with suspension for greater comfort. Most of the fat-tire bikes are rigid. This is because wide tires with low tire pressure provide all the squish required to absorb bumps on the trail.
Hardtail
Hardtail mountain bikes come with a suspension fork in the front that helps absorb impact on the front wheel. The rear of the bike, however, has no suspension. Hardtails are cheaper than full-suspension bikes and have fewer moving parts, so the maintenance cost is lower.
Most hardtails can lock out the front fork in case you want to convert it to a fully rigid bike. Cross-country riders usually prefer this model because it allows for more direct power transfer between the rear tire and pedal stroke.
The low cost and easy maintenance make hardtails the best MTB for all-mountain trails except on lift-serviced severe downhill trails.
Full Suspension
No matter how many variations of full-suspension bikes, the main concept is for the rear shock and front fork to absorb the impacts of the trail. This increases traction, and as a result, drastically reduces the impact on the rider, creating a forgiving and enjoyable ride.
With a full-suspension bike, you can soak up a lot of trail bumps and chatters. Unfortunately, the bike can also lose some of the energy transfer when climbing uphill. As a result, most of the full-suspension rigs are designed to lock out the rear suspension. This offers better power transfer and efficiency in climbing.
Wheel Size
There are numerous mountain bike wheel sizes, ranging from 26 to 29 inches. We have provided detailed information for each wheel size category.
26-inch: A couple of years back, all adult mountain bikes were fitted with 26" wheels. Even though it's still available in the market, nowadays you are likely to be asked the size you want. The options are 26-inch, 27.5-inch, or 29-inch." 
27.5-inch (650b): These tires offer a middle ground between 26" wheels and 29ers. Being a "best of both worlds" solution, they roll easily over tough terrains than the 26" and are more maneuverable than 29ers. You can find 27.5-inch wheels on both hardtail and full-suspension rigs.
29ers: These bikes come with 29-inch wheels, making them a bit slow to accelerate. However, you can conquer considerably more terrain far easier than on a bike with 26-inch wheels once you kick-off.
If you like long rides, 29ers are more efficient as they keep their momentum up with a higher "attack angle." This means that the wheels roll over trail obstacles more easily. Nowadays, they have become trendy for the cross-country crowd. You can get them either in hardtail, rigid, or in a full-suspension rig.
27.5+ in.: Basically, the plus symbol means that the wheels and tires are extra-wide. We are talking about 2.8" or more in width. Note that wider tires offer you a more forgiving and comfortable ride with less rolling resistance.
24 in.: To accommodate the shorter legs of children, kids' mountain bikes typically feature 24-inch wheels. In general, they are less expensive versions of adult bikes with simpler components. 
They best fit children between the ages of 10 to 13. However, what matters most is the child's size rather than the age. For smaller/younger children, go for 20-inch wheels. 
Frame Materials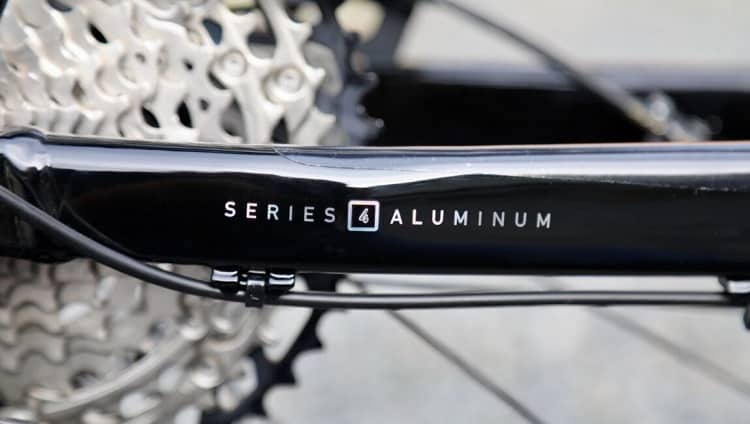 A mountain bike frame is crucial to determine the performance of any bike. It influences your bike's strength, weight, price, and ride quality.
Aluminum Alloy
This is the most common mountain bike frame material. High-end models come with lighter aluminum frames. This is a result of the manufacturers spending more dollars and effort in the manufacturing process and the selection of materials and tubing design.
Carbon fiber, titanium, and steel are also used as frame materials. Apart from steel offering a smooth ride, it's also tough and inexpensive. However, it's relatively heavy for a mountain bike. On the other hand, titanium is light and strong. However, it's too expensive for most riders and is used by professional riders.
Considering the strength and low weight of carbon fiber, it's fairly common on fat-tire, cross-country, and high-end trail bikes. It requires labor-intensive manufacturing, making it relatively expensive.
Gears    
The number of gears in a bike is determined by the number of sprockets on the cassette multiplied by the number of front chainrings. Mountain bikes can range from a single speed to 30 or more gears. 
 Things can get complex when you factor in the many combinations of chainrings, cogs, and the number of teeth on them. To keep it simple, your fitness level, together with the terrain you'll be riding, are the most important things to consider.
You should opt for more gears if you find riding steep hills a challenge. A biker who mostly rides flat terrains won't need many low gears to power up a hill. Therefore, he can get away with fewer gears keeping his bike light. 
A few decades ago, mountain bikes came with 2 or 3 chainrings to provide a variety of easy gears for climbing. However, mountain bikes with a wide-range cassette having 9, 10, or 11 cogs and single chainrings are more popular nowadays. 
Bikes that feature one chainring are lighter and simpler. Why? Because you only need one shifter to move through the gears on the cassette. Additionally, they offer most of the gears you'll need. Note that after buying, it's easy to modify your bike gearing. So it shouldn't be your primary concern when choosing a bike. 
Brakes
Apart from entry-level MTBs, disc brakes have replaced rim brakes on all other mountain bikes. They all have various pros and cons.
Disc Brakes
These come with brake pads to enable them to grip onto a brake rotor that's mounted to the wheel hub. You can get them in 2 versions, namely hydraulic and cable-activated. Hydraulic disk brakes feature stronger and more progressive braking with less finger effort. They self-adjust for brake pad wear.
Advantages
Cheaper to replace a worn rotor 

Consistent braking in all conditions

Less finger strain

Superior performance in wet and steep terrains
Disadvantages
Not easy to inspect and replace pad wear

Expensive to service
Rim Brakes
In some entry-level mountain bikes, rim brakes have pads that grip the wheel rims. 
Advantages
Economical

Easy to observe and replace brake pad wear
Disadvantages
Wears out the wheel rim gradually

Less stopping power

Less effective in muddy terrains

To brake aggressively, you need more finger effort on the levers
Marin Pine FAQs
Question: Is Marin Pine a Good Mountain Bike?     
Answer: Yes, all Marin bikes feature the best quality components. Marin uses the best steel, aluminum, and carbon materials to make its frames. This is coupled with other reliable and effective components from SRAM, Shimano, and other popular brands. Whether it's from entry-level, mid-range, or high-end models, Marin bikes are made to last.
Question: How can I Identify My Marin Pine Mountain Bike?
Answer: It's easy. The serial number of your bike is stamped into the underside of the bottom bracket. This is where the MTB pedals join at the bottom of our bike.
Question: Do Marin Pine Bikes Have Any Weight Limit?
Answer: The maximum air pressure that the rear shock is rated for limits the weight that full-suspension models can withhold. For more detailed information regarding the weight limits, kindly check your Pine's owner's manual. 
Question: Is it Possible to Register My Pine Bike Online?
Answer: Yes. Just visit the bike registration page and key in your particulars.
Conclusion
Even though Pine Mountain 2 may not be the only bike you can own, it's a perfect addition to any biker's collection. In harsh weather conditions, it can be your part-time bike-packing rig or a fun trail-ready hardtail. In case you love accessories and attachments on your mountain bike, Marin did an excellent job! Mounting points are just numerous.
If you feel like you don't want Pine 1 or 2, check out the alternatives we have provided above. They are your best bet as a great option for the Pine line. Use the Marin Pine buying guide to help you make an informed MTB purchasing decision.