Latest posts by Douglas Bloom
(see all)
Marin has been in the biking industry for 3 decades. Even though it may not be heavily marketed, it's one of the bets bikes in the world. They have some cool and attractive options to choose from. If you are looking for a good Mountain Bike or any Marin bike you have come to the right place. After thorough research from online journals and reviews, we have compiled for you a list of our top 10 best Marin mountain bikes that will take you anywhere you may want.
Let's get started!
Our Top 10 Marin Bike Picks
The following are the top 10 Marin bikes you can find in the market. Take note each is the best in their specific category. Read on to find one that ensures you get one that suits your preferences.
Alpine 8: Best Balanced Trail Bike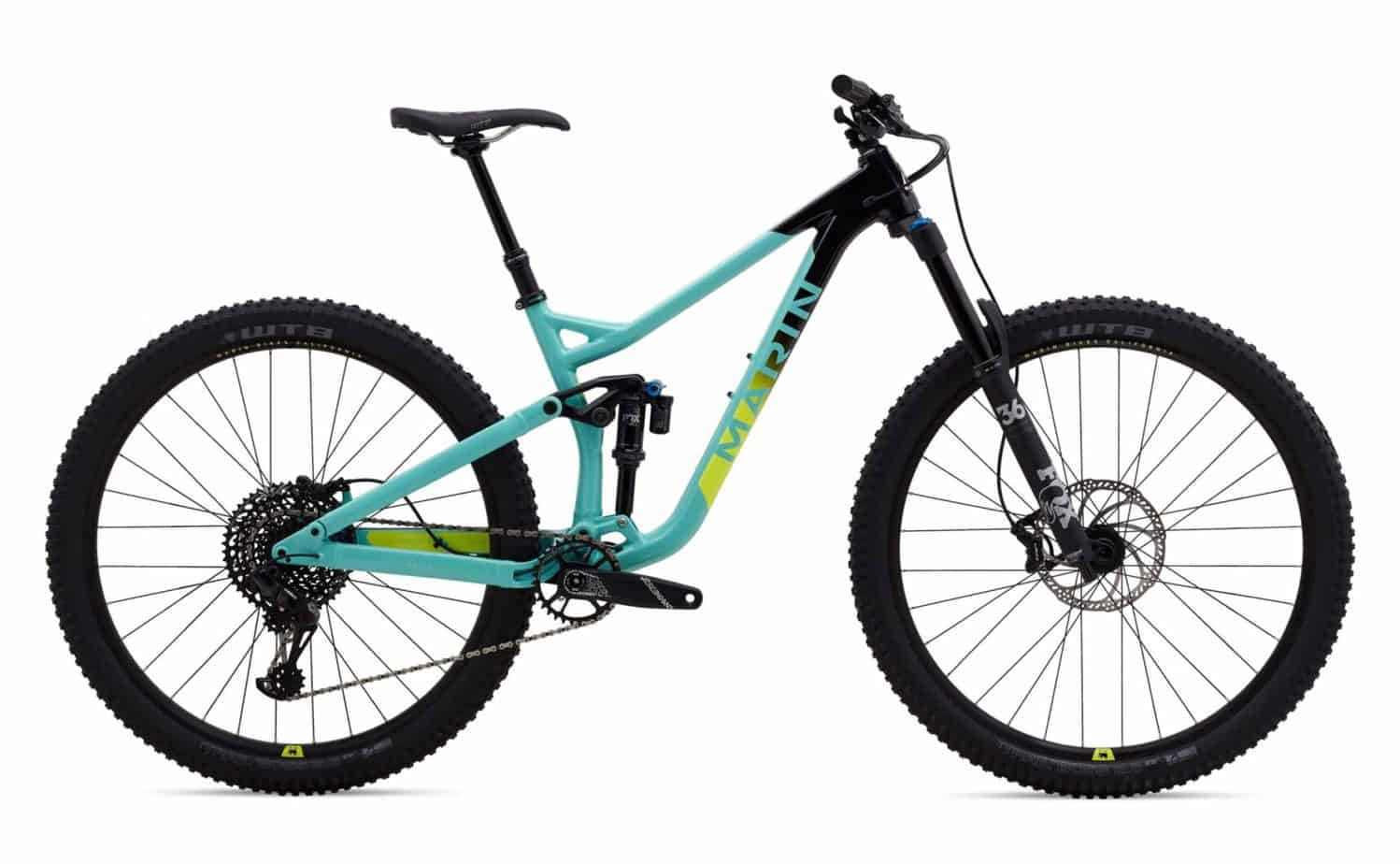 Are you looking for a trail bike that does not restrict you to only one activity? The Alpine 8 Trail bike is a perfect choice. With this versatile bike, it will always be fun because it lets you rip those gnarly trails and ride back over and over again.
You can roll or pop over just anything flawlessly with this 29er bike. It comes with SRAM NX Eagle 12 speed drivetrain, Fox Float DPX2 – 150mm, and Fox 36 – 160mm performance suspension. The grippy vee tires help keep you firmly planted on the trail.
Although this model may be deemed heavy by some bikers, it comes with its advantages. You can comfortably shoot down chunky, rocky trails with utmost speed and control. It costs about $3,000 – $4,000.
Pros
Best for mountain climbing
Highly durable
Features super-essential water bottle mount in the front triangle
Made of rust-free aluminum
It comes with SRAM NX Eagle 12 drivetrain
Cons
The huge and heavy stock vee tires suck on the highway
It's heavy – weighs over 15 kg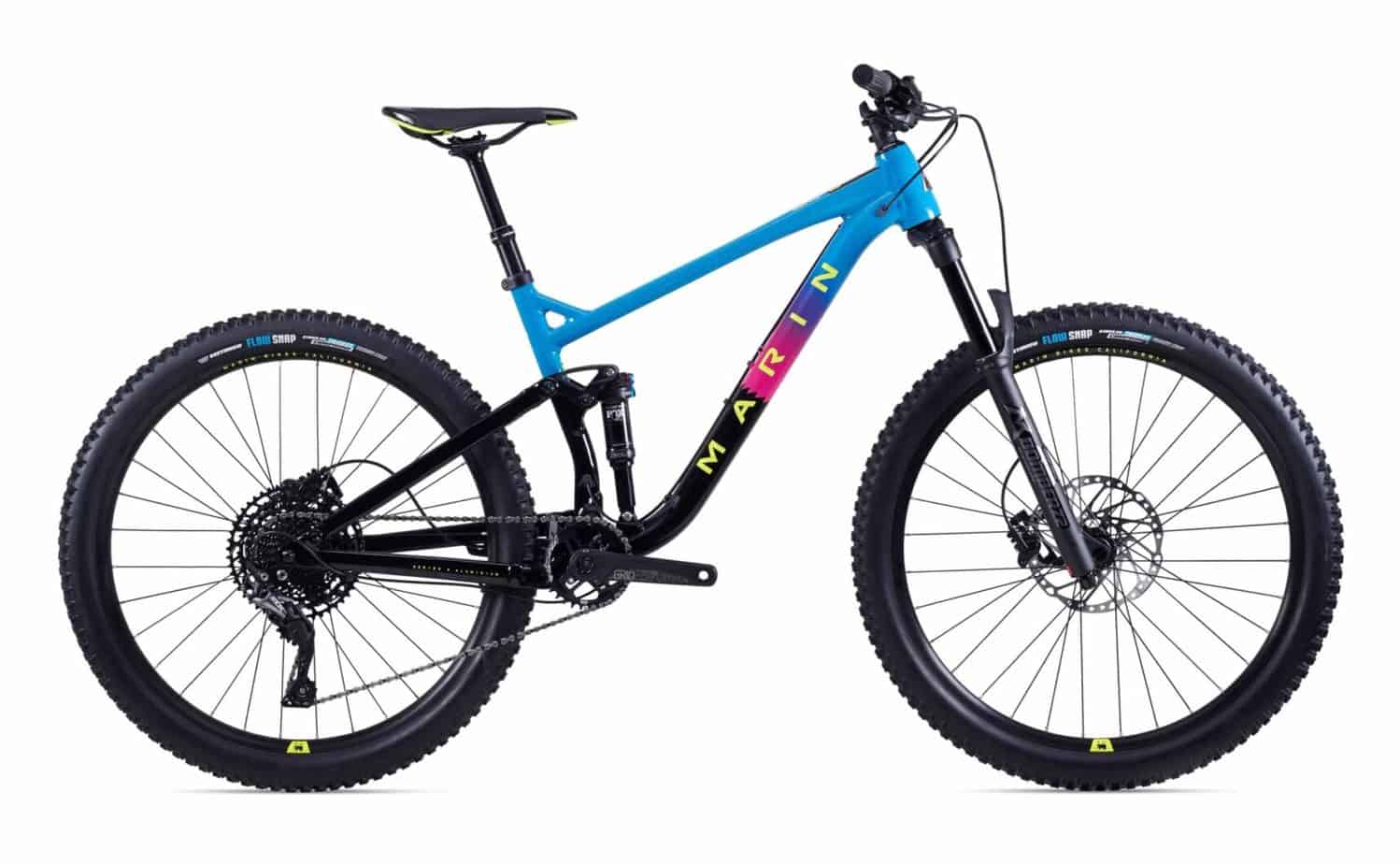 Whether you are an expert rider or a beginner, Marin Hawk Hill 3's handling, suspension, and performance allow you to hit jumps, charge lines, and take risks. This bike comes with a massive direct mount chainring together with a neat and simple Shimano drive train. They improve the bike's performance as they help reduce the chain slap on rougher trails.
If you want a bike that can race, perform a few stunts, or even try out the local trails with your fellow bikers, then this is your ideal bike. It costs about $2,500.
Pros
Agile performance
Playful handling
Features top performance brakes, gears, and suspensions
It comes with a durable Series 3-6061 butted and hydroformed aluminum frame
Compatible with internal rear derailleur and an internally routed dropper post
Cons
Short chainstays and seat tubes compromise the climbing ability
For riding in wet trails, you require a grippier front tire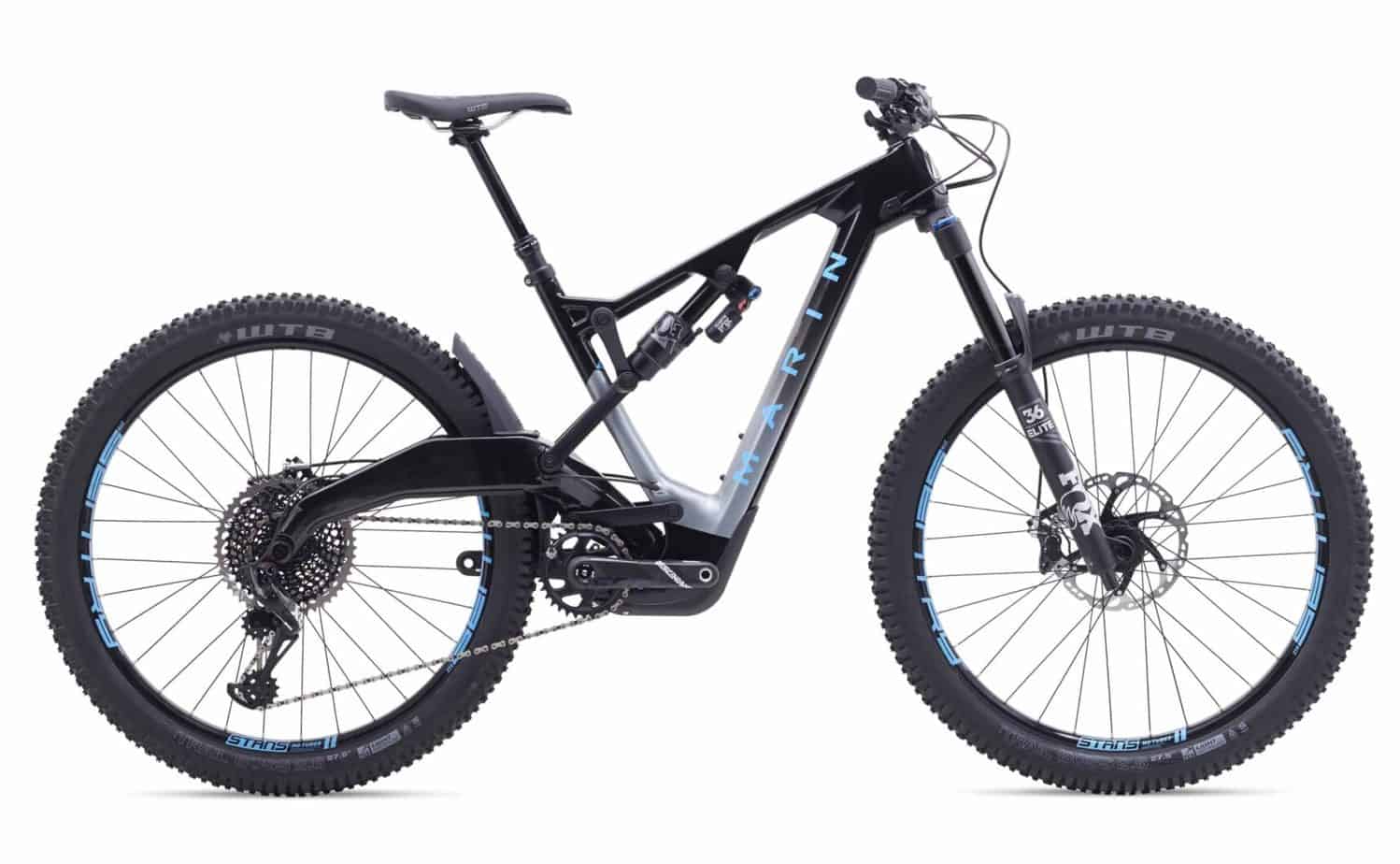 If you want to experience the true spirit of mountain biking, you can go for the all-new Mount Vision 9 mountain bike. It comes with a GX Eagle drivetrain and SRAM X01, which allow for effortless climbs. The Shimano XT M8020 4-piston hydraulic disc brakes are sensational for downhill riding.
Surprisingly, you can shred any trail without fear with this bike since it has a full unidirectional carbon frame. Mount Vision 9 is equipped with the R3act 2 Play suspension system. This helps keep your wheels to the ground unless you opt to hit a jump or drop.
Apart from the reliable and lightweight SRAM's Eagle X01 drivetrain, this Marin bike also features WTB Trail Boss tires which offer a lot of traction. It costs about $6,800.
Pros
Durable
Features WTB Trail Boss tires
Reliable and lightweight
It comes with an R3act 2 Play suspension unidirectional carbon frame
It has Shimano XT M8020 4-piston hydraulic disc brakes
SRAM Eagle X01 drivetrain
Cons
The seat tube angle is slack
Not budget-friendly
Would you like a dedicated commuting bike that comes with quick handling features? Marin Presidio 1 is an exciting bike to ride as it is utilitarian. The design concept is based on low maintenance and street adaptability to enable you to run errands across town, go to work, or even for adventures without breaking your bank.
It comes with Marin fitness 35mm puncture-resistant tires. They are fast and maneuverable on gravel, pavements, and tough roads. Besides having an internal gear hub that minimizes drivetrain maintenance, this bike also features a corrosion-resistant chain built to maneuver city streets.
Fortunately, this is one of those bikes that feature Tektro disc brakes. They can bring you to a predictable stop any time you want. It costs about $600.
Pros
Puncture-resistant tires
Has durable Tektro disc brakes
It comes with a corrosion-resistant chain
Easy pedaling
Features an internal-gear hub
Low maintenance
Cons
On an uneven surface or downhill, it's a bit skittish
The 3-speed drivetrain is not sufficient for a commuter bike
Marin Nicasio Plus: Best On and Off-Road Adventure Bike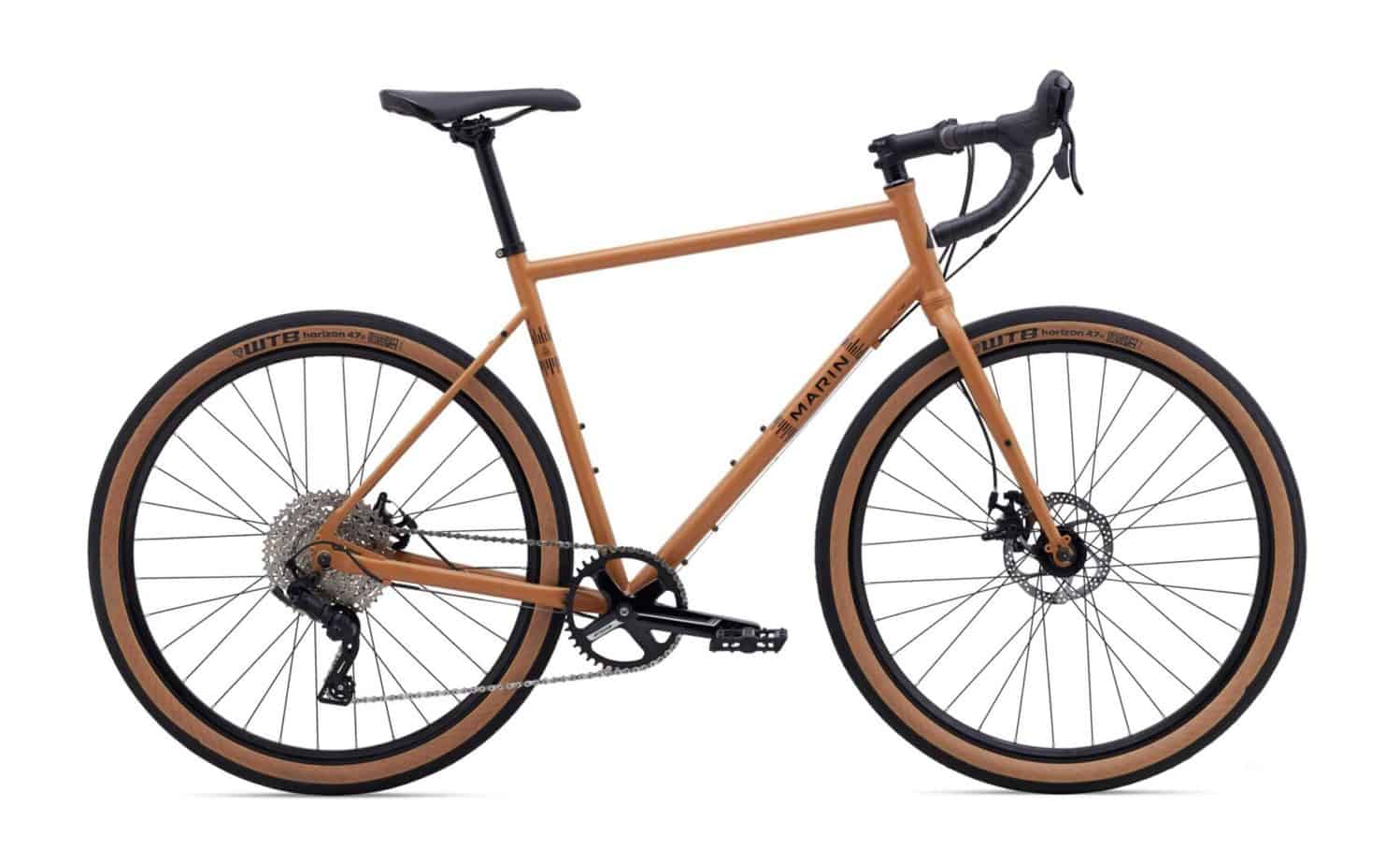 Do you want a Marin bike that will take you beyond the tarmac? Nicasio Plus lets you take any path you'd like, whether on gravel, trail, or pavement. Being a steel bike, it's designed and built to survive anything you throw at it and still be ridden safely for years, making it perfect for those challenging adventures.
Nicasio Plus comes with mudguard mounts, a rack, and a wide range of other gearings to ease off-road riding. Would you like an enduring bike that climbs like a goat? This bike model has created a force to be reckoned with. It's a perfect option for both day adventures and multi-day trips. You will love it!
The seat is built to offer you an upright, comfy sitting position for ample navigation as you ride. In addition, the 38mm tires also give you a cushioned feel on the move. Nicasio Plus features a wide-range triple chainring setup (21 gears) to glide uphill and downhill smoothly. It costs about $1,000.
Pros
It comes with 38mm tires
21 gears
Comfortable seat
It's made of steel
It features a rack and mudguard mounts
Cons
It's heavy, making uphill riding a big task
The MicroSHIFT derailleur needs some experience to operate
Gestalt X11: Best Hardtail Trail Bike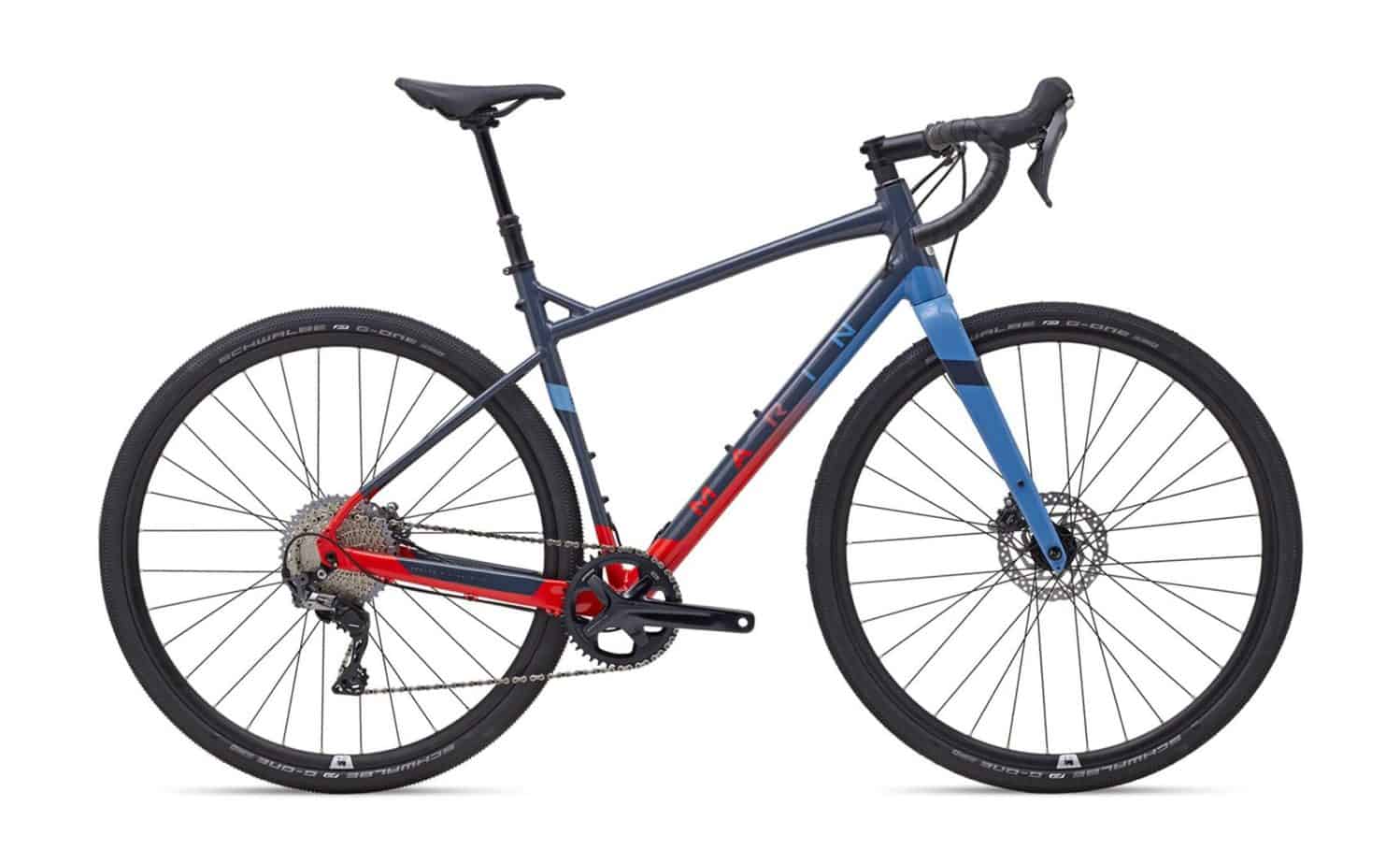 Fitted with a 1x drivetrain, the Gestalt X11 is all about adventure, fun, and simplicity. This is your ideal bike if you spend your days on trails looking for some opportune moments to go fast. It's equipped with an aluminum drop bar for increased navigation on descents and a comfortable posture on the highway.
This is an all-terrain bicycle. However, its design is mostly off-road. The ample frame clearance enables 650Bx47 or 700Cx45 wheels to fit perfectly providing you with the much-needed traction for various trails. It costs about $2,500 – $3,000.
Pros
Best for off-road
Large frame and tire clearance
Features a 1x drivetrain
It comes with an aluminum drop bar
It's fast
Cons
The dropper post may not provide the best riding position
Can perform better with wider stock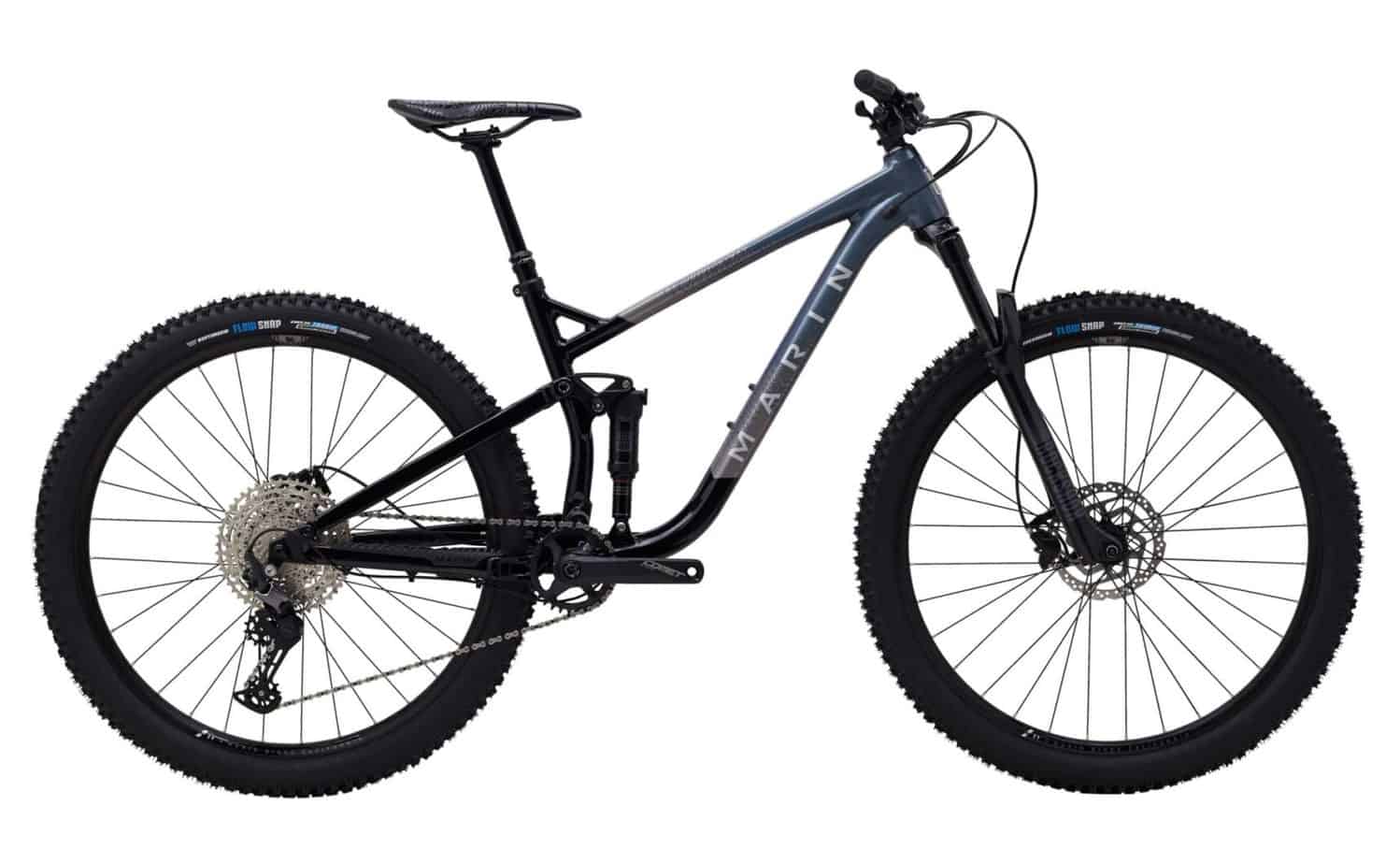 Rift Zone 2 is one of those bikes Marin has slotted as a pure trail bike, and it's easy to see why. With 125mm of travel, this trailer crusher has all the suspension you may need to take on the most challenging tasks across the world.
The Rift Zone 2 frame is built for technical terrains. It provides you with a reliable level of strength that can stand up to the demands of light-duty racing. The dropper post, 1x drivetrain, tubeless-ready wheels, and hydraulic disk brakes play a huge part in how this bike can conquer terrains like no other. It costs about $2,000.
Pros
Features lightweight alloy and carbon frames
1x drivetrain
It comes with a dropper post, hydraulic brakes
Best for light-duty racing
Has tubeless-ready wheels
Cons
Higher-level SRAM groupsets are more refined than SRAM SX shifting
The dropper post may not provide the best riding position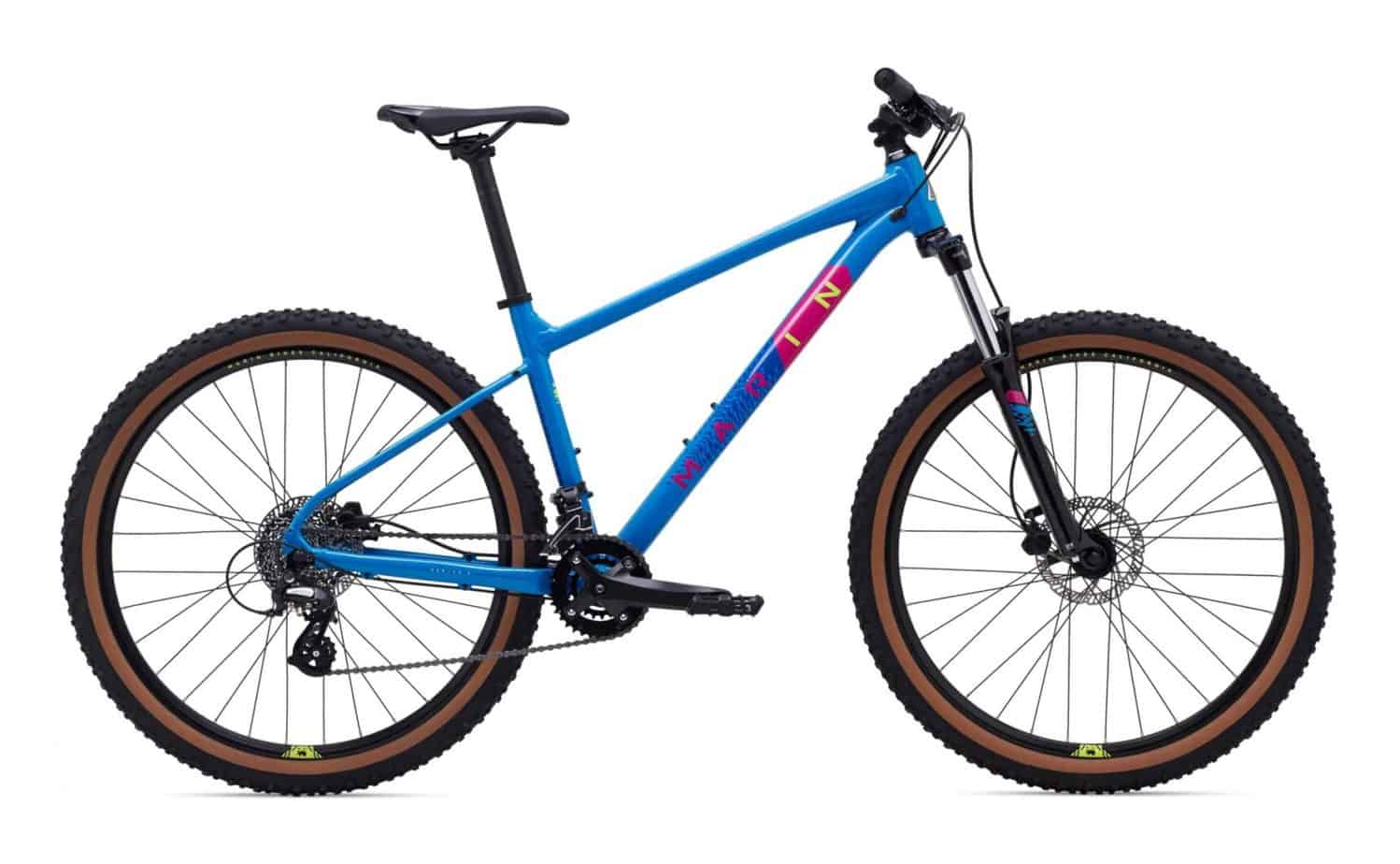 Bobcat Trail 3 is a newly re-designed trail MTB. Besides being classy, it's also a lightweight bike made for maximum performance on dirt paths or single tracks. For those with a limited budget and who still want to rip around in dirt trails and hills, the Bobcat Trail 3 is the Marin bike to buy.
Looking at the price, this is among the few latest mountain bikes for under $1000 that every novice should own. Even though you may experience some apparent compromises in the drivetrain, it's still a solid bike that brightens your riding sessions without having to spend much. It costs about $850.
Pros
Sleek and sturdy frame
Well-designed trail bike structure
Lightweight
Affordable
Classy
Cons
Shimano 8-speed drivetrain is a bit clunky
Not ideal for wet natural trails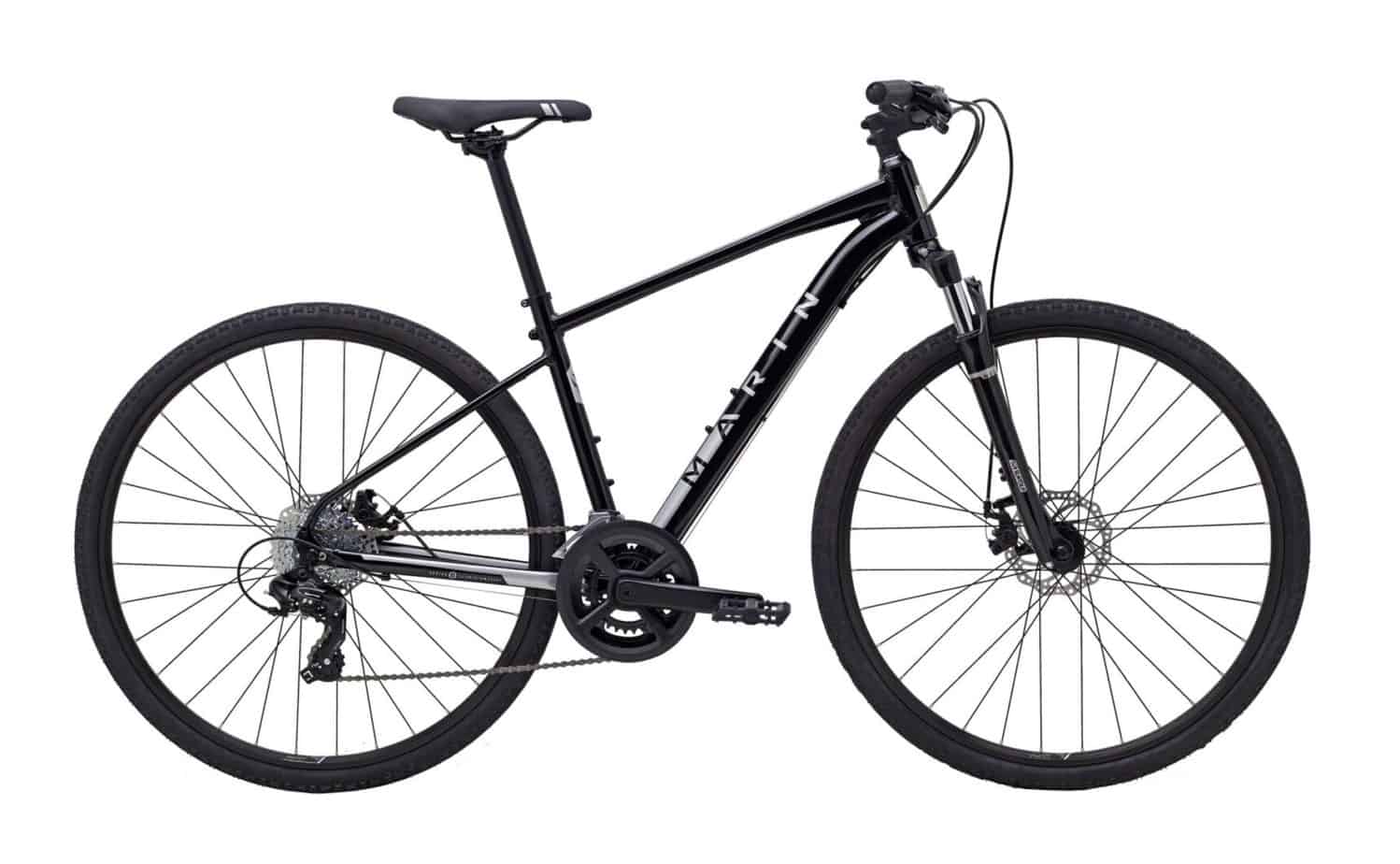 Marin folks understand how impossible it is to create a bike that performs perfectly in aggressive elements. However, that didn't discourage them from trying. The Marin San Rafael DS1 is one of a kind. It might not be ideal for every situation, but it certainly is for most.
This bike is designed and built for fitness riding, town and country commuting, and mixed surfaces and terrain. With this in mind, we can confidently say Marin has just introduced a mid-travel trail destroyer that comfortably holds its own no matter where you are on the mountain.
One of the good things about San Rafael DS1 is that its upright posture helps maximize speed, handling, and comfort. It costs about $700.
Pros
It comes with a 63mm travel suspension fork
Features 700C wheels
Durable Shimano Tourney 2×7-Speed Drive train
Power CX7 Mechanical Disc Brakes
Upright geometry
Cons
To ride on natural wet trails, you need grippier tires
Not budget-friendly
Marin Bike Alternatives
If you happen not to get your ideal Marin pine mountain bike from the list above, feel free to peruse through the alternatives provided below. These are MTBs that have been highly rated by buyers, and bike enthusiasts through many online platforms. Here we go!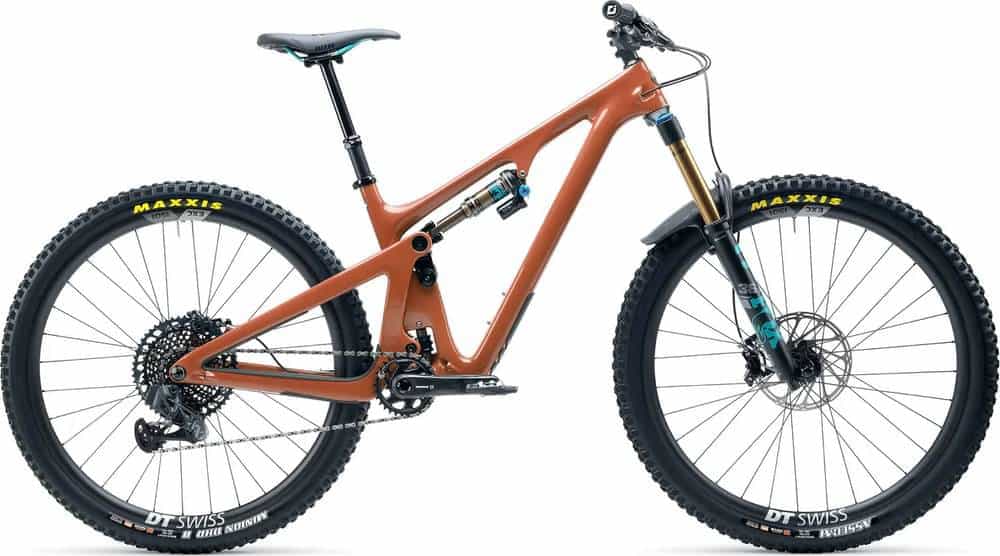 Even if we admit that the term "quiver killer" is overused, no one can deny the fact that Yeti made just that with the highly versatile SB130. Yeti SB130 C2 GX falls nicely in the heart of the trail category considering it sports 150mm front and 130mm rear travel.
The plush suspension and progressive geometry mean that this bike is planted and composed when tackling technical trails. Despite SB130 being an efficient climber, it also has a very light and playful personality. It's one of the best and impeccably built trail MTB in the market.
The only drawback facing Yeti bikes is that they are not of great value. Despite this, Yeti still produces high-end parts. When you look at the pricing, it's still close to competitors like the specialized Ibis Ripmo and the Stumpjumper.
Other features include a crash replacement warranty and a lifetime guarantee on frame defects. The frame is made of carbon fiber. It's a trail bike that runs on 29 x 2.5-inch front and 2.3 inch-rear tires. It costs about $6,000 – $7,000.
Pros
Premium construction
The superb uphill and downhill performance
Aggressive geometry
Efficient climber
Features plush suspensions
Carbon fiber frame
Cons
Not budget-friendly
Not of great value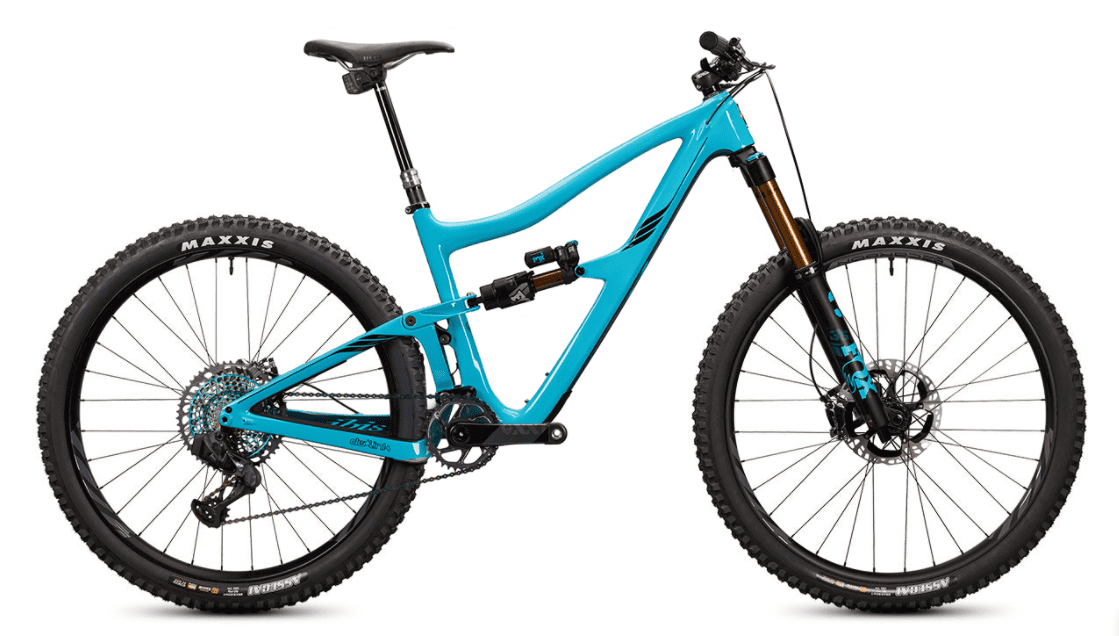 With Ibis Ripmo V2 SLX, you get an extra 14mm at the rear and 10mm of travel at the front, together with burly Maxxis Assegai tires and a slacker head angle. Fortunately, this model comes with the possibility to go for a coil shock if you plan to dabble in the enduro world.
What makes Ripmo a big sell-out is its do-everything performance. The quality Shimano SLX groupset and the carbon frame help keep your weight in check. The DW-Link suspension and the steep seat tube, on the other hand, make this bike rise beyond your expectations.
Ripmo is overkill for much travel on flatter and less technical trails when combined with 29-inch wheels. It's one of those bikes that novice trail riders truly need because it's energetic and happy to fly through a flowy section.
Other features include a carbon fiber frame, 160mm front and 147mm rear suspension, and 29 x 2.5-inch tires. It costs about $4,000 – $5,500.
Pros
Carbon fiber frame
Enduro-ready downhill performance
It comes with a 160mm front and 147mm rear suspension
Features a coil shock option for dabbling in the enduring world
29-inch wheels
Quality Shimano SLX groupset
Cons
Not ideal for tame trails
Not budget-friendly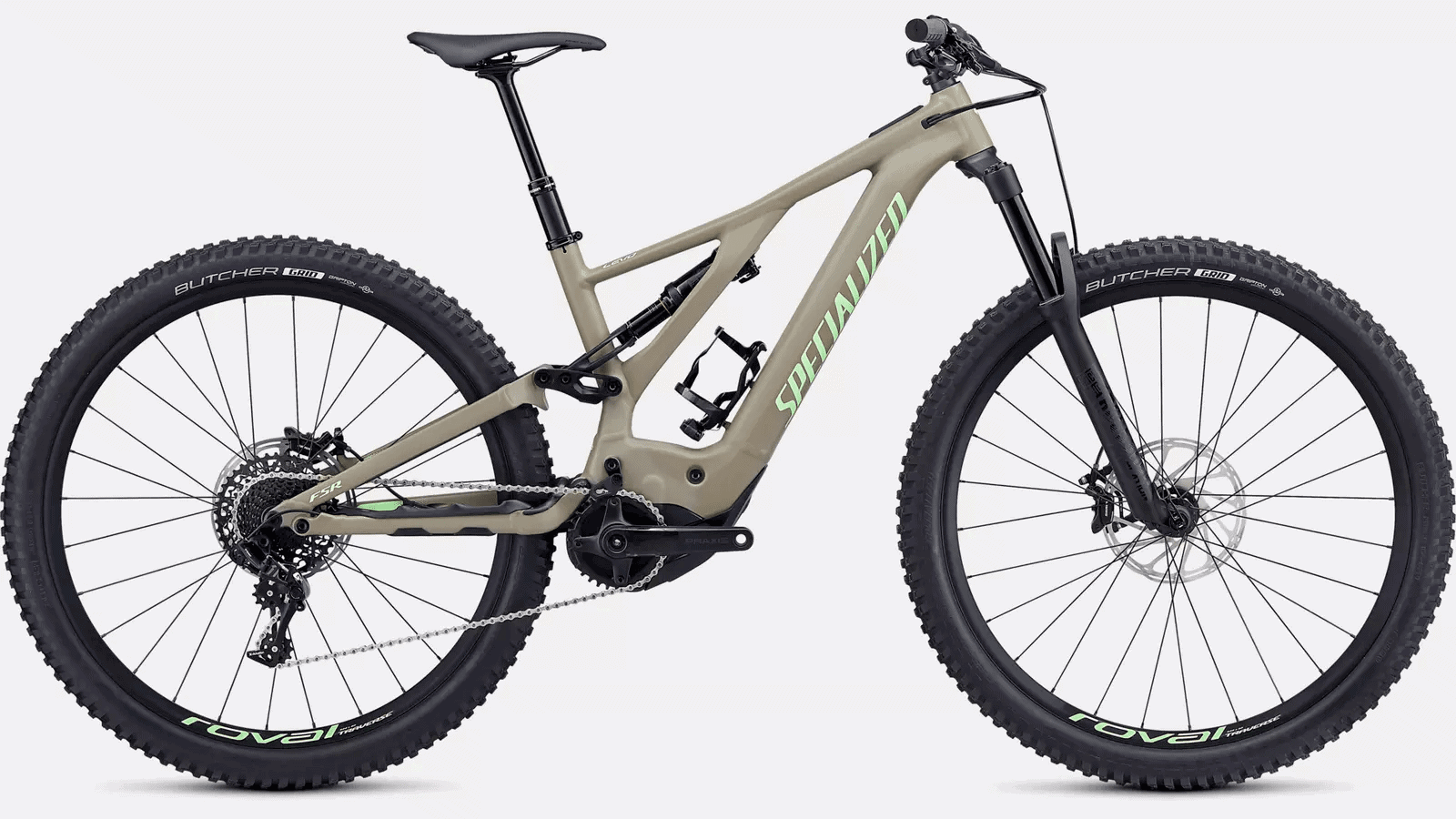 Levo Comp bike platform is based on the excellent Stumpjumper full-suspension. Its electronics have faced a nice upgrade with a more powerful motor and battery. One of the outstanding features of this bike is the Mission Control App. You can get quick access to the battery's status and enable easy customization for improved performance.
We think the latest Turbo Levo Comp is at the top of the list when looking at the fast-growing and competitive field of e-mountain bikes. The most significant barrier to owning an e-mountain bike of any kind nowadays is the price.
Besides being a perfect choice for many users, this bike also faces performance drawbacks. Comparing the Turbo Levo to the non-motorized Stumpjumper, the former is less flickable. Other features include an aluminum frame, 160mm front and 150mm rear suspension, and 29 x 2.6 inch-front / 2.3 inch-rear tires. It costs about $6,000 – $7,500.
Pros
Well-rounded
Long-lasting battery
Refined downhill performance
Features a Mission Control App
Aluminum frame
Cons
Heavy
Not budget-friendly
Marin Bike Buying Guide
Now that you know Marin mountain bike basics, it's time to know factors you should consider when buying such MTBs. Marin offers you everything, whether it's from the wallet-friendly, newbie-welcoming Bobcat or the heavy-hitting, big-bump-crushing Alpine Trail. Go through some of the factors you need to consider before getting one.
For the Newbie
Are you a novice mountain biker who is returning to the sport after a break or just starting to explore off-road riding? A quality hardtail will enable you to get on trails without breaking your bank. In this case, a good option is the Marin Bobcat Trail bike. It comes with a light aluminum frame, 120mm front suspension, and modern geometry.
The good news is you can fit a luggage rack to double it up as a tourer or commuter. This bike is a great place to start. If you can invest a little more into the Bobcat 4 or 5, you get to experience lighter and heavier-hitting components.
Keep in mind the Bobcat 5 is a killer value. It's an aggressive XC bike that features a 1X drive train, on-trend tan wall tires, and a super-capable SR Suntour suspension fork that won't fail you at any instance.
For an All-Rounder Biker
Is there any reason why you should limit yourself to just one type of trail, even if you've only one bike? The Marin Rift Zone is designed and built to be easy to ride, fun, and fast, combining enduro bike geometry and XC bike travel.
It's an amazingly superb mountain bike that will take your local trail, your summer holiday to the mountain, or even your favorite bike park riding to another level. This bike is lively and engaging, built around a 130mm suspension fork and a 125mm rear suspension. The geometry is aggressive enough to tackle most trails.
The Rift Zone is generally versatile and suits as many riders and trails as possible. Rift Zone 27.5″ is best for riders who prefer their bike to be easy to throw around on the trail, quick-to-accelerate, and easy to ride.
We recommend Rift Zone 29″ to anyone that wants to move with speed a little better through rough, fast terrain or prefers a bigger "feel" to their bike. For riders who prefer something more unique, Rift Zone Carbon is a world-class mountain bike. You can get it in 2 versions.
Rifty 1 comes with everything you may need in your dream bike. On the other hand, Rifty 2 steps everything up to the next level. Why? It comes with powerful 4-pot brakes, a high-end Fox suspension, and FSA, Deity, and Maxxis components. This is why some riders refer to it as a "dreamboat"!
For the Enduro Biker
If you want to step your bike skills up a level, whether it's racing enduro, bike parks, or big mountains, the Marin Alpine Trail is the way to go.
This big-wheeled hitter features 160mm front suspension and 150mm of rear travel from Rock Shox. The slack head angle is a clear indication that you can tackle steep technical trails with ease. The steep seat angle allows you to pedal back to the top for a good run.
That said, you can get this bike in only 2 versions – carbon/aluminum. All have components that suit several riders. The aluminum-framed version is built to hit the trail hard without breaking your wallet. The 1X drivetrain and heavy-hitting components impress even the most experienced of riders.
If you are looking for a special edition bike with a top-performance coil suspension built for pure speed on the most aggressive trails, check out the Marin Alpine Trail XR. Note that the term XR is a short version of 'eXtra Rad.'
The Alpine Trail Carbon 7 and 8 are incredible Marin bikes and are ideal for steep technical trails. However, Alpine 7 is built with cheaper components, whereas Alpine 8 is built as a no-nonsense dream bike with expensive primo gear.
For a Biker That Requires an Extra Boost
It would be best if you ignored the rumors about electronic bikes. eBikes aren't just fantastic for people with health issues or the older mountain bikers. Marin eBikes are best for bikers who want to go higher and faster than the other conventional bikes.
Luckily, you can double your descents with the Marin Alpine Trail E series. It has the geometry and performance of the Alpine Trail family that features a Shimano STEPS motor. The bikes come in mixed wheel sizes. A 29″ front wheel keeps things on track, and a burly 27.5″ rear wheel to help you up the climbs.
Like all Marin models, the Alpine Trail E1 matches both value and performance without compromising speed. The Alpine Trail E2 is our trail-crushing, balls-to-the-wall, double-black trail destroying machine that ups the game, making it the best eMTB to meet your preferences.
For the Speed Fanatic
An XC bike is the answer for a rider who prefers covering long distances at high speeds. Team Marin offers you a lightweight alloy frame, 120mm of front suspension, quick-handling geometry, and comfortable fast-rolling 29er tires.
Team Marin 2 comes upgraded with Fox's acclaimed 34 StepCast forks and a dropper seatpost. We can confidently say that Team Marin is built to compete and is capable of anything.
For the Hardtail Bikers
Why still make mountain bikes without a rear suspension in the 21st century? If you happen to ride a modern hardtail, you know why they are still in demand. The Marin San Quentin features slack head angles, short chainstays, and 27.5″ wheels for a bike that's fun and ready to fly.
The Marin El Roy is big, slack, and long. Being the epitome of hardcore hardtails, it's designed to ride anything that a complete suspension bike can, with 140mm of travel from a Marzocchi Z1 fork and a progressive geometry.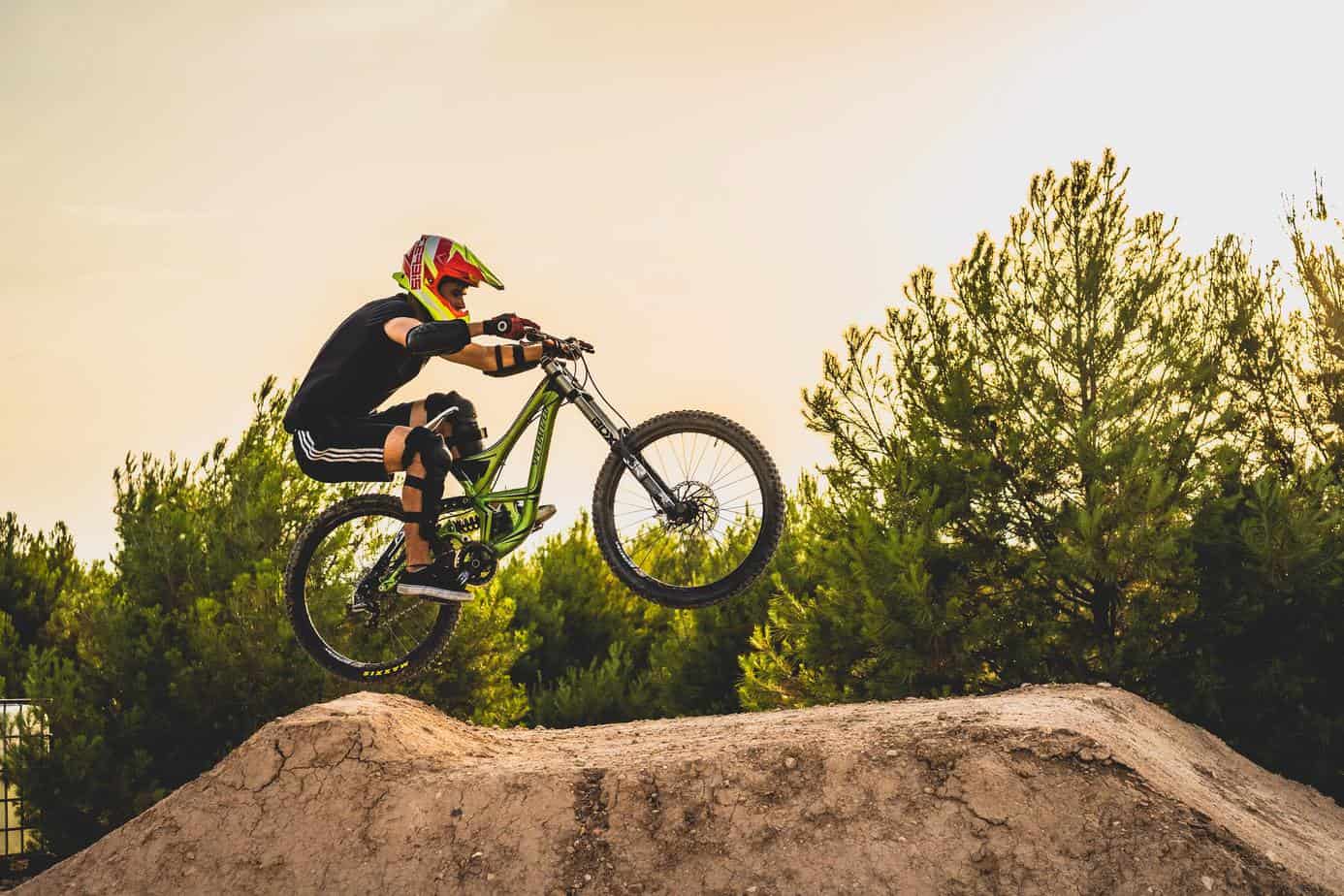 Marin Bike FAQs
Question: Are Marin Bikes of Good Quality?
Answer: Yes. Marin is one of the few brands with good-quality bikes. They use the best aluminum, steel, and carbon materials to produce their frames. This is coupled with reliable components from SRAM, Shimano, and other famous brands. Whether you get an entry-level, mid-range, or high-end model, Marin bikes are created to last.
Question: Are Marin Bikes Made in The United States?
Answer: No. The bikes are designed, warehoused, and shipped from Novato but made in Asia. Surprisingly enough, despite Marin having international distribution, it's a relatively small company, with around 20 workers at the headquarters.
Question: How Can I Read My Marin Bike Serial Number?
Answer: You can find your bike's serial number underneath the frame, around the location where cranks are attached to the bike.
Question: Are There Tubeless Marin Bikes?
Answer: Yes. Marin rims are tubeless compatible.
Question: Do Marin Bikes Have A Warranty?
Answer: Yes. Marin warranty is based on your country of residence. If you need further details, visit your Marin Bikes dealer to get advice on the warranty applicable to your market.
Conclusion
Any Marin bike is a worthy investment. Check our best Marin bike picks to help you make the best decision as you buy or change your old bike. No matter your choice, adding this bike to your collection will get you a fantastic ride. Enjoy maximum riding escapades with a Marin bike.
If you didn't find one that meets your preferences from our list, check out the alternatives. You can also use the buying guide to select one that will suit your needs. All in all, a Marin bike is a good investment.