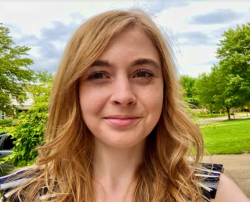 Latest posts by Erin Jamieson
(see all)
Mountain biking has come a long way.
As mountain biking increases in popularity, and as models introduce new features for great riding control, from everything from trail riding to XC bikes and adventurous downhill bikes, it's clear innovation is always driving both the industry and bikers further.
And now, with rumors of a wireless groupset in the works, mountain bikes may never quite be the same–and may very well be on the edge of one of the biggest evolutions yet.
Shimano is leading the way, and it's safe to assume that competitors like Acera may follow suit in years to come. An article published by Cycling Weekly revealed that Shimano filed an application for the Federal Communications Commission for some exciting updates.
While more details will be revealed later, the statements indicate exciting possibilities, including wireless shifters, wireless front and rear derailleurs, and a cassette with 12 speeds. The documents also indicated the use of Bluetooth and Ant+ connectivity.
But until then, there are many great groupsets for the ultimate mountain biking experience. Today, I'll be comparing popular options like Shimano Altus vs Shimano Acera, and tell you which brings you the better groupset for your money.
Main Differences Between Shimano Altus vs Acera
The main differences between Shimano Altus vs Acera are:
Shimano Altus comes with more features, whereas Acera are more affordable
Shimano Altus is best for intermediate riders, whereas Acera is best suited for beginning riders
Shimano Altus adds spring tension, whereas Acera uses hydraulic brakes.
What is a Groupset?
Whether you're into cross country, trail bikes, or all mountain bikes, you're shopping for the best mountain bikes wrong if you haven't ever considered the importance of groupsets.
Mountain bikes are composed of several key components that impact your riding experience, from performance to comfort and even safety. Of course, the frame, suspension fork, and wheels (and even tire size) are also important to consider.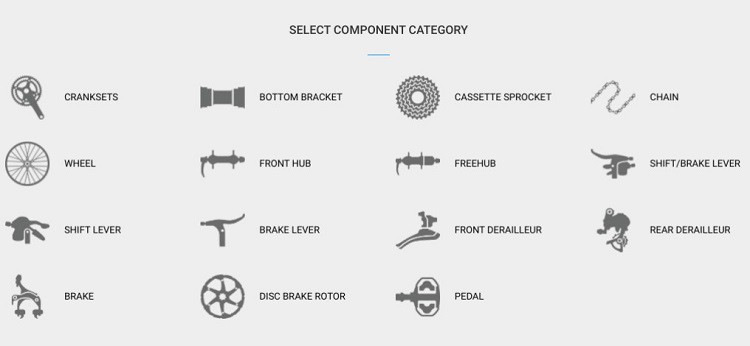 But a groupset, in essence, is what ties all of these key components together. A groupset refers to the combination of the brake system and drivetrain. The most important parts to pay attention to include the crankset, cassette, chain, bracket, and derailleurs.
Crankset
Mountain bikes typically have one to three cranksets, though it's becoming increasingly fashionable to have just one. The crankset is linked to the front gears and impacts riding speed.
In a crankset, you want to look not only at the quality of construction, but also the length of the chain.
The ideal crank length depends on the size of the mountain bike. For dow bikes, the chains should be around 16 cm, while other road XC bikes are better suited a little longer, at around 17 to 18 cm.
The shorter the length, the shorter the distance between the bottom of the bike and the ground, making it more equipped for navigating hills and jumps, while longer is more suited to road and general trail riding.
Cassette
The cassette influences the back gears of your mountain bike. Most mountain bikes do well with a cassette with a minimum of 8 gears. Some bikes are equipped with as many as 13 gears for extra control, though most cassettes come in 9, 10, and 11 gear settings.
Chain
The chain should be durable, preferably constructed from steel. The durability of the chain for a groupset is critical, as it acts as the connection between the cassette and the crankset. A weak chain can greatly hamper your groupset's longevity.
Bracket
For a groupset, a bracket is critical to the way your gears function. This is because the lower bracket of a groupset is where the crankset operates. The bearing, or seal, should be made of steel or ceramic. I prefer aluminum and steel for the bracket cup, as opposed to plastic, which tends to be less durable.
Derailleurs
Derailleurs are maybe the component that consumers are least likely to know by name, but they also play an important role.
Derailleurs are usually pulled by a cable and use tension to move the chain up and down. Dropped chains are popular for mountain biking, but can also be difficult or noisier than other options. I prefer clutch models for a smoother ride. If you have a bigger budget, there are also electronic chains.
Brakes and Shifters
Brakes and shifters are the final components I consider for a groupset. Shifters allow you to change gears, while brakes, of course, allow you to stop and control your bike. For shifters, you can normally select between a grip shift or a trigger shift.
A grip shifter works by twisting, while a trigger must be pressed down. I personally find the trigger easier and more intuitive to use. As far as brakes, sometimes they are included in groupsets and sometimes not.
Luckily, many of the best mountain bike brakes today are now designed with existing groupsets in mind, which you can easily match.
What other factors do I need to consider in finding the best groupset?
In addition to these important features of a groupset, I also consider price/ affordability, ease of shifting gears, quality construction, and reputation.
Of course, when searching for the best groupset, or even debating between Shimano Altus vs Acera for a groupset, I like to keep in mind what I'll be using the groupset for, if I need any extra features, and how heavily it will be used.
Shimano Altus vs Acera
Now let's take a look at Shimano Altus vs Acera and see which groupset is the better overall value. I'll compare them by each of the factors I mentioned above, and ultimately recommend which groupset is the better bet.
Overall Use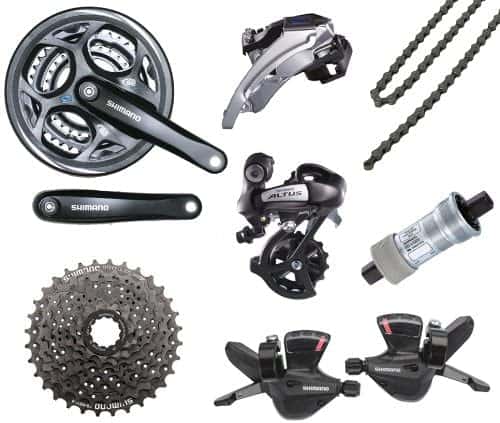 For overall use, I'm looking at who most commonly uses these groupsets, and the best ways to use them. This is important because different groups are designed with different riders in mind.
The Shimano Altus groupset is known for being accessible and a good option for beginning and intermediate riders, perhaps from its ease of use and reasonable price point. It's commonly used for both on-road and off-road bikes, but especially hybrids and cross country.
It's less often found on downhill bikes or advanced bikes. That isn't to say that the Shimano Altus groupset can't be used in this way, just that it is less common.
Shimano RDM310DL Altus GS | Amazon
ALTUS is a 7/8-speed MTB-style component group for city sport and youth bikes. Chain Wrap Capacity: 43teeth, Derailleur Action: Top-Normal (Traditional). 
Buy at Amazon.com
We earn a commission if you click this link and make a purchase at no additional cost to you.
06/30/2022 12:12 am GMT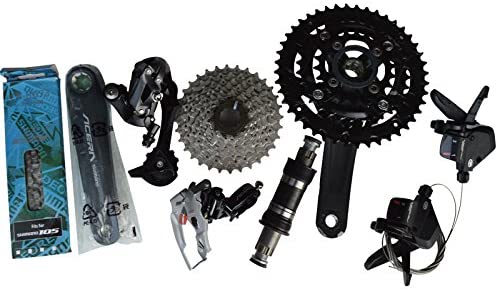 The Acera groupset has a similar reputation in some ways. It's known as affordable, easy to ease, and a good option for intermediate riders.
However, it caters more to intermediate vs beginning riders, compared with the Altus, and is known as slightly more nuanced in a few areas. It is most popular for hybrid bikes and general mountain biking, and, like the Altus, is not the most popular groupset for downhill biking.
Shimano Acera RD-M360 SGS Rear Derailleur | Amazon
Shimano Black Acera Rear Derailleur RD-M360 Acera is a 8 / 7-speed MTB-style component group for city-sport and mountain bikes. In addition to an excellent cost-performance value Acera provides a feeling of "easy control" that inspires confidence, especially among novice cyclists and younger riders.
Buy at Amazon.com
We earn a commission if you click this link and make a purchase at no additional cost to you.
06/30/2022 12:53 am GMT
My Take
For reputation, and based upon consumer use and sales, both the Altus and Acera have a lot of similarities. The Altus and Acera generally are not known as the most high end, or high tech groupsets available, but they have gotten interesting for their user-friendly approach, affordable price point, and overall design.
Best for beginners or intermediate riders, and for cross country and trail riding, the biggest difference is that the Acera is more commonly used for slightly more immediate riders, as well as slightly rougher trails.
Gears, Shifters, and Derailleurs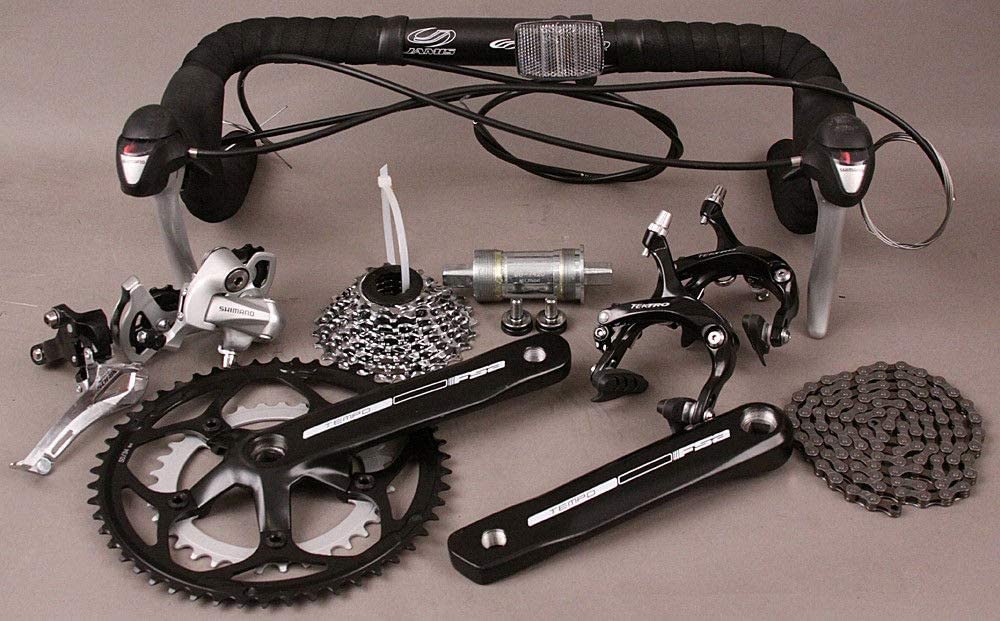 Gears and shifters impact not only your speed but your ultimate control of your mountain biking experience. I like to see a minimum of 8-speed gear options, as well as a shifter that's easy to ease.
Shimano Acera
Shimano Sora features 8 speeds with HG sprockets, along with both derailleur-controlled shirts and hats gears, The shifters are "RapidFire" and intended to be designed for better acceleration and shifting quickly from one gear to another.
In addition, the chain is low friction, meaning it requires less work to shift gears. It's all complemented with pivot bushings and 13 tooth pulleys.
Breaking this down, there are a number of things to like. HG sprockets use shift ramps and teeth to increase the control you have on the chain during shifting.
This provides a smoother transition and is ideal for faster transitions. Rapid Fire is a sort of branding but indicates a trigger type of shifter. Overall, the gears and shifters are not especially advanced, but they are designed to be smooth and fast–ideal for on-road or trail riding.
Shimano Altus
The Shimano Altus groupset features a traditional derailleur, supplies with a 34 tooth pulley, options for 9 to 9 different speeds, and a RapidFire shifter with a more streamlined, slimmer build plus a stick designed for smoother and sleeker performance. It's also equipped with a streamlined cockpit.
My Take
In many ways, the Altus and Acera shifters and gears systems have more in common than they have differences. Altus also is not the most advanced groupset on the market, yet it does a number of things right.
While Acera is meant to shift gears quickly, the experience is smoother and a little quieter for the Altus, which can be helpful for off-road vs on-road biking. The main distinction is the option for an additional gear shift, as well as a larger tooth pulley. The additional teeth on the largest cog may make it easier to navigate more difficult terrain.
Brakes/ Levers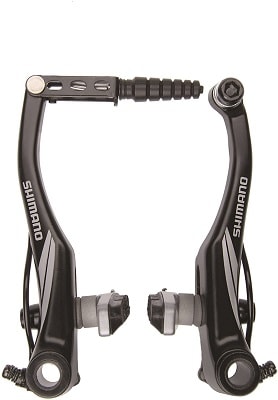 If you're concerned about overall control, you'll want to take a look at the brakes and levers offered for both the Shimano Altus and Acera groupset. The overall design determines control and ease of use.
Shimano Acera
The Acera features hydraulic brakes designed for beginning trail riding, entry-level mountain bikes, and new riders. It's easy to use, with a two-step installation, and a lever that can operate with just two fingers.
It's also designed with smaller hands in mind, meaning this break could be used even for younger riders. In addition, it's an easy operation for every day riding and breaks quickly, for most basic purposes.
Described as balanced braking power, this brake lever system is not designed to withstand the most difficult trails or weather conditions but gets the job done for most beginning riding. Hydraulic brakes use brake fluid, and tend to enjoy better performance than mechanical discs. They also tend to be smoother.
The Altus is similar in a few ways. It also is meant to be easily used, with a two-finger brake system, and quick response lever. The upgrade features side-mounted padding and spring action.
My Take
Air brakes, relying on air and spring action, are less common. It's useful for heavier riding. Overall, there is not a large difference between the brake systems, and both are easy to use, but both are also most useful for moderate trail riding.
Construction and Price
For construction, I look for the quality of the materials and features that make the groupset both durable and smooth in its use. Price is the last consideration, but important for determining overall value.
Both the Acera and Altus are made of durable materials, but in terms of construction and performance, you'll find that the Altus is much for lightweight.
This difference means that rides are as a whole more smooth and it's easier to shift from one gear to another. In addition, the components of the Altus vs Acera work more seamlessly for a smoother ride.
As far as price point, both the Acera and Altus are under an affordable category. The price difference is not exceptionally noticeable, though it depends on what specific components you select.
FAQs
Question: Are Shimano Acera any good?
Answer: The Shimano Acera groupset is a popular option for mountain bikes, especially mountain bikes that are being used on-road or for hybrid mountain bikes. They are popular in part for their affordability, easy installation, and easy use as a whole.

However, they are not considered high end and can be unreliable at times, especially when used in rough conditions. Made by a well-respected brand in the mountain bike industry, this is most recommended for beginner and more intermediate riders who are looking for overall value but don't have the money to pay for more expensive or cumbersome groupsets.
Question: Which is better: Alivio or Acera?
Answer: The Alivio is another groupset option for mountain bikes offered by Shimano. The Alivio is considered in a slightly less advanced class than the Deora, a very popular groupset, but is still said to offer many great features.

The Alivio is fairly affordable, suited for beginning or entry-level mountain bikes. Compared with the Acera, it's a bit more advanced, however, and will provide a more smooth ride. It's also more suitable for harder conditions.
Question: Which Shimano groupset is best?
Answer: The best groupset depends on your mountain bike needs. For everyday biking, or more casual riders, both the Acera and the Alivio offer affordable options with reasonable features.

However, for the most consistent, reliable, and smooth performance, one of the best options is the Shimano XTR. The Shimano XTR offers overall performance for more advanced riding, and could even be used for downhill mountain biking.

It does, of course, cost more, and installation may not be as easy. Thus, the most advanced groupset options are not always the best choice for everyone.
Question: Can you mix Shimano groupsets?
Answer: Shimano groupsets can, in fact, be mixed and matched. This offers versatility, and is beneficial for mountain bike riders in numerous ways. For one, you can customize according to the mountain bike type and style which you currently have.

For another, this allows you to select a groupset by a price that feels comfortable for you. Finally, it means that if you're missing parts or need replacements, there's more wiggle room. The most versatile option is the Shimano SRAM, whose cassettes and chains work with all the groupsets which Shimano sells.
Question: Why are groupsets so expensive?
Answer: Groupsets can be costly, even those classified as affordable. Groupsets are expensive because they contain so many different parts and components, all of which must be optimized for performance and constructed with quality. That said, groupsets are a small investment vs the high performing mountain bike frames, and the best ones should last you a long while.
Final Buying Decision: Try the Altus.
All things considered, both the Altus and Acera are reasonable options for a groupset for intermediate mountain biking. While I do like a number of features for both, Altus outshines in just a few more options, but more importantly, overall smooth performance and reliability.
Shimano RDM310DL Altus GS | Amazon
ALTUS is a 7/8-speed MTB-style component group for city sport and youth bikes. Chain Wrap Capacity: 43teeth, Derailleur Action: Top-Normal (Traditional). 
Buy at Amazon.com
We earn a commission if you click this link and make a purchase at no additional cost to you.
06/30/2022 12:12 am GMT
Looking for an alternative? Read about Sram vs Shimano groupsets here.