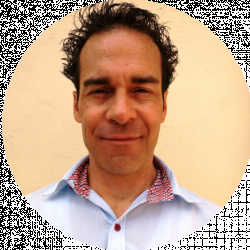 Latest posts by Douglas Bloom
(see all)
Being a hardtail mountain bike, Diamondback Sync'r comes with a hand-built frame, 130mm suspension front forks, and nimble off-road tires. As a result, it's as comfortable on dirt jumps in the park as it is on cross country. The high-quality build matches with oodles of speed, top performance, and rugged durability. Welcome to our Diamondback Sync'r Review.
This bike is not for beginners. Its remarkable design makes it ideal for mid-level and advanced riders. Sync'r is best for aggressive off-road mountain biking. For example, you can use it on harsh singletracks and flowing trails.
Generally speaking, we can say that all MTB designs are for riders who desire to attack off-road trails fearlessly. The bike components' quality is all a testament to this fact.
Sync'r is designed and built to be an all-terrain powerhouse. Not only does it quick-handle high-speed downhill ascents, but also rugged enough for the backcountry. It features large front suspension forks that cruise through rocks, roots, and bumps with ease.
There is a lot of similarity between this bike and other Diamondback hardtail models. The only noticeable difference is it's an expert-level bike. If you are looking for a hardtail mountain bike that will meet your mountain biking expectations, look no further. Diamondback Sync'r gets you the riding experience you want.
Tech Specs
To better understand this hardtail, you need to get information on its specifications. We contacted Diamondback and scoured their website to ensure you got all the information you need on this MTB. Read on to learn more!
Frame Size
Diamondback Sync'r comes with a hand-built frame crafted from 6061-T6 aluminum alloy. This enables it to stand up to the harshness of the most rugged trails. With this frame, you get room to maneuver on tight trails. It's low-slung with a tapered head tube for quick handling.
You can access the Sync'r frame in small, medium, large, and extra-large sizes. In addition, you are guaranteed a smooth ride in challenging conditions because of the RockShox Recon Silver 130mm travel suspension forks.
Brake Type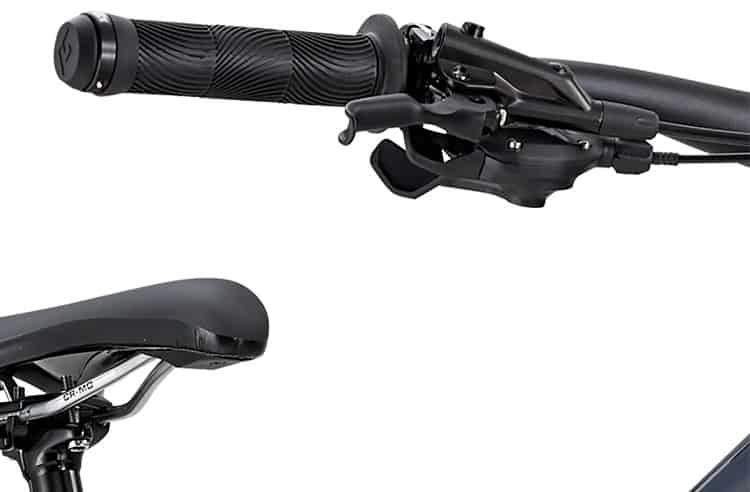 The Tektro hydraulic disc brakes are a significant boost to Sync'r quick stopping capability. They are incredibly responsive to the rider input. You can slow down as much as you like with just a light squeeze of your fingers on the brake levers.
Shifter
An SRAM NX 1 x 11-speed drivetrain makes shifting a walk in the park. Combining it with a 10-speed 11/36 cassette and a single-ring Race Face Ride 30-tooth crankset, mountain biking becomes a whole lot easier. The biker can comfortably control the shifter (which is placed on the handlebars near the brake levers) using the single-finger shifters.
Rims
Sync'r features 27.5" by 2.35" wheels with Diamondback SL-7 double-wall alloy rims. These rims are incredibly strong to allow your bike to stay straight even when bashed against trees, rocks, roots, and other mountain biking trail hazards.
Tires
To improve traction in all conditions, Sync'r has 27.5" by 2.35" tires, giving plenty of contact with the ground. The MTB tires are Schwalbe Tough Tom's model. Take note it's a tire brand popular for its traction and durability. The good thing is that they are easy to find and replace.
Would you prefer to use a different tire brand? In case you do, Sync'r is built in a way that stock parts can easily be interchanged with the aftermarket ones. This is an added advantage to the advanced riders since they can customize their bikes to fit their preferences.
Price Range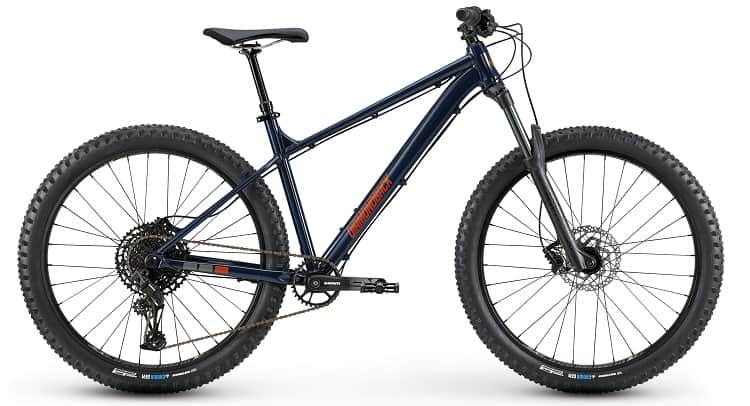 You can find Sync'r bikes at independent bike shops worldwide, especially those dealing mainly with mountain biking. Use the 'Dealer Locator' on the Diamondback website to find dealers in your local area. You can also buy online from Diamondback or a third-party retailer.
Before purchasing a Sync'r, check online and in stores for any special offers that may save you some dollars. All in all, this is an MTB that is easy to find through various platforms should you be interested.
Pros
Hydraulic disc brakes

Aggressive bike perfect for the advanced riders

Excellent handling and stability in rough conditions

Lightweight 6061-T6 aluminum frame

Top-quality components

Wide handlebar
Cons
Not best for beginners

Odd frame sizing
Diamondback Sync'r Alternatives
Apart from Diamondback, there are also other brands of hardtail mountain bikes with the same or better performance. So if you happen not to like the Sync'r model, feel free to look at the alternatives provided below.
Rocky Mountain Growler-20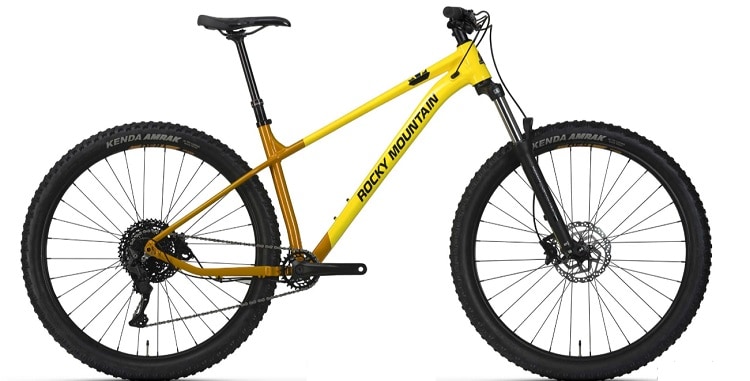 If hardtail models are for the highly skilled riders, we can then say the Rocky Mountain Growler is a trail tutor. If you are a beginner, this is a good alternative to try your skills and perfect them. The Growler has 130mm of travel, rolling on 29-inch wheels. They offer perfect landings and run smoothly over the most challenging terrains.
Growler-20 is made for the bikers keener on descending technical singletrack trails. This is as opposed to riders who grind the miles up long fire road climbs. To shape its frameset, it combines very daring angles.
Looking at the price point, head angles of 64-degrees are still quite progressive. This bike remains committed to the most adventurous technical singletrack sections when combined with 475mm reach, measured on a large size.
To increase strength, most of the Growler's aluminum tubes are fitted with a Boost spaced 12mm rear thru-axle for extra torsional stiffness. For enhanced grip and protection against flats, wheels and tires are all tubeless compatible.
Pros
Tough aluminum frame

Awesome geometry

29er wheels

Features a reliable Deore drivetrain

It comes with a dropper post

12mm rear thru-axle
Cons
Suntour fork is low

Not budget-friendly
Ragley Marley 2.0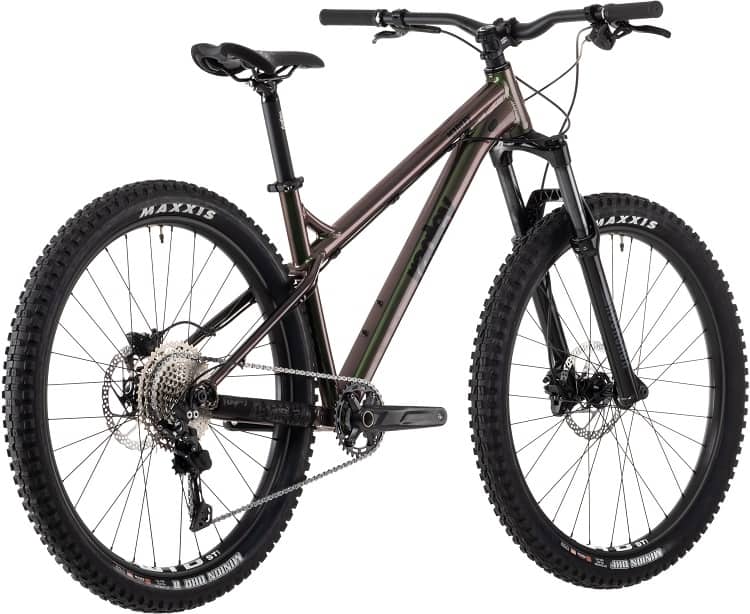 The Ragley Group decided to use a 130mm RockShox Recon fork to deliver quicker and easier steering on the Marley 2.0. In addition, the 65.5-degree head angle which this bike uses to balance on its trail is slack enough to prevent any over-the-bar anxiety when biking down steep terrains.
Any mid-winter muddy rides won't bring tire stalling annoyance because Ragley's frame has ample tire clearance. The traction offered by the Marley 2.0 makes it one of the most trusted mountain bikes.
To keep Marley's potential riotous trail behavior under control, Ragley comes with Shimano M4100 hydraulic brakes. It also features 180mm rotors at both ends of the bike. This bike has only ten gears, making it chill on the ascents. However, on the descents, it smokes everyone.
Pros
Brilliant geometry

It comes in bold colors

Best for huge singletrack fun

Shimano M4100 hydraulic brakes

Ample tire clearance
Cons
Only ten gears

It doesn't come with a dropper Seatpost
Vitus Rapide 29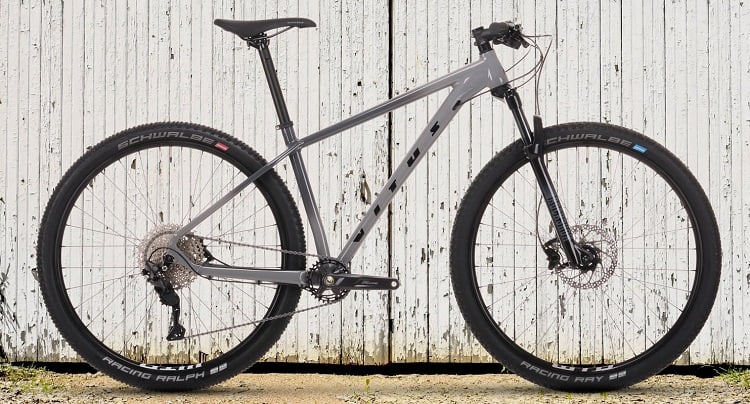 Vitus Rapide 29 is a convincing option for those who prefer to cover ground as fast as possible with a 29-inch wheel size. This bike might not have a long reach rating with a corresponding slack head angle. However, it's still a good fit between predictable and progressive handling geometry.
The Rapide features a comparatively short 435mm reach rating on a size large, sitting at a 67-degree head angle, with a RockShox Recon Silver front fork. You will find it appealing if you enjoy an intuitively responsive bike on less steep trails. Why? Because Vitus 29 has a compact reach and stabilizing 29-inch wheels.
Vitus comes with 29er wheels installed with a 148 x 12mm thru-axle at the rear for super stability as you navigate rougher terrains. Despite the Shimano 1 x 10 drivetrain having fewer gears, this bike has a quality wheelset.
That said, note that when trying to harvest more speed on a flat gravel road, larger 29er wheels won't compensate for any gearing discrepancies. This bike rolls on i25 rims with Racing Ralph Evo 2.25-inch tires. Its sole target is riders who ride significant mileages. Schwalbe's rubber is tested and proven amongst XC bikers.
Pros
Head angle with 120mm fork

It comes with fast-rolling Schwalbe tires

Features an internal cable routing in the frame

Features thru-axle rear

Balanced front end

29er wheels
Cons
It has only ten gears

Short reach
Types of Hardtail Bikes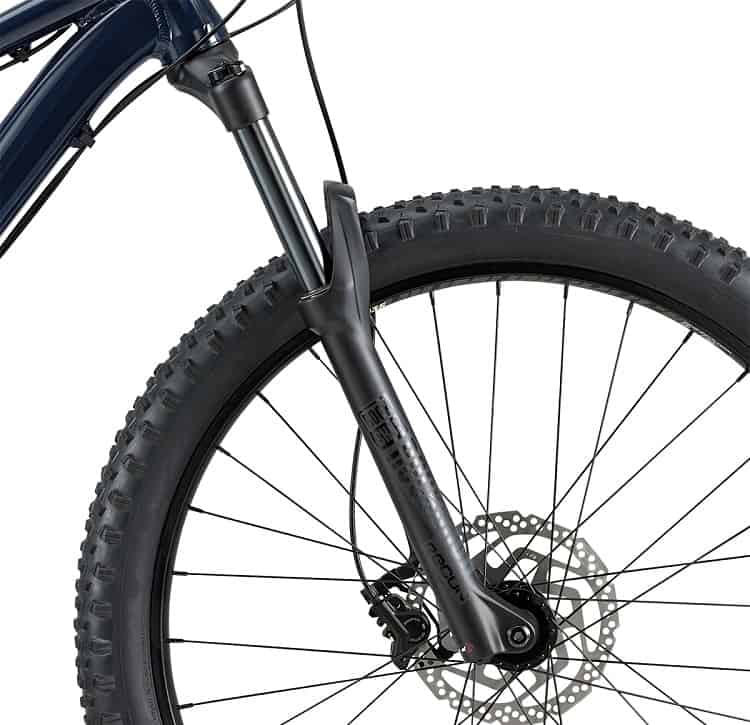 Generally, a hardtail is a broad category of a mountain bike. Therefore, we can classify them based on your riding needs. In our guide, we have highlighted various hardtail mountain bikes for your perusal.
The only advice we can give you before buying one is to first anticipate your riding needs. Think about your riding goals and what you have as a bike, and you'll make a perfect decision.
Trail Bikes
Most people refer to trail bikes as 'all-round' mountain bikes when it comes to trail mountain biking. The reason may be because they are rigid enough for effective uphill climbs, with enough suspension to adequately tackle downhills.
This is a suitable choice for riders who want just a mountain bike that can trail any terrain without seriously considering the brand's specialty. As a newbie, you will be happy with a trail bike. However, they are also perfect for advanced riders.
Cross Country Bikes
Just as the name implies, these bikes are designed for riding cross country (long distances). Despite being mountain bikes, they are still best in handling rough terrains, climbs, and downhills. This bike is comfortable on long rides. With it, you can handle any terrain, no matter how challenging.
Downhill Bikes
Also known as an enduro bike, it is designed for precisely that. Going downhill! One of the specialized disciplines in biking is downhill mountain riding. Typically, it's not for beginners. It entails not only simply going downhill but doing so at a super-fast speed.
These bikes come with a long wheelbase and an excellently flexible suspension, which can handle anything you throw at them. Keep in mind advanced downhill mountain bikers will always go for a dual-suspension bike to get as much suspension as possible.
If you don't want to incur a lot of cost for maintaining a full suspension, but you are interested in downhill riding, check out an enduro hardtail mountain bike.
Fat Tire Bikes
Lastly, the newest trend in mountain bikes is fat-tire bikes. They come with exceptionally large tires, built to ride over rough terrains. You can comfortably ride on snow and sand because the traction is exceptionally great. These bikes might still be worth it if you have very specific needs.
Factors to Consider When Buying a Diamondback Sync'r Bike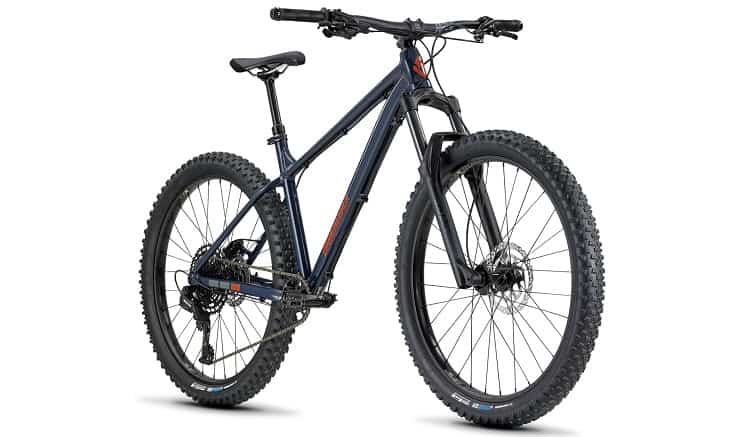 This section is all about the important factors you need to consider to expand your bike knowledge before purchasing a new one. We have focused more on the suspension because it's the key component that distinguishes hardtails from other bikes.
However, it's just one of the many components of a bike. Other basic features that you need to consider as you buy your ideal hardtail are discussed below.
Wheel Size
Looking at how your bike rides, wheel size is an important consideration. Most of the standard mountain bike wheel sizes range from 26 – 29 inches. Small wheel sizes enable your bike to maneuver challenging terrains easily with a quicker acceleration.
Apart from maintaining traction and control, larger wheels are more adept at tackling uneven and bumpy terrains. When it comes to the size of your wheel, it's indeed a matter of personal preference. All in all, the 27.5-inch still offers a good middle-ground for beginners.
Suspension
Your bike can't have the ability to tackle uneven terrains without a suspension. There are numerous different suspension models in the market. However, finding the best for your bike might not be an easy task. The good thing is as long as you consult a quality bike dealer, it's hard to go wrong.
Frame
A bike frame is vital for structural purposes. Materials used to make it hugely determine your bike performance. Most mountain bike frames are made of an aluminum alloy, which offers strength and durability. It's light enough to maintain maneuverability and control. For the premium mountain bikes, expect to pay more for titanium and carbon fiber materials.
Gears
In any mountain bike, gears are an essential component. They determine how many times you need to rotate your MTB pedals to spin the wheels and how much resistance the pedals offer. Remember, gears can make it easier or harder to peddle your bike and generate speed.
You can get mountain bikes with up to 30 gears, but most bikers prefer less than that. What matters is the level of control that you need over the pedaling resistance. Fewer gears enable you to shift between your desired settings, whereas more gears offer more control.
That said, many gears are also a valid consideration to any novice rider because they add more weight to the bike.
Brakes
Brakes are a key component of a bike. The most popular brakes on hardtail bikes are disc brakes. They are efficient at gripping the rotor that is attached to the wheel hub.
Even though hydraulics are the most effective option to work with these brakes, they are also more expensive. To minimize cost, you can operate disc brakes with cables.
Fit
Having the right size of your bike is very important. Your height majorly determines your bike size. However, weight also plays a significant role. Sizes range from small and medium to large, depending on the company. Some companies offer sizes even bigger than that.
Our recommendation is to have your bike professionally fitted. Don't go with a guess. When you get a professional bike size, you will be happier with the overall experience. Luckily, you also get the chance to try your bike before you buy it.
Style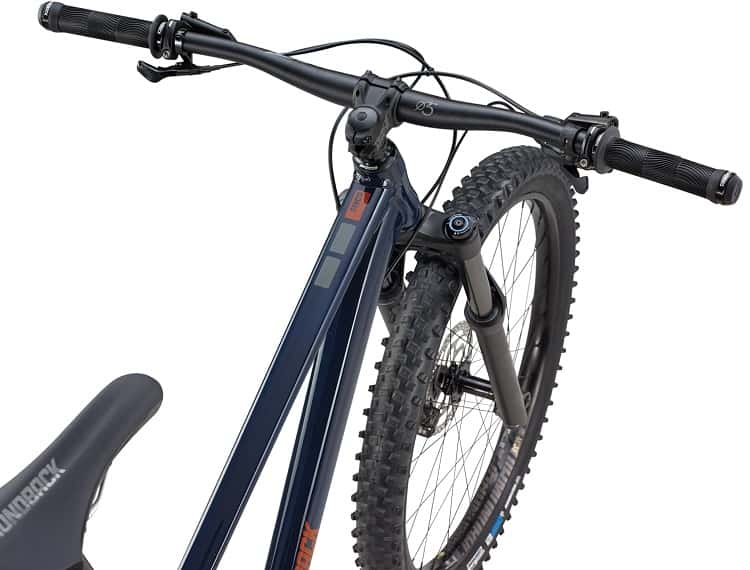 Last but not least is the style. Do you want your new bike to function well and enjoy its look? There are numerous options for the style-conscious bikers ranging from shape, color, patterns, and many more.
Even though we don't recommend that you solely base your decision on the styling, it's still a valid consideration once you've settled on your ideal bike. You might be surprised at the available range of options you can get from the variety of hardtail MTBs.
Above all, we aim to help you make the best decision. That said, we hope you have enjoyed our hardtail mountain bike buying guide.
Diamondback Sync'r FAQs
Question: Is Diamondback Sync'r a Good Bike Model?
Answer: Yes. Sync'r is a perfect option for any rider interested in a top-level hardtail mountain bike. Diamondback has a good reputation in the mountain bike industry. They are famous for producing some of the most durable, affordable, and high-quality bikes in the market.
All the design aspects are created with performance in mind. However, it doesn't mean that this bike is easy to use. On the other hand, it's relatively smooth, nimble, and fast. If you are an advanced rider, then it's a good option.
Question: What's the Ideal Weight of a Diamondback Sync'r Mountain Bike?
Answer: 26 lbs. 11.2 oz. This weight is good enough for any upcoming trail rider who aspires to take his riding to the next level.
Question: Does Raleigh Own Diamondback?
Answer: Derby Cycle Corporation, which owns the Raleigh Bicycle Company, purchased Diamondback Bicycles in 1999. Later on, it merged Raleigh and Diamond. In the end, Accell Group sold Diamondback to Regent, L.P in August 2019.
Question: What are the Components of a Diamondback Sync'r Bike?
Answer: The key component is aluminum because high tensile steel is often heavy. Aluminum is stiffer, stronger, and lightweight compared to steel. Take note 6061 aluminum is resistant to stress cracking. This makes it the best in making different shapes of bike tubes.
Conclusion
Diamondback Sync'r is a worthy investment. For a hardtail mountain bike, it will not disappoint. However, if it doesn't meet your preferences, check out the alternatives we have provided. Additionally, you can use the buying guide to help you choose one that fits you. All in all, Diamond Sync'r is a real hardtail MTB beast!