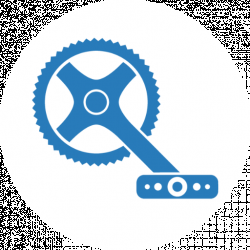 Latest posts by MTB Insider Team
(see all)
In my experience, no matter how experienced you are as a mountain biker. The type of bike you choose plays an integral role in the pure joy and excitement you experience while riding.
The Santa Cruz Nomad and Bronson are two premium mountain bikes made by the same company. They each offer distinctive advantages in their class when it comes to overall ride integrity and performance.
For one, both bikes are available in Carbon C, Carbon CC, and Aluminum which are Santa Cruz's vatrious bike frame options. When getting into the reasons why someone would choose the Nomad over the Bronson or vice versa, it all boils down to personal preference.
Personally, I found the Santa Cruz Bronson to be a more optimized fit for my existing ride style. Mainly because it provides more robust support and responsiveness when traversing rough terrain and hard drops than the Nomad.
I also found the Bronson to be more comfortable both on long rides and short rips when I first rode the bike.
Although you may be looking for something more out of your bike than comfort and support. If so, don't worry because I'm going to cover all the details about the Santa Cruz Nomad vs Bronson in this article.
Main Differences Between the Santa Cruz Nomad vs Bronson 
The Main Differences Between the Santa Cruz Bronson vs Nomad are:
The Bronson has 60mm of front travel, whereas the Nomad comes with 170mm of front travel.
The Bronson has a 55mm stroke, whereas the Nomad has a 60mm stroke.
The Bronson has a max tire size of 2.8", whereas the Nomad has a max tire size of 2.5".
The Bronson has fork compatibility of 150-170mm, whereas the Nomad has fork compatibility of 170-180mm.
Santa Cruz is one of the premier mountain bike brands in the world, so it's only right for them to maintain consistent quality standards across all of their products.
The Nomad and Bronson are no different, both bikes offer distinctive benefits for riders of varying styles. So, you'll need to decide what your main riding style is to decide on which bike will provide you with the most benefit.
All of these differences play an integral role in helping you make a decision about which one of these bikes is perfect for you.
While each of these differences may seem subtle, they'll impact the way you experience your ride in a huge way. So, it's important to consider what your personal riding style and preference is to ensure you choose the ride steed.
While both bikes are comparable in many aspects, there are some key differences between each of them. 
Santa Cruz Nomad | Competitive Cyclist
With the massive popularity of the previous generation Nomad, the engineers at Santa Cruz could have simply tweaked the geometry and slapped on a fancy new paint job and called it good.
Check Prices
We earn a commission if you click this link and make a purchase at no additional cost to you.
Comparing the core features of each of these bikes is a little challenging given the fact of how similar they are. But, Santa Cruz offers different build options for each bike and there are some differences in the features and materials available. 
Below I'm going to give you a detailed breakdown of all the core features both bikes come with so you can see which one is tailored to your ride style.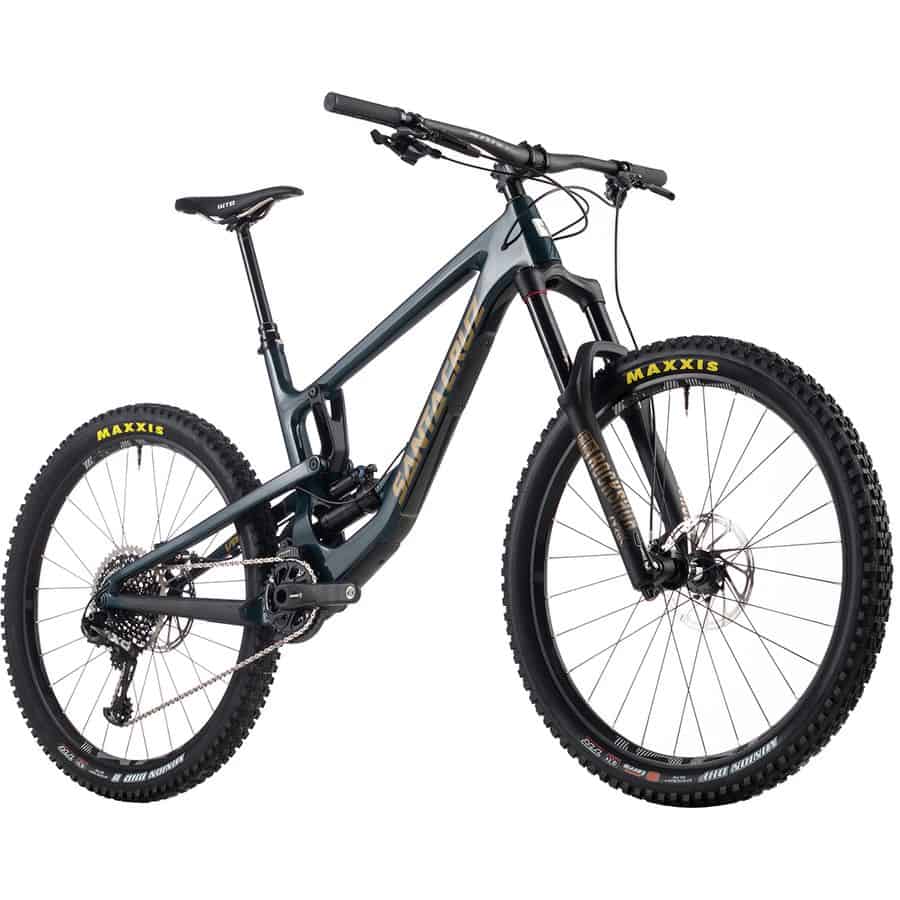 Build/Frame Quality 
Both the Bronson and Nomad are available in Aluminum, Carbon CC & Carbon C frame material builds. This gives you the ability to achieve the perfect ride stiffness and ergonomics while on the trail.
All of the frame options offered by Santa Cruz offer reliability, durability, and versatility for virtually all riders. This is one area in which you'll need to use your pre-existing experience of trail bikes to determine which frame is best for you. 
The Bronson achieves the perfect balance between stability and agility, making it perfect for those riders who have a versatile style. The Nomad has a more rugged design giving it an edge over the Bronson when it comes to durability.
All in all, I was very pleased with the quality and mastery precision that was put into the frame design of each bike. 
Santa Cruz Bronson | Competitive Cyclist
Changing our perception of what speed really is we're taking the Santa Cruz Bronson Carbon CC X01 Eagle Mountain Bike to the limit all over our local trails. This bike flies through the descents and keeps us on our toes through the rough and chunder.
Check Prices
We earn a commission if you click this link and make a purchase at no additional cost to you.
Brakes 
The Nomad Aluminum R model has SRAM Guide RE brakes that are designed to deliver amazing braking action while handling sharp turns with ease.
The Bronson is equipped with SRAM Guide T brakes that handle virtually identically. They are very responsive and very smooth. Overall, both braking systems felt engaged and responsive.
Suspension System 
Both bikes are equipped with a VPP (Virtual Pivot Point) full-suspension system that utilizes a solid triangle in the rear to counterrotate the connecting links.
The suspension system on both bikes can be easily tuned so you can achieve the perfect configuration regardless of what your style or preference may be. The links are short which helps create a versatile and stable chassis on both the Nomad and Bronson builds. 
The links also aid in reducing the odds of linkage between bearings and large diameter axles. Thus, providing a smooth and solid ride throughout the frame.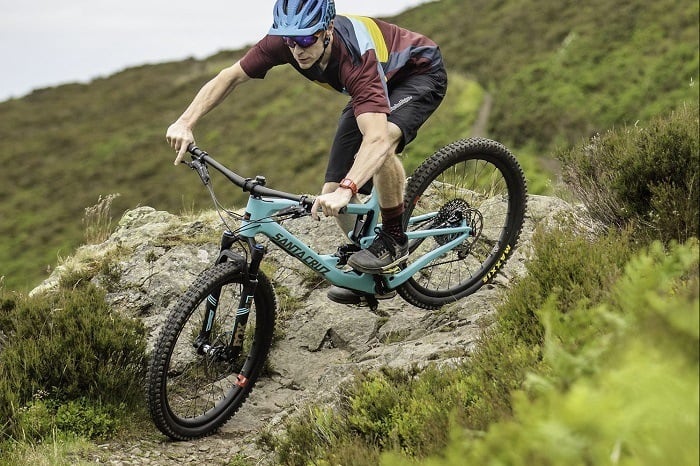 Shock System 
The Bronson is outfitted with a RockShox Super Deluxe Select Plus shock system that delivers fine responsiveness and can withstand virtually any terrain.
The Nomad on the other hand is equipped with a RockShox Super Deluxe Select Ultimate shock system designed to provide world-class performance on ramps, drops, and any terrain. Both shock systems provide crazy effective and practical benefits that will keep you cozy and flowing on the trail. 
For those that want a durable mountain bike that can handle some rough use and wear without buckling, the Nomad is the perfect option for you. If you're someone looking for more versatility and fluidity in your rides, the Bronson is the better choice.
After reading my core feature comparison above, you should hopefully now have a better understanding of all the core differences you can expect to encounter when choosing between the Nomad and Bronson. 
Top Alternative Recommendations 
The Santa Cruz Tall Boy is outfitted with a Virtual Pivot Pint suspension system that enables you as a rider to handle challenging trails with ease. I like that this bike also packs 10mm of rear-axle adjustment capabilities so you can fine-tune your ride to your precise preference.
This bike is perfect for extreme-country or cross-country biking thanks to its innovative design and high-quality components. The lightweight chassis on the bike tops it off and makes it one of the most capable yet versatile trail bikes I've seen in a long time. Check out how the Tallboy compares to 5010 here.
Pros:
Great suspension system, practical design benefits, adjustable rear-axle.
Cons:
Not great for rough terrains.
Is the Tallboy Worth it? | Competitive Cyclist
Excellent crossover appeal and a well-balanced combo of speed, ease of use, traction and durability make the Santa Cruz Tallboy a CLEAR stand out to me. While it's not the cheapest, it IS one of the highest rated in class. Well worth it!
Check Prices
We earn a commission if you click this link and make a purchase at no additional cost to you.
The Santa Cruz Hightower comes packed with lower-linked mounted shock backed by a Virtual Pivot Point suspension system that allows you to maintain strict ride control on various terrains.
The overall design of the bike delivers a balanced stiffness which is great for those riders that commonly take on rough trails.
The addition of a water bottle storage area into the frame is nice but for serious bikers, it's not a selling point. This bike also comes with a lot of front and rear travel which is perfect for taking on complex trails with grace
Pros:
Stiff frame design, water storage compartment, durability.
Cons:
Rigidity in that there aren't many customization options.
Santa Cruz Bicycles Hightower C S Complete Mountain Bike 2021 | Evo
The Hightower has always been a trail slayer, a blazing fast 29er with the downhill pedigree that comes with being a Santa Cruz. But with new geo and a lower, repositioned shock akin to its longer-travel siblings, the Santa Cruz Bicycles Hightower C S Complete Mountain Bike has become an absolute beast.
Check Price
We earn a commission if you click this link and make a purchase at no additional cost to you.
The Santa Cruz Megatower is an impressive machine coming packed with a lower-link driven Virtual Pivot Point suspension system that takes inspiration from the V10 and puts a refreshing spin on it.
The shock rate on this bike provides traction levels that aren't seen in bikes of similar class often. You can use coil and air shocks with this bike adding another layer of adjustability and customization to its overall design.
Pros:
Adjustability, customization options, durable frame build.
Cons:
Restrictive design elements for certain riding styles and profiles.
The Santa Cruz Heckler is a throwback to the original bike which was released in 1996. The bike features a full carbon frame coupled with a Virtual Pivot Point suspension system that delivers accurate and robust functionality for riders of all shapes and sizes.
This is one of Santa Cruz's premier electric bikes. The bike delivers impressive ride smoothness while also maintaining adequate traction, which is one of the points that really stood out for me.
Not to mention, it gets you up a hill a bit easier than it's less technologically savvy brothers and sisters in the lineup.
Pros:
Electrical operation, advanced suspension system, high-quality components.
Cons:
Battery life is in question.
Santa Cruz Heckler Bicycles | Mike's Bikes
Taking a long view, you'll find yourself riding more than ever, since every dang pedal is so much fun. This bike turns ride logs into dream journals, it's just that good.
Check Prices
We earn a commission if you click this link and make a purchase at no additional cost to you.
FAQs
Question: Is Santa Cruz Bronson an Enduro bike?
Answer: No, the Santa Cruz Bronson is not an enduro bike, in fact, it's the best option to go with if you want to avoid an enduro bike. 
Question: Why are Santa Cruz bikes so heavy?
Answer: Santa Cruz bikes are heavy because of several factors like how big the tires are, what material the frame is made from, and more impact the overall weight of a bike. 
Question: What is the best Santa Cruz bike?
Answer: Santa Cruz bikes are all excellent, and there is not just one right answer to this. Santa Cruz offers a huge array of premium trail bikes designed to meet the needs of riders of all sorts. With that being said, we love the Nomad!