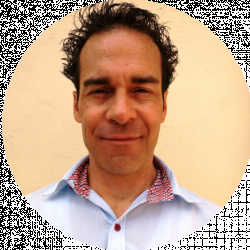 Latest posts by Douglas Bloom
(see all)
Now you have decided to get a mountain bike. Getting into trail racing or riding can be a bit overwhelming. The reason may be that the bikes available at the moment designed to handle high speeds and rough trails are pricey. The Trek Marlin brand is one of the brands you should consider. 
Why? You need to consider factors such as ease of riding, responsiveness, lightweight, budget, and speed. Let's take a look at the difference between Trek Marlin 7 vs Trek Marlin 6. We'll start with the features of Trek Marlin 7. 
Main Differences Between Trek Marlin 6 vs 7
The Main Differences Between Trek Marlin 6 vs 7 are:
The Marlin 7 has an upgraded fork, whereas the Marlin 6 uses a standard fork

The Marlin 7 has an upgraded rear derailleur, whereas the Marlin 6 uses a standard rear derailleur

The Marlin 7 is pricier, whereas the Marlin 6 is more affordable

The Trek Marlin 7 is designed for amateur racers, whereas the Marlin 6 is designed for mountain bike beginners 
Trek Marlin Overview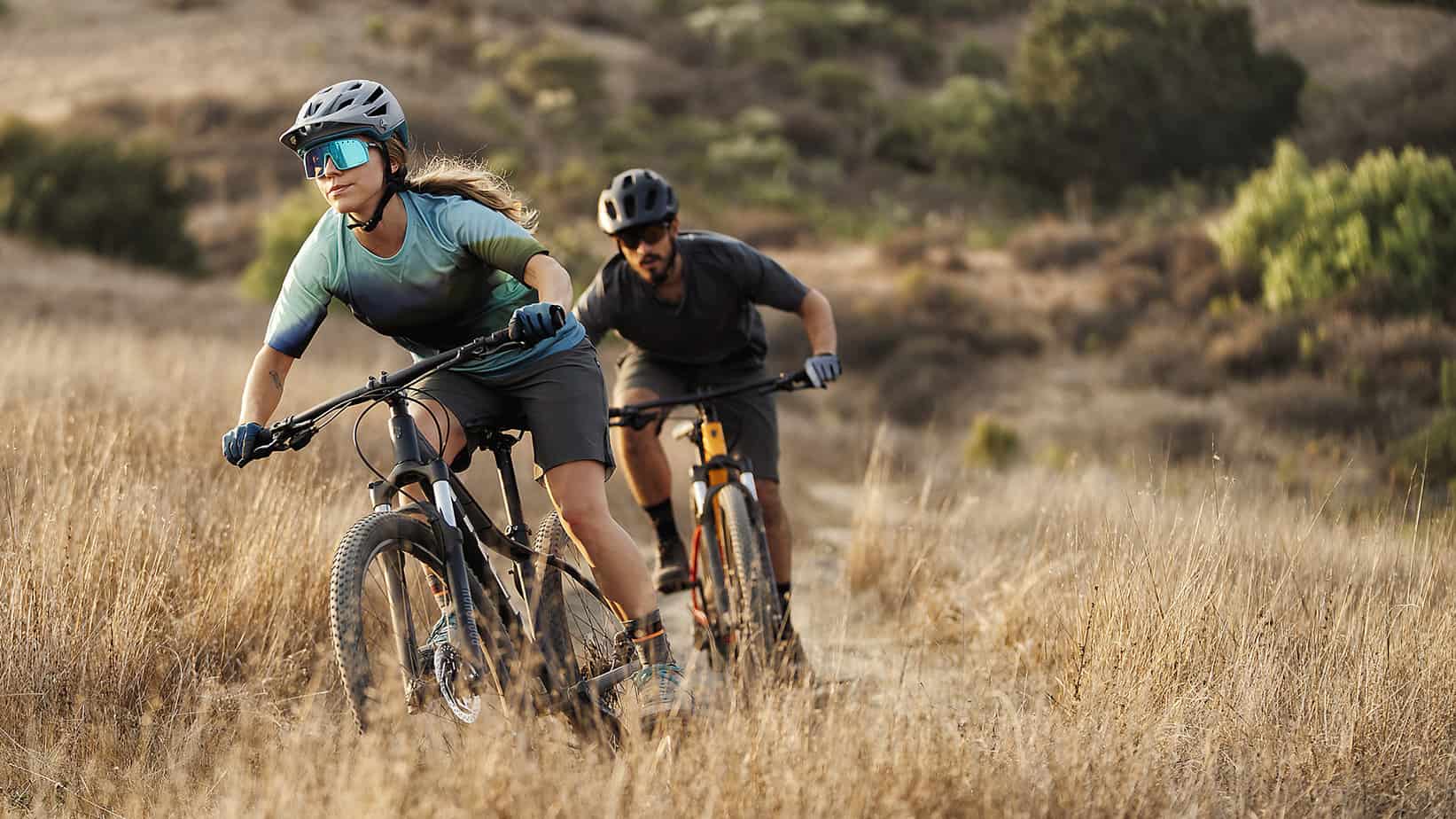 Trek is one of the biggest companies in the mountain biking world. It provides a range of entry-level bikes to premium racing bikes. These machines are developed to consistently perform at a high-level thanks to the well-thought components and great frame design. 
The Marlin line is an affordable offering from Trek. This doesn't mean that the line is cheap and sub-standard. The line is designed to ensure it caters to cross-country riding. It also caters to mountain bikers in need of a fast and durable MTB without paying a premium for the same.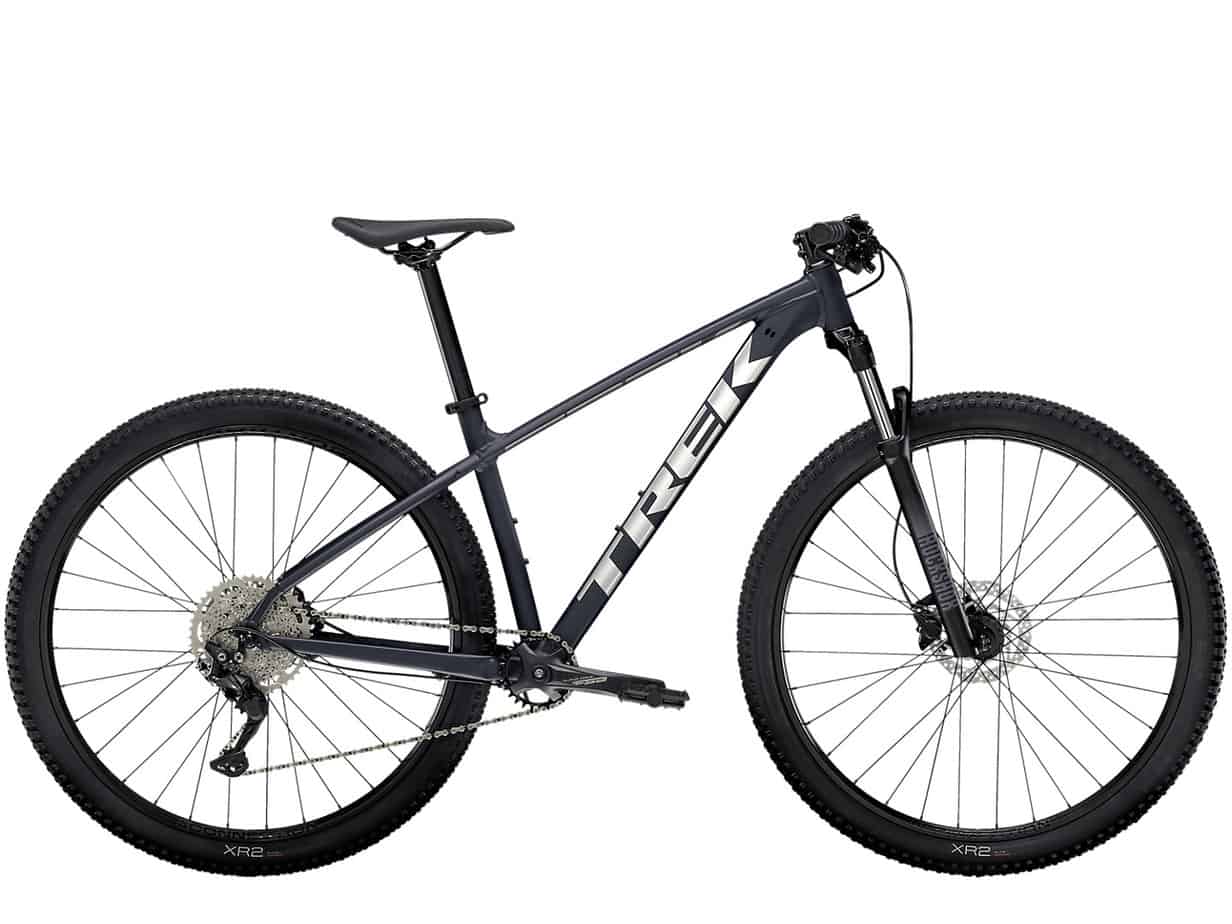 The Marlin 7 is one of the affordable flagships of Trek bikes. The MTB is an affordable option with a fairly high-quality and race-ready profile. We have comprehensively reviewed Trek Marlin 7 vs 6 below. You will get to understand the different features to give you some insight into the differences between the two. 
The Trek Marlin 7 is the most costly MTB in the Marlin line because it is the most advanced at the time of publishing this article. Although you can use it as a leisure or commuter bike, it wasn't designed for these purposes. 
The design is for people who are serious about cycling and improving their game. It works well for people who are working with a tight budget. It's also designed to work well with trail performance improvement and other customizations. You can do this with relatively-low and minor modifications. Let's look at the benefits and features of the Marlin 7 before we look at the Marlin 6. 
Trek Marlin 7 Key Features
Weight: 31.4 pounds

Size: XS – XXL 

Gender: Unisex 

Frame Material: Aluminum

Gears: 9

Bike Type: XC MTB
Benefits and Features
You can never understand the benefits of a mountain bike if you have not looked at its features. Take note the features below are only the standard setup. This means you can upgrade many of the components mentioned below when you wish.  
Frame
The frame is the main component of any mountain bike. It is the only item that determines how you can upgrade your mountain bike. The good news is there are minimal reasons why you would want to upgrade this mountain bike. 
For starters, it is developed with a good riding balance and a reasonably aggressive rider stance. At the end of the day, it is as light as you can expect and aerodynamic to standards you can't easily get at its price point. All in all, it is a great design ready for casual riding, as well as competitions, races, and trail rides.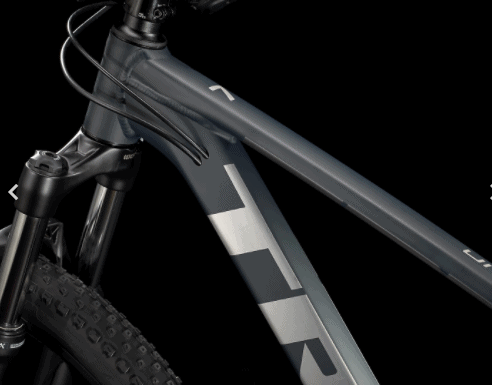 Suspension System
The first thing you will notice is the lack of a rear suspension. However, there is a RockShox model with 100mm of travel. It is thanks to a hydraulic boosted system with a spring coil system. 
What does this mean? The front shocks absorb the majority of the impact without the rider losing control. On the roughest sections of technical trails, the shocks may struggle a little. This should not discourage you since most MTBs at this price point offer the same performance.
One of the benefits of this suspension system is you can turn it off when you don't need it. It is done using an easy-to-reach locking system. The feature is designed to save on wear and tear.
Although it doesn't have the scaling suspension sensitivity of more advanced forks, this isn't a big disadvantage. The model is reactive without being overly aggressive or springy. In most cases, riders don't have to adjust the shock sensitivity.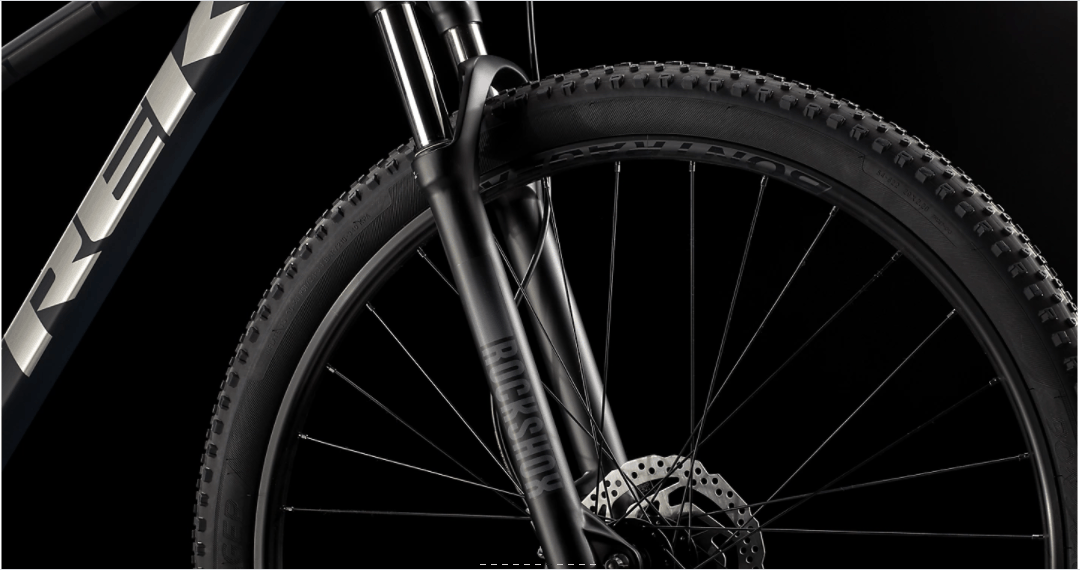 Wheels
The wheels have a standard setup that works with tire sizes 27-5-inch or 29-inch by 2.20inch wheels. This gives you a reasonable range for using different tire setups. Unfortunately, the rims aren't tubeless-ready. However, it is an easy upgrade should you decide to go tubeless for better performance on different trails. 
Gears
18 gears are the standard with the basic Trek Marlin 7. It comes with a gear indicator to show you the gear you are currently using. This makes it simple to use the full range of gears. It also allows you to shift gears on more technically difficult trails. 
The gear system, inclusive of the rear and front derailleur, is made using affordable Shimano parts. Shimano is a renowned company that makes high-performance gear systems. The Marlin 7 comes with an Acera rear derailleur, an Atlus front derailleur, and a shifter. The system is designed for quick shifting between gears and durability.
Brakes
The Trek Marlin 7 comes with a hydraulic braking system. It is a serious upgrade considering what other bike manufacturers offer at this price range. The brakes are Shimano's MT200 hydraulic brakes, not the best from Shimano, but worth it.  
The brakes do not cause instability or shuddering, but they are quick and responsive. They also don't pull to one side. This means they are a great choice for some technical trials. You need to schedule regular maintenance for the brakes to maintain them as long as you use them normally.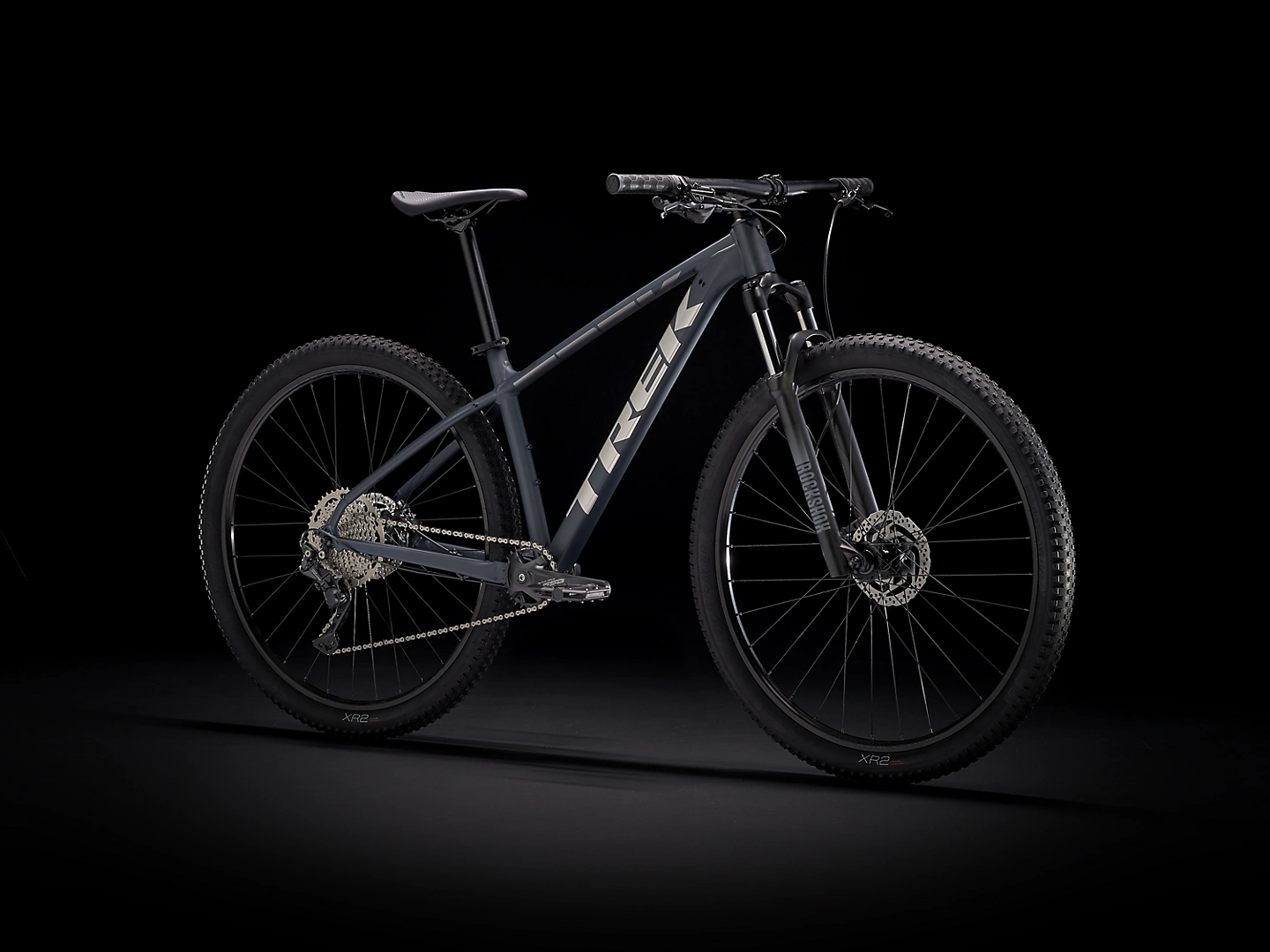 Marlin 7 | Trek Bikes
Marlin 7 is where race-worthy mountain bikes begin. The smooth, lightweight RockShox fork and upgraded parts make this model the best choice for new riders who want a fast cross-country hardtail that will hold its own against our higher-end race bikes.
Check Price
We earn a commission if you click this link and make a purchase at no additional cost to you.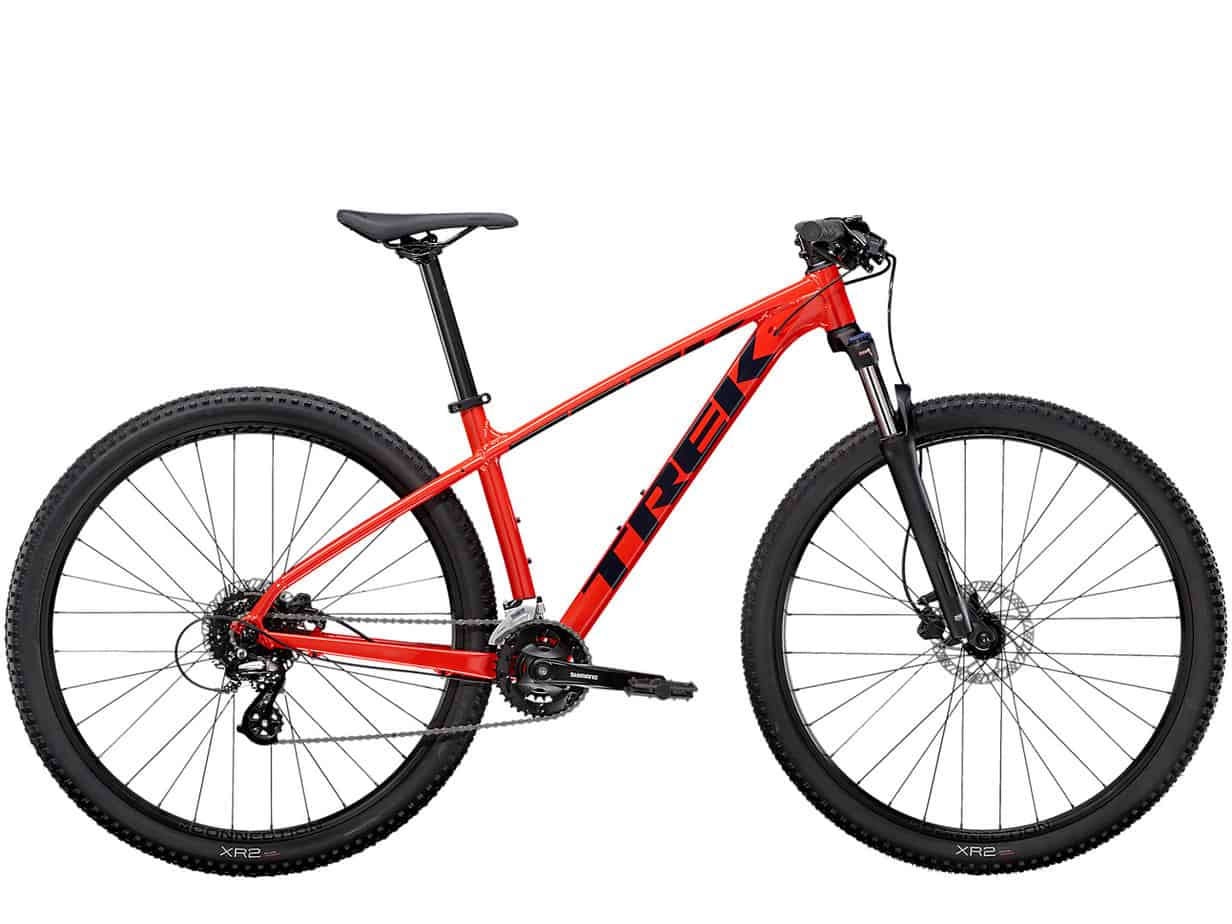 The Trek Marlin 6 is a great and affordable pick, especially for beginner MTB riders. It is an excellent all-around mountain bike offering plenty of upgrades and customization options. Let's take a look at the main features of this MTB to better understand it. 
Key Features
Saddle: Bontrager Evoke 1

Brakes: Tekro M290 (hydraulic brake levers and disc brakes)

Derailleurs: Shimano Atlus

Crankset: Shimano

Fork: SR Suntour XCT fork with a 100mm of travel 
Frame
Aluminum is the material of choice for the Marlin 6. This means it is a pretty lightweight bike which is a good feature for beginner riders. The good news is you can choose from seven different sizes. This makes it easy for you to get a Marlin 6 that fits your height. When it comes to color, there are two options; silver or orange.  
Wheels
You can choose between 29-inch and 27-inch wheels depending on the size of the bike you choose. The wheel options are designed this way to ensure larger bikes get a smoother ride. It is an advantage considering larger wheels offer riders a better experience on rough terrain and technical trails. 
One of the things you notice is the weight of the wheels. This may be a setback for some riders when they try to pick up speed. The tires are made by the popular Bontrager manufacturer, with the XR2 being the model of choice. The wheels are Bontrager Connection 32-hole double-walled.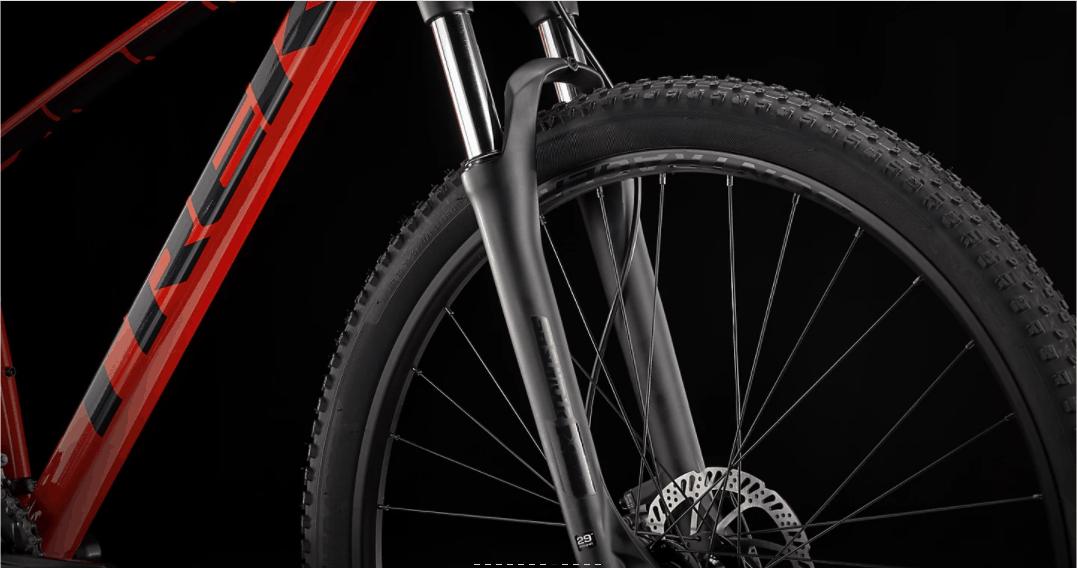 Brakes
The brakes on the Marlin 6 vary from one size to another. There are seven main sizes namely XXL, XL, L, ML, M, S, and XS. The last two sizes are the smallest. These use Tekro HD-M276 hydraulic disc brakes with a short reach lever. The other five sizes use Tekro HD-M275 hydraulic disc brakes.
Drivetrain
Unlike some bikes at this price point, the Trek Marlin 6 has a front and rear derailleur. The front derailleur is a Shimano Atlus M315, dual pull, top swing, with a 34.9mm clamp. The rear derailleur is the Shimano Atlus M310.
When it comes to the shifter, the Marlin 6 uses a Shimano Atlus M315 with an 8-speed gear system. However, the crank is determined by the size of the bike you choose. For M, S, and XS sizes, you get the Shimano M315 with 170mm length and 36/22. For the other sizes, you get the same crank with the difference being 175mm in length.
Weight
This MTB weighs about 15kg or 32 pounds. This is the weight inclusive of the tubes. The maximum weight is about 136kg or 300 pounds. This is the maximum weight of the bike inclusive of the rider. 
Performance
Some of our staff found this bike to be a little unresponsive or stiff. Some said the wheels reduced responsiveness drastically at times. It made riding on trails less comfortable when compared to the Trek Marlin 7. 
One of the staff members who tried it stated the MTB couldn't perform well on drops, with limited softening. When it comes to a ride on flatter and smoother terrain, all our riders stated its performance was nice. It is a great entry-level bike for newbies to the world of MTB riding. 
Best for…..
People who need a bike to commute to school or work while riding on flatter terrains, but want to experiment with a bit of trail riding

Riders who want a versatile crossover bike but are on a tight budget
Not for……
People who don't want to change or upgrade parts on their mountain bike to improve the riding experience

Anyone interested in tackling tougher trails
Pros
Handy for commuting

Can be easily upgraded or customized

Very affordable

High-quality brakes

Good suspension system 
Cons 
Can be a bit stiff or unforgiving

Doesn't ride well on trails
Ultimate Mountain Bike Buying Guide
There is a huge array of various mountain bikes. They are all designed with a specific task in mind. The following is an ultimate guide to the types of mountain bikes in the market today. It will help you make the right buying decision when it comes to mountain bikes. 
XC (Cross-Country) MTBs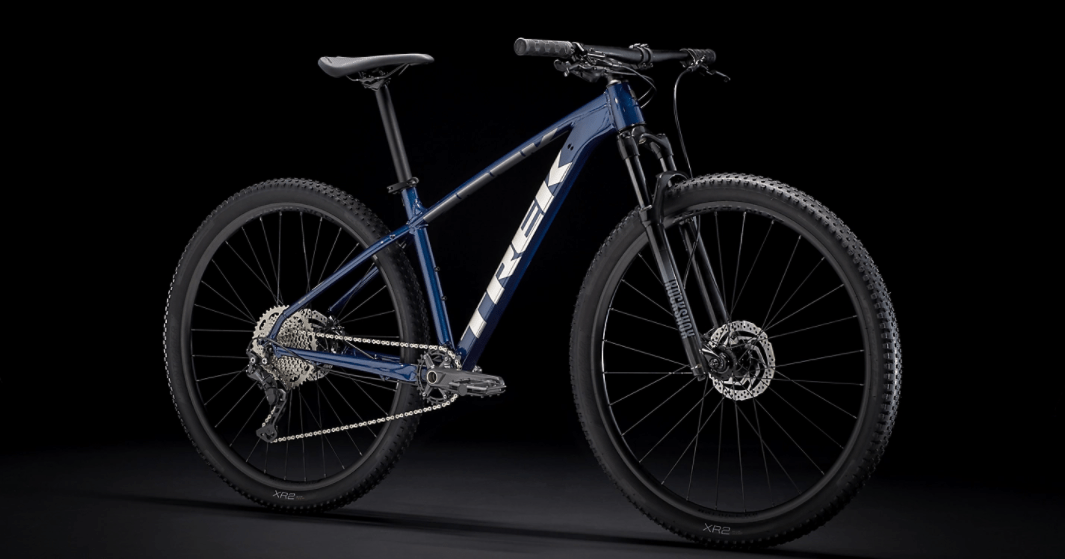 These are bikes designed to cover ground quickly, whether it's a day out in the mountains or a race. Cross-country mountain bikes have larger diameter 29-inch wheels. This is combined with fast-rolling tires, low-volume, and lightly treaded tires for maximum speed. 
These MTBs have steeper head angles, narrower bars, and long stems. All this is combined to put the rider into an efficient pedaling position. The demerit of this kind of geometry is controlling the bike at steeper descents is a challenge. The challenge is more when combined with skinnier tires and short-travel suspension. 
Affordable XC MTBs use alloy frames, with carbon being the choice for top-end race bikes. They also have a wide range of gears to allow high top speeds and steep climbing. Get one if you like riding for hours or pushing your heart rate as high as possible. 
Trail MTBs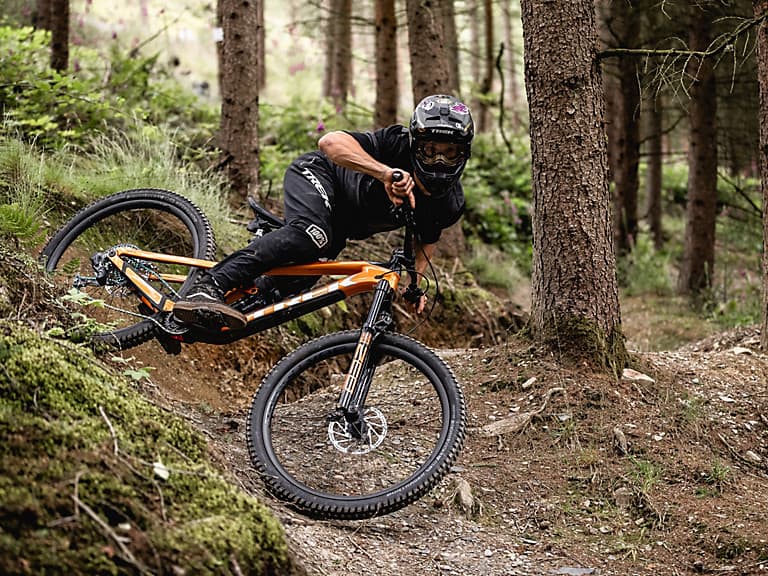 It is the most popular type of mountain bike because it is multi-purpose. They are designed with more relaxed angles to offer better confidence when you descend. They come with kits designed to handle a lot of punishment. To improve control at speed, they have wide handlebars and shorter stems. Their tires come with a more aggressive tread. 
It may be the reason why they offer a great compromise between descending prowess and climbing ability. Trail hardtails use strong frames combined with forks of around 130mm – 150mm travel. Their full-suspension options use forks with anywhere between 130mm – 150mm of travel at each end. 
Carbon fiber is the choice of frame material for top-end bikes, with aluminum being the choice for the more affordable options. Steel may be used by some more boutique frame builders. 1x drivetrains have replaced double chainrings in these bikes. The change was due to the wide range with better performance and simple maintenance of 1x drivetrains.  
These MTBs use either 650b or 29-inch wheels. The former gives a more dynamic and involving ride, with the latter being more stable. Some plus tires pair a wider rim fitted with a 650 B-sized wheel. Typically, a large volume 2.8-inch wheel or more is fitted. There are claims that you get an improved grip when you use this combination. If you love climbing and descents the same, this is the MTB to do it all. 
Enduro MTBs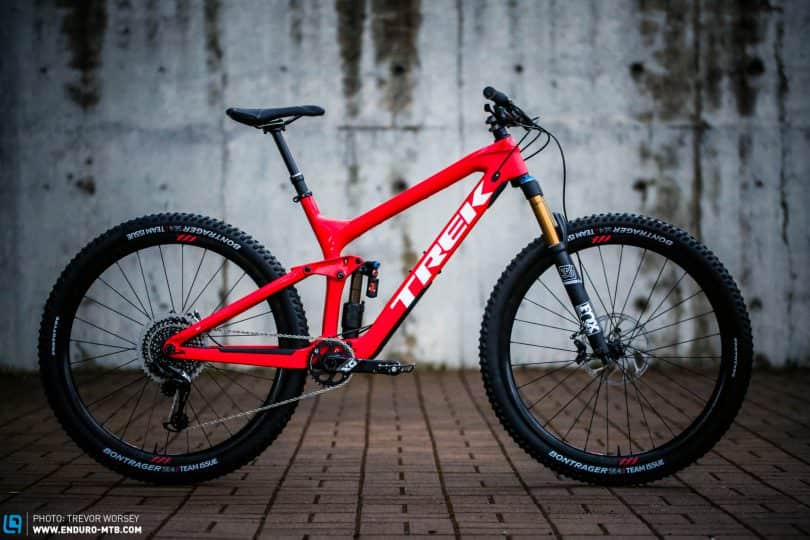 Enduro is a racing format where the descents are timed. However, you still need to pedal yourself around a course. This means the mountain bike is designed to perform exceptionally well down difficult and steep trails. At the same time, they are still efficient and light enough to pedal back to the top. They offer sufficient amounts of travel to get you through most terrains. 
You may notice that they are mostly exclusive full-suspension MTBs. Most pair reinforced tires and tough wheels with approximately 160mm – 170mm of travel at either end. Suspension units are air-sprung but heavy-duty with a range of damping adjustments to tune performance downhill. 
Coil shocks are becoming popular for their consistency and reliability during prolonged hard riding. Some enduro bikes come with remotes. These are used to change the bike's travel and geometry between an uphill and downhill mode. 
Keep in mind this adds complications, weight, and additional points of failure. Most current enduro bikes have a chain guide and a 1x drivetrain. Sometimes they are called "all-mountain" bikes since they are great for riding on technical and mountainous terrain.  
Get this mountain bike if you prefer the toughest and technical descents. As long as you don't mind winching yourself to the top, you should be good to go. 
Downhill Mountain Bikes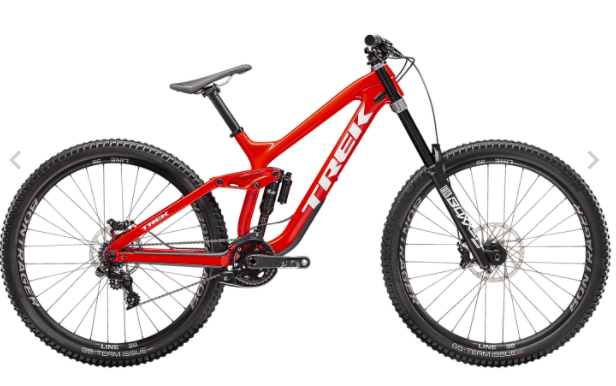 Just like their name suggests, these bikes are good at going down technical and steep tracks very quickly. With about 200mm of travel at each end, they use coil-sprung suspension that is optimized for pure support and traction, instead of pedaling ability. 
To perform downhill effectively, the bikes are designed with forks that have legs extending above the head tube. These are then braced together. The name of the fork is a "triple-clamp" or "double crown" fork. Carbon is used on pro-level machinery with aluminum being the choice for more affordable options. 
If you like going downhill fast on the biggest jumps or the hardest terrain, this is the bike for you. As long as you don't mind pushing or getting a lift to the top, go for an enduro MTB. 
E-MTB
Electric MTBs are gaining popularity. As such, you can easily find one that corresponds to the disciplines listed above. They incorporate a battery and motor to offer a boost to your pedaling input. There is a control unit on the bike's handlebars to offer the rider a level of assistance.
Take note E-MTBs are substantially heavier than other mountain bikes. The plus side is they can help a rider climb up the steepest of gradients. Don't assume riding such bikes is a walk in the park. Their weight can deliver a workout used by many pros during their training sessions. The plus side is you can access and ride on places that you cannot try with a normal non-powered mountain bike.  
Trek Marlin 7 vs 6 FAQs
Question: Can I Ride the Marlin 6 on Mountain Trails Considered Moderate?
Answer: According to our riders, you can ride this mountain bike on green and blue level trails without any problems. If you plan on hitting the trails a lot, you can look at other options. There are plenty of MTBs out there designed for riding all types of mountain trails. 
Question: Is it Possible to do Jumps with the Trek Marlin 6?
Answer: If you are doing small drops, that is okay. However, look for another type of MTB if you plan on concentrating on drops, whether large or small. There are MTBs designed specifically for drops.
Question: Is the Marlin 6 Unisex?
Answer: Yes, it is! The fact that it comes in different sizes makes it a Unisex bike. The smaller bikes are generally designed for smaller-bodied and short people, a common feature with women. If you are a woman, you can look at sizes such as XS, S, M, and ML depending on your height and body size.
Question: Can I do Jumps with the Trek Marlin 7?
Answer: It is not designed for jumps. It is more of a smoother single track or path cross-country mountain bike. If you do jumps and drops rarely, it should not be a problem. Consistent dropping and jumping will kill the forks and wheels faster. 
Question: Can I use the Trek Marlin 7 as a Trail Bike?
Answer: Yes, you can! It is a fairly affordable MTB with the heart of a race mountain bike.
Conclusion
The Marlin 6 appeals to a specific rider. If you want a bike for mild trails, commuting to work, and you are on a budget, go for this mountain bike. You can upgrade it if you don't mind tinkering around with it. It is also recommended for people who are learning to explore the world of MTBs.
The Trek Marlin 7 is more for riders who have been doing mild mountain bike riding and want to upgrade to a race bike. It is the best low-cost entry-level racing MTB you can find in the market. As you start taking racing seriously, you will want to upgrade some of the components. Both the Marlin 7 and 6 are great MTBs for people who are on a low budget and new to mountain biking.