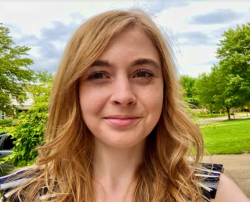 Latest posts by Erin Jamieson
(see all)
Nestled in the Northern part of the Mojave Dessert, St. George is a stunning and unforgettable place to go mountain biking. With mountain ranges, canyons, and lava rocks, the views alone are amazing. But so is the outdoor community especially for hiking and biking. 
From challenging trails with impressive elevation gain, to smooth, even trails for e-bikes, I was amazed at the incredible mountain bike trail options in this region. With loops of every length, a wide range of conditions, and plenty to explore, I think that traveling out to this area is well worth your time. 
But you don't have to just take my word for it. In this guide, I'll show you the best mountain bike trails you need to try next time you're in St. George. I'm pointing out trails with fantastic features from lake districts to some of the longest routes. Coupling reviews, reports, and important information, it's time to pack and get riding.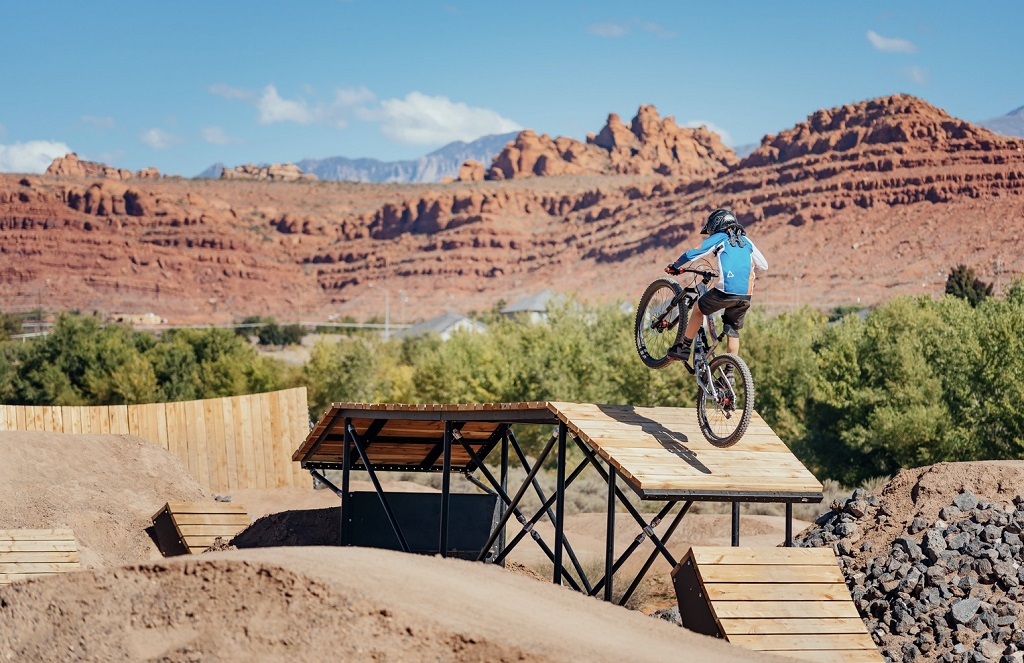 Bottom Line Up Front Summary:  St. George may be most well known for Zion National Park, but it's also a wonderful place to find some great mountain biking trails. The best mountain bike trails in St. George have something to offer nearly everyone- from eye-catching loops that showcase the desert landscape to beginner-friendly trails that are perfect for families. Before you head out, make sure you have the right equipment- and maybe plan to see another attraction in and near St. George. 
If I had to recommend just one mountain bike trail near or in St. George, it would be Virgin River Trail. This trail takes you through the must-see Zion National Park, with breathtaking views carrying you to the falls and over red cliffs. It connects with other loops, with options for less or more experienced riders. And since it's a national park, it's maintained year-round. 
My Top Picks
What You Need to Know about St. George 
Before you consider any of these bike trails, I'd like to give you a heads up about the region of St. George. If you're anything like me, you like to know a little about where you're traveling. (If you already know or would like to be surprised, feel free to skip to the next section). 
St. George is located in Southwestern Utah, within Washington County. Near the border with Arizona, it's a little over 100 miles away from Las Vegas. If you've heard of it, chances are you've heard of it because of Zion National Park, but it's also becoming a go-to destination for outdoor enthusiasts.
With warm summers and moderate winters, it's usually not too cold (42 degrees on average in September) but can be rather warm in peak summer months (average of 87 degrees in July). The best thing: you'll enjoy low levels of humidity year-round. 
One thing many people love, aside from the scenery, is the abundant sunshine. If you're traveling with family, I recommend checking out the children's museum, dinosaur discovery site, and the Kayenta Art Village. 
How I Selected These Bike Trails
Here's a glance at how I found the best mountain bike trails in St. George, Utah. With such a scenic area, there's a lot to choose from. So here's a glance at how I narrowed it all down to a short list of outstanding trails.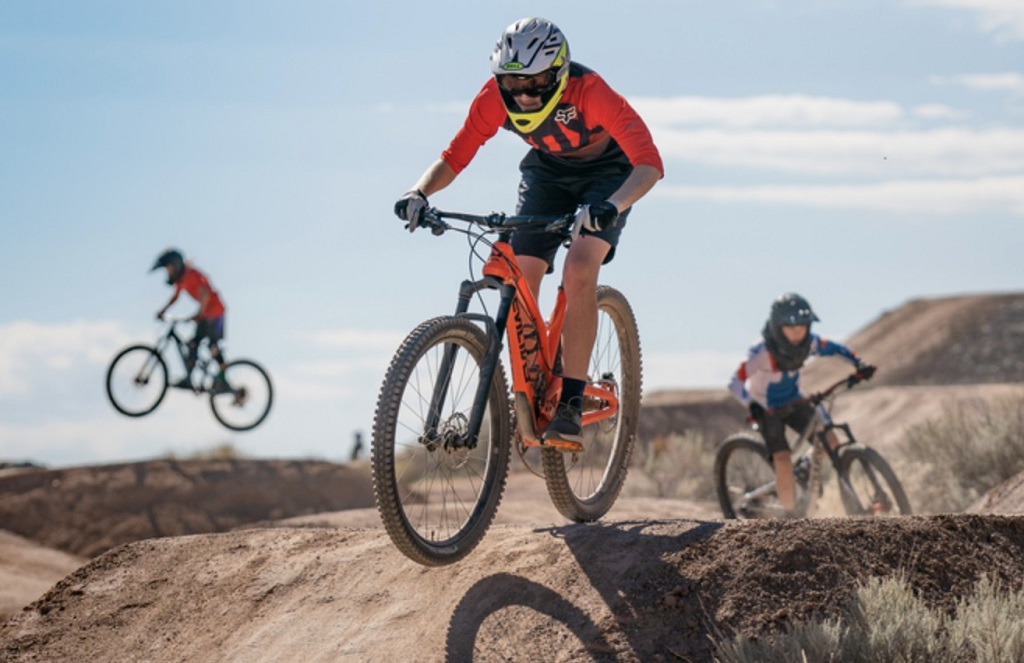 Scenic Views 
If you travel to St. George, it's not just about challenging trails, but also about seeing the beauty of this Utah region. So I wanted to make sure I selected mountain bike trails that show off the beauty of the desert landscape, mountains, and some of Zion National Park. 
Single and Double Track Trails
Single track trails are narrow and require you to ride only one wide- while double track trails are more friendly towards beginners are for riding two abreast. Whether you prefer the challenge of a winding single-track trail or the generous width of a double track, I wanted to showcase options for both. 
Terrain Variety 
Dirt trails, gravel trails, and everything in between: St. George is known for flat sedimentary rock, but also canyons, buttes, mesas, and some pretty interesting terrain variety. I wanted to showcase terrain variety for different types of mountain biking trails. At the same time, I want to make sure that conditions are suitable for mountain biking. 
Trails for Every Level 
St. George offers an impressive variety of trails, and I wanted to make sure that my list reflected that. For this reason, I'm showcasing mountain bike trails for beginners, intermediate riders, and advanced riders. Not all the trails in St. George are labeled by difficulty- but the ones that are are helpful for understanding who they're intended for.
I'm focusing on intermediate trails most, but I also wanted to make sure that there are options for professional bikers too. These difficulty ratings tell you a lot about factors like trail width, elevation changes, and obstacles: 
| Who It's Best For | Trail Symbol/ Designation |
| --- | --- |
| First Time Riders | White Circle |
| Relatively New  | Green Circle |
| Intermediate Cyclists | Blue Square |
| Advanced Cyclists  | Black Diamond |
| Professional Cyclists  | Two Black Diamonds |
Highly Rated
We all have our preferences for what we like in a great trial. But I focused on tried and true biking trails that have earned interest and acclaim for their overall experience- steering away from trails that have few reviews or appear to have declined in over appeal. 
Well-Maintained Trails
There's no guarantee that a trail is going to be maintained through a loop- and that's especially true after a storm. Plus, I know that some mountain bikers enjoy the thrill of a rugged trail. But there's a distinction between a trail that's meant to be challenging and a trail that is challenging due to neglect. I did my best to select trails in St. George that are cared for. 
Exciting Trails for Mountain Biking in St. George
Here's my short list of great trails for every skill level in the St. George area. Whether you're a beginner looking for an easy loop, or an expert longing for an exciting route with elevation gain, here are my top recommendations.
Plus, I'll tell you what you need to know about every single pr double track trail before heading out. 
Bearclaw Poppy and Snake Loop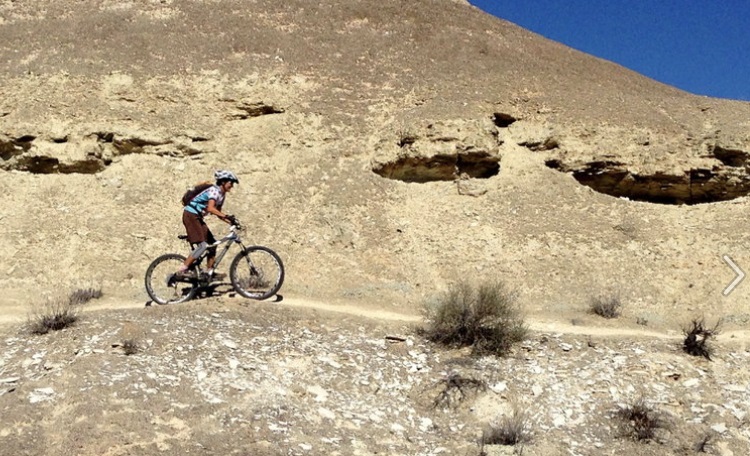 If you love the thrill of sloping uphills and downhills, Bearclaw Poppy and Snake Loop is a must-try in the St. George area- and there are many places where it's beginner friendly! This trail has a little something for everyone, often described as a fun roller coaster by its fans. 
What I love about this zippy loop is that it takes toys around the base of Acid Drops, with a dramatic but not intimidating track along Stucki Springs. While there are hills, you'll find the end of the long loop smooth and quick- a perfect ending if you're tired.
With wide open spaces, there's better visibility and it's a nice way to start exploring the unique terrain of St. George. It's at its best when poppies are in full bloom: the trail gets its name from the Bearclaw Poppy, which appears for a short time during the Spring. 
Experience Level:

Beginner to Intermediate 

Length:

11.2 miles, single track

Location:

View Map Here
Pros
Zippy Uphills and Downhills

Visibility

Poppies in Spring
Cons 
Some Parts Challenging for Beginners

Not Much Shade 
Snake Hollow Bike Park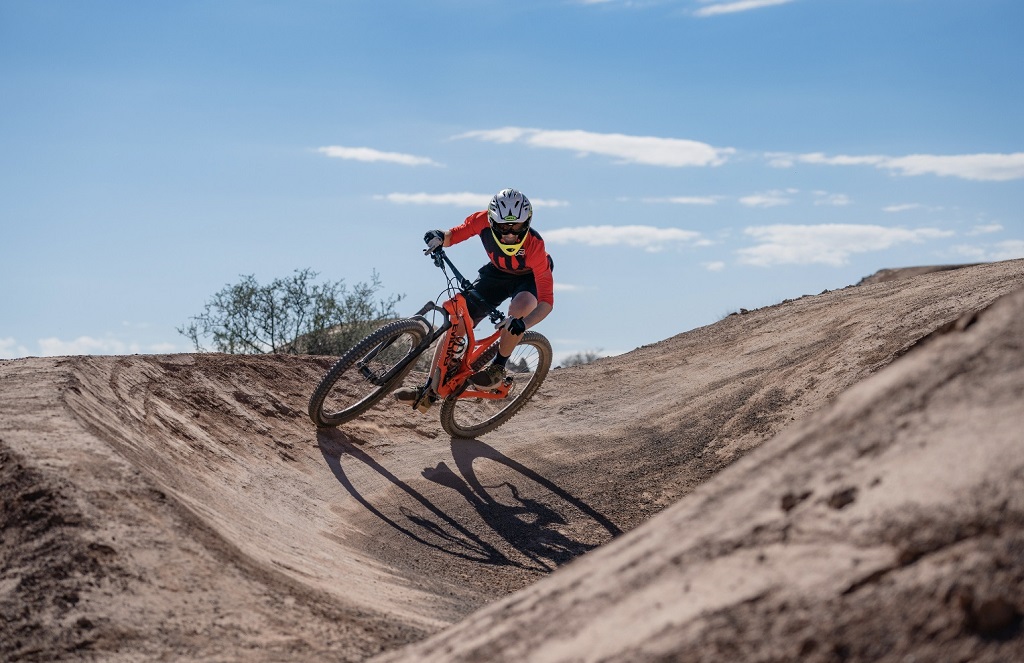 St. George has several city parks- and some are dedicated to bikes. If you don't care about a long loop and are more interested in performing jumps, this may be the perfect place for you. Snake Hollow Park is open all year to visitors and residents alike, focusing on bike skills, jumps, and more.
You'll get plenty of training in four immersive skill zones: a dirt bike jump zone; a pump and skills track loop; gravity skills, and a gravity jump skills section. Since it's a city park, you can expect maintenance and great conditions year-round, and I also appreciate the addition of a sizable parking lot, pavilion, restrooms, and paved trails. 
Pros
Practice Jumps
Maintained Year-Round
Restrooms, Parking, Paved Loops
Cons 
Not as Good for Traditional Trails
Less Scenery 
Gooseberry Messa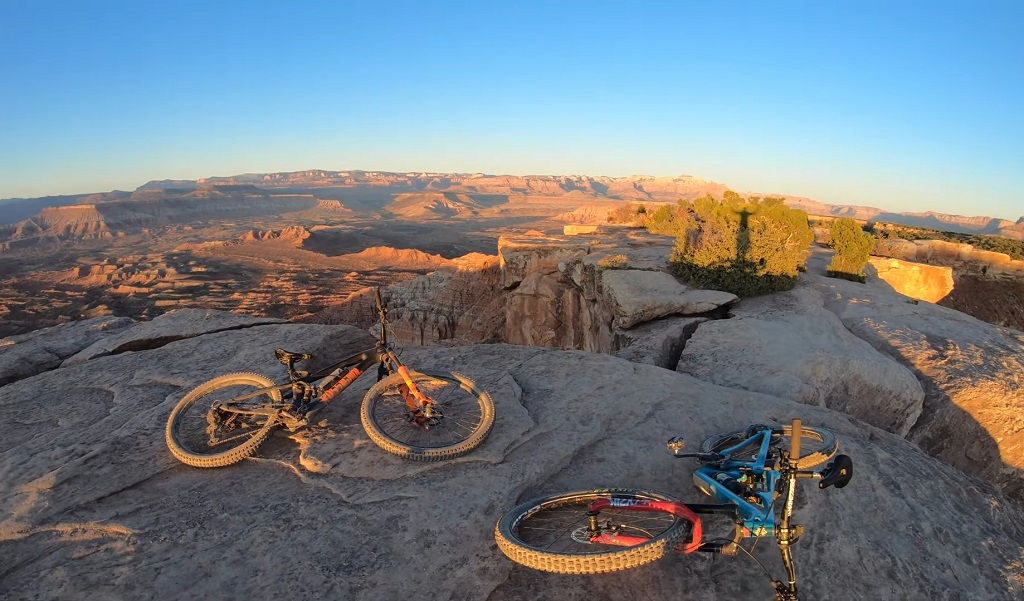 Long, challenging, and scenic: no advanced mountain biking trip to St. George is complete without a stop at Gooseberry Messa. Not intended for beginners, this stunning trail had become not only a local favorite but also a go-to for travelers. It's easy for me to see why, as it's one of the best technical trails in the region and perhaps even in Utah.
This winding single-track road includes challenging loops, and rolling hills, and has surprises at every turn. There are many small trails to explore, including a practice trail for beginners. Stunning views, red rock canyons, and surprisingly well-maintained trails give you the authentic experience of the St. George area. It's compared to South Rim and Canyon Loop- but with more challenging terrain. 
Experience Level:

Intermediate to Difficult (Easy for Practice Trail) 

Length: 1 mile
Location:

View Map Here
Pros
Local Favorite
Beautiful Canyons
Technical Challenge 
Cons 
Low Clearance For Vehicles

Lack of Restrooms/ Drinking Water 
Zen Mountain Trail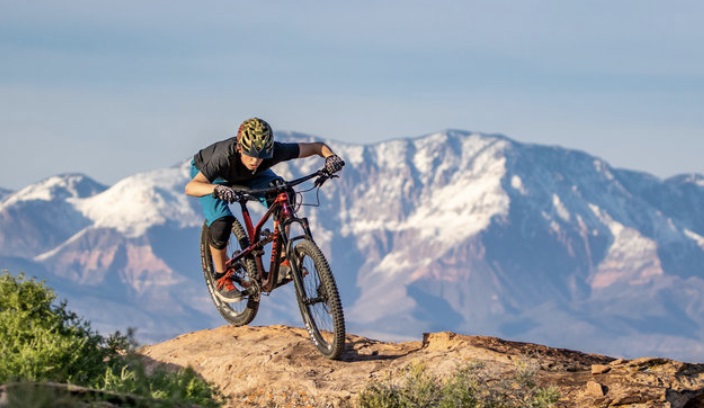 While I could argue that Gooseberry Messa is the best single-track trail, Zen Mountain Bike Trail has exceptional flow, visibility, and everything from intermediate to expert loops. The 5.7-mile loop is the best experience, taking you beside slick rocks, and stunning views, and help you practice your technique.
Though with the name you might envision a calming, smooth trail, Zen gives you the classic dirt and gravel trail experience. There are drops, winding trails, and plenty of excitement for more experienced cyclists. Anyone who loves downhills with some surprises and stunning views definitely should give this one a try. 
Experience Level:

Mostly Intermediate to Expert

Length:

5.7 miles 

Location:

View Map Here
Pros
Stunning Drops
Great Technical Trail
Great For Advanced Riders
Cons
Lack of Shade

Technical Aspects Challenging to Newer Riders 
More Cowbell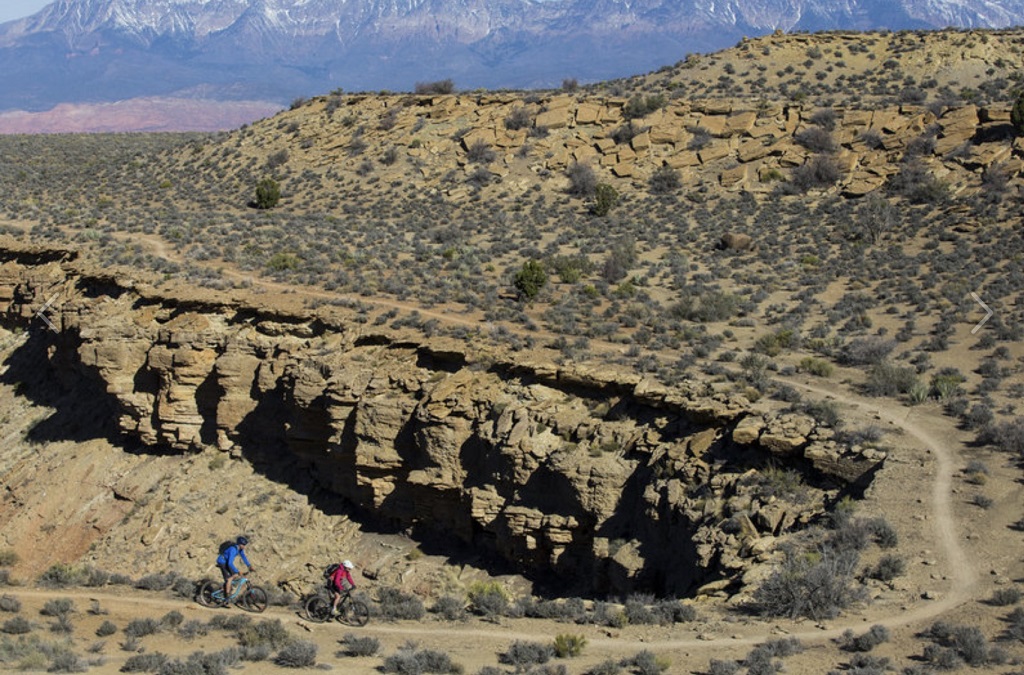 If I have anything to critique about the St. George area, it's that there are not too many options for beginners. That's why I like More Cowbell as a top mountain bike trail for less-experienced riders. Yet there's still enough to love that others should check it out, too. 
This mountain bike trail has breathtaking views, with winding vistas and the backdrop of dramatic mountains. The dirt paths are mostly well maintained and smooth. And unlike many trails around St. George, these wide trails give your generous space and great visibility. If you love sightseeing and want a fairly even, smooth loop, definitely give this one a try. 
Experience Level:

Beginner to Intermediate 

Length:

2.7 miles 

Location:

View Map Here
Pros
Beginner Friendly
Wide, Generous Path
Gorgeous Views
Cons 
Not Technically Interesting

Short Loop 
Lava Flow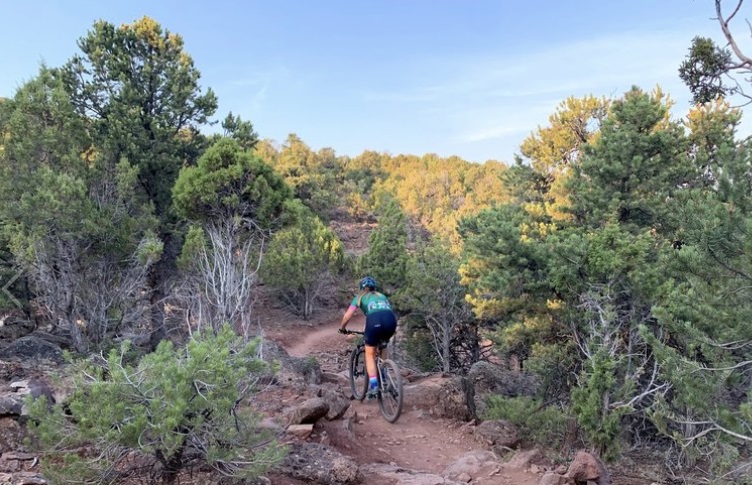 I know a lot of people like long trails- and I get it. I think it's great to find a loop that you'll never get bored of and can complete without repeating. But when I'm in an area I'm not familiar with or short of time, I see a lot of value in a shorter loop. This short loop is anything but boring, and you probably won't mind doing it a few times in a row if you want a longer experience. 
Lava Flow, as the name suggests, has a great flow. This technically challenging loop near St. George has plenty of downhills, little jumps, and the option to do some tricks. And unlike many smaller loops in St. George, it's a fairly wide and generous path, ideal for keeping up your speed. 
Experience Level:

Easy to Intermediate (Difficult For Jumps)

Length:

1.8 miles 

Location:

View Map Here
Pros
Great Technical Trail
Generous Width
Great For Jumps, Downhill
Cons 
Very Short 

Not Suited For Long, Slower Rides 
Virgin River Trail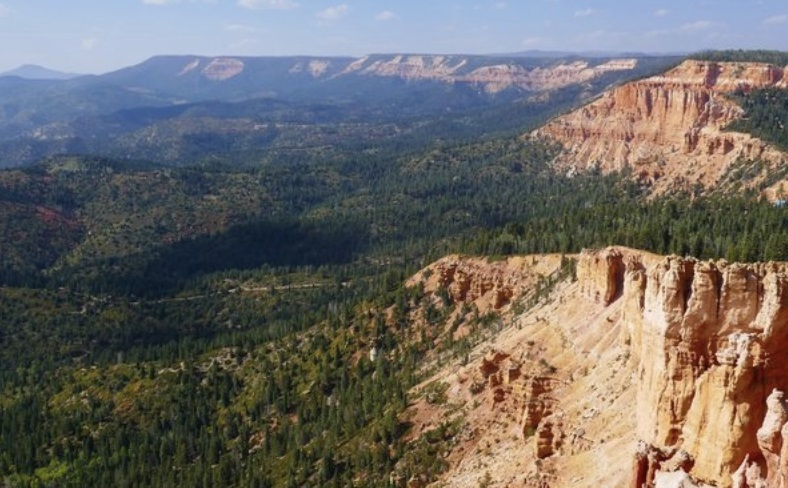 If you don't see anything else while you're in St. George, I urge you to visit Zion National Park. Zion National Park features gorgeous red cliffs, waterfalls, a hanging garden, and, of course, tons of lush, immersive trails. 
It's pretty hard to select just one mountain bike trail, but Virgin River is my favorite. Virgin River Trail from Strawberry Point to Cascade Falls is a must-try if you want to see some of the best of this national park. There are plenty of stunning views, and you end your ride with the dramatic falls.
This single track carries you along the rim of red cliffs, with an average grade of 6 percent and a maximum grade of 23 percent. Depending on how you ride it, it's an intermediate trail, with some elevation changes but not too many technical challenges. But there is a rocky section where newer riders may need to slow down or walk. 
Experience Level:

Intermediate Mostly 

Length:

10.9 miles 

Location:

View Map Here
Pros
In Zion National Park
Stunning Views
Cascade Falls 
Cons
Long Loop For Beginners

Rock Sections Can be Challenging 
Snow Canyon Loop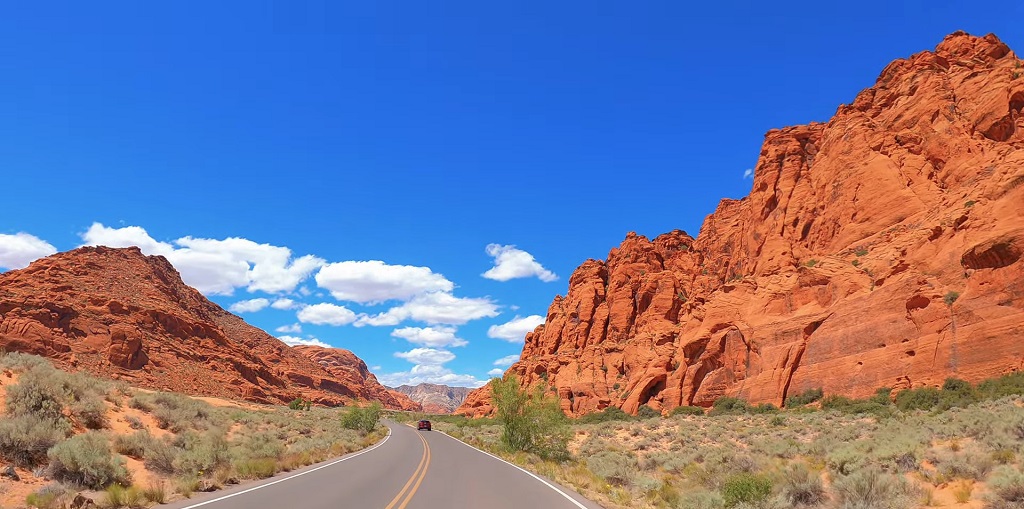 As challenging as it can be to find easier loops within the St. George region, you'll also need to look carefully to find a loop suited for e-bikes. Luckily, the Snow Canyon Trail is not only great for e-bikes but also a great option for anyone who wants a smooth, paved experience.
Paved doesn't mean boring, and that's especially true of a loop like Snow Canyon. With this trail, you'll enjoy an 18-mile loop with a vertical climb of about 1,000 feet. There is a spot to park your car- as this is a state park- and little places of unexpected beauty, with local florals and those signature red cliffs.
There are some technical challenges here and there- so beginners are encouraged to walk those sections. The sandstone itself is famous, and there are some branch-offs if you want a dirt road instead. It's also one of the few double tracks in St. George. 
Experience Level:

Intermediate 

Length:

18 miles 

Location:

View Map Here

(Bottom of Page)
Pros
Paved, Double Track
State Park- Well Maintained 
Mostly Smooth, Scenic Ride
Cons 
Some Rocky Areas Challenging For Beginners

Entry Fee (State Park)
Thunder Mountain Ride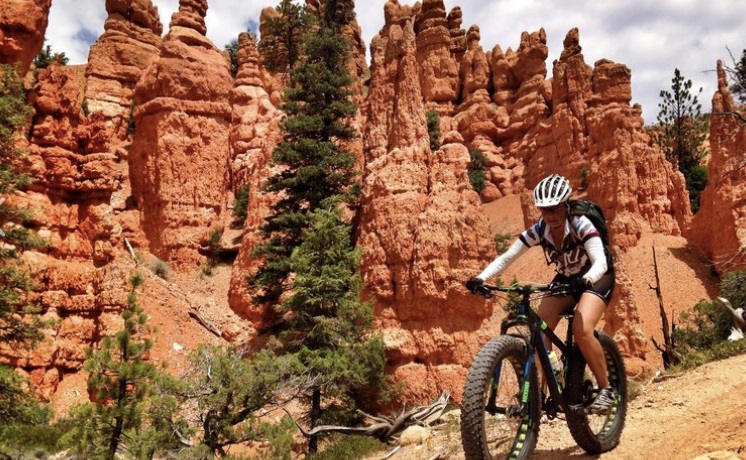 If you want a unique trail that still showcases the experience of this mountain biking region, one of my top picks is Thunder Mountain Ride. Thunder Mountain Ride has been named a bucket list trip for some, and it showcases the beauty and versatility of the St. George area.
Described as other-worldly, the ride takes you along dramatic red cliffs, beautiful descents, and simply unique terrain. You'll have some smooth sections and plenty of technical challenges, with a desert landscape. This loop will provide you with a rugged adventure and plenty of surprises along the way. 
Experience Level:

Intermediate to Advanced/ Expert 

Length:

15.9 miles 

Location:

View Map Here
Pros
Technically Challenging
Unique Landscape
Drops, Climbs, and Smooth Trails 
Cons 
Susceptible to Winter, Other Conditions

Rugged for Beginners 
Frequently Asked Questions
Question: Is St George Utah bike friendly?
Answer: There's a reason why St. George is a go-to place for bikers. This Utah location has ample opportunities for biking of all kinds. That includes e-bikes, casual biking with families, and more rigorous mountain biking trails. There's beautiful scenery and plenty to explore. What's great is that there are everything from parks to trails for kids and trails with substantial elevation. Some places- such as Gooseberry Mesa- have additional attractions. Simply put, it's a great place to visit for biking. 
Question: How long is Zen Trail in St George?
Answer: The Zen trail is a beautiful 6.3-mile loop in St. George, Utah. For an intermediate ride, it'll take just under 3 hours and is an interesting but not too challenging trail. Distinguished by distinct rock formations and caves, it's a great place to check out. You won't be tasked with many obstacles, and the trail is pretty well maintained. However, scenic as it is, it won't offer the elevation challenge that some advanced mountain bikers may be looking for. 
Question: How hard is Gooseberry Mesa?
Answer: The Gooseberry Mesa loop is known for its challenging loop. Beginners are encouraged to try a different route in St. George. Instead, Gooseberry Mesa is intended for intermediate to advanced cyclists. That's due to a few factors. For one, beginners may find an 11-mile loop to be rather long (an average rider will take 4 hours or more to complete it). For another, there are a lot of technical skills required, due to frequent uphills and downhills. It's definitely worth a ride, just not for beginners. 
Question: Can your mountain bike be in Zion National Park?
Answer: Zion National Park has always been a gorgeously scenic area, but it was only recently that it was practical for bikers. You can mountain bike in Zion National Park, assuming that you stay o marked routes and practice mountain biking etiquette. Bikers are encouraged to use the Zion shuttle system to get to some more remote routes.

You'll be able to select from both singletrack and double track trails, with everything from the challenging Gooseberry Messa trail to the more challenging Bunker Creek Trail- and trails for more intermediate cyclists. 
Final Thoughts
 Whatever trail you choose, make sure you have gear for those longer rides! I feel the safest traveling with a reusable water bottle, and a cell phone, and, for those long rides, packing a small snack wouldn't hurt, either. These trails all have something unique to offer; if you venture into a challenging loop, ensure it matches your current skill level. 
Final Recommendations 
Still, try to figure out which mountain bike trail in St. George is right for you. My pick for the average mountain biker is the Virgin River Trail. With dramatic views and a great exploration of Zion National Park, there's a little of something for all types of mountain bike enthusiasts.