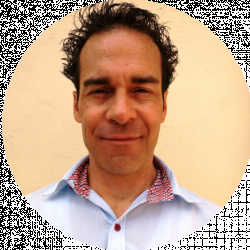 Latest posts by Douglas Bloom
(see all)
Mountain biking is one of the most popular outdoor fun activities in the world. In Arizona, you are likely to find great single and double-track trails winding through the aspen and pine forests.
It doesn't matter how skilled a rider may be, but understanding the trails well makes a big difference. This is why I came up with a list of the top mountain bike trails in Arizona.
Being a fan of mountain biking and having passed through Arizona gave me insight into some bike trails. It also made me conversant with most mountain biking trails.
You should not be worried if you are a beginner. I have listed for you some of the best routes you can start from if you are new to mountain biking.
Bottom Line Up Front
If you prefer a rugged, technical trail as an experienced biker, choose the Arizona Flagstaff. It's long enough to provide you with the most thrilling mountain biking experience. Alternatively, go for the 7.8-mile Pass Mountain Trail if you need a short-distance trail. Consider the Blevin Trail if you prefer flat rides with little climbing.
10 Top Mountain Bike Trails In Arizona
There is a trail for you in Arizona, whether you want a challenge or just an easy and simple ride. Keep in mind, before getting out and shredding those trails, the need to be safe and respectful to everyone who is using them. Read on to find out the best place to start if you're looking to ride your MTB in Arizona.
Hangover Trail, Sedona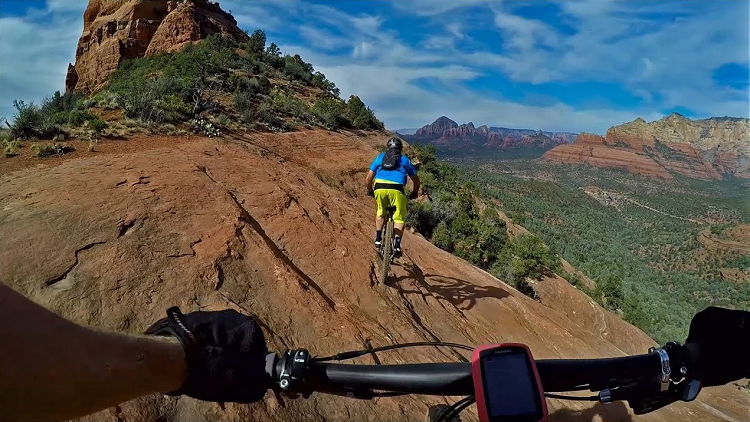 Hangover Trail is one of the most technical trails in Sedona. For beginners, it may be a bit challenging because of the numerous rocky and steep sections. The good thing is the trailhead features ample parking; however, if you like weekend rides, get there early because the parking usually fills before noon.
This is a preferred route by most riders because it has a clearly marked trailhead at the end of Schnebly Hill Road. Note that if you are a beginner, you need to be prepared for some technical areas on the slick rocks. The ride climbs steadily for around 6 miles giving you one of the best riding experiences.
If you want to make an excellent sunset ride and get to see how the red cliffs of Sedona glow in the late afternoon sun, then go for this trail. The views towards the top are spectacular! For expert riders who prefer less crowded trails in Arizona, Hangover is an awesome idea.
Pros
Ample parking

Spectacular views

It's a less crowded trail

6 miles (out and back)

Great for skilled riders
Cons
Hiline Trail, Sedona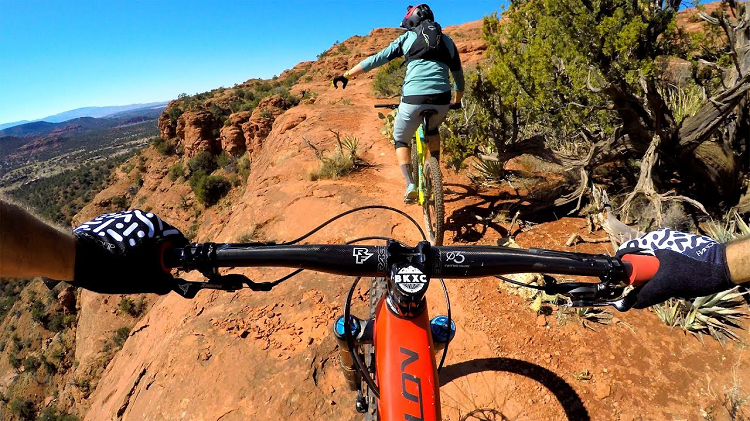 Hiline Trail is another Sedona favorite. It skirts the flanks of the famous Cathedral Rock, which is one of the most recognizable peaks in Sedona. If you want to get the most difficult part out of the way first, I recommend starting on the village of Oak Creek.
You can do this trail as an out and back (around 8.4 miles). However, if you want to form a larger loop, you can easily connect to other trails in the area. The trail is not completely smooth since there is one steep section that may require you to walk.
That said, it's important to note that most of the other sections are rideable. However, when it rains, the slick rock in Sedona can get treacherous. You need to be cautious during wet weather.
Do the big loop and park your bike at the bottom if you want to add a hike to the saddle of Cathedral Rock. You will find the Hiline trail to be worth the trip anyway you choose to do it.
Pros
It skirts the flanks of the famous Cathedral Rock

8.4 miles (out and back)

Challenging terrain for experts

You can easily connect to other trails in the area

Ideal for long trail rides
Cons
You'll have to walk in some sections
Bell Rock Trail, Sedona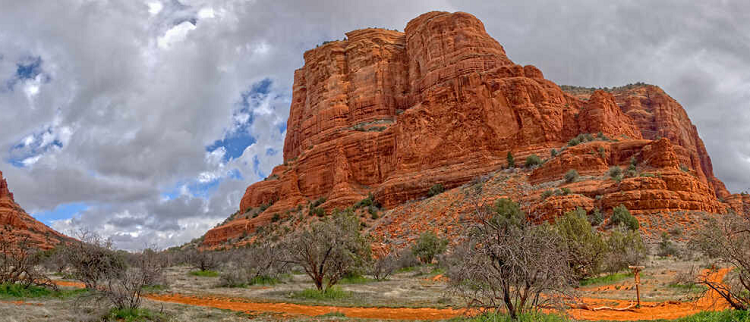 The better part of Sedonia terrain is very rugged. This makes it unfavorable for beginner trail riders. However, Bell Rock Trail is one of the few trails in the area that beginners should be able to tackle comfortably.
There is very little climbing which makes Bell Rock Trail a relaxing double track. That said, some sections have deep sand, which can be a little challenging for some riders. Fortunately, you can reduce the air in your tires to make maneuvering through the sand manageable.
Like the Hiline Trail, you can also connect to other trails in the area for longer routes and loops. The trailhead parking is very close to the highway going through Sedona. This means you need to get there early if you don't want to miss parking.
If you want to enjoy the ride, make frequent stops to take in the views of the famous red rock cliffs and the mountains of Sedona. 
Pros
There is little climbing

Convenient for beginner mountain bikers

A relaxing double-track

You can easily connect to other trails in the area

Spectacular view of the famous red rock cliffs
Cons
Sandy sections are challenging.
Arizona Trail, Flagstaff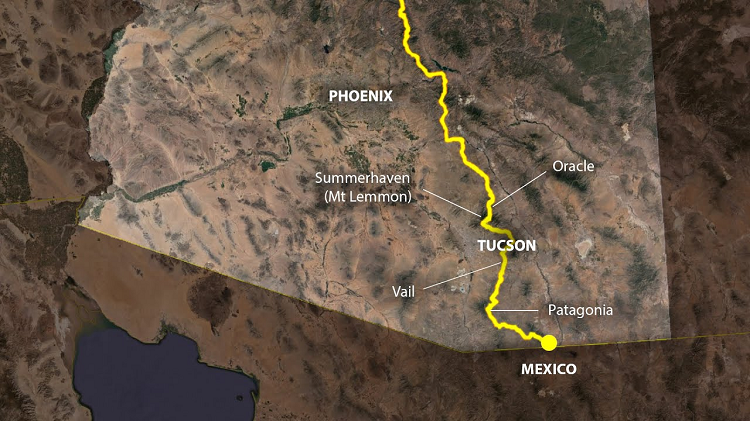 The Arizona Trail stretches from Mexico to the Utah border, which is roughly 800 miles. One of the most beautiful stretches is the section that runs near Flagstaff. Wherever you decide to start your ride, make sure you head north. The trail takes you straight to the aspens.
I usually prefer fall months when the leaves glow yellow and gold, making the atmosphere calm and peaceful. The Arizona Trail is refreshing and revitalizing. You can park either at Aspen Corner or at the bottom of Snowbowl Road. During summer, you can also park at the Snowbowl Ski Resort if you want to intersect the trail.
Since the trail continues to the Utah/Arizona border, you can go as far north as you wish before turning around. You will be riding in the foothills of Humphrey's Peak, which is one of the largest mountains in Arizona. This makes the trail perfect for an adventurous rider.
I recommend the Arizona Trail because of its beautiful setting and the cooler temperatures during summer. It's a great getaway destination for bikers who want to get out of the desert.
Pros
During summer, leaves glow yellow and gold, offering a peaceful atmosphere

800 miles long

Ideal for long trail riders

It has a beautiful setting with cool temperatures

Great getaway destination
Cons
Not for riders who don't like long trails
Schultz Pass Loop, Flagstaff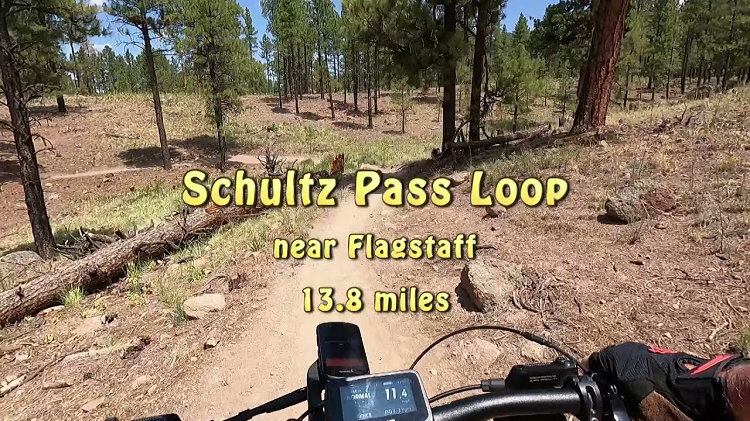 Compared to the previous trails, Schultz Pass Loop is slightly closer to town. Therefore, you can pass by a grocery store and buy some snacks for your ride. Additionally, it's easily accessible to those who reside in town.
The mountain bike route climbs gradually, finally topping out at over 8,000 feet. If you are not from Flagstaff, prepare to struggle a bit due to the elevation. Schultz Pass Loop is an 11.5-mile loop with about 930 feet of climbing. Get some energy drinks in case your body needs a boost during the ride.
It is an ideal route for riders who want to venture into uphill mountain biking. The upside is that you'll get a nice downhill section at the end as a reward for your hard work. Note that the smooth single-track trail lacks extremely steep sections. This makes it perfect for more advanced beginners.
Pros
Closer to town

Tops out at over 8,000 feet

11.5-mile loop

It has about 930 feet of climbing

Smooth single-track trail
Cons
It's a challenge for some riders
Pemberton Loop, Fountain Hills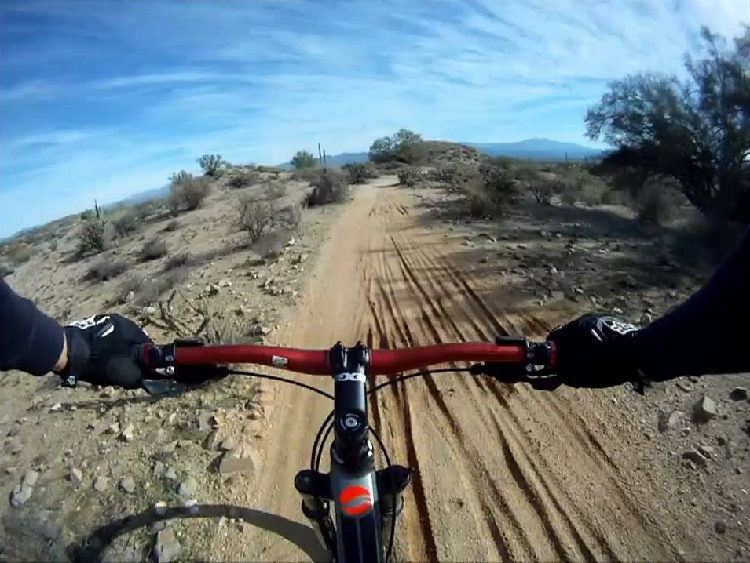 In the Phoenix area, the Pemberton Loop is one of the local favorite trails. It's located inside McDowell Mountain Regional Park. For you to access it, you have to pay an entry fee.
It has a length of 16-miles, making it best for a moderately long ride.
The good thing about the trail is that the terrain is smooth enough for beginners. Pemberton Loop features a nice gradual single-track climb for about half the stretch. The rest of the section loops back down to the trailhead on a smooth double-track.
Go for this route if you want an excellent view of the Thompson Peak and the McDowell Mountains. However, be ready to face the glaring sun for the entire ride if you want to ride on Pemberton Loop. Be sure to wear sun-protective gear to minimize the effects of the scorching sun.
I would not recommend using the trail in the middle of summer. However, the trail makes a fantastic route for winter mountain rides.
Pros
16-mile loop

Perfect for moderately long rides

Smooth for advanced beginners

Offers excellent views of 4 peaks inclusive of McDowell Mountains

Fantastic winter trail
Cons
You have to pay an entry fee
Hawes Trail System, Mesa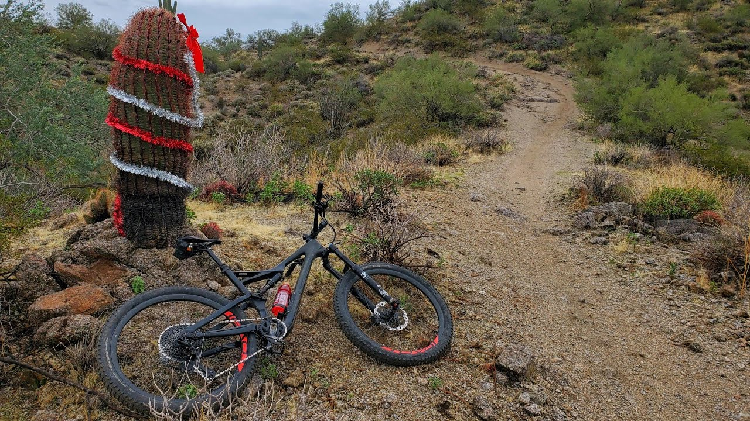 In the past, the Hawes Trail System was known by a handful of people. Recently, it has gained popularity among both hikers and bikers. Being close to Mesa makes it easily accessible from several trailheads.
Apart from the Hawes Trail Alliance ensuring that the old trails are improved after deteriorating, it also helps put up new ones. In Hawes, mountain bikers (whether skilled or not) can tackle most of the trails.
You can find trailheads at the bottom of Power Road Hill, where the system joins with Bush Highway. Alternatively, you can find them at the entrance to the Las Sendas neighborhood on Power and Thomas.
Additionally, you can also find other small parking lots where the trails are accessible as you ride along the Bush Highway.
It doesn't matter where you start your ride from. Any of these trailheads guarantees an excellent adventure.
That said, up the Mine Shaft section of the Saguaro trail has the biggest climb in this rugged section of the desert. Since the section is steep and rough, it can be challenging to ride uphill.
I advise you to be vigilant of riders coming down to avoid collisions. Once you get to the top, you get the chance to enjoy the breathtaking views of the Red Mountain and the Salt River.
Pros
Accessible from several trailheads

Hawes Trail Alliance repairs old deteriorated trails

Perfect for both skilled and non-skilled mountain bikers

Ample parking

Breathtaking views of the Red Mountain and Salt Rivers
Cons
The Mine Shaft section is a challenge when riding uphill
Pass Mountain Trail, Mesa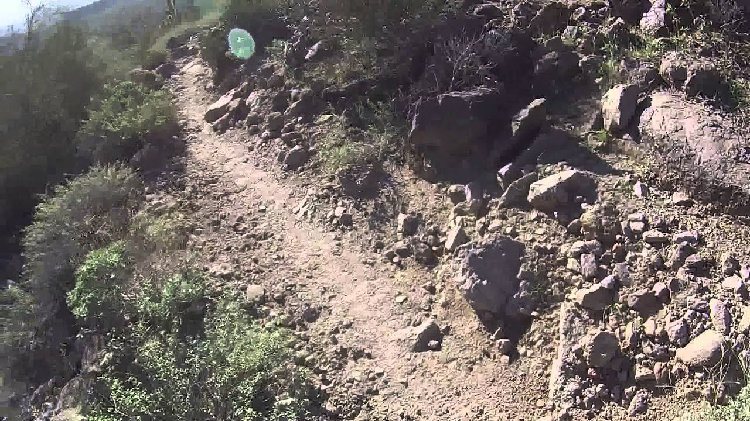 The Pass Mountain Trail is located inside the Usery Mountain Regional Park. It creates a perfect loop of about 7.8 miles around this small peak. The route has some treacherous sections that might require less experienced riders to walk their bikes.
Compared to the backside of the Pass Mountain, the front side (western side) is less rocky. However, no matter which direction you go, you will have to do a bit of climbing.
Fortunately, the backside is still rideable by experienced mountain bikers. However, it has sections with boulders and jagged rocks.
Pass Mountain is a very popular trail, especially on weekends. For a peaceful, less crowded ride, try the morning hours, and you'll not regret it. Dodging hikers and other bikers may be difficult because some sections of the trail are too narrow.
All the same, don't fail to try the trail since it's perfect for experienced riders. You get the benefit of excellent views of the east valley.
Pros
7.8 miles in length

Perfect for experienced riders

It has a spectacular animal scenery

Mostly single-track

Little climbing
Cons
Some sections are too narrow
Blevins Trail, Mesa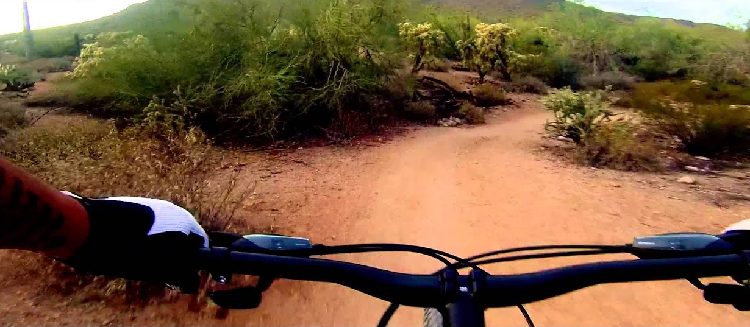 If you are not a fan of rugged, technical trails, Blevins Trail should be the trail of choice. It's a perfect casual, easy ride for both beginners and experienced riders. You'll find it in the Usery Mountain Regional Park.
The trail creates a nice loop. It features plenty of smooth single and double-tracks with very little climbing. It also intersects with several other trails that are also flat and easy to maneuver for beginners. Like the Pemberton Loop, with an entry fee, you get to access the 30-miles Blevins Trail for the whole day. 
The good news is by just mountain biking the outer trails in this lower part of the park; you can easily make a 10-mile loop. Don't forget that if you decide to join the Pass Mountain Trail, you can easily access it from this point.
On the downside, you have to be on the lookout for rattlesnakes, mule deer, and coyotes, especially as sunset approaches. Towering saguaros and 'forests' of cholla cactus are scattered in the area. You need to be cautious because they will stick to you with the slightest brush against them.
Unfortunately, many riders have found that out the hard way, me included. However, if you want a flat and smooth ride, try the Blevins Trail. I am sure you'll love it.
Pros
It doesn't feature rugged, technical terrain

Best for both beginners and experienced riders

It features both single and double-tracks

Little climbing

30 miles long
Cons
You have to pay an entry fee
Honorable Mentions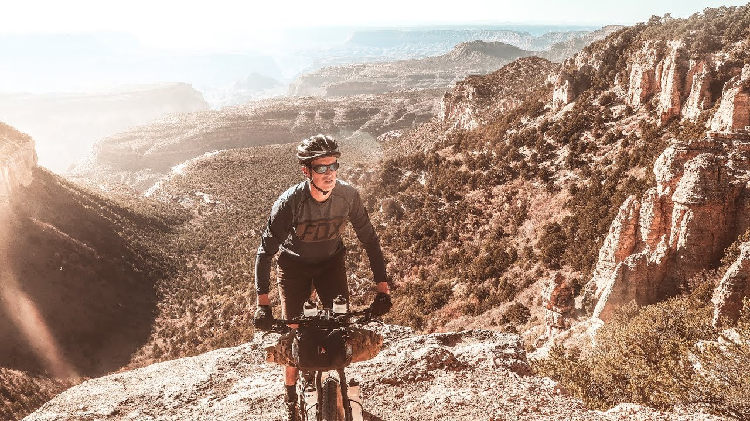 There are other trails in Arizona that you can check out. They are:
Little Rock Rabbit Ears Loop – Best Singletrack Option
In the Village of Oak Creek, there's a new trail known as Little Rock Rabbit Ears Loop. The ride is intermediate and offers a great layout. Expect the ledges and rocks Sedona is known for.
Rainbow Rim Trail – Epic Views Alternative
This trail is found on the west of Grand National park's Rim. It's amazing, considering it contours in and out of aspens and ponderosa pines onto the rim of the Canyon. During your ride, you get to experience breathtaking views.
Rainbow Rim Trail is great for beginner to intermediate riders because it has minimal elevation change. You can camp at Locus Point if you feel like hitting the trail again. However, make sure you stock up on food and drinks as this place is way out there.
National Trail – Best Alternative for Steep Climbs
Located in South Mountain Park and Reserve, it's something like a "upduro." It has plenty of technical ups for challenging the best of riders. Some riders have stated the National Waterfall is on their bucket list of uphill accomplishments.
From either side, National Trail serves great ups and downs with a great combination of surrounding trails. Designed for advanced riders, so bring your tech and fitness skills.
Lemmon Drop – Best Descent Alternative
This is the best comparison to anything comparable to Moab's Whole Enchilada. It's found in Santa Catalina Mountains, Tucson. Dropping in from the summit, it slopes down 10,000 feet of vertical drop.
Don't assume it's all easy or downhill. There are approximately 3,600 feet of climbing that you will have to go through in the ride. The length is 31 miles meaning you need to be at least at the intermediate level before you try it.
Mesquite Canyon – Best Desert Alternative
Situated at White Tank Mountain Regional Park, Waddell, this trail is one f the best winter destinations. Expect to put in a good amount of work because the Mesquite Canyon trail is steep and rocky. Watch out for the beautiful cornucopia of cactus.
Bullseye Trail and Blowout Trail – Best Smooth and Fast Alternative
These are new trails in the Blowout Wash trail network found in the west of Cottonwood at the foothills of the Mingus Mountain. These trails offer a smooth finish and great sightlines. Rocks become more abundant as you top out on the Blowout Trail.
10 Most Popular Places to Mountain Bike in Arizona
Arizona is filled with MTB trails that can confuse you. To narrow down the trail options, I compiled a list of the most popular places to mountain bike in Arizona. They are:
Sierra Vista

Scottsdale

Payson

Eager

Clifton

Phoenix

Tucson

Flagstaff

Prescott

Sedona
Mountain Bike Trails' Maintenance Tips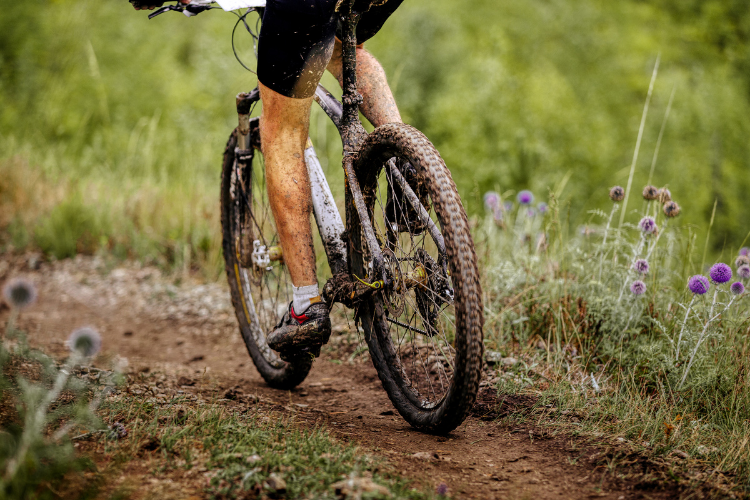 There are five ways through which mountain bike trails can be kept in the best riding condition. They include:
Weed Eating
It's normal for weeds to grow after a wet season. However, its encroachment on trails is not good for mountain bike trailing. Therefore, if the trail lacks a maintenance authority, riders need to volunteer. To knock down vegetation encroaching on the trails, they should trek on the trails with gas and battery-powered weed eaters.
The main objective is to create a foliage-free corridor. It should have a minimum width of 3 feet and a maximum of 6 feet in sunny areas that promote weed growth. This corridor width is enough to provide visibility for riders, especially around corners.
Lopping
To tackle tree branches and weed stalks that are too large for a weed trimmer, machetes and loppers can be used. If you have ever experienced it before, you agree that it's not pleasant to get hit with 'slappers' while on the trail—riders who strike wayward branches risk injuring their eyes or crashing.
Raking Rocks
For rocky mountain biking trails in Arizona with plenty of loose stones, riders risk riding off the trail. This is because they can't steer or brake properly. Volunteers need to rake or sweep the loose rocks that collect on the inside of the berms as well as on the 'back cut' of the trail.
The only thing that should be left untouched is the rocks that feature naturally on the trail. Remember, there is a huge difference between pulling out rocks that are embedded into the ground and sweeping off the loose rocks.
Cutting Fallen Trees
Volunteers can use handsaws to cut small trees that might have fallen and blocked the trail. They pose a big threat to the out-of-town riders. Don't forget that you can't use a chainsaw to cut down fallen trees because they are prohibited.
Riders are encouraged to report any incidences of fallen trees impeding the trail. They are advised to report anything hanging over the trail that can fall and harm the riders.
Repairing Ruts
Avoiding soft and low-lying areas when mountain bike riding is the best way to avoid ruts. In case they develop and become impassable, they can end up forcing you out of the trail. This is dangerous because you may get into a crash and get injured.
Depending on the depth and severity, ruts can be temporarily repaired using garden rakes or hoes. Alternatively, the local authorities can work together to fix the trail. This can be done by building a bridge or re-routing the trail to avoid the dangerous spot. However, this is usually done as a last resort.
Expert Trailing Tips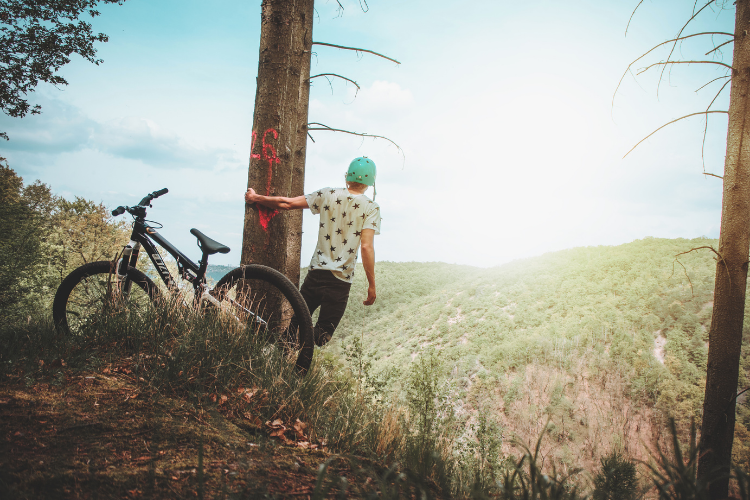 If you want to become an expert in mountain bike riding, there are some factors that you need to put into consideration. They include:
Understand Your Route
It's good to download a mountain biking app before you start mountain biking, especially as a beginner. It features map downloads and live-GPS maps.
I highly recommend Trailforks or MTB Project because they are all valuable for backcountry riding. Additionally, they are also ideal for near-home-biking since beginners can easily miss a turn when flying down a trail.
Know your Gear
If you happen to get a flat tire or a broken chain while riding, you should be able to fix them easily. Wearing a helmet and padded shorts on those long rides makes a big difference.
Know your Limits
Accidents are prone to happen when biking. However, knowing and sticking to your limits enables you to know when it's time to stop and walk. This may be through a treacherous section or when you shouldn't push yourself. If you practice this habit, you are likely to enjoy more miles of mountain biking.
Adhere to Trail Rules
Hikers and bikers should all strictly adhere to trail rules. For instance, if you are riding, always ensure that you've given ample room to others. You need to stop to give way for hikers to pass safely. It is always a sign of respect to exercise patience and wait for the trail to clear.
Make it a Habit to Carry Water
It doesn't matter how short or long your ride is going to be; it's always good to have water. Some trails don't have any water points. This means you are in trouble in case you get worn out and thirsty. On the same note, you don't know when a flat tire may hit you and how long it may take to fix it in the hot Arizona sun.
Be Cautious of Wildlife
At times rattlesnakes come out of hibernation for some sunlight. As a result, they tend to use trails to enjoy the sun. Apart from snakes, other animals such as coyotes, squirrels, javelin, and deer also frequent trails. You should always be vigilant of them as you ride.
Understand and Know How to Use Your Gears
Beginners must have a better understanding of their bike gear system before riding. If you are new to bike riding, then you need to be aware that lower gears are for uphill while high gears are best for both downhill and flat-terrain-riding.
To avoid accidents, you should be able to switch gears quickly. Lastly, you should familiarize yourself with all the other systems of your bike.
Invest In a Quality Mountain Bike
It's advisable to engage a professional before you settle on the mountain bike to buy, especially if it's for trailing purposes. Of course, don't forget that the difference between a good and great ride is affected by the bike you choose.
Arizona Mountain Bike Trails FAQs
Question: Do Single-Track Arizona Trails Feature Mountain Biking Etiquette?
Answer: As a rule of thumb, after the end of any rain or extreme weather period, all single-track trails should be closed for about 48 hours. On opening, riders should respect and give way to the animals and hikers. Keep in mind that during this period, the motorized bikes should not ride past the park boundaries for safety reasons.
Question: Who Should Ride On an Arizona Trail?
Answer: Anyone can ride on an Arizona trail provided they observe trailing etiquette and rules. However, not all trails can be ridden on with an e-bike. They are mostly used in specific areas with robust mountain bike trails.
Question: Can Your Mountain Bike Damage Trails?
Answer: Yes, it can. Why? This is because during the wet season, the speed and weight of a mountain bike are more compared to hikers' bootsteps. The increase of weight on the soft ground leads to the development of ruts.
Question: Why Is It That Most Trails Are e-Bike Prohibited?
Answer: The 2015 IMBA study concluded that class 1 eMTBs are technically motorized vehicles. This means they should be banned from backcountry trails. This is because compared to the muscle-powered bikes, they can move faster. The result is a conflict with hikers on trails. Additionally, they are known to startle wildlife.
Bottom Line
In Arizona, mountain biking is increasingly becoming popular. As a result, new trails are being put up in Tucson, Flagstaff, and Mesa. Owning a mountain bike in Arizona would not only be a great investment, but it would also be good for your health.
If you like spending most of your time riding on rugged terrains, The Arizona Trail in Flagstaff and Bell Rock are the most suitable for you. For those that have a distaste for rugged terrains, the Blevins Trail in Mesa is the best option. The 30-mile route features very little climbing.