Latest posts by Douglas Bloom
(see all)
New Jersey isn't the home of the best mountain biking trails in the world. However, there are some interesting trails I discovered on a recent visit to the state. I have given an overview of each to ensure you get to at least try one near your location.
There are a total of five top mountain bike trails in NJ. I know because I contacted several biking associations and groups. They gave me insight into the best trails to try out.
The following is a list of the five of the best. It includes some information on the best biking practices for all the trails in the state.
Bottom Line Upfront
If you want a trail that features courses for every level of riders, then choose the Allaire State Park. For experienced riders, it has a park where you can perfect your riding skills.
For short-distance trails, Blevins Trail is the best. One of its best features is very little climbing. The remaining three can be great for any rider depending on their riding preferences.
5 Top Mountain Bike Trails in New Jersey
In this review, I have highlighted some of the best mountain biking trails. They were the ones I found to be exciting and memorable. Keep in mind New Jersey has few mountain bike trails.
Allaire State Park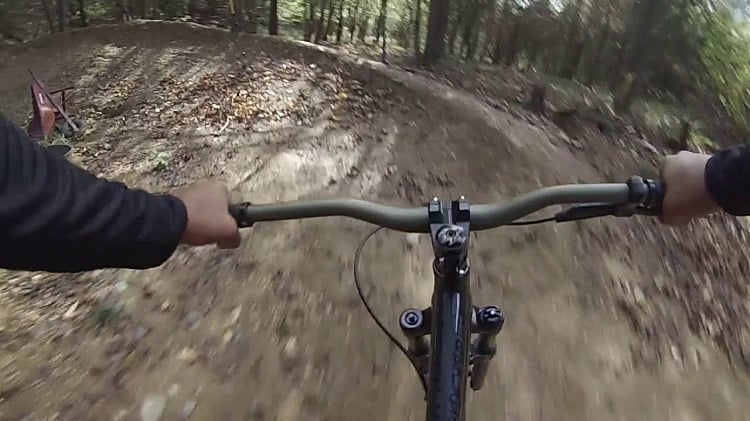 Located in the city of Howel, the Allaire State Park Trail features courses for every level of rider. It's home to over 30 miles of great mountain biking trails. If you are looking for an option that is family or kid-oriented, this is an awesome choice.
The beginner level (also known as the green dot level) comprises wide double tracks. They come with minimal elevation changes. The majority of the intermediate-rated trail is on hard-packed singletrack. It features a few tough climbs and apexes. Both levels offer riders beautiful views of the park below.
That said, you will find it fast and exhilarating riding downhill the Allaire State Park. However, there are several impediments that you'll have to negotiate as you speed down. Some of these challenges include the rocky terrain, roots, quick drops, and jumps. Also, there are switchbacks and highly-banked berms.
Don't ride on the expert skills park inside Allaire State Park if you aren't a seasoned biker. It features high jumps, tabletops, and a fun pump track. The good thing is all its trails are designed to take your bike handling skills to the next level.
Pros
Ideal for every level of rider
It features a hard-packed single and double track
Beautiful view of the park
Great trail for seasoned riders
Equipped with high jumps and tabletops
Cons
The berms are highly-banked
Rocky terrain
Hartshorne Woods Park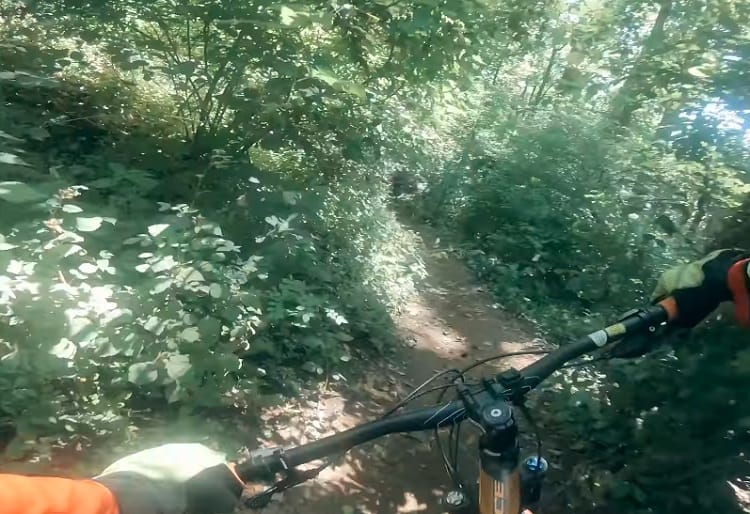 New Jersey is a relatively small state with a fair share of great mountain biking routes. Hartshorne Woods Park is one of the challenging trails located in the city of Middletown. It's home to some of the best-maintained trails in the state. Most of these routes were designed with intermediate to advanced riders in mind.
The good thing about this park is that it provides a haven to practice and perfect skills. This works for visitors and locals who are serious about mountain biking. That said, I found the trail quite satisfying in testing and increasing one's bike endurance.
The grueling climbs help provide a moderate gain in elevation. Of course, you'll have ascents accompanied by downhills like any other trail. The collection of hair-raising Hartshorne Woods Park descents doesn't disappoint. When you ride down these slippery single-track slopes you face many technical challenges.
This is what lures most riders to this recreational paradise. Some of the obstacles include switchbacks, drop-offs, daring jumps. Be ready to counter large to medium-sized boulders, and jagged roots.
Are you looking for trails set on a beautiful backdrop of local flora and the wildlife that inhabits it? If so, Hartshorne Woods Park is a great option. It offers you the opportunity to escape the noise and pollution of the city. Instead, you get a wooded and serene picturesque setting.
Pros
It features grueling climbs
Singletrack
It has technical challenges and obstacles
Best for advanced beginners
Well maintained
Cons
Not ideal for experienced riders
Little climbing
Six Mile Run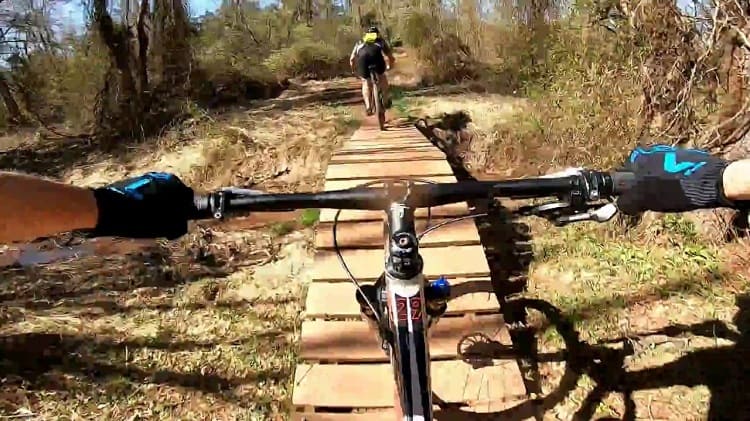 Six Mile Run is a well-hidden recreational pearl. It's located in the wonderful town of Franklin Township in New Jersey.
The trail is not only ideal for mountain biking, but it's also suitable for hiking and horseback riding. It's one of the popular mountain biking regions in the state. It has over 15 miles of intermediate-rated courses.
The trail features both rolling single track and meandering double track. The terrain is grassy with some exposed rocks and roots of different sizes. These obstacles serve to keep the riders on their toes. However, after some heavy rain, you are likely to encounter a few shallow water crossings.
The various courses at Six Mile Run have an intermediate skill level. They come with enough obstacles to make it challenging for a novice to experienced rider.
The trail is a great choice for various riders. Its where one can practice and master a variety of bike handling skills. This is thanks to the easy technical sections.
The responsibility of maintaining it isn't only for volunteers. Jersey Off-Road Bicycle Association (JORBA) is a local mountain biking group. It manages and maintains all the Six Mile Run trails.
That said, the park also boasts of a rich cultural heritage. It's the home to several 18th-century barns, granaries, and farmhouses. The structures remind the riders of the Dutch farmers who settled in the region during the 1700s. The hardwood forest and floodplain are home to a wide assortment of wildlife and plants.
The 3,000-acre paradise features miles of farmlands, fields, forests, and wetlands. If you happen to visit this central part of New Jersey, you will enjoy mountain biking in this area.
Pros
It features over 15 miles of intermediate-rated courses
It has both single and double tracks
Easy technical sections
Jersey Off-Road Bicycle Association (JORBA) maintains the trails
Wide assortment of wildlife and plants
Cons
Expect a few water crossings after rains
Not ideal for beginners
Chimney Rock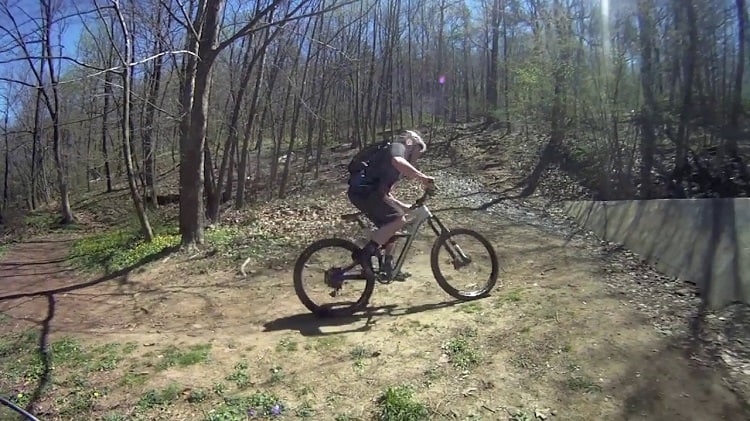 This famous trail is located in the town of Martinsville in New Jersey. It features roughly 10 fun-filled miles of intermediate-rated trails. The network features rough and craggy trails that make every ride fun and interesting. Chimney Rock, also known as Washington Valley Park, offers something for every type of rider.
If you are a new rider on this route, note that the trail has 5 loops. There are Yellow, Orange, White, Red, and Blue Loops. The Blue Loop has several water crossings on the lower sections of the course. Apart from that, it also has a rocky descent with plenty of switchbacks.
The Red Loop, which forms an interesting figure-eight trail shape, has a length of 3 miles. In this loop be ready for a lung-burning ascent and a fast downhill. All this is combined with plenty of technical features such as roots and rocks. The White Loop is a 2-mile course made up of cross-country-like terrain and a flowing single track.
The Orange Loop, (2-miles long), is the connector from the backside of the reservoir to the yellow trails. If you want to have a technical ride, after getting to the top of the climb, veer to the right then make the first left turn. But, be very vigilant of hikers who often cross the trail.
Lastly, the Yellow Loop, a 4-mile course, features a challenging super tough climb. When the climb is over, the trail morphs into a fast single-track terrain with tough obstacles. Fortunately, the downhill is full of fun and riders don't need to brake all the time.
Pros
Rough and craggy trails
Intermediate-rated trails
10-miles length
It features 5 loops
Mostly single track
Cons
Many hikers crossing the trails
Rocky descents
Mountain Creek Bike Park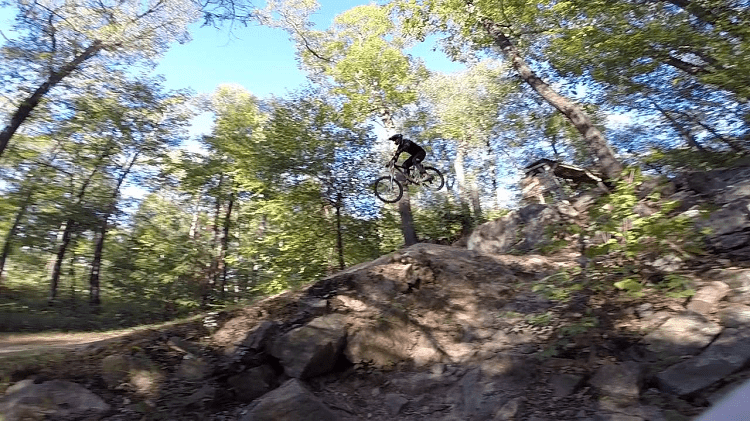 If you live in Sussex and want to go mountain biking, visit Mountain Creek Park. The miles of super trails are rated intermediate to advanced. Just an hour from New York City, this trail features over 40 miles of rugged terrain. They are carved into 1,000 vertical feet of New Jersey soil.
The park offers a classic East Coast riding experience with technical challenges. This is in addition to features designed to keep the skills of intermediate to advanced riders sharp and honed.
In terms of sheer volume, Mountain Creek Bike Park has more trails compared to any other park in the region. It features a combination of free-ride terrain, and downhill thrill technical cross-country trails. They make the route perfect for any rider who enjoys spending time on his bike.
Recently, a lot of trail-building activities have been going on at the park. These are intended to expand the trails. These efforts were spearheaded by the free-ride legend, Jeff Lenosky. He introduced several signature components to the trail network system.
The main vision behind the renovations is to create a world-class trail network. The result is well-maintained courses. This is together with an awesome collection of natural and manmade technical features.
In short, if you want to experience the longest lift-serviced riding seasons in North America, go for Mountain Creek. It has one of the most efficient mountain bike lifts in the world (The Cabriolet Gondola).
Pros
40 miles of rugged terrain
Numerous technical challenges
Classic East Coast riding experience
It features more trails compared to other parks in the region
Best for all levels of riders
Cons
Not ideal if you are used to short-distance trails
Distractions from ongoing trail building activities
Selection Criteria
I did thorough research by scouring the int6ernte and visiting a few trails in new Jersey. From the information I got, I was able to come up with the above 5 mountain bike trails.
They were highly rated by local and visiting MTB fans. They were also highly rated in MTB forums, fan pages, and biking websites.
Keeping NJ Trails in Good Condition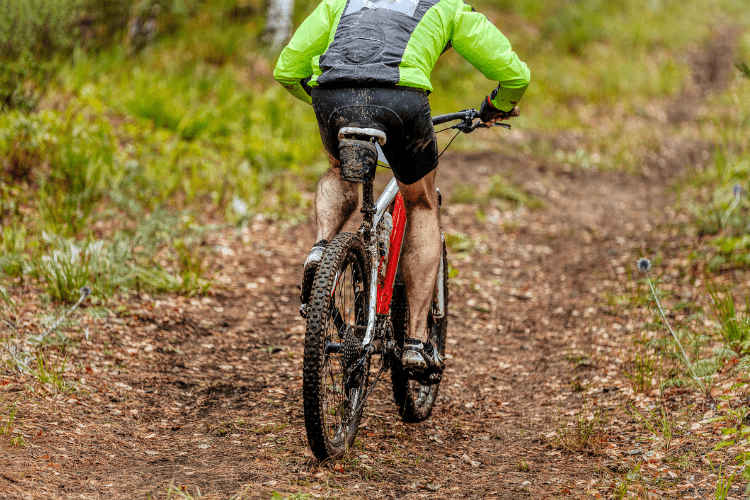 Trail builders spend many hours trying to create something beautiful. In return, they expect riders to observe trail rules and etiquette. Proper use of the trails minimizes the maintenance costs. It also increases the service life for the riders.
To ensure that trails remain in a good condition, there are several things riders need to put into consideration. They include:
Be Environment-Conscious
Of course, no one wants to see garbage left in nature. Even though at times littering can be accidental, as a responsible rider, you should always pick up any litter on the trail and dispose of it.
Dig In
Don't be selfish with your time when it comes to maintaining a trail. Ensure that you spare time and join your local trail association to repair the trail on organized renovation days.
For instance, some terrains may be quite challenging to work with requiring features like berms and tabletops to be put up. These can take several weeks to build. With additional labor and the right resources, the work becomes light.
Respect Trail Closures
Anytime you find a trail closed just know there is a good reason. However, the reason may not always be obvious. What you need to know is that riding past the signage may create safety concerns for the riders and builders. This is inclusive of the damage that may be caused to the trail surfaces.
Never Leave Blocked Trails Unblocked
If you come across an obstacle such as a large tree limb blocking the trail, stop and try to get it off. Ensure that you report to the groups responsible for maintenance should you be unable to clear the obstacle.
Ensure that You Stick to the Trail
There is nothing wrong with walking your bike if there is a feature you can't ride through. It's good you work on your skills first before riding through trails that feature challenging technical terrains.
Avoid Being Selfish
The community surrounding the trail is one of the best parts is a crucial element of mountain biking. This means that trail builders need to put the community first when developing new trail networks. They should balance the interests of the riders and their capacity to maintain them.
Cooperate with the Local Trail Organization
I find it very weird when I see riders going out and start to make changes on the trails. They do this without first consulting the local associations or the builders. This habit can only be termed as dangerous and unsustainable.
There is so much work that goes into a trail even before a shovel touches dirt. If you are a responsible mountain biker, you should find out the available options. For example, you can volunteer to help the local volunteer groups or give donations.
How to Improve Your Mountain Biking in New Jersey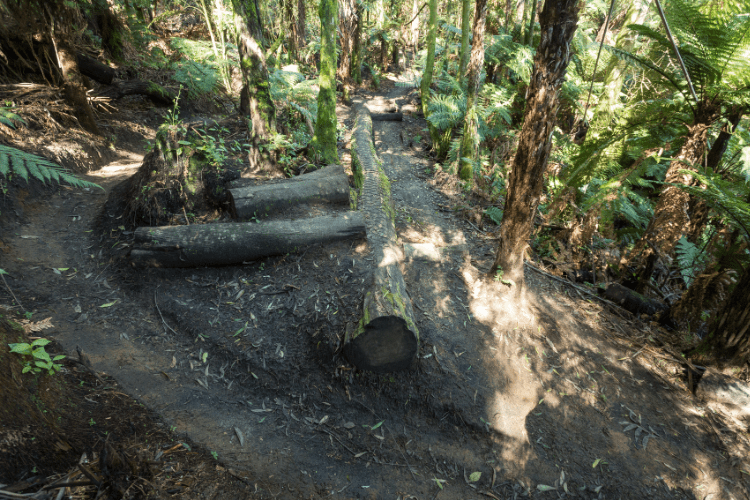 No matter what your goal is, you have to start with the basics. It doesn't matter if you are riding for fitness or just to enjoy the outdoors.
Trail confidence and good bike-handling skills make it a much better experience. I have highlighted some of the important tips below to consider while mountain biking in Jersey.
Maintain Your Bike
You can't focus on the trail when your bike is producing some strange noises. It can only take a few minutes to carry out basic bike maintenance. This helps save you from a long walk or a nightmare of a ride.
Always take time and go over your bike to look for anything cracked, broken, or worn out. If you can't fix it, try getting help from a local bike dealer or technician. You may never know, minor problems at home may turn out to be a nightmare on the trail.
Make It a Habit to Ride with Experienced Riders than Yourself
This helps you push yourself a little bit harder. You also get to experience and learn some of the riding habits that enable you to become an expert rider.
Another plus is getting the chance to observe how they handle rough and rocky sections. Lastly, you also get to watch how they position their bodies when going down or uphill.
Focus on Your Destination
Before getting on the trail you need to be sure of your destination first. Take this seriously if you are planning to ride on New Jersey trails with plenty of rocks and roots. In mountain biking, this is what we call target fixation.
Relax
Any time you are riding, bear in mind that the best suspension you have is your legs and arms. This is regardless of whether you are riding a full suspension bike or not. As a result, relax or stand up when necessary to absorb the bumps and ruts on the trail.
You'll easily float over most obstacles once you learn to let the bike move beneath you. Aside from that, you also get to relax your grip a bit on the handlebar. Always ensure that you hang on the handlebar firmly but not too tightly.
Spin
The rotation of your cranks (spin) is one of the most important aspects of cycling. Professionals may at times take longer before developing a good spin.
You use more energy and probably end up throwing yourself off the balance if you pedal in squares or with jerky downward strokes. Knowing how to spin properly helps you to keep traction on loose trails.
Learn the Wheelies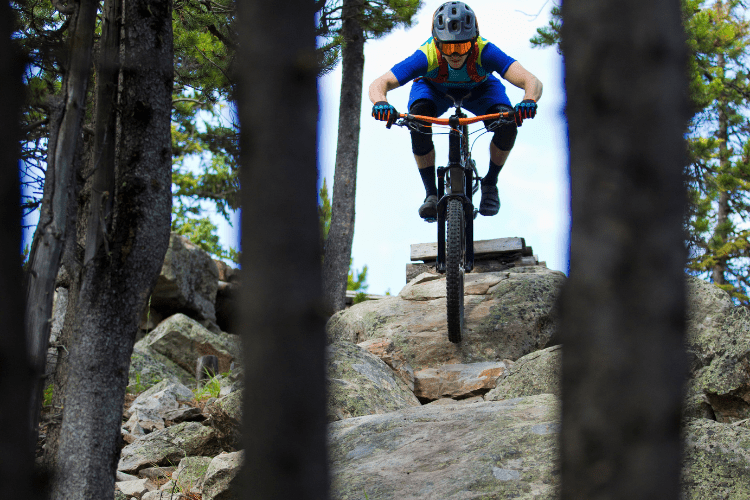 Learning how to take the front wheel off the ground may be a fun little trick that's useful on the trail. A basic wheelie involves pulling up on the handlebars and pushing down on the up pedal while shifting your weight on the back wheel.
While on it, keep your hand ready to pull the brakes when done with the wheelie to get your front wheel down. This is one of the best skills that you'll find awesome as an expert rider.
Stop
When riding technical trails, hopping and balancing skills pay off. It's easier to maintain your momentum when you can come to a stop and then start over again without your foot touching down.
Hopping is done with both brakes locked to keep the bike secured under you. Even though these little tricks may seem silly, they help riders develop overall bike handling skills.
Brake
For perfect bike control, you need good braking. When your bike brakes are locked, you have less control over your bike. So you need to learn and understand how to use both brakes effectively.
However, remember that most of the braking power comes from the front brake. If you don't want to be tossed over the bars be careful not to use the front brakes too much when cornering or riding downhill.
Ride Far and Wide
Venture forth into the world and explore more trails once you've mastered your local trails. New trails and challenges make mountain biking more fun and interesting. This is in addition to sharpening your biking skills which are key to becoming a well-rounded rider.
Ride Often
If you want to be an experienced rider, it's simple. Just spend more time on your bike. Riding up and down the curbs as you dodge potholes while trying to outpace angry Chihuahuas helps to reinforce your riding skills.
Spending a lot of time reading about cycling will never replace saddle time. So gear up, get out and ride!
Mountain Bike Trails in New Jersey FAQs
Question: Which are Some of the New Jersey Mountain Biking Trail Types?
Answer: There are several different types of mountain biking trails. They include:
• The Network
• The Shuttle
• The Lollipop
• The Loop
• Jeep Trails
• Double track
• Slickrock
• Singletrack
Question: How Can I identify the Best Mountain Bike Trails in Jersey?
Answer: Of course, old ways are sometimes the best. Finding people to show you the trails is the best way. Other ways include:
• Using apps with maps
• Checking out on Strava
• Youtube
Question: Do Single Track Trails in NJ Feature Biking Etiquette?
Answer: Yes, they do. After the end of the rains (defined as more than 1/2-inch of rain), they should be closed for not less than 48 hours before being re-opened to the public.
Question: Is it Easy to Ride a Mountain Bike on a Trail?
Answer: Yes, it is. But, if you own an e-bike you will be limited to riding robust mountain biking trails.
Bottom Line
Mountain biking is a popular fun activity in New Jersey. If you are in this beautiful state and want to do some mountain biking, don't worry. The state has some of the best mountain biking trails in the world.
For those who want to experience different courses in one park, the Allaire State Park is your best bet. Experienced riders who want to test their mountain biking skills can use the expert skills park. It's located right inside the Allaire State Park.
However, if you prefer short-distance trails, then opt for the Blevins Trail. It has very few uphill sections and is great for all types of riders.