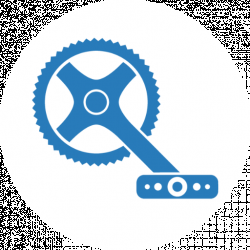 Latest posts by MTB Insider Team
(see all)
Any and every vehicle needs a good suspension system to maintain a smooth ride. Mountain bikes are no different. They require some sort of front and rear suspension in order to deliver great functionality and a smooth ride. When it comes to mountain bikes, Forks act as a front suspension system while a rear suspension is usually only found on full-suspension bikes. 
The RockShox Yari fork is one of the stand-out options used by many riders both professionally and casually. The Yari is outfitted with several innovative design features and components that work in tandem to deliver a smooth and balanced ride. When I took the Yari out for a spin, I was shocked at the amount of responsive damping it provided while maintaining a steady flow on the trail. 
Given the importance of forks on mountain bikes, it's important to know all of the details and features of the product you are considering before making your final purchase decision. The Yari is no different, while there are many things to be said about the Yari, you need to get an accurate view of all the core specifications and features so you can make the final decision based on your personal riding style.
Below, I'm going to give you a detailed review of the RockShox Yari so that you can decide whether this is the right fork option for you or not. 
The RockShox Yari was designed for those individuals with a big chassis who are looking for stiffness and trail-focused performance. It's also a great option for those looking for a decently affordable fork option compared to many of the other forks in the same class. It offers a motion control damper which reduces ride instability and improves control.


While the RockShox Yari is a relatively affordable option if you are a pro-rider. It doesn't compromise any functionality and practical use for hucking, doubles, and shredding downhill. With aftermarket parts available and compatible with this fork, it's also a great option for those riders who want more versatility and designability with their bike. 
Pros & Cons: RockShox Yari Fork
Since every rider has their own unique approach and style, one fork that works great for a particular rider may not work the same for another. The RockShox Yari is no different, there are several pros and cons you should consider before making your decision. In this section, I'm going to detail all of the pros and cons most commonly reported from those using the Yari. 
Pros
Stiff chassis set-up that delivers sustained ride stability on all terrains

A very easy setup process

Visually beautiful

Motion control damping capabilities 

Sensitive ride dynamics give you a great feel of the terrain you're riding on

Relatively affordable price 

Customization options available 
Cons 
Some riders experience harsh ride comfort 

Not the most advanced stabilizing functionality 
Take a good look at the list above and compare all of the pros and cons I've listed to the features and capabilities you need from an MTB fork. If you have a local bike shop with the Yari installed on a bike, try to take it for a test ride before buying. This will allow you to get real-world experience with the fork.
Use all of the pros and cons I've listed above as a reference.
Core Features: RockShox Yari Fork
Like I've already stated, for the price, the RockShox Yari is an impressive fork that can give the right rider noticeable improvements with their control and stability. Rockshox has managed to make an affordable yet efficient fork that looks premium.
There are several different configurations of the Yari available for purchase, so becoming educated on all of them will go a long way into making sure you get the results you expect from installing this fork on your bike. 
Below, I'm going to breakdown all of the core features offered by the Yari so you can get an in-depth view of the potential benefits you can expect when buying this fork. 
Chassis 
The Yari is outfitted with an upgraded 35mm stanchion chassis derived from Rockshox "Pike" fork. The new chassis utilizes a much stiffer and elongated brace on the lowers which reduces the overall weight this fork adds to your bike.
Al of the dropouts are compatible with Torque caps which helps you improve ride stiffness by installing bigger hub-end caps. The Yari can easily improve steering, damping, and handling capabilities which is perfect for aggressive riders. 
One of the best things about the Yari is that it delivers all of these performance enhancements without compromising the comfort of your ride or affecting any of the other dynamics at play. 
Air Spring 
The Yari is outfitted with a Soo Air spring that delivers enhanced smoothness compared to the air spring used is RockShox Pike fork. The Yari comes out of the box with 3 bottomless tokens that can be installed in the fork easily simply by threading them through the bottom portion of the air cap. This gives you the ability to get the perfect ride configuration regardless of your style.
Damping Capabilities 
The Yari utilizes an improved damping feature that uses Rapid Recovery Rebound to mimic the feeling offered by the initial quick rebound which is a standout feature of Rockshox's Charger damper. The high-speed compression circuit is tuned to mimic the Charger damper also. 
Options 
The Yari comes in a multitude of different configuration options straight from the manufacturer. Allowing you to find the perfect fit regardless of what bike you ride. The air springs are available in either a dual-position or a solo setup.
For those with 29" wheel, you can choose between 120mm, 130mm, 140mm, 150mm, and 160mm. For those with 27.5" wheels you can choose between 120mm, 130mm, 140mm, 150mm, 160mm, 170mm, and 180mm options. 
Top Alternative Recommendations 

The Recon Silver RL comes equipped with all-new E-MTB endorsement selections coupled with fender mounts that are compatible with all 15x110mm E-bikes. It also features some new graphic design implementation that is beautiful.
You'll also find a motion control damping feature which has low-speed compression adjustment capabilities that enable lockout. The fork has a shiny black finish topped with 32mm upper tubes made from steel that deliver premium practical stiffness to a stunning looking fork.
This fork is compatible with tires up to 2.8" and uses precision formulated materials at the seal and brace areas for added security and stability.
Pros:
Premium build quality, versatile compatibility.
Cons:

The Manitou Markhor Suspension Fork is outfitted with compression damping that can be activated or deactivated using a Kwik Toggle located on the fork. This fork is also E-MTB certified so you can use it with a wide range of different electrical bikes.
It has a progressive rubber bumper on the bottom and comes with a XC and Trail shim stack. The rebound damping is achieved through an adjustable TPC and it's equipped with TS air springs that deliver accurate and fast support in various climates and terrains. To top it all of, this fork is packing 30mm black alloy stanchions.
Pros:
Responsive damping and suspension, E-MTB certified.
Cons:
Rough adjustment process.
Manitou Mattoc Pro Suspension Fork | Amazon
With the hydraulic bottom adjustment, a self-adjusting Dorado DH air spring, and 13mm footpegs, the Mattoc Pro offers downhill performance in an enduro-oriented package.
Buy at Amazon.com
We earn a commission if you click this link and make a purchase at no additional cost to you.

The Judy Silver TK is packing a turnkey lockout feature which gives you easy on/off control. The fork is also outfitted with a new graphic design with E-MTB endorsement options for a more modern look and feel.
This fork is compatible with disc brakes and has a very tunable Solo Air Spring for maximum ride comfort and versatility regardless of what your main riding style or preference is. This fork can also fit tires in size of up to 2.8" and has a fast-black finish with 30mm upper tubes made from steel. This balances perfect ride stiffness with a gorgeous aesthetic appeal.
Pros:
Balanced stiffness, adjustable air springs.
Cons:
RockShox Judy Silver TK Suspension Fork | Trek Bikes
An entry-level fork with the latest features and performance; Judy Silver is built around a new Pike-derived chassis, with BOOST spacing for Plus race tires, up to 2.8 on 27.5 and 29, and Torque Cap compatibility for increased rigidity and control of the fork/wheel assembly.
Check Price
Buy at Amazon.com
We earn a commission if you click this link and make a purchase at no additional cost to you.
The Pike RCT3 27.5 Charger DebonAir 130 Boost Fork is packing 130mm of travel which is more than enough to allow you to take on any terrain with ease. The lower part of the fork is made from magnesium and the crown portion is made from tapered wall aluminum.
It's compatible with wheels of up to 27.5in and has a 46mm rake. The DebonAir springs are very responsive and deliver great ride stabilization while taking on any trail. It has several different modes including low-speed compression tuning, rebound adjust, and pedal mode.
This is one of the more feature-packed forks that I've ever seen and all of them deliver practical benefits that you feel.
Pros:
Adjustable suspension, variable ride modes.
Cons:
RockShox Pike RCT3 Suspension Fork | Amazon
Pike is like a STEALTH Bomber designed specifically for new-school trail riders. Its new damper rides high in the travel where it's the plushest.
Buy at Amazon.com
We earn a commission if you click this link and make a purchase at no additional cost to you.
FAQs 
Question: Are RockShox forks any good?
Answer: Yes, RockShox is known for producing high-quality forks and other mountain bike components that both professional and novice riders enjoy. RockShox is known for its innovative design and a highly versatile line-up that offers adjustability and reliability. 
Question: Are Fox shocks better than RockShox?
Answer: It all depends on your ride style; every rider will experience varying levels of damping capabilities and ride balance with each option. I personally prefer Fox Shox, but both companies offer products to fit riders of virtually every class. 
Question: Who makes Rock Shox?
Answer: RockShox is made by SRAM corporation who acquired the company and its subsidiaries a while back. 
My Honest Opinion 
While the RockShox does have its downsides like the fact that the damping feature can get hung up in high-speed situations, overall, it's a killer value for the price. With all of the quality components and upgraded design mechanics implemented into its design.
The Yari is the perfect fork for any rider that wants to add a bit of stability, versatility, and style to their ride. If you're in the market for a relatively affordable pro-fork, I would highly recommend the Yari. 
I've covered all of the important facts and information you need to know about the RockShox Yari fork. Use this review as a reference to help you make an educated decision if the Yari is for you! 
Looking for alternatives? Check out how Rockshox compares to Rox in our full brand comparison here or vs Rockshox Pike here.