If you have ever bought a mountain bike in the past few years it'll likely have either SRAM or Shimano groupsets installed or a combination of different parts from both.
The two manufacturers are industry leaders but who produces the better parts? This is what my SRAM vs Shimano groupsets comparison article is going to find out.
We'll look at the differences between the two manufacturers, how their parts stack up against each other, and ultimately we'll find out who is better.
Both of these companies have been around for a while – although Shimano is by far the older manufacturer – so they aren't new to the mountain bike groupset market.
Main Differences Between SRAM vs Shimano
The main differences between SRAM vs Shimano are:
SRAM has a stronger hold over the high end of the groupset market, whereas Shimano's groupsets are often bought by entry to mid-level users
Shimano shifting actuation works on a 1:1 ratio, whereas SRAM's shifting actuation works on a 2:1 ratio
SRAM releases new technology quicker, whereas Shimano take longer to put new tech in their groupsets
Shimano was founded way back in 1921, whereas SRAM are relative newcomers being founded in 1987
SRAM cranksets are mainly made from carbon fiber, whereas Shimano cranksets are made from aluminum
Shimano uses mineral oil in their hydraulic disc brakes, whereas SRAM uses DOT 5.1 brake fluid
Exploring SRAM and Shimano Parts
The groupset on a mountain bike is a way of describing a collection of parts that work together to make the drivetrain. Most bikes use SRAM – like the Santa Cruz Chameleon – or Shimano such as the Pivot Mach 6.
Let's look at the main SRAM and Shimano Parts that make up a groupset.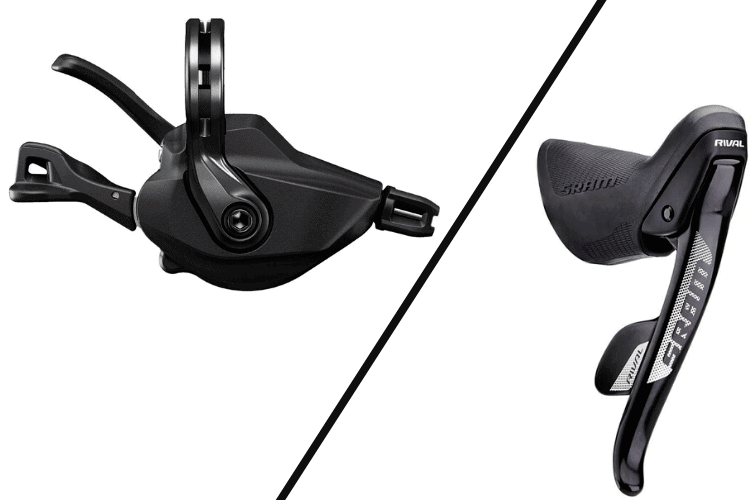 Shifters
Shifters are the part of the groupset that operate the deruelliers. You generally find two types of shifters:
Twin lever trigger shifters – have two triggers for going up and down gears and these are normally found on most mountain bikes.
Twist shifters – they work with a twisting mechanism that is found on the handlebar.
Electronic shifters have also started appearing which provide an instant shift although they aren't as common at the minute. In the future, you'll likely find these on many bikes but for now, you don't see them very often.
Shimano
The Shimano trigger shifters are the more versatile out of the two as their XTR Shifters are able to be operated either by your forefinger or your thumb. It also means that you can shift quickly with the Shimano trigger shifters as well and you can go down several gears with the one stroke.
Shimano XTR Shifters
The Shimano XTR Shifters is a SUPER versatile option, able to be operated either by your forefinger or your thumb.
We earn a commission if you click this link and make a purchase at no additional cost to you.
SRAM
SRAM also has trigger shifters as part of their groupset components and they can go down gears rapidly too. The difference is that the SRAM shifters such as the Rival 22 are thumb-operated only. Much of this will come down to your personal preference although the Shimano shifters do give you more options for changing mid-ride.
We earn a commission if you click this link and make a purchase at no additional cost to you.
Crankset
The crankset on a mountain bike is used to help reach better speeds, improve efficiency when pedaling and also shift gears in a smooth fashion. It is the part of the groupset which rotates when you use the pedals and works to turn the rear wheel.
They are generally made from aluminum alloy, carbon fiber, titanium, or even steel.
Cranksets are put into three different categories:
Single cranksets are usually found in downhill bikes as they are lighter and the bikes they are used on generally don't need a massive gear range.
Double cranksets are generally used to help boost speeds and come with a small inner ring and an outside cog
Triple cranksets are best if you need a wide gear range on your bike however they are heavier, so you don't see them on many new models.
SRAM
SRAM cranksets mainly use carbon fiber, especially in their higher-end models. This produces a good strength to weight ratio so you'll get durability as well as a lightweight design which will keep the overall weight of the bike down.
Shimano
Shimano cranksets on the other hand are made from aluminum. The Hollowtech that they use means that two halves are joined together to make a crankset and they say that this not only provides durability but also decreases the weight that you would normally associate with aluminum components.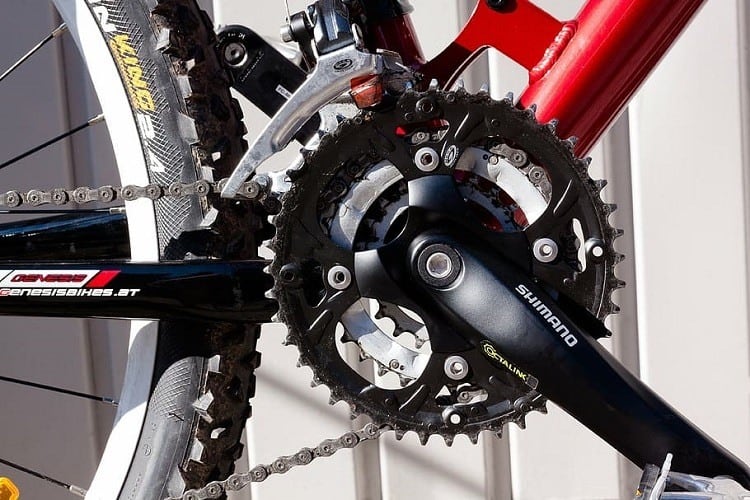 Bottom bracket
The bottom bracket of a groupset is the bearings that the crankset spins on – without it you aren't going to be able to pedal very far!
Bottom brackets are actually one of the more complicated parts of these components and there are a whole host of different configurations to choose from.
Both SRAM and Shimano produce an array of bottom brackets and the one you choose is going to be based on its compatibility with the frame of your bike as well as the crankset.
Front and rear derailleurs
Derailleurs are vital to ensure smooth gear changes and both front and rear derailleurs help to move your bike chain. It is important that you get the right one that is going to last because if it breaks or malfunctions it can seriously impede your control and how your bike handles.
This is generally carried out via cables however new technology from both SRAM and Shimano has changed the game.
SRAM
SRAM´s XX1 Eagle AXS kit allows for wireless controlled rear derailleurs. This means you can shift through technology and are easily installed. It is compatible with an 11 or 12-speed cassette from SRAM.
SRAM´s XX1 Eagle AXS kit
SRAM XX1 Eagle AXS kit allows for wireless controlled rear derailleurs. it is easy to install and compatible with an 11 or 12-speed cassette from SRAM.
We earn a commission if you click this link and make a purchase at no additional cost to you.
Shimano
Shimano has also got into the electronic shifting market with its XTR Di2 for both front and back derailleurs which operates in a similar way to the AXS kit from SRAM. You can manually program the XTR Di2 so that your shifting preferences are set in advance which is a really cool feature.
We earn a commission if you click this link and make a purchase at no additional cost to you.
Chain
The number of gears will determine the type of chain that you need on your mountain bike. As the number of gears goes up, the spacing between the cogs decreases so you'll need a chain to reflect this.
For example, if you have a 12-speed drivetrain then you shouldn't use an 11-speed chain. Like many other groupset components, mountain bike chain technology has come a long way and you'll often find chains now that have corrosion-resistant coatings, weight-saving measures, and other aspects to make them more durable.
You'll often find that chains are one of the first parts of the groupset to show wear and tear so it is worth investing in one that will last.
Both SRAM and Shimano offer a wide range of mountain bike chains so it is really a case of finding one that is compatible with the cassette and also the gear range you have too.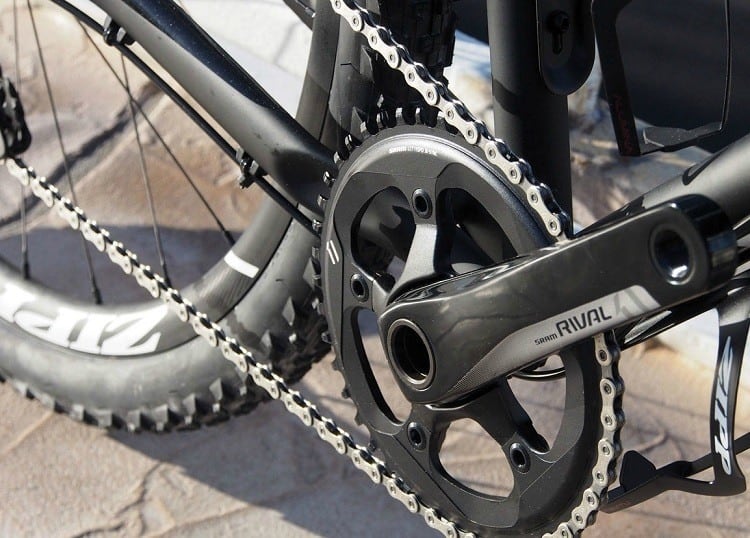 Cassette
Like chains, cassette's come in a wide variety of configurations that are designed to meet your biking style and what you need from a mountain bike. Most mountain bike cassettes have a wide range of gears as it makes climbing more efficient.
SRAM's new cassette – the XX1 PowerdomeX – which is priced at the higher end of the market uses connected cogs that are found within a single steel block. It has been designed in a way so that weight reduction is achieved to keep the overall weight of the groupset and the bike down.
Shimano has largely stuck to more traditional designs for their cassettes which uses individual cogs that are crafted in aluminum design. The key difference is not just in the price as Shimano cassettes tend to be cheaper but that their design often makes them a tad heavier too.
XX1 PowerdomeX Cassete
The XX1 PowerdomeX Cassete has been designed so that weight reduction is achieved to keep the overall weight of the groupset and the bike down.
We earn a commission if you click this link and make a purchase at no additional cost to you.
Brakes
The brakes within the groupset don't need much of an introduction – their role is to help you stop. However, some brakes are certainly better than others especially when it comes to the type of biking you do whether it be on smooth paved roads or less than ideal bumpy trails.
Hydraulic disc brakes have mainly become the norm in mountain biking especially with gravel, mountain and cyclocross bikes and you'll see them more often in road bikes too.
The major difference between SRAM and Shimano when it comes to their hydraulic disc brakes is that SRAM uses DOT 5.1 brake fluid whereas Shimano uses mineral oil.
The mineral oil that Shimano uses doesn't absorb water from the air however it isn't a regulated fluid so there are no minimum standards as such for it. That being said, it should offer a long life span as the boiling point remains stable.
Many people also comment on the difference between SRAM and Shimano brakes and how they feel when in use. SRAM brakes tend to offer a more progressive feel in that you feel like you are more in control of the stopping power.
Shimano's brakes feel more instant and it is almost flicking a switch. It is really down to whatever you prefer and the type of biking you are going to be doing.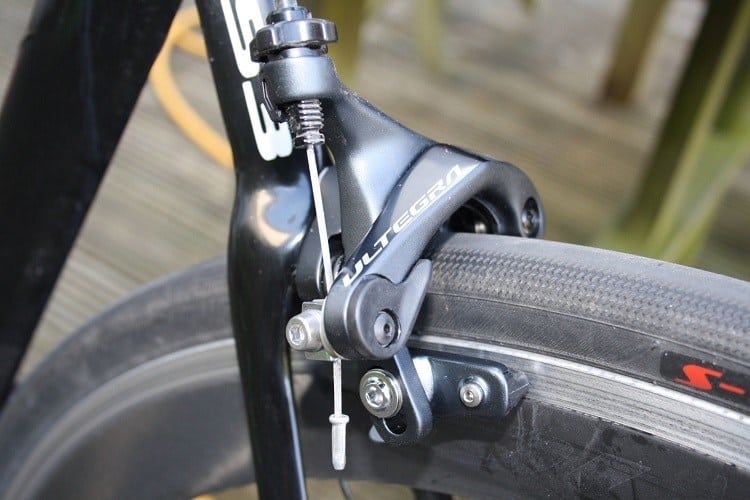 Comparing SRAM vs Shimano Pricing
Both SRAM and Shimano offer various groupsets and individual components that fit within a variety of price ranges from entry-level right up to the more high-end stuff.
In terms of technology, SRAM has been dominating the top end of the market due to the quality and performance of some of their groupsets whereas Shimano has recently been more popular for entry-level and mid-market pricing.
The most expensive groupset from Shimano is the Dura-Ace 9150 Di2 which comes in at $2735 while the priciest groupset from SRAM is the Red eTap AXS 2X Flat Mount HRD Electronic Groupset which costs $2399.
For mid-level groupsets that are generally more affordable for most, the SRAM GX Eagle is $545 while the Shimano SLX is around $400.
Both offer a number of groupsets to suit various budgets so you'll find one that is within the range of what you are willing to pay.
SRAM v Shimano Market Share
Both SRAM and Shimano dominate the market share for groupsets and have largely negated the competition aside from Campagnolo who now focuses predominantly on road bikes.
When exploring the market share of both, it is worth breaking it down in what type of bikes their components and groupsets are found in.
Shimano groupsets are overwhelmingly found in road bikes and certainly much more than SRAM whereas SRAM groupsets are far more likely to be found in mountain bikes.
When it comes to cyclocross and gravel bikes, they have an almost 50/50 split between them.
Pros and Cons
SRAM Pros
Are often at the forefront of groupset technology
Use carbon fiber cranksets for reduced weight
Groupset components ideal for mountain biking
eTap groupset is wireless
Brakes offer a progressive feel
SRAM Cons
Shifters are generally only thumb-operated
Many groupsets are aimed at the higher end of the market
Shimano Pros
Groupsets are ideal for road biking and gravel bikes
Shifters are more versatile
Di2 offers customizable buttons for personal preference
Suited to entry and mid-level market pricing
Use of mineral oil in brake fluid should offer a long life span
Shimano Cons
Take longer to release new technology
Cassettes are usually heavier due to their aluminum construction
Are there any alternatives?
Campagnolo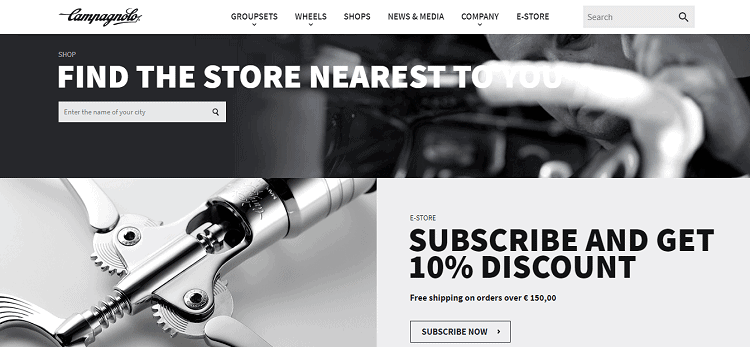 Campagnolo is an Italian company and the 3rd manufacturer in the 'big three' although they lag quite far behind both SRAM and Shimano. They are based in Vicenza and are often referred to as 'Campey'.
Campagnolo mainly put their energy into components for road bikes and while they did produce many groupsets for mountain biking, that isn't where their attention lies these days.
Frequently Asked Questions about SRAM and Shimano
What is a groupset?
A groupset is a combination of different parts on a bike that make up the drivetrain. This includes shifters, the crankset, bottom bracket, front and rear derailleurs, brakes, chain and the cassette.
Where are SRAM based?
SRAM are relative newcomers as they weren't founded until 1987 but have become one of the two largest part manufacturers for mountain bikes. They are based in Chicago, Illinois, USA.
Where are Shimano based?
Shimano is based in Sakai, Osaka, and was founded in 1921.
Can bikes use a combination of both SRAM and Shimano?
You'll likely find complete sets from each manufacturer on road bikes however mountain bikes tend to have a combination of both.
Are these the only groupset manufacturers?
While there used to be many others – such as Suntour and Sachs – SRAM and Shimano have emerged as the dominant force in the market. Campagnolo is a smaller brand that focuses mainly on road bikes.
How long do groupsets last?
There isn't a specific amount of miles or time that your groupset will last and much of this depends on the quality of the product and the type of biking you do. Most groupsets shouldn't need to be changed often and can last years if the damage is kept to a minimum and they are looked after properly.
Conclusion
So, now we get to the real question – which one offers the better groupsets?
It isn't an easy question to answer. Not only because groupsets are made up of a number of individual components but that there are many different groupsets out there that are aimed at different parts of the market.
You'll find high-end Shimano groupsets and low-end SRAM groupsets and vice versa. Both of these companies have dominated the mountain biking groupset market since the likes of Suntour and Sachs have been seen off.
If I had to choose between either Shimano or SRAM I would probably go with SRAM but only just. For one they tend to release new technology quicker than Shimano who takes a lot longer to get up to speed. Over the last 10 years especially, SRAM has been at the forefront of groupset and drivetrain tech hence why they have taken over the higher end of the market.
Another reason why I would go for SRAM at the moment is that I just prefer some of their groupset parts such as their carbon filter cranksets and how their brakes feel more progressive rather than just jolting to a stop – although this is very much down to personal preference. If you can splash the cash their Red eTap AXS 2X Flat Mount HRD Electronic Groupset is second to none and would definitely be my first choice.
Overall these are two very well known brands that produce quality components when you start breaking the groupsets down into individual parts. I think SRAM edges it at the minute but you can certainly pick up quality Shimano groupsets as well particularly at the mid-market level.
Further read: