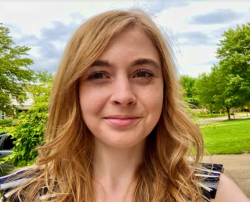 Latest posts by Erin Jamieson
(see all)
Capable, versatile, and light but durable. Are the reviews and marketing around the Cannondale Topstone 4 true? Or is this just a way to guide you to a pricey gravel road bike? 
Gravel bikes of all kinds are making a splash more than ever. It's no wonder with unique bike symmetry, options for droppers and fenders, and speed shifters to tackle road and gravel paths. And while gravel bikes have typically been seen as recreational, even that may be changing. 
Unbound Gravel, funded by Lifetime Fitness, kicked off a new six-part race series in the United States with a grand prize of $250,000 for the winner. While mountain biking races have been big for a while, gravel bike races are a newer entry– which is why this news opened some exciting possibilities. 
Three gravel races– Unbound Gravel and Big Sugar Gravel, and Crusher in the Tusher– will join three mountain bike races for an intense six-race series in 2022. Just forty cyclists– twenty men and twenty women– will be permitted to compete.
And while it's not the most inclusive racing series, it just goes to show that gravel biking is not a fad but a lasting sport that's bound to attract people, from competitors to casual cyclists alike. 
But before you start searching for the best gravel bike trails or races, you'll need a great bike. And if you want a bike that's versatile for both road and gravel biking, chances are Cannondale Topstone 4 has caught your eye.
I'll guide you through selecting the best gravel road bike possible and then give you my honest review about Cannondale Topstone 4. 
Why do people ride gravel bikes?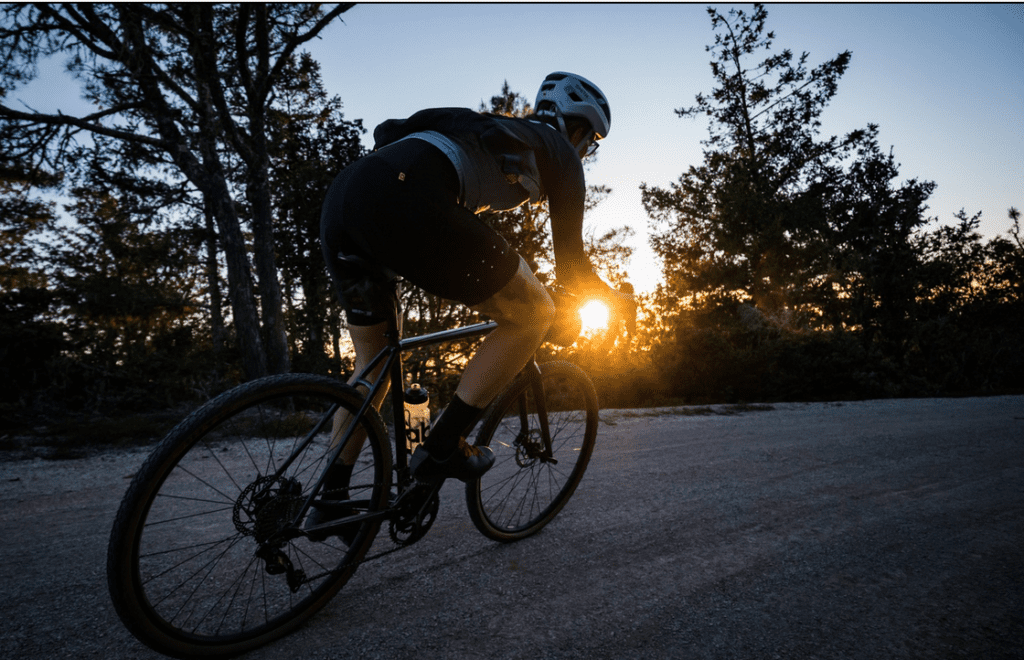 Gravel bikes are popular for their versatility. The point of a gravel bike is not unlike the name suggests: to allow you to ride on gravel and off-road trails. Gravel damages regular bikes, and many bikes simply aren't suited for handling loose terrain like gravel. A distinct upright geometry and sturdy but lightweight design allow you the control but versatility you need. 
Why have gravel bikes become so popular?
You may wonder if gravel bikes are just a fad– but the reasons why gravel bikes are popular point to it being a lasting interest in the cycling community. Generous frames, larger tires, and versatility are the main reasons why they're popular. With gravel bikes, you're not limited to roads and can explore some trails. With gravel bikes, you're going to generally be more comfortable as you travel the road to trail. 
What is the difference between a gravel bike and a road bike?
A road bike features a slim frame with more minimalist tires. Compared with a road bike, a gravel bike has an upright orientation and is generally more comfortable. Not only do you sit up straighter, but you also get a more generous saddle. While a road bike is designed to be lightweight, economical, and speedy, gravel bikes are generally pricier, a little heavier, and designed to be more comfortable. 
In addition, a road bike has a higher bottom bracket and more angular headtube. Lower bottom bracket, generous wheels, and more lenient geometry all make gravel different and more suited for difficult terrain. Steering control is key for a gravel bike, while a road bike focuses on being lightweight and quick to accelerate. 
Is a gravel bike slower than a road bike?
If you're looking for speed, even the best gravel bike probably isn't going to be your top pick. A gravel bike doesn't have the same gears to reach top speeds and has wider tires. The upright orientation improves visibility, but you're adding a little weight and sacrificing a little speed for more control. You can rig a gravel bike to be a bit faster, but it's not going to match the speed of a road bike. 
Is a gravel bike safer than a road bike?
A gravel bike is naturally safer than a road bike for off-road riding. Road bikes are not meant to be taken off-road, let alone on difficult terrain like gravel. If you do, you risk damaging your bike and losing control. Now if you just want a bike for commuting or road, I'd recommend sticking to a road bike or city bike. 
Is a gravel bike better than a mountain bike?
But with a design focused on stability and steering control, it's easier to wonder if a gravel bike is just as good as a mountain bike. Some even think it's better. In truth, it depends on what you're looking for in a bike. A gravel bike is more versatile than a mountain bike if you plan to use it for trail riding and road riding. At the same time, gravel bikes aren't as powerful as mountain bikes in other ways. 
Is a gravel bike faster than a mountain bike?
Gravel bikes are speedier on flat roads– and gravel roads. They're more lightweight than your average mountain bike and quicker to accelerate. In many ways, gravel bikes are a nice transition if you've always ridden on-road and haven't ever had a mountain bike. While slower than a road bike, they will not have the bulk of a mountain bike. 
Are mountain bikes good for gravel roads?
Another obvious advantage? Gravel roads. Mountain bikes may be powerful, but they aren't designed for gravel roads. As opposed to a road bike, you can still get by traveling an occasional gravel road if needed. But biking on gravel with mountain bikes is going to be a frustrating experience. It'll be far slower and less efficient than gravel bikes. Gravel bikes provide a faster, smoother ride and often more control, as they are designed specifically for that terrain. So, while you can use mountain bikes on gravel roads, it's not advisable to do so. 
Can you make a mountain bike into a gravel bike?
However, the truth is there are undeniable advantages for a mountain bike over a gravel bike as well. You simply cannot convert a gravel bike into a true mountain bike. The difference between a mountain bike and a gravel bike like Cannondale Topstone 4 is not surprising in review. You often have full suspension forks with rear and front shocks with a rigid frame with a mountain bike. You're also looking at mostly flat handlebars vs dropped handlebars. 
While gravel bikes are designed for on and off-road biking, mountain bikes should be used for off-road biking alone. Mountain bikes get tacky uphills, downhills, rocky terrain and roots, as well as mucky conditions. Gravel bikes are suited to flatter, simpler trails and focus on efficiency and a little less on the grip needed for a true mountain bike. 
What does a gravel road bike mean?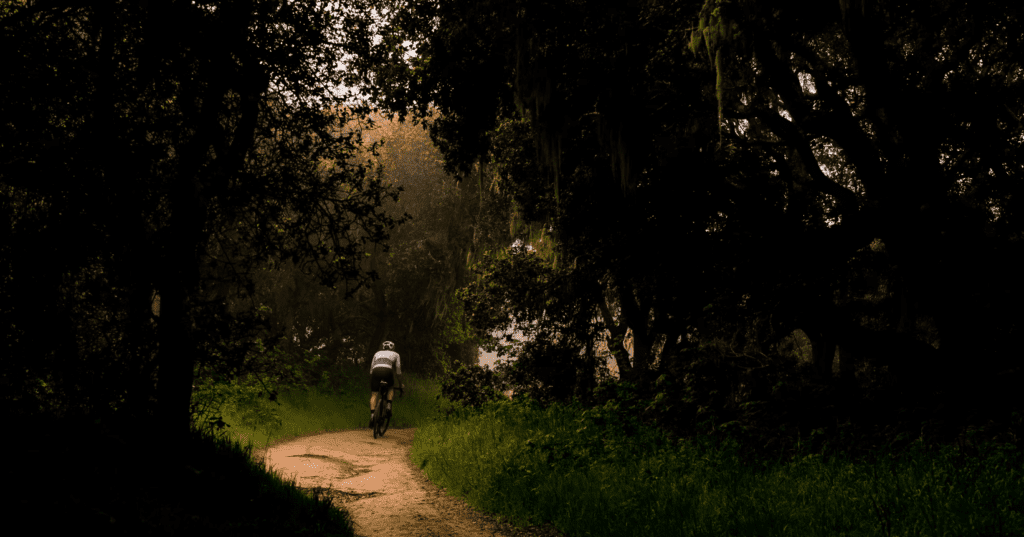 I want to address the term gravel road bike quickly– as that's what Cannondale Topstone 4 claims to be. Most of the time, you'll see road bikes and gravel bikes– so what exactly is a gravel road bike? 
Truthfully, there is not a real meaning behind the term. It's used to emphasize the bike's versatility, that is, its ability to ride well on both road and gravel. Of course, such characteristics are true of gravel bikes in general. By adding the term road, there's a strategic marketing 
A gravel road bike, also sometimes called an adventure bike (though an adventure bike can refer to either a regular bike or a type of motorcycle) is a bike you can use for the road and some light trails, allowing you to explore as you wish. 
Is an adventure bike worth it?
Gravel road bikes, or adventure bikes, are worth it if you want to hit gravel roads, level trails and use it as a road bike as well. If you're only planning on-road riding, adventure/ gravel bikes have the advantage of being more comfortable than a road bikes. Still, they are also slower, heavier, and more expensive. As such, you need to assess how and where you're going to bike to determine if such a purchase will be worth it for you. 
The point of an adventure bike is to provide that advantage of versatility. And while my standards are a little higher for a bike that's emphasizing both road and gravel riding, at the end of the day I focus on many of the same features as I would for the best gravel bike. 
How do I find the best bike for road and gravel?- My Buying Criteria
If you're ready to find the best bike for road and gravel, get ready to investigate myriad features. From brakes to gears to build and bike geometry, here's what I look for when determining a great gravel bike. It's the same criteria I'll use to review Cannondale Topstone 4. 
Which groupset is best for a gravel bike?
While there is no one best groupset for a gravel bike, one of the most respected and widely used is Shimano 105. Shimano 105 is great if you're looking for a bike that'll hold for long rides, mostly on gravel, with a little road riding here and there. I also pay attention to the gear ratio. The best gear ratio for a gravel bike is on the upper end, between 28t and 48t. Something with 40t to 43t allows you to make more inclines and also provides a smooth ride. 
Are 11 gears enough on a gravel bike?
Some mountain bikes have over 39 gears, but that just isn't necessary for a gravel bike. An 11-speed cassette is on the lower end for a gravel bike, but not out of the ordinary. Without upgrades, you can expect a range of 11 to 32. A 1 by 11 works if you're riding on fairly even roads and you're an experienced rider. However, opting for a greater gear range is going to be the best option for those new to gravel biking. 
Are disc brakes necessary on a gravel bike?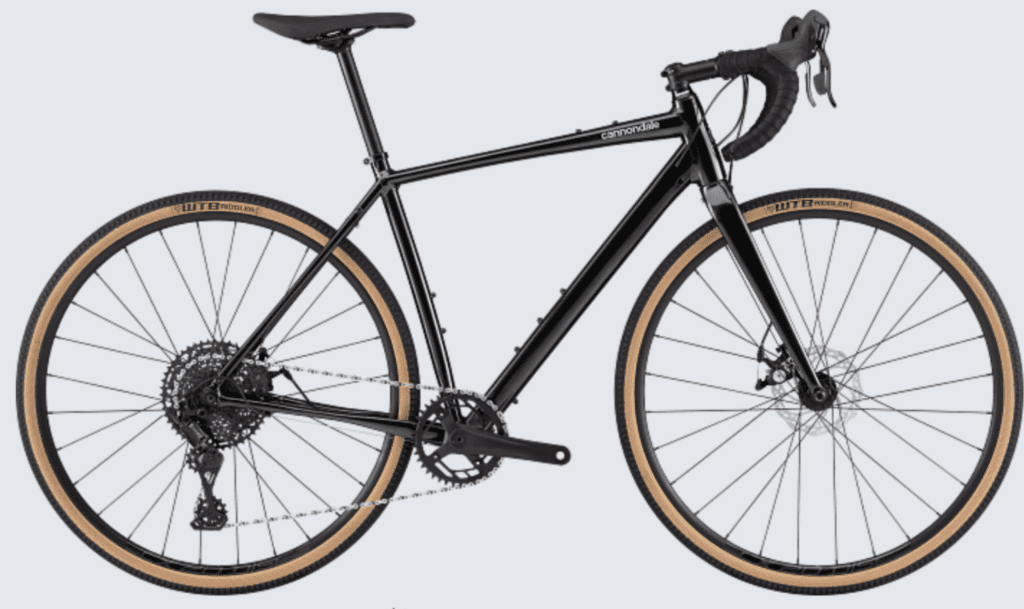 Gravel bikes can have rim brakes, just like road bikes. At the same time, I highly recommend disc brakes. Disc brakes are far more reliable and smoother– which you may need on trails. Mechanical brakes you can get by with, even if I prefer hydraulic brakes. Mechanical brakes work with friction and direct force on the wheels, while hydraulic brakes use fluid to stop your bike.
While hydraulic brakes are easier to work with, in some ways, gravel riding isn't the most important riding for smooth braking, so long as it's effective. In short: skip rim brakes, and decide if mechanical brakes or hydraulic brakes make sense for you. 
 Are 38mm tires good for gravel?
38mm tires are reasonable for gravel and a variety of terrain. Still, the most desirable tire size for a gravel bike is around 40 to 42mm. This tire size provides a great balance of stability and control while not being as bulky as mountain bike tires. While narrower tires are quicker, speed isn't everything when it comes to gravel.
I recommend not going much below 38mm, especially if you're new to gravel biking. For tire tread, look for large side knobs and a fairly smooth center. This provides traction for loosely packed terrain and still provides nice rolling power. 
What is the benefit of a dropper post?
Some gravel bikes have a dropper post. A dropper post allows you to seamlessly adjust the seat post with a lever. This can be done while riding if you face an unexpected obstacle. It provides flexibility for speed and traction and, in my opinion, is well worth it for gravel riding– though not an absolute necessity. 
How do I choose a gravel bike saddle?
For a gravel saddle, you're looking for a balance of comfort and performance. A gravel side should provide fuller coverage than performance road bike saddles. However, it need not be as wide and generous as a mountain bike saddle. Nylon or similar synthetic material is a great option, as it's weather-resistant. Shock absorption, front grip, and an ergonomic orientation are also great features. A cut-out provides ventilation and water drainage in some cases. 
Do gravel bikes have wider handlebars?
Gravel bike handlebars are a bit wider than road bikes, but they shouldn't be too far from shoulder width. Look for a slight flare at the ends, as well as grips for greater control and stability. Some gravel bikes have double handlebars, which presents the advantage of providing a rigid bar and a more flexible bar for a balance of comfort and stability, but greater control for drops. 
How do you select a gravel bike in geometry?
Geometry is important for most bikes- and especially for something like a gravel bike. One way to look at it is to compare it with a road bike. Compared with a road bike, your wheelbase distance should be greater. The frame should be slightly curved near the front. The bike should be oriented for an upright riding position. You're also working with a relatively lower bottom bracket. 
Which bicycle frame is the best?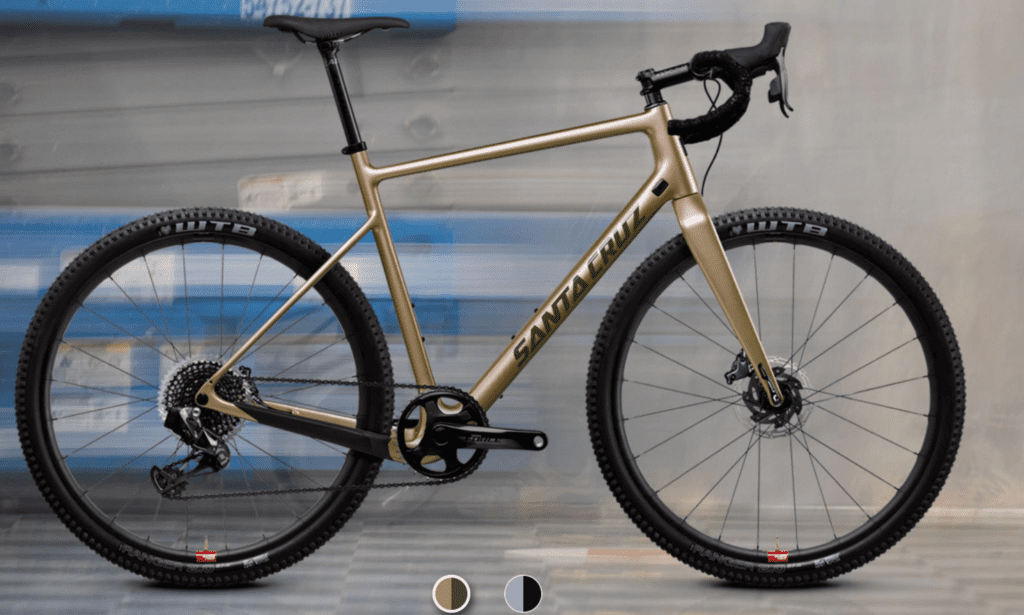 The best frame needs to be durable. Gravel can damage bikes– and this is where it gets trickier. Aluminum is tempting, as it's economical and lighter than some options. It is rust-resistant, which is also great for a bike that'll be out in inclement weather. The problem is that aluminum is prone to damage, such as dents and nicks. If you're riding on gravel, you can imagine that your bike will become damaged, perhaps much quicker than you'd like. 
Carbon would be my top pick for a gravel bike. It's lightweight, durable, and, unlike steel, weather-resistant. It is pricey, but I think you're getting more for your money. If this is your second gravel bike or you want to splurge, titanium is always going to be an excellent choice as well. 
Should you put fenders on a gravel bike?
Fenders, also known as mudguards or rails, are some of the best gravel bike accessories. These gravel bike accessories keep mud and debris off you and your bike as you ride. Is it a 100 percent must-have? Like most gravel bike accessories, I wouldn't consider it 100 percent needed– but it is a great feature. 
Is Cannondale a decent brand?
Now that you know how I'm reviewing the Cannondale Topstone 4, I want to start with a quick review of Cannondale as a brand. Is it any good, or just a well-known brand? Cannondale is known for relatively lightweight frames, thoughtful assembly, and only producing small numbers of bikes at a time. It's a solid brand for casual road and trail enthusiasts and a decent option for a variety of bikes. 
While you can find some well-priced, mid-range bikes, there are a few higher-end options. The most expensive Cannondale bike is the Cannondale Scalpel- SI Black, which retails for over $12,000.
Why are Cannondale bikes expensive?
While Cannondale isn't the most expensive bike brand, it is more expensive compared to other competing brands. Cannondale bikes are expensive because they aren't produced in bulk but relatively small amounts at a time. They also often feature bike accessories and extras that add to the cost and unique colors or designs.
Who owns Cannondale?
Cannondale is owned and operated by Dorel Industries. Dorel Industries was founded in 1987 and is based in Montreal and sells home goods, goods for kids, and bikes. (Dorel Sport was founded in 2004 when bikes started being manufactured). 
Are Cannondale bikes USA-made?
Cannondale bikes are manufactured in Taiwan, not made in the USA. Some assembly and parts are handled within the United States or Canada. 
In Review: Is Cannondale Topstone 4 Worth It?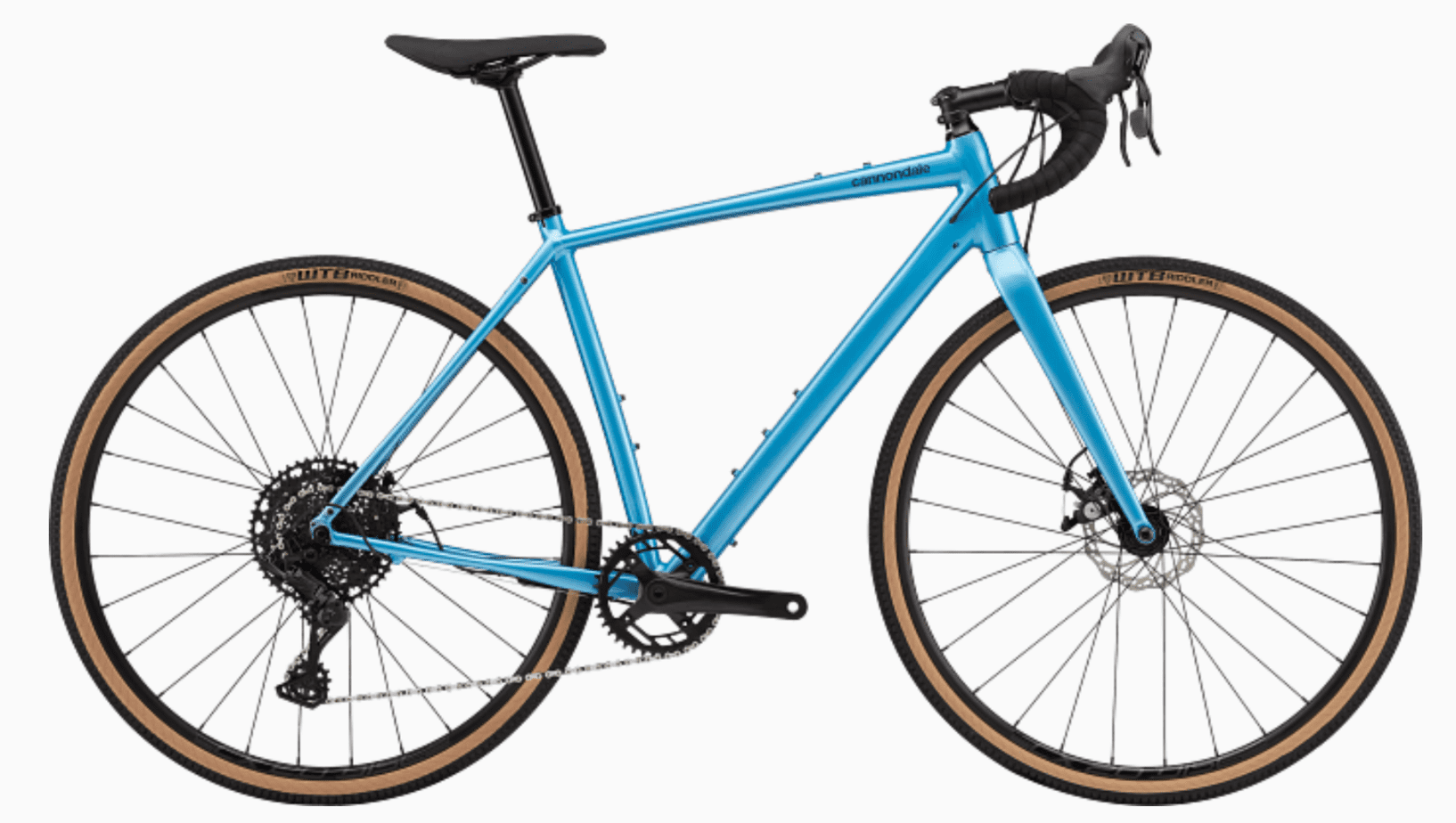 Cannondale Topstone 4 is marked as a versatile, lightweight ride for both road and gravel riding. The kind of bike is technically a gravel road or adventure bike. It's even touted as a bike you can use for commuting, with a combination of comfort, acceleration, and traction. In many ways, Cannondale Topstone 4 seeks to target someone who wants a bike for pretty much everything, aside from mountain biking. But how does it fare as a gravel bike, and is it as versatile as it claims to be? 
How much does a Cannondale Topstone 4 weigh?
The 2021 Cannondale Topstone 4 weighs around 23.6 pounds, compared with 21.6 pounds for the 2020 Cannondale Topstone 105. For most, the ideal gravel bike is around 21 to 23 pounds, so, without accessories, Cannondale Topstone 4 is on the upper end of the ideal range. It's still lightweight enough to accelerate but provides stability. Still, being marketed as lightweight is only partially true. It's lightweight as a bike but not especially lightweight for a gravel road bike. 
What size Cannondale Topstone 4 do I need?
Ensuring a great fit is essential regardless of the bike you buy. Note that Cannondale bikes are unisex and use standard frame sizing. You'll select your bike size based upon your standover height. If you're not sure of the correct size for you, Click Here for the Cannondale Sizing Guide. 
What colors does the Cannondale Topstone 4 come with?
Color shouldn't be a determining factor in buying a gravel bike or not, but it's worth mentioning. Cannondale Topstone 4 comes in two colors: black and dusky blue. Blue Cannondale Topstone 4s are the most searched for and stand out if you want your bike to be visible, while the black model hides dust, dirt, and debris more effectively. 
Is Cannondale Topstone 4 good for bike packing?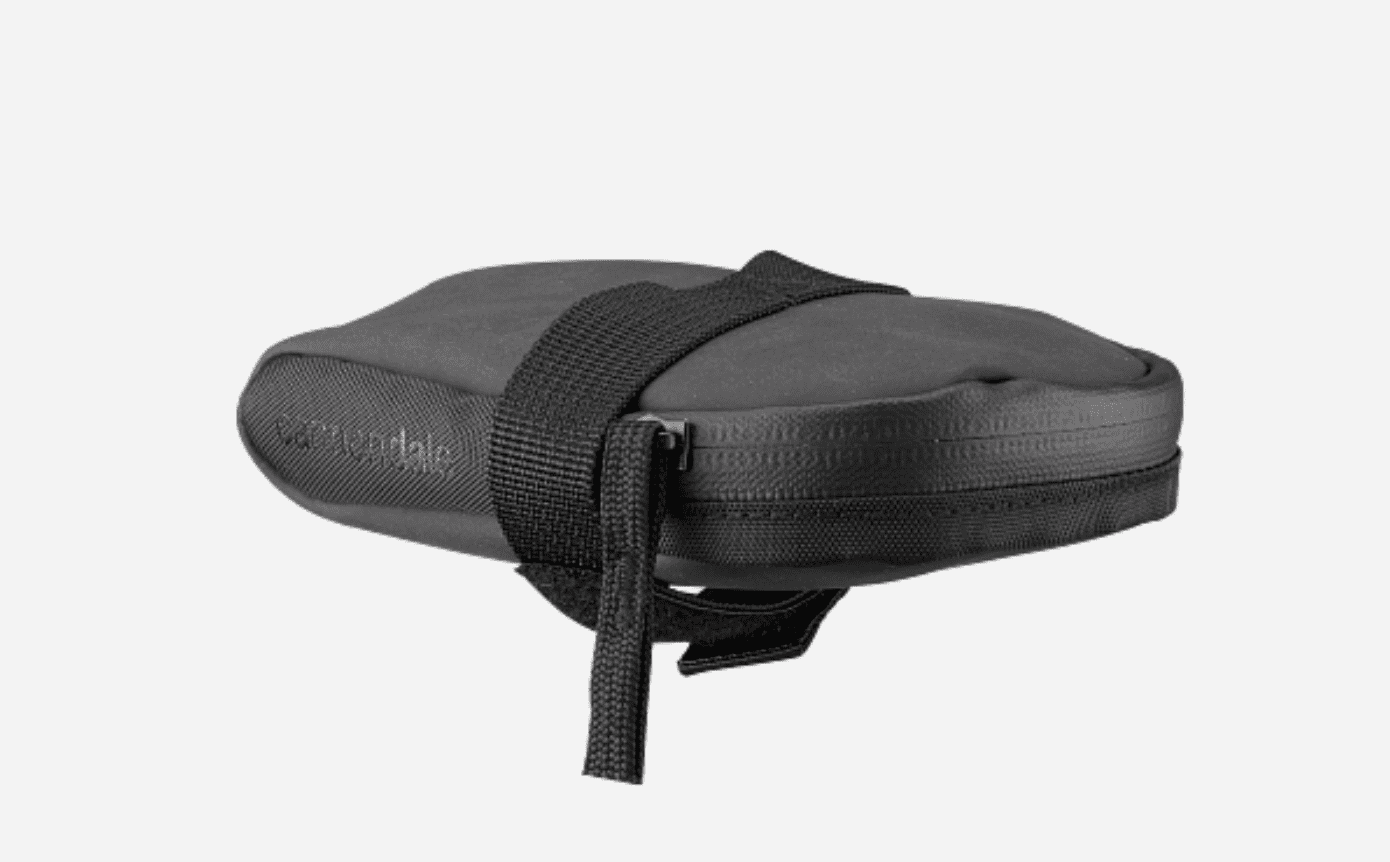 One way Cannondale Topstone 4 is good for backpacking is not only with its balance of comfort and stability, but also the option to add on some great accessories. Optional accessories include a saddlebag, 15-degree Seatpost offset for enhanced versatility, silicone bar tape to strap on things as needed, and bottle cages. 
Does Cannondale Topstone 4 ever go on sale?
The only way you're going to snatch Cannondale Topstone 4 on sale is if you buy a used bike. It's a little pricey, especially if you add accessories, but you should consider the overall value, not just the sticker price. Cannondale Topstone 4 is usually in stock, but you may occasionally have to wait for your size or color. 
What is the Cannondale Topstone 4 frame made out of?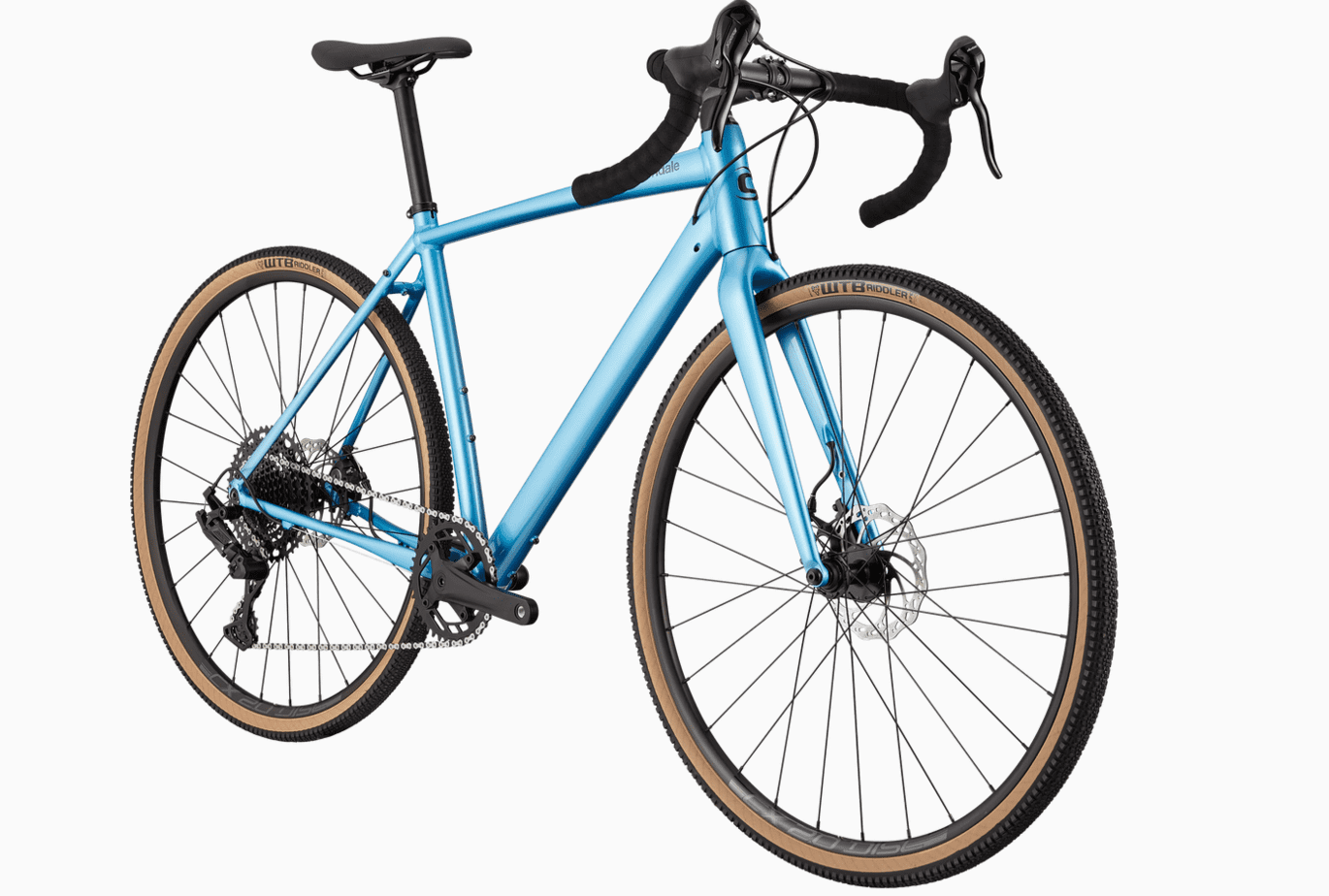 Cannondale Topstone 4 pairs an aluminum frame with a carbon fork, which is an interesting choice. Likely they're trying to pair elements of popular road bikes with gravel bikes. I wish they'd opted for a full carbon frame– or an aluminum fork and a carbon frame. The frame is where damage can easily be inflicted. While both materials are weather-resistant, an aluminum frame simply isn't going to last as long for gravel riding. 
What are the dimensions of the Cannondale Topstone 4?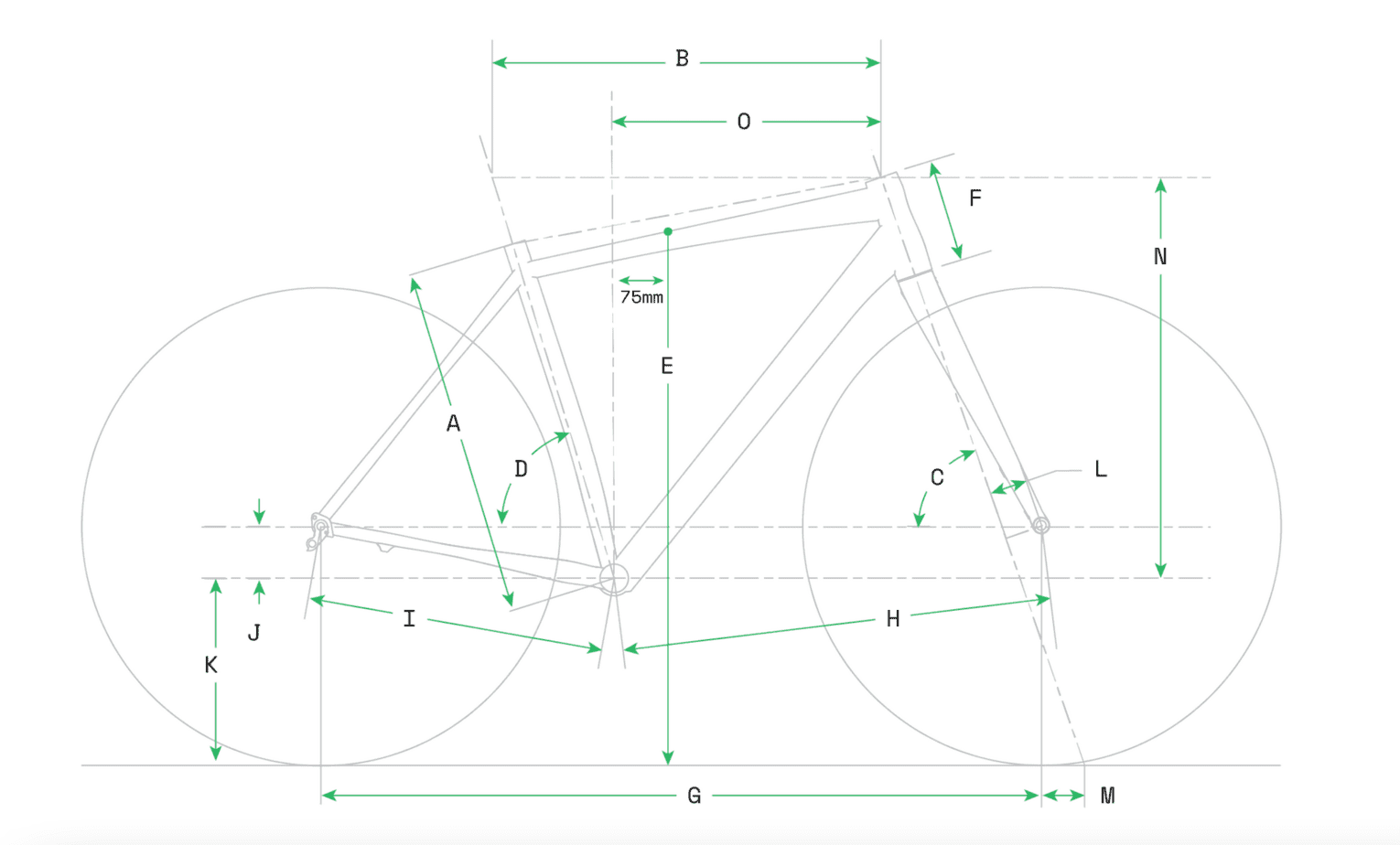 Looking at the dimensions of Cannondale Topstone 4 brings to light how it fares in terms of geometry for a gravel bike. You're looking at a respectable handlebar width with a 16 deg flare drop. The cartridge square bottom bracket is suitably situated for a gravel bike. The fork measures 1-1/8" to 1-1/4" for the steerer with a 55mm OutFront offset and a 12 by 100 axle.
The integrated headset measures at 1-1/8" – 1-1/4", and the stem is at a 7-degree angle. The seat post measures 27.2 x 350mm. These dimensions lean more towards a gravel bike but have touches of road bike versatility. For reference, a road bike stem is optimal at about 10 degrees. 
Is Cannondale Topstone 4 tubeless-ready?
Cannondale Topstone 4 features a suitable 700c wheel size and ships with WTB Riddler Comp, 700 x 37c. These wheels can be used for trail and road riding, with a moderate read for gravel. It features inner tubes- and is not tubeless. In addition, consumer reviews are fairly mixed, and there are no stand-out features, such as puncture resistance. You can expect tire clearance of around 6 mm. 
 You do have the option to upgrade with a HollowGram 45 SL KNØT Wheel 142×12 Shimano, which adds more than $1,000 to your price point. This is a tubeless compatible option, with a full carbon rim and the ability to perform on multiple terrain types. It's much more efficient, speedier, and has puncture-proof technology. A puncture-resistant tire is going to be a big factor in durability for a gravel bike. 
What headset does Cannondale Topstone 4 use?
You're getting an integrated headset with Cannondale Topstone 4. An integrated headset is good for aesthetics: it provides a clean design. The difference between an integrated and semi-integrated headset is that semi-integrated features a lip that hangs over both the top and bottom.
The problem with these two headset designs is that they are both based on a bearing system, which can wear out from harsh conditions. That isn't to say this is a terrible headset, just not ideal for gravel riding. While there's a little room for headset adjustment, I don't recommend seeking how to remove the headset– you're best deciding if it's a feature that does or doesn't work for your needs. 
How many gears does the Cannondale Topstone 4 have?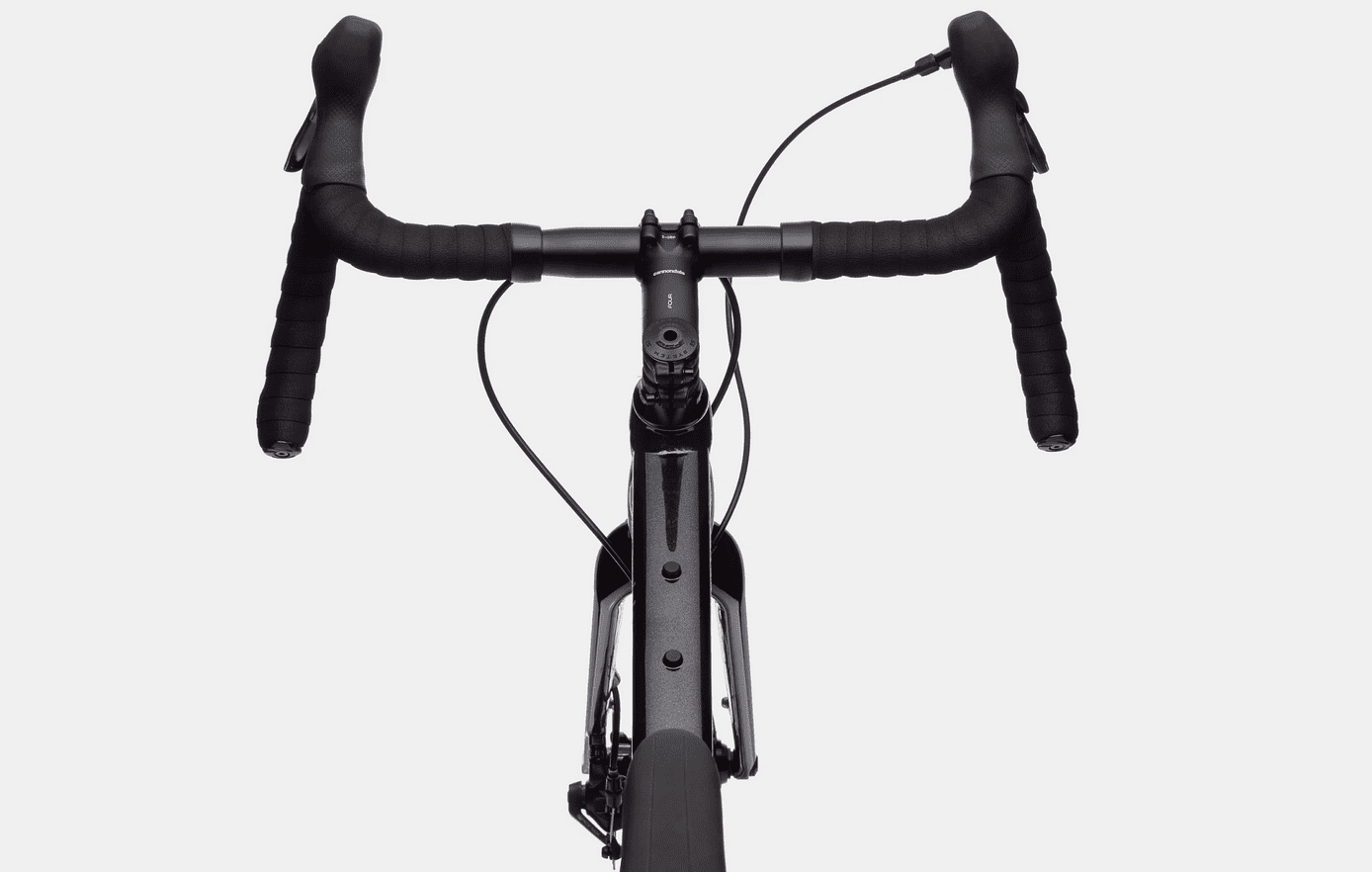 Cannondale Topstone 4 ships with a microSHIFT Advent X for its groupset and a 1 by 10 drivetrain. The gear range permits up to 31 miles per hour, compared with Cannondale Topstone 105, which can get up to 36 miles per hour and features a 2 by 11 drivetrain. The gears and groupset are suitable but also a little limiting. If this is your first gravel bike, it's fine, but it's not likely to be an upgrade for most. 
What is the Cannondale Topstone 4 saddle?
Cannondale Topstone 4 features the Cannondale Stage CX for its saddle. There's precious little information about this saddle or reviews, but the seat is a bit wider than a road bike– and still rather.
The emphasis appears to be on efficiency a bit more than comfort, with suitable support for pressure points but no special features. The synthetic cover is a reasonable solution for braving different conditions. The seat post is much more rigid than it is flexible. 
What type of brakes does the Cannondale Topstone 4 have?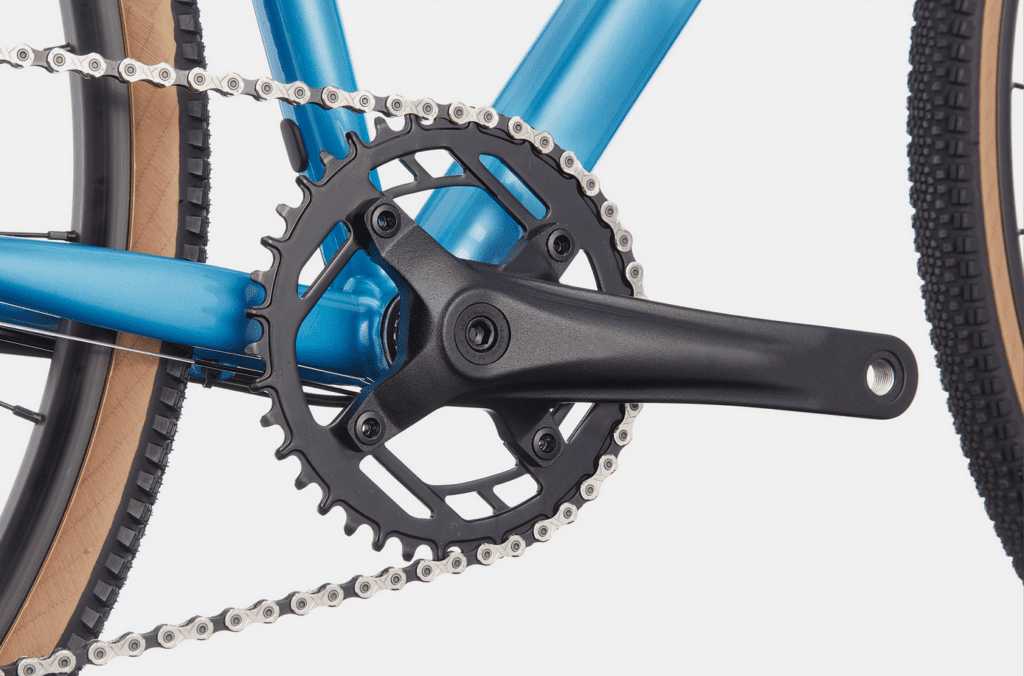 I'm pleased to see that Cannondale Topstone 4 features disc brakes, which I consider a must for gravel bikes. That said, they are mechanical brakes, not hydraulic brakes, as Topstone 105 has. The mechanical brakes are Promax Render R, with 160-160 mm rotors. These brakes are strong, if not quite as smooth, and suited for off-road biking. 
What handlebars does Cannondale Topstone 4 have?
The handlebars on Cannondale Topstone are a 4 butted 6061 alloy, 16 deg flare drop. The 6061 alloys are made out of magnesium, aluminum, and silicone. They are a stronger option than the common alternative, which is a 7005 alloy. The flared bars provide more control than a standard drop handlebar. They also are equipped with grips for comfort and control. 
Does Cannondale Topstone 4 have suspension?
Cannondale updated their gravel bikes in 2021 to include rear shock suspension. This is a nice upgrade and provides a more comfortable ride, with shock absorption but without the extraneous weight of a full-suspension bike. 
What are Cannondale Topstone 4 pedals?
Unfortunately, Cannondale Topstone 4 comes without pedals. I recommend Shimano M520/ M540 or Shimano. XTR M9100 for solid gravel bike pedals. 
Does the Cannondale Topstone 4 have any reported issues?
There are no safety concerns or any serious issues linked with Cannondale Topstone 4. It should be noted that it doesn't rank as highly as some other Cannondale Topstone bikes. Still, it is fairly liked amongst consumers, earning an average of between 4 to 5 out of 5 stars. It's notably easier to ride uphill than some gravel bikes and is a bit cheaper. 
Which Cannondale Topstone is best?
I want to round out my review of Cannondale Topstone 4 with a brief discussion of other Topstone models. While I won't compare all models (for instance, there is a Cannondale Topstone Neo Carbon 2 Speed Electric Bike – 2021).
Instead, I want to show you the main differences between Cannondale Topstone bikes intended for similar gravel biking purposes. You can see a brief comparison of different models in the table below. 
Cannondale Topstone Carbon Ultegra RX
Cannondale Topstone 105 (2020)
Cannondale Topstone 4 (2021)
Cannondale Topstone Carbon 2 

Carbon Frame

Aluminum Frame

Aluminum Frame

Carbon Frame

Hydraulic Brakes 

Hydraulic Brakes

Mechanical Brakes

Hydraulic Brakes

700 c Wheel Size 

700c Wheel Size 

700c Wheel Size 

700c Wheel Size

Dropper Ready 

Dropper Ready

Dropper Ready 

N/A

2 x 11 Drivetrain 

2 x 11 Drivetrain

1 x 10 Drivetrain

1 x 11 Drivetrain

Shimano Ultegra RX  Derailleur (Rear Shock Suspension) 

Shimano 105 Derailleur (Rear Shock Suspension)

microSHIFT Advent X (Rear Shock Suspension)

Shimano GTX 800 Derailleur (Rear Shock Suspension)

Fabric Scoop Radius Sport Saddle 

Fabric Scoop Radius Sport Saddle 

Cannondale Stage CX Saddle 

Fizik New Aliante R3 Saddle

Buy Here 

Buy Here

 

Buy Here

Buy Here

 
Of these Cannondale Topstone models, I think the Carbon Ultegra RX and the Cannondale Topstone 2 both hold an edge for several categories. You get a sturdy carbon frame, greater gear range, and well-respected derailleur. I prefer the saddle choice, with a fabric scoop that's designed for comfort and performance from the Ultegra.
The scoop design naturally adheres to your body's movements and is suited for long and rocky rides. And you're still getting that rear shock suspension, only with a better-known manufacturer. All told, it depends on if you think spending more is worthwhile. Still, I do find the Carbon Ultegra RX superior vs Cannondale Topstone 4. 
If you can't find the Ultegra, the Carbon Topstone 2 is another great choice. You pay a bit more, but I do think both bikes are an upgrade vs Cannondale Topstone 4. The 2's advantage is also the multifunction positioning on the top tube and tube seat. 
Frequently Asked Questions
Question: Is Cannondale Topstone 4 good on the road?
Answer: Cannondale Topstone 4 is suited for both road and gravel. It's versatile off, with the ability to accelerate but also with ample control. It's not as zippy as a road bike since it's a gravel bike, but it'll still be suited for road biking. 
Question: What happened to Cannondale bikes?
Answer: Nothing in recent years has happened to Cannondale bikes. In 2003, Cannondale filed for Chapter 11 bankruptcy, but issues haven't been reported since then. Cannondale has become a well-known and respected bike manufacturer with operations in the USA, Canada, and manufacturing in Taiwan. 
Question: What does a Cannondale Topstone Carbon 2 weigh?
Answer: Cannondale Topstone 2 features a carbon fork and frame and weighs a light 19 pounds and 6.4 ounces. It's tubeless-ready, with 700c wheels, a 16 deg flare drop handlebar, and Shimano GRX 800 hydraulic discs. See the Cannondale Topstone Carbon 2/ Buy Here. 
Question: Which bike is best for adventure?
Answer: Adventure bikes are seen as bikes you can use for roads and trails. Thus, gravel bikes are often referred to as adventure bikes. They balance comfort and versatility, with a more generous grip on the tires for off-road but without the full suspension or bulk of many mountain bikes. 
Question: Why are gravel bikes so expensive?
Answer: Gravel bikes are expensive for several reasons. For one, they're crafted with specialty materials– from the flared handlebars to upright geometry. They're usually made with aluminum or carbon fiber. A carbon frame adds cost to your bike. Then, you factor in that gravel bikes are in demand and offer greater versatility when compared to a road bike. That said, most gravel bikes are less expensive than your average mountain bike, and your total cost hinges on materials, accessories, and make, as well as how new the model is. 
Question: Do gravel bikes have suspension?
Answer: Gravel bikes do not have full suspension, but some do have a rear shock. The rear shock is great for absorbing pressure as you bike over loose gravel and uneven terrain, though it'll add to your cost and the bike's weight. You don't need a full suspension, and a full suspension would detract from the versatility of a gravel bike. While technically you can add suspension to some gravel bikes, it's not always easy or advisable. Likewise, it's important to understand that you cannot feasibly convert a gravel bike into a mountain bike. 
Question: Are gravel bikes really good for commuting? 
Answer: While some Cannondale gravel bikes are marketed as good for commuting, I advise against thinking about a gravel bike as a commuting bike. Gravel bikes are suited for more gravel riding and a little road riding here and there. They do beat road bikes for commuting in terms of comfort, but the best bike for commuting is a city bike, which has the features you need and tires and suspension that's more suited for riding in a town or city. 
Final Thoughts
Cannondale Topstone 4 is by no means a bad gravel bike. The bike's geometry, rear shock suspension, high-quality drivetrain, and accessories make it a reasonable choice at a reasonable price. At the same time, I'd argue that it's not a stand-out, especially for a 2021 bike.
It'll get the job done, and you'll be able to take Cannondale Topstone 4 out for road and gravel roads. If you do purchase Cannondale Topstone 4, I recommend upgrading your tires. Buy Cannondale Topstone 4 Here. 
Final Buying Recommendations
Your most immediate buying alternative to Cannondale Topstone 4 is the Cannondale Carbon Topstone 2 or the Cannondale Topstone Carbon Ultegra RX. Both will provide you with a better value and a more lasting frame vs Cannondale Topstone 4, and both are solid options for a mid-level gravel bike. It's not so much that Cannondale Topstone 4 won't work– it's more that I think you can get more for your money and even save in the long run by spending a bit more upfront. 
And don't forget to grab some bike accessories. You can shop bike accessories directly on Cannondale's website. For a gravel bike, I recommend a simple Cannondale Trail Bike Helmet. Planning to go out for a long day? Some other helpful accessories include a Contain Saddle Bag, a 16 Degree Offset Seatpost for more versatility, and a RE Grip Bottle Cage so you can stay hydrated as you hit the trails. 
Best Alternative Gravel Bike: Santa Cruz Stigmata Gravel Bike 
If you're looking outside of the Cannondale family and have a very healthy budget, the Santa Cruz Stigmata is one of the best gravel bikes available right now.
Pros include excellent tire clearance, up to an SRAM Force eTap AXS Medium Cage, 12spd with upgrades for a derailleur, powerful brakes, a stiff but versatile carbon frame, and stability, all for a bike with most models weighing under 19 pounds. The main con is it's costly and not a must-have for someone who doesn't plan to gravel ride often. Buy the Santa Cruz Stigmata Here.