Trek 920 Review – Is it Worth the Money?
Touted as a 'go-anywhere adventure bike', my Trek 920 review is going to find out if this bike really is an all-rounder. If you are going to be paying out a couple of thousand dollars for a bike you'll want it to at least perform comfortably in a variety of situations from standard commuting to going 'off-road' and onto some trails.
So, does the Trek 920 do this? Let's find out.
Bottom Line Up Front: The Trek 920 is a quality bike for the price range it finds itself in. Ideal for long journeys on good surfaces and decent performance on gravel and uneven terrain, the 920 is an 'all rounder' to an extent. It performs well, even if it does need some tinkering to the stem and saddle.
Who is Trek?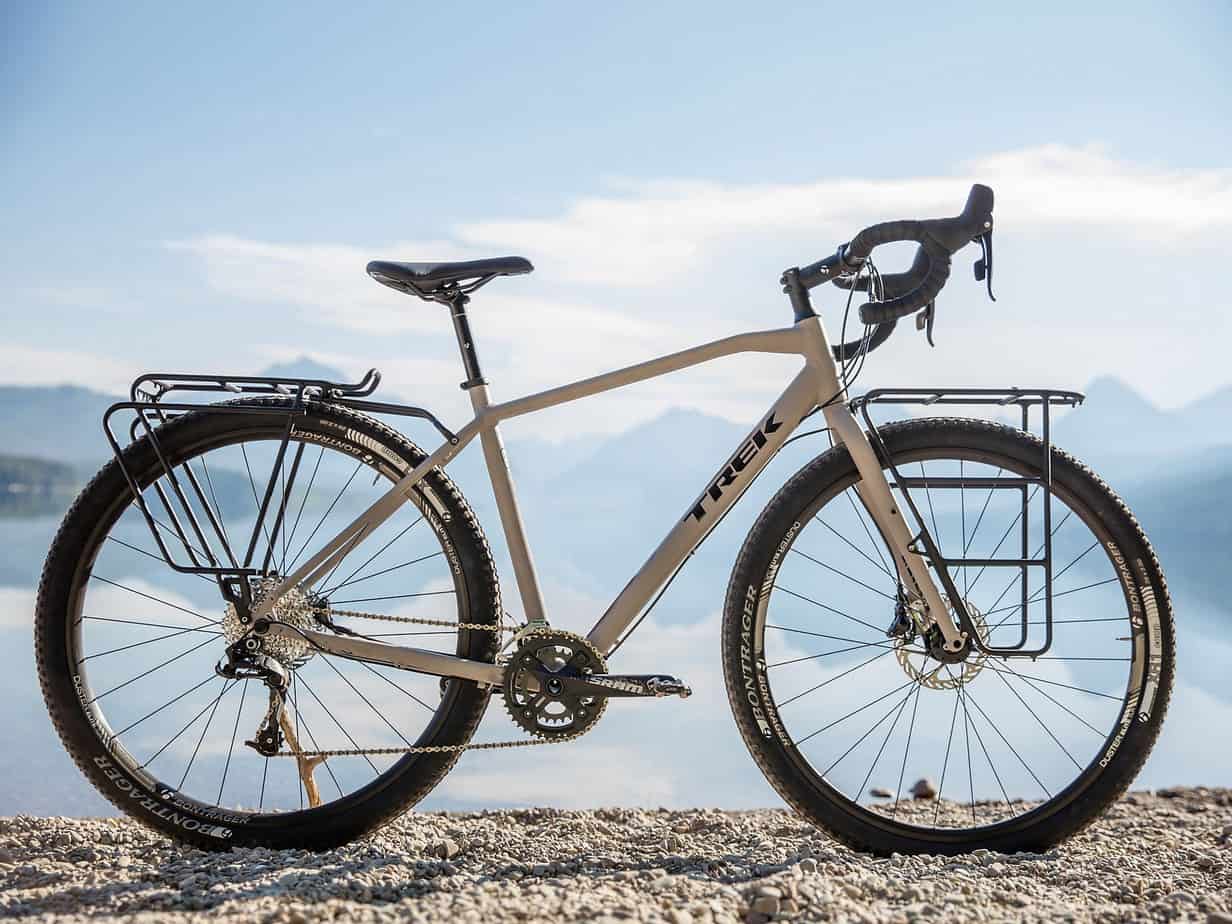 If you have bought a mountain bike before or been interested in bikes at all, you'll no doubt have come across the Trek brand at some stage.
They are one of the biggest bike manufacturers in the world. Founded away back in 1975, they've built up a truly global reach that spans across many countries. Their main base is in Wisconsin, USA, but you'll find Trek bikes being used in Europe, Asia, South Africa, and pretty much everywhere that biking is popular.
They manufacture a variety of bikes for different purposes from adventure bikes to hardtail mountain bikes so there is something for all tastes and interests. (Here check some of them you might actually like: Trek Marlin 4, Trek Marlin 5, Trek Marlin 6, Trek Marlin 7).
What kind of bike is the Trek 920?
The Trek 920 is marketed as a 'go-anywhere adventure bike' so it fits into the touring category.
This means that it is designed so it can handle a variety of different terrain from the daily commute to work across smoother roads to hit the trail where you'll encounter bumps and difficult conditions. The nature of a touring bike is that it should be able to handle long distances with durability and comfort.
You'll find out as you go through my Trek 920 review that the bike and its components have been designed to handle various types of adventures but do its features necessarily mean that this is an all-rounder?
The Main Features of the Trek 920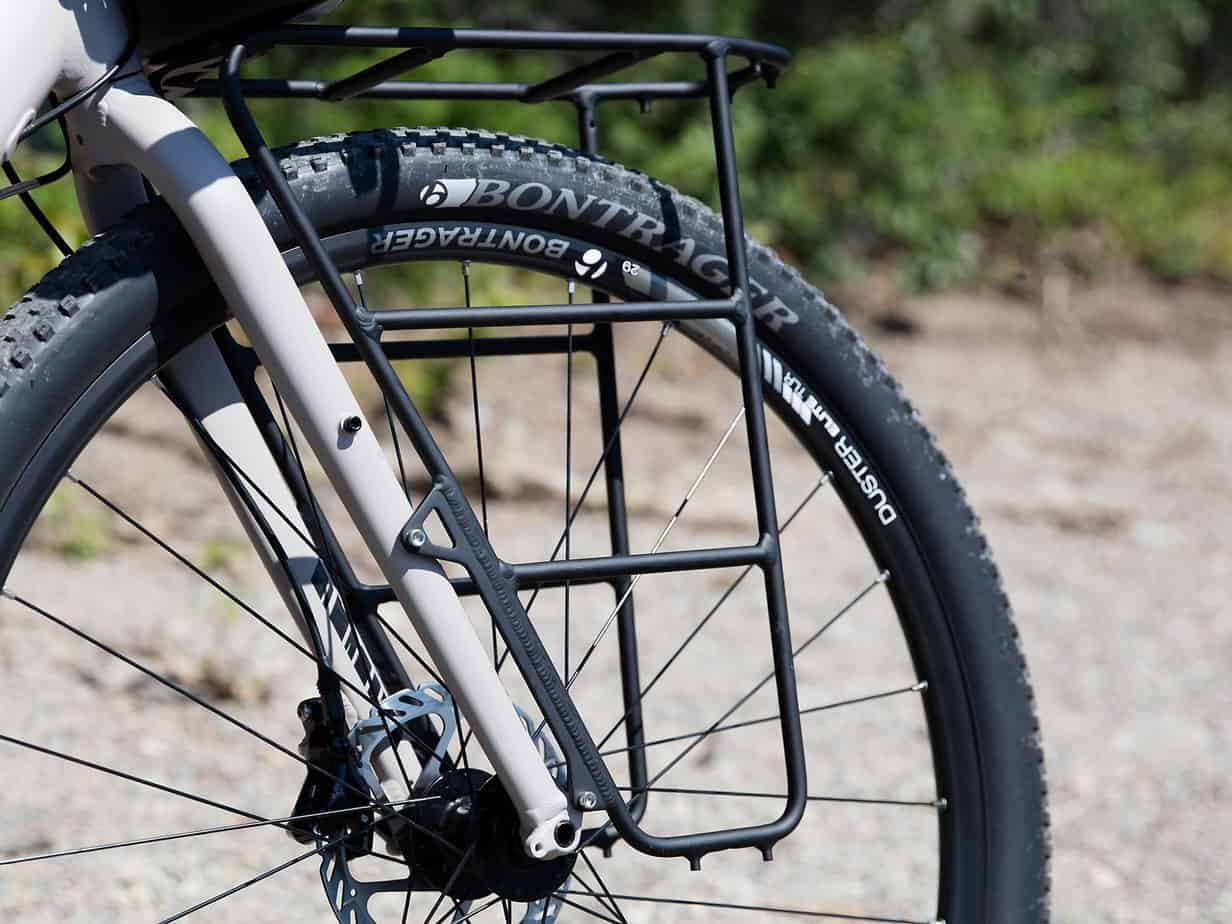 What is the Trek 920 frame made from?
The frame on the Trek 920 is a 100 Series Alpha aluminum frame.
Aluminum was really the default frame of choice for a long time before carbon came along and became more accessible to manufacturers. The advantage that an aluminum frame like the one on the Trek 920 has is that it's less expensive than a carbon frame. If you're looking to save some bucks on a new bike then choosing an aluminum frame is usually a good starting point.
That being said, aluminum frames and the 100 Series Alpha aluminum frame that is on this bike are durable. They should last a long time even if you are regularly going off-road with this bike. The frame also comes with thru-axles, internal cable routing, and a bent top tube.
What about the wheels?
The wheels that you'll find on the Trek 920 are Bontrager Duster Elite, Tubeless Ready, and 100x15mm thru-axle on the front and Bontrager Duster Elite, Tubeless Ready, 142×12 thru-axle on the rear.
You can fit up to 29×2.25" tires on the 920 if you wish. With the scope for adding wider tires onto this bike, it should add to the overall comfort of your ride as well as increasing the type of terrain it can handle.
I've found the tires on the Trek 920 to be able to offer a smooth ride both on flat roads as well as gravel trails and if you want to add other mountain bike tires you can.
What brakes does the Trek 920 have?
The bike comes with TRP Hylex hydraulic disc brakes. They provide good stopping power in a variety of conditions from dry and sunny days to wet and muddy terrain.
Even with the extra weight that you'll be carrying if using this as a touring bike, the brakes should perform very well. As far as mountain bike brakes go they're certainly not the worst out there.
In fact, the hydraulic disc brakes don't exactly require a ton of maintenance either – unlike the mechanical disc brakes – so that is an added bonus.
Does it have any other features?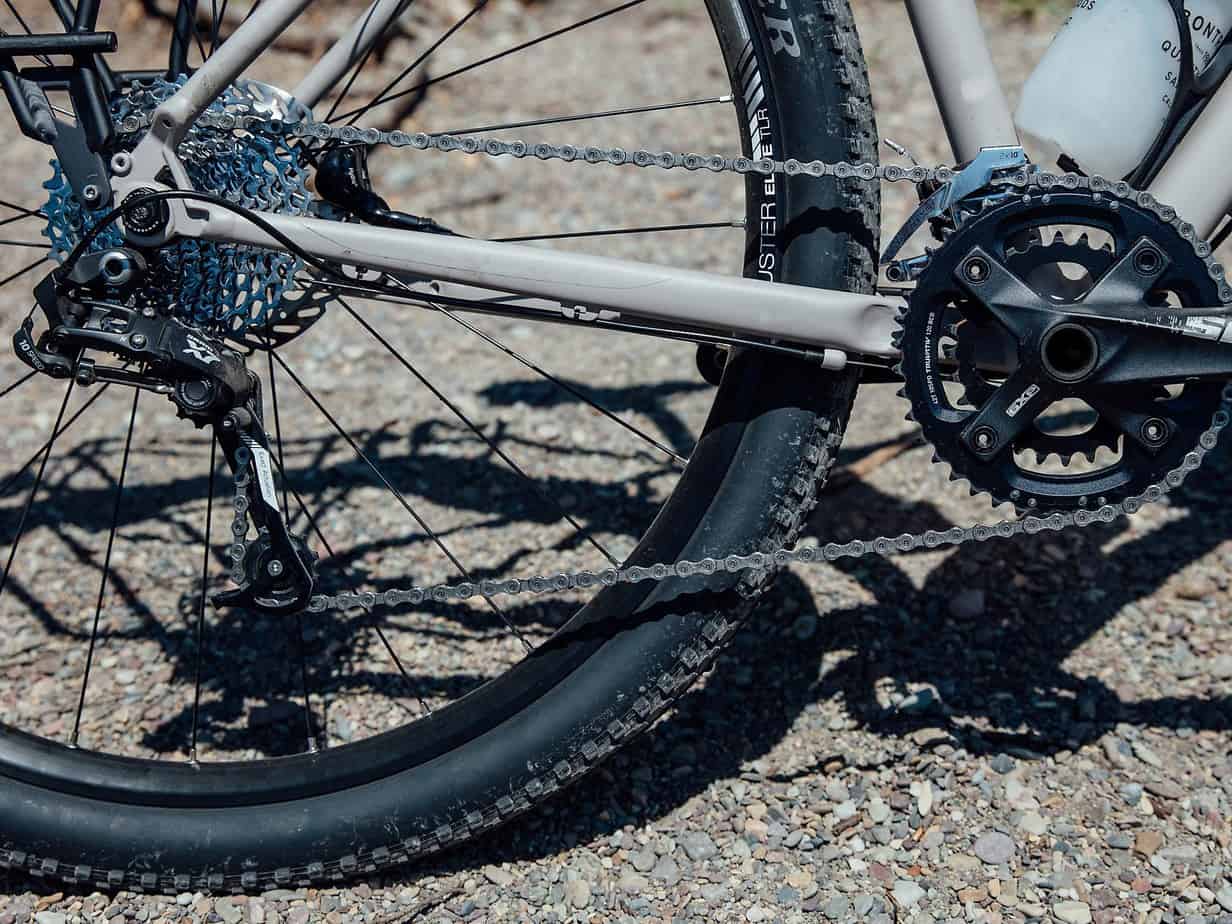 There are a few other features of the Trek 920 that I need to go over with you. It has a SRAM S700, 2-speed Drivetrain, and SRAM S700, 10-speed shifters so you'll be able to pick up decent speeds on this bike.
The range of gears also means that its designer for touring as well. The Bontrager Evoke saddle isn't the most comfortable and you'll find that many people tend to replace the stock version with something a bit better and more suited to long-distance rides.
The Trek 920 comes in a range of sizes too from 49cm to 61cm so you should be able to get a size to suit you. The default color is Matt Sandstorm which looks really sleek and definitely gives it an aesthetic edge over some other bikes in the same category. You can potentially get up to 6 water bottles on the bike which further enhances its reputation for long-distance journeys.
How does the Trek 920 perform?
The main purpose of the 920 is as a long-distance touring bike however it is also touted as being able to handle a variety of different terrain too.
It has what you need for a touring bike and you'll get a comfortable ride over long distances. The gear range also helps to hit a good speed while the fact that it has a 136 KG maximum weight further enhances its reputation as an adventure bike that you can head off on for hours (if not longer) at a time.
The wide tire clearance helps with comfort and stability so it can perform fairly well on less than ideal roads and trails where you're going to hit a lot of bumps and uneven ground.
The aluminum frame can contribute to a somewhat harsh ride at times and there is a preference towards steel on long-distance and carbon for off-road adventures however I felt the Trek 920 performed well across a variety of surfaces.
What are the specs of the Trek 920?
Find the main specs of the Trek 920 below.
| | |
| --- | --- |
| Frame Material | 100 Series Alpha aluminum w/rack + fender mounts |
| Bike weight | 12.89 kg |
| Wheel Size | Bontrager Duster Elite, Tubeless Ready, 29×2.0″ |
| Brakes | TRP Hylex hydraulic disc brakes |
| Drivetrain | 2×10 SRAM X7 Mountain Drivetrain |
| Saddle | Bontrager Evoke 1.5 |
Will I get a warranty with the Trek 920?
You will get a lifetime warranty with the Trek 920 (for the original owner) and this covers the frame. There is between a 1 and 4-year warranty included on the other parts of the bike too.
What's the price range of the Trek 920?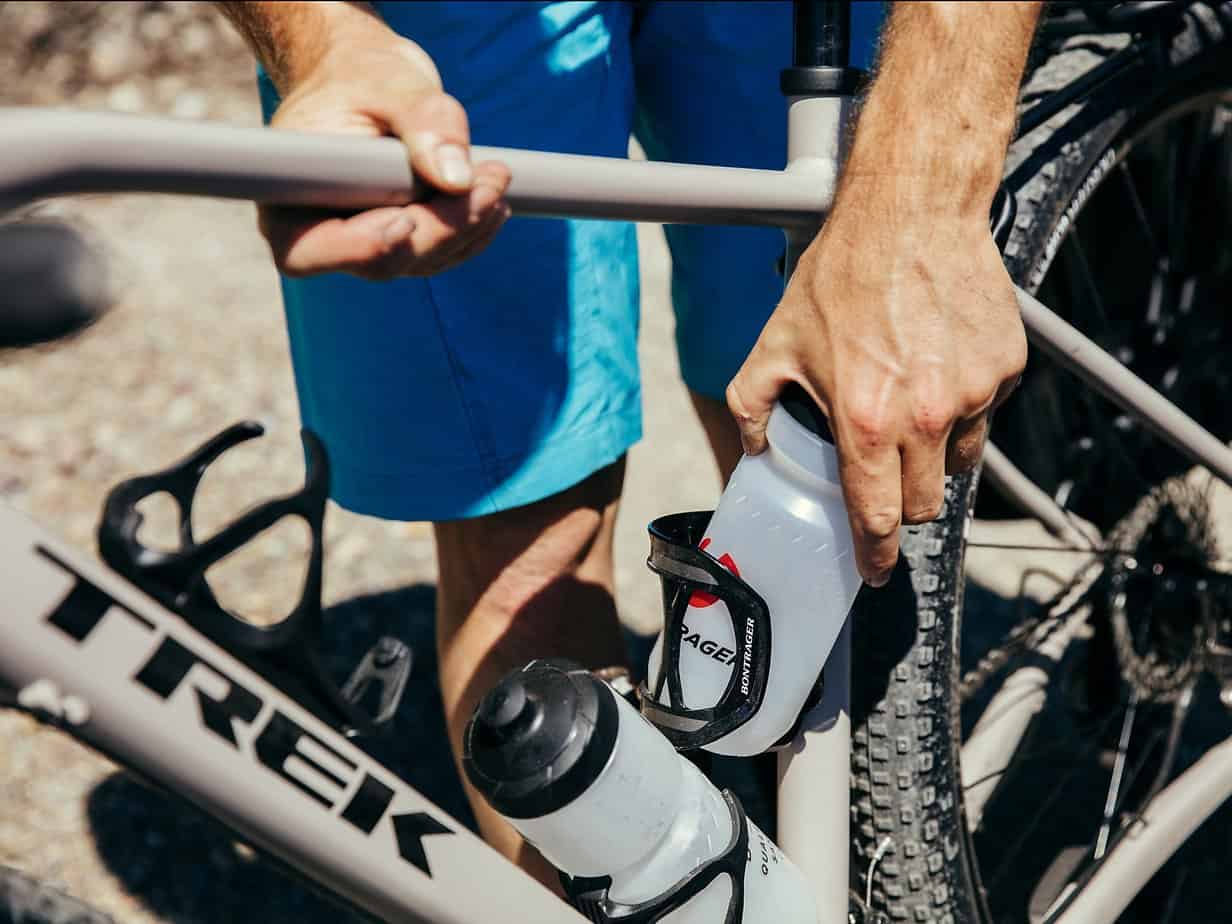 The Trek 920 comes in $2,099.99 so ever so slightly over the $2000 mark.
There are cheaper options out there but the value for money is pretty strong with this bike. As a long-distance touring bike that also has the capability for gravel trails and off-road pursuits, the Trek 920 is set in a good price range for beginners and experienced mountain bikers.
If you are looking to spend a bit of money on a bike but don't want to enter the really high end of the market, the Trek 920 fits the bill.
Trek 920 is suited for people who…
Prefer a bike that uses an aluminum frame
Need a bike for long-distance journeys with occasional off-road trails
Want to carry a lot of water bottles with them
Have a bit of money to spend without going into the high-end price bracket
Trek 920 is not suited for people who…
Don't like aluminum frames on long-distance biking
Don't want to make any alterations to the stock components
Want a bike to use on gravel trails and tricky terrain all the time
What do users think of Trek 920?
The Trek 920 has received an abundance of positive feedback albeit with a few concerns mainly around the stock stem length and the saddle.
The stem length has been said to be too long for the average rider with the 58" version coming in at 110mm. A lot of people replace the stem with the smaller part which has helped with rider fatigue and overall control. The saddle is another part that is often replaced on the 920 for something a little bit more comfortable.
That being said, overall the Trek 920 has been praised for its all-round approach. Its tires, brakes, drivetrain, and potential for up to 6 water bottles, on sizes 56cm and above, means that it is ideal for long distances as well as shorter off-road pursuits.
The Pros and Cons of the Trek 920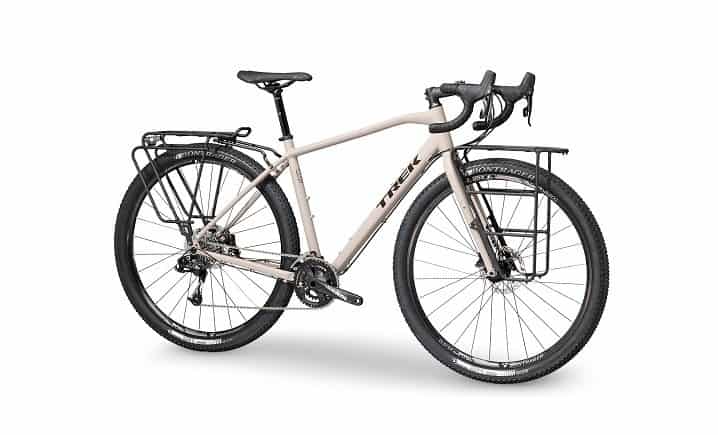 Pros:
The high-quality bike is made from aluminum construction
Provides good value for money
Ideas as a touring bike that can handle some off-road pursuits
Capacity for up to 6 water bottles on sizes 56cm and above
Powerful stopping with hydraulic disc brakes
Decent speeds and comfortable ride
Cons:
The saddle can be uncomfortable so is often replaced
The stem is too long and will probably need to be changed
Maneuverability is impeded due to the design of bar-end shifters
FAQs About Trek 920
What is the Trek 920 frame made from?
This bike uses an aluminum frame.
What tires can I fit on this bike?
The Trek 920 has tire clearance up to 2.0" rubber with fenders or you can fit up to 2.3" without fenders.
Can I use this bike on gravel trails?
The Trek 920 can perform well on gravel and uneven trails. It is designed as an all-rounder touring bike.
What warranty will I get from the Trek 920?
As the original owner, you will get a lifetime warranty for the frame and other parts come with between a 1 and 4-year warranty.
What sizes are the Trek 920 available in?
The bike is available in 49, 52, 54, 56, 58 and 61cm sizes.
What are the best Trek 920 alternatives?
#1 Trek 520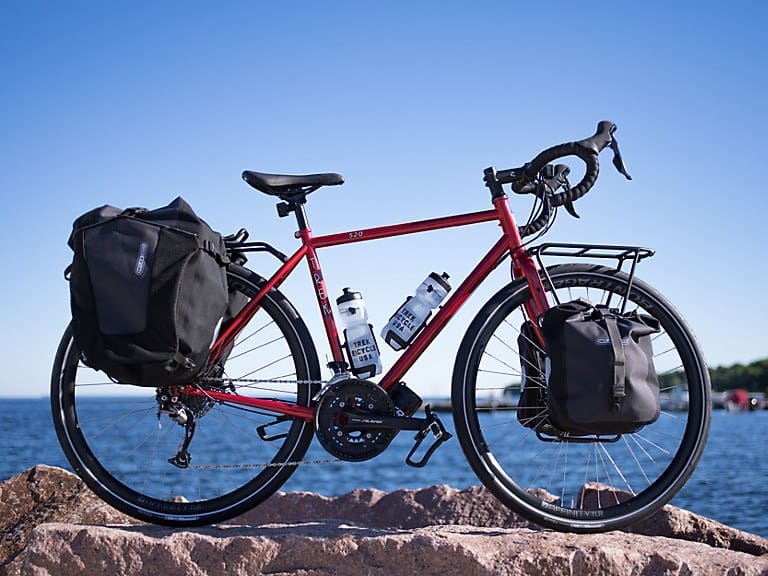 The Trek 520 comes in a shade cheaper than the 920 – it costs $1,679.99 – and it commands some thought as an alternative to the 920.
Frame
If you are a steel frame fan then the 520 will suit you as it comes with a Chromoly steel frame that offers durability and a smooth ride over long distances. It is slightly heavier than the 920 comings in at 14.26 kg. It can handle loads of up to 125 kg.
Tires
The Trek 520 uses Bontrager H1 Hard-case Ultimate, 700x38c with reflective sidewall tires. They provide a good cushion against bumps and uneven surfaces while still allowing you to pick up speed.
Other Features
The Trek 520 has a Shimano Sora R3000, 9-speed drivetrain, and TRP Spyre C 2.0 mechanical disc, 160mm rotor brakes. The bike is ideal as a slightly cheaper alternative to the 920 and does come with a fairly similar spec although the 920 is able to handle more weight. If you are a fan of steel with a bike that can handle long distances while offering a comfortable ride then the Trek 520 is worth your consideration.
#2 Giant Toughroad SLR 2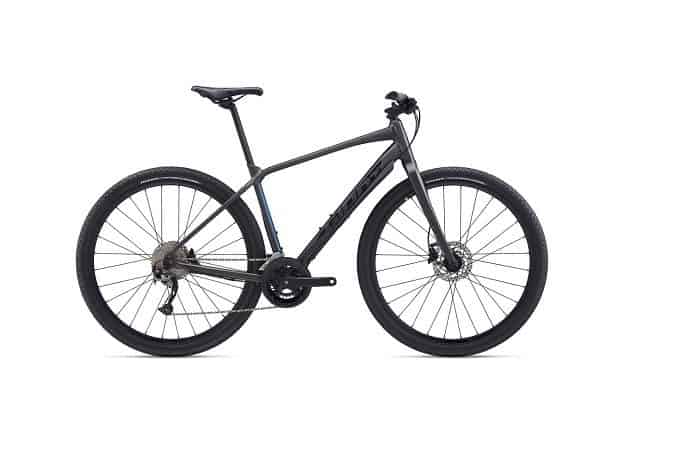 For another cheaper alternative to the Trek 920, the Toughroad SLR 2 from Giant is a dependable bike that can handle a variety of terrain too.
Frame
The Toughroad SLR 2 comes with a lightweight aluminum similar to the 920 and it also features a lightweight design which is great for touring. Its integrated rack mounts also help to load the bike over short trails or over a long distance.
Tires
The Toughroad SLR has Giant Sycamore S, 700×50, FlatGuard Deflect 2 tires, and the tubeless design means you'll get a smooth ride and be able to handle most types of surfaces.
Other features
The bikes have Shimano BL-MT201 hydraulic discs which provide adequate stopping power in a range of different biking conditions from dry hard roads to soft muddy trails. There is a Shimano Acera 9-speed triple crankset too. The Toughroad SLR too is a bit cheaper as well than the 920 as it costs just over a thousand dollars at $1050 although it doesn't offer the same performance as the Trek model.
Conclusion – Is that Trek 920 worth it?
The Trek 920 is a great bike for the cost – there is no denying that.
At just over $2000 you get a high-quality bike that is at home traveling long distances and comes with a variety of features and components to suit this type of riding. The fact that it can also handle itself on off-road trails and less than perfect conditions is a great bonus too. It isn't a true trail bike but that isn't its main function.
It performs great on typical touring routes that consist of smooth roads coupled with some uneven ground and gravel. If this is what you are planning on using it for then it is ideal for these kinds of situations.
There are some issues around how comfortable the saddle is and the stock stem length is one of the longest I've seen.
With a high load capacity, room for a number of water bottles, and a design that promotes speed, control, and ability to be a bit of an all-rounder across various roads, the Trek 920 is definitely worth your consideration as your new touring bike.