Trek Roscoe 8 Review: Will This Work for You?
If you are in the market for a new mountain bike, my Trek Roscoe 8 review is going to show you the ins and outs of this hardtail bike and what it can handle.
Made by Trek who is one of the biggest bike brands and has been for a number of years, you'll find out just how good this bike really is and decide if you think it's the right bike for you.
I'll go through the main features of the Roscoe 8, who it is suited for, what alternatives are out there, and finally if it is worth the money or not.
Bottom Line Up Front: The Trek Roscoe 8 is a fantastic hardtail bike that can handle a number of environments. For the price it has a wide range of features and combines this will stellar performance from responsive braking, control, a lightweight design and decent speeds too.
How does Trek stack up against other companies?
Trek are one of the biggest bike brands in the market and they have been trading for nearly 50 years now – they were created in 1975.
Based in Wisconsin but with a global reach, they have evolved into a massive manufacturer of mountain bikes across the world. They've even sponsored many individuals and biking teams over the years too. They have a wide range of bikes ranging from hardtail bikes, gravel bikes, triathlon bikes and have even branched out into the electric bike market.
What kind of bike is the Roscoe 8
The Trek Roscoe 8 is a hardtail bike. This means that it has no rear suspension but instead relies on a front suspension. They are made to handle difficult terrain and generally have a tougher architecture overall than some other bikes.
The lack of a rear suspension means that the overall weight of the bike is reduced which can help with control while the design helps durability. These types of bikes tend to pick up speeds quicker too and given their performance, they often cost less than many other bikes for what you get.
We'll look at the price of the Trek Roscoe 8 later on but even though it isn't the cheapest bike you can buy, it is very affordable.
The Main Features of the Roscoe 8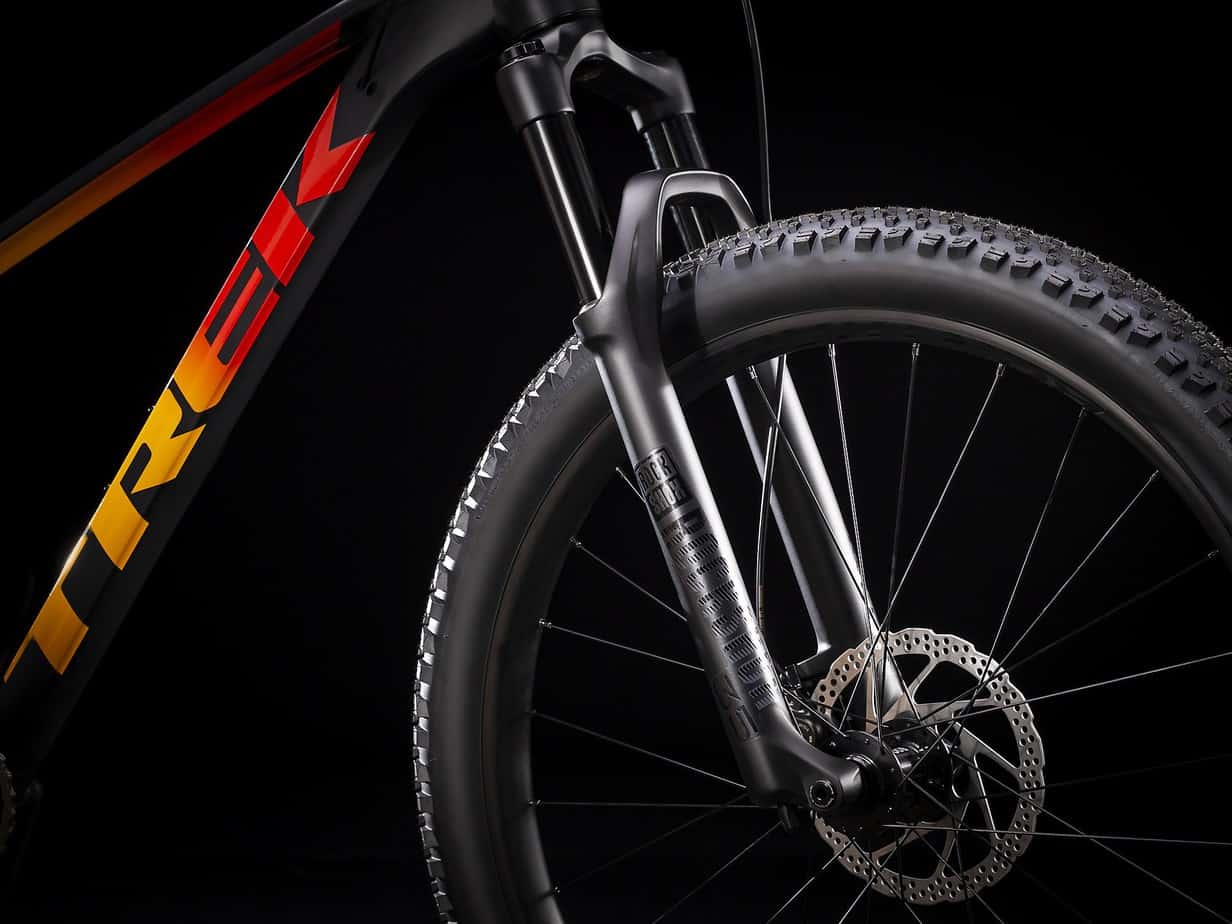 What is the Roscoe 8 made from?
The frame on the Roscoe 8 is made from aluminum – Trek's Alpha Gold aluminum to be exact – and it is one of the sleekest and best frame designs I've seen.
It's understated but stylish at the same time. The bike also comes in a variety of sizes such as 13.5, 15.5, 17.5, 18.5, 19.5, 21.5, and 23 inches so you should be able to find one to suit your height, riding style, and comfort level.
The aluminum frame will mean that it is a bit heavier than bikes made from carbon. The overall weight of the Roscoe 8 is about 14.5 kg however it means that it is less expensive than carbon bikes. In the old days, aluminum bikes had a reputation for being harsh and even though it might have been warranted then, the tech has come a long way and they perform very well compared to their carbon counterparts.
What are the wheels like?
The bike comes with 27.5 plus size tires which have been designed to help with grip and to cushion those bumps and rough terrain that you'll likely be using the Roscoe 8 on. They have a feeling of being 'glued' to the surface which will undoubtedly raise your confidence of tricky trails.
The standard mountain bike tires that it comes with are the Maxxis' Rekon 27.5×2.8 tubeless tires. Using tubeless tires means you can run these are a lower pressure which will improve contact with the surface and aid performance. They are also less susceptible to flats when out on the trail which is a big bonus.
What other features does it have?
As I mentioned above, the Trek Roscoe 8 hardtail bike comes in a variety of sizes that range from 13.5, 15.5, 17.5, 18.5, 19.5, 21.5 to 23 inches. The air spring fork means you can adjust the air pressure to match your weight and offer better performance than coil springs.
The Roscoe 8 uses an SRAM NX Eagle, 12-speed drivetrain while there is also a Bontrager Arvada saddle at 133 mm width. The bike has Shimano MT200 hydraulic disc brakes which provide great stopping power and control.
The default color of the Roscoe 8 is matte back with red and a marigold fade however we've seen lighter colors such as grey too. Either way, the design of the bike means it looks great regardless of its shade.
How does the Trek Roscoe 8 perform?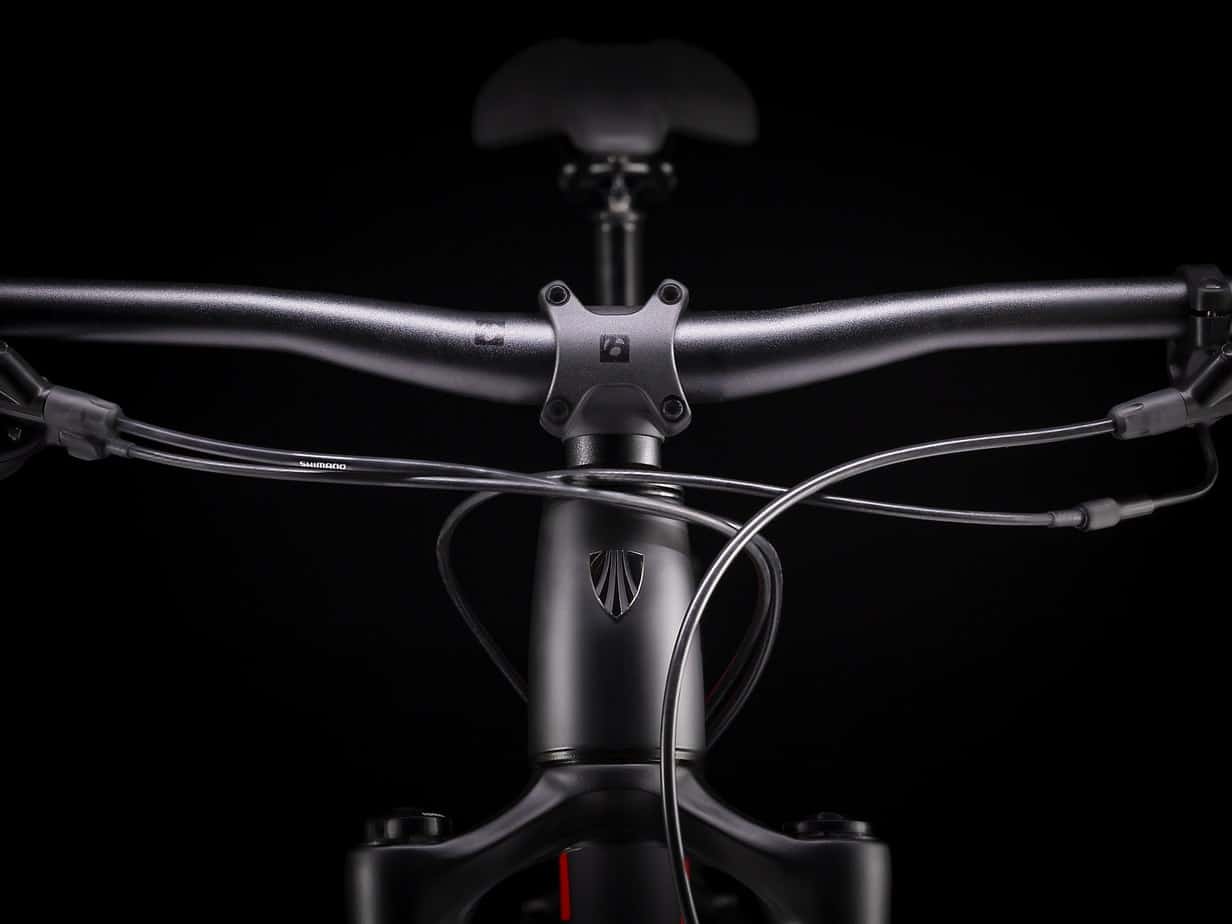 Down to the part you really want to know – how does the Roscoe 8 actually perform when out on the trail?
In a couple of words – very well.
The bike can handle tough terrain and trails easily. Its light frame means you have a large degree of control over where you are riding while the brakes make for quick stops and slow descents if you need them.
The suspension makes bumpy roads and trails a breeze to drive on and the drivetrain means you can shift easily to pick up speed. It might not be the ideal for consistent and long road journeys as you'll hit maximum speed quicker than you think but for mountain hiking and trails, it is more than ideal.
What are the specs of the Roscoe 8?
These are the main specs that you need to know about with the Trek Roscoe 8.
| | |
| --- | --- |
| Frame Material | Alpha Gold Aluminium |
| Bike weight | 14.55 KG |
| Wheel Size | Maxxis Rekon, tubeless, 60 TPI, 27.5×2.80′"' |
| Brakes | Shimano hydraulic disc, MT501 lever, MT500 caliper |
| Drivetrain | SRAM NX Eagle, 12-speed |
| Saddle | Bontrager Arvada, steel rails, 138 mm width |
What warranty will I receive if I buy it?
Trek bikes come with a lifetime warranty for the original owner for the frame sets (frame and rigid fork) while there is between a 1 and 4 year warranty on other parts. Trek also provides warranty on other mountain biking gear and accessories if you buy these extra.
What's the price range of the Trek Roscoe 8?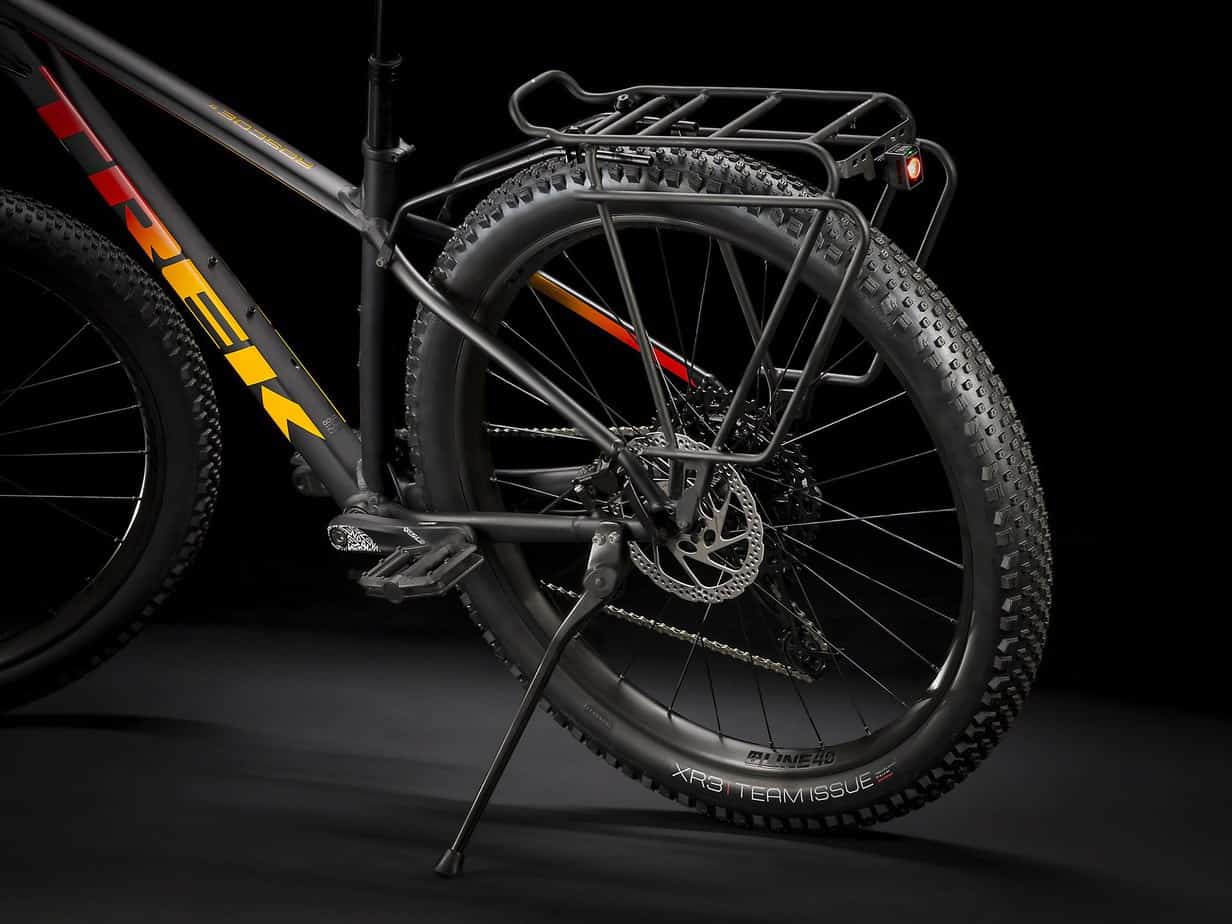 As far as affordable bikes go, the Roscoe 8 fits firmly in the category of being a bit of a luxury bike with higher performance but also very affordable for most people.
It costs $1789.99 for the bike. It is a bit steeper than some other hardtail mountain bikes that I've reviewed in the past, however, it makes up for it with great performance. If you have a bit of cash to splash out on the Roscoe 8 then you'll be getting a superior bike than many other models that are cheaper and also in the same price range.
You probably won't need to remortgage the house to buy it but it isn't necessarily in the category of purchasing on a whim for most people.
Trek Roscoe 8 is suited for people who…
Want a superior hardtail bike for a decent price
Enjoy riding on tough terrain
Also, need a bike for occasional road use
Prefer aluminum frames over carbon
Want good control and speeds
Trek Roscoe 8 is not suited for people who…
Prefer carbon frames to aluminum
Want a cheaper entry-level bike
Do a lot of road biking rather than mountain biking
What do users think of Trek Roscoe 8?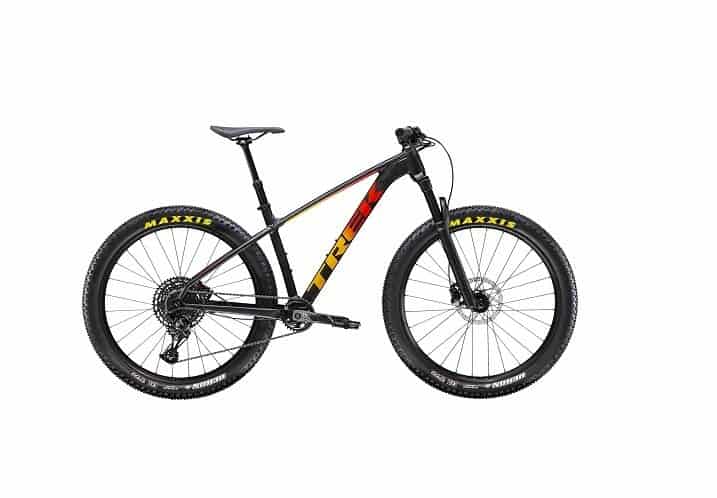 Overall the Roscoe 8 has been very well received by those who enjoy mountain biking and riding on rough trails. The brakes provide very good stopping power and are responsive too so you get a great deal of control. While the aluminum frame is a bit heavier than a carbon frame, many people prefer this extra bit of weight.
Its smooth ride and easily shifted gears means it is not only at home on a trail but also on normal road surfaces as well. There are reports that you'll need to fine-tune the drivetrain to get the most out of it.
You might not get the same speeds in an urban environment as other bikes out there but that isn't its primary purpose. While it can be a versatile bike its main role is on tough terrain.
The Pros and Cons of the Trek Roscoe 8
Pros:
Strong and durable bike for taking off-road
Great hardtail bike that can handle tough environments
Responsive brakes and a good level of control and traction
Offers a comfortable ride across various terrain
Affordable price for what you get
Cons:
Drivetrain needs to be fine-tuned for the best performance
The aluminum frame might put some people off
FAQs About Roscoe 8
What is the Roscoe 8 frame made from?
The Roscoe 8 frame is made from aluminum which is slightly heavier than carbon.
What tires can I fit on this bike?
The Roscoe 8 can accommodate 27.5″ x 2.8″ or 29″ x 2.4″ tires.
Can I use this bike on normal roads?
If you want, yes. It doesn't have the same speeds as come bikes that are made for road riding but it offers a comfortable ride on smooth surfaces.
Is this a gravel bike?
While there are some differences between a gravel bike and a hardtail bike, the Roscoe 8 can perform well for both purposes and across various terrain.
What warranty will I get from the Roscoe 8?
There is a lifetime warranty for the original owner for the frame sets (frame and rigid fork) while there is between a 1 and 4 year warranty on other parts.
What sizes is the Roscoe 8 available in?
The bike is available in 13.5, 15.5, 17.5, 18.5, 19.5, 21.5 and 23-inch sizes.
What are the best Trek Roscoe 8 alternatives?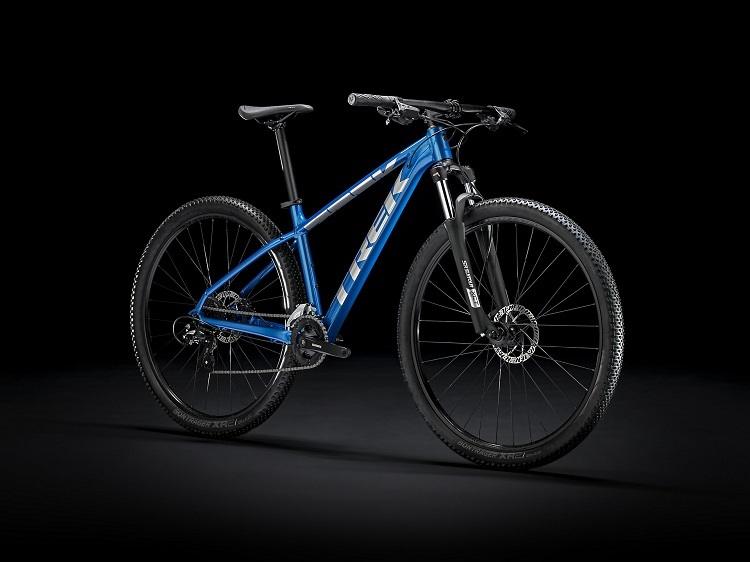 The Trek Marlin 6 is a good bit cheaper than the Roscoe 8 so if you're on a budget then this bike is a good alternative.
Frame
The Marlin 6 also has an aluminum frame similar to the Roscoe 8 so while it won't be as light as a carbon bike, it certainly won't feel heavy or a drag to get around the trail. The aluminum frame is durable too.
Tires
The bike has Bontrager Connection 32-hole double-walled wheels which can fit 27 inches or 29-inch tires giving you a couple of options. The tires on the bike are the Bontrager XR2 which are a reputable mountain bike tire and favored by many riders.
Other Features
With the Marlin 6, you'll get Tektro M290 disc brakes as well as a 24-speed drivetrain so you'll be able to find the right balance when out on the trail. Some people have said that the bike can be a bit stiff and unresponsive at times however overall it is a worthy competitor to the Roscoe 8. Not only is it cheaper but it performs well across various terrain as well although without the same level of performance as the Roscoe 8.
Bonus: If you want to find more about Marlin bikes, check all about the Marlin 4, Marlin 5, and Marlin 7.
#2 Diamondback Overdrive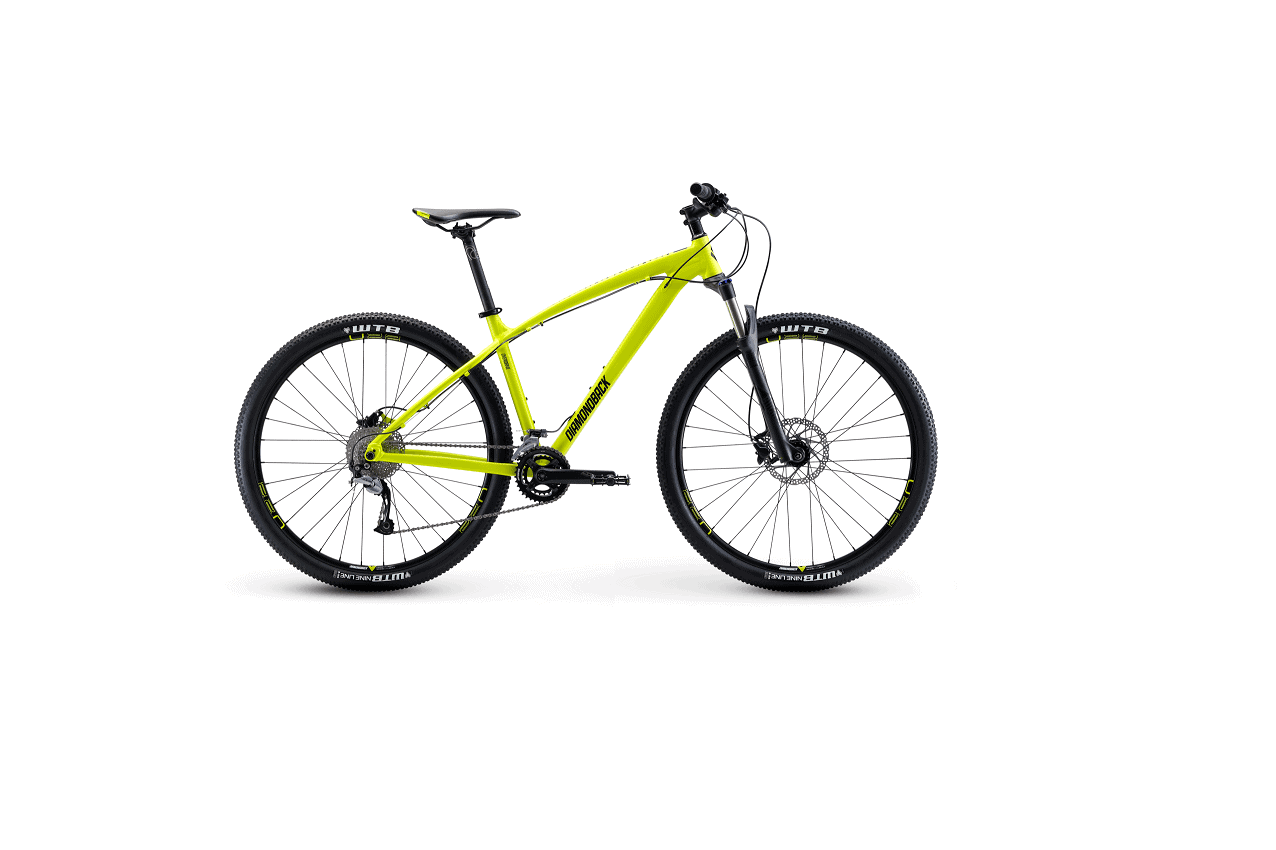 Another alternative that you can consider if you want to save a bit of money is the Diamondback Overdrive.
Frame
Another aluminum-framed bike, the Overdrive has a 29″ Butted 6061-T6 Aluminum frame. The design alone is really nice and it is a stylish bike. OK, it isn't a carbon model but if you are after an aluminum frame to cut down on the cost it is a good bike.
Tires
The Diamondback Overdrive comes with 26" MTB style tires that will give you decent control on a number of different terrain from off-road trails to urban riding. They don't perform as well as the Roscoe 8 but again you're sacrificing some performance and quality for the cost.
Other features
You'll get a Diamondback Seatpost and trail saddle which is fairly comfortable while the 21-speed gears gives you several options for speed. Overall this is a good bike and for the price, it is one of the best in the market. If you can afford to spend a bit extra you should but for a tight budget, this is a good hardtail bike.
Conclusion – is the Trek Roscoe 8 worth buying?
The Trek Roscoe 8 is a fantastic bike to ride whether you are tackling some hard terrain on a mountain trail or heading off on an afternoon ride on flat roads.
It isn't as versatile as some other mountain bikes that are on the market however if you want a truly versatile bike that can handle anything you throw at it then you'd be better off looking at the Ibis Hakka but you're going to pay more money.
The Roscoe 8 performs really well when out on the trail. I like its control and traction and it offers responsive brakes that work great across a number of surfaces. You'll get comfort from bumps and shocks while the frame is durable too.
Some parts do need a bit of fine-tuning such as the drivetrain and you'll top out in speed on normal surfaces a bit quicker than many people would want but it does perform admirably in most situations. It isn't the cheapest bike out there in its category but what you pay that bit extra for is performance and the Roscoe 8 brings that and more.